Don't judge a book by its cover. Water filters may look alike on the outside, but it's what's inside that counts. The quality of the parts and filtration media will make or break your satisfaction, so it pays to do your homework.
We'll help with a closer look at the FilterSmart Pro1000 and the SpringWell CF Series — two top-selling whole-house water filters with similar features. Both promise the clean, crystal-clear, odor-free drinking water you deserve, but only one is the best value.
Here's our verdict and a nitty-gritty comparison to help you decide.
🥇The Winner — The SpringWell CF Series
SpringWell's CF Series water filters purify 1,000,000 gallons of city water for up to 10 years with virtually no maintenance. Available in three sizes for families large and small, they eliminate potentially harmful contaminants without wasting electricity or water.
Quick Comparison
Best Whole House Filters

WINNER!

WINNER!

SpringWell Whole House System

Eliminates 99.6% of germs
6-month money back guarantee
9 Gallons per Minute Rating
Family of 5+

Click For Best Price

Coupon Code: QWL5

RUNNER-UP

RUNNER-UP

FilterSmart Pro1000

15 GPM
4-stage system
10+ Contaminants removed
1M gal.
Annual cost ~$120
90 day money back

Click For Best Price
Filtersmart Pro1000 vs Springwell CF Series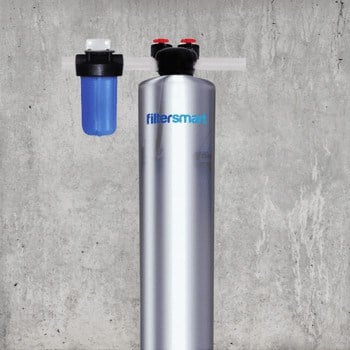 The FilterSmart's Pro1000 has advantages, but we think the budget-friendly CF Series offers more bang for your buck with a razor-thin edge in overall quality.
Media
The filtration media is the meat and potatoes of water filter. Nothing matters more.
FilterSmart Pro1000
The FilterSmart Pro1000 is a multi-stage filtration system consisting of a high-density, extra-capacity sediment filter and a primary filtration tank packed with catalytic carbon media.
What makes catalytic carbon different than ordinary activated carbon? Its ability to remove chloramine — a secondary, non-chlorine disinfectant used to disinfect some city water supplies.
FilterSmart partners with Jacobi Carbons, a world leader in coconut shell carbon production. They make the finest activated carbon media for consistently superior filtration.
SpringWell CF Series
CF Series filters have an equally impressive 5-micron sediment cartridge and a single filtration tank with both catalytic carbon and KDF filter media. Bacteriostatic, KDF controls the growth of bacteria and microorganisms within the system and broadens its filtration capabilities.
Better than carbon filtration alone for removing heavy metals, it's an unbeatable one-two punch that rivals the best
carbon block filters
and reverse osmosis systems.
Contaminants Removed
A whole-house water filter is only as good as the contaminants it removes.
FilterSmart Pro1000
The FilterSmart removes the most common contaminants in city water, including:
Dirt
Sand
Rust
Chlorine
Chloramine
Volatile organic compounds (VOCs)
Synthetic organic compounds (SOCs)
Trihalomethanes
Pesticides
Herbicides
Industrial solvents and more
Expandable, you can pair it with a water softener or a salt-free water conditioner for even greater contaminant reduction.
SpringWell CF Series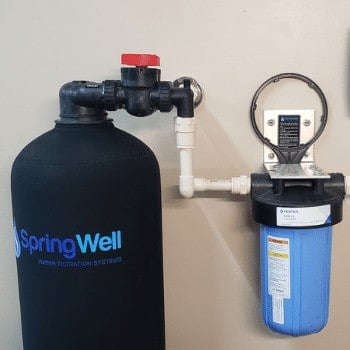 CF Series filtration systems remove the same substances as the Pro1000 plus hydrogen sulfide gas and dangerous contaminants including lead and mercury.
Carbon alone removes some heavy metals but not in high enough amounts for safety. It's the KDF that makes the difference, reducing lead to well below the level health experts recommend.
SpringWell also sells compatible salt-based water softeners, salt-free water conditioners and UV light filters that make city water potable if you get a boil order.
Flow Rate
Flow rate is the maximum number of gallons a whole-house water filter can process per minute. A technical detail that some manufacturers gloss over, it's critical to the performance of your system.
FilterSmart Pro1000
FilterSmart makes the Pro1000 in two sizes based on the number of bathrooms in your home— a 1-3 bath size with a flow rate of 12 gallons per minute gpm) and a 15 gpm, 4-6 bath size.
Well above the national average of 6-7 gpm, our research shows that both models will meet even the highest household water demand. You'll be able to flush the toilet while the kids shower without affecting water pressure.
SpringWell CF Series
SpringWell offers CF Series filters in three sizes — a 1-3 bathroom size with a 9 gpm flow rate, a 4-6 bathroom size with a 12 gpm flow rate and a 7+ bathroom model with a whopping 20 gpm flow rate.
In this category, smaller homes with high water usage should consider the lower=priced FilterSmart if heavy metals aren't a problem. But if half the neighborhood kids shower at your house after using the pool, stick with the SpringWell.
Filtered Water Quality
The Pro1000 and CF Series are both NSF certified to reduce aesthetic contaminants — substances that make water look, smell and taste bad. If you need a whole-house water filter to reduce disinfectant levels, independent testing shows you won't go wrong with either model. Customers have nothing but good things to say about them.
FilterSmart Pro1000
The Pro1000 eliminates up to 99.9% of chlorine — significantly more than the average whole-house filtration system. A newcomer on the market, it's nonetheless racked up hundreds of positive customer reviews.
When it comes to water quality, the only regret buyers have is not having purchased it sooner.
SpringWell CF Series
SpringWell water filtration systems remove up to 99.6% of chlorine. Customers are stunned at how much better their water tastes. Phrases like "the best purchase I ever made" and "we couldn't be happier" pepper the reviews.
Your experience may vary based on the quality of your tap water supply. But if chlorine is the problem, either of these whole-house filtration systems is a good solution.
Annual Operating Cost
Whole-house water filtration systems are remarkably affordable — it's the ongoing upkeep that hurts.
Off-brand water filters are bargain-priced, but the more maintenance they need and the shorter their lifespan, the higher the long-term cost of ownership will be.
Our research shows that the CF Series and Pro1000 are two of the least expensive whole-house water filter systems to own and operate, but the CF Series has a clear advantage.
FilterSmart Pro1000
The Pro1000 is equipped with upgraded 20-inch sediment cartridges that last twice as long as the industry-standard 10-inch filters. You'll change them every 8-10 months. In our experience, extra-capacity filters mean fewer maintenance chores for you and lower overall operating costs.
The catalytic carbon bed has an estimated 5-year lifespan — that's 60 months or 1,000,000 gallons of clean water with nothing more than once-a-year maintenance. But it's not the best you can do.
SpringWell CF Series
The 1-3 and 4-6 bathroom CF Series filters now come with a 10-inch sediment cartridge that can be installed as pre- or post-filter — the 7+ bath model includes the usual 20-inch cartridge. In keeping with the size of the system, the change keeps the cost of sediment filter replacements as low as possible.
The 10-inch cartridges don't last quite as long as the Pro1000's — 6-9 months instead of 8-10. But it's a negligible difference, and the price reduction strikes a good balance between the cost of replacement filters and maintenance frequency.
For buyers who want a whole-house filter system that lasts as long as possible between primary media changes, SpringWell filters are the king of the mountain. Their patented KDF and catalytic carbon media bed purifies water for up to 10 years. Now, that's value.
Ease of Use
The Pro1000 and CF Series filtration systems are straightforward to install, simple to maintain and a breeze to operate. Unlike backwashing filters, no programming is required.
Does either model have an edge? We'll let you decide.
FilterSmart Pro1000
For a whole house water filtration system, the Pro1000 is remarkably painless to install. Homeowners with basic plumbing skills can have it up and running in a few hours with the easy-to-follow instructions.
Sediment filter replacements take seconds to complete. Each unit features an integrated bypass valve that shuts the water off to the unit and depressurizes the filter housing.
Between maintenance intervals, the Pro1000 operates itself. Just set it and forget it.
SpringWell CF Series
SpringWell filters are equally manageable to install. For an extra fee, you can purchase the Easy Installation Kit with flexible Clack Connectors that eliminate the need for elbows, glue, and other plumbing components. We recommend it.
Annual maintenance and operation are on par with the Pro1000. SpringWell systems also come with a built-in bypass valve, so you won't have to instll one separately. It's one less thing to worry about.
Technology
The beauty of both water filters is their simplicity. The technology is in the tanks.
FilterSmart Pro1000
A common problem among bargain brand filtration systems is channeling. Incoming tap water carves the path of least resistance through the media bed, so it has less contact time with the filter media.
FilterSmart eliminated that problem with Vortech technology that optimizes water flow and improves contaminant reduction.
SpringWell CF Series
The SpringWell system relies on similar FlexBed technology. And the addition of KDF helps keeps the filter tank cleaner.
Warranty
A whole-house filtration system is an investment, so choose one with a warranty that protects you from the unexpected.
FilterSmart Pro1000
FilterSmart offers a limited lifetime warranty on tanks and valves and a 90-day satisfaction guarantee. If it doesn't work for you, send it back for a full refund.
SpringWell CF Series
CF series filters come with a lifetime warranty and a 6-month in-home trial — that's an extra 90 days to evaluate its performance. There's no better security for the cautious buyer.
Customer Service
Buying a water filter can be stressful without guidance from knowledgable filtration professionals. Do SpringWell and FilterSmart offer the support you need?
FilterSmart Pro1000
FilterSmart has a solid reputation for customer service. Among hundreds of reviews, complaints are minor and rare.
As a company, however, they're geared more toward internet sales, so phone support is limited. We look forward to seeing them evolve as they grow.
SpringWell CF Series
No business can please everyone, but SpringWell comes close. Rated A+ by the Better Business Bureau, they have a 20-year history of superb customer care.
A full-service company, they offer start-to-finish support from water testing to installation.
Online Reviews and Complaints
We pored over thousands of whole-house water filter reviews to find models worth buying. What are customers saying about the Pro1000 and CF Series systems?
FilterSmart Pro1000
Online reviews for the PRo1000 are very favorable — 5-star reviews surpass the rest by nearly five to one.
A few folks complained about information discrepancies on the website. In one place, for example, buyers are told to replace the sediment filter every 8-10 months. In another, it says every 6-9 months. We confirmed it's 8-10 months.
As an online seller, information is geared toward customers with at least some knowledge about whole-house filtration. Confusion between FilterSmart's city water and well water filter system is common.
But other than the occasional shipping damage and poor quality control on the optional stainless steel cover, there are few complaints about the Pro1000's performance. In general, buyers are pleased.
SpringWell CF Series
We struggled to find negative reviews about CF Series water filters. Customers are thrilled.
A few wonder why the Easy Installation Kit isn't included in the price. t SpringWell's reasoning is sound.
Many customers are replacing existing whole-house filters and already have the right size connectors, so why ask them to pay for something they don't need? It's one way that SpringWell keeps the cost of its systems down.
Pros & Cons
---
FilterSmart PRO1000
The FilterSmart Pro1000 is an affordable whole-house filtration system that cures chlorine taste and odor.

Pros
Odor-free showers
Hassle-free maintenance
Bottled water taste
Cons
Limited phone support
Doesn't significantly reduce heavy metals
Installation isn't as easy as advertised for the reluctant do-it-yourselfer
---
SpringWell CF Series
CF Series filters are premium multi-stage systems that eliminate chlorine taste plus harmful contaminants like mercury and lead.

Pros
Good-bye heavy metals!
Rock-bottom ownership costs
Showers feel great again
Cons
Higher-than-average upfront price
Clack connectors not included
---
Which Is the Best Whole-House Water Filter System?
It's tough choosing a winner between two such worthy competitors. Among hundreds of whole-house water filtration systems, they're the cream of the crop.
But we owe it to readers to share our research and offer an objective opinion. The Pro1000 has its strengths, but the SpringWell CF Series offers broader filtration, longer service life, and a higher level of personalized service. It's what we expect and what buyers like you need.
Best Whole House Filters

WINNER!

WINNER!

SpringWell Whole House System

Eliminates 99.6% of germs
6-month money back guarantee
9 Gallons per Minute Rating
Family of 5+

Click For Best Price

Coupon Code: QWL5

RUNNER-UP

RUNNER-UP

FilterSmart Pro1000

15 GPM
4-stage system
10+ Contaminants removed
1M gal.
Annual cost ~$120
90 day money back

Click For Best Price
Compare Leading Brands: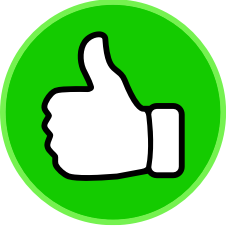 112
people found this helpful. Was this guide helpful to you?