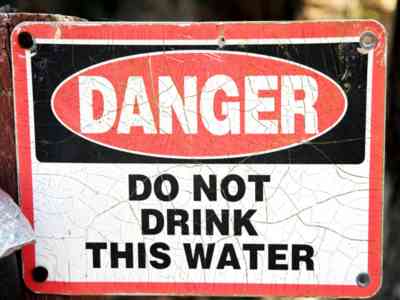 The most dangerous contaminants in water are invisible. Whether you're drinking city or well water, what you can't see can hurt you.
But not all filters remove all contaminants, so before purchasing a budget-budgeting filtration system that may not improve your water quality, diagnose the problem first with one of these premium water test kits — they're the best money can buy.
7 Best Rated Water Test Kits Reviewed
Get the right water test kit the first time around to solve your water problems without having to go with the one-size fits all approach. Here are the 7 best water test kits for City & Well water and from lab tested to at home DIY water testing.
#1 SimpleLab Tap Score – Best Overall
📝 Type: Lab Testing |Analytes Tested: 200+ | Turnaround time: 5 business days |Price: $$$ | Free shipping: ✔️ | Rating: 5/5 |Best for: Municipal & Well water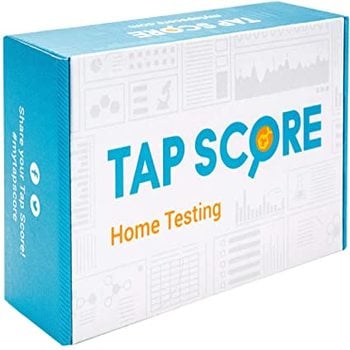 SimpleLab is an award-winning California company on a mission to improve your drinking water. Select an Essential, Advanced or Extended Water test for city or well water, and you'll receive a kit in days with easy-to-follow instructions.
Our testing was for city water — see our our water test results.
Highlights
Choose single or multi-contaminant panels
Free two-way shipping
5-day turnaround
Crystal-clear instructions
Unbiased product recommendations
---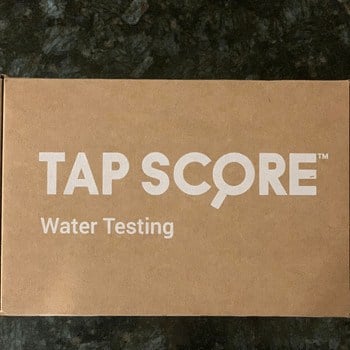 What we like best
Return the sample to SimpleLab, and in a few days, you'll get a Tap Score — an overview of how your water measures up from harmful contaminants to benign but corrosive substances that could affect your plumbing.
Using publicly available data plus information from tests performed within 5 to 10 miles of your home, you'll learn how your water quality compares to others in your area. Reports include recommendations for filtration products that could improve your score.
Pros
The water tests are reliable and the results are dependable for both city and well water.
The tests are easy to use and the results are easy to understand and can be read easily on their interactive walk-thru of your results.
Testing covers a wide range of contaminants, so you can be sure to find the one that's right for you.
Turnaround time is quick, so you won't have to wait long for your results.
Reports are comprehensive and include all the information you need to know about your water quality in a downloadable PDF file.
Labs are certified and compliant, so you can be sure that the results are accurate.
Customer support is excellent, so you can always get help if you need it.
The prices are reasonable, so you can get the tests you need without breaking the bank.
Cons
No automatic result notification.
---
FAQs
Q: Does SimpleLab use only EPA-certified laboratories?
A: Most are, but the structure for certification is complicated, and EPA certification isn't always the best criteria by which to judge certain labs — some have alternative credentials that exceed EPA criteria. If you're a business with a certification requirement, contact the TapScore team, and they'll route your sample to an appropriate lab.
Q: Can I order individual tests?
A: Choose from more than 30 single tests and a dozen specialty panels. Order them alone or add them on to any of SimpleLab's city or well water panels.
Q: Does SimpleLab sell filtration products?
A: No. The company doesn't sell filtration equipment and has no financial ties to filter manufacturers. They make only unbiased recommendations vetted with information from the National Sanitation Foundation (NFS) and the Water Quality Association (WQA).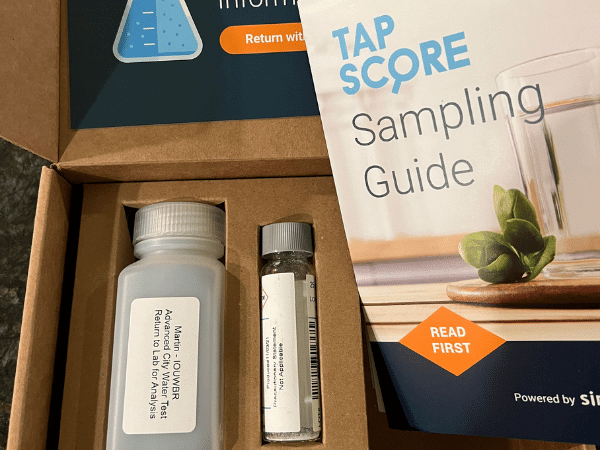 Our Take
TapScore is almost too good to be true. Pioneers in laboratory technology, SimpleLab has testing down to an art. Sampling is a breeze, and results don't require a PhD in chemistry to understand. If you've never done a water test before, the process is foolproof.
Your TapScore offers real solutions, outlining steps you can take immediately to improve your water quality. More than a test, it's a full service complete with professional advice at a surprisingly competitive price. With SimpleLab, it's like you have a friend in the business.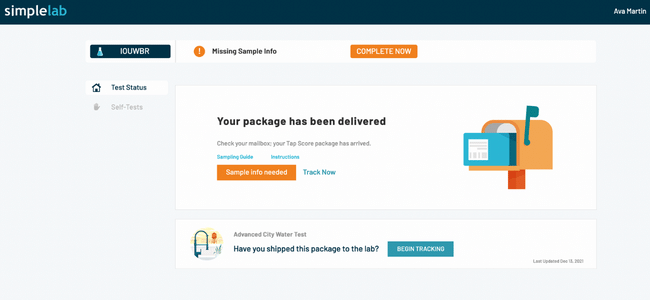 ---
#2 National Testing Laboratories
📝 Type: Lab Testing |Analytes Tested: 75 | Turnaround time: 10-15 business days |Price: $$$ | Free shipping: ✔️ | Rating: 4.5/5 |Best for: Municipal & Well water
National Testing Laboratories is an industry leader offering a full range of city and well water test kits.
Trusted by real estate agents for their 2-3 day turnaround time on panels specifically designed for home sales, testing takes as little as a week from start to finish, including shipping time.
Highlights
Quick turnaround
Dozens of test choices
Simple instructions with video support
Extensive industry certifications
Competitive pricing
---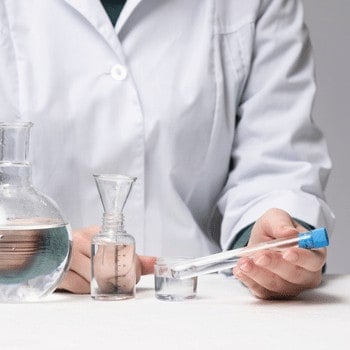 What we like best
Sampling instructions are clear — there's a support video on the website if you're a first-timer. All tests are performed to the highest standard by their EPA-certified lab and reported in a clear, understandable way.
Pros
Watercheck is a brand of water testing kit that allows you to test your water for contaminants and pollutants.
The kit comes with everything you need to test your water, including a sample bottle, a testing vial, and an instruction booklet.
We find that the testing kits are simple to use and provide accurate results.
The kit tests for over 200 contaminants, including lead, mercury, pesticides, and chloroform.
To eliminate confusion, their website provides a helpful interactive "symptom check" to help you find the right test kit for your water issues.
Watercheck kits are an affordable way to test your water quality.
Cons
Customer pays for overnight return shipping and return shipping isn't included in the price.
---
FAQs
Q: How are results received?
A: You'll get a full report by mail or via e-mail by request.
Q: Why do I have to send it overnight?
A: Some substances in water deteriorate as they await testing. Overnight shipping is recommended, so you get the most accurate results possible. Customers are responsible for return shipping fees, but the lab will send a discounted prepaid label at your request.
Q: Can I return the kit?
A: Kits may be returned unused, but customers are responsible for return shipping and a $30 restocking fee.
What we like
National Testing Laboratories is laser-focused on accuracy. Multi-state-, EPA-, NELAC- and ISO-certified, they're trusted by industry professional from well drillers to water bottlers. At the consumer level, the service is exceptional but a little less user-friendly.
From paying for return shipping to reports with labspeak, someone who's never done a water test before will have to work a little harder to get the bottom of their water quality issues. Yet their customer care team is supportive, and results are medical lab-quality. You can't go wrong with National Testing Laboratories.
---
#3 Quality Water Treatment Well Water Test Kit
📝 Type: Lab Testing |Analytes Tested: 85 | Turnaround time: 15 business days |Price: $$$ | Free shipping: ✔️ | Rating: 4.5/5 |Best for: Well water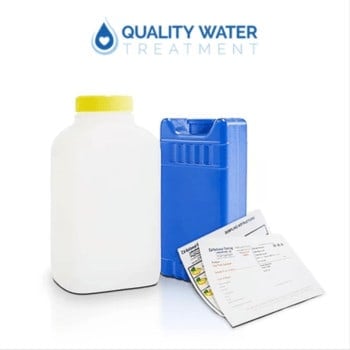 Quality Water Treatment offers three water test kits designed specifically for wells.
From a "Lite" panel that covers the basics to the "Standard" option with 85 different parameters from heavy metals to organic chemicals, it's affordable, comprehensive testing focused on groundwater contaminants.
Highlights
Budget-friendly options
EPA-certified lab
No-risk guarantee
---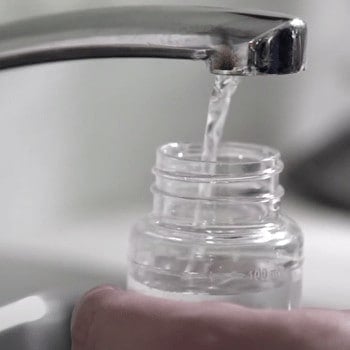 Pros
Results arrive by e-mail in a few days to a few weeks, and customers have the option of reviewing them with a water quality specialist.
Tests are money-back guaranteed.
You have three options to choose from Lite, basic, or their comprehensive standard kit.
The lite is the most affordable option that will check for 22 heavy metals, 5 physical factors, and 7 inorganic chemicals.
The Basic kit covers everything in the lite package + bacteria, coliform, and e-coli.
The Standard test kit will get you everything in the previous options + lead, arsenic, uranium, fluoride, nitrates, VOC's, TDS, and disinfection byproducts.
All of their testing options are easy to use and understand.
Cons
Customer pays for return shipping
Longer-than-average turnaround time
---
FAQs
Q: Are the kits easy to use?
A: Just fill the bottles as instructed, repack them in the container they came in with the cold pack and mail it back. It's that simple.
Q: Will I be pressured into buying a water filter?
A: Quality Water Treatments has cost-effective solutions to well water problems and may make recommendations, but there's no obligation to buy.
Q: Are results difficult to interpret?
A: Results show the contaminant levels in your well and the EPA-recommended limits for comparison. You'll know at a glance which are within normal limits or high.
What we like
Quality Water Treatment understands well water problems. Their panels are comprehensive without going overboard on testing for low-risk contaminants — why pay for more than what you need? Results come from an independent, EPA-certified laboratory for about 30-percent less than the competition, and help is available for choosing a water filtration product with no hard sell. When every dollar counts, it's a quality, cost-effective solution.
---
#4 Pentair Rapid 16-Point Water Test
📝 Type: Lab Testing |Analytes Tested: 16 | Turnaround time: 7-10 business days |Price: $$$ | Free shipping: ✔️ | Rating: 4.5/5 |Best for: Well or city water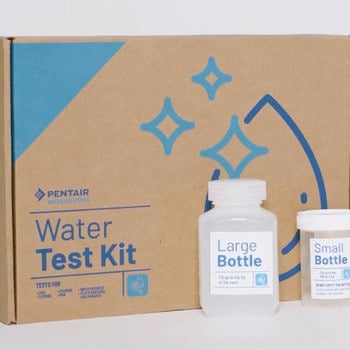 Pentair's 16-point test kit screens for the most hazardous contaminants from bacteria to heavy metals.
It checks for pH, tannins, sulfate and iron — important parameters when choosing water filtration gear.
Highlights
7-10 day turnaround
EPA-certified lab
Results by e-mail
Free test with equipment purchase
---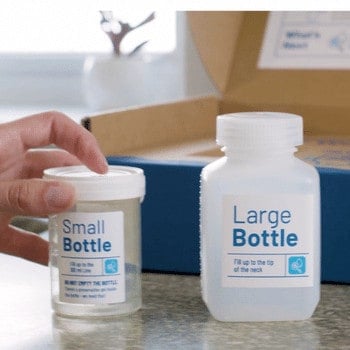 What we like best
Sampling is effortless, and tests are performed by an independent certified lab. The price of the kit covers shipping both ways. And if you purchase a whole house water filter from Pentair, they'll credit you for the cost of the test, making it on the house.
Pros
Pentair Pelican can help you interpret your results and find the right solution for you
Tests for 16 different water contaminants
Comes with clear and concise instructions
Guaranteed results in under a week
Affordable and easy to use.
Cons
No add-on tests available.
---
FAQs
Q: Is this the best test for city water?
A: This test is better for wells. It checks for lead, but doesn't test for chlorine or other contaminants of concern in municipal water.
Q: Does the turnaround time include shipping?
A: The clock start when your sample is received. Depending on transit time, expect results in 7-10 days.
Q: Why doesn't Pelican offer more test options?
A: Pelican isn't a lab. Their sole interest is to ensure you get the right filtration product, so it offers this simple test with the parameters necessary to make an informed choice as a convenience to its customers.
Our Take
Pentair's 16-point water test isn't the most extensive, but it's a lot of bang for your buck. It screens for lead and bacteria — must do testing with kids in the house. Ideal for annual well screening, it also checks for the iron, pH and tannins that could ruin a water softener. Simple problems require simple solutions, and no one does that better than Pentair.
---
#5 Safe Home ULTIMATE Water Quality Test Kit
📝 Type: Lab Testing |Analytes Tested: 200 | Turnaround time: 7-10 business days |Price: $$$ | Free shipping: ❌ | Rating: 4.5/5 |Best for: Municipal & Well water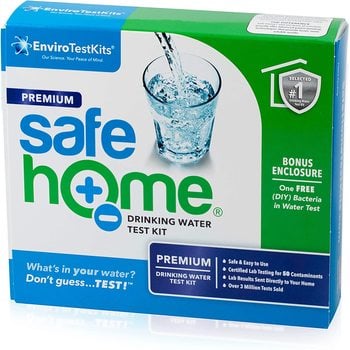 Safe Home's ULTIMATE Water Quality Test Kit identifies 200 of the most toxic contaminants in city, well and even bottled water.
Features
200 parameters
Foolproof sampling process
EPA-certified lab
Free two-way shipping
Competitive pricing
---
What we like best
Made in the US and supported by a staff of knowledgeable water quality professionals with more than 150 years of combined experience, samples are expertly analyzed at their EPA-certified lab.
You'll be notified when the sample is received and get a detailed report 7-10 days business days later, or your next kit is free. As a bonus, Safe Home donates a percentage of all profits to clean water initiatives around the world.
Pros
Tests for a wide variety of water contaminants including heavy metals, bacteria, pesticides, and more
Provides quick and accurate results
Easy to use and understand
Affordable DIY water test kit with fast test results
Cons
Doesn't include testing for PFOA or PFOS.
---
FAQs
Q: Does this kit test for chlorine and chloramine?
A: No. Both evaporate too quickly in transit for this particular test. For disinfectants, we recommend National Testing laboratories, SimpleLab's TapScore or at-home testing with Health Metric or Watersafe test strips.
Q: Can I test milk or juice?
A: This kit is for water only, but if you purchase unpasteurized milk or juice, occasional testing is prudent. Call Safe Home for guidance. They have products that can help.
Q: Will Safe Home help me find the right water filter?
A: Safe Home doesn't recommend filtration products, but their Learning Center provides information about different contaminants, how they affect your health and home, and the types of filtration system that eliminate them.
Our Take
Safe Home has revolutionized the industry with its line of convenient, at-home water testing kits. One of many they offer, the ULTIMATE version is a deep dive into water quality.It's not cheap, and it doesn't include some parameters you'd expect, like chlorine. But it tests for more heavy metals and chemicals than any other brand for a competitive price.
Results are fast, informative and easy to read — Safe Home tweaked its reports in response to customer feedback, and the results are impressive. Do you have to spend so much to know what's in your water? No, but every parameter unchecked is a question that remains. Consider it an investment.
---
#6 Health Metric Drinking Water Test Kit – Best Budget
📝 Type: Test strips |Analytes Tested: 9 | Turnaround time: 10 Minutes |Price: $$ | Free shipping: ❌ | Rating: 4.5/5 |Best for: Tap water
For a simple, accurate and low-cost way to check your tap water for lead, bacteria and more, look no further than Health Metric's 9-in-1 water test strips.
Among the most sensitive on the market, the parameters match EPA guidelines.
Highlights
Nine parameters, including lead
Affordable
Sensitive
Individually wrapped for freshness
---
Pros
The Health Metric Drinking Water Test Kit is a fast, easy and accurate way to test your water quality.
It can detect a wide range of contaminants, including lead, copper, pesticides and bacteria.
The kit comes with everything you need to get started, including clear instructions and a water quality report.
The step-by-step instruction are easy to follow, and results are immediate.
Find out what's in your water without breaking the bank.
Cons
Less specific than a lab test
Doesn't test for fluoride
---
FAQs
Q: How long does it take to perform the test?
A: Set aside 30-45 minutes for the strips. The bacteria test takes a few minutes to do but requires 48 hours to develop.
Q: Does this test detect E.coli?
A: It checks for all coliform bacteria, including harmful strains of E.coli.
Q: Where are the test strips made?
A: The strips are manufactured in the US, not shipped from China and repackaged. The quality control is exceptional.
What we like
Test strips have limitations. But unlike bargain brands that can't detect low levels of contaminants, these identify even the smallest quantities of lead, bacteria and more. Tests take time to complete, but at a quarter of the price of similar lab analyses, they're an economical yet accurate option for cash-strapped homeowners who need a quality water test or a less expensive option for routine follow-ups. Buy with confidence.
---
#7 Watersafe Drinking Water Test Kit
📝 Type: Test Strips |Analytes Tested: 10 | Turnaround time: 10 Minutes |Price: $$ | Free shipping: ❌ | Rating: 4.5/5 |Best for: Municipal & Well water
Watersafe has been making premium test strips for more than two decades.
Their 10-in-1 Drinking Water Test Kit identifies lead, bacteria, nitrates, pesticides, chlorine and more.
Features
10 parameters, including lead and bacteria
Lab-validated sensitivity
Individually wrapped for freshness
Pros
Made in the US, their rapid lead screen has been validated in an EPA-certified lab — it's a rare find.
If you have children in your home, it puts immediate testing power in your hands for less than a fast food meal for four.
The kit is easy to use, with clear instructions.
It tests for a wide range of contaminants, including bacteria, pesticides, and heavy metals.
Results available in minutes.
The kit includes everything you need to test your water.
affordable
Cons
Error-prone testing process
Kits are temperature-sensitive and must be shipped and stored properly.
---
FAQs
Q: Is this test suitable for wells?
A: This kit is ideal for both well and city water. It detects contaminants common to both plus chlorine.
Q: Does it check for fluoride?
A: It doesn't. Test strip technology for fluoride is notoriously unreliable and offers little meaningful data. If you drink well water, natural deposits of fluoride are rare. For city water, your annual water quality report will show if there's added fluoride.
Q: How much iron does this kit detect?
A: It measures levels up to 5 PPM, plenty to diagnose all but the toughest iron problems. Additional testing may be needed before buying a water softener.
What we like
Watersafe's 10-in-1 test kit falls short of a lab test, but it offers more actionable results than a TDS water tester. At a moment's notice, you can check for lead and bacteria before making baby formula or any time you notice a change in your water quality. The testing process is more complex than with strips you dip into a glass of water. Some measuring is required, but the trade-off is accuracy. Watersafe test kits are an invaluable tool in anyone's water quality toolbox.
Comparison Table
(Mobile users: Swipe to scroll)
| Compare Brands & Testing | #1 Simple Lab Testing | #2 National Testing Lab | #3 Quality Water Treatment | #4 Pelican Rapid Test | #5 Safe Home Ultimate | #6 Health Metric Testing | #7 Watersafe Testing Kit |
| --- | --- | --- | --- | --- | --- | --- | --- |
| Rating | 5/5 | 4.5/5 | 4.5/5 | 4.5/5 | 4.5/5 | 4.5/5 | 5/5 |
| Price | $$$ | $$$ | $$$ | $$$ | $$$ | $$$ | $$$ |
| Type | Lab Testing | Lab Testing | Lab Testing | Lab Testing | Lab Testing | Test strips | Test strips |
| Analytes tested | 200+ | 75 | 85 | 16 | 200 | 9 | 10 |
| City/Well water | Both | Both | Well only | Both | Both | Tap water | Both |
| Turnaround time | 5 business days | 10-15 business | 15 business days | 7-10 business | 7-10 business days | 10 Minutes | 10 Minutes |
| Free shipping | ✔️ | ✔️ | ✔️ | ✔️ | ❌ | ❌ | ❌ |
Buyer's guide to Drinking Water Test Kits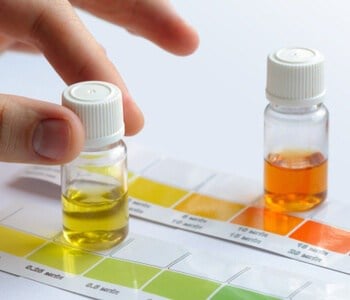 The latest news on American water quality isn't pretty. From hard water to heavy metals, millions are coping with contaminants that wreak havoc on their health and homes.
Water filtration is the most cost-effective, environmentally friendly solution in home water analysis, but not all filters reduce all contaminants, so it's critical to diagnosis the problem first.
Let's take a closer look at the factors that shape your water quality and how to choose the best water quality testing kit.
Key Considerations:
Ensure accuracy: Cross compare leading home water test kit brands and choose one that provides reliable and precise readings for your specific needs.
Costs: Don't pay more for what you don't need when choosing a water testing kit – compare prices to find the best value option for you and your family.
Ease of use: Make sure you select a product that is easy to use and understand, so you can feel confident in reading your results!
Quality: Research what types of tests are available in different kits before making a decision – make sure it covers all of the necessary analyte parameters such as pH levels, chlorine levels, lead levels etc..
Turn-around: We all want our test results yesterday, so look for a reputable provider with fast results that can either be viewed online, or by mail.
Where Do Contaminants Come From?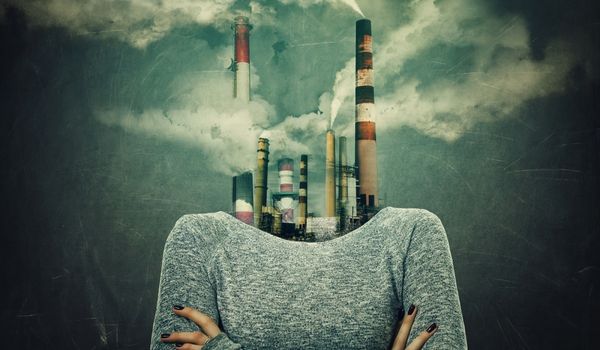 Water can harbor thousands of dangerous contaminants, but chances are yours doesn't. Typically, it's a select group of substances that pose the greatest risk based on where your water comes from.
Drinking water comes from two sources — surface water such as lakes, rivers and streams — and groundwater — water stored in soil, rock and aquifers. In the US, about half of city water comes from each source. Nearly all private well water comes from underground.
With few exceptions, the make-up of groundwater is geologically stable. The substances that occur naturally in your area tend to remain the same long-term. If your last water test for arsenic was negative, chances are your next one will be, too — unless something changes above ground.
Your watershed — the area surrounding your home through which rainwater runoff flows — determines which contaminants are the most likely to reach your well. A heavy storm or melting snow, for example, can carry arsenic waste from an electronics factory down the road to your home, placing you at higher risk.
USGS maps show concentrations of hard water and geological contamination nationwide. Your local watershed map can help you identify potential sources of above-ground contamination near your well, such as:
Landfills
Factories
Hazardous waste disposal sites
Farms and feedlots
Junkyards
Sewage plants
Mines
Golf courses
Car washes
Hospitals
Poorly maintained septic systems and more
City Versus Well Water — Assessing Your Contamination Risk
If you drink city water, most of the work is done for you. It's checked for 90-plus EPA-regulated contaminants and disinfected at the source, so it's biologically safe. Unless there's a treatment error or a water main break, it won't contain the bacteria, viruses or parasites that cause illness.
But it may have contaminants rarely found in well water, such as:
Fluoride
Disinfectants, such as chlorine and chloramine
Disinfectant by-products, including bromate and trihalomethane — known carcinogens
Despite their best efforts, public water supplies nationwide are routinely testing above legal limits for trihalomethane.
Dangerous contamination can also occur downstream, after water leaves the treatment plant. Lead, for example, can leach from aging service lines and pre-1986 plumbing in your home.
If you drink well water, there's no need to test it for disinfectants or fluoride — natural deposits are rare. But wells are vulnerable to geological and chemical contamination.
Risks vary significantly by area. Arsenic, for example, is rare in Florida groundwater but common in Southern California, Northern Maine and Nevada. Radon contamination is widespread in North Dakota but unusual in Louisiana.
Homeowners in agricultural areas should be concerned about nitrates, pesticides, herbicides and bacterial contamination from livestock feces, while a factory, landfill or hazardous waste disposal site in your watershed could mean a wide range of chemical toxins in your water.
City and well water also have similar characteristics — hard minerals, for example, plague both. Researchers, meanwhile, are just now beginning to understand the impact of chemical pollution and how it contaminates both public and private water supplies. So-called forever chemicals like per- and polyfluoroalkyl substances, or PFAS, are thought to impact at least 30 million homes.
Why Do a Water Test?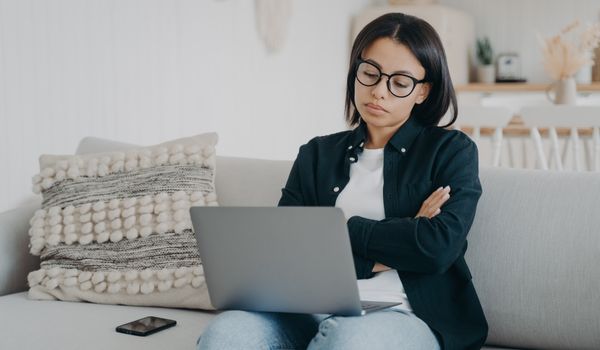 The only way to know what's in your water is to test it — some of the most hazardous contaminants are colorless, odorless and tasteless. Your annual municipal water quality report offers valuable information — but only home water testing tells you exactly what's coming from your tap today.
It took officials in Flint, Michigan more than a year to discover that a treatment plant error caused dangerous levels of lead to leach from old underground service lines. Undetectable at the source, it nonetheless poured from Flint-area taps, poisoning scores of children.
Home water testing also provides a breakdown of your water chemistry — essential information to have when choosing a water filter. Iron, for example, is a healthy mineral. But did you know that it can ruin some water softeners? Were you aware that chlorine damages reverse osmosis filters? Or that low pH makes iron filters less effective? Knowledge is power — don't buy a filtration system without it.
Types of Drinking Water Test Kits
Home water tests are broken down into five general categories.
Microbiological tests for bacteria and parasites
Hardness tests that measure the mineral content in your water
Radiological testing for radon, uranium and radium
Inorganic chemical tests for heavy metals like lead, mercury, chromium and arsenic
Organic chemical testing that detects pesticides, herbicides, nitrates, industrial solvents, PFOA, trace pharmaceuticals and more
You can purchase kits that test for a single substance or dozens across several categories.
Popular types include:
1. Test Strips
Test strips contain dry chemical reagents that change color when activated by water. Just dip a strip in a sample and compare the color changes to the chart on the back of the bottle. You can test for 1-20 contaminants with single strips that cost just pennies each, but you'll have to purchase the whole bottle for $8-$60.
2. Color Disc Kits
Color disc test kits are available for a broad range of substances. Water is combined with liquid or powdered reagents in a reusable plastic tube. The tube is placed in a viewing box with a color disk — hold it up to light and rotate it until the color matches the sample, and the contaminant value is displayed.
Color disk kits are generally more accurate than strips but they cost significantly more, testing for only one or two substances at $40-$90.
3. TDS (Total Dissolved Solids) Meters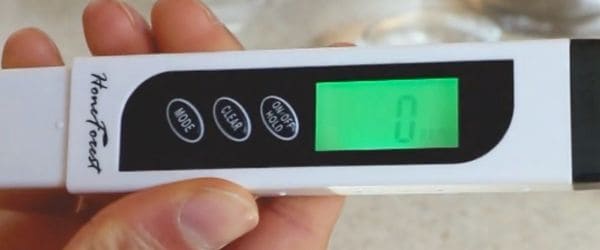 TDS meters are hand-held, battery-operated water quality testers that estimate the parts per million of total dissolved substances in water. They're helpful tools but with limitations.
TDS meters work by measuring electrical conductivity, so they only detect charged particles. Worrisome contaminants from motor oil and gasoline to pesticides and PFOA have no electrical charge.
Toxic heavy metals are charged, but they're measured in parts per billion, not million. TDS meters aren't sensitive enough to detect lead at a hundred times higher than the legal limit.
They're also non-selective. The majority of dissolved solids are minerals. But meters don't differentiate between calcium and iron — must-know information when buying a water softener.
So why should you have a TDS meter? The EPA doesn't set a limit on total dissolved solids, but they recommend further testing if levels are above 500 PPM. High TDS can indicate water quality issues that would benefit from filtration. Hard water, for example — high levels of calcium and magnesium — leave limescale deposits in plumbing that can lead to higher utility bills and costly appliance repairs. Other minerals, like iron, give water a bitter, metallic taste and can encourage the growth of select bacteria.
TDS meters are also ideal for monitoring the performance of water softeners or reverse osmosis filters. Low readings verify they're working — high readings suggest they need maintenance.
TDS meters are no substitute for a water test, but for as little as $10, they're a quick, affordable and reliable way to help monitor your water quality.
4. Mail-in Test Kits
Mail-in test kits have drastically improved consumers' access to professional water testing. Purchase one online and collect a water sample in the container provided. Mail it back to the company — they partner with independent labs nationwide to give you the most accurate results. Select from kits that test for up to 200 contaminants. Prices start at $20. Expect results in about three weeks.
Home Water Tests Versus a Lab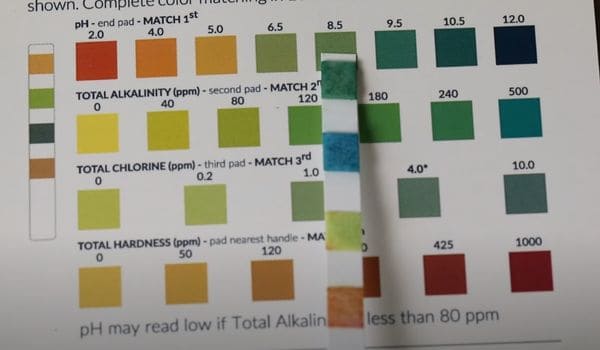 Drinking water test kits are convenient, but they have drawbacks.
Test strips and color disk kits are accurate when used properly, but they're less specific than lab tests. The chemical reagents are sensitive and deteriorate quickly once opened. Strips, for example, should be discarded after 90 days, so purchasing a bottle of 60 is no bargain for a one-time test. And accuracy is subject to human error. Lab technicians spend years training to get it right, so even with the utmost care, poor technique can skew the results.
Certified drinking water laboratories specialize in water science. Recommended by the EPA, they use only the latest in proven technology and undergo rigorous annual inspections. Instead of just a number, you get a full report that helps you interpret what contaminant values mean. When accuracy matters, they're the sound choice.
Choosing the Best Water Test Kit for Your Home
These are the three most important factors to consider when choosing a water test kit.
1. Your Water Source
Most city water is safe to drink, but it may expose you to:
Hard minerals
Chlorine
Chloramine
Trihalomethane
Bromate
PFOA
Trace pharmaceuticals and more
But the most important contaminant to test for in municipal water is lead. A powerful neurotoxin, it causes severe, irreversible developmental disorders in children. There is no safe level.
If you own a well, the CDC recommends annual testing for:
Bacteria
Nitrates
Total dissolved solids
pH
— plus a test every five years for the geological contaminants that are common in your area, such as radon or arsenic. States have additional guidelines.
If you haven't checked your well water in the last few years, we recommend a comprehensive analysis that also includes tests for hard minerals and the contaminants common in your watershed.
2. Test Accuracy
When you're dealing with dangerous toxins measured in parts per billion, it's crucial to get the science right. Test strips for lead are a quick and inexpensive way to check tap water weekly if you've had issues in your area or want to verify that your water filter is performing, but only a certified lab gives you the most accurate results.
Among tests performed at home, strips are less accurate than color disk kits but a fraction of the cost. If accuracy matters but the health impact of the contaminant is low, tests strips are a good option. But if imprecise results could cost you, splurge for the color disk kit. The difference between two and three parts per million of iron, for example, can drastically affect a water softener's efficiency.
3. Cost
Home water test kits cost as little as a few dollars for strips to $500 for comprehensive testing. As a general rule, purchasing a multi-contaminant panel brings the cost of each test down. You could drop hundreds on color disk kits for individual hard minerals, but you'll spend less by buying a water hardness test kit and get more for your money.
Overspending on testing for low-risk contaminants doesn't make sense. Yet we recommended being investment-minded. If you're going to purchase a filtration system, the more you know about your water quality, the better buying decision you can make. Comprehensive testing isn't cheap, but it's more cost-effective than purchasing a water filter with bells and whistles you don't need. And if you're worried about your health, the peace of mind alone is worth the price.
Pros & Cons with DIY Water Testing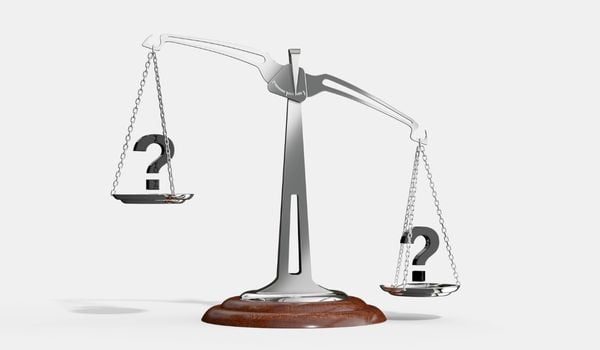 This will ultimately come down to your preferences. However, in my expert opinion, you're better off using a trusted water lab to test your water. If you're just testing for basic things like chlorine, or sulfur, then a DIY test would be fine in my book.
Pros:
Cost-effective – DIY water testing kits are much cheaper than lab tests, making them a great option for those on a budget.
Convenience – With DIY water testing kits, you can test your own water in the comfort of your home without having to send samples off to a lab or wait for results from an outside source.
Quick Results – Most DIY water testing kits provide quick and easy results that can be read within minutes, allowing you to take action quickly if necessary.
Easy To Use – Many DIY water testing kits come with detailed instructions and are designed to be user friendly so anyone can use them with ease.
Cons:
Limited Accuracy – While some basic tests may give accurate readings, more complex tests may not be as reliable due to the lack of professional equipment used in labs which could lead to inaccurate results or false positives/negatives depending on the type of test being done..
Limited Range Of Tests – Most at-home test kits only offer limited types of tests such as pH levels or chlorine levels whereas laboratory tests offer more comprehensive analysis including heavy metals and other contaminants that cannot be detected by most DIY kits.
Time Consuming – Depending on the type of test being done, it can take a significant amount of time to complete and interpret results from a DIY water testing kit which may not be ideal for those who need quick answers or are in a hurry.
Risk Of Contamination – If not done properly, DIY water testing kits can be prone to contamination which could lead to inaccurate results or false positives/negatives.
FAQs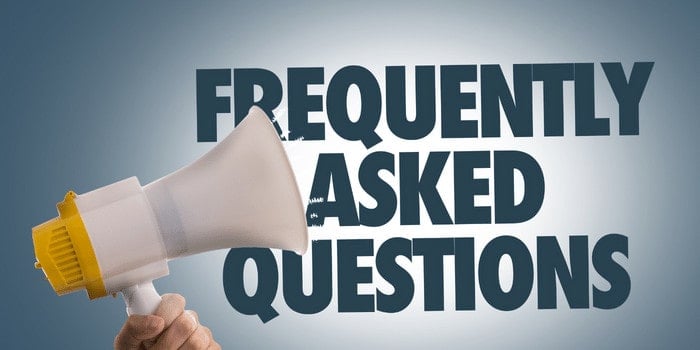 1. Where can I get my water tested for free?
Several states offer free water tests for residents with wells. Others offer lead water test kits for homes with school-aged children. Your local branch of the Cooperative Extension Service may provide complimentary or reduced-cost testing. Some of the top water filter companies offer free basic tests without obligation — but you may be pressured to buy.
2. How do I test water for lead?
A lead water testing kit is the simplest solution. Strips are fine for screening purposes, but because of the extreme danger lead poses, we recommend final testing be done by a certified drinking water laboratory.
3. How do I test tap water?
Test your tap water with a city or well water test kit that screens for target contaminants.
4. How do I test well water?
Well water testing kits target contaminants common in wells. Why pay to test for substances like chloramine that are found only in city water?
5. How do I test for chemicals in water?
An organic chemical testing kit identifies most hazardous chemicals, including select emerging contaminants like PFOA and trace pharmaceuticals.
6. How much is a water test?
Test strips range from $8-$60 per bottle. Color disk kits average $50-$90. Mail-in kits start at $20 and up. Fees for water testing at a local laboratory vary and depend on the number of tests requested.
7. Are home water test kits accurate?
Home water test kits are less sensitive than lab tests but are accurate if used and stored as directed.
8. How often should I test my water supply?
The EPA makes no recommendations for testing city water at home except to say that lead testing is an option if you have kids in the house.
Homeowners are solely responsible for testing their wells. It's required whenever real estate changes hands, but the CDC suggests testing for bacteria, nitrates, total dissolved solids and pH annually and whenever part of your well is repaired or replaced. States recommend additional tests based on the contaminant risks in your area.