Hard water, a costly problem for millions of US homes, it drives utility bills higher and sends expensive dishwashers and water heaters to the landfill.
Thankfully, the solution is simple. Soften your well water with one of these top-performing water softeners for well water.
7 Best Water Softener Systems For Wells Reviewed
With countless well water softeners on the market, it can be a painstaking nightmare to find what works and what doesn't – we only list brands that won't slow down water pressure and that has the highest quality media, best lifespan, and above all, SAVES you Money!
#1 Springwell SS1 – Best Water Softener For Well Water With Iron
📝 Type: Salt-based | Process: ION Exchange |Grain Capacity: 32k, 48k, 80k | Regeneration Cycle: (Metered) or every 14 days on average | Ideal Household Size: 6 people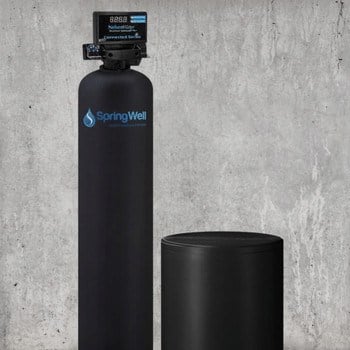 SpringWell's Salt-based combo filter and softening system treats up to a million gallons of water maintenance-free. It removes hard minerals plus iron, hydrogen sulfide, manganese, chemicals, heavy metals and more.
Metered regeneration technology saves water and salt. The Bluetooth-enabled digital head lets you view the system's status and control its many functions from a phone or tablet.
Broad-scale contaminant removal
Low-maintenance
User-friendly interface
Quiet operation
Satisfaction guaranteed
Use Coupon Code: QWL5 to save
---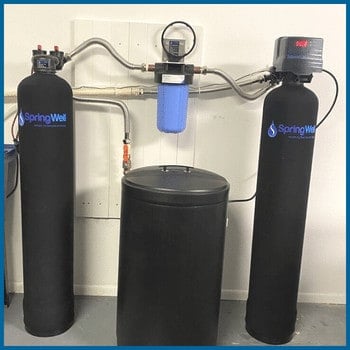 Best for: Springwell SS1 salt-based water softener is the perfect solution for anyone looking for the best in all categories in water softening.
Not best for: Those that live in certain municipalities that don't allow salt-based water softeners. I would opt for Springwell's Futursoft that can come close to the SS1.
Pros
SpringWell filtration systems come complete with everything you need for quick DIY installation.
The only company to use all certified parts, their systems are backed by a limited lifetime warranty and SpringWell's legendary customer service.
It removes up to 7 PPM of iron, 1 PPM of manganese and 8 PPM of hydrogen sulfide — the gas that causes rotten egg odor. Manganese and sulfur are common in wells with iron.
SpringWell filters are engineered to have the best flow rates in the industry — 11-20 GPM. That's nearly twice the national average.
This system is whisper-quiet, eliminating the wall-shaking blasts of compressed air common in older AIO systems during regeneration.
SpringWell's whole house filter and softener for well water offers a higher level of protection than a softener alone with a quality brine tank.
The price is jaw-dropping, but you get what you pay for.
It removes iron — a mineral that can ruin some softeners — plus heavy metals and other contaminants that put your family at risk.
For hard water alone, it's more than you need. But for complex water quality issues, it's an extraordinary value.
Cons
The price is a little steep, but the overwhelming support and features you get will justify the price..
We do wish the fittings were metal and not plastic, but that's becoming an industry standard.

Product Updates
Now offers multiple sizes to accommodate larger homes
Optional UV add-on
Optional Reverse Osmosis add-on
---
#2 SoftPro Elite Water Softener for Well Water
📝 Type: Salt-based | Process: ION Exchange |Grain Capacity: 80k | Regeneration Cycle: (Metered) or every 5 days on average | Ideal Household Size: 6 people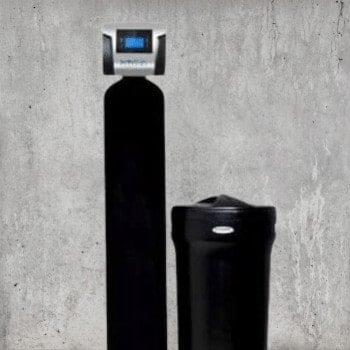 The SoftPro Elite is a high-efficiency, salt-based water softener with a surprisingly advanced design given its budget-friendly price. Perfect for wells, it removes hard minerals and up to 3 PPM of iron using up to 50 percent less salt.
Great overall value for the money.
Value-priced
Efficient
Won't impact water pressure
Lifetime warranty
---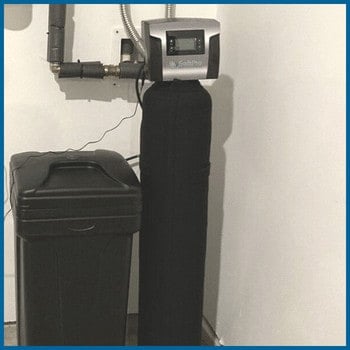 Best For: Those looking to save money on a great system and don't need an app to control it.
Not best for: Anyone looking for complete control of this system remotely will want to lean towards Springwell's SS1.
Pros
Engineered for convenience, it's simple and intuitive to program with no confusing jargon.
The Auto Reserve feature ensures a steady supply of soft water, even when demand is high.
Straightforward to install, the SoftPro Elite comes with a lifetime warranty. You won't be disappointed.
Other water softener systems produce enough brine solution to regenerate a full tank of resin each cycle. The SoftPro Elite makes just enough to rejuvenate the depleted resin, saving up to 650 pounds of salt annually. Maintenance is minimal.
Everything you need is included for 1-inch plumbing except drain tubing. While supplies last, you'll also receive a complimentary neoprene tank cover that helps control condensation.
The salt in a quart of soft water is equivalent to a slice of white bread. For very low sodium diets, the SoftPro Elite is also compatible with potassium chloride, a salt substitute.
SoftPro softeners are top sellers because they make treating hard water easy.
They don't solve every problem, but their motto is "keep it simple."
If you need a water softener but are intimidated by the technology, the SoftPro runs on autopilot.
For wells with hard water and low to moderate iron levels, fewer models offer as high a return on investment.
Cons
Removes less iron than similar systems.
Nothing else worth mentioning.
SoftPro Elite Product Updates:
Free, quick connect hoses — other's charge for this!
Upgraded 1″ plumbing ports — this is a huge improvement in water flow.
---
#3 Pentair Salt Based Water Softener
📝 Type: NAC | Flow Rate: 7GPG | Maximum Hardness: 25 GPG | Regeneration Cycle: Not Required | Ideal Household Size: 4 people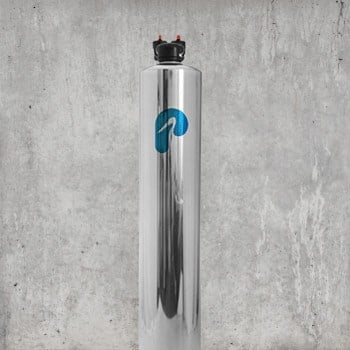 Pentair water softeners are true to their name, offering flexible features other models lack.
Choose from three modes of operation, 36 preprogrammed regeneration cycles and a double backwash option. For experienced homeowners, no softener offers more control.
Metered softening
No impact on water pressure
Safety-certified
Attractive chrome tank jacket
---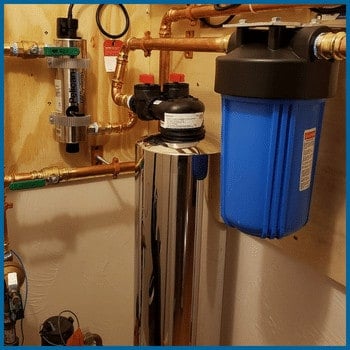 Best for: Those looking for a septic safe water softener.
Not best for: Well owners with high levels of Iron.
Pros
The metered regeneration is efficient, conserving salt and water. Made of premium components, systems are NSF 44 certified for structural integrity.
It's quality you can feel right out of the box and performance you can trust.
Chlorinated city water is tough on softeners, but for wells, the resin can last up to 25 years depending on your water quality.
Extensive research shows that briny discharge isn't harmful to your septic tank or drain field. In some cases, the added calcium improves soil percolation.
It removes most clear (ferrous) iron, but its efficiency depends on other factors from hardness to pH. Rust (ferric iron) can foul the media.
We recommend installing a sediment prefilter or using a resin-cleaning compound occasionally to remove large particles.
Pentair makes some of the best well water softeners in the industry. From the most durable tanks to the solid-state electronics, they're feature-packed and bulletproof.
If you need a basic softener on a budget, you can buy a capable model with fewer bells and whistles for significantly less.
But if you're investment-minded and can afford the extra upfront, quality is always a winning bet.
Cons
The price is 50-percent higher than similar systems, so when is buying a Ferrari worth it when a Ford will do?
Confusing multi-tier warranty
Product Updates
Now offers connected salt level detector – this is a wireless salt level monitoring system that will notify you when your salt levels get to low.
---
#4 Aquasana Rhino Salt-Free Water Softener
📝 Type: Salt-based | Grain Capacity: 64k | Flow Rate: 16 GPM | Regeneration Cycle: Metered | Ideal Household Size: 4 people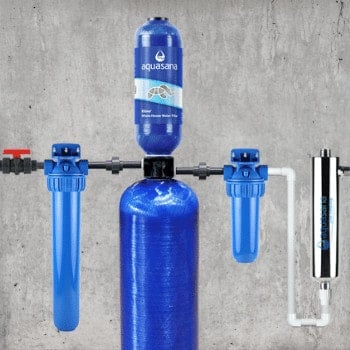 Aquasana's multi-stage Rhino filtration system eliminates the widest possible range of contaminants from dangerous heavy metals to bacteria and viruses.
It includes a UV light filter for the ultimate protection plus a salt-free water conditioner to control limescale. Your water will look, feel and taste like nature intended.
Comprehensive filtration
Makes water potable
Controls limescale without salt
Straightforward maintenance
90-day satisfaction guarantee
---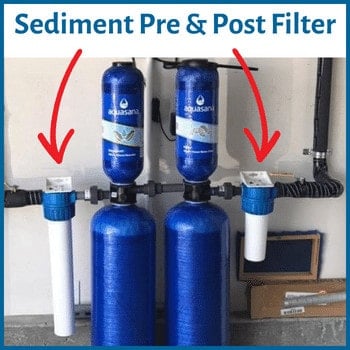 Best for: Those looking for a environmental safe water softener for well water or don't want the headache of filling a salt tank.
Pros
Low-maintenance, it's environmentally friendly and creates no wastewater.
Independently tested, it's guaranteed to perform for five years or 500,000 gallons without reducing water pressure.
Manufactured in the US, the Rhino is backed by a 60-month warranty.
Hard water will cost you money. But contaminants like lead and bacteria can cost you your health.
The Aquasana isn't cheap, but it's among the most comprehensive filtration systems money can buy.
It's less expensive than purchasing a well water conditioner, filter and UV sterilizer separately, and the components are designed to work together — you won't have to troubleshoot compatibility issues.
Not every homeowner needs the capability the Rhino offers, but whether you have a heavily contaminated well or just want the peace of mind that comes with premium filtration, no system protects you better.
The salt free water softener system features four filters plus a UV light. The primary filter is changed every five years.
The salt-free conditioning tank lasts six years.
The inexpensive pre- and post-filters should be changed every 3-6 months. Replace the UV light annually to ensure maximum potency against harmful microorganisms.
Cons
This system requires above-average DIY skills to install.
In fact, Aquasana once made the full warranty contingent on professional set-up.
Shorter than average warranty
---
Product Updates
Anti-scale technology by transforming hard minerals into inactive microscopic crystal particles.
---
#5 AquaOx WS Water Softener
📝 Type: TAC | Flow Rate: 12 – 20 | Maximum Hardness Removal: 81GPG | Regeneration Cycle: Not Required | Ideal Household Size: 6 people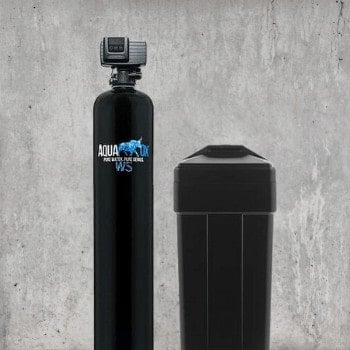 AquaOx's water softener is another deluxe product in its line of premium filtration systems.
A simple salt-based softener, it targets calcium, magnesium and low levels of iron.
Maintenance-free
Simple to install
Efficient
Supports US manufacturing
Comprehensive warranty
---
Best For: Those looking for a system that will last a good 10 years without a hitch and good customer service, will want this softener.
Pros
Equipped with a state-of-the-art digital head, it senses when the resin is saturated and backwashes automatically.
It's among the easiest softeners on the market to install, operate and maintain.
American-made by a veteran-owned business, AquaOx softeners are covered by an industry-leading leading ten-year warranty on all components, including the electronics.
Purchases are covered by a 12-month satisfaction guarantee and a generous assisted return policy.
AquaOx earns exceptional reviews for its quality products and fabled customer service.
Their water softener isn't fancy, but every detail is engineered for flawless performance.
The resin is among the finest in the business, so when they say it's maintenance-free for ten years, they mean it.
The initial price is higher than similar models but with long-lasting resin and no filters to replace, the long-term cost of ownership is rock bottom.
You won't find a more risk-free, hassle-free softener.
Installation will take about 3-5 hours with basic plumbing skills. Instructions are clear, concise and written in plain English.
We suggest adding a prefilter for wells with ferric iron. Removing large particles of dirt and rust before they enter the system will preserve the resin's efficiency.
Cons
Higher than expected price for its limited capability
Doesn't remove hydrogen sulfide
Product Updates
---
#6 SpringWell FutureSoft Salt Free Water Softener
📝 Type: TAC | Flow Rate: 12 – 20 | Maximum Hardness Removal: 81GPG | Regeneration Cycle: Not Required | Ideal Household Size: 6 people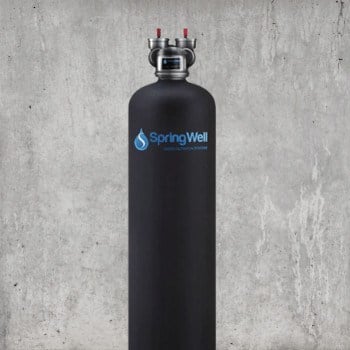 SpringWell's salt-free well water conditioner prevents 99.6% of limescale without salt or chemicals. The technology is simple — Template Assisted Crystallization (TAC) changes minerals into crystals that can't cling to metal pipes.
Environmentally sustainable, it produces no wastewater and requires no electricity.
Economical
Retains healthy minerals in drinking water
Low-maintenance
Brisk flow rate
Satisfaction guaranteed
---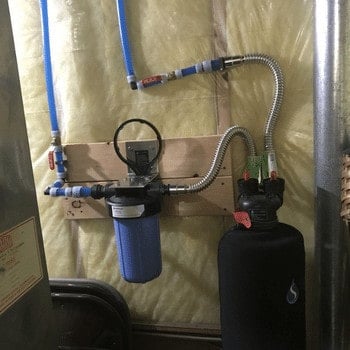 Best for: Anyone looking for the best salt-free water softener system for well water, will want Springwell FS1 system.
Pros
The advanced, high-capacity design is a breeze to use and virtually maintenance-free. Components are performance-certified and ultra-durable.
Choose from two sizes that guarantee brisk water pressure.
Covered by an industry-leading lifetime warranty, SpringWell's FutureSoft is the effortless approach to hard water.
Old-school water softeners have a reputation for being a nuisance. The salt tank refills and noisy backwashes are enough to scare some homeowners into living with hard water.
Here's a budget-friendly, set-it-and-forget-it system that lasts a lifetime without costly maintenance.
If you want the benefits of soft water without the worry, SpringWell's FutureSoft well water conditioner is the answer you've been looking for.
Cons
Less effective than salt-based water softeners at reducing soap scum.
---
Product Updates
Easy installation kit
UV add-on
Works with whole house filtration systems
---
#7 Fleck 2510SXT Water Softener System for Well Water
📝 Type: Salt-based | Grain Capacity: 26k – 88k | Process: ION Exchange | Regeneration Cycle: Metered | Ideal Household Size: 6 people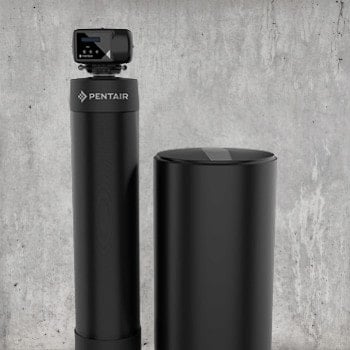 For softening well water with iron, look no further than the Fleck 2510SXT.
A budget-friendly salt-based system, its fine mesh resin lasts up to twenty years and removes up to 3 PPM without a separate filter.
Affordable
Efficient
Removes iron
User-friendly digital interface
Battery backup preserves settings in power outages
---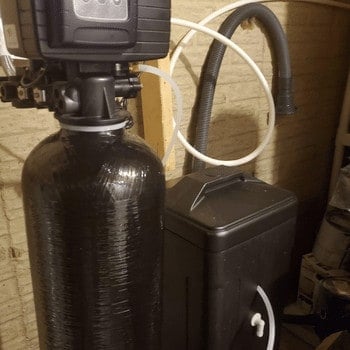 Best for: Anyone looking for a budget friendly softening system for well water that works really well.
Pros
The advanced flow meter monitors water usage and regenerates only as needed, saving you money.
It's backed by a 10-year warranty and a 6-month satisfaction guarantee.
If you don't like it, send it back for a full refund — no questions asked.
The Fleck 2510SXT is equipped with fine mesh resin that can handle the hardest water.
This system can handle iron up to 3PPM for 30-percent less than systems with fewer advanced features.
Available in sizes from 24,000-48,000 grains, it's a reliable, affordable way to soften your water.
The Fleck 2510SXT comes in several sizes to match well pump production rates from 6-11 or more GPM.
The regeneration process takes about two hours. Soft water is not available during that time, so we recommend scheduling it overnight.
Homeowners with basic plumbing skills can install this system in about a day.
Cons
May slightly reduce water pressure.
Product Updates
Now offers multiple grain sizes to accommodate larger homes
---
Compare All 7 Water Softeners For Wells
(Mobile users: Swipe to scroll)
| Compare Brands & Models | #1 SpringWell SS1 Salt-based System | #2 SpringWell FutureSoft Salt-free | #3 SoftPro Elite Softener | #4 Pentair Salt-based | #5 Aquasana Rhino Conditioner | #6 AquaOx WS Softener | #7 Fleck 2510 SXT System |
| --- | --- | --- | --- | --- | --- | --- | --- |
| Rating | 5/5 | 5/5 | 4.5/5 | 4.5/5 | 4.5/5 | 4.5/5 | 4.5/5 |
| Price | $$$ | $$$ | $$$ | $$$ | $$ | $$$ | $$ |
| Process | ION Exchange | TAC | ION Exchange | ION Exchange | NAC | ION Exchange | ION Exchange |
| Grain Capacity | 32k, 48k, 80k | 81GPG | 80k | 48k | 25 GPG | 64k | 26k – 88k |
| Max Iron | 7 PPM | *Requires Pre-treatment | 3 PPM | 3 PPM | 1 PPM | *Requires Pre-filter | 3 PPM |
| Flow Rate | 11-20 GPM | 12-20 GPM | 7 GPM | 12-15 GPM | 7GPG | 16 GPM | 6-11 GPM |
| BlueTooth | ✔️ | ✔️ | ❌ | ✔️ | ❌ | ❌ | ✔️ |
| Warranty | Lifetime | Lifetime | 5 year | 5 year | 5 year | 10 Year | 10-year |
Didn't find what you're looking for? See our other water softener reviews:
Buyer's Guide – To Water Softeners For Private Well Systems
If you're one of the 85-percent of Americans with hard water, you have a choice to make. Live with the misery or correct the problem with a water softener for well water. From higher utility bills to appliance breakdowns, too many minerals in your well is going to cost you — but we're here to help. Join us as we demystify the technology, translate the jargon and help you find the best whole house water softener for well water.
How We Picked
Our review process is based on eight key factors: filtration process, capacity, system type, flow-rate, installation & maintenance, ease of use, certifications, and long-term cost.
I know this might seem like a lot of factors to take into consideration. However, in my experience, it shouldn't be overlooked. We also take things a step further by reading online reviews that provide user feedback. In doing so, provides a lot of clues to weather or not any of these systems can live up to its claims before we ever review them.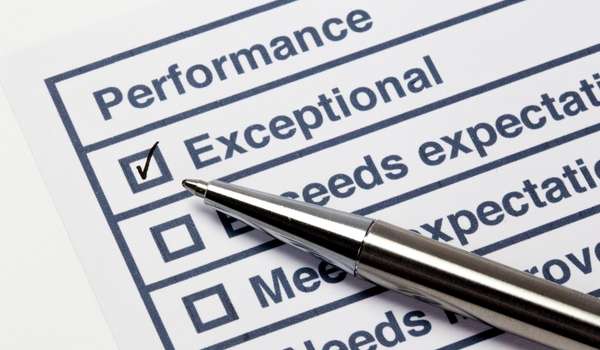 Key Considerations
Filtration Process: This the most important factor to consider when buying a water softener for private well water. It should be able to handle contaminants such as iron, manganese, and other minerals that can cause hard water.
Capacity: You want to make sure the system you buy has enough capacity to handle all of your water needs at peak demand. Try to calculate your 7-day average of water usage by taking notes of from your water meter am/pm.
System Type: You have two options – salt-based or salt-free conditioners. Either system has its own pros and cons and it's also important to check with your local water department to see if you can use a salt-based system — some towns don't allow them.
Flow Rate: This is a critical to pay attention to, get this wrong and you could slow your water flow down to a trickle if you're running at peak demand. Most families of 4 can get by just fine with a system that produces 9GPM.
Installation & Maintenance: Many of the systems are DIY friendly. However, in most cases, you're better off hiring a professional contractor to install your new system. The maintenance requirements are pretty low in comparison to other big brands.
Ease of Use: Look for models that require the least amount of maintenance, or brine tank refills. Systems that can auto-regenerate, and models that can be operated and monitored by your phone/tablet app.
Certifications: It's important to check that the product has been certified by a reputable organization, such as NSF International or WQA — you can count on these organizations to provide truthful and accurate testing so that you can have peace of mind in your purchase.
Long-Term Cost: This should be pretty standard, but often overlooked and should be taken into consideration before any purchase. Nobody wants a money-pit of a system that goes through bags of salt, or pre-filters, etc.. Pay close attention to the manufacturers guidelines and calculate the annual costs. We have them listed for each product for your convenience.
Advantages & Disadvantages: Salt-based Vs Salt Free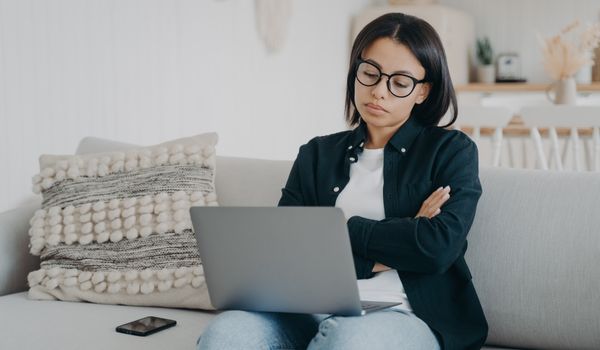 Pros of Salt-Based Water Softener:
Removes hard minerals like calcium and magnesium from water with high efficiency.
Great for most residential, commercial applications where permitted to use.
Longer lasting due to salt brine regeneration cycles that prevent mineral buildup on surfaces over time.
Cost effective solution for reducing high levels of hardness from your water supply and reducing appliance failures.
Cons:
Higher long-term costs due to annual salt-usage.
The need to use certain types of salt in order to prevent salt-bridging, etc.
Requires regular maintenance and upkeep for the system to function properly.
Pros Of Salt Free Water Softener:
Eco-friendly option since no additional salt or chemicals are needed for operation.
Less maintenance than salt-based systems since there is no need for regular regeneration cycles.
Can reduce soap scum buildup on surfaces over time in areas where hard water is not an issue.
Cons:
Not as effective at removing hard minerals from water compared to salt-based systems. You need to know what your max hardness ratings are beforehand.
These systems can sometimes be more expensive than salt-based systems.
What Is Hard Water?
Hard water is any water with high mineral content. It's natural — the results of rain carrying minerals from rock and soil into your aquifer. Measured in grains per gallon (GPG), hardness ranges from slight at 0-3 GPG to extremely hard at over 14 GPG. Water with more than 7 GPG of dissolved minerals benefits from softening.
What Types of Minerals Are Found in Well Water?
The average well can contain a dozen or more hard minerals, but only some occur in quantities large enough to make water hard.
Calcium Carbonate
Calcium carbonate is a healthy mineral. The body needs it to make bone and maintain a normal heart rhythm. The calcium in your well is the same found in over-the-counter heartburn remedies. It won't hurt you.
But too much calcium forms limescale in your pipes — a thick, chalky residue that narrows their diameter, decreasing water flow to your tap and appliances. Dishwashers and water heaters work overtime to keep up, resulting in higher utility bills and premature repairs.
Calcium is also responsible for the stubborn scale on your bathroom fixtures. It makes your hair feel like straw and dulls your linens — just a few washes in hard water and brights may be irreversibly faded.
Magnesium
The body requires magnesium for more than 300 biochemical reactions. It supports muscle and nerve function, regulates your blood pressure and keeps blood sugar in check. Too much magnesium can be toxic, but even the hardest water doesn't contain enough to be hazardous to you health. What does to your home, however, is a different story.
Magnesium adds to the limescale calcium creates. It also prevents soap from lathering effectively, leaving soap scum on your tub and skin that won't wash away, and clothing never feels quite clean.
Iron
Iron is a necessary nutrient for building red blood cells. It's not harmful, yet it's classified as a secondary contaminant because it attracts iron bacteria — a group of non-pathogenic microorganisms that feed on dissolved iron. Alone, they're harmless, but they create conditions under which disease-causing bacteria can grow.
Levels above three parts per million (PPM) can cause significant water quality issues. It not only affects how water looks, tastes and smells, but it also wreaks the same havoc as limescale on your plumbing and appliances.
There are two types of iron. Ferric, or red iron, is insoluble. It's the rust that gives water a brown or orange tinge. Unappetizing to drink, it clogs pipes, faucet aerators and shower heads. If your water pressure is low, iron could be to blame.
Ferrous, or clear iron, is dissolved in water. Invisible, iron bacteria convert it into ferric iron, leaving a dank, sticky orange slime in your toilet and tub. Corrosive, it can damage sensitive parts in dishwashers.
Testing for Hard Water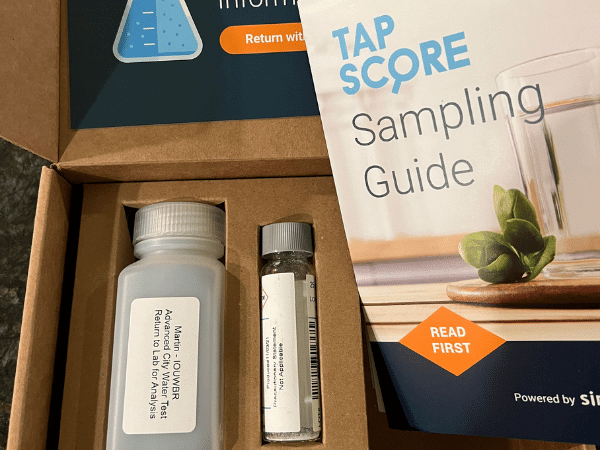 The signs of very hard water are hard to miss. But lower levels can go unnoticed until the damage is done. USGS maps identify areas nationwide where water is hard, but geographically, places with soft water are within mere miles of towns with levels above 14 GPG. The only way to know for sure how hard your water is is to have it analyzed.
Some homeowners use an inexpensive TDS meter to measure total dissolved solids in water — the bulk of which are minerals. But readings are non-specific. It's like telling a swimmer there are fish in a pool without mentioning if they're sharks or guppies. The devil is in the details.
A water test shows what types of minerals are in your well and their levels. You'll learn a lot about your water's chemistry, a critical step in choosing the right softening system. The best water softener for iron removal, for example, may not be the ideal choice for homes with more limescale than rust issues.
Your water's hardness, pH, oxygen content, tannin levels and more affect how well water softener systems work. And you may have surprise contaminants that also need to be removed. The best hard water solutions begin with knowledge.
How should you test your water? How it's done matters less than who does it. Testing is offered by state and private laboratories, the Cooperative Extension System and better water softener vendors. But whether you have it done locally or purchase a kit, results should come from a certified water treatment laboratory. They use only the latest scientifically approved testing methods and pass rigorous annual site inspections. Your water quality is vital, so accuracy matters.
Do I Need A Water Softener for Well Water?
Minerals aren't harmful to your health, so if you can live with minor nuisance issues, the choice to soften water is yours. A softening system is an investment, and with so many projects around the house vying for your dollars, you want to spend them where it counts.
But hardness above 7 PPM can have a costly impact on your home, and few upgrades offer as high of a return on investment as a well water softener. Compared to the price of replacing your water heater — $1500 or more — it's a bargain.
How Does A Well Water Softener System Work?
There are three types of water softeners.
Conventional salt-based water softeners that remove minerals
Salt-free softeners, or water conditioners, that neutralize them, preventing the formation of limescale.
Electronic descalers — salt-free systems that use magnetic waves to keep minerals suspended in the water, so they don't stick to pipes.
Their benefits are similar, yet there are key differences. Let's take a closer look at their pros and cons.
Types of Water Softeners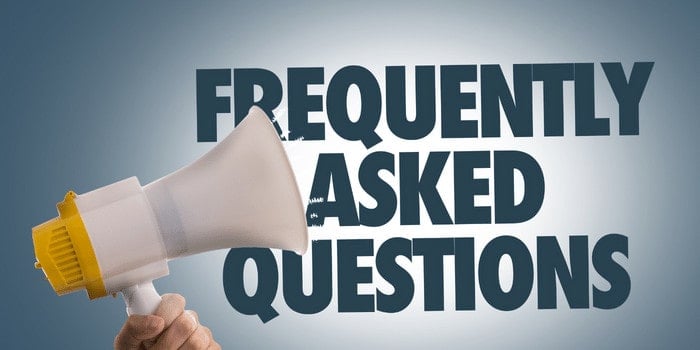 Salt-Based Water Softeners for wells
Salt-based water softeners eliminate minerals via a ion exchange process. As water flows through the softening tank, special resin captures calcium, magnesium and iron. Once saturated, it's flooded with a brine solution that washes away minerals and rejuvenates the bed. It's the most effective way to treat very hard water.
But salt-based systems have disadvantages, including:
Maintenance
You'll need to refill the brine tank with salt pellets every few months or risk losing your softening benefits. Plan to spend about $300 a year.
Size
Salt-based systems have two tanks, requiring more space. Salt is cheaper by the pallet, so you can save by buying in bulk, but only if you have room to store it.
Wastewater Production
Under average conditions, conventional water softeners produce 40-150 gallons of briny wastewater weekly. Hazardous in ecologically sensitive areas, they're not welcomed in some states.
Flow Rate Limitations
Wells with a low flow rate may not produce enough water for salt-based softeners to backwash effectively, compromising the performance and longevity of the resin.
Salt-Free Water Softeners For Wells
Salt-free water softeners, or as some call them "salt free water conditioners", don't remove hard minerals. They alter their chemical structure, so they can't stick to pipes. Environmentally friendly, they produce no wastewater, require less maintenance and have fewer flow rate limitations.
But while salt-free conditioners solve the most costly hard water problems — high utility bills and appliance repairs — they're not quite as beneficial for your clothing, skin and hair. And they cost up to 30-percent more than their conventional counterparts upfront, but the prices are offset by not having to buy salt.
Electronic Descalers
Electronic descalers are novel, salt-free systems that prevent limescale with electromagnetism. Coils of wire wrapped around your water supply line create a magnetic wave that keeps minerals suspended in water. It doesn't alter their chemical make-up, but it prevents them from accumulating in pipes.
The jury is still out on whether the technology works. There's solid evidence to support it, but studies are scant. They can't be used on lead or iron pipes because the metal interferes with the magnetic waves, but their benefits include:
Easy, DIY-installation
No flow rate limitations
Requires minimal space
Low upfront cost
Maintenance-free
No ecological impact
What Kind of Water Softener Do I Need?
The most effective way to soften water is with salt, but the effects of hardness are usually proportional to mineral levels. As a general rule — we recommend a salt-based system for total hardness above 10 GPG. For levels below 10 GPG, a salt-free conditioner may meet your needs without the disadvantages associated with salt.
How Do I Choose the Right Well Water Softener?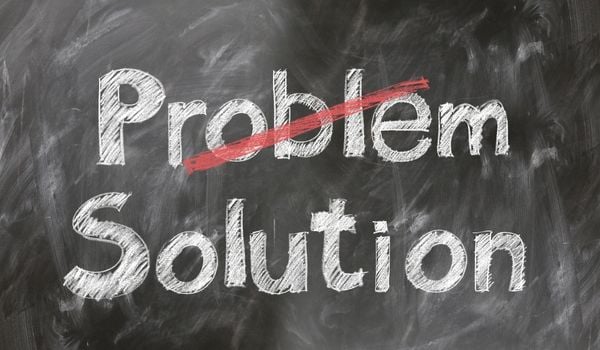 In addition to hardness level, consider these factors.
Contaminants
No two softening systems are alike. Each is equipped with different media that have unique filtration capabilities. The best water softeners for well water with iron may not be the best water softener for well water with iron and sulfur. Many don't remove iron at all, while some that remove iron are ineffective if your well has tannins or hydrogen sulfide — the gas responsible for smelly rotten egg odor.
Water with biological or chemical contaminants may need a well water softener and filter. The ideal system will remove all target contaminants without being compromised by specific substances in your well.
System Size
Salt-based water softeners are sized by the grain — a 32,000-grain softener removes 32,000 grains of hardness between regeneration cycles. An undersized softener will regenerate too often, driving up your utility and salt bills. Oversized models cost more than necessary and may not soften efficiently.
Choosing the right size is essential. Here's the formula the pros use:
Number of residents × their daily water use (80 gallons is a good average) × grains of hardness
According to this calculation, a two-person household with moderately hard water would need a 32,000-grain softener — a four-person home with very hard water would require a 48,000-grain system or more.
Because a well water conditioner doesn't remove minerals, grain sizing isn't applicable. Most manufacturers use easy, by-the-bathroom sizing.
Flow Rate
A water softener's flow rate is the number of gallons it can process per minute (GPM). Why is that important? Any barrier between the water inlet and the tap may reduce your water pressure. Quality filtration takes time, but a softening system that slows your shower to a trickle when someone turns on a faucet elsewhere in your home won't be satisfactory long-term. The average model offers a very manageable 6–8 GPM, but the higher the rate, the happier you'll be.
Safety and Convenience Features
Safety and convenience features can make or break a water softener. Essential for the busy homeowner who wants to spend more time enjoying their softening system than worrying about it, look for them as you shop.
Metered Softening
Metered water softeners track your water use and regenerate only when necessary. It's a money-saving upgrade from old-school systems that regenerate at timed intervals. Water usage can vary drastically within a week, so why waste salt when it's not necessary?
Bypass Valve
Soft water is a must for showering and washing dishes, but hard water is fine for irrigating the gardening or hosing down the garage floor. A bypass valve lets you switch between soft and hard water so that you're not wasting salt for applications that don't require softening. It's beneficial for the environment and your checkbook.
The best water softeners for well water have built-in bypass valves, but you may have to add your own with a bargain brand. Usually, it makes good financial sense.
Vacation or Bypass Mode
Water softeners aren't rocket science, but they occasionally malfunction. The most common worry is an overflow of the brine tank. A mishap while you're on vacation can seriously damage your home.
The good news is that most tanks are equipped with floats for overflow protection. Similar to the type in your toilet, it rises with the water level, and when it reaches the maximum, it triggers a stop switch. They're very reliable, but what happens if the float is faulty? The best water softeners for well water eliminate that worry with an automatic vacation or bypass mode.
Programmed into the valve, it takes the hassle out of turning off your water softener with the push of a button. If the kids are home while you're away, they'll still have water but you won't have to worry about malfunctions.
Battery Backup
If you live in an outage-prone area, resetting your water softener every time the power flickers off momentarily is a hassle. Battery backups save your settings, so your softener switches back on automatically with no change in the regeneration schedule.
Some brands offer a long-lasting lithium battery that rarely needs changing. Others use a regular household battery. If your has a 9-volt, remember to change it every spring and fall with your smoke alarm batteries.
Wide-Mouthed Brine Tank
Hefting forty-pound bags of salt into a brine tank is taxing enough without having to pour it into a narrow opening. Wide-mouthed brine tanks are easier to refill.
Low-Salt Indicator
Running your softener without adequate brine solution can damage the system. The latest models are equipped with low-salt indicators that warn you when maintenance is due without having to open the brine tank.
Remote Control Apps
Why trudge to the basement to check on your water softener when you can get a status update on your phone? Select models have an app from which you can control most functions. Change the regeneration cycle, check your water usage at a glance or get a low-salt warning. As long as apps are compatible with your device, it's a labor-saving feature that also offers peace of mind.
Budgeting for a Water Softener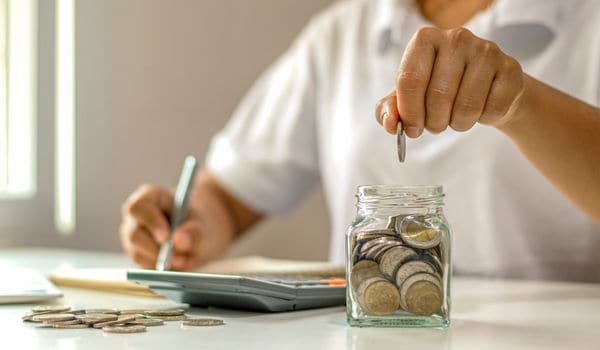 Water softener systems for wells are easy to buy but challenging to budget for. It takes planning. Let's review the process.
Permits
Most municipalities require permits for home upgrades. You'll want to check local codes to ensure they allow water softeners and pay for any necessary permits. The process can take days to weeks to complete. Nationwide, costs average $25-$200.
System
You can purchase a quality water softener for as little as $500 to as much as $3000 uninstalled. Price matters, but we recommend being investment-minded when it comes to your water quality. If you're lucky, a softener is all you need. But what if a water test turned up bacteria, lead, or nitrate contamination from the farm up the street? What if you have high tannin levels that can ruin a softener prematurely? Addressing issues on a whole whenever possible is a safer and more cost-effective approach than adding to a softening system piecemeal.
Home Adjustments
Whole house water softeners and iron filters are installed near the service entry, usually in the basement or garage. But what if you don't have a drain handy? The simplest solution is often to run a line to a drain in another location, but some homeowners choose to have one installed for an average of $1000.
Space-challenged and may require upgrades for a softener to fit in the desired location. Every alteration adds to the cost of your project.
Installation
A basic water conditioning system for well water is straightforward to install for the committed DIYer. But if you're not handy, we suggest calling an expert. Depending on the system's complexity and other factors, such as irregular plumbing, fees range between $400 and $4000.
Maintenance
Water softeners require remarkably little maintenance, but the price of salt and replacement pre-filters add to the long-term cost of ownership. It's worth knowing the bottom line. The best water softener systems require less upkeep but cost more upfront. Bargain softeners that require resin changes in the first five years are more affordable initially but could cost more in the long run.
If you need a softener for well water today but can't swing the latest and greatest model, buy what you can comfortably afford and budget a little more for maintenance. The money you save by protecting your home will offset the cost.
Extended Warranties
The best water softener systems for well water come with comprehensive warranties. Durable parts, like tanks, may be covered for ten years or more — electronic or mechanical parts for five. Good-quality systems, however, can come with lesser warranties. Some manufacturers are opting to reduce coverage in favor of lower upfront prices. Your comfort with risk should determine your choice.
Water softeners are reliable, and breakdowns are rare, but many vendors also offer extended warranties. It's extra peace of mind, but you'll pay — $200 to $1000, on average, depending on the level of protection you choose.
Are NSF Certifications Important?
The National Sanitation Foundation (NSF) offers a voluntary certification program that validates water filters against industry standards.
Softeners are certified to NSF/ANSI Standard 44 addressing:
Material safety — are products free from materials that could add contaminants to water?
Hardness and contaminant reduction — does testing verify performance claims?
Structural integrity — is the softener structural sound under average conditions?
Water pressure drop — will it drop water pressure enough to compromise efficiency?
Softening capacity and rinse efficacy — is backwashing effective?
Accuracy of brine system — does the system mix brine solution correctly?
Accuracy of data provided to the consumer — are performance claims accurate?
NSF certification, however, is costly, so not all manufacturers participate. It can cost $100,000 or more to bring a single product to market, so instead, some build systems from certified parts. Is it equivalent? Not really. It's an advantage, but just because individual components meet NSF criteria doesn't necessarily mean that they will function efficiently together.
If a water softener isn't NSF certified, you may save money, but you're taking a chance. The exception is products certified by the IAPMO — North America's latest plumbing and mechanical product certification agency.
Where to Buy a Well Water Softener?
Buying a water softener online is proving to be a convenient and affordable alternative to purchasing from the typical full-service vendor. If you can manage some of the details yourself, the savings can be considerable.
But what if you want guidance? What brand of water softener is best depends on your needs — there's no pat answer. And well water softener reviews can be deceiving. The comments are helpful but they rarely tell the whole story. Getting the best whole house water softener is a challenge you don't want to trust to just anyone. The most reputable companies work with you every step of the way, from testing your water to troubleshooting the installation.
Who do we trust? There are many trustworthy companies, but three that stand out are:
1. Aquasana
Aquasana is a Texas-based company specializing in all types of water filtration. Founded in 1998, they offer two decades of experience and are committed to customer service. Popular among DIYers looking for their affordable, proven products in all sizes, if you're looking for the best small water softener or multi-stage filtration products, check out Aquasana.
2. AquaOx
AquaOx is a veteran-owned, US-based company started in 2006. Focused on convenient, whole-home filtration systems, their products are among the simplest to install and maintain. American-made, they cost a little more upfront than bargain softeners but are warrantied for ten years. You get a 12-month money-back satisfaction guarantee — the best in the business. If you don't like it, they'll even help you send it back.
3. SpringWell
SpringWell is a Florida company dedicated to solving the toughest water problems. In business for more than twenty years, they offer a wide range of products from basic softeners to filtration systems rivaling water treatment plants. If you need it, they have it.
Manufactured using certified components, their tanks and valves are warrantied for life. You'll enjoy a 6-month satisfaction guarantee at factory-direct prices. Dependable, their customer support is among the best in the business.
Maintenance & Installation Guide
No two water softeners are exactly alike, but here's a general installation and maintenance guide for salt-based systems.
1. Determine the Location
You'll need 8-16 square feet for your system plus room for maintenance, depending on the number of tanks. It should be located near a drain and an outlet at least ten feet away from your water heater to prevent damage in case of an accidental backflow.
2. Unpack the System
Most softeners come with everything you need for installation except tools. If the system comes with 1-inch fittings and you have ¾ inch plumbing, you'll need a few inexpensive adapters to make it work. Make sure you have everything you need before the start the installation process. Have a plastic bucket and sponge handy to pick up spills.
3. Read the Instructions
Review the instructions in their entirety before installing the system. They contain helpful tips and important warnings that you should know before you begin.
4. Installation
Turn off the water
Rough-in your system for measurements
Cut the required plumbing
Install the bypass valve
Cut the pipes or flexible tubing that connect the softener to the water line
Cut the water line where the two will connect
Install the softener
Connect the drain line and brine tank
Load the salt-base
Turn on the water
Open the bypass valve
Plug in the unit
Installing a new water softener takes most homeowners a day. Plan on a half-day to replace an existing unit.
5. Test the System
Inspect the connections for leaks
Program the control valve based on your hardness levels
Run a regeneration cycle to purge the hard water remaining in your pipes
6. Maintenance
It's good practice to peek at your system weekly to ensure nothing is leaking, but the rest of the maintenance schedule is mostly salt refills. Getting to know your softener takes time. The instruction manual will help you estimate when you'll need salt, but unless your model has a low-salt indicator, you'll have to open the brine tank to check the level. Most homeowners add salt monthly.
Most manufacturers recommend inspecting high-wear parts periodically. Depending on your water quality, seals and gaskets may need replacing at regular intervals, so pencil it in on your schedule and enjoy your soft water.
Problems With Water Softeners
Water softeners are effective, but they have drawbacks.
Cost
The most obvious drawback to water softeners is their cost. The return on investment is high, but it's a small consolation when you'd rather blow the cash at Disneyland.
Environmental Impact
Salt-based water-softening systems are not environmentally friendly. Briny discharge increases treatment costs at the sewerage plant and limits the potential for recycling treated wastewater. Salt is a natural substance, but in excess, it's a pollutant.
It's also hazardous for your home garden. Softened water contains residual salt and lacks the minerals plants crave. Hard water is best for irrigation.
Slippery Water
Salt-softened water has a slippery feel. Without minerals, it's less abrasive than hard water and feels slick on your skin — it's an unusual sensation that takes getting used to. Salt-free water conditioners don't affect mineral content, so water feels natural.
Salty Taste
Water from conventional softeners can taste slightly salty and affect your cooking. The lack of minerals also gives it an off-flavor. Not everyone notices, but if you're sensitive, you may. It also adds some sodium to your diet. Most experts agree it's not harmful, but you should check with your doctor if you're on a very strict low-sodium diet.
Frequently Asked Questions
Can a water softener remove iron from well water?
Salt-based softeners can remove iron, but most remove 2 PPM or less — more can permanently damage the resin. The best water softener for well water with iron is one equipped with special media engineered for greater iron removal.
How much do I need to change the water softener resin?
Resin is self-cleaning, but it degrades over time based on its initial quality and your water chemistry. If your system is adequately sized, it can last up to 25 years, but 10-15 is a good average.
What does the resin in the water softener do?
Negatively charged resin attracts positively charged minerals, trapping them in a chemical bond. The salt or potassium in the brine solution breaks the bonds and sweeps minerals down the drain.
How much does it cost to install a water softener for a well?
The national average is $800 – $1200, but it depends on the complexity of the installation.
Do water softeners make a lot of noise?
Most don't. However, systems that use air injection technology to remove iron can make a loud hissing noise during regeneration when the piston operates.
Why do I need a water softener?
Water softeners prevent the buildup of limescale that can reduce your water pressure, clog your pipes, increase your utility bills, ruin your appliances and more. It's a sound investment.
Do I need a plumber to install my water softener?
Water softeners are relatively easy to install, but it requires cutting pipe — something not all homeowners are comfortable with. If you have irregular plumbing, limited space, or don't know a hammer from a screwdriver, consider hiring a plumber.