Today's refrigerators are more than just appliances. The humble icebox has evolved into a well-appointed refreshment center with five-star features from ice makers to water dispensers.
But it's garbage-in and garbage out, so if your ice cubes taste like chlorine, your refrigerator filter may be to blame.
Do Refrigerator Filters Really Matter?
Refrigerator filters were once ordinary charcoal filters. Some still are, but as the technology improved, so did the options. Refrigerator filters now offer front-line protection against dangerous contaminants from lead to PFOA. And premium carbon enhances taste better than ever.
If you have kids in the house, ask yourself — are the water and ice from your refrigerator as fresh and safe as they should be? Unless the answer is yes, this review is for you.
11 Best Refrigerator Water Filters On The Market
We tested dozens of refrigerator filters to find models you can trust. Let's review their specifications.
#1 Clearly Filtered Universal Inline Fridge Filter
📝 Type: Activated Carbon | Process: 3-Stage Inline | Contaminants Removed: 230+ | Filter Life: 365 gallons | Flow-rate 0.75 | Testing: NSF 42, 53, 401 certified | Warranty Lifetime | Cost: $$$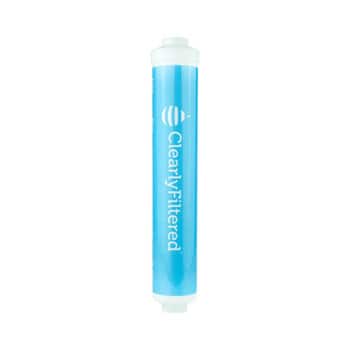 Use Coupon Code:
QWL15
Don't let the name fool you. This filter is universal, but it's far from average and you'll notice the difference as soon as you fill your first cup with this water filter.
Features
Cutting-edge Affinity filtration technology targets 230-plus contaminants
Industry-leading 365-gallon filter capacity
Brisk 0.75 GPM flow rate
Universal fit
Effortless installation
NSF 42, 53, 401 certified
Limited lifetime warranty
Engineered and built in the United States
---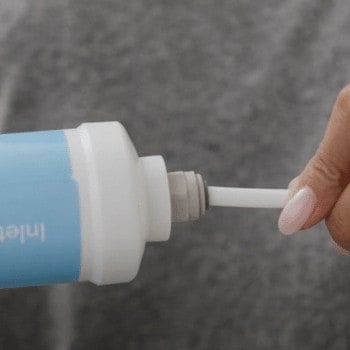 Best for: If your family's health is your top priority, this is your filter and it doesn't void your fridge warranty.
Not best for: Buyers on a budget may cringe at the price.
Pros
In our testing the water tasted crisp and clean, and you will notice the difference right away.
The universal design fits any refrigerator with a standard, 1/4-inch water line, so you won't need to worry about compatibility.
Ultra-efficiency carbon media eliminates 98.9% of lead, 99.8% of PFAS/PFOAs, and 90.7% of fluoride, so you can be confident in the quality of your water.
We love the high-capacity, long-life filters that require less maintenance, so you can save time and effort.
The generous flow rate means less waiting for water, and you'll appreciate the convenience.
Certifications guarantee top performance, so you know you're getting the best possible product.
Independent test results are posted on the manufacturer's website — we appreciate transparency and this allows you to make an informed decision.
Contains no activated alumina or bone char — a plus for vegans, and something we like about this product.
It's risk-free — if you don't like it, send it back within 30 days for a full refund. That's confidence in their product.
Cons
Costs ten times more than the lowest-priced filters on our list.
My Take
No refrigerator filter reduces as many contaminants as the Clearly Filtered — it's not even close. As powerful as a whole-house filter, they poured their heart into it, and it shows. But it's not cheap, either. If all you need is a chlorine filter, it's overkill. But if only the best will do, it's worth every dime.
#2 GE RPWFE Refrigerator Water Filter
📝 Type: Activated Carbon | Process: Replacement Fridge Filter | Contaminants Removed: 50+ | Filter Life: 300 gallons | Flow-rate 0.50 | Testing: NSF 42, 53, 401 certified | Warranty Limited one year | Cost: $$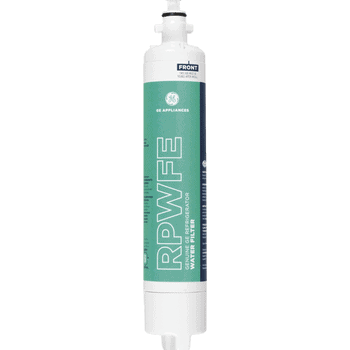 Upgrade any GE refrigerator with this premium carbon filter. It's their most advanced yet.
Features
Advanced activated carbon block filtration
6-month, 300-gallon filter capacity
0.50 gpm flow rate
Tool-free installation
NSF 42, 53, 401 certified
---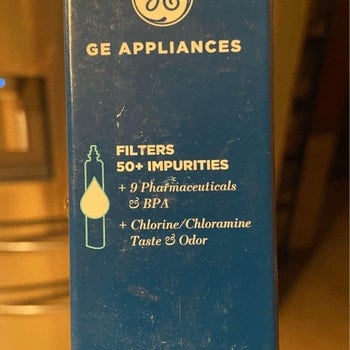 Best for: Families on a budget who need dependable, broad-spectrum filtration for a reasonable price.
Not best for: If want fluoride reduction, stick to the Clearly Filtered.
Pros
Impressive certifications guarantee safety and performance.
Produces fresh, crystal-clear water.
OEM filter fits all GE refrigerators, including most French door styles.
Reduces more than 50 contaminants including chlorine, chloramines, lead, PFOS and VOCs.
Easy, tool-free filter changes require no technical expertise.
GE is an established company with good parts support — replacement filters are readily available.
Sign up to receive filter placement reminders by text — our favorite feature!
Cons
It's only compatible with GE refrigerators.
It does not remove fluoride.
The refrigerator timer doesn't sync with the filter in all models.
My Take
The GE is second only to the Clearly Filtered for contaminant removal. But when it comes to taste, they're on par. If bottled water is breaking the bank, it delivers healthier water with great flavor at a budget-friendly price. You won't be disappointed.
#3 Everydrop Filter 1 Whirlpool Ice and Water Refrigerator Filter
📝 Type: Carbon Block | Process: Inline | Contaminants Removed: 28+ | Filter Life: 200 gallons | Flow-rate 0.75 | Testing: NSF 42, 53, 401 certified | Warranty Limited one-year | Cost: $$
If you have concerns about lead in your water, then EveryDrop is the right filter for you.
NSF Certified to reduce over 28 harmful contaminants and 99% of heavy metals to improve your water's taste and smell — You will notice the difference right away.
Features
• Pure coconut shell carbon filtration
• 200-gallon filter capacity
• 0.75 gpm flow rate
• Straightforward installation
• NSF 42, 53 and 401 certified
---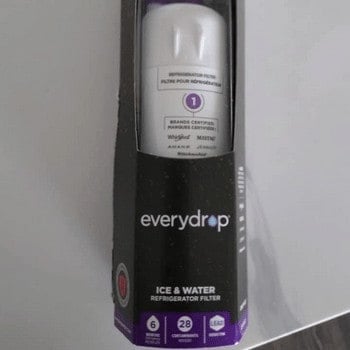 Best for: Environmentally conscious families with below-average water usage.
Not best for: Value-oriented buyers can get more for less.
Pros
Owned and distributed by Whirlpool, a well-known company with a strong industry presence.
Reduces 28 contaminants, including 99% of lead.
Gives water a natural, polished taste.
The lively flow rate fills cups faster.
One-snap, pop-in filter changes take seconds to change.
Coconut shell carbon is ecologically sustainable and environmentally friendly.
The Everydrop Filter 1 is the only non-OEM replacement filter approved by Whirlpool, Amana, Maytag, KitchenAid and JennAir — it won't void your warranty.
Cons
Shorter-than-average filter life means more maintenance for high-usage households.
Requires a 4-6 gallon flush after installation to clear the carbon dust.
My Take:
The Everydrop 1 is a quality filter approved by most major brands — it's hard to argue with that. NSF-certified, it's a top performer, and the water tastes fantastic. But it reduces fewer contaminants for the same price as the GE filter, and we're suckers for value. Unless it's to preserve your warranty, why pay more for less?
#4 Frigidaire ULTRAWF Pure Source Ultra Water Filter
📝 Type: Activated Carbon | Process: 3-Stage Inline | Contaminants Removed: 45+ | Filter Life: 200 gallons | Flow-rate 0.50 | Testing: NSF 42, 53, 401 certified | Warranty Limited 1 year | Cost: $$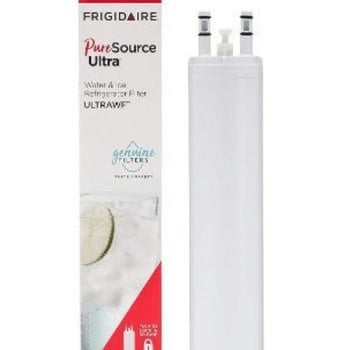 Frigidaire's block carbon filter reduces higher levels of contaminants than most carbon filters. It gets the chlorine out.
Features
High-efficiency carbon filtration
Genuine OEM filter
200-gallon cartridge capacity
0.50 gpm flow rate
WQA and NSF 42, 53 and 401 certified
---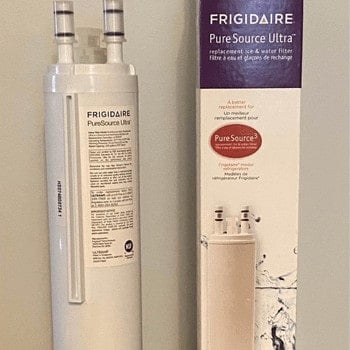 Best for: No filter eliminates chlorine taste better.
Not best for: Well water with heavy sediment will drastically shorten the filter life.
Pros
Broad compatibility — fits most Frigidaire, Crossley, Electrolux, Kenmore and LG refrigerators.
Carbon block filtration excels at removing chlorine and fine sediment.
Reduces 45-plus contaminants, including more VOCs than most brands.
Multiple certifications underscore its reliability.
Push-in filter changes are a cinch to install.
Works with reminder lights on most models.
Fair price
Cons
Sluggish flow rate — a problem with many carbon block filters.
Not tested or certified to remove PFAS/PFOA.
My Take
A solid filter for city water, the Pure Source Ultra virtually eliminates chlorine and turbidity. Your water will look, smell and taste amazing. But it does its job so well, that like many carbon block filters, it's prone to clog if your water is heavy with dirt and rust. Unless you have sand and sediment prefilters for your well water, it's for city mice only.
#5 LG LT1000P Replacement Refrigerator Water Filter
📝 Type: Activated Carbon | Process: 3-Stage Inline | Contaminants Removed: 8+ | Filter Life: 200 gallons | Flow-rate 0.50 | Testing: NSF 42, 53, 401 certified | Warranty Limited one year | Cost: $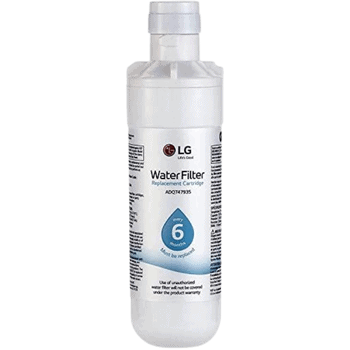 An excellent all-purpose filter, the LT1000P is smart fridge-compatible.
Features
Reliable carbon filtration
0.5 gpm flow rate
6-month, 200-gallon capacity
NSF 42, 53, 401 certified
LG ThinQ app-enabled
Best for: This filter is the perfect fit for LG's smart refrigerators.
Not best for: Low-tech aficionados won't get their money's worth with this model.
Pros
Improves taste
Effectively removes most serious contaminants, including lead and mercury.
Genuine OEM filter maintains your smart fridge warranty.
Perfect, leak-free fit in LG refrigerators.
Low-capacity filters last longer than similar brands.
Use the LG ThinQ app to register your warranty and order replacement filters.
Certifications offer peace of mind.
Cons
Tricky installation — the cartridge is challenging to align.
Higher priced than the competition.
My Take
Ideal for LG's ThinQ appliances, this filter is an effective, safety-certified choice with thousands of glowing reviews. Like most OEM cartridges, it costs more than we'd like it to, but it delivers what it promises and more. Bargain hunters can do better, but it's a seamless fit for the connected home.
#6 SAMSUNG Genuine Filter for Refrigerator Water and Ice
📝 Type: Activated Carbon | Process: 3-Stage Inline | Contaminants Removed: 34+ | Filter Life: 300 gallons | Flow-rate 0.50 | Testing: NSF 42, 53, 401 certified | Warranty Limited one year | Cost: $
Samsung's OEM replacement filters are as top-notch as the originals. A precision fit, they're guaranteed to be leak-free.
Features
Superior-grade carbon block filtration
300-gallon, extended-capacity filter
0.50 gpm flow rate
NSF 42, 53, 401 certified
---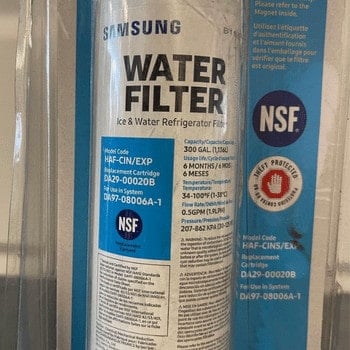 Best for: Samsung refrigerators — most generic filters don't fit properly and may void your warranty.
Not best for: May not fit Samsung models more than five years old — verify the model number on the company website.
Pros
Concentrated carbon removes 34 contaminants, including chlorine, mercury, pesticides, lead and more.
It's among the simplest filters to install.
Enjoy clear, fresh-tasting water.
The authentication tag confirms it's a genuine Samsung filter — no more cheap knock-offs!
It's remarkably affordable for an OEM filter.
A popular model, it's found online and in stores.
Available in multi-packs that further reduce the price per unit.
Cons
My Take
If you're limited to OEM filters, be grateful they're Samsung. Most manufacturers demand 20, 30 or even 40 percent more for the same type of filter. Quality-built and independently certified, you're getting your money's worth.
#7 Kenmore Refrigerator Water Filter 09083 Genuine Water Filter Replacement Cartridge
📝 Type: Activated Carbon | Process: Inline | Contaminants Removed: 50+ | Filter Life: 300 gallons | Flow-rate 0.75 | Testing: NSF 42, 53, 401 certified | Warranty Limited one year | Cost: $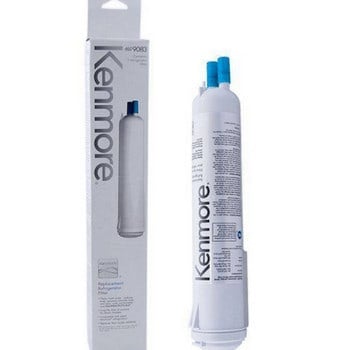 Kenmore isn't the household name that it used to be. But if you have one of their refrigerators, this replacement filter is your best bet.
Features
Activated carbon filtration
300-gallon capacity
0.75 gpm flow rate
NSF certified 42, 53, 401
---
Best for: Kenmore owners with multi-contaminant filtration needs.
Not best for: Fits only select Kenmore refrigerators.
Pros
Genuine OEM filter
Removes 50-plus tap water contaminants
A snap to install
Drastically improves chlorine taste and odor
A better fit for Kenmores than most generic or universal cartridges
Fits even older models
Reasonable price
Cons
Requires an extensive 4-gallon flush after installation
Limited availability
My Take
Kenmore brand appliances are now made by companies like Whirlpool and Electrolux, so we were grateful to find OEM filters that are compatible with older models. In our testing, it exceeded expectations for chlorine reduction and filter life. If you own a Kenmore, toss the off-brand cartridges.
#8 Waterdrop DA29-00020B Certified Refrigerator Water Filter
📝 Type: Activated Carbon | Process: Inline | Contaminants Removed: 50+ | Filter Life: 300 gallons | Flow-rate 0.50 | Testing: NSF 42, 53, 372 certified | Warranty Limited one year | Cost: $
Attention value shoppers — Waterdrop refrigerator filters are the deal you've been waiting for.
Compatible with major brands such as Samsung and Kenmore.
Features
High-density coconut shell carbon filtration
300-gallon filter capacity
0.50 GPM flow rate
NSF 53, 42 and 372 certified
---
Best for: If you want maximum filtration for the least amount of money, buy these with confidence.
Not best for: This filter is not NSF 401 certified for emerging contaminants like PFOA or microplastics.
Pros
Sri Lankan coconut carbon is both effective and sustainable.
Housings are certified lead-free.
Precision-fit housings provide leak-free performance.
It's half the price of OEM filters — get three for the price of one.
Painless, tool-free installation takes seconds.
Free replacement reminder stickers help you track filter change dates.
A portion of every purchase you make provides clean water to children in Africa.
Cons
Removes 97% of chlorine — a little less than similar filters.
My Take
These aren't the best filters on the market nor the cheapest, but the water quality meets or exceeds that of models twice the cost. Hands down — these are the best money can buy for the price.
#9 ICEPURE UKF8001 Refrigerator Water Filter
📝 Type: Activated Carbon | Process: Inline | Contaminants Removed: 26+ | Filter Life: 300 gallons | Flow-rate 0.50 | Testing: NSF 42, 53, 372 certified | Warranty Limited one year | Cost: $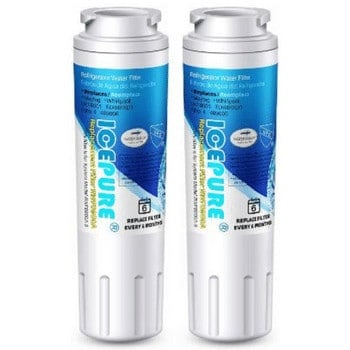 If you're in the market for a no-frills filter to eliminate chlorine, look no further than the ICEPURE.
Features
Activated carbon filtration
Guaranteed lead- and BPA-free cartridges
300-gallon filter capacity
0.50 GPM flow rate
WQA and NSF 42 and 372 certified
---
Best for: Alleviating stubborn chlorine problems.
Not best for: Homes with lead pipes.
Pros
Filters 26-plus common contaminants, including chlorine-resistant parasitic cysts.
Removes 99.7% of chlorine for a clean, refreshing taste.
Extended-life filters require less maintenance.
Cartridges are a breeze to install
Compatible with a wide range of Whirlpool and Maytag refrigerators.
Made of the safest possible materials
Ultra-affordable
Cons
Third-party tested but not NSF certified for lead
My Take
No filter removes more chlorine than the ICEPURE. You'll never buy bottled water again. But contaminant reduction is limited. If you're worried about lead, you're out of luck. ICEPURE says third-party testing shows some lead reduction, but when it comes to hazardous substances, we're sticklers for NSF certification. Buy it for taste, but not for lead issues.
#10 Filterlogic UKF8001 Replacement Refrigerator Water Filter
📝 Type: Activated Carbon | Process: Inline | Contaminants Removed: 7+ | Filter Life: 300 gallons | Flow-rate 0.50 | Testing: NSF 42, 372 certified | Warranty Limited one year | Cost: $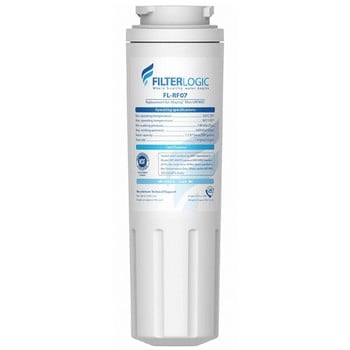 Better water is a click away with Filterlogic's ultra-efficient and cost-effective refrigerator filters.
Features
100% coconut shell carbon block filtration
BPA-free housing
300-gallon capacity
0.50 GPM flow rate
NSF 42 and 372 certified
---
Best for: Bargain chlorine and turbidity reduction.
Not best for: What this filter does, it does well — but don't bank on it to reduce heavy metals.
Pros
Broadly compatible generic replacement filter that replaces many discontinued OEM models
Guaranteed lead-free materials
Superior activated carbon removes more than 99% of chlorine — water tastes pure.
Long-life filters reduce maintenance chores.
Strong flow despite average flow rate — buyers compare it to 0.75 GPM filters.
Free filter change reminder stickers
Nominal price — you don't have to go broke to improve your water quality.
Cons
Filters don't sync with the reminder lights on all models — use the stickers.
My Take
Filterlogic replacement filters work as well or better than their original OEM cousins — thousands of reviews can't be wrong. Our research shows they contain the same high-quality carbon or better for a considerably lower price. Filterlogic cartridges are a common-sense choice.
#11 AQUA CREST UKF8001 Replacement Refrigerator Water Filter
📝 Type: Activated Carbon | Process: Inline | Contaminants Removed: 20+ | Filter Life: 300 gallons | Flow-rate 0.50 | Testing: NSF 42, 372 certified | Warranty Limited one year | Cost: $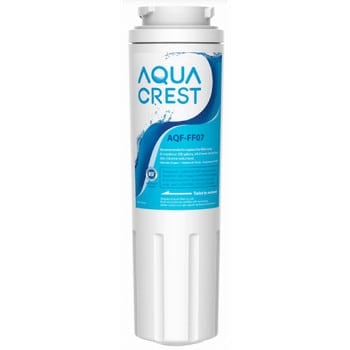 When every penny counts, you can count on Aqua Crest replacement filters.
Features
Activated carbon block filtration reduces 20-plus contaminants
6-month, 300-gallon filter life
0.50 GPM flow rate
NSF 42 and 372 certified
---
Best for: Superb chlorine and sediment reduction on a dime.
Not best for: Families who need comprehensive filtration for VOCs and heavy metals should consider the Clearly Filtered or Everydrop filters.
Pros
Reviews note fewer quality control issues than similar brands.
Twist-on installation doesn't get any easier.
Snug fit prevents leaks.
Safety-certified housing won't leach unwanted chemicals into your water.
Brisk flow rate — why wait for water?
Complementary filter change reminder stickers come with each purchase.
Responsive company with lightning-fast shipping and excellent customer service reviews
Cons
Filters need an extensive flush after installation to clear carbon dust.
My Take
These filters eliminate foul tastes as well as most name brands for a fraction of the price. We don't know how they do it — they rocked our chlorine testing. With a high satisfaction rating from thousands of happy customers, you can't go wrong. We give these two thumbs up.
Buyer's Guide To Refrigerator Water Filters
Refrigerator filters aren't headline news. Tucked into the corners of overcrowded fridges behind the milk and the mayonnaise, they're out of sight and out of mind.
But the best refrigerator water filters can remove as many harmful contaminants as whole-house filtration systems for a fraction of the price. They make your ice and water safer and more satisfying.
In this guide, we'll explain what refrigerator filters do, how they work and why they deserve your undivided attention.
How Do Refrigerator Filters Work?
Fridge filters are plumbed into your refrigerator's water line. Packed with carbon, they remove harmful chemicals and other contaminants before water reaches your ice maker and water dispenser. You get better-tasting ice cubes and healthier drinking water.
Types of Refrigerator Water Filters
There are two types of fridge filters — internal and external.
Internal filters are built into the refrigerator. External filters are for models with ice makers or water dispensers that don't have internal filters. Installed on the wall behind the refrigerator, they're compatible with any model as long as they fit in the space and match the size of the water line.
What Are the Advantages of a Refrigerator Water Filter?
Refrigerator water filters:
Purify Water and Ice
Your ice maker and water dispenser are served by the same incoming water line, so a single filter conveniently purifies both your drinking water and ice cubes.
Produce Healthier Drinking Water
Even the cleanest tap water contains dozens of contaminants from chlorine and heavy metals to volatile organic compounds. The best refrigerator water filters offer comprehensive carbon filtration that safeguards your water quality.
Inexpensive and Efficient
Refrigerator water filters are budget-friendly and effective. For as little as $10 each, they purify 200-plus gallons of water for hundreds less than an undersink filtration system and without the hassle of filling filter pitchers.
Do Refrigerator Filters Have Any Disadvantages?
Like any water filter, refrigerator filters have pros and cons. Consider these disadvantages.
OEM Filters Can Be Expensive
Most refrigerators are compatible with generic water filters. But if your isn't, it's going to cost you. OEM filters can run double the price.
And while the majority of manufacturers won't void your warranty if you opt for off-brand filters, some do. If you have a Samsung refrigerator, you're stuck with Samsung filters.
They Only Filter Refrigerator Water
Access to cold, filtered water fresh from your refrigerator is the ultimate convenience. But you can't shower and cook with it. Refrigerator filters are for drinking water only.
They May Affect Water Pressure
All filters slow the flow of water through the tap — fridge filters are no exception. You can improve pressure from the dispenser by selecting brands with higher-than-average flow rates. But if your refrigerator doesn't have a filter now, you'll notice a difference.
Selecting the Best Refrigerator Water Filter Replacement
There's no one-size-fits-all refrigerator filter. Use these criteria to find the best fit for you.
Filter Type
If your refrigerator has an internal water filter, you're limited to the cartridge style that fits. Most are proprietary, but there are generic filters made in all shapes and sizes.
If you have an existing external water filter, you need an inline cartridge compatible with the size of the tubing and fittings — 1/4-inch is standard.
But if you have a fridge with an unfiltered water dispenser and you want you add filtration, the sky's the limit. You can choose any brand of inline refrigerator filter as long as it fits.
Contaminant Reduction
Garden-variety fridge filters are made with sand-like granular activated carbon that removes most aesthetic contaminants, including chlorine. GAC filters may also reduce lead and harmful chemicals, but at lower rates than similar carbon block filters.
Made from a single chunk of carbon, carbon block filters have a greater density and surface area that attracts contaminants at higher rates.
The best carbon block filters remove:
Fine sediment
Chlorine
Heavy metals, including lead and mercury
Pesticides
Herbicides
Industrial chemicals
Pharmaceuticals
Parasitic cysts
VOCs and more
That's good news in areas where public water quality is questionable.
If your water is clean and all you need is a basic filter to reduce chlorine taste, an inexpensive GAC filter is an excellent choice.
But if you need an advanced filter for dangerous toxins, like lead, choose a carbon block filter. They're not cheap, but your family's health is priceless.
Flow Rate
Water flows readily through granular carbon, so there's little impact on water pressure. Flow rates are lower, however, through a solid coconut carbon filter block. How much lower? Low enough to notice.
GAC filters average 0.75 gallons per minute (gpm). Carbon block filters produce 0.50 gpm. The difference is small, but it can feel like a lifetime when you're running behind filling travel bottles for work and school.
Still, you have to balance flow rate against contaminant removal. Carbon block filters may reduce water pressure, but they're more efficient.
Filter Capacity
A filter's capacity is how many gallons it will treat before it should be replaced. Two hundred gallons with a 3–4-month filter life is standard. The best refrigerator water filters cost more, but they can last six months or more with an extended capacity of nearly 400 gallons. Which is the better value?
Built-in water filters are a cinch to change, so the best strategy is to look for the break-even point in price. Why pay four times more for a double-capacity filter when you can change cheap filters more often?
But if you have an inline filter behind your refrigerator, moving a heavy appliance is enough of a backbreaker to justify the price of longer-lasting cartridges.
Compatibility
Not all water filters are compatible with all refrigerators. Check your fridge's user manual for the exact model number to ensure a proper fit.
OEM filters are easy enough to identify. Generic filter manufacturers maintain lists of compatible refrigerators on their websites.
OEM vs Generic brands
Generic water filters cost up to 70-percent less than OEM cartridges. Still, some OEM filters have a quality advantage in that the fit is guaranteed.
Generic cartridges are a gamble. Sometimes they're a perfect fit— sometimes they're not, and they leak. It's not unusual to try a brand or three before finding a model you're satisfied with, so don't hesitate to experiment. Unless using a generic filter voids your warranty, the cost savings over the life of your refrigerator are substantial — up to $2000 in 20 years.
If you have a brand-new refrigerator, fewer generic options may be available in the first few years after your purchase. People with the latest French door refrigerator found out the hard way that profits lie in producing generic filters for top-selling models.
Similarly, a generic filter may be your only option when manufacturers stop making replacement parts for older refrigerators.
Certifications
The best refrigerator water filters are certified by the National Sanitation Foundation. Founded in 1944, they test refrigerator water filters and other consumer products for quality, safety and performance. Working with the best minds in the industry, they created the standard by which all water filters are judged.
NSF-certified refrigerator water filters are guaranteed to:
Be structurally sound
Contain no hazardous materials
Remove the advertised contaminants
The NSF has dozens of standards for all types of filtration systems. These three apply to refrigerator water filters.
NSF 42-certified filters are guaranteed to reduce aesthetic impurities from fine sediment to chlorine odor. If chlorine is the problem, an NSF 42-certified filter is the solution.
Standard 53 pertains to substances with adverse health effects, like lead. NSF 53-certified filters are guaranteed to perform as promised.
NSF 401 filters remove one or more emerging contaminants like PFOAs and pharmaceuticals.
How important are NSF certifications? We'd hesitate to buy a drinking water filter without them.
Certification is a voluntary process. And it's costly, so not all manufacturers choose to participate. Some opt for alternative testing — we consider filters from trusted companies if their independent test results are made public.
But the certification process goes far beyond initial testing. Manufacturing facilities are inspected annually, and filters are retested to verify ongoing quality control. Buying a certified replacement filter is the best protection consumers have.
Price
Refrigerator water filters range in price from less than $10 for chlorine removal filters to $150 or more for an advanced filtration system that removes hundreds of harmful contaminants.
When the only difference between competing brands is the price, buying the cheaper cartridge makes sense. Who doesn't need to save money?
But compare apples to apples. Price only matters among filters that remove your target contaminants. The best fridge water filters are both effective and affordable.
Warranty
Refrigerator filters last 3-6 months, so warranty use is rare. Still, you may get a faulty cartridge, so you'll want an ironclad guarantee that protects your investment. Warranties address defects in workmanship for an average of 30 to 180 days — the longer the better.
How to Install a Built-In Refrigerator Water Filter Cartridge — Step by Step
Installing a refrigerator replacement filter couldn't be easier. But the process varies from brand to brand depending on the style of the filter.
For canister-type filters:
Unscrew the old cartridge. Have a paper towel handy for drips.
Screw in the new cartridge.
Flush it as directed.
Discard the old filter.
For built-in inline refrigerator water filters:
Flush the new filter.
Release the locking mechanism on the old filter.
Pull it out as directed.
Align the pins on the new cartridge and push it in.
Discard the old filter.
How to Install an External Inline Refrigerator Water Filter
Installing an external inline refrigerator water filter is an easy DIY project. Just follow these simple steps:
Step 1: Gather the Necessary Tools and Supplies
You'll need:
A pipe cutter, or utility knife
A power screwdriver or an electric drill and bits
An adjustable wrench
Plumber's tape
Fine grit sandpaper
A bucket and paper towels
Step 2: Prepare the Refrigerator
Unplug the refrigerator and turn off the water supply. If your water line doesn't have an independent control valve, turn off the water supply to your home.
Step 3: Mount the Wall Bracket
Determine where you want the filter and mount the wall bracket. Screw it in tightly, using drywall fasteners if you can't access a stud.
Step 4: Install the Compression Fittings
Compression fittings secure the water line to the filter. Each cartridge has two ends.
Wrap each in plumber's tape to ensure a leak-free fit. Screw one fitting into the inlet port and the other into the outlet port. Tighten them securely.
Step 5: Cut the Water Supply Line
Working over a bucket to catch leaks, cut the water line where you want the filter. Use a pipe cutter for metal pipes and a utility knife for plastic tubing. Sand off any burrs for a smooth finish.
Step 6: Secure the Fittings
Using an adjustable wrench, connect the water supply line to the inlet and outlet ports using the compression fittings supplied with the filter. Check for a good fit.
Step 7: Install and Prime the Filter
Disconnect the line at the outlet port, holding the filter over a bucket. Turn on the water and flush the cartridge until carbon dust disappears.
When the water runs clear, turn off the water supply and reconnect the line to the outlet port. Check for leaks.
Step 8: Secure the Filter
Secure the filter in the wall bracket and plug in the refrigerator. Then pat yourself on the back for a job well done.
Follow steps 7 and 8 for filter replacements.
Frequently Asked Questions
Are refrigerator water filters necessary?
Unless your water contains biological contaminants like bacteria, filtering your water is optional. But it's a cost-effective way to improve water's taste.
A single cartridge can replace up to 2000 single-serve bottles of water. It's good for your budget and the planet.
Are fridge filters hard to install?
Internal refrigerator filters take seconds to install and require no technical expertise. You can do it with one hand tied behind your back.
The hardest part of replacing an external inline filter is moving the refrigerator. Installing one for the first time takes less than an hour from start to finish, but it's not complex. Even the most hesitant DIYer can do it.
Where do I buy replacement filters?
Most refrigerator manufacturers produce their own filters for late model fridges. You can buy them directly from the manufacturer or online sellers like Amazon.
Top-selling models are also sold in big box stores. But buying in bulk online is usually cheaper, and rare models are easier to find.
How often should a refrigerator water filter be changed?
Filters should be changed when they reach maximum capacity, or the water quality deteriorates — whichever comes first.
Filters are tested under average conditions, so performance varies. If your water has high levels of chlorine, for example, filters may wear out sooner than expected.
Most filters sync with the filter light indicator in the refrigerator. If your model isn't equipped with one, or the generic filter you're using is not compatible with it, write the date on the filter when you can change it. For your convenience, many brands come with free filter change reminder stickers.
Can old filters be recycled?
For now, spent filters are not recyclable. Because they contain contaminants, the process for separating the media from the cartridge housing isn't economically feasible.
But filling travel flasks with filtered water is better for the environment than buying bottled. Fewer than a quarter of the 2.5 million plastic bottles Americans use daily are recycled.
Can a refrigerator water filter treat well water?
Yes, but with precautions. The heavy sediment in some well water may clog carbon filters prematurely. Install a whole-house sediment filter first.
Should I test my water before choosing a refrigerator water filter?
If you drink city water, the testing is done for you. Your annual consumer confidence report lists problem contaminants in your water supply.
If you drink well water, testing can help identify which contaminants are to blame for foul tastes. We recommend Tap Score's Essential Well Water Test Kit. It covers the CDC's annual testing recommendations for well water and more.
Do refrigerator water filters remove beneficial minerals?
Carbon filters reduce harmful contaminants without removing beneficial minerals. The water is as healthy and flavorful as nature intended.
Do I need a separate fridge filter for my icemaker and water dispenser?
No. A single cartridge purifies your ice cubes and water.
Do inline refrigerator filters come with the parts required for installation?
Most come with quarter-inch compression fittings. If your water line is a different size, you'll need to purchase adapters to make it fit.
For a first-time installation, you may need to purchase a mounting bracket. Combined, a bracket and adapters should run less than $10.
What are the best refrigerator water filter brands?
For comprehensive filtration, we like the Clearly Filtered Universal Inline Refrigerator Filter. Frigidaire's ULTRAWF Pure Source Ultra Water Filter is also a good pick.
Approved by Whirlpool, Amana, KitchenAid and Maytag, the Everydrop water filter is close behind. Broadly compatible, it won't void your warranty.
The Culligan refrigerator water filter is popular for its large capacity and modest price. And Whirlpool refrigerator water filter reviews are among the most complimentary.
But ultimately, the best refrigerator filter is the one that removes target contaminants for a price you can afford. Performance matters more than brand name.