Research and Compare The
Best Whole House Water Filter Systems
Why settle for clean water from one faucet when you can have it throughout your home? Don't you deserve the same healthy water for showering and washing your clothes?
If the answer is yes, the solution is a whole-home filtration system.
If that sounds expensive or complicated, don't worry. It doesn't have to be. Many are as affordable and easy to install as single-faucet filters and offer more protection and convenience.
…Don't waste time or money – many of the whole house water filter reviews on the web are outdated or simply misleading.
We've spent countless hours of research and spoke with experts to put together proven NSF certified Home filtration systems so you don't have to waste your time or hard earned cash finding right system yourself…
Let's get to it
#1 is my favorite, but #2 and #9 are best overall for the money…
Our Top Rated
Whole House Water Filters

: See our Best Picks:
#1. SpringWell Whole House Water Filter System –
Best Buy In 2021
We gave Springwell best buy in 2021 due to their quality standards and use of certified materials and the very effective method of 4-stage water filtration processes it filters — above all, rock-bottom total cost of ownership.
This system filters up to 1,000,000 gallons of water without any loss in water pressure and safely removes harmful contaminants such as PFOA, PFAS, PFOS, among other chemicals that we don't need in our water.
Springwell also carries a 4.6+ positive rating with hundreds of positive reviews and I haven't seen the price this low.
Furthermore, Springwell is made in America and backs their quality products with a industry leading 6 month money back guarantee and a life-time warranty so you have nothing to lose and all to gain — I really love this system!
.
Use Coupon Code: QWL5 to Save!

Pros
Cons

Eliminates 99.6% of germs contained in water
Lifetime warranty
High quality filtration system
Backed by a 6-month money back guarantee
UV Filtration (optional add on)
Industry leading Gallons per Minute rating (GPM)

Nothing really worth complaining about.
My Take
The Springwell system is an investment-level purchase at a great price overall. Low maintenance means a rock-bottom total cost of ownership, and while I wish installation was more DIY-friendly, the peace of mind that comes from knowing the job was done correctly by a professional — plus the lifetime warranty coverage — make it well worth the effort. Overall Springhill is my pick for the best whole house water filter for 2020.
.
#2.

Aquasana EQ-1000

Whole House Water Filter System – Best Overall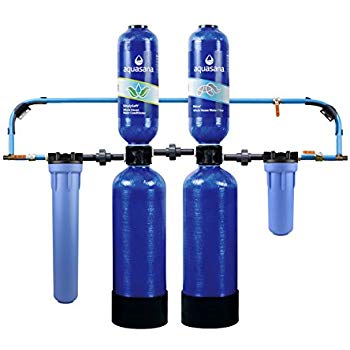 Typical water filters don't remove hard minerals — that requires a water softener. Aquasana's EQ-1000 solves that problem with Simplysoft — a unique salt-free descaling system that reduces the buildup of minerals in plumbing and appliances without removing them.
Its intelligent dual-tank design maximizes water's contact time with filtration media, eliminating 97-percent of chlorine and reducing heavy metals, industrial chemicals and VOCs.
Time and money saver:
The EQ-1000's primary filtration tanks treat a million gallons over ten years for soft, healthy, fresh water from every tap in your home with minimal maintenance. Pre- and post-filters are inexpensive and a breeze to change.
What's the best part? The EQ-1000 has over 800+ positive reviews and a 4.6 star rating.
.
Pros
Cons

Generous seven-gallon per minute flow rate
Eliminates the need for a water softener in most cases
Tanks are backed with a 10-year warranty with professional installation
Low total cost of ownership
Salt-free softening system uses no electricity, produces no waste water and is welcomed in ecologically sensitive areas

Limited one-year warranty for DIY installation
Additional tubing must be purchased by the customer
FAQs
Q: Can I use this filter with a well?
A: The EQ-1000 removes some bacteria and microbial cysts and can be used with pathogen-free wells, but it will only make water potable when equipped with the optional UV light.
Q: How often do pre- and post-filters need to be changed?
A: Under average conditions, pre-filters should be replaced every two months —post-filters every six months.
Q: If this filter softens water, why doesn't it lower total dissolved solids (TDS)?
A: The EQ-1000 does not remove minerals, it prevents plumbing damage by preventing them from settling on pipe walls. It's a misconception that lower TDS means better water quality. The best filtration systems remove contaminants, but leave healthy minerals behind, so you won't see a significant reduction in TDS.
My Take
The EQ-1000 is an investment-level purchase, but you'll pay a fraction of the price for this two-in-one system than for a filter and softener separately. Low maintenance means a rock-bottom total cost of ownership, and while I wish installation was more DIY-friendly, the peace of mind that comes from knowing the job was done correctly by a professional — plus the extended warranty coverage — make it well worth the effort. Overall Aquasana's EQ-1000 is one of top choices for a whole house water filter for 2020.
.
#3
SpringWell

Whole House Lead & Cyst Removal System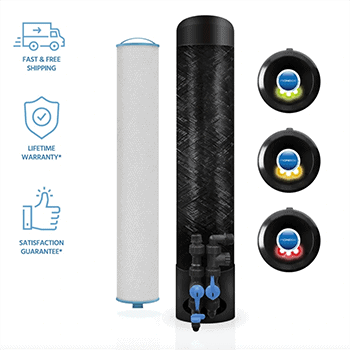 Lead is a potent neurotoxin — no amount in water is safe. But you can enjoy the peace of mind that comes with SpringWell's Whole House Lead and Cyst Removal System — it removes greater than 99.95% of heavy metals, including lead, plus chlorine, chloramine, disinfectant-resistant parasitic cysts and other harmful contaminants. Your water will be safer and better tasting.
Engineered to eliminate both particulate and soluble lead, it offers the most comprehensive protection on the market. It's independently tested and NSF certified for lead and PFOA/PFOS reduction — it performs as promised.
Convenience features include a 100,000-gallon filter and change indicator light. It's backed by a lifetime warranty and SpringWell's commitment to customer care.
.
Pros
Cons

Comprehensive lead and cyst removal
Low-maintenance
Made with all food-grade materials
NSF/ANSI Standards 53 and P473 certified
Easy DIY installation
UV Filtration (optional add on)
6-month satisfaction guarantee

Costly replacement filters
Top Q & A
Q: How long does the filter last?
A: Filters treat 100,00 gallons of water — enough for a family of four for a year.
Q: Will this reduce water pressure?
A: The 8 gpm flow rate is well above average and won't reduce pressure at the tap.
Q: What do replacement filters cost?
A: The current price of replacement filters is $400.
My Take
.
#4
Aquasana

OPTIMH20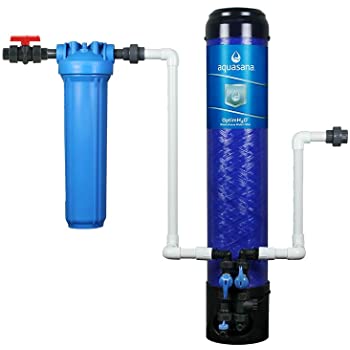 Aquasana's OPTIMH20 shields your family from dozens of dangerous contaminants from heavy metals to forever-chemicals like PFOA. It eliminates more than 90-percent of chlorine and chloramine, so water smells and tastes fresh no matter what it's disinfected with. Cancel the bottled water deliveries — you won't need them.
Systems include a 1-micron sediment filter that removes dirt and rust particles, improving system efficiency. Plus, it's expandable — add a salt-free water conditioner and UV light for total protection.
Like the SpringWell, primary filters last 100,000 or 12 months for limited maintenance. Purchasers receive a 5-year warranty.
.
Pros
Cons

Removes more than 99-percent of lead, cysts and PFOA
NSF/ANSI Standards 53 and P473 certified
LED filter change indicator
Won't reduce water pressure

Professional installation required for warranty
Expensive primary replacement filters
Top Q & A
Q: How long do filters last?
A: Primary filters treat 100,00 gallons. Under average conditions, they last a year. Sediment prefilters last 3–6 months depending on water quality.
Q: Does this filter remove fluoride?
A: It does not.
Q: Are filter changes easy?
A: Yes. The process takes only minutes and is tool-free.
My Take
.
#5
Pelican PC600/PC1000

Whole House Water Filter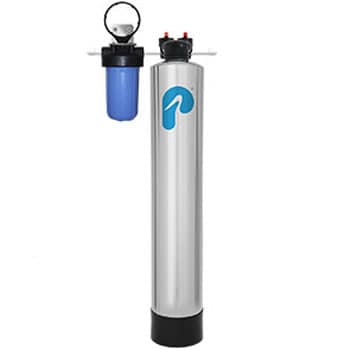 Pelican's Premium Whole House Water filter removes hazardous contaminants from chlorine and pesticides to pharmaceuticals and industrial solvents. Enjoy healthier tap water as good as top bottled brands for a fraction of the price and without the hassle of storing bulky plastic bottles. It's environmentally friendly and cost-effective.
Systems are easy to install and require almost no maintenance. The large diameter tank is packed with advanced granular activated carbon media and can process 600-000—1,000,000 gallons of water.
A 5-micron sediment filter removes suspended particles while bacteriostatic KFD 55 media prevents the growth of bacteria and algae, so you know what you're drinking is pure. Filters are covered by a limited lifetime warranty and 5-year performance promise.
.
Pros
Cons

Removes 97-percent of chlorine
NSF/ANSI Standards 42 and 61 certified
Steel-wrapped tank
10 gpm flow rate won't reduce water pressure
90-day satisfaction guarantee

Carbon media requires a 48-hour soak before use
Top Q & A
Q: How often should the sediment prefilter be replaced?
A: Prefilters last 6–9 months.
Q: Can I use this to filter well water?
A: Yes, but it can't remove iron or make water biologically safe to drink. It's ideal for municipal supplies.
Q: Can I install this outside?
A: Only if it's protected from freezing temperatures.
My Take
Carbon filters work well for a broad range of contaminants, but they're small and need frequent changing. If you love your Brita pitcher or under-sink carbon filter, think of the Pelican as the same thing with better performance and without the annoying maintenance. If your water tastes like it came from a swimming pool, but you've given up on water filtration because it's a hassle, you're going to love the Pelican.
.
#6
AquaOx

Home Water Filtration System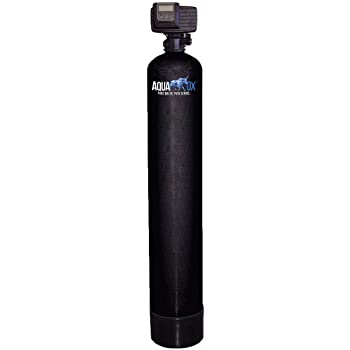 AquaOx makes the industry's longest-lasting filters. Systems lifespan averages 20 years with zero maintenance and no filter replacements ever.
If the only thing that stands between you and better water is the fear of a complicated system, look no further than AquaOx.
Made in the USA with NSF certified components, its proprietary blend of KDF 85, garnet, carbon and clinoptilolite ore offer maximum filtration of lead, arsenic, chromium, chlorine and a host of toxic chemicals.
With three times the surface area of its competitors and self-cleaning, Double Vortech technology, it produces refreshing, crystal-clear water you can drink with confidence for nearly a lifetime.
.
Pros
Cons

Removes dozens of contaminants and taste impurities
NSF certified
Low long-term cost of ownership
10-year warranty
12-month satisfaction guarantee and remarkable customer care
Top Q & A
Q: Is this filter really maintenance-free?
A: Believe it. The self-cleaning system regenerates the media every 4 days, keeping it fresh.
Q: Will it reduce water pressure?
A: Never. Filters feature vigorous flow rates from 15–37 gpm, depending on the size filter you choose.
Q: Does this filtration system produce wastewater?
A: No. The self-cleaning system recycles water, so not a drop is wasted.
My Take
.
#7.
Home Master HMF3SDGFEC

3-Stage System – Whole House Water Filter for Well Water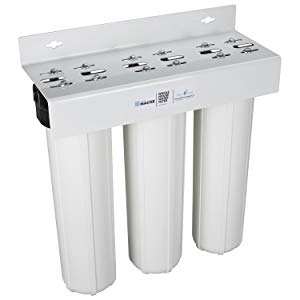 If staining is a problem, this Home Master three-stage filtration system may be the solution. For use with non-chlorinated well water only, it's three sequential filters remove sediment and chemicals down to a single micron — plus minerals like iron and manganese that can stain your clothing, dishes and bathroom fixtures and cause costly damage to plumbing and water-using appliances.
Designed for easy DIY installation, the kit complete with everything you need including filter cartridges. Its enormous 100,000-gallon capacity provides filtered water for a family of four for up to a year with minimal maintenance.
.
Pros
Cons

Two-year warranty
Brisk 15 GPM flow rate
Quality construction
Helps extends the life of appliances

Higher-than-average replacement filter cost
Not for use with municipal or chlorinated well water
FAQs
Q: Does this system remove fluoride?
A: It does not, however, while fluoride occurs naturally in wells, it's less likely to be in significant amounts.
Q: Does it remove harmful microorganisms?
A: It removes some large bacteria and microbial cysts, but it won't make water contaminated with pathogens safe to drink.
Q: I have iron bacteria in my well. Can I use this filter?
A: No. The slime created by iron bacteria will quickly clog the filters and ruin them.
My Take
This system has an average initial price for its capability, and while the replacement filters appear to cost more than those for similar models, my research shows they last longer and do a better job. Too much iron in your well water wreaks havoc over time, so a quality filter matters. When you consider the total cost of ownership, the price difference is negligible, and if it solves your problem with less maintenance, it's a bargain.
.
#8.
Home Master HMF2SMGCC

2-Stage System – Best for Tap Water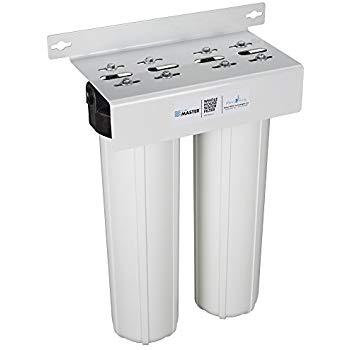 If you use city water and want a water filter that's a great value, Home Master's two-stage system costs less than its three-stage cousin but has most of its capability.
It reduces the contaminants most likely to creep into municipal water supplies like lead and industrial chemicals, and its superior catalytic carbon filters excel at removing both the chlorine and the chloramines that make water taste like it comes from a swimming pool.
With a 95,000-gallon capacity, this system delivers the freshest tasting water possible to every tap in your home for up to a year for a family of four between cartridge changes.
.
Pros
Cons

10 GPM flow rate
Easy homeowner installation
Removes impurities that affect water's taste
Cost-effective replacement cartridges
Low-maintenance
FAQs
Q: Does this filter remove beneficial minerals?
A: No, you'll enjoy water the way Mother Nature intended.
Q: Does it remove fluoride?
A: No, it does not.
Q: Where is this filter made?
A: Filters are made from mixed foreign and domestic parts, and each is assembled in Scottsdale, Arizona.
My Take
If your goal is to improve the taste of your water, this filter is an excellent choice. It's easy to install and maintain, has an excellent reputation for meeting performance claims, and its capacity is enormous. If you use bottled water now, buy this system instead, and you'll save a small fortune.
.
#9.
3M Aqua-Pure

Whole House Water Filtration System – Best Inline Water Filter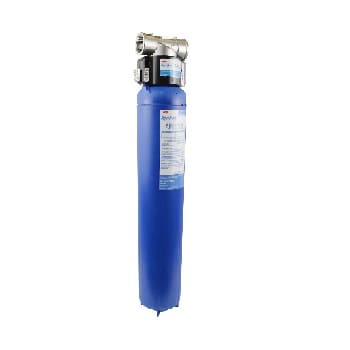 Like Aquasana's EQ-1000, 3M's Aqua-Pure AP902 also features a scale inhibition system that protects pipes and appliances. Its carbon filter captures sediment down to five microns — smaller than a red blood cell, and it can capably reduce the taste of chlorine.
Its capacity is 100,000-gallons — a tenth of the EQ-1000 — and it doesn't remove heavy metal or chemical contaminants, but if you don't need that capability, it's among the most economical filters on the market. Do-it-yourself installation is a cinch and won't compromise the warranty. Maintenance is as simple as an annual cartridge change.
.
Pros
Cons

Simple design with easy installation and maintenance
Fast 10 GMP flow rate
Protects appliances
High-quality construction

Short one-year warranty
Limited filtration capability
FAQs
Q: This system use salt to soften water?
A: No, it uses a polyphosphate-based scale inhibition system that prevents minerals from collecting in pipes. Healthy minerals like calcium remain in your water.
Q: How often does the cartridge need to be changed?
A: Under normal conditions, after 100,000 gallons have been treated. For a family of four, that's roughly once a year. If your sediment levels are very high, it may need to be changed sooner.
Q: Are filters easy to change?
A: Absolutely! Changes are sanitary and require no tools.
My Take
Simplicity defines this filter. Both installation and cartridge changes are a snap. Water flow is generous and with one annual filter change, you can set it and forget it. It works with both city and well water and protects your plumbing, but it's mostly just a high-quality, high-capacity sediment filter with softening capability. It doesn't remove heavy metals, chemicals, and it won't make water potable, but if you don't need that, why pay for it? Sometimes, simple is best.
.
#10.
iSpring WGB22B 2-Stage

20-Inch Big Blue Whole House – Best Value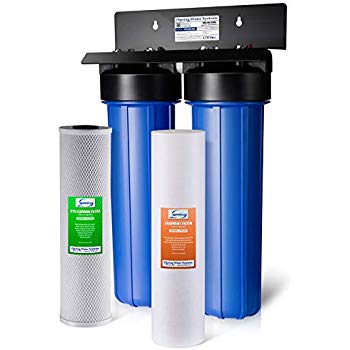 Like Home Master's HMF2SMGCC 2-Stage System, this water filter from iSpring protects your family from a range of possible water contaminants including agricultural and industrial solvents, chemicals and VOCs, and its carbon block technology effectively reduces the taste of chlorine.
It has a similar 100,000-gallon total capacity and an even higher 15 GPM flow rate. It doesn't remove lead, so if that's your goal, you'll need the WGB22B-PB version of this system, but if it's not an issue, this unit will meet your needs for about 30-percent less than the Home Master. It's a top value.
.
Pros
Cons

Low initial cost
Meets NSF/ANSI quality standards
Family-sized capacity
Minimal impact on flow rate

Doesn't reduce lead
Not ideal for heavily chlorinated water
FAQs
Q: Is this system easy to install?
A: It's designed to be DIY-friendly but basic plumbing skills help.
Q: When should each cartridges be replaced?
A: Conveniently, both can be replaced at the same time — about once yearly.
Q: Does this filter soften water?
A: No, but it can be used in conjunction with a water softener.
My Take
This system doesn't remove lead. That's a significant drawback if you want a water filter for peace of mind but don't know what's in your water. If you're confident your water is lead-free, the WGB22B is a superb value. Your water will taste great, and it's an economical, environmentally-friendly and space-saving alternative to buying bottles.
.
#11.
iSpring WGB32B 3-Stage

Whole House Water Filtration System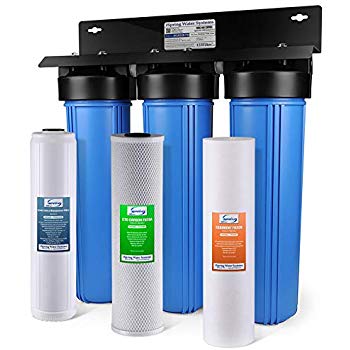 This iSpring 3-stage is equipped with a three-stage gradient filtration system that maximizes filter life. A fine sediment cartridge removes dirt, dust, silt and rust while two high-density coconut carbon filters reduce 95-percent of chlorine, heavy metals, VOCs and other chemical contaminants.
Healthy minerals are not removed. Cartridges are independently tested and meet the strictest NSF/ANSI standards. Among others in its class, it's one of the least likely to affect water pressure. A family of four will enjoy an abundance of fresh, crystal clear water for up to a year between filter changes.
.
Pros
Cons

100,000-gallon capacity
Minimal water pressure reduction
Low-maintenance
30-day satisfaction guarantee
FAQs
Q: Can this system be installed outdoors?
A: Yes, but only if it's protected from freezing.
Q: Does it remove Fluoride?
A: It does not.
Q: Will this system make well water safe to drink?
A: The WKB32B improves the overall quality of any water, but it' s not designed to treat it for harmful microorganisms.
My Take
For treating city water, the iSpring's advanced carbon block technology removes 95-percent of the contaminants I'm most worried about — especially lead — without the high cost of neutralizing pathogens. Healthy minerals are left in, and the water tastes fantastic. Other systems are a bit easier to maintain, and I'd feel better if the warranty was longer, but the 100,000-gallon capacity and brisk water flow are a pleasure. For the price, it's a steal.
.
#12.
Express 3-Stage

Home Water Filtration System
If you don't like guesswork, you're going to love this 3-stage filter from Express. Like similar filters from iSpring and Home Master, it uses a high-density polypropylene sediment filter to catch dirt and rust, plus it features two long-life carbon filters — one granular and one carbon block — to remove contaminants including chemicals, pharmaceuticals and chlorine.
It's stress-free to install, and with a 100,000-gallon capacity, it's even easier to maintain. What sets it apart is that each filter in the system has a pressure gauge. Use them to determine when filters need to be changed for guess-free maintenance.
.
Pros
Cons

Integrated pressure gauges
One-year warranty with free lifetime technical support
Made with all food-grade materials
NSF/ANSI-certified
Quick, clean filter changes

Doesn't remove heavy metals including lead
FAQs
Q: Can this be used with well water?
A: Yes, but it won't make water potable or remove heavy metals.
Q: This system claims to protect my appliances? Does it soften water?
A: No, but the sediment filter effectively captures rust that can clog small diameter pipes like those that service refrigerator ice makers and dishwashers.
Q: Are filters easy to replace?
A: Each cartridge has an individual pressure-release vent. Cartridges twist on and off with ease.
My Take
Express is a newcomer in the whole house water filter market, but this product is particularly well-built. It's a few dollars more than it's competitors, but it feels solid. You'll want to be sure your water is lead-free before using this system, especially if you have kids, but it does what it says it'll do, and it does it well. The gauges help guide cartridge changes, and the system comes with lifetime technical support. I recommend it for nervous first-time filter buyers.
.
Buyer's Guide to the Best Whole House Water Filtration System
You can buy a water filter for thousands of dollars that treats everything from pathogens to radiation — but do you need that? Part of why most of us want a water filter is for peace of mind against the unknown, but not all water supplies are prone to the same type of contamination and by evaluating your risks and narrowing down your needs, you can choose the best whole house water filter for your family without sacrificing the trip to Disney World.
Let's look at the most important things to consider when making a purchase decisions.
Choosing the Right Water Filter for Your Home
What does it filter out?
The purpose of a water filter is to remove unwanted contaminants, so it makes sense to know which pollutants are common problems.
If you have city water, it's disinfected and safe to drink. But despite EPA regulations, it could contain unsafe levels of:
Fluoride
Chlorine
Chloramine
Bromate
Haloacetic acid
Herbicides
Pesticides
PFOA/PFOS
Industrial solvents
VOCs
Sediment
Trace pharmaceuticals and more
Lead, bacteria and parasitic cysts can also enter water through deteriorating underground pipes after leaving the treatment plant.
If you have well water, added fluoride and disinfectants aren't a risk. But an estimated 20-percent of wells in the US are contaminated and could harbor natural and human-made toxins, including:
Sediment
Hard minerals
Lead
Arsenic
Mercury
Chromium
Nitrates
Agricultural chemicals
Petroleum products
Industrial chemicals
Bacteria, parasites and more
Not all wells contain these substances. What's in your water is determined by local geology and your watershed — the area around your home that feeds your water supply. If you live near a landfill, heavy metals and VOCs are a risk. If you live near a large farm, contamination with nitrate fertilizers, herbicides and pesticides is more common.
See our: Best well water filtration system guide
The best way to choose a filter is to know what's in your water today. City water users can get a quality report from their treatment authority but should test their tap water for lead separately. Well owners should do a comprehensive test — DIY or via a certified lab. Regardless of water source, you can then shop confidently for a filter that targets the greatest number of problem contaminants.
Does it meet NSF standards?
The federal government doesn't test or regulate water filters. Instead, industry members of NSF International created voluntary, minimum performance and safety standards recognized by ANSI, the American National Standards Institute.
Filters certified:
NSF 42 remove taste and odor impurities
NSF 44 soften water by removing hard minerals via ion exchange
NSF 53 reduce contaminants with known health effects
NSF 55 kill bacteria, viruses and cysts with ultraviolet light
NSF 58 reduce EPA-regulated contaminants via reverse osmosis
NSF 401 reduce on of 15 emerging contaminants not yet regulated such as PFOA and pharmaceuticals
Broadly speaking, if a filter is NSF/ANSI certified, it's guaranteed to do what it advertises. That's an advantage — companies willing to pay for independent testing and certification fees are committed to making better-quality products — yet standards aren't particularly specific. For example, low-quality carbon filters may remove significantly less chlorine than better models yet meet the same minimum standards, while NSF 401 filters can remove different numbers of emerging contaminants and still carry the same certification.
Companies willing to invest in certificates are typically transparent about testing and publish results. Consumers who do their homework know exactly what they're buying. But some manufactures choose to test without spending on certification, or they make filters with certified parts that are equally capable.
How much do certifications really mean? All things being equal, they're an added boost of confidence. Certified filters are regularly tested, reducing quality control issues, so no one gets the "bad batch" of lead filters. Just don't make certification the most important criteria.
How long is the filter life?
Filters have finite filtration capacity — they can only remove so many contaminants before the filtration media is spent or mechanical filters fail. Changing filters on time is a must, but it's not cheap. The cost of cartridges has a significant impact on a filter's cost of ownership.
As a general rule, sediment and carbon filters last 3–9 months depending on water quality — the more contaminants they filter, the shorter their lifespan. Extra-capacity filters last longer, and reverse osmosis membranes last 2–5 years. Multi-stage systems using more than one type of filtration require maintenance at difference intervals.
When you consider the cost of a filtration system, factor in the price of replacement filters. Sub-par carbon and sediment cartridges are cheap but need to be replaced more often. Better filters cost more upfront but last longer and require less maintenance.
Are you paying for more than what you really need?
Knowing what could be in your water is scary. But the truth is, most homes have only a few contaminants to worry about, so selective filtration is more cost-effective than buying a do-everything filter you don't need.
For example, unless a main breaks or your treatment plant goes offline in a natural disaster, your water is biologically safe to drink, so it doesn't make sense to spend thousands on a high-priced filtration system that kills viruses. Similarly, if you don't have hard water, why pay for softening capability?
Of course, there's an argument to be made for preparedness, but unless the risk is tangible, there are better things in which to you can invest. Still, if you can afford it and will sleep better knowing you have state-of-the-art filtration, it's better to over- than under-filter.
Whole House Vs. Reverse Osmosis Water Filtration Systems
Whole house water filters are installed near your home's water inlet and treat every drop your family uses. You never have to worry about the quality of bath water or which tap the kids are drinking from — it's all safe.
Multi-stage systems using sediment, carbon, and KDF filters remove the most contaminants, including dirt, rust, chemicals, heavy metals and more. Designed to filter large quantities of water on demand and without reducing water pressure, the only difference you should notice is that your water looks, smells and tastes better.
Reverse osmosis systems offer a higher level of filtration, but they're slow and can only produce a limited number of gallons per day. Whole home RO systems are cost-prohibitive and rare, but if your water is heavily contaminated or you want to remove pollutants most whole home filters don't, like fluoride, an under-sink RO filter that purifies drinking and cooking water is an affordable solution.
Since prices are similar, a whole house water filter may be a better value if it removes target contaminants.
Contaminant Reduction Capability
City water is disinfected at the source, so with few exceptions, it's safe to drink. But it could contain traces of pharmaceutical residue and chemicals as well as lead from aging pipes. Fluoride is added to most municipal supplies to promote dental health despite some evidence it could be harmful, and disinfectants like chlorine and chloramines can make water taste bad.
For well water, unless you have a rare well that's chlorinated, disinfectants and added fluoride aren't an issue, but contaminants like heavy metals can occur naturally in the soil, and chemicals from industry or agriculture, as well as potentially harmful microbes, can be introduced into a well by runoff.
Both city and well water can have excessive minerals — known as hard water — and that can damage pipes and appliance. Sediment like rust, while not usually harmful, can stain clothing and bathroom fixtures and isn't appealing to drink.
The best way to select a whole house water filter is to know what's in your water now and to evaluate the risk other potential contaminants could pose in the future. Well-water test kits are available at hardware stores or send a sample to an independent lab. To learn what's in municipal water, contact your water treatment authority.
System Type and Footprint
A Whole house water filter are no better or worse at removing contaminants than point-of-use systems — they just have a higher capacity, so they're more convenient for large-scale use. The important part is to test your water and choose a system that reliably removes the unwanted substances that are unique to your supply.
But you'll also want to consider the system's footprint. Most whole-house filters are larger than undersink versions and need to be installed close to the point where water enters your home. Measure the installation area carefully and compare the filter's dimensions before buying.
Water Capacity
Water capacity is the maximum number of gallons a filter can process before cartridges need to be changed. Always check the capacity for each one in the system — some have multiple filters that need to be changed at different intervals. As a rule, the larger the total capacity, the less overall maintenance is required.
Flow Rate
Flow rate — measured in maximum gallons per minutes — tells you how fast a filter can process water. Flushing a toilet and showering simultaneously use an average of six gallons per minute combined, so to do that or comparable water-using activities, a flow rate at least that high is essential.
Practically speaking, the more contaminants a filter removes, the lower it's flow rate will be. The Aquasana EQ-1000 Whole House Filter System, for example, offers comprehensive filtration plus softening with a flow rate of seven gallons per minute — the lowest on our list. Home Master's HMF2SMGCC 2-Stage System offers 15 GPM, but without lead filtration.
Filter Cartridges
The word "filter" can describe a filtration system or each of the individual cartridges in it, but since it's the cartridges that matter most in terms of performance, let's look at how to assess those.
Evaluating the quality of a cartridge is difficult because performance ratings are based on average water conditions. Five filters can each claim a 95-percent reduction of lead, but if your water has higher levels than average, performance between them may not be equal. In this case, cartridges made with more advanced media might perform better.
Similarly, when contaminants are removed "up to" a certain percentage, that could be anywhere between 0-percent and the highest claimed, depending on the total quality of your water. Specifications are helpful, but not ironclad.
The number of cartridges in a system can also affect its overall efficiency. Systems like the Express Water Whole House Water Filter and the iSpring WGB32B and WKB32B have sediment pre-filters that remove large particles that could clog other filters in the system — improving their performance and longevity.
Softening Capability
No filter on our list is an actual water softener, but three have some softening capability that protects appliances. The Aquasana EQ-1000, the Home Master HMF3SDGFEC 3-Stage System and the 3M Aqua-Pure Whole House Filtration System all have some variation on technology that doesn't remove minerals, but it prevents them from building up on pipe walls. It won't alleviate the other effects of hard water, but in place of adding a separate water softener, it's a plus.
Costs
The waters filters on our list vary in initial price, but it's also essential to consider the long-term cost of ownership. The price of filter replacements and the frequency at which they need to be changed makes some systems less expensive to operate over the long haul. It's worth taking a few minutes to crunch the numbers.
Frequently Asked Questions
Do I need a whole house water filter?
You only need a whole house water filter if your water isn't safe to drink. However, there are many impurities that, while not harmful to your health, make water unappetizing to drink or cook with. Most people who choose to filter their water do it to enhance taste, not safety.
Are Whole House Water Filters Worth It?
If your kids don't love your water enough to grab a glass whenever they're thirsty, a whole home water filter is a good investment. Hydration matters, and in most cases, filters are an environmentally friendly and less expensive alternative to bottled water, or worse, sugary soft drinks.
Can I Drink The Water Filtered With A Whole House Filtration System?
Absolutely! A whole home filter guarantees water from every tap is as safe as possible to drink. Enjoy.
Final Thoughts
Finding the right whole house water filtration system for your home doesn't have to be exhausting. Just take these three steps:
Find out what's in your water today.
Know which potential contaminants are the most likely to affect you.
Choose the filter that best meets your needs from one of these top picks.
Everyone deserves water that's as pure as it can be. If your water isn't, installing a whole house filter system is a simple is a straightforward and effective solution.