Last Updated on November 12, 2023 by
Ava
📝 Model: Home Master HMF3SDGFEC | Type: Carbon + KDF | Process: 3-stage | Capacity: 100,000 gal. | Contaminants Removed: 10+ | Flow Rate: 15 GPM | Bluetooth: ❌ | Warranty: 2 Year limited | Annual Cost: ~$235 – $400 | Rating: 4.5/5 | Best for: Treating well water on a budget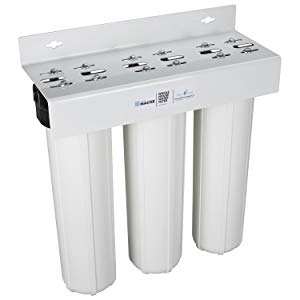 Unit Cost:
$488.73
If you're looking for a solid proven cartridge filtration system for well water – then look no further than Home Master that has been a proven winner for over a decade.
Highlights
100,000-gallon filtration capacity
Won't reduce water pressure
Controls mineral build-up in pipes and appliances
Prevent iron staining
Works with any faucet
---
Best for: Anyone looking for good cartridge based filtration system capable of handling most well contaminants efficiently.
If you're looking for the best whole house water filter, you have a decision to make. Do you want an under sink model that only treats what comes from your kitchen faucet, or would you prefer the benefits of having clean, filtered water flowing from every sink and shower in your home?
UPDATE:
Since the time of writing this review, we have found a better well water filtration system that is hands down the best on the block – See why over here :
Springwell well water system review
4/5/22
Overview
With Home Master's HMF3SDGFEC filtration system — being one of our top picks for wells — you can have whole-house filter convenience for little more than an under sink filter price, so why settle?
Pros
The goal of the HMF3SDGFEC is to address most of well water's unique filtration needs without reducing water pressure.
Its three-stage system removes sediment and chemicals down to one micron and treats iron, manganese and hydrogen sulfide to eliminate rust stains and improve the look, smell and taste of water.
Extra large filter housings ensure brisk water flow up to 15 gallons per minute.
Unlike some systems, it removes the minerals that can build up in pipes serving appliances like your washing machine.
The filter comes assembled for easy installation, and it's covered by a two-year limited warranty.
Reduces iron, manganese, and hydrogen sulfide to 3 ppm
Removes dirt, rust, sediment, and chemicals like herbicides and pesticides.
Cons
Not for use with chlorinated water from any source
---
Compare The Competition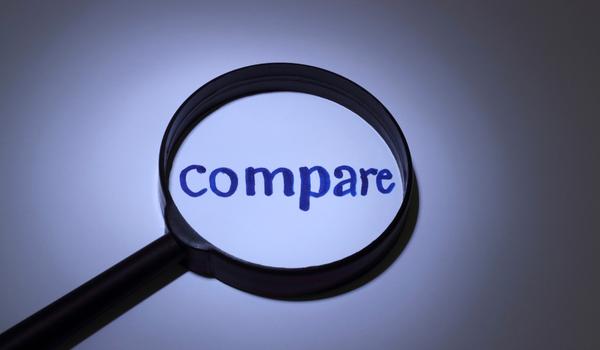 Ispring WGB22B 2-Stage Filtration System is a comparble budget friendly model that offers a similar level of filtration and performance. It is best for those looking for an affordable option that still provides good quality water.
SpringWell WS System is a premium filtration system for well water that offers a higher level of filtration and performance. It is best for those looking for the highest quality water possible, as it removes more contaminants than other systems. It also features WiFi that allows you to monitor system performace and to quickly make adjustments from anywhere you have WiFi connection. Just keep in mind, this system is double the cost of Home Master.
Softpro Iron Master is the perfect solution if you have high Iron levels in your water. It is designed to remove Iron, Manganese and Hydrogen Sulfide from the water. This system is best for those looking for a specific solution to their iron problem.
In our expert opinion, the Home Master HMF3SDGFEC is a great option for those looking for an affordable and effective filtration system. However, depending on your needs, there are other comparable products that may be better suited to your specific situation.
My Take
What some whole house water filter reviews won't tell you is that if your well has dangerous contaminants like lead or E. Coli, this isn't the filtration system for you.
However, if your water is safe, but unpalatable to drink or causes ugly iron stains on your bathroom fixtures, the HMF3SDGFEC fixes the problem and adds an extra layer of protection against chemical contamination without affecting water pressure — something that do-everything filtration systems unfortunately can.
This filter can't solve every problem, but in most cases, it's the perfect balance between performance and protection at an affordable price.
Features
All filtration systems are not created equal. Which filter is the best for you? Let's look at the features whole house water filter reviews agree are the most important.
Key Considerations
Flow rate: This product has a flow rate of up to 15 gallons per minute, making it one of the highest-performing products in its class.
Filtration capacity: This system is capable of filtering out sediment particles as small as 0.5 microns, providing quality filtration when compared to similar models on the market.
Pressure drop: This model features an impressive pressure drop rating of only <1 psi, meaning that it can easily handle high water pressure without slowing your daily water use.
Installation time: You can have this system up and running in less than 4 hours with basic plumbing skills – the instructions are pretty simple to follow and phone support is a phone call away.
Maintenance: This product requires minimal maintenance, with only occasional filter changes and cleaning required to keep it running at peak performance.
Warranty: The Home Master HMF3SDGFEC comes with a 2-year limited warranty, providing enough time for users to test the system and report any issues, failures, etc.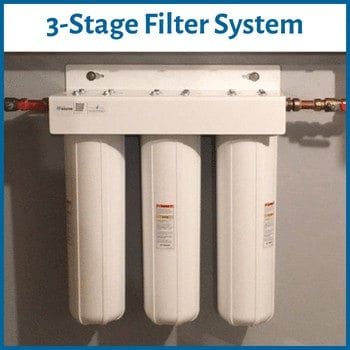 Contaminants Filtered
Well water is susceptible to contamination from runoff, so testing it periodically is a must. The ideal filter should reduce or eliminate known issues as well as provide some protection against the most common types of contamination that affect wells including:
Sediment
Heavy metals normally found in soil
Chemicals from nearby industry or farms
The Home Master HMF3SDGFEC won't remove heavy metals, but it will eliminate up to 95-percent of the sediment and chemicals that cause water to smell and taste bad.
You'll be more satisfied with a filtration system if it has the right blend of features for your lifestyle. These are the most important to consider:
Size
Whole house well filtration systems can take considerable space in areas where it's already tight. Once you identify the point of entry for your water, assess the space nearby to ensure the HMF3SDGFEC will fit.
Capacity
A filtration system's capacity is how many gallons of water it can make in total before individual cartridges must be replaced. Because today's better filters are multi-stage, verify the capacity for each. If they're not changed on schedule, it can affect the system's performance. Filters with a high capacity usually require less maintenance.
Micron Rating
Water filters have pores — tiny holes that let water pass, but not contaminants. Pores are measured in microns — millionths of a meter — and the smaller they are, the fewer pollutants get through.
The HMF3SDGFEC has a one-micron rating on its sediment filter and a 20-micron rating on the iron/carbon block filter — both of which are highly competitive for this style of filter.
Flow Rate
A filter's flow rate tells you how fast water moves through it, and it has a significant effect on household activities that use lots of water. Flushing standard, low-flow toilets in two bathrooms simultaneously, for example, can use up to six gallons of water.
Some water filters can cause water pressure at the tap to plummet. The HMF3SDGFEC is a good fit for homes with high water usage or kids with multiple bathrooms.
Filter Life
Replacement filters add to the total cost of owning a filtration system. Filters that can process more water before they need replacement require less maintenance and cost less in the long run. The HMF3SDGFEC has some of the longest lasting filters in the business.
Installation and Maintenance
The HMF3SDGFEC is DIY-friendly to install, but it does take basic plumbing know-how. Maintenance, however, is a breeze with this system. Filter changes require the use of a filter wrench, but it's included in the kit.
Help & Support
Home Master produces excellent water treatment products, and the HMF3SDGFEC is no exception. It's backed by a two-year warranty and responsive customer support.
Final Thoughts
Water is only healthy for you if it's good enough to drink. Improve the taste of yours throughout your home with our choice for best whole house water filter for well water — the HMF3SDGFEC by Home Master.
Frequently Asked Questions
Does this system eliminate pathogens?
No, it' not intended to make water biologically safe.
How often do filters need to be changed?
The high-quality coconut carbon filter can produce up to 95,000 gallons — enough for four people for a year. Sediment and iron pre-filters can last as long, but may need to be replaced more often depending on your water quality.
Will it reduce lead contamination?
No. Home Master makes whole-home filters that reduce lead, but at the expense of water pressure. The HMF3SDGFEC is designed for wells that are safe, but have issues that affect taste.
Compare Other Leading Well Filtration Systems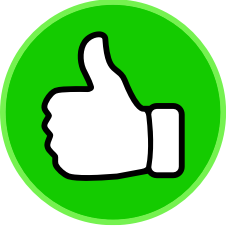 99
people found this helpful. Was this guide helpful to you?