Research The Best Reverse Osmosis Water Filtration System
Reverse osmosis filtration systems are the gold standard for protection against the thousands of contaminants that could be lurking in your water, but older models have a reputation for being bulky, expensive and costly to maintain.
We know that finding the best reverse osmosis water system is no picnic. Deciphering technical specifications and sorting the through the hype is exhausting, so relax — we've scoured the market to bring you the seven best models plus a buying guide to help you get the most out of our review.
Let's get started…
Best Reverse Osmosis Filter

Editor's Choice

Editor's Choice

WaterDrop Reverse Osmosis

High-Flow 400 GPD
NSF 58 & 372 certified
Installs in 30 minutes or less

Check Prices on waterdropfilter.com

Coupon Code: QWL-10OFF

Best countertop ro

Best countertop ro

AquaTru Countertop

1200 Gallons filtered per filter
4-Stage filtration process
Quick setup

Check Prices on waterandwellness.com

NU Aqua Tankless Reverse Osmosis System

400% more efficiency than other RO systems
Filters last up to 36 months
Easy to use and simple to maintain

Check Prices on nuaquasystems.com

Aquasana OptimH2O

4-stage advance filtration system
Certified to NSF/ANSI Standards 42, 53
2-year warranty

Check Prices on aquasan.com
Our Top Rated 
Reverse Osmosis Water Filters

: See our 7 Best Picks:

 
#1.
NU Aqua Tankless

Reverse osmosis 600GPD System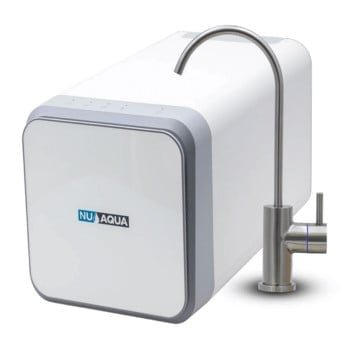 This is another favorite of ours and not because of the price, but the reliability and convenience of space in under the sink.
With dozens of positive verified reviews, NU aqua gives you 4-stages of water filtration that will remove up 99% of the contaminants we don't need in our drinking water.
What I love about this system is the fact that I don't NEED any hand tools to make a filter change – the only thing you have to do is lift the front cover and twist out the old filter to replace –Pretty simple in my book!
Another positive feature I love is the fact it comes with a water pressure booster – nothing worse than waiting to pour a glass of water especially if you have young kiddos.
This system comes with a 180 day satisfaction guarantee if you don't like this system and also comes with a 5-year warranty if you decide to keep it – so you really have nothing to lose and more to gain in giving Nu Aqua a shot!
.
Pros
Cons

High-Flow 600 GPD
Low water pressure booster
Tool-less quick filter changes
Filter light change indicator
99% of contaminants removed
180 satisfaction guarantee
Compact Tankless design

Installation can be a pain for some setups
FAQs
Q: How often do I need to change the membrane?
A: It's recommended that you change the PP/CB Filter in 6 months. The GAC Filter in 12 months, followed by the Active carbon filter in roughly 36 months.
Q: Can you add an alkaline filter after the RO system?
A: Yes, you can buy the adaptor through Nu-Aqua
My Take
I really do like this system and I'm torn between the Waterdrop system and the NU-aqua RO system. However, the Nu-Aqua system is over a 100.00 cheaper and does have a better flow rate but isn't a space saver like Waterdrop is – you can read our Waterdrop WE-G3 Review here.
#2.
iSpring RCS5T Tankless

Reverse Osmosis Water Filter — Perfect for Large Families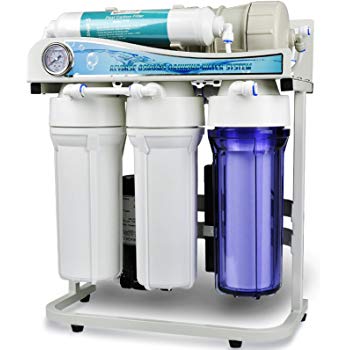 iSpring's RCS5T isn't your typical residential RO water filter — it's designed to meet the needs of small business including restaurants. Five stages of filtration remove 99-percent of more than a 1000 troublesome contaminants down to 0.0001 microns, and with its patented dual-flow membrane and powerful booster pump, it provides large volumes of pure water without the need for a storage tank.
A built-in pressure gauge allows you to monitor the system's performance without guesswork while the tankless design makes it easy to install in limited space. With a 500-gallon per day maximum capacity, this is one of the few true on-demand, whole-home filtration systems that won't leave a large family without enough filtered water for all of its needs.
.
Pros
Cons

High-capacity system
Tankless design saves space
0.0001 micron membrane rating
1:1 waste to clean water ratio means less water use

Limited one-year warranty
Optional tank required for optimal performance
FAQs
Q: Can this system be used with both city and water?
      A: Yes, the pre-filter reduces the chlorine in city water that can negatively affect the RO membrane. For wells, the system's 0.0001 micron rating removes nearly all pathogens.
Q: How often do the filters and RO membrane need to be replaced?
      A: The RO membrane should be replaced every 1500 gallons. Pre- and post-filters last six months.
Q: Is this system easy to install?
      A: Most homeowners can do it with basic know-how in a few hours.
My Take
With a whole home filtration system, clean water comes from every tap, but that's not helpful if the flow slows to a trickle in the shower when the kitchen faucet is turned on. This unit has exceptional filtration capability, and its size makes it convenient to install. Capacity and flow rate are affected by many factors, so practically speaking, you might not get the 500-gallons per day output and flawless flow rate his system can produce under "ideal" condition, but since most filter makers advertise their systems similarly — it's still comparing apples to apples. The RCS5T is the best reverse osmosis water system you can buy for a big family.
#3.
Home Master TMHP HydroPerfection

Undersink Reverse Osmosis Water Filter System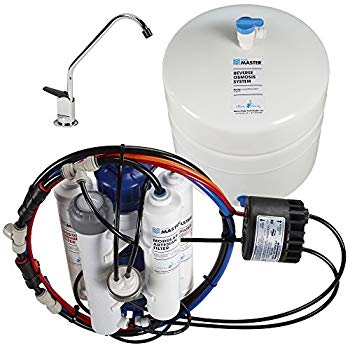 Home Master RO calls the TMHP a "better" filter because it solves a common problem with RO systems — that they remove healthy minerals like calcium and magnesium. All RO systems remove some minerals, but Home Master's Full Contact remineralization technology adds them back in, and that's better for your health and the life of your RO system's storage tank.
The TMHP remove all of the contaminants you would expect, and with a UV light, it's especially effective against pathogens — a must for well water. Over-sized fittings and high-flow components mean a faster flow rate, and the integrated permeate pump reduces wastewater production by up to 80-percent.
.
Pros
Cons

UV light kills pathogens filtration alone could miss
Permeate pump saves water
Easy filter changes
Five-year warranty

Storage tank may be a tight fit under sinks with disposals
FAQs
Q: How often should filters be replaced?
      A: Once a year or after 2000 gallons.
Q: Is this system hard to install?
      A: It's easy! It was specifically designed for homeowner installation.
Q: Are the tubing and plastic components BPA-free?
      A: Absolutely!
My Take
I like this system. Despite the tank, it's compact, and installation is a cinch. It looks more complicated than it is when you open the box, but the tubing is all color-coded, and the instructions are well-written. As for filtering capability, its micron rating isn't as high as iSpring's RCS5T, but it's close, and with the addition of the UV light, I consider them equal. Filters are changed yearly as a set — there's no complicated maintenance schedule, and while you won't get quite as fast a flow at the faucet as with the iSpring, it's plenty brisk enough for providing drinking and cooking water. Best of all — Home Master backs it with a five-year warranty.
#4.
APEC Water Systems

ULTIMATE RO-PERM Reverse Osmosis Drinking Water Filter System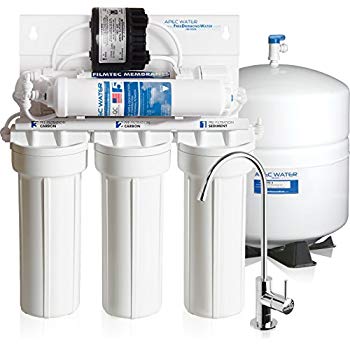 Most RO filters need relatively high water pressure to operate, so if your home's water flow is low, you've been out of luck until now. APEC's ULTIMATE RO-PERM filtration system comes in two models for different levels of pressure. Five-stage filtration is guaranteed to remove 99-percent of contaminants including arsenic, lead and harmful microorganisms.
Its super-capacity filters require replacement less often than other brands, and it comes equipped with a permeate pump that saves energy and helps the storage tank fill faster — so you'll never run out of clean water. It's assembled in the U.S. A. and comes with a one-year satisfaction guarantee.
.
Pros
Cons

Capable filtration for well or city water
36-90 Gallon Per Day (GPD) capacity
Warranty includes lifetime support
Dispensing faucet has above average styling

Permeate pump is noisier than most
FAQs
Q: Does this system remineralize water?
      A: No. It will reduce TDS.
Q: Is it difficult to install?
      A: No. APEC encourages homeowner installation and offers technical support during regular business hours.
Q: What's the waste water ratio?
     A: Three gallons of brine are produced for each gallon of purified water.
My Take
This system's filtration capability is similar to both the iSpring RCS5T and Home Master's TMHP HydroPerfection. Capacity and flow rate are comparable to the TMHP. The big advantage of this system is its ability to operate under low pressure. In some parts of the country, that's gold. The other difference is the lack of remineralization technology — a disadvantage for health, but an advantage if you don't have a water softener and want to get rid of at least some minerals. For a few dollars more, I prefer the THMP Hydroperfection under most circumstances, but this is the best reverse osmosis system for homes with low water pressure.
#5.
APEC Top Tier Supreme

6-Stage Ultra-safe Reverse Osmosis System
APEC 6-stage addressed the lack of remineralization technology in its ULTIMATE RO-PERM filter with this model featuring an alkaline cartridge. It doesn't return all minerals to water, but it does add back valuable calcium and raises alkalinity.
Six-stage filtration removes 99-percent of contaminants including fluoride, lead, arsenic and bacteria — and that's tested and certified by the Water Quality Association (WQA). Large-capacity filters can last up to a year, installation is DIY-friendly, and you'll enjoy peace of mind with a two-year warranty and lifetime support.
.
Pros
Cons

Alkaline cartridge adds calcium carbonate to water
Easy installation and filter changes
Two-year warranty with lifetime support
90 GPD capacity
WQA Gold Seal—certified
FAQs
Q: Can I add a permeate pump to this system?
      A: Yes. It's recommended for improving efficiency and performance if your home's water pressure is low or fluctuates.
Q: How many GDP maximum can this system produce?
      A: 90 gallons
Q: Where are these filters made?
      A: The filter cartridges are made in the U.S. Select parts are imported.
My Take
Alkaline water is today's hot new health trend. I'm no expert, but there's a certain appeal to drinking water that's more like what Mother Nature intended — so that's a point in this filter's favor. I also like the 90 GPM flow rate — no matter how fast I can fill my coffee carafe in the morning, it's never fast enough. I'm not enthusiastic that this model lacks a permeate pump. Some folks complain they make noise, but the water savings add up — especially if water costs are high in your area. Like everything, it's a trade-off. I like this filter, but for my money, the Home Master TMHP HydroPerfection is a better value. But it also costs 20-percent more, so let your budget be your guide.
#6.
iSpring RCC7AK-UV

Deluxe Under Sink 7-Stage Reverse Osmosis System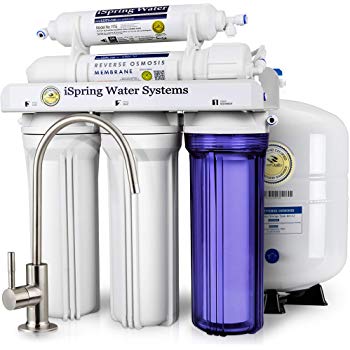 iSpring 7-stage put the filtration capability of its whole-home RCS5T system in a smaller point-of-use system. Seven stages of filtration remove up to 99-percent of unwanted contaminants, and the UV light — one of the strongest in the industry — adds an extra layer of protection again pathogens.
An alkaline remineralization filter puts the sodium, magnesium, calcium and potassium stripped out of water by the RO membrane back in — restoring a healthy balance. Water flow is brisk for a reverse osmosis system, and with no moving parts, it operates silently. Long-lasting filters keep the cost of ownership down, and it's backed by a one-year warranty.
.
Pros
Cons

75 GPD capacity
Long-lasting filters
Remineralization filter
Straightforward DIY installation

Short one-year warranty
No permeate pump
FAQs
Q: How often should the filters be replaced?
      A: The first three pre-filters should be changed every six months. The others last a year.
Q: What makes the UV light in this system better than others?
      A: It's stronger — 11 watts instead of the standard six. It also turns off via a sensor switch when water isn't running, extending both the life of the bulb and improving its efficacy.
Q: What is the waste water ratio?
      A: Two gallons of waste water are produced for each gallon filtered.
My Take
iSpring put a lot of thought into this system. From easy homeowner installation to top quality filters, there's a lot to like here. The UV light is exceptionally well-designed. It's hard to believe most models have bulbs that are on continuously. I wish it had a permeate filter for efficiency, but as RO systems go, it's among the most efficient without one, and it does run quietly — a big plus in some homes. Like iSpring's other products, this filter is so well made I'd be happy to have it my kitchen, but if Home Master can offer a five-year warranty on their TMHP HydroPerfection, I'd like to see iSpring do the same with this system.
#7.
FS-TFC Reverse Osmosis

Water Filtration System
If you need a point-of-use water filter for your kitchen, but you don't have enough room under your sink, have a closer look at this low-profile, tankless system by FS-TFC. It weighs just 12 pounds and measures 17.5 x 12 x 2.5 inches.
Even with a disposal, it's sure to fit. Six filters mounted in a slick-looking exterior shell offer four-stage filtration on demand that removes 99-percent of arsenic, lead and thousands of other contaminants. Triple high-efficiency membranes offer up to 300 GPD of pure, crisp water and noise-free operation.
.
Pros
Cons

Space-saving footprint
Whisper-quiet operation
Long-lasting filters
Accommodates an optional storage tank

Installation instructions need polishing
No automatic shut-off valve
FAQs
Q: How often are filters replaced?
      A: PP, CTO and T33 filters should be replaced annually. The triple membrane is replaced every two years.
Q: Are the filters easy to change?
      A: Yes, but it's slightly more time-consuming than with other models.
Q: Does this remove minerals from water?
      A: Yes. It reduces TDS significantly.
My Take
This filter is among the most likely to lower total dissolved solids. Its small size is a big plus in small spaces, and if you have a disposal, this is one of the few systems that also allows you to have a water filter. My sole disappointment with this model is the lack of an automatic shut-off valve that protects your home from water damage in the event of a malfunction. Adding one is cheap, and it isn't hard, but it's a glaring oversight in an otherwise well-designed filter. This is the best RO water system if you want low-mineral content in your water, but if you've never installed one before, have a mechanically-inclined friend give you a hand.
#8.
Express Water

Alkaline Reverse Osmosis Water Filtration System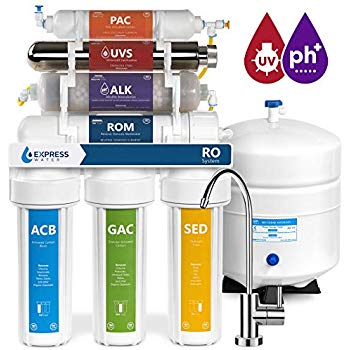 Express RO Water says this system delivers the healthiest, freshest-tasting water on Earth — you be the judge. It starts with five-stages of filtration that remove up to 99.99-percent of chlorine, lead, fluoride, arsenic and more — the highest reduction level in the industry.
Next, five additional filters add beneficial minerals in much the same way a natural spring does, plus antioxidants and extra oxygen for an energizing experience in every glass. Installation couldn't be easier, and its 50 GPD total output is impressive given its size. Long-lasting filters plus a surprisingly low initial price keep the long-term cost of ownership down.
.
Pros
Cons

Low-cost of ownership
Easiest installation in it's class
Integrated auto shut-off valve
Makes water alkaline

Nothing worth mentioning 🙂
FAQs
Q: Does this system remove PFOAs?
      A: Absolutely!
Q: How long do the filters last?
      A: The RO membrane last one year. The others last approximately six months.
Q: Can the alkalinity enhancer cartridge be bypassed?
      A: Yes, the instructions are included in the owner's manual.
My Take
I don't know if I need extra oxygen or antioxidants in my water, but for the price of this system, I'm thrilled with its filtration capability. It doesn't come with permeate pump, so the waste to clean water ratio is a little high — three to five gallons — but it runs quietly, and if water costs aren't going to break the bank, it's not the biggest deal. Hands down, this is the best RO system for anyone worried about do-it-yourself installation — it couldn't be any easier. It's also an excellent pick for anyone who wants the security of superb filtration and alkaline water, and with one of the lowest initial prices and low maintenance costs, it's perfect if you need a high-quality filter on a budget.
Best Reverse Osmosis System
Buyer's Guide
Most reverse osmosis filters reduce or eliminate roughly the same contaminants — it's the nature of their design. But quality counts, and the features that make some systems more user-friendly and cost-effective than others plays a large part in your long-term satisfaction with the system you choose.
Let's take the mystery out of how reverse osmosis filters work and take a closer looker at the critical features to look for when comparing models.
What is a reverse osmosis filtering system?
Conventional filters use a series of cartridges with different filtration media to remove select contaminants from water. Polypropylene cartridges remove sediment and carbon filters make water taste better. To make water safer, you need more than that.
Reverse osmosis water filters use a special type of high-efficiency, semipermeable membrane as well as conventional filters to capture the maximum number of contaminants and make water taste crisp and clean.
What are the benefits to having a reverse osmosis water filter?
Most reverse osmosis systems remove contaminants larger than 0.001 micron in size or smaller including:
Fluoride
Salt
Sediment
Chlorine
Lead
Arsenic
VOCs
Bacteria and parasites
Herbicides
Pesticides and much more
If your family isn't drinking as much water as they should because they're worried about what's in it or you've resorted to expensive bottles because of taste, a reverse osmosis system offers peace of mind and is an economical, space-saving and environmentally-friendly alternative.
How does a reverse osmosis water filter work?
Each maker's design is proprietary, but most perform the same way.
Pressurized water coming into your home is first treated by a sediment filter that removes sand, silt, rust and other large particles that could clog the RO membrane.
Next, it passes through a carbon filter that removes minerals and contaminants such as chlorine — a must because high levels of chlorine can ruin better RO membranes.
After pre-filtration, water is forced through the semipermeable reverse osmosis membrane. Purified water passes through in a holding tank (select systems don't require a tank), while contaminants are trapped on the other side and flushed away.
Water then undergoes final post-filtration through a carbon cartridge that removes any trace impurities, making what comes from your tap as pure and delicious as it can be.
What type of reverse osmosis water filter do I need?
Here are few consideration to help you determine the type of system you need:
1. Whole-home vs under-sink?
For pure water from every tap, choose a whole-home system. To purify drinking and cooking water, a point-of-use system mounted under the sink is small and cost-effective.
2. With a tank vs tankless?
Tankless systems are smaller, but their capacity is limited. Systems with tanks, however, may be too large to fit under the sink if you have a disposal. Measure carefully before choosing.
3. Mineral-reducing vs alkalizing?
All RO filters remove minerals. If you want water with the lowest percentage possible of TDS, avoid filters that remineralize water. If you want the health benefits of alkaline water, choose a model that adds minerals back in.
4. With or without a UV Light?
RO systems remove most pathogens, but some manufacturers are reluctant to claim their systems can make water potable under every circumstance because water quality can vary. If you're filtering city water, an RO system with a UV light is more than sufficient to safeguard your health. If you're on a well, a UV light offers an extra measure of protection for nominal cost.
What to look for in a reverse osmosis filter system:
1. Membrane Type
Cellulose Triacetate (CTA) membranes are made with paper by-products bonded to a synthetic layer. A small amount of chlorine in your water is necessary to prevent bacterial growth.
Thin Film Composite (TFC) membranes are fully synthetic and can be irreversibly damaged by chlorine. Systems that use these membranes rely on carbon pre-filters to remove chlorine before water reaches the RO membrane.
So if a chlorine pre-filter is required to use TFC membranes, why are they so popular? Reverse osmosis water filters equipped with TFC membranes are the only ones we recommend because they reject many more contaminants.
2. Water Flow
Because of the comprehensive filtration RO systems offer, their flow rates are typically lower than non-RO filters. Reported rates are the maximum you can expect under ideal conditions, but because flow is affected by so many factors unrelated to the design of the filter, they alone won't tell you how brisk it will be. Some design elements enhance flow — like the dual-membrane design on the iSpring RCS5T and the extra large fittings on the Home Master TMHP HydroPerfection — but the flow rate will vary based on water quality, and it's tough to predict. Flow rates should be considered estimates.
3. Capacity
Capacity refers to the maximum number of gallons an RO filter can produce in a day, and that's important because it needs to make enough to meet your family's needs. Point-of-use systems are designed to filter water at only one faucet, so their capacity will be lower than whole home systems.
Most families use three gallons or less of water per day for drinking and cooking. For a family of four, that's 12 gallons. All of the systems on our list well exceed that capacity. The lowest producer — APEC's ULTIMATE RO-PERM — could make as little as 36 GPD under low-pressure conditions, while the Express Water Alkaline system produces up to 50 GPD. APEC's Top Tier Supreme 6-Stage Ultra system and iSpring's RCC7AK-UV Deluxe Under Sink model produce more — 75 to 90 gallons. The FS-TFC Reverse Osmosis Water Filtration System is the winner at 300 GPD.
The only whole-house filter on our list, the iSpring RCS5T, can produce up to 500 GPD — but beware, like flow rates, capacity ratings are reported as maximums. You may get less depending on your water quality.
4. Cartridge Life
The costs of maintaining a water filter add up, so when you're considering the expense, look at the big picture. Individual cartridges vary in price, and each has a finite capacity. To determine your long-term cost of ownership, you'll need to consider how many filters are in the system and how often they need to be changed. Pre- and post-filters cost less than RO membranes, but they need to replaced more frequently. The best RO system for you will be the one that removes the most target contaminants at the lowest cost.
5. Micron Rating
RO membranes have pores measured in microns — millionths of a meter. The size of the pores determines which contaminants can pass through. Membranes in the systems on our list are rated from 0.001-0.0001 microns and reliably remove all significant pollutants. How much of a difference is there between 0.001 and 0.0001 micron? Not much.
In general, the lower the micron rating, the better, but there's some disagreement about whether a 0.0001 rating is really accurate because, by most standards, that's considered waterproof. There is some variation in shape between molecules, so that could be a factor, but short of removing the world tiniest viruses, a 0.001 rating is more than enough to eliminate the pathogens most homeowners should worry about.
What does TDS mean?
Total Dissolved Solids, or TDS, is the amount of dissolved ions in your water. It consists mostly of minerals — some of which are beneficial — but it can also include harmful substances like lead, arsenic and nitrates. Conventional wisdom says that the lower the level of TDS in water, the better. Don't believe it.
The problem with focusing on TDS is that while it reflects the total number of substances in your water, it tells you little about the type of ions you're dealing with. The TDS measurement only tells you how many dissolved solids are in your water — not if they're sharks or rubber duckies.
High TDS levels can indicate a problem that requires follow-up. If there's something dangerous in your water, you need to know, and if you're struggling with mineral stains or build-up in your plumbing, knowing which ions are predominant in your water will help you choose the filtration system that best meets your needs. Always do a water test.
What is the difference between a single pass and double pass RO system?
Single pass RO systems filter water through one RO membrane, double pass systems use two. Double pass systems make ultra-pure, lab-quality water like the type used in medical and industrial applications, but they're very expensive and practical only for commercial purposes. Residential RO systems labeled as multi-stage, are not double pass systems.
What's the difference between a 2-stage and 3-stage system?
RO systems use pre- and post-filters to improve overall system efficiency and to protect the RO membrane. Each of these filters represents a single "stage." Sediment pre-filters remove large particles like dirt and rust that can clog other cartridges in the system. Carbon pre-filters remove chlorine — something that can irreparably damage thin-film RO membranes — and carbon post-filters are often added to remove final traces of VOCs and improve water's taste. In general, more stages of filtration are better, but that can vary based on the quality of individual cartridges.
What does reverse osmosis efficiency mean?
Reverse osmosis efficiency refers to the amount of wastewater produced for each gallon of water purified. With some systems, the ratio can be as high as 12:1. The systems on our list average 1:1 to 3-5:1. Where water costs are high, or local regulations limit brine output, high-efficiency systems save money.
Do I need a Permeate pump?
A permeate pump is a water and energy conservation device. It's powered by the hydraulic energy of the wastewater reverse osmosis systems produce — no electricity is required.
Permeate pumps enhance the efficiency of RO water systems while improving the longevity of the RO membrane and cutting wastewater production by up to 80-percent.
If your system doesn't come equipped with a permeate pump, it's not necessary to add one, but they're inexpensive, and the benefits make it worth the trouble.
How To Install a Reverse Osmosis Water Filter
The steps to install an RO water system vary by style and manufacturer, but in general, here's what you'll need to do:
Shut off the main water supply.
Mount the faucet that comes with the kit. Most sinks have an extra hole, but you may have to drill one if it's already occupied.
Install the mounting brackets that hold the filter and secure it place.
Drill a small hole in the water supply line for the saddle valve and connect the filter to it.
Connect the system to the dispenser and the drain line.
Flush the system as recommended.
If you've never installed a water filter before, it's helpful to review the instructions in advance. Most provide a tool list and step-by-step directions, and some manufacturers offer instructional videos and technical assistance by phone. If you need to drill a hole in a specialty countertop like granite, consult a professional first.
How to Change Filters in a Reverse Osmosis System
Changing filters in most systems is simple, but variable. In most cases, you'll need to:
Prepare the area under the filters with towels and a bucket or tray to catch drips.
Gather tools like a screwdriver and filter wrench if required.
Remove filters as directed and replace them with fresh units.
Run the faucet to check for leaks.
Dispose of spent filters. Recycle them if you can.
How do I maintain a reverse osmosis system?
Maintaining a reverse osmosis system is a little more complicated than keeping up with garden-variety filters, but the results are worth it. Maintenance is as simple as replacing pre- and post-filters on time — every six to 12 months is typical. RO membranes last a year or more depending on their total capacity and your water usage. Select systems with tanks may require occasional disinfection — it's a simple process — and some require periodic back-flushing of the RO membrane to maintain maximum filtration.
What's the best reverse osmosis system for you and your family? It's the one that makes you comfortable drinking water again, so take the worry away and cancel the bottled water delivery today with any of these top systems.
Last Updated on April 9, 2022 by
Ava