Last Updated on July 2, 2022 by
Ava
Drinking filtered water has tangible health benefits, but unless you have a whole home filtration system, you're spending ten minutes a day pouring the same dirty water you won't drink all over your body in the shower.
What's worse — chances are you've noticed the effects of it, but don't realize your water is to blame.
If you have dry, itchy skin and hair that feels like hay, or you're worried about exposure to the witches brew of chemicals and contaminants that could be in your water, a shower head filter could be a game changer.
The purity of a spa-quality shower at home is within reach, but which is the best shower head filter for you? We've put together this in-depth buying guide and reviewed these seven top picks to help you get started.
6 Best Shower Head

Water filter Reviews
#1.
Aquasana AQ-4100

Deluxe Shower Water Filter System

📝 Type: In-line + Shower Head | Filter Capacity: 10,000 gal. |Flow rate: 2 GPM | Annual Cost: ~$65 | Warranty: 1 year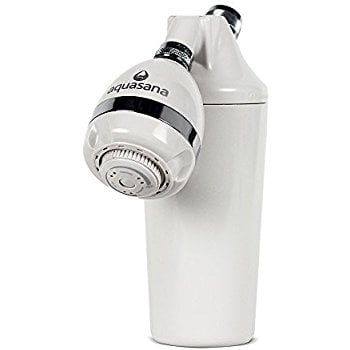 Aquasana shower head has combined the benefits of KDF 55 filtration media and premium coconut shell carbon for maximum contaminant reduction. Like the Berkey, it removes chlorine and heavy metals, plus hydrogen sulfide, herbicides, pesticides and VOCs, and it also balances pH — a plus for skin and hair.
The multi-setting massage head makes for a customizable shower experience, and its 10,000-gallon capacity offers long life between filter changes.
.
Pros
Third-party tested and ANSI/NSF 177 certified for chlorine removal
Twist-on installation
Low cost of ownership
One-year warranty
Cons
Housing is prone to cracks and leaks
FAQ's
Q: Does this filter remove fluoride?
A: No, it doesn't.
Q: Are plastic components BPA-free?
A: Yes
Q: What is the flow rate on this filter?
A: 2.5 gallons per minute
My Take
This filter looks good on paper, but the latest version has a new housing that doesn't perform as well as its predecessor. It's been prone to crack and leak, and while some instances appear related to improper installation or higher-than-average home water pressure, Aquasana would do well to make the housing bulletproof. The price, however, is competitive, and most users report excellent results with it. Unlike some models, it's backed by a one-year warranty, and we like that it's NSF-certified for chlorine removal. Overall, it's a solid performer and a best shower head if you're on a budget.
#2.
Vitamin C Filter

Inline Shower Assembly by Sonaki

📝 Type: In-line + Shower Head | Filter Capacity: 1,300 gal. |Flow rate: 2 GPM | Annual Cost: ~$50 | Warranty: 30-day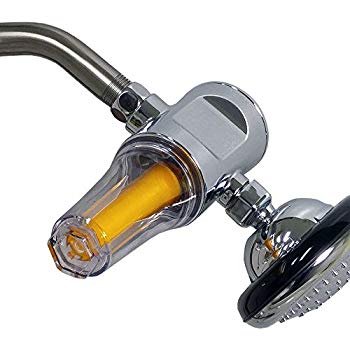 The use of chloramine as a secondary disinfectant for city water is growing. This chlorine-ammonia compound is more stable and less expensive, but it poses a challenge for people who'd rather not shower in it because conventional carbon filters are less effective at removing it than once thought — something we'll cover in our buying guide.
The solution, oddly, is Vitamin C, and it's the primary filtration media in this fine filter by Sonaki. Attach it behind your shower head for a 99-percent or more reduction in chlorine and chloramine and reap the skin benefits, too. Made of durable resin with a chrome finish, it comes with three filters that treat an average of 5,000 gallons of water combined.
.
Pros
Design doesn't significantly change the height of the shower head
Superior chloramine removal
See-through filter housing
Attractive finish
Cons
Filters may have less capacity than claimed
FAQ's
Q: Where is this filter made?
A: Korea
Q: How many inches does the filter add to the shower head?
A: No more than four inches
Q: Does this filter remove heavy metals?
A: No, it's strictly for chlorine and Chloramine removal.
My Take
There's nothing fancy here, but this is a reliable filter. Depending on water conditions, the Vitamin C cartridges can wear out quickly, but at least the housing is see-through, so you won't have to guess if it's still working. Users across the board report good results, but a few have been disappointed. Most in part because higher-than-average levels of chloramine in their water supply were overwhelming, and the filter couldn't keep up. Still, it performs on par or better than most models in its class, and its resin construction and all-brass fittings feel more durable than other brands, making it our winner for best shower head for chloramine.
#3.
Berkey

Shower Filter

📝 Type: In-line | Filter Capacity: 20,000 gal. |Flow rate: 2.5 GPM | Annual Cost: ~$80 | Warranty: Lifetime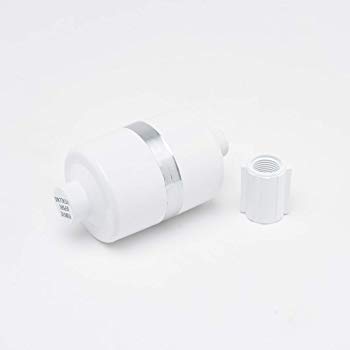 Berkey is a trusted maker of world-class water purification products, and they've put their know-how into this well-engineered shower head filter. Its ultra-pure KDF 55 media is the most effective for removing chlorine from water before it can irritate your skin or be vaporized and inhaled.
Heavy metals including lead are significantly reduced as well as select minerals that cause rust and limescale stains in the shower. The unit takes seconds to install and includes a back-flush attachment to help keep it clean. Each unit filters an industry-leading 10,000 gallons.
.
Pros
Works with your choice of shower head
Prevent iron staining NSF/ANSI requirements.
Back flush attachment improves filter performance
Long-lasting filtration
Made in the United States
Cons
Spray pattern is narrow
Teflon tape isn't included in the installation kit like other brands
FAQ's
Q: Can I use this with a handheld shower head?
A: Absolutely!
Q: Does it reduce water pressure?
A: Some filters can, but the Berkey's patented Full Flow media encourages a uniform flow of water through the system for maximum pressure. Most users report no change.
Q: Does this filter remove chloramine?
A: No, KDF 55 media cannot reduce chloramine.
My Take
For removing chlorine and heavy metals, nothing beats KDF 55 media. Its copper-zinc formula reacts with chlorine — called an oxidation-reduction reaction — as it passes through the shower head and turns it into harmless, water-soluble chloride. KDF 55 is the filtration media of choice for many filter manufacturers, but it's not all created equal. The Berkey uses only the highest-quality brand, and its Full Flow design not only preserves water pressure — it improves contact between the media and water for a better chlorine extraction. If you use the backflush attachment regularly to clean the filter, you'll keep the water pressure strong and extend the filter's life. With a 10,000-gallon total capacity, it's my top choice for the best water pressure shower head filter.
#4.
Luxury Filtered Shower Head

Set 15-Stage Shower Filter

📝 Type: In-line + Shower Head | Filter Capacity: 10,000 gal. |Flow rate: 2.5 GPM | Annual Cost: ~$70 | Warranty: 1 year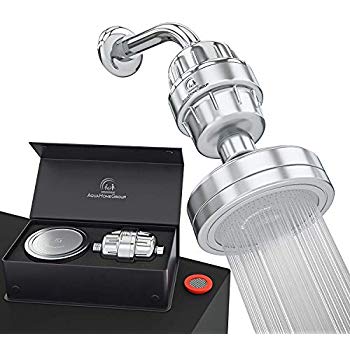 Lots of products use the word luxury in their name, but this one may live up to the hype. For a price that's lower than its major competitors, its 15-stage filtration and premium, high-output head are among the highest performing.
With KDF 55 media plus activated carbon and Vitamins C and E, it softens skins and removes contaminants. The kit comes with everything you need for tool-less installation including the Teflon tape and five free shower caps. Cartridges last about six months and replacement filters have one of the lowest prices in the business.
.
Pros
Softens skin with Vitamin E
Gentle, rainfall shower head
Long-life cartridges
Cons
Doesn't remove chloramines despite Vitamin C in the filter
Made in China
FAQ's
Q: How much chlorine does this filter remove?
A: 90 to 96-percent
Q: Is the housing metal or plastic?
A: It's plastic with a chrome finish.
Q: Is the filter NSF-certified?
A: No, but it's CE-certified — that's a rough European equivalent.
My Take
We shouldn't like this filter. It's made in China, so it sets off warning bells for some concerning safety, and the housing is plastic, not metal like similar versions of this model. It removes a bit less chlorine than its competitors, and it doesn't remove chloramine at all despite the Vitamin C — the maker claims it's for skin and immune system health only.
Despite that, however, it's well-made, and users give it high marks for overall performance and rave reviews for the way it makes skin feel using words like "luxurious" liberally. For the cost, it's a steal and our pick for best shower filter value.
#5.
AquaBliss

High-output 12-Stage Shower Filter

📝 Type: In-line| Filter Capacity: 10,000 gal. |Flow rate: 2 GPM | Annual Cost: ~$60 | Warranty: 1 year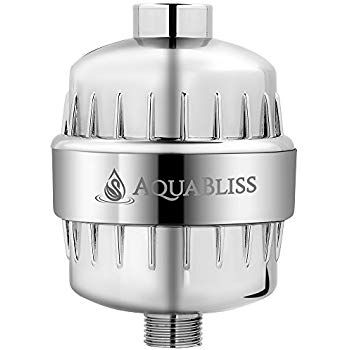 This filter by AuqaBliss is among the best rated shower heads for its overall performance. Its proprietary 12-stage filtration system uses both KDF 55 and activated carbon filtration media. It reduces chlorine, heavy metals and chemical impurities, plus it has two layers of sediment filtration to improve filtering efficiency and lengthen the life of the cartridge.
Each filter process up to 12,000 gallons depending on water conditions, and for an authentic spa experience, zeolite and tourmaline balls add minerals that revitalize skin and hair.
.
Pros
Sediment filtration improves media efficiency
Same easy installation process for all types of shower heads
Long-lasting filters reduce the cost of ownership to nine cents per day
Filter enhancements improve the feel of skin
Cons
Made in China ( Isn't everything…)
FAQ's
Q: Are the filter cartridges recyclable?
A: That would be almost impossible due to the mixed materials, but each layer is biodegradable and contains no substances that are harmful to the environment.
Q: How long is the filter?
A: About seven inches
Q: Does it come in other colors?
A: At this time, it's available only in chrome.
My Take
If you need an inexpensive filter, this one doesn't come with a shower head, so using your own saves some cash. In terms of performance, it's competitive and reduces almost everything you don't want in your water except chloramines and fluoride. It's made of plastic, but it's still durable, and there are no issues with seams that leak. Like the Luxury Filtered Shower Head Set, it has bonus filtration layers that improve water quality beyond removing toxins, making it a best shower filter for soothing skin.
#6.
Culligan WSH-C125

Wall-Mounted Filtered Shower Head with Massage

📝 Type: Shower Head | Filter Capacity: 10,000 |Flow rate: 2 GPM | Annual Cost: 1,000 gallons | Warranty: ~$120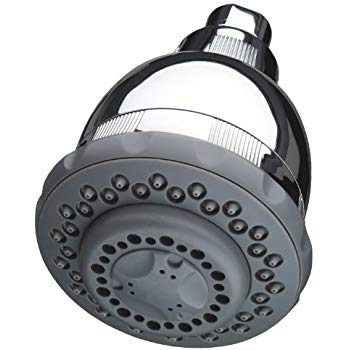 The WSH-C125 by Culligan is a simple filter for reducing sulfur, scale and chlorine, but if you need to save water, it's a miser. It's the only model on our list that's EPA WaterSense-certified for using two gallons of water or less per minute, and it's also NSF-certified for chlorine reduction.
The included shower head has five clog-free settings for comfort, and each filter has a 10,000-gallon capacity and a five-year warranty.
.
Pros
NSF-certified
Long-life filter cartridges
Sturdy housing
FAQ's
Q: Does the head swivel?
A: About 30-degrees in all directions
Q: Does this filter soften water?
A: Not like a water softener, but it does reduce the minerals that cause limescale.
Q: Does this filter affect water pressure?
A: No. Despite its low-flow design, water flow should be brisk. The clog-free nozzles on the head help minimize obstructions that contribute to low flow.
My Take
More isn't always better. If you're one of the folks that get red-eyed and itchy in chlorinated water, the NSF certification on this filter makes it a good choice. It's basic — there are no so-called luxury components or vitamins here, but if you want an old-fashioned clean shower without the chlorine sting, you'll get it. For those living on the road in an RV or in an area where water costs are high, you'll appreciate the water-saving design. This filter doesn't do as much as the competition, but what it does, it does capably.
Compare All 6 Shower Filters
(Mobile users: Swipe to scroll)
| Compare Brands & Models | #1 Aquasana AQ-4100 | #2 Vitamin C Shower Filter | #3 Berkey Shower Filter | #4 Luxury Filtered Filter | #5 AquaBliss Shower Filter | #6 Culligan Shower Filter |
| --- | --- | --- | --- | --- | --- | --- |
| Rating | 5/5 | 5/5 | 4.5/5 | 4.5/5 | 4.5/5 | 4.5/5 |
| Price | $$ | $$ | $$ | $ | $ | $ |
| Type | In-line + Shower Head | In-line + Shower Head | In-line | In-line + Shower Head | In-line | Shower Head |
| Filtration Capacity | 10,000 gal. | 1,300 gal. | 20,000 gal. | 10,000 gal. | 10,000 gal. | 10,000 |
| Flow Rate | 2 GPM | 2 GPM | 2.5 GPM | 2.5 GPM | 2 GPM | 2 GPM |
| Annual Cost | ~$65 | ~$50 | ~$80 | ~$70 | ~$60 | ~$120 |
| Warranty | 1 year | 30-day | Lifetime | 1 year | 1 year | 4.5/5 |
Best Shower Head Filter

Buying Guide

A shower head filter is an affordable investment with real benefits, but not every model has the features you need. Let's take a closer look at what makes these filters tick and which of these best rated shower heads is right for you.
Why You Need A Shower Head Filter
Shower head filters are similar to the type you might put on your kitchen sink faucet, but the filtration goals for the water you bathe with are a little different than for the water you drink.
Your skin is your largest organ and not only is it easily irritated — it absorbs significant pollutants. Chlorine, fluoride and a variety of industrial and agricultural chemicals can be absorbed surprisingly easily through the skin and inhaled through the warm, wonderful vapor we all enjoy in the shower.
Lead, once thought to be safe in water as long as it isn't consumed, has now been shown in select studies to pass through the skin in small amounts, and if you have children, any amount of lead exposure is too much.
In addition to the health benefits, shower head filters are a boon for the skin and hair. Copper affects the longevity of hair color, and chlorine can make light locks look dingy. Hard water minerals build up quickly on hair, robbing it of its smoothness and shine — as they do to your tub and shower door in the form of limescale stains.
The right shower head filter can fix all that — if it has the proper performance features. Here's what you need to consider.
Performance Features
Filtration Media
KDF 55 filtration media is used in several of our best rated shower heads including the Berkey and the Aquasana AQ-4100. The ion exchange process it uses is designed explicitly for reducing chlorine and water-soluble heavy metals. It controls mineral scale and inhibits bacterial growth in the filter, keeping it cleaner.
Activated carbon, an added ingredient in some filters like the Luxury Shower Head Set and the AquaBliss removes chlorine, chemicals and some chloramines. For chlorine removal, carbon excels with cold water, but it's less effective with hot water. KDF 55 media is hot-water safe and removes more chlorine than activated carbon in most cases.
Carbon was also once thought to remove chloramines and it can, but Vitamin C is the new gold standard for chloramine reduction. But just because a filter has Vitamin C, doesn't mean it's in the amount or form necessary for chloramine reduction. Some makers add it for its benefits to the body in general.
If your primary concern is chlorine, all of the filters on our list perform well. For chloramine reduction, the best shower head filter is the model made by Sonaki.
To remove lead, KDF 55 media is superior, and the better quality grade it is, the more effective it will be. We like the Berkey for homes with children. It lacks carbon, so it alone won't remove chemicals, but add a carbon filter to it, and you have the best of both worlds. For a lead-free bath, fill the tub from the shower head.
Mineral Reduction
Shower head filters are not water softeners, but they do control limescale and mineral build up on hair. The Jonathan Product Beauty Hard Water Shower Filter System is our best shower filter for hard water, followed by the Culligan WSH-C125.
Size
Every filter on our list fits a standard shower head, but some are long, like the AquaBliss at seven inches. Large filters will lower the height of the shower head and could make things tight for tall users while some interfere with shower caddies that hang over the water inlet to the shower.
Capacity
Filter cartridges have a limited capacity. When the filtration media is spent, it stops working, and water flow slows down to a trickle. The more gallons a filter can process, the less maintenance it requires and the less costly it will be to own. Filter capacity depends in large part on your water quality. If you have heavy levels of sediment or other contaminants, they'll need to be replaced more often.
Water Pressure
Any filter can impact water pressure, and while most of the models on our list don't affect it significantly, you'll notice more of a reduction if you already have low pressure. Several filters on our list are high-output filters — that's not quite equivalent to high-pressure filters, but it helps.
Our pick for best water pressure shower head filter is the Berkey because it has a an attachment that lets you flush out the contaminants that build up and slow water pressure over time. It guarantees both the best water pressure and the cleanest shower.
Flow Rate
A filter's flow rate is the maximum number of gallons that flow through it per minute. It could always be less, but it shouldn't be more. For a large family living in a water conservation area, the only filter on our list with low flow is the Culligan WSH-C125. It's not so meager that it makes showering difficult, but the savings add up.
Construction
Shower filter heads are compact and significant pressure builds inside. The higher your home's water pressure, the more likely a weak housing is to crack. Most shouldn't be used at all with PSI over 100. The only filter on the list that didn't fare well under high pressure was Aquasana AQ-4100.
Metal housings, however, are not always the answer. Plastic is weaker, but metal rusts. It's also heavier and could be a hazard to someone's head if it ever became disengaged.
NSF-certification
Unlike drinking water filters, shower head filters that have gone through testing are only eligible for one NSF certification — NSF/ANSI 177. This designation indicates only that it removes the level of chlorine it claims, but that's meaningful if chlorine is your problem.
Because the testing required for certification is extensive and costly, some makers choose not to pursue it. Instead, they use materials that are certified. The KDF 55 media in the Berkey filter, for example, is NSF 42-certified for reducing aesthetic impurities.
NSF certification isn't as meaningful for shower head filters as with those used to purify drinking water, but it does speak to a company's willingness to have their products tested and scrutinized. Non-certified filters could be just as effective, so make it only one part of the bigger picture you consider.
Read our post on "what exactly NSF Means?"
Installation & Maintenance
All of our top-rated filters are a breeze to install. You may need a wrench, but most can be finger tightened, and some kits even include the Teflon plumber's tape that's wrapped around the faucet threads to ensure the unit doesn't leak.
• Warranty & Support
Warranties for these filters range from none to five-years. How much does that matter? A guarantee is only as good as the paper it's written on if the company isn't trustworthy, and some can be useless if they require you to send it back insured at your expense for repairs.
Our best advice for warranties and customer care is to consider the company's track record. It's never a promise of how well they'll work with you here and now, but a solid record of support improves the odds in your favor. Shower head filters are not expensive, and in some cases, it makes more sense to buy a product that's a better overall value versus one with a higher cost and an overinflated warranty.
Ironically, the model on our list with the most extended warranty, the Culligan WSH-C125, is also the least expensive.
Final Thoughts
The science is clear that the threat to your health and the aesthetic effects of bathing in contaminated water are genuine, but unlike buying and maintaining a costly whole-home water filtration system, a shower head filter is a small investment with a big pay off. You have nothing to lose, and you're worth it.
Last Updated on July 2, 2022 by
Ava