The water filters most people are familiar with don't remove rotten egg smell. If you buy an activated carbon filter, you'll be stuck with the stink. So, we tested the latest technology to find sulfur removal systems worth investing in. Our research shows — these six models have the right stuff.
Best Sulfur Removal Systems
#1
SpringWell WS

Whole House Well Water Filter — Best Overall

📝 Model: SpringWell WS | Type: Air Injection Oxidizing + Greensand | Process: 4-stage | Capacity: 1M gal. | Sulfur removed: 8PPM | Targets: Hydrogen Sulfide, Iron, Manganese | Flow Rate: 12-20 GPM | Bluetooth: ✔️ | Warranty: Lifetime | Annual Cost: ~$40 | Rating: 5/5 | Best for: sulfur and iron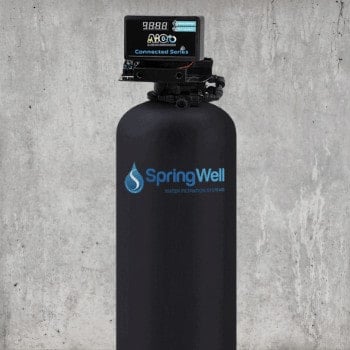 Modern engineering and old-fashioned quality collide in this just-right filter from SpringWell. We can't recommend it enough.
Features:
Dual air injection & Greensand filtration eliminates up to 8 ppm sulfur, 7 ppm iron & 1 ppm manganese.
12-20 gpm flow rate serves large homes with no drop in water pressure.
Filter media lasts 10+ years.
Whisper-quiet operation.
Bluetooth head can be programmed from a cell phone/tablet.
NSF-certified components are durable & non-toxic.
DIY-friendly installation process.
Limited lifetime warranty & satisfaction guarantee included
Use Coupon Code: QWL5 to save!
---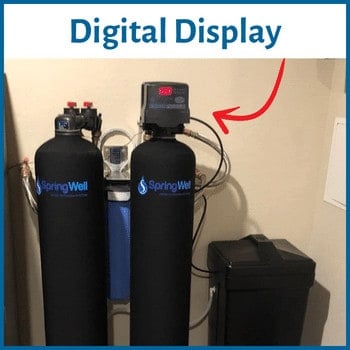 ---
Best for: Investment-minded buyers who want a proven, broad-spectrum filter for sulfur and iron.
Not best for: The rare well with extreme sulfur concentrations over 8 ppm.
Pros:
The build quality is impressive — you'll never worry about what will break down next.
Eliminates the worst rotten egg odors — the smell completely vanished, and the water tastes great.
The slow air release technology eliminates the startling thunks and hisses common in older AIO systems.
Quality media equals less backwashing and water waste — a plus for the environment in our arid area.
We noticed zero drop in water pressure with four taps fully opened.
Bluetooth control is more convenient and reassuring than we expected — it's worth its weight in gold.
We installed the system ourselves in a day with only basic plumbing skills — the instructions are geared toward the non-professional, and SpringWell's tech support is amazing.
SpringWell filters are expandable — you can add a water softener, UV filter or reverse osmosis system without worrying about component compatibility.
Cons:
The higher-than-average upfront price is offset by the low long-term cost of ownership — but if you're short on cash, it's a stretch to afford.
My Take
The SpringWell isn't the prettiest or most powerful filter on the market. But what it lacks in swagger, it makes up for in uncompromising quality. Thoughtfully engineered, it offers all the best features without costly bells and whistles that drive up the price without making it a better filter. A winning combination, you get premium performance for less with the SpringWell.
Use Coupon Code: QWL5 to save!
Read our Full Review: Springwell WS Review
---
#2
MATRIXX inFusion

Iron and Sulfur Removal System

📝 Model: US Water Systems Matrixx |Type: Carbon+ Hydrogen Peroxide | Process: 4-stage | Capacity: 500,000 gal. | Sulfur Removed: 30PPM | Flow Rate: 9-20 GPM | Bluetooth: ✔️ | Warranty: 5-year | Annual Cost: ~$400 | Rating: 4.5/5 | Best For: Extreme sulfur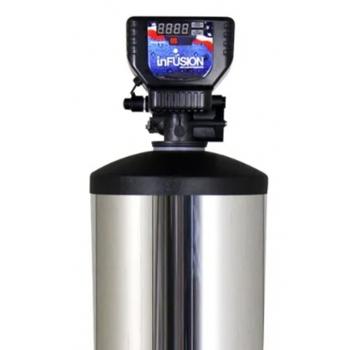 Nothing crushes hydrogen sulfide like hydrogen peroxide — the heart of the MATRIXX inFusion system.
Features:
Industry highest 30PPM of Sulfur removed
save money with multiple tank size options
Works great on low water pressure
Effectively eliminates channeling
Low maintenance & easy to operate
Smartphone app programming
NSF certified components
Impressive warranty
---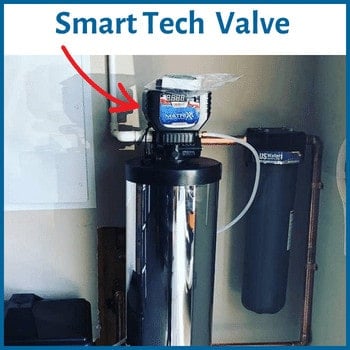 Best for: Tough sulfur problems.
Not best for: Chemical-free filtration.
Pros
Removes extreme concentrations of sulfur and iron.
Treating iron and sulfate-reducing bacteria.
Our water never tasted so fresh — there's no hint of chemical flavor.
The commercial build quality offers the ultimate durability.
The Water Logix app is the simplest in the business — if you can use a calculator, you can use the app.
We tested the 15 gpm model and saw no decrease in water pressure.
DIY set-up was a little more challenging than the SpringWell, but the installation manual is clearly written and intuitive — it answered our questions before we asked them.
If you have to install the Matrixx where it's visible to guests, you'll love the high-end look.
Cons
Dual tank systems have a larger footprint.
Requires routine but not complicated maintenance — you'll have to refill the hydrogen peroxide reservoir periodically.
The higher upfront price and peroxide refills make the MATRIXX significantly more expensive to own and operate than the non-chemical SpringWell filter.
Our Take
Hydrogen peroxide oxidation is the most effective way to erase rotten egg odor. Hands down, no residential filter eliminates more sulfur than the Matrixx. For average well water, it's overkill — the SpringWell solves most problems for less money and without the use of chemicals. But when only the best will do, the Matrixx comes through.
#3
SoftPro Iron Master

— Best Iron Filter for Well Water

📝 Model: SoftPro Iron Master |Type: Air Injection Oxidation + Katalox| Process: 4-stage | Capacity: N/A | Sulfur Removed: 5PPM | Flow Rate: 12 GPM | Bluetooth: ❌ | Warranty: 7 years | Annual Cost: ~$150 | Rating: 4.5/5 | Best For: High levels of Iron and moderate sulfur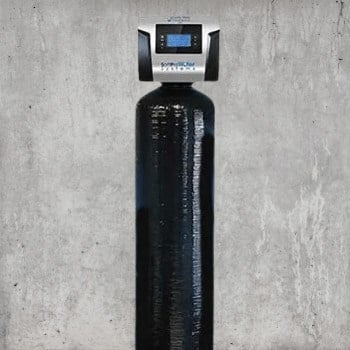 Like magic, SoftPro's Iron Master makes sulfur odors disappear.
Features:
Treats up to 5 ppm of sulfur plus iron and manganese without chemicals.
Multiple tank sizes to match homes of any size.
NSF certifications guarantee safety and performance.
Easy to use control head.
Self-charging battery capacitor preserves backwash settings for 48 hours in a power outage.
Optional flex hose kit shaves hours off of first-time installation.
Limited lifetime warranty on tanks and valves.
---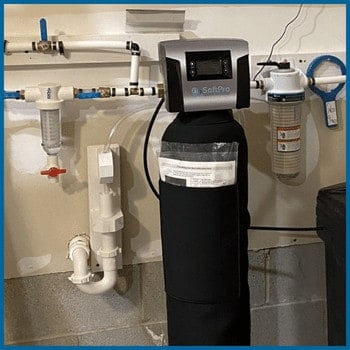 Best for: Buyers with more iron in their wells than money in their checking accounts.
Not best for: High-tech homeowners who want remote, app-based system control.
Pros
Reduces rotten egg odors using only air and Zeosorb, the highest-quality magnesium dioxide filtration media in the industry.
3-micron filtration removes double the iron of similar systems, eliminating rust stains on clothing and bathroom fixtures — it turned our orange water crystal clear.
Quality components are free of toxic materials, including lead.
Minimal impact on water pressure.
The control valve is intuitive as your oven to program — backlit, it's easy to read, and there are no confusing symbols to decipher.
Customer service was above and beyond — friendly and responsive, they helped us size our filter.
The battery backup system works like a charm — it's a real convenience in storm-prone areas.
Costs 30% less than the SpringWell — a plus when you're pinching pennies.
Cons
The 25% restocking fee assessed on returns under the 6-month "money-back" guarantee is fair but not inspiring.
No app control — trust us, you'll miss it.
Our Take
The SoftPro Iron Master reduces less hydrogen sulfide than similar filters. But because iron and sulfur often occur together, it's a cost-effective option for homeowners with both problems to tackle. If your water contains more sulfur than iron, consider the SpringWell. But if iron removal is the priority, the SoftPro is your filter. Let your water test decide.
Read our Full Review: Softpro Iron filter review
#4
AFWFilters Filox 10

— Iron, Sulfur, & Manganese Removal Water Filter

📝 Model: AFWFilters Filox 10 | Type: AIO + Filox| Process: 4-stage | Capacity: 500k gal. | Sulfur Removed: 15PPM | Flow Rate: 7 GPM | Bluetooth: ❌ | Warranty: 10 year limited | Annual Cost: ~$240 | Rating: 5/5 | Best For: chemical free sulfur removal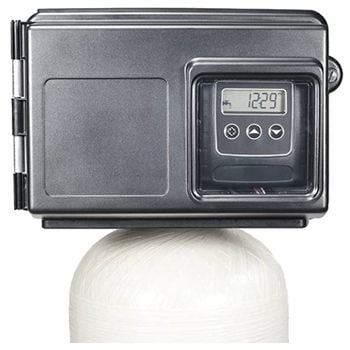 No air, no chemicals, no problem. This is a solid low-cost, self cleaning system that doesn't require chemicals.
Features:
Advanced Filox filtration media treats up to 7 ppm of hydrogen sulfide, 15 ppm of iron and 3 ppm of manganese.
The self-cleaning system is virtually maintenance-free.
Available in your choice of 3/4- or 1-inch systems.
Stainless steel bypass valve upgrade improves durability.
Fleck 2510SXT digital control valve is straightforward to program.
Media tank ships partially loaded for your convenience.
10-year warranty on the tank — 5 years on the control valve.
Half the price of the competition.
---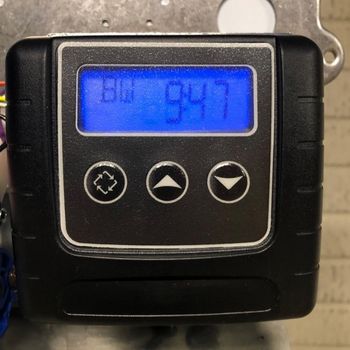 Best for: Homeowners who want a capable but quiet and chemical-free filter.
Not best for: Buyers who expect complete contaminant removal.
Pros
Filox (manganese dioxide) filtration media eliminates rotten egg odor without noisy air injection or smelly chemicals.
No decrease in water pressure with multiple taps opens.
Easy DIY set-up — the installation and troubleshooting videos on the AFWFilters website were very helpful.
At 40% less than the SpringWell and 30% less than the Iron Master, the low price makes it a good entry-level filter.
Solid build quality despite the bargain price — we were pleasantly surprised.
Same with the warranty — most filters in this price range offer 1-year coverage.
This filter is not NSF certified, but the components are assembled and designed in the US — you can count on the quality control.
Cons
Less efficient than AIO or chemical oxidation systems — some buyers were disappointed in the performance.
Installation instructions are clear, but tips and precautions are presented out of order, so read the entire manual before beginning.
The Filox Media lasts half as long as the SpringWell's.
Our Take
Air and chemical filtration remove more hydrogen sulfide odors than manganese dioxide alone. Still, as a homeowner, you have to balance contaminant reduction with other factors. If you want an affordable, chemical-free filter, it's effective enough to take the sting out of most sulfur problems. A good compromise — AWF's Filox filter leads the pack among similar models.
#5
iSpring WCFM500K

— Iron, Manganese, and Hydrogen Sulfide Water Filtration System

📝 Model: iSpring WCFM500K |Type: AIO + Catalytic carbon| Process: 3-stage | Capacity: 500,000 gal. | Sulfur Removed: 20 PPM | Flow Rate: 15 GPM | Bluetooth: ❌ | Warranty: 1 year | Annual Cost: ~$300 | Rating: 4.5/5 | Best For: Iron & Manganese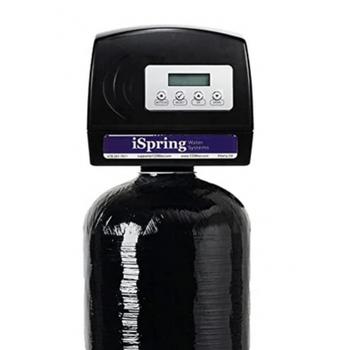 Among the most effective AIO filters for sulfur removal, the iSpring gives the SpringWell a run for its money.
Features
Powerful AIO/catalytic carbon filtration removes up to 20 ppm of hydrogen sulfide plus iron and manganese.
500,000-gallon media lasts up to 10 years.
High-quality, rebranded Fleck control valve won't let you down.
15 gpm flow rate is ideal for homes with up to four bathrooms.
3-micron sediment filtration eliminates the need for a separate sediment filter.
All components are NSF certified.
Filters come with lifetime technical support.
---
Best for: Homeowners with serious sulfur problems who want chemical-free filtration.
Not best for: If warranty matters, stick with the SpringWell.
Pros
Banishes hydrogen sulfide odor.
Has fewer moving parts than similar filters, so there's less to go wrong.
Systems come preloaded and partially pre-assembled for the fastest installation ever.
The fine sediment filtration clarified our water better than any other sulfur filter we tested — kiss dirt and rust goodbye!
User-friendly digital head — the programming couldn't be easier.
This model is compatible with other iSpring filters — if you need a water softener or UV filtration system, you can add extra components without compatibility issues.
iSpring is a well-established global company with a secure supply chain for replacement parts — you won't be left high and dry.
Cons
Disappointing 1-year warranty — extended warranties are available upon product registration, but they cost nearly as much as the entire system. Ouch!
We noticed no noticeable drop in water pressure until a fourth tap was opened — that's well above average performance, but the flow rate may feel sluggish in a large home.
With no remote control option, it's a top performer but a step behind technologically.
Our Take
The iSpring is an exceptional filter, but it's less advanced than similar systems despite a higher price tag. And without a good warranty, it's a risky purchase. So, while we weren't disappointed in the iSpring's performance, the SpringWell offers more for your money. Dollar for dollar, it's a better value.
#6 AquaOx RE Edition
📝 Model: Pentair |Type: Chemical Oxidation + Sediment| Process: 7-stage | Capacity: 1M gal. | Contaminants Removed: 10+ | Flow Rate: 15 GPM | Bluetooth: ❌ | Warranty: 20 year | Annual Cost: ~$300 | Rating: 4.5/5 | Best For: Long-lasting media
A filter with benefits, the AquaOx removes other harmful contaminants.
Features
7-stage filtration handles up to 8 ppm of hydrogen sulfide plus aesthetic contaminants, including sediment, some heavy metals and chemicals.
Durable, high-efficiency media lasts the average family 20 years.
Double Vortech tanks improve contaminant reduction and backwashing efficiency.
Effortless programming.
Foolproof installation process.
10-year warranty — 30-day hassle-free return policy.
---
Best for: Well water with sulfur and other problem contaminants.
Not best for: Choose the SpringWell or the Iron Master for well water with significant levels of iron.
Pros
An enhanced version of their whole-house filtration system, the AquaOx RE reduces drinking water contaminants that other filters don't.
We pushed this filter to its limits and detected zero odor.
A competitive upfront price plus long-lasting media equals a low cost of ownership — it's a great investment.
Showed no impact on water pressure despite the modest 15 gpm flow rate — we like companies that under-promise but over-deliver.
There's less fine print in the warranty.
Lightspeed shipping — among user feedback.
AquaOx filters are made in the US by a veteran-owned business — we like knowing our money supports local communities.
Cons
Limited iron reduction of 2 ppm may not be enough for most wells.
Removes less sulfur than similar AIO filters.
Our Take
Aqua OX has our respect as a company, but this filter misses the mark a little. In our experience, most well owners with hydrogen sulfide issues need better iron control. Despite this system's advantages, you'll likely need a more comprehensive solution. Still, we recommend the Aqua OX without reservation — but only if a water test confirms there's less than 2 ppm of iron in your well water.
Buyer's Guide to Removing Sulfur from Well Water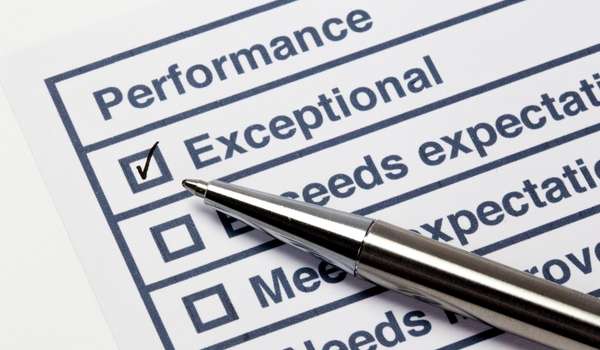 Buyer's Guide to Purchasing a Whole House Water Filter for Hydrogen Sulfide Removal
Hydrogen sulfide gas produces an unmistakable rotten egg odor. One whiff is enough to send you running from a room. Not only does it make drinking, cooking and bathing with well water unbearable, but it also has unpredictable and potentially dangerous consequences. Here, we'll explore the solutions for getting rid of the stink, including sulfur removal systems.
What's in the Guide?
If you've had enough of the rotten egg smell in your well water, this guide is for you.
In it, we discuss:
What hydrogen sulfide is
Where it comes from
How it affects your health and home
Sulfur removal technologies
Reviews of the best sulfur filters for well water including key features
Answers to your most common questions and more
Our goal is to help you understand hydrogen sulfide contamination and what to do about it.
How We Picked
Our process for selecting the best sulfur filters for well water begins with understanding the specific needs of your home. Depending on the size and type of well, different types of filtration systems may be necessary to effectively remove sulfur from your water supply.
After determining what type of filter is needed, it's important to research various brands and models that are available in order to find one that meets all requirements while also being cost-effective. Additionally, it is important to consider factors such as maintenance costs, installation fees, warranty coverage, and customer reviews when making a decision.
Once you have narrowed down your choices based on these criteria, you can then compare prices between vendors in order to get the best deal possible. Finally, once you have chosen a filter system that fits both your budget and needs, make sure to install it properly according to manufacturer instructions in order for it work correctly and efficiently over time.
Are Sulfur and Hydrogen Sulfide the Same Thing?
Sulfur is an element — a powdery yellow rock. Hydrogen sulfide gas is a chemical compound containing sulfur. They're not exactly the same. But, unless you're a chemist, the terms can be used interchangeably when discussing water filtration.
Sources of Hydrogen Sulfide in Water
Hydrogen sulfide is produced in low-oxygen environments from the soil to your water heater. Insoluble in liquid, it escapes when you open a tap.
In groundwater, it's the result of a chemical reaction between rotting vegetation and naturally occurring sulfur minerals in rock. In your plumbing system, it's caused by sulfate-reducing bacteria — microorganisms that feed on sulfur in the water and produce hydrogen sulfide gas as a waste product.
Because large quantities of organic matter are found in swamps, your well is at greater risk of hydrogen sulfide contamination if you live near a bog or where oil, natural gas and coal deposits are extracted.
The Impact of Hydrogen Sulfide Gas
The impact of hydrogen sulfide gas goes well beyond the rotten egg smell. At low to moderate levels, the gas alone is non-toxic.
But in high concentrations, the hydrogen sulfide gas emanating from water can collect in confined, low-lying spaces, such as well pits and basements. Too much can be both poisonous and flammable.
Dissolved in water, hydrogen sulfide is benign. But inhalation exposure causes dizziness, headaches and lung irritation. And rarely, structures have exploded due to gas build-up.
Sulfur bacteria are also common where hydrogen sulfide accumulates. Over time, it colonizes your plumbing system, producing a thick slime that clogs pipes and serves as a continuous source of rotten egg odor. Corrosive, it wreaks havoc on metal components.
Should I Test Water for Hydrogen Sulfide?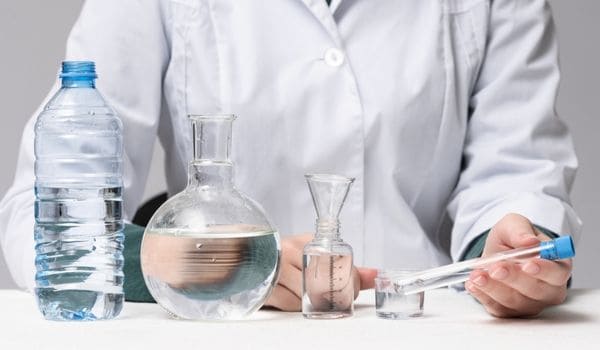 Hydrogen sulfide odor is just one sign of sulfur contamination. Others include yellow discolorations on clothing, brown slime on bathroom fixtures and black stains on silverware and pipes. But because other contaminants, inducing tannins, manganese and iron bacteria, can cause similar signs, it pays to know exactly what you're dealing with before investing in a sulfur removal system.
We recommend The Tap Score Essential Well Water Test. It covers the CDC's annual testing recommendations plus:
Iron
Manganese
Hydrogen sulfide
If you've already tested your water this year, Tap Score's Yellow Tap Water Test identifies iron, manganese, hydrogen sulfide and iron bacteria.
The testing process is painless and gives you actionable information with which to select the best whole-house water filter system. Spoiler: It's common for well water to contain sulfur, iron and manganese.
See our top recommended water testing kits
Best Options for Removing Sulfur from Well Water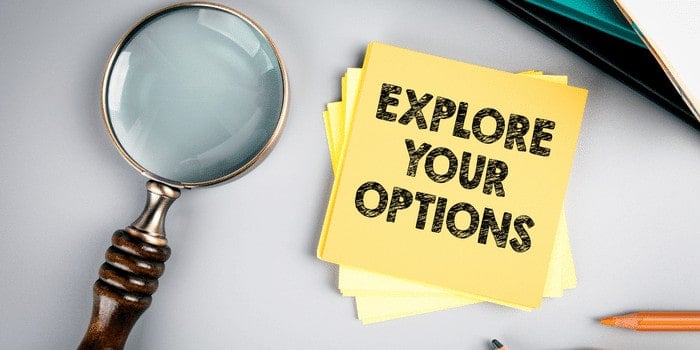 If you only smell hydrogen sulfide in your hot water, then sulfur bacteria may have colonized your plumbing system. In some cases, shock chlorination can eliminate the smell for good. But in most cases, there's an underlying issue that only a water filtration system can cure.
If you smell sulfur in both cold and hot water, a sulfur filter is your only practical option. Thankfully, there are several that reduce hydrogen sulfide.
Depending on the concentration, we recommend:
Air Oxidization Injection (AIO) Water Filters
Air oxidation (AOI) filters use oxygen to convert hydrogen sulfide gas into solid sulfur particles. An injector creates a pocket of air at the top of the media tank that oxides iron, manganese and hydrogen sulfide as water flows through it.
In a brilliantly simple system, the oxidized solids collect in a granular media tank until it's full. Backwashing then rinses away the contaminants and rejuvenates the media bed.
Chemical Oxidization Filtration Systems
Chemical oxidation filters work on the same principle as air injection systems except that chemicals are used as oxidizers instead of oxygen. It seems risky, but there are benefits.
Chlorine injection systems are among the most common because they're inexpensive. And they kill bacteria, so they're a good option for controlling persistent sulfur bacteria or treating biologically unsafe wells.
Hydrogen peroxide injection systems are equally effective and growing in popularity. They remove higher concentrations of hydrogen sulfide than AIO filters with less odor than chlorine injection systems.
Catalytic Carbon Filters
Ordinary activated carbon filters remove up to 0.3 ppm of hydrogen sulfide. Negligible, it's significantly less than the 0.5 -1 ppm threshold at which most people smell it.
But catalytic carbon filters remove higher concentrations of sulfur through a two-step adsorption and oxidation process. Several factors affect their performance, however, including contact time and the amount of dissolved oxygen in your well water.
Catalytic carbon media needs 3-5 minutes to work, so how filters are engineered is critical. And they require at least 4.0 ppm of dissolved oxygen in water to be effective. Since most residential well water contains 5 ppm or more, it's only a rare problem.
Manganese Dioxide Water Filters
Like chlorine and hydrogen peroxide, manganese dioxide is a powerful oxidizer. When added to granular filter media, it boosts iron and sulfur reduction without air or chemicals. Self-cleaning, single-tank systems, manganese dioxide filters don't require a solution reservoir or a noisy air injector. They're a good choice for small spaces.
Filox, the most well-known brand of manganese dioxide media, removes up to 10 ppm of hydrogen sulfide. But it has the same limitations as catalytic carbon. Without 4 ppm of dissolved oxygen, it falls flat.
We suggest doing a dissolved oxygen test before purchasing a catalytic carbon or manganese dioxide filter for sulfur. Used for aquariums, they're available over the counter for as little as $10.
Ion Exchange Filters
Ion exchange filters for well water differ from water softeners. Instead of the usual cation resin, the media bed contains anion resin with an affinity for sulfides.
Ion exchange filters can neutralize up to 90% of hydrogen sulfide molecules, but at a higher price and with many more limitations than oxidizing filters. We don't typically recommend them.
Selecting a Hydrogen Sulfide Filter — Key Considerations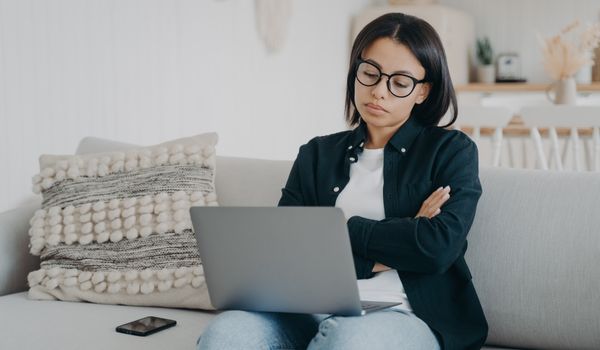 Not all water filters are ideal for every situation — there's no one-size-fits-all solution. So, keep these considerations in mind as you shop.
Other Contaminants in Your Water Supply
The average well contains more than one contaminant. So, if a test reveals other hazardous substances in your water, you'll need to balance those risks with getting rid of the hydrogen sulfide smell. The good news is that the right filter or combination of filters for well water can do both.
A whole-house catalytic carbon filter alone, for example, can reduce up to 3 ppm of hydrogen sulfide plus other common contaminants from heavy metals to industrial solvents. It doesn't, however, remove iron.
To tame tough iron and sulfur issues, you need an air injection or chemical oxidation filter. But what if your well also contains bacteria? Unlike a carbon filter, a chlorine injection system eliminates iron and sulfur plus dangerous pathogens that can make you sick.
Sulfur Filtration Capacity
Sulfur filtration capacity is the most important consideration when buying a sulfur filter. Why spend the money if it won't help your water smell better?
How much hydrogen sulfide sulfur filters remove, however, depends on several factors from the type of system to your water quality. Let's review your options.
Catalytic carbon removes up to 3 ppm of hydrogen sulfide. Alone, it's best used for reducing low levels of sulfur. More often, it's combined with other sulfur filtration methods to boost hydrogen sulfide removal and reduce other contaminants.
Air injection filters eliminate an average of 5-10 ppm. But the technology is still relatively new, so performance varies significantly between models. The brands chosen for our sulfur water filter reviews are among the most advanced and can reliably handle between 5 and 20 ppm.
Manganese oxide filters are best for moderate sulfur concentrations between 4-7 ppm. Chemical oxidation filters are the most effective, managing levels as high as 30 ppm.
System Types
Several water filtration systems remove hydrogen sulfide, but some may be a better fit for you than others. If you don't like having chemicals in the house, investing in an air injection system or a manganese oxide filter makes more sense than buying a chemical-based sulfur filter.
And of the two, manganese oxide filters are the least noisy. If you have to install it near a basement bedroom, an air injector may be loud enough to keep you awake.
For high levels of hydrogen sulfide, chemical sulfur removal systems may be the best option for eliminating rotten egg smell. Still, you have choices. Chlorine is cheap, but it has an unpleasant odor. Hydrogen peroxide is odor-free, but you'll pay an average of $250-$350 annually for the solution.
Installation & Maintenance Requirements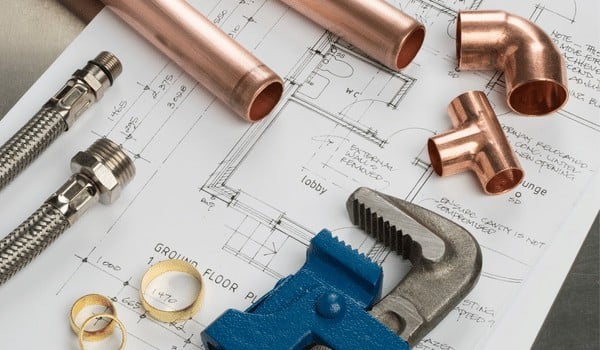 Most sulfur filters are straightforward to install. With basic plumbing know-how, you can do it in a day.
We gave preference to easy-to-install models with solid technical support from the manufacturer. But like any whole-house water filter system, you may want to hire a pro if your plumbing is irregular, or you're uncomfortable cutting pipes. It increases the cost of the project, but you're better safe than sorry.
Maintenance is equally simple. One benefit of a backwashing water filter is that there are no filter cartridges to change. But each type of system has its quirks.
With chemical oxidation systems, you need to refill the solution reservoir up to every few weeks depending on your water usage. And because chemicals are harsh, some manufacturers recommend replacing delicate parts, like rubber gaskets, on a regular schedule to avoid unexpected repairs.
The media in the filtration tank lasts five or more years. It's time-consuming but not difficult to replace, and it's a bargain compared to replacing the entire water filtration system.
An AIO water filter requires less maintenance. Still, the injector in the control valve takes a beating, so occasional lubrication or replacement is advised. The filtration media lasts 5 or more years and may outlast the control valve.
Catalytic carbon and manganese oxide filters rely only on granular media to remove sulfur. So, without the benefit of air or chemical oxidation, how long it lasts varies based on your water quality and usage. The media in some systems on our best sulfur water filters list lasts a lifetime.
Warranties
Price, quality and warranty don't always correlate. But in general, the more confidence a manufacturer has in its product, the better the warranty terms they offer.
The best sulfur filter on our list has a limited lifetime warranty on the tank and control valve. As with most water filtration systems, granular media is rarely covered because performance depends on water quality and usage.
Some manufacturers also offer extended coverage for an additional fee. So, consider your budget. If you couldn't afford to repair or replace a filter today, the coverage may come in handy tomorrow.
What some sulfur water filter reviews won't tell you, however, is that warranties are only as good as companies are reputable. Our analysis includes a thorough review of customer feedback.
Frequently Asked Questions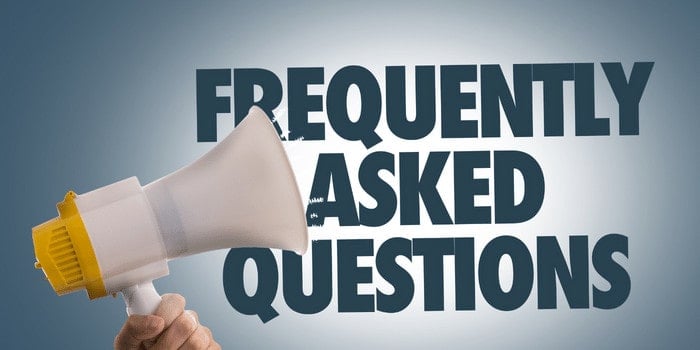 Do all water filters remove sulfur?
No. Only the water filtration systems covered here remove enough hydrogen sulfide to get rid of rotten egg smell.
Will carbon filters remove sulfur smell?
Activated carbon filters remove too little hydrogen sulfide to effectively eliminate sulfur. But adding an activated carbon filter to a chlorine injector system removes residual disinfectant tastes and odor, so your filtered water tastes as good as it smells — some whole-house water filters have one built in.
How long does a sulfur water filter system last?
A low-end sulfur removal system should last at least five years. The best sulfur water filters can last decades.
Does a UV water filter remove sulfur smell?
No. UV filters are specifically for bacteria. But, while they won't reduce hydrogen sulfide, they will eliminate the pathogens for which you might choose a chlorine oxidation system over an AIO sulfur filtration system.
Will a water softener filter sulfur?
Water softeners are not designed for removing hydrogen sulfide. Only a water filter can remove sulfur.
Can you drink well water with sulfur?
Yes, but it's unpleasant. Only as the gas escapes does it pose a respiratory risk or an explosion hazard.
Does city water contain hydrogen sulfide?
City water systems treat drinking water with chlorine. The disinfection and filtration process removes nearly all hydrogen sulfide.
Is well water that smells like rotten eggs safe?
If the cause is hydrogen sulfide, it's typically safe. Sulfate bacteria may have a mild laxative effect, but it's rarely serious. A rotten egg smell caused by tannins or iron bacteria can, however, indicate the presence of more dangerous organisms.
Is hydrogen sulfide harmful to pets?
Hydrogen sulfide is not harmful to pets. But it can have an off-putting taste or odor that discourages them from drinking enough water.
Does an iron filter for well water remove sulfur?
If you search online for a sulfur water system, iron filters are among the top results. Most iron water filters readily oxidize hydrogen sulfide, iron and manganese.
Why does my well water suddenly smell like sulfur?
If your drinking water suddenly smells like sulfur, soil conditions near your well may have changed. Or sulfur bacteria may be building up in your plumbing system and water heater.
Does aeration remove sulfur smell?
Aeration is part of the filtration process that makes an AIO filter system so effective. Other aeration devices can release hydrogen sulfide gas without filtration, but they also release odor.
Do sulfur water treatment systems affect water pressure?
All filters decrease water pressure, but a whole-house water filtration system has a minimal impact compared to a high-efficiency water filter like a reverse osmosis system. Flow rates vary between models. In general, the higher the flow rate the better.
Which water filter removes sulfur the best?
All filtration systems have pros and cons. But for our money, AIO filters are among the most impressive values.
Is a sulfur filter worth the money?
There are more dangerous well water contaminants than sulfur, but few make drinking and showering more dreadful. A sulfur filter is not only more cost-effective than buying bottled water, but it also protects your plumbing system from corrosion. It's a bargain.