📝 Type: Lab Testing | Analytes Tested: 200+ | Turnaround time: 5 business days | Price: $$$ | Free shipping: ✔️ | Rating: 5/5 | Best for: Identifying contaminants in Municipal & Well water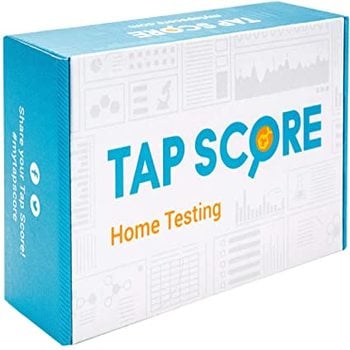 Cost:
$295
Now $269
SimpleLab's Tap Score emerges as a beacon of clarity in the murky waters of home water testing. Based in the health-conscious landscape of California, SimpleLab offers a suite of tests that promise not just results but understanding and action for any water source—city or well.
Our testing was for city water — see our our water test results.
Highlights
Choose single or multi-contaminant panels
Free two-way shipping
5-day turnaround
Crystal-clear instructions
Water treatment recommendations
---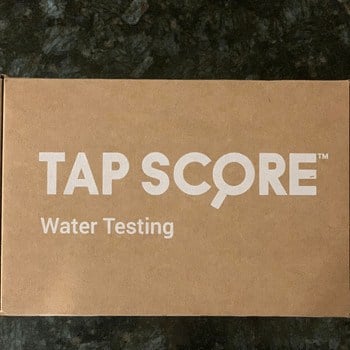 Our Experience
We used the Advanced City Water Test to evaluate our city water supply, with a particular focus on PFAS/PFOA's and chlorine levels. Here's what we found and how SimpleLab helped us address our concerns:
Highlights of Our Water Test
PFAS/PFOA's Concerns: While our report did not specifically mention PFAS/PFOA's, it included a thorough screening for various related compounds. The absence of explicit PFAS/PFOA data in the report suggests they were not detected above the method detection limits, which is reassuring.
Chlorine Byproducts: The detection of chloroform at 21.57 µg/L indicates the presence of chlorine byproducts in our water. It's a common find, but one worth noting for its implications.
Comprehensive Testing: The test covered a wide spectrum of contaminants, including volatile organic compounds and heavy metals, with many substances reported as "Not Detected," showcasing the sensitivity and breadth of SimpleLab's testing capabilities.
What We Like About Tap Score
Detailed Reporting: The clarity of the report made it easy to pinpoint areas of concern and understand the overall safety of our drinking water.
Actionable Insights: Along with the test results, we received recommendations for water treatment solutions, which were unbiased and based on the latest industry standards.
Customer Support: The responsive customer service team at SimpleLab was instrumental in helping us interpret our results and take appropriate action.
Pros
Ease of Use: The testing kit came with clear instructions, making the collection process straightforward.
Speedy Turnaround: We received our results within the promised 5-day window, which is impressive given the depth of analysis.
Lab Certifications: SimpleLab's use of certified labs ensures that the testing process meets high standards for accuracy and reliability.
Cons
Options Can Be Overwhelming: Choosing between Essential, Advanced, and Extended tests can be a bit much. For someone new to water testing, deciding on the right level without guidance might be tricky.
Add-Ons Add Up: While the base test is comprehensive, you may find yourself needing add-on tests for complete peace of mind, which can increase the total cost.
Decision Paralysis: With a menu of over 30 single tests and specialty panels, some customers might feel paralyzed by choices. It's great to have options, but sometimes you just want to know, "What should I test for?"
Our Expert Opinion
Choosing SimpleLab's Tap Score is like opting for a trusted advisor in the complex world of water quality. While the absence of specific PFAS/PFOA's data in our report left us wanting, the detailed breakdown of chlorine byproducts provided a clear picture of our water's story.
It's a service that does more than inform—it empowers you with knowledge and tools to take charge of your water quality. For those ready to dive deep into their water's health, SimpleLab is an invaluable ally.
How to Test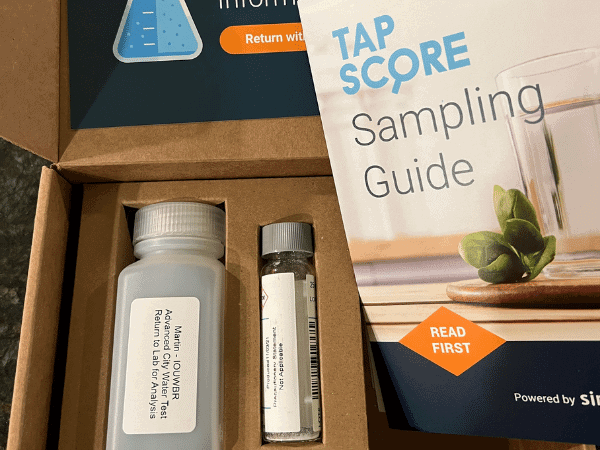 Testing the quality of your tap water has never been easier with Tap Score. Follow these simple steps to ensure the safety and quality of your drinking water:
Order Your Tap Score Kit: Visit the official website of SimpleLab and choose a testing package that suits your needs.
Collect a Sample: Follow the provided instructions to collect a sample of your tap water using the clean containers included in the kit.
Provide Necessary Information: Complete all required information on the included form or online portal to ensure accurate analysis.
Send Back Your Sample: Securely pack your sample according to the instructions and use the prepaid shipping label for hassle-free return shipment.
Await Comprehensive Results: Sit back and relax while Tap Score's team of experts thoroughly analyzes your tap water sample. You'll receive a detailed report with all your findings.
Reviewing Detailed Findings: Carefully review your personalized Tap Score report, which contains invaluable information about potential contaminants in your tap water supply.
Taking Action, if Necessary: If your test results reveal concerning levels or contaminants, the Tap Score report includes expert recommendations on how to address these issues.
The steps we followed in testing our own tap water was pretty simple and straight forward. By the time the box arrived and our sample was sent out, we had our results ready to review online in less than 10 days.
Interpreting Your Tap Score Results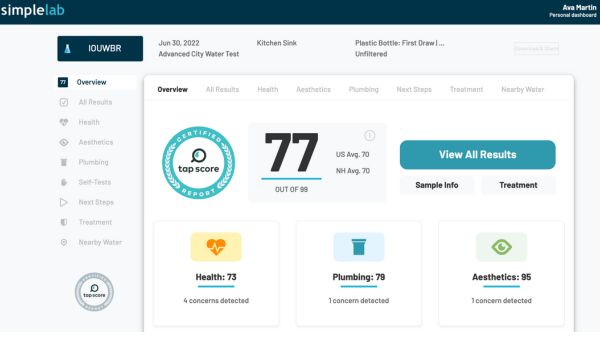 Understanding your Tap Score results is crucial for ensuring the safety of your tap water. Follow this comprehensive guide to expertly interpret your Tap Score results:
Assess Overall Water Quality: Examine the overall water quality score provided by Tap Score to understand if your tap water meets safety standards or if there are any potential concerns.
Analyze Specific Contaminants: Delve deeper into the specific contaminants tested in your sample. Tap Score provides detailed information on various contaminants, comparing them against regulatory limits.
Understand Safe Levels: Familiarize yourself with safe levels for each contaminant based on local regulations or health guidelines. Comparing your test results with these safe levels helps determine if further action is necessary.
Identify Potential Risks: Understand the associated risks of contaminants exceeding safe levels in your tap water. For example, elevated levels of lead can have adverse effects on both children and adults.
Consider Multiple Factors: Take a holistic approach when interpreting tap water test results, considering interactions between contaminants and cumulative effects over time.
Seek Expert Guidance if Needed: If you encounter uncertainties or need assistance addressing specific concerns, consult water quality experts or local health departments for invaluable insights and recommendations.
Take Appropriate Action: Based on your Tap Score results and identified risks, take appropriate action to ensure the safety of your tap water. Install water treatment systems or replace old plumbing fixtures as recommended.
Making Sense of Your Water with SimpleLab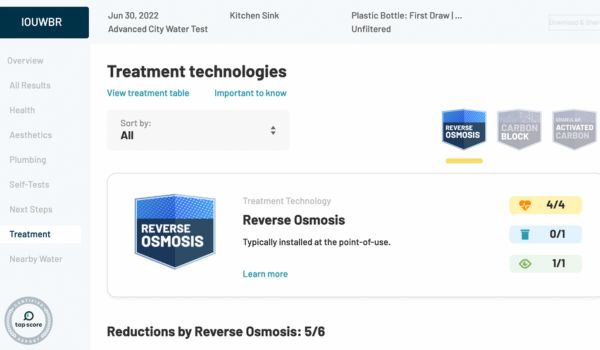 When it comes to understanding what's in your water, the devil is often in the details. SimpleLab's Tap Score takes the guesswork out of the equation, providing a comprehensive look at over 200 potential contaminants. But what does that mean for you, the homeowner, who simply wants the best for your family? Let's break it down.
A Closer Look at Our Test Results
Our own experience with the Advanced City Water Test was eye-opening. We were on the lookout for PFAS/PFOA's and chlorine—two contaminants that have been making waves in water quality news. While our report didn't flag PFAS/PFOA's, it did reveal the presence of chlorine byproducts. This is a crucial find, as these byproducts can carry risks of their own.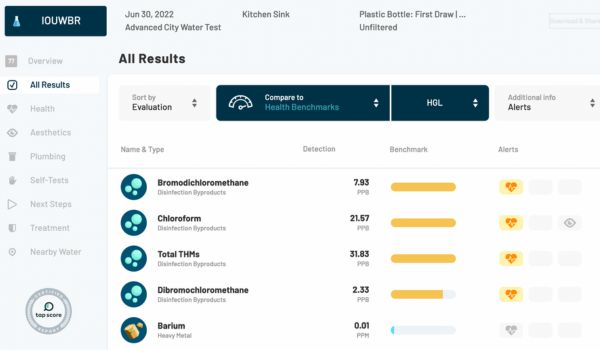 Navigating the Findings
Chlorine Byproducts: Discovering chloroform in our water was a clear indicator of the presence of chlorine disinfection byproducts. While chlorine is essential for killing harmful pathogens, it's a balancing act to ensure it doesn't introduce new risks.
Other Contaminants: The test didn't stop there — it also covered metals, minerals, and other organic compounds. This gave us a full spectrum analysis of our water's health.
The Benefits of Going with Tap Score
Empowering Knowledge: Knowledge is power, and Tap Score equips you with it in spades. You're not just getting numbers and names; you're getting an education on what they mean for your water's safety and taste.
Actionable Steps: With each report, SimpleLab doesn't just drop a list of findings in your lap; they provide clear, actionable steps. Whether it's a filtration system or a simple change in habits, you have a path forward.
Peace of Mind: Perhaps the most significant benefit is the peace of mind that comes from knowing the exact state of your water. And with SimpleLab's clear communication and support, you're never left to figure it out alone.
Our Personal Insights
Ease of Use: From the moment the kit arrived, with its straightforward instructions, we knew we were in good hands. The process was as simple as fill, ship, and wait.
Rapid Results: The anticipation of waiting for test results can be daunting, but SimpleLab's prompt turnaround kept the wait to a minimum.
Expert Backing: The thoroughness of the testing and the expertise behind the analysis gave us confidence in the results.
Water Treatment Solutions: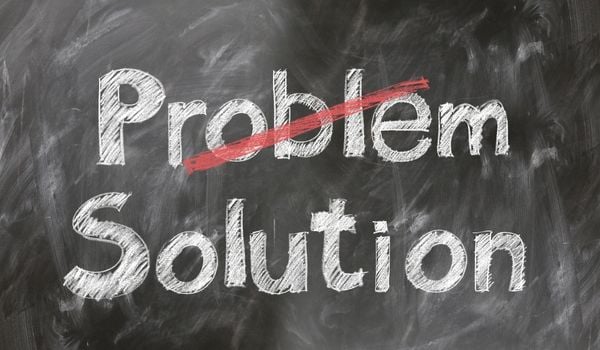 After delving into the details of our Tap Score report, we were guided towards a foolproof solution for our water concerns: reverse osmosis for point-of-use purification and a robust whole house filter. We chose the WaterDrop G3P800 and the SpringWell CF1 to tackle the job.
Here's how these systems gave us peace of mind by starting with a quality water test.
Why We Chose the WaterDrop G3P800
The WaterDrop G3P800 is a sleek beast in the world of reverse osmosis filters. It's designed to hitch a ride right under your sink and zap away a wide range of contaminants, including the pesky chlorine byproducts our Tap Score caught. With its tankless design and smart indicators, we get pure water on tap and zero guesswork.
The SpringWell CF1: Our Home's Guardian
For the bigger picture, we went with the SpringWell CF1 for our whole house filtration. This system is like a security guard for our pipes, ensuring that every drop from every faucet is free from common contaminants and the chlorine taste that's all too familiar in city water. It's a set-it-and-forget-it peace of mind that covers our entire home.
The Impact of Our Choices
Since installing these systems, the difference has been night and day. Our water tastes crisp, the shower feels fresher, and we're sipping on confidence knowing we've taken control of our water quality. Plus, with the easy maintenance and stellar customer support from both brands, we're set for the long haul.
Takeaway
Choosing the right filtration system after getting your Tap Score can be a game-changer. For us, the WaterDrop G3P800 and SpringWell CF1 were the MVPs that brought our water from questionable to exceptional. If you're looking to follow suit, consider these systems a worthy investment in your home's health and your family's well-being.
Compare The Competition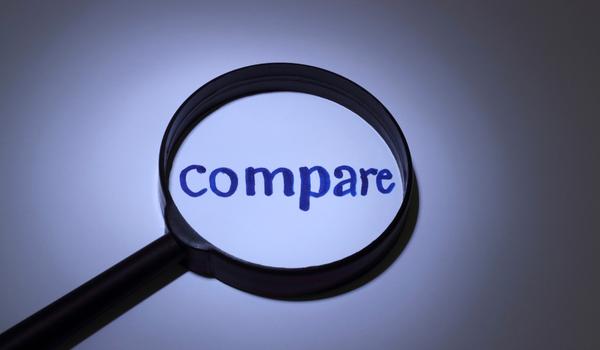 Choosing the right water test kit involves balancing thoroughness with simplicity. Below, we present two cost-effective and user-friendly alternatives to Tap Score. These kits deliver essential testing for common contaminants, providing a straightforward approach to water quality assessment for the discerning homeowner.
Watercheck by National Testing Laboratories

Cost: Prices for the Watercheck test kits range from approximately $125 to $205, depending on the specific panel of tests chosen. The Basic Watercheck, which tests for 83 contaminants, is around $125, while the Watercheck with Pesticides (which includes an additional 20 pesticide tests) is about $205.
What it tests for: Comprehensive screening for bacteria, heavy metals, pesticides, nitrates, and other chemicals in over 100 tests.
How it works: Collect a water sample using the provided kit and send it to the lab for analysis.
Why it's a good alternative: It offers extensive contaminant coverage and detailed reporting, similar to Tap Score, but with a range of prices that can fit different budgets.

The Essential Indicators Water Test by Safe Home

Cost: The Essential Indicators test is priced at around $150. This test is part of Safe Home's range of DIY kits that can be upgraded to more comprehensive panels for additional costs.
What it tests for: Tests for over 50 contaminants, including heavy metals like lead, bacteria, pesticides, and volatile organic compounds.
How it works: Users collect their water sample and mail it to a certified lab, where it is analyzed and reported back.
Why it's a good alternative: With a focus on essential indicators of water quality, this test kit provides a thorough analysis for homeowners to understand their water quality, with a cost-effective and straightforward approach.
These kits offer a balance between comprehensive testing and affordability, making them viable alternatives for those looking to assess their water quality without committing to the full range of testing that Tap Score provides.
The costs provided are approximate and may vary based on current pricing and any additional services or shipping fees. It's always a good idea to check the latest prices on the providers' official websites or authorized retailers.
Final Thoughts
SimpleLab's Tap Score service is more than just a test; it's a comprehensive water quality management tool. It's for those who want to take a proactive stance on their water quality, armed with the best science and support available.
While we would have liked more explicit reporting on PFAS/PFOA's, the depth of analysis provided by SimpleLab, especially regarding chlorine byproducts, was both impressive and essential for our peace of mind.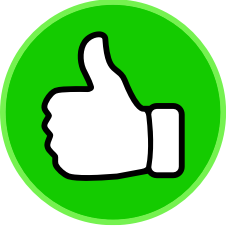 104
people found this helpful. Was this guide helpful to you?