Last Updated on June 9, 2023 by
Ava
📝 Model: WaterDrop G3P800 | Process: 7-stages | Contaminants Removed: 100+ | Filter Life: 6, 12, 24 months | Flow rate: 800 GPD | Testing: NSF Certified | Annual Cost: ~$170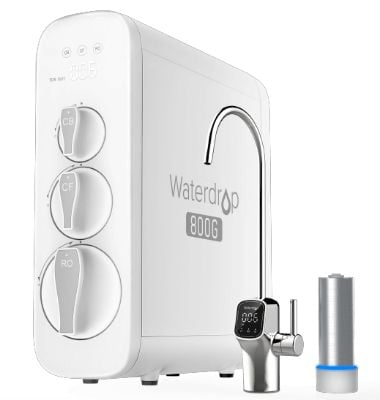 Use Coupon code
QWL-10OOF
If cabinet space is holding you back from owning a reverse osmosis system then look no further than Waterdrop, as the Engineers took the problems of old and produced the G3P800 — a compact RO system.
Highlights
Space-saving tankless design
Low wastewater ratio
Vigorous flow rate
NSF/ANSI standards 58 and 372 certified
Simple DIY-installation
---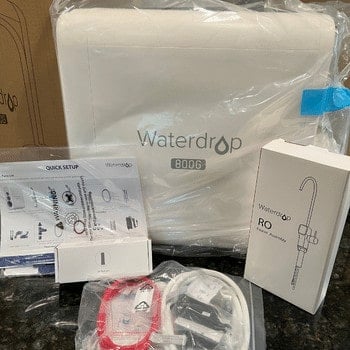 Best for: This is perfect for anyone looking to save space, money, on a great reverse osmosis system for their home.
Overview
An undersink water filter is a straightforward solution to serious water quality issues. But traditional reverse osmosis systems are bulky, and when space is tight, they're not a good fit — in some kitchens, the tank won't squeeze under the pipes at all.
If losing storage space to a filter tank is all that stands between you and safer water, we'd like to tell you about a revolutionary tankless purification system by Waterdrop — it removes more than 1000 potentially hazardous contaminants in less than six inches of space.
Let's take a closer look at why the Waterdrop G3P800 may be the best under sink water filter for your home.
Qualitywaterlab readers get 10% off using coupon code: QWL-10OFF
Pros
Reverse osmosis systems are the gold standard for water purification.
No other type of filter removes as many harmful contaminants, and this cutting-edge model by Waterdrop is no exception.
Three filters provide seven stages of filtration, removing 90-percent or more of toxic heavy metals, including mercury and lead — plus a host of chemicals like chlorine that make water taste and smell bad.
Unlike most RO systems, an internal pump bolsters capacity, filtering a cup of water in 12 seconds — the G3P800 is among the fastest filters in the industry. Your morning coffee never has to wait.
The G3P800 is simple to install and works quietly. Maintenance is minimal, and you'll waste less water with its low 1:1 drain ratio.
It filters up to 800 gallons of water on-demand daily, and the flow rate is exceptional — fill glasses in seconds, not minutes.
In terms of simplicity, you won't find an easier system to operate — and since it doesn't require plumbing alterations, it's apartment-friendly.
It's environmentally friendly and cost-effective.
The patented lead-free Smart faucet verifies the system is working, so you're never in doubt.
Waterdrop backs its filters with a 1-year warranty and lifetime tech support. Drink healthy, rest easy.
Cons
Requires electricity
No choice of faucet colors
My Take
RO filters remove the highest possible level of contamination, but conventional systems are challenging. Tanks take space, require regular cleaning, and their capacity limits how much filtered water you can have in reserve — some systems struggle to make enough for a family's daily needs. The tankless G3P800 solves these problems and more.
Waterdrop filters are built to last from quality components, superior performance, advanced technology, and are also independently certified to be lead- and BPA-free — how's that for safety? Kits come with everything you need for installation — instructions are crystal-clear, and there's a video on YouTube to walk you through the process step-by-step. Waterdrop's G3P800 is an excuse-proof investment in your health.
Compare Other Leading Brands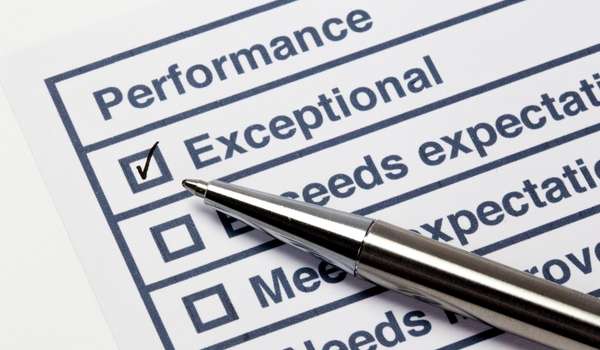 Waterdrop G3P400 Under Counter Water Filter RO System: This system is similar to the G3P800, but with a smaller capacity and fewer features. It may be better for those who don't need as much water filtration or have limited space under their counter.
NU Aqua Tankless Reverse osmosis 600GPD System: This system cheaper than the G3P800, the difference is a higher flow-rate thanks to its pressure-booster, but its not a space saver like Waterdrop. The filtration system is pretty similar to the G3P800 – it's pretty good system.
iSpring RCC7AK 6-Stage Under Counter Reverse Osmosis System: This system has a similar capacity to the G3P800, but it has a few more features like an alkaline filter and a UV sterilizer. It is a bulky system, so if you don't have a lot of room to spare, consider the above.
Each of these systems have their own set of advantages and disadvantages, it's up to you to decide which is best for you. I've owned this system for about 7 months and love it a lot – the reviews are glowing online in comparison to similar models. I just recently changed out the carbon filter that was as simple as twisting a bottle cap.
Waterdrop G3P800

Performance Features

Water filters may look alike, but their performance, ratings, and features make a difference. Water filters may look alike, but their performance features make a difference. Is the G3P800 the best under sink water filter for your unique needs? Let's find out.

The Waterdrop G3P800 removes these substances and hundreds more:
Chlorine
Chloramine
PFOA
PFAS
Lead
Mercury
Arsenic
Fluoride
Chromium
Trichloromethane
Minerals
Pesticides
Herbicides
Industrial chemicals and pharmaceutical residues
Total dissolved solids (TDS) are lowered more than 90-percent — water not only tastes pure, it is.
The G3P800 can also make water biologically safe to drink under normal circumstances — it removes the most common bacteria and parasites, making it an ideal backup system in areas where water sanitation is unreliable.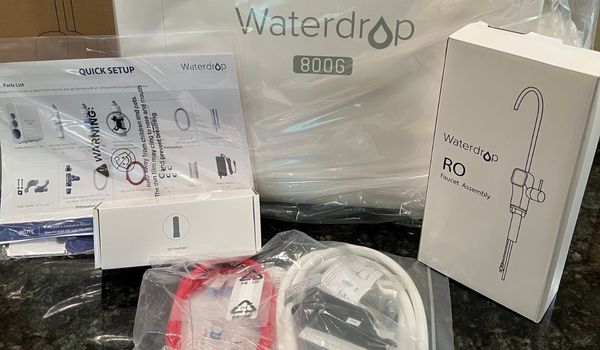 Key Considerations
Installation: This system is pretty simple to install and took me roughly 30 minutes to do by following their helpful tutorial on YouTube.
Filtration Capacity: This system has an overall filtration capacity of 800 gallons of water. I can fill an entire 1 gallon pitcher in two minutes — so don't worry about playing the waiting game.
Cost: This is a competitively priced compact system for what it can do, the price is worth the overall value you pay in the long-run.
Maintenance: The filters in this system are designed to last up to 6, 12, and 36 months (CF, Sediment, Membrane) before needing replacement, which makes maintenance easier and more cost-effective than other systems that require frequent filter changes.
Quality of Filtered Water: This system removes 99% of contaminants from your drinking water, including lead, chlorine, and other impurities.
Durable Construction: The Waterdrop G3P800 is made from high quality materials that are designed to last and we haven't noticed any issues thus far.
Quiet Operation: The design features a noise reduction system which helps keep operation quiet. However, if your home is whisper quiet, you will briefly hear a low humming sound for about 15-30 seconds.
Capacity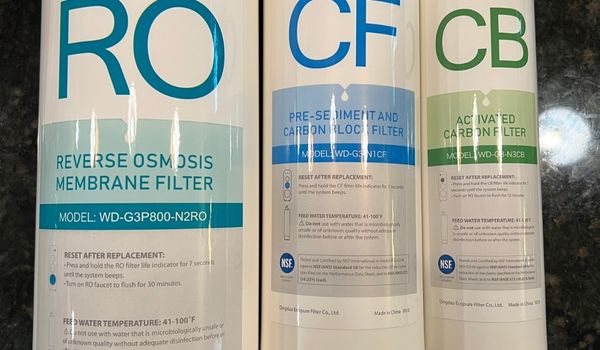 The term "capacity" can mean two different things with RO systems. First, it reflects how many gallons they filter per day. The average American requires up to 10 gallons daily for drinking and cooking. The G3P800 filters up to 800 gallons — plenty for the largest family including travel bottles. Traditional systems may produce 50 gallons or less.
Capacity can also refer to the number of gallons filtration systems can process before individual filters must be changed. Some companies rate their cartridges and membranes by the gallon, but results can be disappointing. The more contaminated water is, the more frequently cartridges must be changed.
For average water, Waterdrop estimates CF cartridges will last six months, CB filters should last twelve, and the premium Dow RO membrane will last approximately two years. Replacements are affordably priced, compared to other systems we have reviewed.
Micron Rating
Mechanical water filters, including RO systems, strain contaminants through microscopic pores measured in microns — millionths of a meter. Waterdrop's RO membrane excludes all particles greater than 0.0001 microns — that's small enough to remove most bacteria and other microorganisms.
Flow Rate
Filtering water takes time, and RO systems are notoriously slow. Waterdrop remedied that problem by adding an internal pump to boost the flow rate. The average RO filter can process a maximum of 0.03 gallons per minute — that's a long wait for a cup of water. The G3P800's flow rate is 0.28 gallons per minute — almost ten times faster.
Design and Installation
Waterdrop engineered their filters for easy installation, requiring only three connections to the water supply, faucet and drain — a separate kit is available if you want to run a line to your refrigerator. Most homeowners report it takes less than an hour to set up.
The sole challenge is installing the faucet that comes with the kit — RO systems don't work with standard fixtures. Most modern sinks have an extra hole pre-drilled and ready to use, but if yours doesn't, cutting it can be tricky if the sink is made of high-end material such as granite. Only a professional should cut specialty stone.
Filter Change Indicator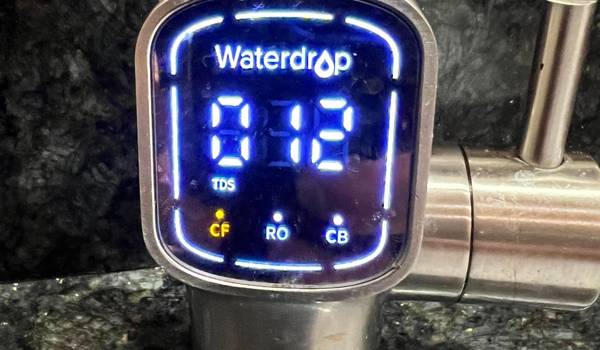 We've had this system for about 7 months and recently just changed our carbon & pre-sediment filter (CF) and found how quick it was to switch out the old for the new filter a breeze — literally, all you have to do is twist out the old one counter-clockwise and install the new one clock-wise and you're down faster than it takes to make a sandwich.
Help and Support
Waterdrop filtration systems come with a 1-year warranty and a commitment to service. Customer care representatives and technical support specialists are available via phone or e-mail to answer all your water filtration questions.
Final Thoughts
Even the clearest water can harbor invisible toxins — experts are now discovering alarming new chemicals in our water supplies. Is drinking it worth the risk? Before resorting to budget-busting bottled water, consider the cost and health benefits of a quality filtration system from Waterdrop.
Frequently Asked Questions
Does this filter remove fluoride?
Yes, up to 98-percent.
How often should filter cartridges be changed?
The system comes with three filters. Change the CF cartridge every six months, the CB filter every 12 months and the RO membrane every two years. An indicator light on the Smart faucet tells you when it's time.
Can I use this for well water?
Maybe. Well water tends to contain large particles that may clog delicate RO membranes, so installing a sediment pre-filter is a must. Some wells also lack sufficient water pressure for the system to work as designed — 14.5-87 psi is required. Consult with a technical support representative before ordering.
Is this system noisy?
I'll be honest with you, it's a light humming noise when the system regenerates. However, the house needs to be whisper quiet to really hear it.