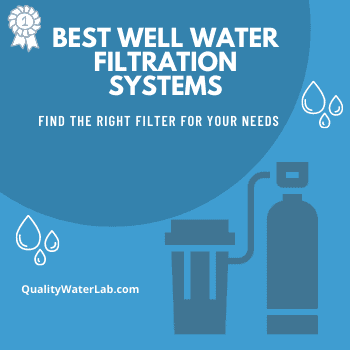 Public water is monitored and treated, but if you're among the 45 million Americans relying on a well, you're on your own. From testing to filtration, guaranteeing the safety of what your family drinks is up to you.
So whether you need the best sediment filter for well water or the best well water filtration system for bacteria, we have you covered..
…Don't waste money!
We've spent countless hours researching proven NSF Certified filtration systems so you don't have to waste your time on reading outdated and misleading reviews — Heck, some of these systems can be operating using your phone.
So let's get to it…
Best Well Filtration Systems

EDITOR'S CHOICE

EDITOR'S CHOICE

SpringWell System

No impact on water pressure
Virtually maintenance-free
Lifetime warranty

Visit: Springwellwater.com

Coupon Code: QWL5

ALSO GREAT

ALSO GREAT

Aquasana

Produces zero wastewater
Retains healthy minerals
Low-maintenance

Visit: aquasana.com

Pentair Iron & Manganese

All-in-one filter combo
Removes iron up to 10 PPM
Safe for use with septic systems

Visit: pelicanwater.com

BEST FOR IRON

BEST FOR IRON

SoftPro

Removes iron up to 30 PPM
Reduces manganese and hydrogen sulfide
Programmable control valve

Visit: qualitywatertreatment.com
13 Best Well Water Filtration Systems

Reviewed:
#1
SpringWell WS

  — Best Whole House Water Filtration System For Well Water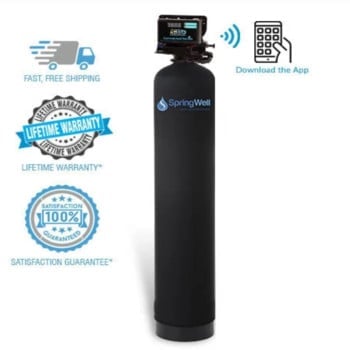 SpringWell's whole-house water filtration system removes the three contaminants most common in well water — iron, manganese and hydrogen sulfide — without reducing water pressure.
Equipped with Bluetooth, programming is intuitive to operate and improves system efficiency.
Kits come complete with everything necessary for a DIY-friendly installation. Backed by an industry-leading lifetime warranty, it's guaranteed to be the best for durability and peace of mind.

.
Use Coupon Code: QWL5 to save!
Pros
Cons

User-friendly digital interface
Maintenance-free
Certified components
Satisfaction guaranteed
Lifetime warranty

Higher-than-average initial cost
Top SpringWell Q & A
Q: What's the flow rate?
A: The flow rate on the WS1, serving homes with 1–4 bathrooms, is a vigorous 12 GPM. The larger WS4 provides 20 GPM for four or more baths. The average among similar filters is 6–7 GPM.
Q: How much iron and sulfur does this system remove?
A: Up to 7 PPM of iron and 8 PPM of hydrogen sulfide.
Q: I own a mobile home. Can this system be installed outside?
A: Yes, but only in warm areas. Sub-freezing temperatures can permanently damage the filtration media.
How This System Works:
| | |
| --- | --- |
| Air Injection Oxidation (AIO) System | Removes up to 8 PPM of Hydrogen Sulfide, up to 7 PPM Iron and 1 PPM Manganese |
| Stage 1 | This allows water to flow through a pocket of air at the top of the tank allowing iron, manganese and sulfur to oxidize. |
| Stage 2 | Oxidized materials and Sulfur gas is locked in a bed of green sand fusion. |
| Stage 3 | The systems backwashing feature removes all contaminates trapped in the sand bed and flushes it down a drain allowing for a reset of fresh pocket of air. |
| Stage 4 | Fresh water is allowed to flow through out your indoor plumbing free of Iron, manganese and hydrogen sulfide. |
.
Use Coupon Code: QWL5 to save!
My Take
Say goodbye to rotten egg odor and tough-to-clean stains on your bathroom fixtures with the SpringWell. It capably removes iron and manganese plus hydrogen sulfide up to 8 PPM — among the highest in the industry. It has the best sediment filter which protects fragile media, enhancing both performance and durability — it will last a lifetime. It's our
top rated whole house water filtration for iron
and if you also need to remove sulfur and a terrific value.
#2
Aquasana Rhino UV Well System

— Best For Hard Well Water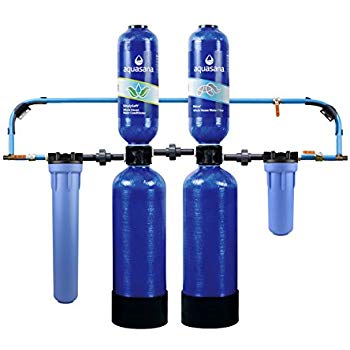 Aquasana's whole house well water filtration system is a comprehensive solution to tough water quality issues, removing up to 97-percent of dangerous contaminants from agricultural chemicals to heavy metals.
The built-in descaling system conditions water, preventing limescale buildup without the salt or high maintenance associated with conventional softeners. A UV purifier kills pathogens for the highest possible level of purity — it's the best filter for overall contaminant removal.
.
Pros
Cons

Maximum filtration
500,000 gallon, 5-year capacity
Conditions water without removing beneficial minerals
High-quality brass fittings
Low replacement filter cost

May decrease flow rate at the tap
Full warranty requires professional installation
Top Aquasana Q & A
Q: Does this whole house water filtration system remove iron?
A: No, it removes only negligible amounts.
Q: How often should the pre- and post-filters be replaced?
A: It depends on water quality. Under average conditions, pre-filters should be replaced every two to three months —post-filters last up to six months under average conditions.
Q: Are filter changes tough?
A: No! Unscrew the cartridge housings and replace the old filters. It's that easy.
How This System Works:
| | |
| --- | --- |
| Aquasanna Rhino w/UV | Ultimate protection from bacteria and viruses |
| Stage 1 | The Sediment Pre-filter traps large particles of silt, rust and common sediment. |
| Stage 2 | Copper-zinc mineral stone filter reduces heavy metals and eliminates algae growth. |
| Stage 3 | Activated carbon filter reduces organic chemicals such as pesticides and herbicides. |
| Stage 4 | The post filter captures any remaining organic sediments and sediments before entering your fresh water supply. |
.
My Take
The Aquasana filter isn't the best way to filter iron from well water, but it produces gallons of the cleanest, freshest-tasting water imaginable for pennies per day. It looks complex, but it's straightforward to use. It has the best carbon filter for removing more taste impurities and hazardous substances than the competition. If water purity is your priority, you'll be thrilled with the Aquasana — it's the best for complex quality issues.
#3
Pentair

— Best For Manganese & Bacteria
The Pentair Iron and Manganese filter chlorinates water — it's like having a water treatment plant in your home. The system includes a sediment pre-filter, the patented GreenSandPlus iron filter and a premium carbon filter that makes water tastes as good as fancy bottled brands without the sticker shock.
Systems come with a lifetime limited warranty on tanks and non-electrical parts — the quality craftsmanship shows.
.
Pros
Cons

Makes pathogen-contaminated water safe
Removes iron up to 10 PPM
WQA Gold Seal Certified
Exceptional customer service

Cot significantly more than similar brands
Noisy operation
Top Pelican Q & A
Q: Does this filter require maintenance?
A: It does, but it's not technically challenging. Just change the sediment pre-filter every 6–9 months, replace the chlorine injector pump every 6–12 months and keep chlorine levels in the tank above a quarter full. Easy-to-follow instructions are provided.
Q: Are chlorine levels adjustable?
A: Chlorine levels are adjusted by increasing or decreasing the amount of bleach in the chlorine solution to achieve levels recommended by a water analysis. You'll check water at the tap regularly with strips to ensure minimum levels are maintained.
Q: Can I control when the system regenerate?
A: Systems come pre-programmed to regenerate at 3 AM daily, but you can choose the time that's best for you.
How This System Works:
| | |
| --- | --- |
| Pentair Iron & Manganese Combo | Reduces reddish orange stains on sinks, tubs and toilets efficiently |
| Stage 1 | The 5-micron pre-filter effectively removes sediment and protects appliances from dirt and debris. |
| Stage 2 | The Chlorination system safely disinfects water and oxidizes harmful contaminants. |
| Stage 3 | Iron & Manganese gets trapped in the filter media before getting flushed out with the backwash system. |
| Stage 4 | Carbon Filtration safely reduces particles, chlorine, chloramines and odors while improving water quality and taste. |
.
My Take
Pelican gives homeowners the disinfecting power of chlorine with their top-rated iron and manganese filter — it's our pick for best whole house filter for water with bacteria. Premium carbon filter removes odor and taste impurities — no other model makes water safer or better tasting. The only caveats are the price, which is competitive but high, and the soft noise the chlorine injector makes. It's a small sacrifice for a premium product made by a company renowned for its customer service. You won't be disappointed.
#4
SoftPro Iron Master 

— Best Iron Filter for Well Water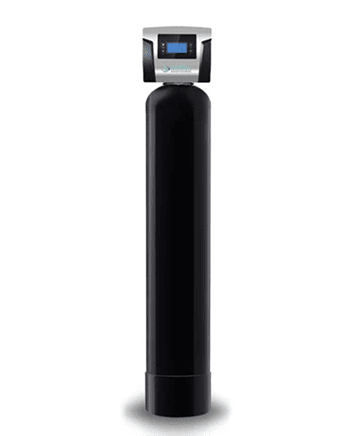 If iron's the problem, the SoftPro Iron Master is the solution. It's advanced Air Induction Technology(AIO) uses air as a natural oxidizer, boosting iron removal to maximum levels — no other filter comes close.
Components are independently certified, competitively priced and come with a lifetime warranty on the control valve and tank. Bar none, it's the best way to filter iron from well water.
.
Pros
Cons

Removes iron up to 30 PPM
Reduces manganese and hydrogen sulfide
Programmable control valve
Quiet operation
Top SoftPro Q & A
Q: How long does the filtration media last?
A: Katalox media lasts 5–10 years under average conditions.
Q: Will this filter remove hydrogen sulfide?
A: Yes, up to 5 PPM.
Q: Can I install this system myself?
A: The SoftPro is designed for easy homeowner installation but basic plumbing skills and a few household tools are a must.
How This System Works:
| | |
| --- | --- |
| SoftPro Iron Master | Reduces 30 PPM of Iron, 7 PPM of Manganese and 5 PPM of Hydrogen Sulfide |
| Stage 1 | Air Induction Oxidation uses air to naturally oxidize iron particles and safely remove efficiently as well as contaminants. |
| Stage 2 | The chemical free Katalox filter media safely removes all oxidized minerals away from your water. |
| Stage 3 | Softpro's automatic regeneration process effectively regenerates fresh air and safely removes iron from the filter media. |
.
My Take
This system doesn't do it all, but it's the best whole house well water filtration system for those with high iron levels. If thick orange stains dirty your toilet bowl or cling to your shower door, nothing cleans it up faster than the IronPro. It's not the best for dealing with sulfur odors — it removes less hydrogen sulfide than similar models. And without a sediment filter, dirt and rust particles can wear parts out prematurely — install one separately. But it's well-crafted, a breeze to use and a solid value — you'll be satisfied.
#5
US Water Systems Matrix Infusion

– Best For Sulfur in Well Water
If your well water smells like "low-tide" then I have good news for you. The Matrix Infusion system by US water systems, has the best filter for well water that has a rotten egg smell on the market today by removing up to 30PPM of Sulfur — that's a big deal!
You can get this system programmed and up in running in less than 30 seconds! What I also love, is the fact that it uses 30% less water during the backwash process over comparable systems and you can also monitor your system with their app straight from your phone or tablet.
Another benefit, is that this system only uses about $2 of electricity per year thanks to it's 12-volt operating system — I think you'll change the battery in your Tv's remote more often than this system.
You will also be impressed with its taste quality by removing up to 30PPM of Sulfur, 20PPM of Iron, and 1PPM of Manganese.
.
Pros
Cons

Automatic backwashing
Simple installation
No filter replacement needed
NSF Certified Parts
Low system cost
BlueTooth tech

Filter media has a shorter life-span when compared to other media types.
Top Q & A
Q: Does this filtration system reduce foul tastes and smells?
A: Yes! This system is designed to remove unpleasant tastes and the dreaded rotten egg smell in well water.
Q: What do replacement filters cost?
A: Nothing! This system only needs a filter media change every 3-5 years on average.
Q: How do I know when the filter media needs to be changed?
A: When you notice a decrease in water quality, odor, it's time to change the cartridge.
How This System Works:
| | |
| --- | --- |
| US Matrixx Infusion Systems | Reduces 20 PPM of Iron, 1 PPM of Manganese and 30 PPM of Hydrogen Sulfide |
| Stage 1 | Uses Hydrogen peroxide that's injected into water that efficiently releases dissolved iron. |
| Stage 2 | Mineral oxidation effectively oxidizes iron, manganese and Hydrogen sulfur. |
| Stage 3 | The Coconut shell carbon media traps the oxidized minerals in a catalytic activated carbon media. |
| Stage 4 | The automatic backwash system washes away any minerals and particles in the system. |
My Take
First off, I'm pretty blown away with this filters ability to remove up to 30PPM of Hydrogen Sulfide to eliminate rotten eggs smells — there's nothing worse than wanting to take a shower with water that smells horrendous. This has always been an issue for many in Central Florida and Ohio, so check them out.
.
#6
Express Water

Heavy Metal Whole House Well Water Filter
Express Water's triple-stage filtration captures more than 80 contaminants, including sediment, chlorine, pesticides, pharmaceuticals and industrial solvents, plus dangerous hard minerals, such as mercury, arsenic and lead.
KDF 85 media inhibits the growth of microorganisms within the system, so water is safer and tastes as fresh as premium bottled brands for pennies on the dollar.
With a 100,000-gallon capacity, you'll can expect clean water for up to a year between filter changes. Independent pressure gauges for each cartridge tell you when it's time for maintenance.
Built to last with lead-free, NSF certified components, filters come with a one-year warranty and free lifetime technical support from Express Water's dedicated customer care team.
.
Pros
Cons

Removes heavy metals
Low-maintenance
Flexible floor or wall mounting options
Tool-free filter changes
Durable, food-grade cartridge housings

Shorter-than-average warranty
Top Q & A
Q: Does this filter remove iron?
A: The sediment cartridge removes ferric iron — visible particles of rust — but it doesn't reduce dissolved ferrous iron.
Q: Will this system reduce water pressure?
A: The 15 gpm flow rate virtually guarantees it won't.
Q: What do replacement filters cost?
A: A full set currently runs $149.00 and is among the most budget-friendly in the industry among systems that remove lead and arsenic.
My Take
Lead is toxic, especially for children, so quality filtration is critical. Systems that depend on reduction in water quality to indicate when maintenance is due won't cut it with lead because, unlike sediment and chlorine, it's tasteless and invisible. Replacing filters on time is critical for performance.
Express Water makes maintenance simple with gauges that tell you when each cartridge is spent — you'll know your system's status at a glance. The KDF85 cartridge is engineered for maximum contact time with contaminants, so lead reduction levels are the highest possible.
You'll pay few dollars more for this system than similar models — KDF85 media isn't cheap — but the reassurance of superior lead filtration is priceless if you have kids in the house. This water filtration system lets you drink with confidence.
.
#7
iSpring 3-Stage

Well Water Filtration System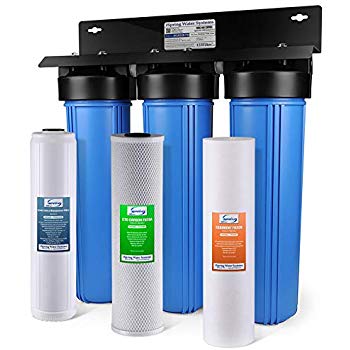 iSpring's whole house water filter removes problem contaminants from both well and city water. It's dual carbon block filters are particularly effective at refining taste, reducing sediment and a host of chemicals, from chlorine to pesticides that make water look, smell and taste bad.
Premium cartridges are third-party tested and meet NSF safety and performance standards — reinforced housings eliminate leaks.
Maintenance is minimal, and the 100,000-gallon capacity lets you spend more time enjoying clean water than worrying about your filtration system. It's a great buy.
.
Pros
Cons

Improves water's taste and appearance
Generous-capacity filters
Performance-certified components
Won't decrease water pressure
DIY-friendly installation with basic plumbing skills

No filter change indicators
Higher-than-expected price for carbon-only filtration
Top Q & A
Q: How long do the filter cartridges last?
A: It depends on water quality, but under average conditions, sediment prefilters should be replaced every six months. Carbon block filters last up to a year.
Q: Does it remove lead?
A: Not in significant amounts.
Q: Can I install this system outside?
A: Direct sunlight and freezing temperatures can damage the system, so iSpring recommends indoor installation only.
My Take
If your water tastes like it came from a swamp, iSpring's multi-stage water filtration system takes taste to a whole new level. The sediment filter eliminates turbidity and protects your plumbing, while two top-quality carbon block filters join forces to remove the maximum number of taste impurities for the freshest-tasting water possible.
Maintenance is painless. Some multi-stage systems have you hopping every few months, but with the iSpring, you can fill more than half-million reusable water bottles between filter changes. That's good news for both your wallet and the environment, making the iSpring a bargain.
.
#8
Culligan WH-HD200-C

Whole House Heavy Duty Well Water Filter System
Culligan's whole house well water filtration system tackles the toughest sediment problems, removing dirt, sand, rust and silt particles from 1–50 microns depending on the size cartridge you choose. Or select a compatible carbon filter that can also reduce chlorine taste and odor impurities.
Engineered for safety and durability, it's NSF certified for structural integrity and low-lead compliance. DIY or professional installation is a breeze and filters are backed by a two-year warranty and Culligan's commitment to service.
.
Pros
Cons

Budget-friendly price
Flexible filter choice
Heavy-duty construction
Battery-operated filter-change timer
Integrated bypass valve

Filter cartridges sold separately
Top Q & A
Q: How long do filter cartridges last?
A: It depends on which model you choose. Cartridges that remove large particles last longer than those filtering fine sediment, and the lifespan of carbon filters depends on your water quality. Two to six months is average.
Q: Does this system reduce water pressure?
A: Most homes won't seen a significant difference, but using fine sediment prefilter can decrease flow rate. Cartridges with a five micron or higher rating remove most sediment with minimal impact on pressure.
Q: What's the benefit of a bypass valve?
A: Bypass valves let you change filters without shutting water off at the main inlet.
My Take
The best solutions are often the simplest. If your well water is safe from organic materials, why drop your hard-earned cash on a do-everything filtration system when all you need is a filter that removes the most common contaminants found in well water – sediment.
Equipped with a transparent cartridge housing, you can watch your filter work in real-time, trapping large particles that can damage your appliances and ruin drinking water quality. The next glass you fill will be noticeably clearer.
The beauty of this model is that you get the convenience of whole-home filtration without breaking the bank. For the same price as a filter pitcher, the Culligan improves your water quality home-wide.
.
#9
3M Aqua-Pure

  Well Water Filter & Softening System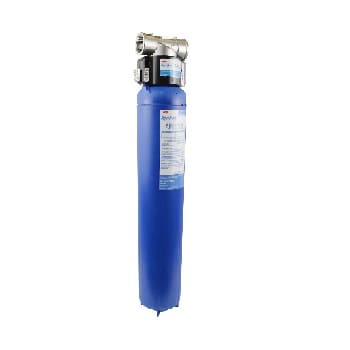 3M's Aqua-Pure AP904 is a two-in-one well water filtration system and conditioner. It combines the best in mechanical filtration with a top-quality carbon filter and a polyphosphate-based scale inhibition system to control sediment and taste impurities while protecting plumbing and appliances from limescale buildup.
A cinch to install, the corrosion-resistant stainless steel head and generous fittings ensure a brisk flow rate, so you'll never have to wait for clean water. With a 100,000-gallon capacity and 25-year warranty, it's an economical alternative to a water softener.
.
Pros
Cons

Sanitary filter changes
Low-maintenance
NSF Standard 42 certified
Won't reduce water pressure
25-year warranty on the head

Higher initial cost than similar models
Top Q & A
Q: Are filters easy to change?
A: They're the simplest in the business. Quick-change filters are cartridges and housings in one — they screw on and off with no tools required.
Q: Does this system remove hard minerals?
A: No, it changes their chemical structure so they can't cling to pipes and damage appliances. It will not reduce TDS (total dissolved solids) or strip beneficial minerals from drinking water.
Q: How long do filters last?
A: Depending on water quality and usage, they last up to a year.
My Take
If your well water needs both filtration and conditioning, look no further than the Aqua-Pure AP904. It offers most of the benefits of a water softener for a fraction of the cost — it uses no salt or electricity and produces no wastewater — plus it removes foul tastes and odors so your water smells and tastes as pure as it should.
Worth noting is the simplicity of cartridge replacements on this model. Filters and housings are integrated so there's nothing to clean — you won't need the usual bucket and mop, and your hands won't get dirty. It's a minor feature, but anything that makes maintenance less of chore is always high on our want list.
The Aqua-Pure costs more than some comparable whole house water filters, yet the price pales in comparison to purchasing a filter and softener separately and is offset by its overall quality and industry-leading warranty. It's worth it — consider it an investment.
.
#10
DuPont WFPF13003B

Universal Whole Home Well Filtration System
Improve your water clarity with DuPont – It removes sediment from dirt to rust, decreasing turbidity and extending the life of appliances. Your water will be a pleasure to drink again.
Enjoy up to 15,000 gallons between filter changes — replacement cartridges are the among the most affordable on the market. All DuPont cartridges are NSF certified for safety. Kits come complete with a filter wrench and mounting hardware — fittings sold separately.
.
Pros
Cons

Rock-bottom price
Simple installation
Easy maintenance
NSF Standards 42 and 372 certified
Pressure release valve

No filter change indicator or bypass valve
Top Q & A
Q: Does this filtration system reduce foul tastes?
A: The WFPF13003B comes with a complementary five micron filter that removes sediment only. However, you can upgrade to DuPont Series 800 or 900 filters with carbon that reduce chemical tastes, odors and organic materials.
Q: What do replacement filters cost?
A: As little as a few dollars each in a multi-pack.
Q: How do I know when the filter needs to be changed?
A: When you notice a decrease in water quality, it's time to change the cartridge.
My Take
Who knew you could buy a whole house water filter for less than the cost of a steakhouse dinner? Dupont's WFPF13003B isn't fancy, but it removes sediment as capably as other filters. Convenience features are lacking — there's no filter change indicator or bypass, only a pressure relief valve to make cartridge changes less messy — but the quality is there, and the price is right if you're on a budget. It's a whole house water filtration system anyone can afford.
.
#11
GE GXWH40L

High Flow

Whole House Well Water Filter
GE's GXWH40L is a sediment filter designed for brisk water flow — it's an ideal pre-filter for water softeners. Choose from two cartridge options for sediment-only or sediment and chlorine removal — the choice is yours. Certified to NSF 42 standards, it keeps dirt, sand and rust out of your plumbing and protects the media in water softeners, enhancing drinking and bathing water quality house-wide.
Built with heavy-duty components, convenience features include a bypass valve, cartridge change indicator light and transparent filter housing for easy monitoring. Filters come with everything you need for installation including 1-inch fittings.
.
Pros
Cons

Sturdy build
Flexible filter choice
Filter change indicator light and transparent filter housing
Aesthetically appealing

Twice the price of basic sediment filters
Initial filter not included
Top Q & A
Q: Why is this filter ideal for water softeners?
A: Sediment damages water softeners. Yet carbon filters that remove the finest particles can reduce water flow to levels too low for some models. With a 25–30 micron filter, the GXWH40L reduces sediment enough to improve water quality without affecting pressure.
Q: How long do filters last?
A: Three months or 30,000 gallon on average.
Q: What size plumbing is this filter compatible with?
A: It's compatible with 1-inch pipes. Fittings are included.
My Take
If you need a sediment pre-filter for a water softener, you won't go wrong with the GXWH40L. Not only is it a first-rate filtration system in its own right, but the high flow guarantees compatibility with the widest range of softeners.
It costs two to three times more than similar filtration systems by DuPont and Culligan, yet features like a bypass valve add significant value. Don't underestimate its benefits if your water inlet is difficult to access. If you're installing a new water filter from scratch — it's worth the added spend.
.
#12
iSpring WGB21B 2-Stage

Filtration System

Filter For Well Water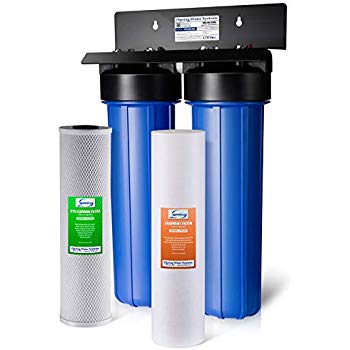 iSpring's 2-Stage whole house water filter removes more than 90-percent of chlorine, herbicides, pesticides, organic materials, and industrial chemicals found in both well and city water. The clog-resistant sediment cartridge captures dirt and rust particles greater than five microns — a top-of-the-line carbon block filter takes it from there, removing cloudiness and giving water a spring-fresh taste.
Proprietary "Big Blue" cartridges process 50,000 gallons for clean water up to six months between changes, and replacements are affordably priced. Pressure relief valves for each cartridge make maintenance less messy. Made exclusively with NSF certified parts, the WGB21B is safe, durable and backed by a 1-year, money-back guarantee. It's all most well owners will ever need.
.
Pros
Cons

Bargain-priced
Foolproof, color-coded cartridges for easy maintenance
Brisk flow rate
Preassembled for quick installation

No filter change indicator
Top Q & A
Q: Is this filter easy to install?
A: Like all whole house water filters, it's integrated into your home's main water inlet. Homeowners with basic plumbing skills and a few essential tools report it's an easy job. We recommend professional installation if your plumbing is irregular or you're uncomfortable cutting into pipes.
Q: Does it remove iron?
A: As equipped, no. But you can replace the sediment filter with iSpring's optional Iron and Manganese filter for an additional charge.
Q: Can it be connected to both copper and PVC pipe?
A: Absolutely!
My Take
When taste matters, you could buy a Brita, but a whole house water filter like the iSpring is a superior solution. It's neither the most capable nor the best-equipped filter on the market, but it protects your appliances from sediment build-up, reduces clogs in your shower head and provides limitless gallons of crisp drinking water for a bargain price.
Why fill a filter pitcher a dozen time a day when you can have better water from every tap with the iSpring? It's what nature intended.
.
#13
EcoPure EPW04

Filtration System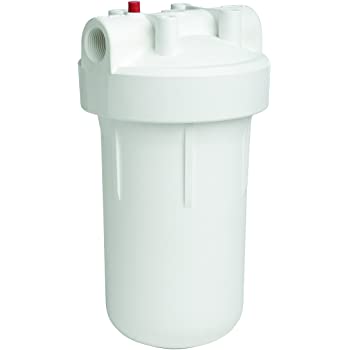 EcoPure's large capacity whole house water filtration system is perfect as a stand-alone filter or with a water softener. It's universal, accommodating a wide range of cartridge types from major manufacturers, including Whirlpool, GE, Culligan, Filtrete, Watts and DuPont.
You'll never have to worry about replacement filters being out of stock when you can buy any brand.
Like the GE's GXWH40L, the EPW04 is a high-flow system and works with most water softeners. Choose sediment-only or carbon filters for customized filtration.
.
Pros
Cons

Perfect for water softeners
Durable housing
Customization filtration
Universal design
1-year warranty and free lifetime technical support
Top Q & A
Q: Are all generic filter compatible with water softeners?
A: Filters that remove particles smaller than five microns might reduce water pressure enough to affect some softeners if your water is heavily contaminated. Check the manufacturer's instructions for recommendations.
Q: How long do filters last?
A: Most EcoPure filters last up to six months, but other brands may not. Refer to the specifications for filters from different makers.
Q: Is this filter NSF certified?
A: It's NSF certified for structural integrity. Filter cartridges from different manufacturers may carry different certifications.
My Take
EcoPure's EPW04 is a mid-priced filter compatible with generic cartridges. It offers customizable sediment or carbon filtration and works with most water softeners. NSF certified and quality-built, it will provide years of uncompromising service. The difference between it and our other top picks boils down to price and convenience features.
The EcoPure looks industrial and lacks a bypass valve or filter monitoring system, while other models are more stylish and well-appointed but at higher price. If you're replacing an existing filter and have an independent bypass valve already built into your plumbing, the EcoPure is a fine filter and a money-saver. Otherwise, you might miss the creature comforts. The bottom line is — bells and whistles cost money. Only you can decide what they're worth.
.
Whole House Well Water Filtration

Buyers Guide
Of the 60-million plus private well owners in America, more than half have serious water quality issues that could benefit from filtration. But choosing the perfect filter is both a challenge and an investment, so you want to get it right the first time. There's a lot to learn, and we want to help. Let our comprehensive buying guide be your key to choosing the best system for well water.
Why You Should Test Your Well Water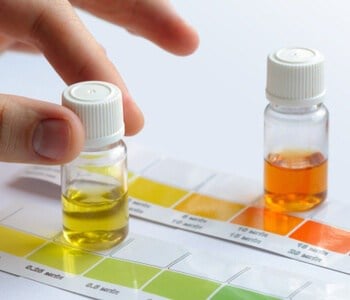 Although your well water may look clean and smell great, you should still test it to ensure that the minerals found in the water are safe for consumption. It's important to know what minerals are in your water because certain ones can be good for you while other ones are known to cause health problems.
If you don't regularly test your well water, you're at risk of ingesting harmful minerals in your everyday drinking water. Knowing the exact content in your well water will give you peace of mind that it's safe to drink.
Having your well water tested by a professional lab is the best way to go – have a look at some top rated water testing kits here.
Common Contaminants Found in Well Water
Well water is generally thought to be a safer and healthier source of drinking water than municipal water supplies, but this is not always the case. Wells can be contaminated by a variety of factors, including surface water runoff, pesticides and herbicides from agricultural operations, septic systems, malfunctioning well pumps, and corrosion of well casing and piping.
The most common contaminants that are found in well water include:
Iron
VOC's
Radon
Sulfur
Manganese
Nitrates
Coliform Bacteria
Heavy Metals (such as lead)
Radionuclides (such as uranium)
| Noticeable Changes | Test Your Water For: |
| --- | --- |
| Corroded pipes or plumbing | Corrosion, pH, lead |
| Stained Laundry or plumbing fixtures | Iron, copper, manganese |
| Foul taste or odor, rotten egg smell | Hydrogen sulfide, corrosion, metals |
| Salty taste | Chloride, total dissolved solids, sodium |
| Scaly residues, soaps don't lather | Hardness |
| Water appears cloudy, frothy or colored | Color, detergents |
| Dump, junkyard, landfill, factory, gas station or dry-cleaning operation nearby | Volatile organic compounds, total dissolved solids, pH, sulfate, chloride, metals |
| Rapid wear of water treatment equipment | pH, corrosion |
| Recurring gastro-intestinal illness | Coliform bacteria |
| Nearby areas of intensive agriculture | Nitrate, nitrite, pesticides, coliform bacteria |
| Gas drilling operations nearby | Chloride, sodium, barium, strontium |
| Odor of gasoline or fuel oil, and near gas station or buried fuel tanks | Volatile organic compounds |
| Household plumbing or service lines that contain lead | pH, lead, copper |
Source: EPA.GOV
Why You Need a Water Filter for Your Well Water
Municipal water is continually monitored and disinfected. The EPA sets strict limits for hazardous substances from toxic chemicals to disease-causing bacteria, so the public is assured what they drink is safe. But private wells have no regulatory safeguards. While many homeowners believe their supply is immune from contamination because it comes from underground where it's filtered naturally through the soil, the truth is — unfiltered well water is risky.
More than 60 million Americans get their water from private wells, but at least 20 percent are contaminated. In a 2009 study, the USGS found one in five had harmful levels of hazardous substances from toxic chemicals to disease-causing bacteria. Others had hard water — high levels of calcium and magnesium that are healthy but take a toll on clothing, plumbing and appliances.
A water test can tell you what's in your water today, but because contamination risks in your watershed from landfills to industry change over time, there's no guarantee it will stay the same. Only a filtration system can protect you both now and in the future.
There are two broad categories of water filters. Point-of-use systems treat water from a single tap for drinking and cooking — examples including filtration pitchers and under-sink filters. Whole-house well water filters water as it enters your home, guaranteeing that water from every tap is as pure as possible.
Filters are further categorized by filtration method — each targets different contaminants. The best whole house water filter for wells are typically multi-stage, utilizing several types of filters to achieve maximum contamination reduction.
Whole House Filters for Well Water
| Brand | KDF Carbon Filter | Oxidation | Adsorption | UV | Softening or Conditioning |
| --- | --- | --- | --- | --- | --- |
| SpringWell WS | | ✔️ | | *✔️ | |
| SpringWell Ultra | ✔️ | ✔️ | | *✔️ | ✔️ |
| Aquasanna | ✔️ | | ✔️ | ✔️ | ✔️ |
| Pentair Iron & Manganese Combo | ✔️ | ✔️ | ✔️ | | |
| SoftPro IronMaster | ✔️ | ✔️ | | | |
| US Water Systems | | ✔️ | ✔️ | | |
| Express Water | ✔️ | | ✔️ | | |
| Home Master | ✔️ | | ✔️ | | |
There are seven basic types of filters:
Sediment Filters
They work like strainers, removing large suspend particles too large to fit through their microscopic pores. They're ideal for reducing taste and aesthetic impurities, making water clear and more pleasant to drink. In a multi-stage system, they protect other types of filters prone to sediment clogs, but they don't remove chemicals, bacteria or minerals.
Carbon Filters
Carbon filters work by adsorption, permanently trapping contaminants in their pores. A single gram of carbon has a surface area of 32,000 square feet, making it the ideal filtration medium. The amount and quality of granules determines a filter's efficiency and lifespan.
Carbon filters excel at removing select heavy metals and chemicals from disinfectants to pesticides, refining both the taste and safety of water. Like sediment filters, they're also used as pre-filters to protect delicate reverse osmosis membranes.
Reverse Osmosis Filters
Reverse osmosis filters purify water by forcing it through a semi-permeable membrane. Pores are significantly smaller than those in sediment filters, removing the tiniest particles sediment and carbon filters can miss. RO systems eliminate the highest percentage of contaminants possible, but they're slow, and they create wastewater. They remove some but not all pathogens.
KDF Filters
KDF — Kinetic Degradation Fluxion — filters contain high-purity copper and zinc granules to reduce contaminants in water via oxidation-reduction. It's used primarily to reduce chlorine and higher percentages of dangerous heavy metals like lead.
UV Filters
UV filters use ultraviolet light to treat microorganisms by rendering them unable to reproduce. Bacteria that can't multiply cannot cause disease. It's the highest level of pathogen treatment on the market short of chlorination.
Water Softeners
Hard minerals are healthy for the body, but they cause limescale buildup in pipes leading to high utility bills and appliance breakdowns. If hard water is a problem, softeners are the only cure. Their sole mission is to remove minerals via ion exchange, trapping them in resin to be flushed away.
Salt-based softeners are effective but increasingly unwelcome in ecologically sensitive areas because the briny wastewater they produce is bad for the environment.
Water Conditioners
Water conditioners, also know as descalers or salt-free softeners, change the chemical composition of calcium and magnesium so they can't form limescale. They're not quite as effective as traditional softeners, but they're inexpensive to use, produce no wastewater, and they do not remove beneficial minerals. Water conditions are welcome everywhere.
Which contaminants does a well water filtration system remove?
| Filter Type | Contaminants Removed |
| --- | --- |
| Air Injection Filter | Iron, Manganese, Hydrogen Sulfide |
| Carbon Block Filter | Organic chemicals, unpleasant tastes & odors |
| Sediment Filter | Silt, rust, metals and suspended particles |
| KDF Filter | Heavy metals |
| UV Filter | Bacteria and viruses |
The contaminants a filter removes depends on the combination of filtration methods used.
Sediment filters remove any debris larger than its pores, including:
Carbon filters reduce:
PFAS
Phosphate
Select heavy metals
Chlorine
Chlorine byproducts, including bromate and haloacetic acid
Pesticides
Herbicides
Industrial solvents and more
The level of reduction depends on the quality of the filter. Carbon block filters have more surface area and are considered superior to granular activated carbon (GAC) filters for most applications.
Reverse osmosis systems are the gold standard for filtration. When equipped with sediment and carbon pre-filters, they virtually eliminate all of the above contaminants plus:
Fluoride
Minerals
Some arsenic
Select microorganisms
KDF filters remove:
Chlorine
Hydrogen sulfide
Mercury
Lead
Manufacturer often pair KDF and carbon filters for maximum lead removal. KDF also inhibits the growth of bacteria and fungi, keeping filters cleaner and enhancing their longevity.
Water softeners remove only minerals, including:
Calcium
Magnesium
Barium
Lead
Iron less than 5 PPM
They reduce no chemicals or pathogens.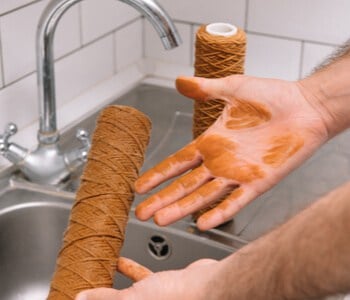 High levels of iron in well water cause tough orange stains in your toilet and tub, but what's worse, it can clog pipes and give water a bitter, metallic taste. There are two types of iron found in wells — ferric iron, large particles of rust you can see and ferrous, or dissolved iron.
Sediment filters remove ferric iron, but only a water softener reduces ferrous iron. The catch is that ferric iron can damage softening media, so it must be removed first. The best iron filter will come complete with an inline sediment filter.
Not all softeners can remove large quantities of iron. If you have levels above 5 ppm, the best way to remove iron from well water is with a special softener equipped with oxidation technology that turns ferrous iron into ferric iron and confines it in a separate tank.
How to Filter Coliform Bacteria in Well Water
Coliform bacteria rarely cause disease, but it suggests other more dangerous types of fecal bacteria could be lurking in your well. So while carbon and RO filters remove coliform bacteria, only chlorine or UV light protect you from microorganism like E. coli.
Home chlorinators are ideal for heavily chlorinated wells — it's like having a private treatment plant in your basement — but they're not cheap, and they require a fair amount of maintenance. UV lights are a simple and economical alternative.
How to Filter Arsenic from Water
Arsenic is a chemical element. It's found in nature and can contaminate underground water supplies in select areas. Most water filters and even softeners remove arsenic to some degree, but it's less than most homeowners would prefer given its toxicity — even RO systems remove less than 90-percent.
The overall risk of arsenic contamination is low for most people, but if you live in an area where it's a concern, the best water filtration systems would be a salt-based softener or RO system with an added active alumina cartridge for optimal reduction.
What to Look for in a Whole House Water Filter For Wells
Consider these key features when shopping for filtration systems:
Contaminant Filtration Capability
The best well water filter is the one that removes target contaminants without breaking the bank. What are target contaminants?
Target contaminants are substances tests show are in your water now or could be in the future. Is there a landfill in your watershed or a large farm that uses pesticides? Do you live in an area where frequent floods could introduce bacteria to a shallow well?
A water test and a little research into the risks in your area will help you identify target contaminants. All that's left to do then is to determine your budget and choose the filter that removes the most substances for what you can afford.
System Type
Filter media type determines which substances are removed. If you need the best way to filter iron from well water, your choices are limited, but if lead is the problem, you could choose from carbon, KDF or RO filtration. As a general rule, the best well water filter system is one that removes target contaminants for the lowest cost, but peace of mind counts, too.
Whole-home filters treat every gallon your family uses, but systems can be cost-prohibitive, and they may not be an option if you rent. Point-of-use filters treat only the water you drink and cook — eliminating most, but not all, health risks for a fraction of the price. Only you can choose a system you're comfortable with.
Capacity
Non-RO water filters produce water on demand — there's no maximum daily number of gallons they will filter — but reverse osmosis systems are limited. Quality filtration takes time, so they can only produce so much in 24 hours. Consider your family's usage and choose only systems that meet your needs. Fair warning — whole home RO systems cost so much they're impractical for most homes. If you need RO capability, shop for a point-of-use system.
Flow Rate
| Brand | Capacity | Flow Rate |
| --- | --- | --- |
| Springwell WS | 1,000,000 Gallons | Up-to 20 GPM |
| Aquasanna EQ | 500,000 Gallons | 7 GPM |
| SoftPro IronMaster | 600,000 Gallons | 10 GPM |
| Pentair Iron & Manganese | 600,000 gallons | 7 GPM |
| US Water Systems | 500,000 gallons | 10 GPM |
| Express Water | 100,000 gallons | 15 GPM |
| Ispring | 100,000 gallons | 15 GPM |
A common complaint about water filters is that they reduce water flow at the tap. No one wants their shower to turn into a trickle every time the kids flush the toilet.
Flow rate, measured in gallons per minute, determines how many water-using activities your family can do simultaneously without noticing a reduction in water pressure. If the flow rate is too low, it's unlikely you'll be satisfied with your filter long-term.
Since most water-using household activities require 2–3 gallons per minute, a minimum flow rate of 6 gpm is a must for a family of four. Most systems average 6–7 gpm, but some run as high as 20 or more.
Well Pump Flow Rate
You might not be aware of this important detail. However, it's very important to know what your "effective flow-rate" is, so that you can purchase the right size filtration system for your needs.
How to Calculate Your Well Water Flow Rate
1. Make sure all water faucets indoors is closed off and not running.
2. Grab a 5 gallon bucket and locate your spigot nearby your well pump.
3. Begin filling up your 5 gallon bucket and set a timer on how many seconds it takes to fill up.
4. For example: 5 GPM would be roughly 60 seconds to fill up a 5 gallon bucket. See our chart below.
Seconds To Fill 5 Gallon Bucket
Well Pump Rate
Seconds To Fill 5 Gallon Bucket
Well Pump Rate
76-100
3 GPM
61-75
4 GPM
51-60
5 GPM
43-50
6 GPM
38-42
7 GPM
34-37
8 GPM
31-33
9 GPM
28-30
10 GPM
26-27
11 GPM
24-25
12 GPM
22-23
13 GPM
21
14 GPM
20
15 GPM
19
16 GPM
18
17 GPM
17
18 GPM
16
19 GPM
15
20 GPM
14
21 GPM
13
22 GPM
12
23 GPM
11
24 GPM
10
25 GPM
Micron Rating
A filter's micron rating reflects the size particles it will remove — the lower the number, the finer the molecules it excludes. The best sediment filter will have a micron rating no lower than five — meaning it filters contaminants larger than five millionths of a meter. Sediment pre-filters that block more than tend to clog.
RO membranes have much lower micron ratings — between 0.01 and 0.0001 microns — for comprehensive filtration. They're capable of removing even the smallest bacteria, but only because sediment pre-filters catch larger particles first.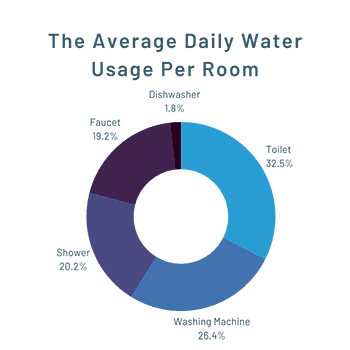 Average flow-rates of household appliances and fixtures
For those that don't know, the average American household uses roughly 300 gallons of water per day, according to the EPA.gov.
I know what your thinking…300 gallons of water per day? sure.. However, if you think about how many times you flush the toilet, run the sink, do laundry, shower and run the dishwasher — the gallons of water used do add up.
Calculate your own daily water usage by checking your water meter in the morning and at night and take the 7 day average to help understand your water usage, or have a look at our chart below:
| Fixtures & Appliances | Flow-rate (GPM) |
| --- | --- |
| Dishwasher | 1-3 GPM |
| Washing Machine | 3-5 GPM |
| Shower | 2-5 GPM |
| Toilet | 2-3 GPM |
| Faucet | 2-4 GPM |
Professional Water Filtration Costs on Average
| System Type | Labor | Average Installation Cost |
| --- | --- | --- |
| Well Filtration System | 4 to 8 hours | $500 to $1200+ |
| Reverse Osmosis System | 4 to 8 hours | $500 to $1200+ |
| UV Disinfection System | 4 hours or less | $350 to $600 |
| Softener or Conditioner | 4 hours or less | $500 to $1200+ |
Ownership Costs
There's more to consider when buying a whole house water filtration system than its initial cost — maintenance is a factor. Capacity — the number of gallons a system can treat before filters should be replaced — plays a significant role in long-term ownership costs. Let's look at an example.
A $500 filtration system with carbon and sediment prefilters that need changing every three months at $60 each will cost $240 to operate annually. A similar model with extra-capacity filters that are changed every six months reduces yearly maintenance totals to $120, saving you $1200 over ten years.
Cost isn't everything when it comes to water filters — capability matters. But when features are equal, why not keep your money in the bank?
Maintenance
For most homeowners, the best well water filtration systems is the one they need to think about least. Complex systems requiring continual or technically challenging maintenance are a hassle.
Dependent on the well filtration system you choose, you will need to replace the filter every 6 to 12 months. This can be a costly and time-consuming process, so it is important to consider these factors before you make a purchase.
You'll need to decide if you're willing to spend a little bit more upfront to eliminate some of these annual costs.
| Filtration Type | Annual Filter Replacement Cost on Average |
| --- | --- |
| Well Filtration System | $125 – $275+ |
| Cartridge Based System | $150 – $350+ |
| Tank Based System | $50 – $150+ |
| Reverse Osmosis | $150 – $300+ |
| Chemical Injection System | $50 – $250+ |
| UV Disinfection System | $75 – $350+ |
| Chemical Injection System | $75 – $400+ |
Look for these helpful features:
Tool-free filter changes
Extended life cartridges
Filter change indicators
Bypass valves that allow filter swaps without shutting off the main water supply
For water softeners, choose salt-free models unless you have the hardest water. What you'll save in salt and utility costs more than outweighs the marginal difference in performance.
Certifications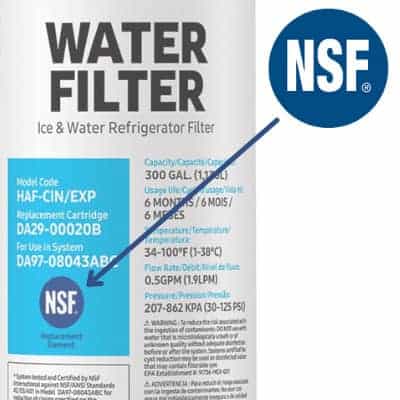 Independently certified water filters are guaranteed to perform as advertised, but are they worth the extra cost? NSF and Water Quality Association certification programs are voluntary and costly for manufacturers, so not all companies participate. Instead, most assemble systems from certified components. If you stick with a reputable brand, certifications are a point in a product's favor, but they shouldn't be the sole determinant of quality.
Read our guide on "What NSF Certified Means Exactly."
Support
Cheap water filters can seem like a bargain, but what happens after the sale? Does the company support installation? Will it help troubleshoot performance? Are replacement parts available? What about the warranty? A water filter is an investment. Choose to work with companies that respect what you've spent.
Understanding Warranties and What To Look For
This is an important step for any buying process — understanding the type of warranty you will get. There's nothing worse than to come home to a leaky water tank and to find that the most expensive part isn't covered under their "limited lifetime warranty."
So it's very important to read the companies full terms of service before making a large purchase — this goes for anything in life, really.
So choose the right company/brand that stands behind their filtration systems with a iron-clad warranty and generous return policy.
| Filtration Brand | Warranty | Money Back Guarantee |
| --- | --- | --- |
| Springwell | Lifetime | 6-month money back guarantee |
| Aquasanna | 6 years | 90 days |
| Pentair Iron & Manganese | 5 years | 60 days |
| Ispring | 1 year | 30 days |
| 3M Aqua-Pure | 5 years | 30 days |
Money-back Guarantees – What You Should Know
Money-back guarantees are to be expected, especially for how much these filtration systems cost. Having the ability to test drive your filtration system for longer than 30 days would be ideal so that you have time to decide before committing long term.
However, not all trial periods are equal and some product return policies might leave you with less money than you started with, so it's important to read the terms & conditions.
30/60/90 day trial periods are all great and dandy, however, if they have restocking fees you're not going to be to pleased. You also want to be sure that you will not be responsible for return shipping — depending on the water tank size, this could be a huge cost.
Well Water Filtration FAQ's
Which company makes the best well water filter system?
No one can predict every consumer's experience, but select brands have an undeniable reputation for quality, durability and customer care. These are our top picks:
Best Carbon Filter
iSpring
iSpring makes the industry's best carbon filter for well water. They use only the highest quality block carbon for maximum filtration efficiency and filter life.
Best Sediment Filter
Express Water
Express Water's food-grade multilayered sediment prefilters are safe, efficient and long-lasting. Replacements are affordably priced.
Best Iron Filter
SoftPro
The best way to filter iron from well water is with a specially designed water softener. SoftPro Iron Master systems use air injection technology to maximum iron removal up to 30 ppm— three times more than the competition. It's the best iron filter with the highest levels.
Pelican makes perhaps the best whole home iron filter for wells with bacteria. It chlorinates water and removes up to 10 ppm of iron — it's not cheap, but it makes heavily contaminated water biologically safe to drink.
Other manufacturers we trust include:
Aquasana
The EQ-WELL-UV-PRO-AST Filter System is our pick for the most comprehensive system. It conditions water, filters maximum contaminants and includes a UV purifier for one low price.
SpringWell
SpringWell has twenty years of experience in the filter industry. Their 1,000,000-Gallon Whole House Well Water Filter System is a top performer and our best budget pick. Quality catalytic coconut shell carbon and KDF media target the highest number of contaminants, and it's virtually maintenance-free for low long-term cost of ownership.
What does the best whole home well water filtration system cost?
Unless you're on a strict budget, we urge you to consider value over the initial price. Capable whole-home systems start as low as $300, but they tend to require more maintenance over the long haul. Better systems cost two to three times as much initially, but you'll save money and spend less time worrying about filter changes.
Expect to pay as much as $2000 for systems that filter and condition water. Still, these all-in-one units are typically more cost-effective than installing a filter and softener separately, and components are made for each other — there's no worry about system compatibility.
What type of filter do I need?
If you need reverse osmosis capability, choose an under-sink filter. Filter pitchers make water taste better but only in limited quantities. Under-sink models provide plenty of healthy water for drinking and cooking plus filling travel bottles for pennies on the dollar.
Otherwise, we recommend whole-home filters. Many are as inexpensive as point-of-use systems while offering the highest water quality throughout your home — you'll never have to worry about which bathroom faucet the kids are drinking from.
Can install a water filter myself?
Most of today's water filters are engineered for DIY installation. Under-sink filters require no technical expertise, and manufacturers go out of their way to make it easy with color-coded components and video instructions. It incentivizes sales.
Whole-home systems are also do-it-yourself friendly, but installation requires cutting into the main water line, so comfort with basic plumbing is helpful. A few companies request professional installation in change for a full warranty. Consider the cost — $350– $550 — when pricing out systems.
How are water filters installed?
The process varies based on the model, but for a whole-home system, you'll have to:
Shut the water off at the inlet
Plumb the system into your water line
Restore water and check for leaks
For under-sink systems:
Turn the water off at the sink
Assemble the filter with cartridges in place
Connect the cold water line to the filter
Connect the filter to the faucet
Restore water and check for leaks
How do I maintain a water filter?
For standard filters, maintenance is as simple as changing cartridges per the manufacturer's recommendations. Select RO systems may require annual storage tank cleaning that's time-consuming but not difficult to do.
For systems with integrated salt-based softeners, replace salt as needed in the brine tank and backwash the system weekly to prevent the growth of bacteria in the softening tank. Salt-free conditioners need only a backwash.
UV lights should be changed precisely as directed. They can lose purifying strength without becoming noticeably dimmer. Most last a year.
Do I have to filter well water?
It isn't necessary to filter well water if testing shows no worrisome contaminants. Yet many homeowners choose to because it enhances taste or softens water and safeguards appliances. Others just feel safer protecting their family against the unknown. Remember, only a water test can tell you what's in your water, but only a filter can protect you from what's in it.
How often should I replace a water filter?
Filter components should be changed as directed, but with proper care, frames, housings and fittings can last a lifetime. A few high-capacity models with single disposable tanks are discarded when they've reached capacity — usually a million gallons or more. But these models require no maintenance and can be the ultimate value for homeowners who want a fix-it-and-forget-it filter.
What water filter works best with well water?
This will come down to having a proper water test to see what contaminants you will need to remove. Having said that, the SpringWell WS does a great job at handling most common contaminants found in well water.
Where do you put a sediment filter for well water?
A sediment filter should be connected to your main water line before your filtration media tank. This will ensure all heavy metals don't enter your tank.
What micron filter is best for well water?
In most cases, you'll find the best sediment filter options for well water have micron rating of 5 to 50. However, for very fine sediment, look for a range of 1 to 5 microns.
Final Thoughts
The best whole house water filtration systems is one that brings you peace of mind — fewer investments can impact your health more. If your water isn't as pure as it should be, a filtration system is a simple, cost-effective solution. It's a gift to yourself and your family that can last a lifetime.
Last Updated on May 19, 2022 by
Ava