Last Updated on November 12, 2023 by
Ava
📝 Model: Ispring WGB32B |Type: Carbon Block + Sediment | Process: 3-stage | Capacity: 100,000 gal. | Contaminants Removed: 10+ | Flow Rate: 15 GPM | Bluetooth: ❌ | Warranty: 1 Year limited | Annual Cost: ~$225 | Rating: 4.5/5 | Best for: treating city water on a budget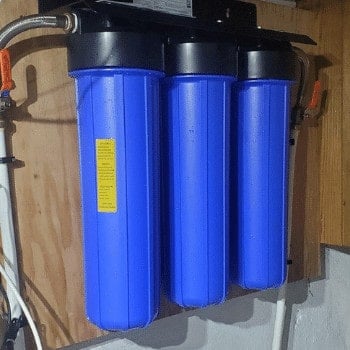 Unit Cost:
$419.99
If your water doesn't smell or taste as good as it should, installing a home water filtration system can be an easy and cost-effective solution.
But finding a model that addresses your unique water quality issues without paying for unnecessary features isn't quite as simple.
Highlights
Low impact on water pressure
High-performance sediment filter preserves the life of carbon filters
Beneficial minerals are retained
Extended-capacity system requires lower maintenance
Backed by a no-fuss, 30-day satisfaction guarantee
---
iSpring 3-Stage

Whole House Water Filtration System

For homeowners on a safe city water supply, the most common issues are fine sediment that makes water cloudy and residual chemicals like chlorine that give it an off-taste.

The iSpring WGB32B 3-Stage Whole House Water Filtration System tackles these issues and more, and it could be the answer you've been searching for. Let's take a closer look at the features that make it a top choice.
Pros
Why settle for clean water from a single tap when the iSpring WGB32B can treat every drop in your home with virtually no impact on water pressure?
It's equipped with a high-efficiency polypropylene sediment filter that removes sediment down to 5 microns, plus two advanced coconut shell carbon filters that reduce chlorine and chemical contaminants.
Each cartridge is independently tested for performance and meets strict NSF/ANSI standards.
The 100,000-gallon total capacity is enough for a family of four for up to twelve months, and filter changes are a breeze.
Large inlets and generously-sized cartridges remove contaminants with negligible impact on water flow — a godsend when you want a brisk shower.
With less sediment, fixtures are less likely to clog over time.
Change the sediment cartridge every six months and the two carbon filters annually. Otherwise, it's worry-free. I like that.
The 100,000-gallon capacity is plenty for a family of four. Cancel the bottled water deliveries — you won't need them.
The coconut carbon filters are remarkably effective at removing residual chlorine. Tap water never tasted so good.
Cons
DIY-installation requires basic plumbing skills, but video and technical support are available.
Product improvements:
Previous versions of the iSpring 3-Stage system were flow-rate issues due to clogging that was addressed by increasing the size of the filter cartridges, allowing for a higher flow rate – huge improvement!
An improved sediment pre-filter that helps reduce clogging in the later stages of filtration, resulting in better performance over time.
My Take
The WGB32B isn't ideal for well water, but it removes the contaminants most homeowners on city water struggle with without costly add-ons. It's a simple system with no bells and whistles, but what it does, it does well.
It's a few dollars more than the competition, but filters are engineered and certified to the high standards for consistent performance.
Comparable Alternatives To Ispring
The Home Master 3-Stage water filter is budget friendly and works great for both city and well water and offers solid protection from contaminants with a 3-stage filtration process of a sediment pre-filter, Granular Activated Carbon filter, and KDF85/Catalytic Carbon media filters. It removes up to 95% of chlorine and other contaminants for clean drinking water.
For a premium choice, the EVO E-1000 2-stage filtration system removes up to 99% of chlorine and other contaminants while protecting against sediment, rust, and other particles.
In our opinion, we feel that the iSpring 3-stage system is a great option for those looking for top-rate protection against contaminants in their home's water supply. However, depending on one's budget or specific needs, you can't go wrong with either comparable cartridge-based system mentioned above.
DIY Installation
DIY installation is straightforward with iSpring's comprehensive technical support, but a plumber can install it in a few hours with minimal disruption to your water supply.
Overall, it's a highly capable water filter from a reputable maker at a budget-friendly. Buy it with confidence knowing it's one of the best whole house water filters from Ispring.
More Comparable Options
Best Whole House Filters

EDITOR'S CHOICE

EDITOR'S CHOICE

SpringWell Whole House System

Eliminates 99.6% of germs
6-month money back guarantee
9 Gallons per Minute Rating
Family of 5+

Click For Best Price

Coupon Code: QWL5

Best Cartridge Based

Best Cartridge Based

EVO E-1000 Whole House

80,000 gallon filtration capacity
Catalytic Carbon media
15 GPM
Family of 4+

Click For Best Price

Runner-up

Runner-up

Aquasana EQ-1000 Whole House Filter System

7 gallons per minute flow rate
No need for a water softener
10-year warranty
Family of 4

Click For Best Price

GREAT FOR WELLS

GREAT FOR WELLS

SpringWell Well Filtration System

Won't affect water pressure
Works quietly
Lifetime warranty
Family of 5+

Click For Best Price

Coupon Code: QWL5
Performance Features of The Ispring 3 Stage Whole House Filter:
Everyone's water is a little different, so the most challenging part about choosing a filter is to determine if it targets the right contaminants.
Contaminants Filtered
The iSpring WGB32B reduces these and more:
Chlorine
Rust
Dirt
Silt
Pesticides
Herbicides
Industrial solvents
Volatile organic compounds
Optional filters remove lead, iron and manganese. The WGB32B does not remove healthy minerals such as calcium and magnesium, but it can be used with a separate water softener if needed. The level of Total Dissolved Solids, or TDS, is not affected.
TDS, long used as a measure of water quality, reflects the volume of dissolved substances in water. High levels can be a cause for concern, but readings don't differentiate between beneficial minerals and potentially harmful contaminants. Measuring TDS is a useful screening test, but only a water analysis tells you the whole story.
Homeowners on a municipal supply can get a water quality report from treatment authorities. Wells can be checked with a home test kit — available at most hardware stores — or by sending a sample to a lab.
Flow Rate
A filtration system's maximum flow rate reflects how much time it takes for water to travel through the system under ideal conditions. The actual flow rate depends in part on water quality and your home's water pressure. But a vigorous flow rate is a must to meet a large family's needs. The WGB32B has a top flow rate of 15 gallons per minute — above average compared to similar models. It's enough to handle a shower plus other household applications like flushing a toilet at the same time without a measurable drop in water pressure.
Micron Size
Filters remove contaminants by forcing water through pores measured in microns — millionths of a meter. The lower the rating, the smaller the particle it removes.
The WGB32B has a micron rating of five. That's ten times smaller than the diameter of a human hair. It's not low enough to remove harmful bacteria, but it's ideal for reducing sediment and the typical contaminants found in chlorine-treated city water.
Service Life
Some whole home water filtration systems use permanent filters. When they're expended, the entire unit needs to be replaced. The WGB32B uses only replaceable cartridges in a permanent housing. It processes up to 100,000 gallons between primary filter changes — an average of a year's supply for a family of four — and replacements are competitively priced. The durable exterior housing can last a lifetime with proper care.
Design and Installation
The WGB32B is a whole home filtration system that's integrated into your primary water line — indoors and close to the point of entry. It consists of a wall-mounted frame and three cartridge housings. Installed, it weights about 45 pounds, and at 21 inches tall by 28 inches wide, it's a comfortable fit for most basements and crawlspaces.
DIY installation is no sweat if you have plumbing skills, but you'll need to be confident cutting into your pipes and using a soldering iron. For a pro, it's a quick and easy job.
Help & Support
iSpring is a family-owned company with a US-based customer care team. They offer a full a one-year warranty on the WGB32B, and purchases are virtually risk free. If you don't like it within 30 days, get your money back. In business for over twenty years, iSpring's service is legendary, and they support a full line of replacement filters and parts. Representatives are available Monday through Friday over the phone or online.
Final Thoughts
Why resort to high-priced bottled water when the WGB32B 3-stage whole house water filtration system can give you crystal-clear water from every tap in your home at a fraction of the cost? Order today, and enjoy healthier, better-tasting water tomorrow.
Frequently Asked Questions
Are filter changes easy?
Absolutely! They twist on and off with the use of the filter wrench included in the kit.
How long do the filters last?
The primary carbon block filters last up to a year. The sediment filter lasts up to six months under average conditions, but it may need to be replaced more often if levels of sediment are high.
Does the WGB32B remove lead?
This version of the WGB32B does not, but you can replace one of the two carbon cartridges with an optional lead and iron removal filter.
Compare Leading Brands: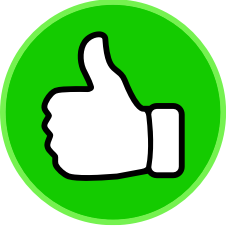 103
people found this helpful. Was this guide helpful to you?