📝 Type: Carbon + KDF + TAC|Process: 4-stage |Capactity: 1M gal. |Contaminants Removed: 10+ | Flow Rate: 12 GPM | Bluetooth: ❌ | Warranty: 10 years | Annual Cost: ~$120 | Rating: 4.5/5 | Best for: Hard water & water impurities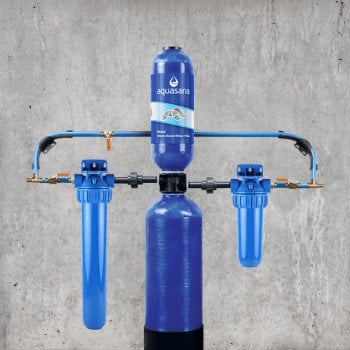 Last Updated on July 14, 2022 by Ava
Homeowners with wells or contaminated municipal supplies who need both superior filtration and softening look no further than the Aquasana Whole House Water Filter System.
It's an all-in-one filter, purifier, and descaler that's like having a private treatment plant in your home.
With up to a million-gallon capacity, it targets well water contaminants from bacteria and sediment to heavy metals and minerals for up to 10 full years.
Compare Similar Model Types
Editor's Choice

Editor's Choice

SpringWell CF1 Whole House System

✔️ BlueTooth ready
Simple to use
Annual cost ~$40

9 Gallons per Minute Rating
Lifetime Warranty

Check Prices on springwellwater.com

Coupon Code: QWL5

Runner-up

Runner-up

Aquasana EQ-1000 Whole House Filter System

7 gallons per minute flow rate
No need for a water softener
Annual cost ~$120
10-year warranty

Check Prices on aquasana.com

Best Cartridge Based

Best Cartridge Based

EVO E-1000 Whole House

80,000 gallon filtration capacity
Catalytic Carbon media
Annual cost $150 – $300
15 GPM

Check Prices on evowatersystems.com
Aquasana Whole House Water Filter System

& Salt-Free Descaler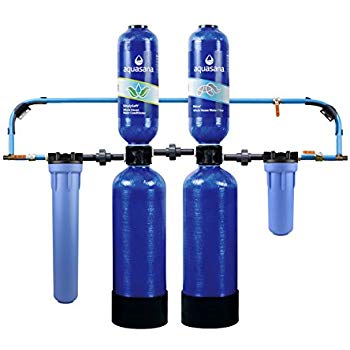 Aquasana's Whole Home Water Filter is a comprehensive solution to a wide range of water quality issues. It removes up to 97-percent of chlorine from tap water and a host of contaminants from well water including chemicals and heavy metals.
The SimplySoft descaling system controls minerals that can lead to costly limescale buildup in your pipes and appliances without salt or the continuous maintenance associated with conventional water softeners. And a UV purifier kills pathogens with light.
This Aquasana is among the few turn-key systems that well owners can use with confidence.
Quality components such as brass fittings are the rule throughout, and cartridge changes are easy and economical. Filters are made in America and backed by a ten-year warranty when professionally installed. The Simply Soft system is covered for six years.

Pros
Controls limescale without removing beneficial minerals
Salt-free descaling softening system creates no wastewater
Low total cost of ownership
Makes well water biologically safe
Anti-clog design preserves filter life
Cons
High initial cost
Tepid flow rate
Maximum warranty requires professional installation
---
FAQs
Q: Does this filtration system remove fluoride?
      A: No, it doesn't. A reverse osmosis filter is usually the best solution for fluoride.
Q: How often should the pre- and post-filters be changed?
      A: Pre-filters should be replaced every two to three months —post-filters last up to six months under average conditions.
Q: Are filter changes difficult
      A: No. Just unscrew the cartridge housing, replace the old unit and screw it back on. It's that simple.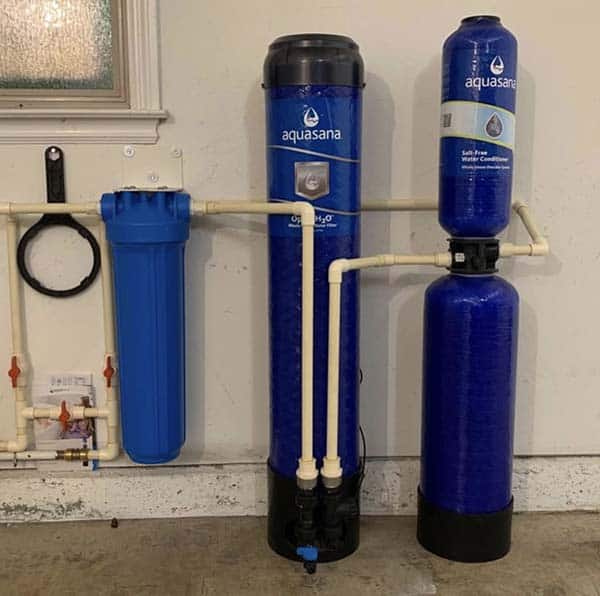 My Take on Aquasana's Whole Home Water Filter:
If you start sweating when you see the initial price of this system, remember it's a million-gallon, ten-year filter. It's an investment-level purchase, but it costs no more than buying a filter, softener and UV purifier separately.
Within a few years, the cost of ownership decreases as you recoup expenses over cheaper systems that cost more to maintain. And you'll have the advantage of owning a complete system with compatible components that were designed to work flawlessly together.
As for the system itself, it's a top-notch performer, and I'm impressed with its construction. It's rock solid. The warranty drops from ten years to one with a DIY installation. I get it — Aquasana wants it to perform as promised. And some of the tubing required isn't included in the kit, but it allows installers to choose upgraded materials without paying for things to throw away.
Not every homeowner needs the capability this system offers. But if you do, it's worth overlooking its minor flaws for the kind of peace of mind it provides.
Performance Features To Please:
Contaminants Filtered
The Aquasana Whole House Water Filter System with UV Purifier and Salt-Free Descaler
reduces or eliminates the contaminants that are the most prevalent in both municipal and well water, including:
Sediment
Chlorine
Agricultural chemicals
Industrial solvents
Lead
VOCs
Pathogens and more
No water filter can remove all contaminants, so if you have a well, test it first to be sure this filter will meet your needs.
Flow Rate
Flow rate reflects the time it takes for a filter to process water. It's measured in gallons per minutes, and it's an important consideration for large families. Each water using activity in a home subtracts from the total amount of available flow. For example, flushing a toilet and filling a pasta pot at the kitchen sink each use about 3 gallons per minute. With a maximum flow rate of seven gallons per minute, the Aquasana Whole House Filter delivers enough water to meet those needs simultaneously, but not much more. Tacking on a shower or watering the garden at the same time will result in a noticeable decrease in water pressure.
Filter Micron Size
Filters capture contaminants as they move through microscopic pores. Measured in microns — or millionths of a meter — pore size is what determines the largest size particle let thought.
Large micron filters capture fewer contaminants, but they allow brisk water flow. Small micron filters eliminate many more substances, but they're necessary slower. The Aquasana Whole House Water Filter System's lowest micron filter — the post-filter — has a micron rating of 0.35. That's exceptionally low for a cartridge-based whole home filter but necessary for some of the contaminants found in wells.
Scale Inhibition System
Limescale buildup in pipes can limit the flow of water to appliances, causing them to work harder and fail prematurely. If lines become completely clogged, the backflow to your water heater can ruin it for good.
Aquasana's SimplySoft system minimizes the threat of limescale. Not with salt like a water softener, but by keeping minerals suspending in water so they can't stick to pipes. Beneficial calcium and magnesium are retained, but you still enjoy benefits similar to soft water.
Life Span
The pre- and post-filters in this system should be changed replaced. Pre-filters last two to three months. Post-filters last up to six. The primary filtration and descaling tanks are replaced only when the system reaches its full capacity. On average, that's after ten years or a million gallons, but results will vary based on water quality. Fittings and tubing are reusable. For optimal efficiency, the UV light bulb should be replaced every twelve months.
Design and Installation
The Aquasana has a significant footprint at 9 x 46 x 69 inches, but it's still a space saver. A conventional water softener alone can require up to 20 square feet of space to install. As an inline system, the Aquasana is integrated into your main water line where it enters your home. You'll need at least 24 feet of area plus an extra few inches for pipe. At almost 90 pounds, don't lug it alone!
Installation isn't particularly complicated, but the system has many parts. To preserve the warranty, head for the beach with friends and let an expert install it for you.
Help & Support
Aquasana's customer support has struggled a bit in years past. They've always emphasized professional installation for their products, and perhaps there was a sense that there was less need for direct customer care because of that. They've since, however, stepped up their game, and their team is proving to be able and responsive. If you're planning a DIY installation, call ahead to verify details regarding technical support.
Final Thoughts
Significant water quality problems require comprehensive solutions. Before buying separate systems to manage different issues, take a closer look at what Aquasana's multi-function whole home purifier and descaler can do for you.
.
Compare Leading Brands: