Last Updated on October 1, 2022 by
Ava
📝 Model: SpringWell CF |Type: Carbon + KDF + Sediment|Process: 4-stage |Capactity: 1M gal. |Contaminants Removed: 10+ | Flow Rate: 9-20 GPM | Bluetooth: ✔️ | Warranty: Lifetime | Annual Cost: ~$40 | Rating: 5/5 | Best For: Municipal water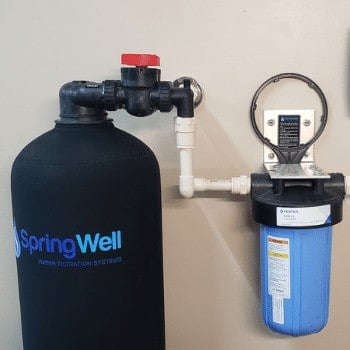 Use Coupon code
QWL5
Shopping for water filters is a challenge — we know.
But if you're ready to take the next step, this SpringWell water review will introduce you to a US company with 20 years of experience in water treatment.
Removes most harmful contaminants
No drop in water pressure
Budget-friendly price
Lifetime warranty
Use Coupon Code: QWL5 to Save!
---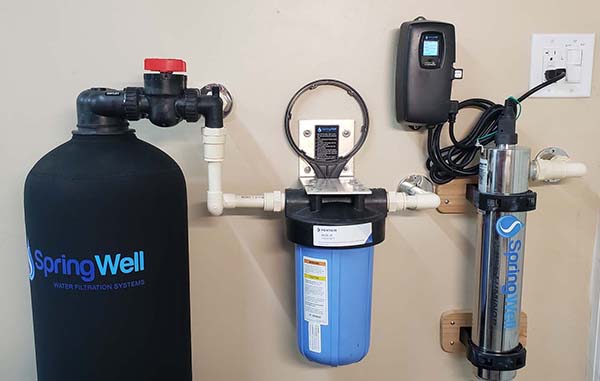 Best for: This is for anyone wanting the best whole house water filter backed by a lifetime warranty and engineered by the top dogs in the industry – you can't go wrong here.
Their top of the line filtration systems are manufactured using certified components that carry a lifetime warranty and a 6 month money back guarantee.
SpringWell

Whole House Water Filter System — Models CF1, CF4, CF+

Let's take a closer look at their million-gallon whole house water filter model — it will enhance every gallon that flows through your home.

Why chance it when a whole-home water filtration system is a simple fix?
Pros
SpringWell's whole-home filter treats up to 1,000,000 gallons of water — enough for a family of four for up to ten years.
It comes in three sizes — CF1, CF4, CF+ — for homes with one to seven or more bathrooms.
It's unique design prevents the loss of water pressure — showers are worry-free.
The 4-stage filtration system removes sediment, chlorine, pesticides, sulfur, heavy metals and dangerous forever chemicals like PFOAs.
Unlike with undersink or countertops systems, you'll enjoy the freshest water possible from every tap.
SpringWell water filtration systems are low-maintenance and come complete with high-quality coconut carbon filters and durable housings.
Replacement prefilter sets are among the most cost-effective in the industry.
Install it yourself if you're handy, or let a pro do it.
SpringWell water filter systems are performance guaranteed — if you don't like, send back within six months for a full refund. It's virtually risk-free.
Maintenance couldn't be easier – change the prefilters once or twice a year, and you're done. It's that simple.
Unlike systems costing hundreds more, this model's low initial price and low-maintenance expense are a bargain – the long-term cost of ownership is rock bottom.
Installation is straightforward and easy to install but requires cutting pipe, so basic plumbing skills are a must — but SpringWell sells an Easy Installation Kit that makes set-up in tight spaces a breeze.
The limited lifetime warranty, generous return policy, and superior installation support sealed the deal for me.
It's a stress-free pick for first-time buyers and an outstanding value.

Cons
Installation is challenging for the average do-it-yourselfer
---
Product Updates:
Springwell now offers "clack connectors" for an easy DIY installation without the use of additional pipe fittings and elbows.
Size options of up to 7+ bathrooms
My Take
SpringWell's million-gallon whole house water filtration system is a champ. Its proprietary ActivFlo filtration and upflow design maximizes contact between water and filtration media, optimizing contaminant removal. Water tastes as good as premium bottled without the outrageous cost.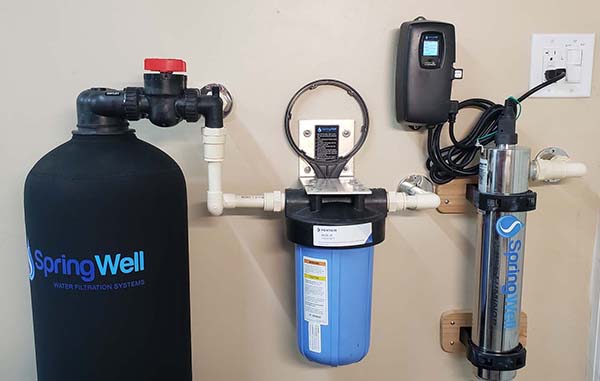 SpringWell CF Review Of
Performance Features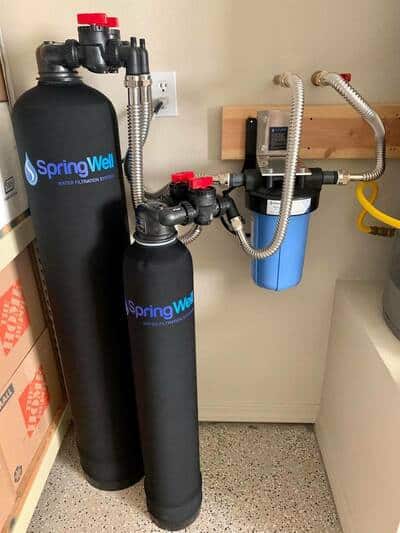 Performance features can make or break a water filtration system. Many look alike but contain vastly different filtration media, meaning they don't all remove the same substances.
As a homeowner, what worries you? Sediment? Lead? Pesticides? PFOAS?
The SpringWell Whole House Water Filter System filters these contaminants:
Dirt
Rust
Chlorine
Chloramine
PFOA
PFAS
Mercury
Lead
Pesticides
Herbicides
Industrial chemicals and more
Designed to work with chemically disinfected municipal water, this filter won't eliminate bacteria. If you have a well, add the optional UV light or consider the SpringWell Whole House Well Water Filter — Or see our top 4 well filtration systems
Capacity
The term "capacity" refers to how many gallons of water a filter can process between primary cartridge changes. SpringWell's whole-home system generates up to a million gallons of filtered water before the media is exhausted.
Sediment prefilters remove the large particles that can clog the primary filter, extending the system's life. Changing the prefilters every six to nine months preserves its total capacity.
Micron Rating
Water filters use different types of filtration methods depending on which contaminants they're targeting. Some are mechanical — forcing water through microscopic pores measured in microns — millionths of a meter.
Some react with pollutants, rendering them harmless — while others attract contaminants like a magnet, effectively trapping them.
SpringWell's 4-stage system utilizes three types of filtration:
Two prefilters that remove sediment, such as dirt and rust, down to five microns.
KDF media that reduces heavy metals, chlorine and hydrogen sulfide through a redox reaction.
Coconut shell carbon that traps organic contaminants.
Because bacteria and microorganisms are smaller than 5 microns and not affected by KDF or carbon filtration, this SpringWell model won't make water biologically safe to drink. If you have a well or worry about water safety during natural disasters — pair it with an optional UV filter for ultimate protection.
Flow Rate
Flow rate reflects how fast filters process water. Systems that produce only a few gallons per minute result in decreased water pressure at the tap. SpringWell filters are sized by the number of bathrooms in your home to ensure there's no loss of flow — even with multiple taps in use.
While competitors' flow rates average 6-7 GPM, SpringWell's models average:
CF1 — 9 GMP for 1–3 bathroom homes
CF4 — 12 GMP for 4–6 bathroom homes
CF+ — 20 GMP for 7+ bathroom homes
Design and Installation
SpringWell's whole-home filters are built with the highest-quality, independently certified materials. Kits are DIY-friendly and come complete with everything you need for standard installation. Tech support is available by phone, and there's a helpful instructional video online. If you're handy, you can do it.
Designed to be installed near your home's main water inlet, tight or irregular spaces can pose a challenge — the Easy Installation Kit eliminates the need for most standard plumbing components. For a plumber, it's a half-day job.
Help and Support
No SpringWell Water review would be complete without a reminder that their products are designed and assembled in the US and come with a limited lifetime warranty. If you need a hand choosing the right size model or replacement filters, their experienced customer care team is a phone call away.
Additional System Features
| | |
| --- | --- |
| ActivFlo filtration 4 stage system | This water filter system allows for a longer process time through each stage of filtration to remove more contaminants than any other system on the market. |
| Stage 1 | Responsible for pushing water through the KDF filter media to remove harmful contaminants and chemicals such as Chlorine commonly found in municipal tap water. |
| Stage 2 | Works by using a catalytic carbon media that further helps remove organic chemicals such as, VOC's, Chloramine, Chlorine, Pesticides, herbicides. |
| Stage 3 | Includes Springwell's proprietary design to get rid of channeling while producing more contact time. |
| Stage 4 | Springwell's 5 micron sediment filter safely prevents sand, clay, silt and other metals before entering your filter media prolonging the life of your system. |
Frequently Asked Questions
How often are filter changes required?
Until the system reaches its maximum capacity at ten years or 1,000,000 gallons, only the two sediment prefilters must be changed regularly. The interval depends on your water quality, but every 6-9 months is average.
Can this system be installed outdoors?
SpringWell water filtration systems can be installed anywhere as long as they're protected from freezing. Sub-freezing temperatures can damage the filtration media permanently.
Does this model soften water?
No. If you have hard water, consider SpringWell's Water Filter and Salt-free Water Softener system.
How long does a Springwell water filtration system last?
The Springwell CF1 will last for 10 years on average or 1 million gallons of treated water.
Is Springwell NSF certified?
Springwell itself isn't NSF certified, however, all of the media and components are NSF certified.
Is Springwell made in the US?
Springwell itself isn't NSF certified, however, all of the media and components are NSF certified.
Is Springwell made in the US?
Yes, Springwell filtration systems are proudly made in America.
---
Comparable Similar Filtration Systems
Best Whole House Filters

Editor's Choice

Editor's Choice

SpringWell Whole House System

Eliminates 99.6% of germs
6-month money back guarantee
9 Gallons per Minute Rating
Family of 5+

Check Prices on springwellwater.com

Coupon Code: QWL5

Runner-up

Runner-up

Aquasana EQ-1000 Whole House Filter System

7 gallons per minute flow rate
No need for a water softener
10-year warranty
Family of 4

Check Prices on aquasana.com

Best Cartridge Based

Best Cartridge Based

EVO E-1000 Whole House

80,000 gallon filtration capacity
Catalytic Carbon media
15 GPM
Family of 4+

Check Prices on evowatersystems.com
Final Thoughts
Water filters don't have to be complicated or expensive to be effective. SpringWell's whole house water filtration system is affordable, straightforward to install and a cinch to maintain. If what comes from your taps isn't as clean or fresh-tasting as it should be, forget the bottles — a whole-home water filter is a practical and cost-effective solution.
Use Coupon Code: QWL5 to save!
Compare Leading Brands: