Last Updated on June 9, 2023 by
Ava
📝 Type: Carbon + KDF | Process: 7-stage | Capacity: 1M gal. | Contaminants Removed: 10+ | Flow Rate: 15 GPM | Bluetooth: ❌ | Warranty: 10 years | Annual Cost: ~$120 | Rating: 4.5/5 | Best for: City water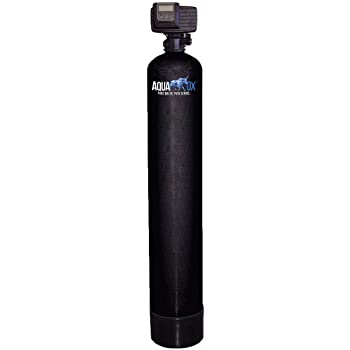 Water filters can be a nightmare, but they don't have to be. The technology is simple, it's the engineering that fails. Thousands wasted on sub-par equipment, costly replacement filters and disappointing performance are just some of the horror stories we hear.
If you need reliable filtration without the endless maintenance hassles, let us introduce you to a whole-home filter worth cheering about — the AquaOx.
Highlights
Comprehensive filtration of the most hazardous contaminants
Self-cleaning, maintenance-free system
Straightforward to install
Peerless customer service
Low lifetime cost of ownership
---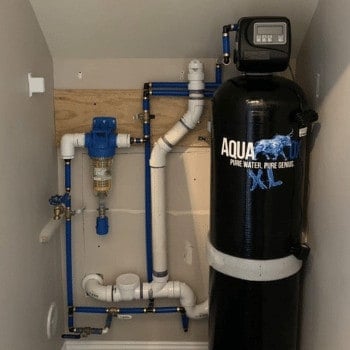 If you're still undecided on which whole house system to buy- check out our top rated list.
7/6/22 Update:
For those that want to save ALOT of money with similar features, I would suggest having a look at
SpringWell CF1 Filter System
– backed with a lifetime warranty!
AquaOx

Whole House Water Filtration System
Pros
AquaOx's whole-home filter is a premium point-of-entry system that purifies water as it enters your home.
Seven stages of filtration remove chlorine, chloramine, iron, hydrogen sulfide, toxic industrial chemicals and dangerous heavy metals, including lead.
Every gallon you drink and bathe with is as clean and crisp as nature intended.
A single-tank system, it requires minimal space to install — most homeowners can do it themselves.
It provides fresh water for a family of four for 20 years or more with no expensive filters to replace. How's that for low maintenance?
Equipped with a state-of-the-art Fleck digital head, it backwashes automatically every fourth day, revitalizing the media for maximum contaminant extraction.
With a brisk 15 gallon per minute (GPM) flow rate, you won't notice a drop in water pressure.
AquaOx backs it's products with a ten-year warranty and a 12-month money-back performance guarantee. From start to finish, the buying process is stress-free.
Cons
Higher-than-average initial price
Warranty is not transferable after three years
My Take

on AquaOx Water Filtration System

The AquaOx earns rave reviews from water-quality professionals and customers for its superb engineering. Every promise it makes, it keeps. It reduces the most worrisome contaminants, including 99.99% of lead — that's critical if you have kids in the house because no amount is safe. And it does it without the high cost or hassle of maintenance.

We did a double-take initially when we saw the price — it costs a third more than similar systems, and you won't find any half-off coupons to ease the pain. But we ran the figures, and gallon for gallon, few systems have as much purification power for less.

The high upfront price is a challenge if you're on a budget and need water filtration now, but with no pricey filters to replace, the long-term cost of owning this system is rock bottom. The benefits for your health are priceless.
Other Filtration Systems To Compare and Consider
Springwell CF 4-stage System: High flow rate, handles larger volumes of water, advanced filtration removes more contaminants than AquaOx, and for half the price.
Aquasana Rhino EQ-1000: Maximum protection from water filter; uses a similar filtration system to AquaOx and removes up to 99% of contaminants, including chlorine and other heavy metals. This filter is great for chlorinated tap water.
iSpring WGB32B: Budget-friendly option with decent filtration capabilities; removes up to 95% of sediment, chlorine, rust, and other contaminants. This system will cost you more in the long run in replacement filters.
Some considerations to keep in mind when out shopping for filtration systems, is to consider the flow-rate, filter lifespan, warranties, and what your annual cost will be when comparing different brands and models.
AquaOX

Performance Features

Performance features can make or break your experience with a water filter. Let's see if the AquaOx is for you.
Contaminants Filtered
There's no point in installing a filter that doesn't remove the problem contaminants in your water. But it's equally unnecessary to pay for filtration capability you don't need. If your water is already treated at the source for bacteria, why pay extra for a do-it-all system with bells and whistles that serve no practical purpose?
The AquaOx reduces or eliminates the most common hazardous contaminants in city and well water plus substances that can wreak havoc on your plumbing and appliances, including:
Dirt
Rust
Chlorine
Chloramines
Pesticides
Herbicides
Industrial solvents
Lead
Mercury
VOCs and more
Removal rates are among the highest in the industry and are never compromised by failing filters. You don't have to worry that your kids drank lead because you couldn't afford to change a filter on time.
Capacity
Capacity reflects how many gallons of water a filter can purify before the filtration media must be replaced. Actual results vary based on water quality. The AquaOx is a two million-plus gallon system that should last most families of four at least two decades under average conditions.
Flow Rate
Flow rate refers to the gallons per minute a filtration system can process. For large families, it's an important consideration. Filters have a reputation for reducing water pressure. Any barrier between your inlet and taps slows water down — it's the nature of filtration. But if flushing a toilet and filling the washing machine each use 3 gallons per minute, filters with meager flow rates will leave you dry. The AquOx delivers an industry-leading 15 GPM flow rate — up to twice the average among similar brands.
Micron Size
Water filters work in different ways. Some remove contaminants by filtering them through microscopic pores. Measured in millionths of a meter, or microns, the pore size reflects the largest particles they allow through. Other filters work by absorption or adsorption, a process by which contaminants cling to substances with a large surface area, like carbon.
The AquaOx's multi-filtration system includes a 90-micron sediment filter to remove large particles of dirt and rust plus adsorption media that's continually refreshed, so it doesn't have to be changed for twenty years.
Design and Installation
The AquaOx has a space-saving footprint of less than twelve inches. It's integrated into your main water line where it enters your home, typically in the basement or garage. Fully assembled, it stands 62 inches tall and must be installed vertically. Like a water softener, it requires a drain for wastewater and a power source. Choose the optional weatherproof head for outdoor installation.
AquaOx filters are among the easiest on the market to install — if you're handy, you can do it yourself with the help of their demonstration video. If you're not comfortable cutting pipe or have irregular plumbing, consider hiring a pro.
Help & Support
AquaOx is a US-based company on a mission since 2006 to help their neighbors protect themselves from dirty water with a full line of top-quality filtration products. Each is backed with an iron-clad warranty and customer support second to none.
Frequently Asked Questions
Does the AquaOx filter remove fluoride?
No. Most people consider fluoride to be beneficial. Reverse osmosis filters are the best solution for removing fluoride.
Can I use the AquaOx with a well?
Absolutely. For wells, they even include a complimentary, self-cleaning sediment filter to remove dirt and rust particles not usually found in city water.
What's the difference between the AquaOx and the AquaOx XL filter?
The XL version is made for homes with more than 4.5 bathrooms. It has a higher flow rate to ensure all baths can be used simultaneously without reducing water pressure.
Final Thoughts
Water is essential for life — shouldn't it be as pure as possible? If you've had bad experiences with filters in the past but worry about what could be lurking in your cup, you'll appreciate the care and craftsmanship that go into every AquaOx filter — buy with complete confidence.
Compare Leading Whole House Filtration Brands: