Last Updated on June 9, 2023 by
Ava
SpringWell's CF1 and the Aquasana Rhino are two of the country's best-selling whole-house water filters. Similar yet unique, both filtration systems provide fresh drinking water for an affordable price.
But only one is the just-right blend of performance and value that makes a water filter a great investment. For most families, it's the SpringWell CF1 — and here's why.
🥇The Winner
The SpringWell CF1 and Aquasana Rhino are capable, high-capacity whole-house filtration systems. Equipped with premium filtration media, independent testing verifies that both eliminate the harmful contaminants in city water as promised.
But when it comes to the convenience features that make some water filters easier to love than others, the SpringWell makes an impression. Thousands of happy customers recommend the CF1, and after careful evaluation — so do we.
Quick Comparison
WINNER!

WINNER!

SpringWell CF1 Whole House System

✔️ BlueTooth ready
4-stage system
10+ Contaminants removed
1M gal.
Annual cost ~$40
9-20 GPM
Lifetime Warranty

Click For Best Price

Coupon Code: QWL5

Runner-up

Runner-up

Aquasana EQ-1000 Whole House Filter System

11.8 GPM
3-stage system
10+ Contaminants removed
1M gal.
Annual cost ~$120
10-year warranty

Click For Best Price
Media Comparison
A wide range of factors affect how well water filtration systems perform, beginning with the media.
Aquasana Rhino
The Aquasana Rhino is a three-stage water filtration system consisting of a 5-micron sediment filter and one, dual-chamber media tank containing granulated activated carbon and KDF. Together, they eliminate a broad list of hazardous toxins.
The unique upflow design increases contact time between the media and water to maximize contaminant removal for up to 10 years or 1,000,000 gallons between filter changes.
SpringWell CF1
The Springwell CF1 is a four-stage whole-house water filter with a single, multi-stage filtration tank and a sediment postfilter. A blend of catalytic carbon and KDF, the media removes more contaminants than activated carbon alone.
Like the Aquasana, the CF1 has an upflow design engineered to reduce channeling and remove harmful contaminants for up to 10-years or a million gallons depending on your water quality and usage.
Contaminants Removed
No water filter removes all substances. The Rhino and CF1 target the most common contaminants in disinfected municipal water supplies.
Aquasana Rhino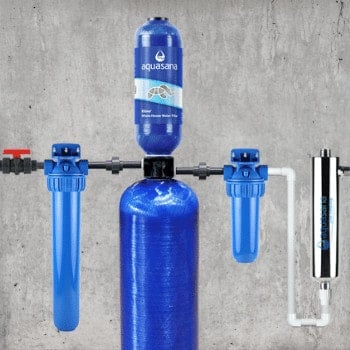 Aquasana's Rhino is among the best whole-house water filter systems for taming chemical tastes and odors. NSF-certified, independent testing shows it eliminates 97% of chlorine, plus:
Sediment
Heavy metals
Herbicides
Pesticides
Industrial solvents
Chlorine byproducts
PFOA
Parasitic cysts
Volatile organic compounds and more
SpringWell CF1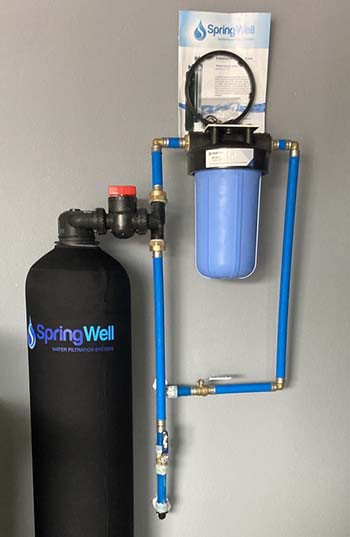 The SpringWell CF1 removes the same contaminants as efficiently as the Rhino, but only the CF1 eliminates chloramine — a secondary disinfectant many public water systems use with or instead of chlorine.
A catalytic carbon filter, it also removes a significantly higher percentage of hydrogen sulfide — the gas that makes drinking water smell like rotten eggs.
If you have hard water, the Rhino and the CF1 are both compatible with most existing water softener systems. And if you need one but don't have one, Aquasana and SpringWell each offer options to protect your plumbing, appliances and water heater from hard minerals.
SpringWell also offers salt-based and salt-free water softeners. The Rhino can be equipped with a no-salt water conditioning tank to create a comprehensive whole-house water filter system.
It's important to note that neither the CF1 nor the Rhino can make water potable without an optional UV filter to kill bacteria.
Flow Rate
Flow rate is the maximum number of gallons a water filter can process per minute. If you don't want to lose water pressure in the shower when the kids flush the toilet, the higher the flow rate the better.
Aquasana Rhino
The Rhino's flow rate was once the lowest in its class, but they've upped their game with an improved divider valve. A one-size-fits-all filter, it now has a generous flow rate of up to 11.8 gpm with no noticeable loss in water pressure.
SpringWell CF1
SpringWell water filtration systems come in three sizes, each with a different flow rate based on the number of bathrooms in your house.
The Cf1 serves 1–3-bathroom homes with a 9 gpm flow rate. Homes with four or more baths should upgrade to the CF4 or CF + for higher flow rates of up to 20 gpm.
How high a flow rate is high enough? If you rarely do more than one water-using activity in your home at a time, as little as 5 gpm is adequate. But it won't meet the house-wide water demands of a large family — the higher your concurrent water usage is, the more you'll benefit from a higher flow rate.
When comparing filters, however, bear in mind that factors from incoming water pressure and water quality to the size of your pipes and how well you maintain a water filter system will affect flow rate.
Water Quality
The ultimate test of a whole-house filtration system is how the filtered water tastes. Here's what we know.
Aquasana Rhino
Water filtered through the Aquasana couldn't be better. In our testing, it made heavily chlorinated city water smell and taste as fresh as bottled. Consumers across the board report the same experience.
SpringWell CF1
The SpringWell CF1 earns rave reviews for water quality. More effective than an ordinary carbon filter, it eliminates chemical tastes and odors regardless of whether your water supply is treated with chlorine or chloramine.
If you're frustrated with poor water quality, the Aquasana and SpringWell both deliver stunning results. But the SpringWell's versatility gives it an edge in this category.
Annual Operating Cost
The Rhino and CF1 are among the most cost-effective filtration systems on the market — but let's compare long-term ownership costs.
Aquasana Rhino
The Aquasana is a low-maintenance filtration system. Just change the sediment pre-filter every two months and the filtration tank every 10 years — it won't nickel and dime your budget.
But while the prefilters are inexpensive — a modest $10 each — replacing the primary filtration tank will set you back almost as much as the entire unit's upfront price. Compared to lesser whole-house water filters, it's still a good value. But for long-term cost of ownership, you'll save big with the CF1.
SpringWell CF1
SpringWell's 10-inch sediment pre-filter is twice the price of the Aquasana's, but it lasts two to three times longer, saving you an average of 30% per year.
The primary filtration media should be changed every 10 years or 1,000,000 gallons, but the cost is minimal because the tank is reusable. Long-term, it's the most affordable whole-house water filtration system that money can buy.
Ease of Use
How easy are the Rhino and CF1 to install, operate and maintain? Surprisingly simple.
Aquasana Rhino
Aquasana recommends professional installation, but the warranty isn't' contingent on it. With basic plumbing know-how and the optional Pro Grade Install Kit, most homeowners can do alone in a day.
Unlike backwashing filters, the Rhino is effortless to use. It needs no electricity, produces no wastewater and doesn't require a drain.
Maintenance is the easiest in the industry. Both the pre-filter housing and the filtration tank screw on and off. It couldn't be easier.
SpringWell CF1
DIY installation is straightforward with basic plumbing know-how and SpringWell's Easy Installation Kit. Sold separately, it eliminates the need for elbows, glue and the usual plumbing components.
Routine maintenance takes seconds but changing the filtration media in the primary tank is a dirty, two-person job. Still, it's only a once-every-10-years project, and the savings versus the Aquasana are considerable.
Technology
With no electronics, neither the Rhino nor the CF1 are technologically advanced in the traditional sense. In a world of "smart'" devices, simplicity is what makes them customer favorites.
Both companies have put extensive research into their products, and it shows. But the magic is in the media — no high-tech bells or whistles required.
Warranty
A good warranty protects you against a defective product. Aquasana and SpringWell have two of the industry's best.
Aquasana Rhino
Aquasana backs the Rhino with a 10-year warranty and a 90-day satisfaction guarantee. If you don't like it, send it back with no questions asked. But unless the unit is defective, the cost of return shipping is the buyer's responsibility.
SpringWell CF1
SpringWell filters are risk-free with a lifetime warranty and a 6-month money-back guarantee. The cost of return shipping is at SpringWell's discretion.
Customer Service
Navigating the world of water filters is tough without expert advice. So, which company provides the best customer care before, during and after the sale?
Aquasana
Aquasana had a rough patch a few years ago with a deluge of customer complaints about a lack of telephone support and vague warranty policies. But like any good company with a positive industry presence, they retooled their approach, and it's working.
Customer satisfaction is steadily improving, but overall, their sales philosophy still remains geared to the do-it-yourselfer. If this the first time you've shopped for a water filter, or you're not sure what you need, call SpringWell.
SpringWell
SpringWell is closer to a full-service company but without the high prices. They'll guide you through the buying process from having your water tested through installation. Customer service reviews are stellar.
Online Reviews and Complaints
What are people saying about the Aquasana Rhino and the SpringWell CF1?
Aquasana Rhino
The Rhino has excellent reviews overall. Like us, most customers notice how much better their water tastes.
The rare complaints concern the installation instructions — inexperienced installers say they're vague. Occasional shipping issues were also noted, but for most customers, a quick phone call was all it took to resolve problems.
SpringWell CF1
The SpringWell CF1 is a five star-rated filter. Don't bother looking for gripes about its performance or quality because there aren't any.
A few buyers complained that the installation process wasn't as easy as advertised — we recommend reviewing the manual before deciding on a DIY or professional installation. Other purchasers mentioned the choice of local installers is limited, but SpringWell is adding to its partners list every day.
Pros and Cons Of Each System
The SpringWell CF1 is a whole-house water filtration system guaranteed to improve your drinking water quality. It's not perfect, but it's darned close.

Pros
Minimal maintenance
Dirt cheap to operate
Water as clear and fresh as nature intended
Cons
Challenging DIY installation process
Easy Installation Kit sold separately
Could use a filter change reminder system
---
Aquasana Rhino
The Aquasana Rhino is a durable, well-engineered whole-house filter system with more advantages than disadvantages.

Pros
High capacity
Quality filtration process
Hassle-free maintenance
Cons
Doesn't remove chloramines
Shorter warranty
Limited customer care
---
The Verdict — Which Is the Best Whole-House Water Filter?
The SpringWell CF1 and Aquasana Rhino are both applause-worthy filtration systems, but only one deserves a standing ovation. You won't be disappointed in the CF1.
If you can't still decide on either system – have a look at our best whole water filters of 2022
Compare Leading Brands: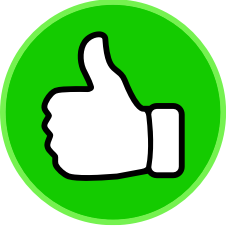 94
people found this helpful. Was this guide helpful to you?