Compare The

Best Water Filters

For The Money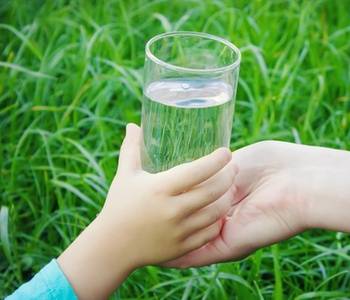 Clean water is on everyone's mind lately. Contaminated municipal supplies and wells spoiled by industrial chemicals are in the news.
Having an extra layer of protection for the water you drink is always a good idea, but with a dizzying range of filtration products on the market today, how do you know which one is the best water filter for you?
From inexpensive options like water filter pitchers to the best whole house water filter for a well, we've looked at the specs and narrowed down the choice to seven top contenders for you. Let's have a closer look.
What Type of Water Filter are You Looking For?
Whole House
Reverse Osmosis
Under sink
Countertop
Faucet Filter
Softener
Pitcher
The

Best Water Filter System

: Our Top 7 From Each Category
#1.

Aquagear 8-Cup Water Filter Pitcher

– Best for Family of Three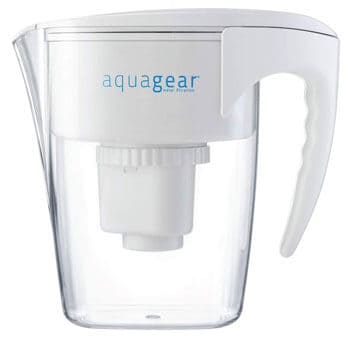 Aquagear's pitcher represents the best in portable filtration technology. Some pitchers have little more than simple carbon filters that remove unpleasant tastes, but this unit meets NSF quality standards and reliably removes three times more contaminants than other leading brands including fluoride, lead, mercury, chromium 6, chlorine and chloramines. Its five-stage replaceable cartridge catches contaminants down to 2 microns, but leaves in healthy trace minerals like magnesium and calcium.
Pitchers are BPA-free, backed for a lifetime, and Aquagear even helps you recycle spent filters.
.
Pros
Cons

Five-stage filtration system removes fluoride and lead
Improves the taste of water
Backed by Aquagear for a lifetime

Smaller than average 8-cup capacity
More expensive than it's competitors
FAQs
Q: How many gallons of water does each filter process?
      A: 150 gallons
Q: Will this pitcher make water biologically safe to drink?
      A: No, it's designed for use with water that has been treated for pathogens like bacteria.
Q: Does this pitcher alkalize water?
      A: It's not designed to, but you may experience a small drop in pH when acidic contaminants are removed.
Our Take
Water filtration pitchers have come a long way since they were first introduced. Early filters were designed more to make water taste better — this filter also makes it safer to drink. It's twice the cost of its nearest competitor, and I'm not thrilled that's it's smaller by two cups, but if you want the highest level of filtration for safety, this is the best water filter pitcher money can buy for a household of three.
#2.

Big Berkey Water Filter 2.5 Gallon System

– Best Countertop Filter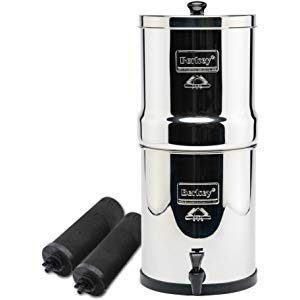 Big Berkey is an established name in filtration technology, and they produce the industry's best countertop water filter. It removes harmful chemicals including pesticides, herbicides and organic solvents while reducing heavy metals including lead. Like the Aquagear pitcher, it doesn't remove beneficial minerals, but unlike others in its class, it makes up to seven gallons of water per hour biologically-safe to drink. Its countertop footprint is just 8.5-inches, and the stainless steel exterior is attractive and durable. For travel, it's upper chamber nests in the lower making it only 13 inches high. It's perfect for RVs.
.
Pros
Cons

Makes water biologically-safe
2.5-gallon, expandable filtration capability
Attractive stainless steel exterior
Small size is perfect for storage or travel
Lifetime warranty

Uses valuable countertop space
Actual fluoride reduction may be significantly less that maximum claims
FAQs
Q: How much fluoride does the Big Berkey remove?
      A: Up to 95-percent
Q: How much does it weigh — empty and full?
      A: It weighs 7 lbs empty and 26 lbs full.
Q: Does this filter use electricity?
      A: No, it uses only gravity.
Our Take
No water filter removes all contaminants, especially pint-size countertop versions, but the Big Berkey comes close. It's not the best at reducing fluoride, but it's so good at removing everything else that meets the definition of a water purifier — something you might otherwise spend thousand for. Hands-down, if you want a filter that makes any water safe to drink in emergencies or on the road, the Big Berkey is the best countertop water filter.
#3.

Home Master Artesian Reverse Osmosis

– Best Under-Sink Filter
Reverse osmosis (RO) systems are the kings of water filtration, but they're complicated and costly. This under-sink model by Home Master solves those problems and more at an almost too-good-to-be-true price. Seven-stage filtration technology removes 98-percent of chemicals including chloramines, and filter changes are a breeze compared to typical RO models. It's easy to install and requires no electricity to operate. A built-in non-electric permeate pump reduces waste water by 80-percent, and the flow rate is remarkably noticeably brisk. Change the filters just once a year and enjoy fresh tasting water for a fraction of the cost of bottled.
.
Pros
Cons

Low total cost of ownership
Exceptionally energy efficient
Reliably improves the taste of water
Five-year warranty and an excellent customer service team

Requires use of a second faucet
Faucet aesthetics could be improved
FAQs
Q: Does this filter remove beneficial minerals?
      A: The actual filtration removes them, but Home Master's remineralization technology puts them back to make your water both healthy and slightly alkaline.
Q: Does it remove fluoride?
      A: Up to 93.9-percent
Q: Can I use this for well water?
      A: Yes, but the well should be biologically safe. An additional sediment filter is recommended to prevent premature clogging if levels are high.
Our Take
This system has one of the lowest total cost of ownership in its class, and it's virtually effortless to use. If your water tastes bad, the catalytic carbon in the filters excels at removing the taste of chlorine. That, plus its comprehensive filtering capability makes this my best under-sink filter. If Home Master cares to make it perfect, it only needs to improve the look the faucet to match better home fixtures.
#4.

Culligan FM-25 Faucet Mount Filter

– Best Faucet Filter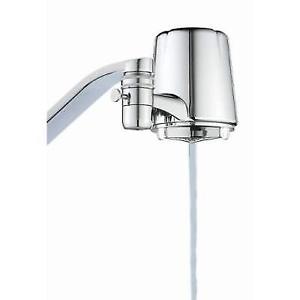 Faucet-mounted filters have a low capacity, but they're ideal alternatives to more expensive systems. This FM-25 by Culligan reduces lead, chlorine and other types of particles that make water taste bad or look cloudy.
Hook it up to your faucet in seconds. Its low-profile design is smaller than most, and it's aesthetically attractive. Each filter processes up to 200 gallons, or two months worth of water. Kits include adapters for all standard faucets.
.
Pros
Cons

Low initial cost
Quick, tool-free installation
Meets or exceed NSF 42 and 53 standards
Vigorous flow rate
Auto shut-off feature extends filter life

Low capacity
Can't be used with a pull-down faucet
FAQs
Q: Does the FM-25 remove fluoride?
     A: It does not.
Q: Can it filter hot water?
     A: No, it's designed for cold water use only. Hot water will damage the filter and reduce it's life span.
Q: Can this be used with well water?
     A: It can, but it will not make it biologically safe. High sediment levels may compromise it's performance.
Our Take
This filter capably reduces many of the same hazardous contaminants as costlier systems including lead and chlorine. The initial cost is low, the components are well-made, and the automatic shut-off feature extends the life of the cartridge. An under-sink system could be more cost-effective in the long run for a large family, but when every dollar counts, this is the best faucet filter for the money.
#5. SpringWell Whole House Filter System –

Best Overall Value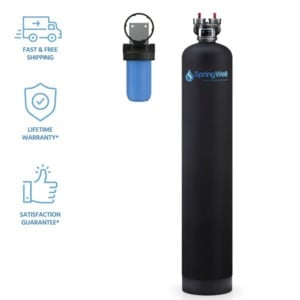 We gave Springwell best overall value due to their quality standards and use of certified materials and the very effective method of 4-stage water filtration processes it filters.
This system filters up to 1,000,000 gallons of water without any loss in water pressure and safely removes harmful contaminants such as PFOA, PFAS, PFOS, among other chemicals that we don't need in our water.
Above all, Springhill is made in America and backs their quality products with a industry leading 6 month money back guarantee.
.
Pros
Cons

Eliminates 99.6% of germs contained in water
Lifetime warranty
High quality filtration system
Backed by a 6-month money back guarantee
Industry leading Gallons per Minute rating (GPM)

Nothing really worth complaining about.
My Take
The SpringHill system is an investment-level purchase at a great price overall. Low maintenance means a rock-bottom total cost of ownership, and while I wish installation was more DIY-friendly, the peace of mind that comes from knowing the job was done correctly by a professional — plus the lifetime warranty coverage — make it well worth the effort. Overall Springhill is my
top pick for the best home water filtration system
.
.
#6.

Home Master HMF3SDGFEC

– Great for Well Water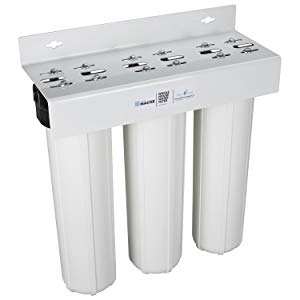 Faucet and under-sink filters remove contaminants at one outlet. This Home Master system treats every drop of water that flows from your well to your home. Three in-line filters remove sediment and chemicals down to one micron while the extra large filter housings ensure brisk water flow. Unlike some systems, this filter removes the minerals that can stain your dishes, clothing and bathroom fixtures and damage pipes and appliances like your water heater. Designed for homeowner installation, it comes assembled with everything you need in the box, and it's backed by a two-year limited warranty.
.
Pros
Cons

Won't noticeably reduce water flow
Doesn't remove most beneficial minerals
Helps prevent staining and costly appliance damage

Can't be used with municipal water
Replacement filters are more expensive than other brands
FAQs
Q: Does this filter remove harmful microorganisms?
      A: With a one micron filter rating, it can remove large bacteria and cysts, but it can't make water biologically safe.
Q: Are filter changes easy?
      A: Absolutely. Easy-to-follow instructions and a filter wrench are included.
Q: How many gallons does this filter between cartridge changes?
      A: The primary coconut carbon filter processes 95,000 gallons. That's about a year's worth for a family of four. Sediment and iron filters may need to be changed more often depending on the levels in your well.
Our Take
Compared to similar filters, this one's a little pricey, but you get what you pay for. The cost of too much iron in your water adds up over time, and if staining is a problem in your home, this is my pick for the
best whole house water filter for a well water
. Installation requires a little more plumbing know-how than the sales pitch suggests, but if you can handle the basics, you'll be fine.
#7.

Home Master TMULTRA-ERP Ultra

– Best Undersink Filter for Well Water
If Home Master's Reverse Osmosis system sounds great, but you need a filter that can tackle biological contaminants, you've found it. This version of Home Master's RO system still removes sediment, chemicals and heavy metals, but it also features an integrated UV filter to neutralize 99.9-percent of harmful microorganisms instantly. Unlike similar systems, this model has an iron pre-filter that protects the RO membranes so it can be used with both well and city water. Long-lasting filters are easy to change — just once a year or every 3000 gallons. Kits are all-inclusive and tailored for DIY installation.
.
Pros
Cons

Removes most biological contaminants
Easy DIY installation
Five-year warranty
Strong water flow

Removes beneficial minerals
No off switch or battery back-up on the UV light
FAQs
Q: Why does this system not remineralize water like Home Master's other models?
      A: To make this version well-friendly, the Full Contact Remineralization System was replaced with an iron pre-filter.
Q: How often do the filters, RO membrane and UV bulb need to be replaced?
      A: The filters and bulb should be changed annually or as needed. The life span of the RO membrane averages three to five years.
Q: Does this filter remove fluoride?
      A: Up to 93.9-percent
Our Take
The effectiveness of any UV system in eliminating pathogens depends on your water quality, so no filter is a substitute for regular well testing and disinfection, but the Home Master TMULTRA-ERP Ultra protects against potential contamination between tests, and that alone makes it the best under-sink filter for well water. Beware, however — there is no battery back up on the UV light, so if you're worried about microorganisms, use bottled water during a power outage.
#8.

Fleck 5600SXT 48,000 Grain Water Softener

– Best Softener for Hard Water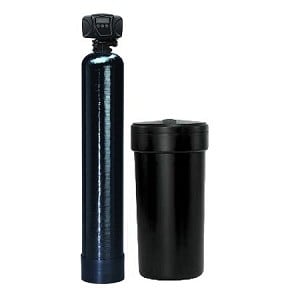 Water filters remove contaminants; softeners reduce hardness and scale. That's an essential distinction because to stop the buildup of calcium and magnesium in your pipes; a water softener is a better choice. Fleck's whole house softener uses long-life resin and salt to trade hard water ions for soft, but it's metered, meaning it monitors your use and regenerates only as needed — reducing waste water and salt use. Made with quality components, the Fleck treats enough hard water for a household of six and is backed by a 5-year warranty on most parts — ten years on the tanks.
.
Pros
Cons

Treats moderate to very hard water
Extends the life of plumbing and appliances
Metered system reduces waste
Industry-leading warranty coverage

Salt-based systems may not be allowed in some ecologically-sensitive areas
Plumbing skills required for installation
FAQs
Q: Does this softener affect water pressure?
      A: Most users report no difference at all.
Q: Is this for well or city water?
      A: It works on hard water from any source.
Q: How often does salt need to be added to the system?
      A: With average use, every two to three months.
Our Take
Considering its features, this Fleck is a bargain, making it my pick for best softener for hard water. It's simple to operate, easy and inexpensive to maintain, and it's backed by a comprehensive warranty, but fair warning — despite claims that it's easy to install, it takes at least a few hours and basic plumbing skills. The good news is that even with professional installation, it's still a great value.
Buyer's Guide to

Water Filters
There's an ideal filtration system for everyone. The trick to choosing the best water filter is to clearly identify your needs — something that can be easier said than done. Let's take a look at six factors that should help you make a buying decision.
Contaminant Filtration Capability
If you drink municipal water, it's been disinfected and should be biologically safe, but it could contain:
Chemical and pharmaceutical residue
Dangerous lead from aging pipes
High levels of minerals
Fluoride
Sediment
Disinfectants like chlorine and chloramines
Well water typically has no disinfectants or added fluoride, but it could be harboring:
Naturally-occurring heavy metals
Minerals
Radioactive contamination
Agricultural and industrial chemicals
Heavy sediment and silt
Potentially harmful microorganisms
The idea is to identify your risk level for major contaminants and choose a filter based on your unique needs. If you have a well, learn what's in it with a water test kit. DIY kits are available over the counter or samples can be sent to an independent lab. For a breakdown of what's in city water, contact your local water treatment authority.
System Type and Size
Once you know which contaminants you need to filter, the next step is to consider the size and type of system you need. For filtered water from every tap, you need a whole home system like the Home Master HMF3SDGFEC, or the Fleck 5600SXT 48,000 Grain Water Softener if minerals are the only issue.
To treat drinking and cooking water from a single tap — filtration pitchers, faucet-mounted and countertop filters and under-sink systems are affordable alternatives — but you'll need to consider capacity. The Aquagear 8-Cup Water Filter Pitcher, our best water filter pitcher, is perfect for a small family to drink from, but it won't make water fast enough for cooking or a large group.
Faucet-mounted filters like the Culligan FM-25 produce plenty of water for both drinking and cooking, but they have small capacities and must be replaced often.
Countertop systems take space, but they have a larger capacity than pitchers and faucet-mount filters, and some, like the Big Berkey, reduce a significant number of potential contaminants.
For large families or heavy cooking needs, under-sink filters treat the largest quantity of water short of whole-home systems, and filters need to be changed less often.
Water Capacity
A filter's water capacity is the number of gallons it can process between changes in filter cartridges. Pitcher cartridges and faucet-mounted filters rarely last more than a few months. Countertop and under-sink filters have a higher capacity, but some have contaminant-specific pre-filters for sediment or iron that have less longevity. In general, fewer changes means less maintenance, and in most cases, a lower total cost of ownership under normal conditions, but it's best to look at capacity as just one part of the bigger picture.
Flow Rate
The flow rate is the amount of time it takes for water to travel through a filtration system to the tap. It's measured in gallons per minutes, and it tells you if a filter can produce water fast enough to meet your needs. For a whole home system, flushing a toilet and taking a shower take about 5 gallons per minute combined, so to do both at the same time, you'll need a flow rate at least that high.
Systems that filter water at a single tap don't need a particularly high flow rate, yet waiting minutes to fill a drinking glass or coffee carafe can seem like an eternity. In general, a higher flow rate is better, but only when it also removes target contaminants.
Filters
The term "filter" is used interchangeably to describe both an entire filtration system including the outer housing and the individual, replaceable cartridges that do the actual work. In most cases, it's the quality and longevity of the cartridges that matter most in terms of performance and cost, so that's what we'll look at here.
What makes it difficult to assess the quality of filters is that performance ratings are based on so-called normal or average water. For example, if your well produces twice the sediment of your neighbor's, expect your filters to clog faster. If your water has extraordinarily high levels of chlorine, an average filter will struggle. Specifications tell only one side of the story.
The number of cartridges can also have a bearing on the types of contaminants removed. Multi-layer filters are designed to remove particles in order of size and type to extend the life of subsequent filters in the system. For example, a filter with tiny pores that capture bacteria will clog prematurely if large particles of dirt and rust bombard it. Systems with sediment pre-filters capture those particles and extend the life of the other cartridges.
Costs
The total cost of ownership for a water filter comes both from its initial price and the cost of maintenance. On our list, the Culligan FM-25 and the Aquagear pitcher are the least expensive. Both have a similar capacity – 150 and 200 gallons respectively — but the pitcher is nearly twice the cost. If you have a pull-down faucet, however, and can't use a faucet-mounted filter, the pitcher is a good choice.
Whole home and under-sink filters cost more to buy, but if your filtration needs are high, they could be the better deal in the long run. Two hundred gallons of water from the Culligan FM-25 fills about 1600 single-serve water bottles. The Big Berkey countertop filter fills 24,000 before it's primary filter has to be replaced. For the price, the Big Berkey fill 15 times more bottles at only ten times the cost of the Culligan. When considering cost, look carefully at capacity, the price of replacement filters and how often they need to be changed.
Final Thoughts
Clean water is a must for good health, but if what's coming from your tap isn't as pure as it could be, the good news is that a simple filter can reduce potentially harmful contaminants and make it more appetizing to drink. It's a sensible and cost-effective precaution.