Sand belongs on a beach, not in your well water. Yet for well owners, keeping it out of their cups is an uphill battle.
But getting rid of the grit is easier than it sounds if you have the right equipment and know-how. We'll show you how to remove sand from your well water once and for all.
Key Takeaways:
Install a Spin Down Filter before the Pressure Tank to remove sediment from the water supply.
Use a Centrifugal Sand Separator between the Spin Down Filter and Pressure Tank to further filter out sand particles.
Consider adding a sediment filter cartridge before the Spin Down Filter to help trap fine sediment before it enters the Spin Down Filter.
Have your well checked annually to ensure that sand and other contaminants are not entering the water system.
Check all pipes and fittings connected to the well for any signs of wear or deterioration that may cause sand to enter the water supply.
What Is Sand?
I think we all know what sand is, but if you need a quick overview — by definition, sand is a blend of granular rock and other materials from 0.06 mm to 2mm in size. Finer than gravel but larger than silt, it's part of a larger group of contaminants called sediment. The size distinction is important because it affects your choice of filtration systems.
Is Sand in Well Water Dangerous?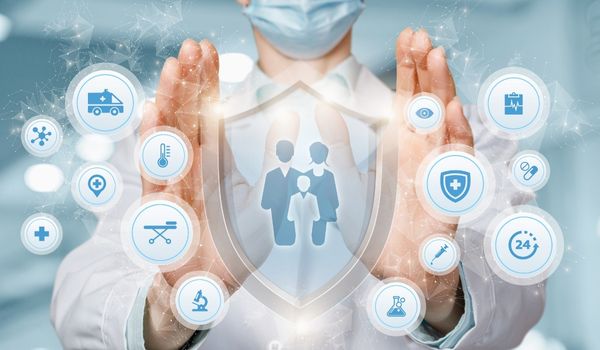 Sand in well water is not dangerous. But before you drink up, consider this. While most wells contain sand, a sudden increase could indicate a problem with your well pump. And if it's bringing up sand, what else could be tagging along?
Sediment is generally harmless, but it's been known to harbor microbes that could make you sick. Bacteria hiding in silt can even evade UV filters.
Sand is also abrasive to pipes. Over time, it causes wear and tear on your well pump, appliances and plumbing system, causing pinhole leaks that may further invite contamination. Drinking sand isn't worth the risk.
How Does Sand Get into Well Water?
Wells pull water from underground, so it's not unusual for the pump to bring up bits of dirt. And the drilling process churns up sand, so if your well is new, you may see sediment for weeks.
But an established well should exclude or remove most sediment. If it doesn't, you may have one of these common problems:
A Cracked Well Casing
A well casing is a cylindrical liner that forms a well's walls. It protects the pump, keeps out contaminants and prevents the hole from collapsing.
Made of plastic, steel or concrete, they can last indefinitely. But one crack is all it takes for sediment to seep through.
A Broken Well Screen
Wells are protected by well screens that filter out large particles of sand and sediment. Made of metal or PVC, they're efficient and durable, but they don't last forever. Fine sand will flow readily through cracks or holes.
An Oversized Well Pump
Well pumps are carefully chosen to extract water at a pace the aquifer and your plumbing system can handle. Too much horsepower may draw sand in along with water.
Poor Well Development
New wells undergo a "development" process in which the soil at the bottom of the well is cleared away. The procedure removes sediment introduced during the drilling process and optimizes water flow to the well by stabilizing the connection to the surrounding aquifer.
Despite their best efforts, well drillers occasionally miss the mark. But redeveloping a well is relatively hassle-free.
Read more on: proper well depth for drinking water
Low Pump Placement
Submersible pumps should sit 10-20 from the bottom of a well shaft. Placed higher, they'll struggle to draw water — placed lower, and they may pump sand and water.
What Should You Do if There's Sand in Your Well?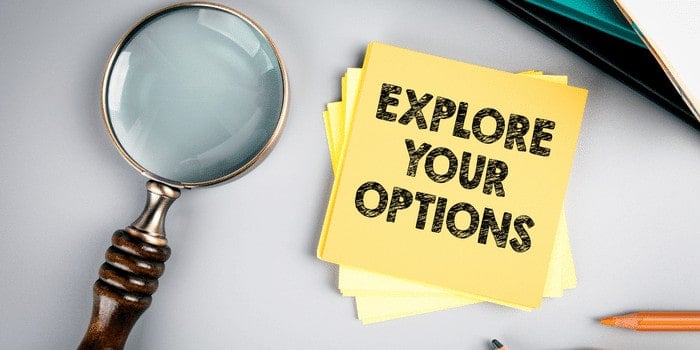 Whether sand in your well water is a new or persistent issue, it pays to consult with a professional well driller before purchasing filtration equipment. Equipped with state-of-the-art gear, they can diagnose issues from improper well pump placement to faulty filter screens.
How to Remove Sand from Well Water
If your well is stable and the pumping process is smooth, the next option for removing sand from your drinking water is a filter. One of these two filtration methods should do the trick.
Spin Down Filter
Spin-down filter screens catch sand as water flows through them. Encased in a housing, they're available in different mesh sizes depending on the debris you want to remove.
Mesh size reflects the number of holes per square inch — 30 to 60 will filter sand and other large particles without affecting your water pressure. You may need a finer mesh to remove silt.
The mesh material is also a factor. Made in polyester and stainless steel, polyester screens are less expensive, but steel stands up better to sharp particles.
Screen filters are installed after the pressure tank to avoid back pressure on the well pump. Tanks also generate the force necessary to flush the filter through a valve at the bottom of the housing.
Centrifugal Sand Separator
Centrifugal sand separators remove sediment using centrifugal force. Installed in the well or on your main water line before the pressure tank, units create a circular flow that forces sand against the separator wall and down into a holding chamber where a spin trap plate keeps it confined until it's manually or automatically purged.
Convenient and easy to maintain, systems with automatic flush valves do the hard work for you.
Spin Down Filters Versus Centrifugal Separators — The Pros and Cons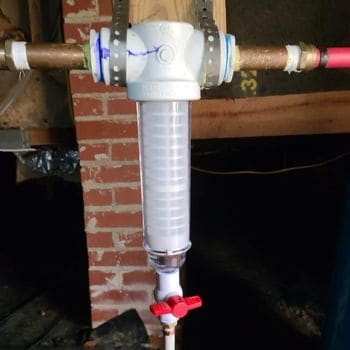 Spin down screens and sand separators are both good choices for removing sand. But each has advantages and disadvantages.
Spin down screens are a fraction of the price of sand separators. Simple devices, they're also easier for homeowners to install, saving you on plumber's fees.
They're smaller, however, and require more frequent cleaning. But unlike a paper filter, you won't go broke on maintenance. Screens are reusable and cost-effective.
Popular with commercial property owners, centrifugal sand separators are a better choice for homes with high water usage or large volumes of sediment in their well water supply. Installed before the pressure tank, they protect your water lines and keep the tank from filling with mud.
Separator housings are also larger, so the sand trap holds more accumulated sediment for less overall maintenance. Installing a centrifugal sand separator can be challenging, however, so seek advice from a professional well contractor.
Removing Sand from Well Water — FAQs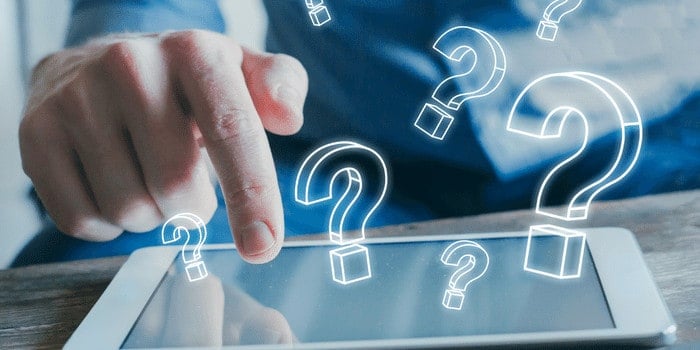 Do string or paper sediment filters remove sand?
Most water filtration systems come with sediment filters that remove sand, silt and rust. Made of pleated paper or wound string, they're designed to eliminate fine particles from city water systems that can clog carbon filters and reverse osmosis membranes.
The sand from wells will quickly overwhelm these cartridges unless it's first removed with a filter screen or sand separator.
Should you test your well water for sediment?
Sand in water is fairly obvious, but it never hurts to know exactly what you're dealing with. Tap Score offers sediment analysis to help private well owners differentiate between sand, silt, rust, hard water minerals and other debris.
According to experts, most wells have numerous contaminants that can benefit from filtration. Doing a general water test and sediment analysis helps guide your choice of filtration equipment.
Are water softeners compatible with sand filters?
Absolutely! In fact, they're recommended. Sand can foul a resin bed in the same way it clogs a filter, so it's an extra measure of protection. Just keep the filter clean to maintain enough incoming water pressure for regeneration.
How often should sand filters be cleaned?
Maintenance intervals depend on your water usage and the amount of debris in your well. The more gallons pumped through a filter, the more often it has to be cleaned.
Pros suggest purging centrifugal separators every six months and sand screens every three to four months for optimal performance.
What do sand filters cost?
You can buy a centrifugal sand separator for $300, but better models with convenience features like automatic purging average $500 and up. Spin down filters are budget-savers at $60-$100. With proper maintenance, both should provide years of flawless service.
Is filtering sand worth it?
Sand not only makes drinking water unpalatable, but it damages well pumps, reduces water pressure, corrodes pipes and clogs faucets, aerators and sprinklers. Compared to the price of buying bottled water or replacing your plumbing, few filters offer as much of a return on your investment. It's a bargain.