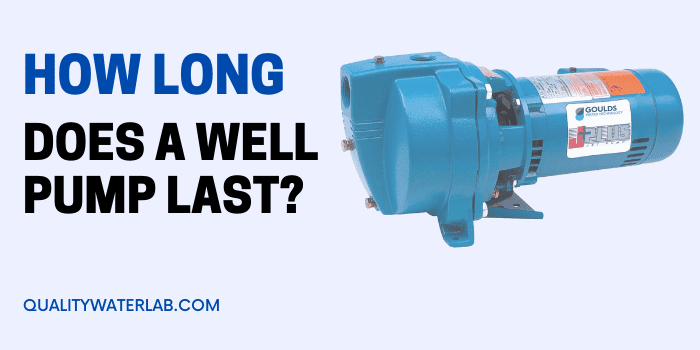 One of the joys of private wells is a steady supply of clean water without a quarterly bill. But the downside is that well pumps don't last forever, and when they break, replacing them isn't cheap.
How long does a well pump last? What influences their longevity, and what can I do to make my well pump last longer? Stick around. We'll answer these questions and more.
Key Takeaways:
A well pump typically lasts between 8 to 15 years, depending on the type of pump and how it is maintained.
Regular maintenance can help extend the life of a well pump by up to 20%.
The most common cause of failure in a well pump is lack of proper maintenance or overuse.
Well pumps should be inspected annually for signs of wear and tear, such as corrosion or rusting.
If you notice any changes in water pressure or flow rate, this could indicate that your well pump needs servicing.
It's important to use only high quality parts when replacing components on your well pump system. Low quality parts may not last as long and could lead to premature failure.
Make sure you have an experienced professional inspect your system regularly so they can identify potential problems before they become serious issues.
What Is a Well Pump?
A well is just a hole equipped with an automated pump system. Like any other water pump, a water well pump converts electrical energy into the hydraulic energy needed to pull water from the ground.
Key Considerations
Quality: Ensure your well pump is made from durable materials and tested for reliability and performance.
Type: Consider the advantages and disadvantages of submersible, jet, centrifugal, or shallow-well pumps to choose the right one for your needs.
Size/Capacity: Select a pump that meets your water demands efficiently without overworking itself or burning out prematurely due to excessive use.
Installation Costs: Factor in local regulations or codes when budgeting for installation costs so you don't end up with unexpected expenses down the line!
Maintenance: Regular maintenance is essential; understand what type of maintenance is required and how often it needs to be done to keep your pump running smoothly.
Types of Well Pumps
There are three types of well pumps:
1. Submersible Pumps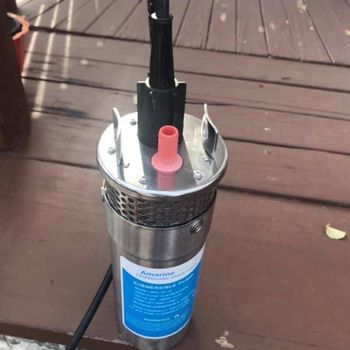 Submersible pumps sit below the water line and draw water into a pressure tank where it sits until you open a tap.
The most common type of pump for deep wells, a submersible well pump pushes water to the surface.
---
2. Jet Pumps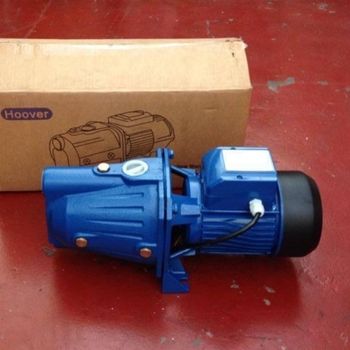 Unlike a submersible well pump, a jet pump creates suction that pulls water from the ground through one or more inlets.
Surface-mounted, single-pipe systems are used for shallow wells. Most deep wells have a two-pipe system installed below ground level that can pull water up to 100 feet.
---
3. Centrifugal Pumps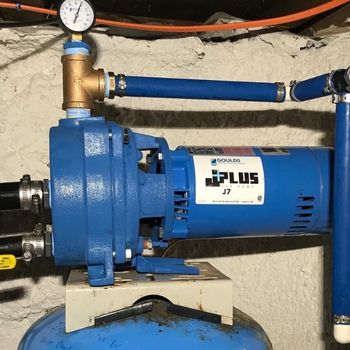 Centrifugal well pumps draw water through centrifugal force. More commonly used for industrial or agricultural purposes, residential use is rare.
A centrifugal well pump is only suitable for wells less than 25 feet deep.
Read: How deep should my well be?
---
What's the Average Life Expectancy of a Water Well Pump?
When they're working properly, well pumps last up to twenty years. Submersible pumps have the longest life expectancy at 10-15-years plus. Jet pumps average 8-10 years.
But there are factors affecting well pumps that are within a homeowner's control. With a little TLC, your pump could perform beyond expectations.
Factors Affecting Well Pump Life Expectancy
How long your well pump last depends on a wide range of factors, from pump motor quality to your well pump duty cycle. Let's take a closer look at each.
Motor Quality
The quality of your well pump helps determine how long it will last. Like any water pump, a well pump motor is subject to wear and tear — moving parts eventually wear out and pump bearings can fail.
The better quality your motor is, the more durable it should be. Avoid buying off-brand pumps at the big box store.
Water Temperature
Some well pumps have components that are vulnerable to high temperatures. In warm climates, look for models with parts designed to withstand continuous heat.
Water Quality
A submersible pump draws water from just below the surface of the water table. A screen usually keeps water sediment out. But if it's deteriorated or the groundwater is especially muddy because of a low water table, dirt and rocks can get in and wreak havoc on the pump assembly. Frequent drought conditions contribute to the early demise of well pumps.
Electrical Supply
One of the primary influences on motor life is the quality of your electrical supply. Abnormally high or low voltages, frequent power loss, phase imbalances or phase loss can drastically reduce the lifespan of a pump system.
If you live in an area where the electrical infrastructure doesn't keep pace with demand, you may need additional equipment to shore up your power supply.
Well Pump Duty Cycle
A well pump doesn't operate continually. Instead, it runs on demand. Its "duty cycle" is how long it actually operates in each 24-hour period.
When you open a faucet, your water pump turns on when the volume of water/pressure in your pressure tank drops to its lowest setting. It turns off once the pressure has been restored, usually after you close the tap. How long the cycle lasts depends on factors from the output rate of the well to the strength of the pump and its pumping capacity.
But if you use large amounts of water continually, such as to irrigate a garden or fill a swimming pool, the pump runs almost continuously until usage stops, taking a toll on the motor and mechanical parts. Heavy or continuous use wears well water pumps out faster.
Well System Design and Functional Integrity
How your well system was designed affects pump longevity. Does the pump capacity match the output rate of your well and your water usage? If not, the well pump duty cycle may be too long.
Is the pressure tank the correct size? Did the contractor plan ahead for a low water table? Is a check valve installed in the proper location? Some pump problems are nothing more than system design flaws.
If your pump isn't working properly, a malfunction in another part of your pump system could also be to blame. Faulty settings in the pressure tank or pressure switch could cause your water pump to run too often. Pressure tank and pressure switch issues, however, are typically easy fixes.
Signs You Need to Replace a Well Water Pump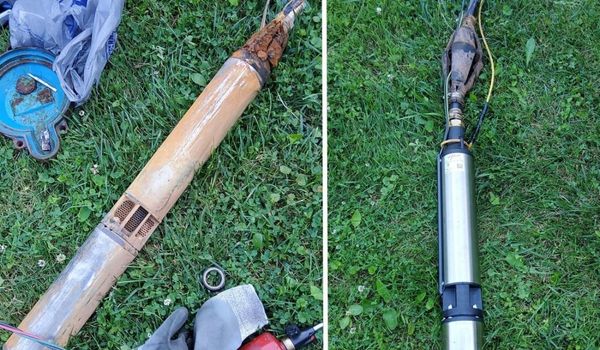 A malfunctioning well pump isn't a plumbing emergency, but it could fast turn into one without your prompt attention.
These signs suggest you need well pump service:
Low Water Pressure
Poor well water pressure could indicate a problem with the pressure tank or pressure switch. It can also be the result of increased water usage or a clogged well screen.
When private well water systems are designed, the equipment type is sufficient to meet the homeowner's needs. But if you install a pool, add an in-law suite or otherwise increase how much water you use, the existing pump may no longer be powerful enough to properly supply your home with water. A new pump with more horsepower may provide more pressure.
The most common cause of clogged well screens is iron bacteria. It forms a gelatinous coating that clings to well pumps. In addition to treating your water with a bactericide and installing a filtration system, you may need a professional to clean the screen. It's not a DIY job.
Water Sediment
If your clean water suddenly turns dirty, the pump could be pulling in more sediment than usual because the sediment screen has degraded, or your water table has dropped. If rain doesn't solve the problem, you may need a new screen or a deeper well.
But in the meantime, you can protect your pump against sediment. We'll review how below.
Pump Running Continually
Pumps that stay on or click on and off continually indicate a pump malfunction or plumbing problems, such as undetected leaks. Issues with pressure tanks and switches are the most common culprits, but all pumps eventually fail. A contractor will always inspect your pressure tank and control box before assuming a replacement pump is the best solution.
High Utility Bills
How much a well pump costs to operate depends on how much power the motor has and the water pump duty cycle — how often the pump turns on and off. If it's running too often, you could see a spike in your electric bill.
Depending on where a pump is located, it can be hard to hear. But if your power bill goes up unexpectedly, it's worth investigating.
Pros & Cons of Well Pumps
Pros:
Well pumps are reliable and can last for many years with proper maintenance, providing a steady supply of water essential for everyday life.
They are cost-effective to purchase and install compared to other types of water systems.
Well pumps require minimal energy consumption, making them a cost saving option for households or businesses that need a reliable source of water without relying on municipal sources, or expensive upgrades.
Cons:
Poor maintenance can lead to clogged debris or sediment in the pump, decreasing efficiency and potentially damaging the pump if left unchecked too long.
Repairs may be costly if the pump needs replacing due to age or wear-and-tear from regular use over time — this could outweigh any savings made by purchasing a cheaper model initially instead of investing in one designed specifically for longevity from the get-go..
Well pumps may also require additional components such as pressure tanks which add extra costs onto the overall price tag associated with owning one.
What Does it Cost to Replace a Well Pump?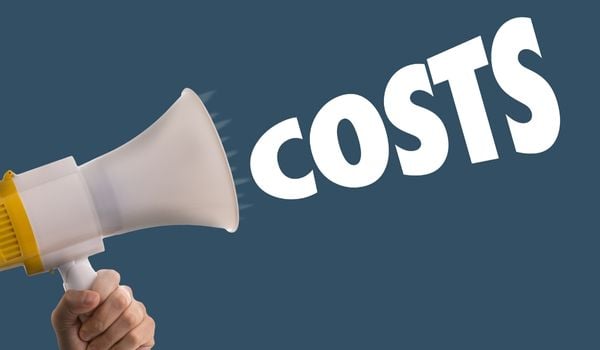 How much it costs to replace a well pump varies based on factors from your water to equipment needs. Occasionally, older parts aren't compatible, and more than your well pump should be replaced.
Your contractor may also ask how many faucets you have in your house or if you have any plumbing problems to determine if you need upgrades. There's no better time to improve your well system than when the pump is being changed.
As for the pump itself, if you need to draw water from a deep well, you'll want a submersible pump with high-quality motor. Plan to spend $500-$2000 installed.
A jet pump for shallow wells will set you back less — $400-$1500 installed.
How to Extend the Life of a Well Water Pump?
Before installing, repairing or replacing a well pump, it's advisable to do a water test to check for iron bacteria. A well contractor can assist you, or you can purchase a DIY home test kit.
If you're replacing a pump that was damaged by sediment, installing a centrifugal sand separator may prevent it from happening again. Centrifugal sand separators are installed in a well where they remove sediment before it damages the pump.
If you're installing a new well, your contractor will research the lowest water level in your area in the past few years to make sure your well is deep enough. In drought-prone areas, a deep well ensures you won't run out of water, and you'll be less likely to pump water with heavy sediment in it.
For existing pumps, making well pump service a part of routine home maintenance may increase how long your pump lasts. Having a technician check your pressure tank and other system components that affect how your pump operates reduces the chance of unnecessary wear and tear.
Final Thoughts
A well pump is an integral part of your well water system. With proper planning and regular pump service, your pump will last longer and give you years of reliable service.