Millions of American homes have hard water — high levels of calcium and magnesium that form a chalky residue called limescale. Corrosive, it clings to everything from pipes to the element in your water heater leading to higher utility bills and costly appliance repairs.
It's an expensive problem for which salt-based water softeners were once the only solution.
But the latest generation of salt-fee water conditioners is changing how we approach limescale. As effective as conventional softeners but without the high maintenance or environmental impact, they're proving to be a better solution.

Our Top Picks
We've spent countless hours of research and spoke with experts to put together proven NSF certified salt-free conditioner systems so you don't have to waste your time or hard earned cash finding right system yourself…
#1 SpringWell FutureSoft Salt-Free Water Softener —Editor's Pick
📝 Type: Salt-Free | Process: TAC | Regeneration: Not required | Max Hardness: 81gpg | Flow Rate: 12-20 GPM | Bluetooth: ✔️ | Warranty: Lifetime | Family Size: 6 | Rating: 5/5 | Best for: Municipal water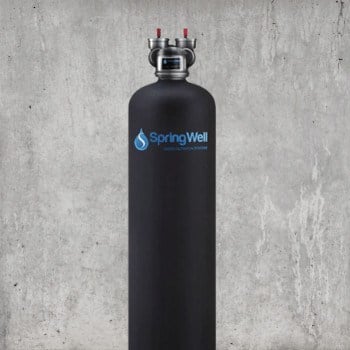 Springwell FS1 without a doubt is the best salt-free water softener vs any system out there. This system is really simple to use and just rocks at eliminating hard water issues all the while improving water pressure.
The FS1 is the cure to dry, itchy skin and soap scum.
High-efficiency
Environmentally-friendly
Industry-leading 12-20 gpm flow rate
Independently certified components
6-month money-back satisfaction guarantee
Use Coupon Code: QWL5 to save
---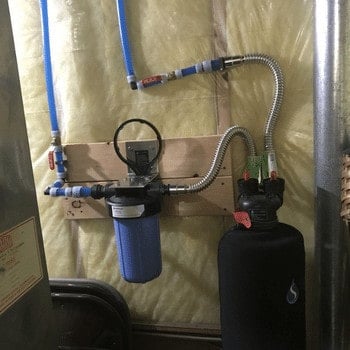 Best For: Those who wants to improve their water quality without using chemicals or salt. It is also a great choice for people who are concerned about the environment because it doesn't discharge salt brine into the environment.
Not best for: If your water hardness is above 12 grains per gallon, we recommend the Springwell SS1 salt-based system.
Pros:
SpringWell's salt-free water conditioner is an eco-friendly, hassle-free way to deal with hard water.
Using Template Assisted Crystallization (TAC), it changes the chemical structure of minerals, keeping them suspending them in water, so they pass harmlessly through your pipes.
FutureSoft uses no electricity, requires no salt and produces no wastewater.
Cutting-edge technology enhances fluidization, boosting the softening media's performance — it lasts a lifetime.
The FutureSoft is 99.6-percent effective at preventing limescale without affecting your water pressure. It can compete with any conventional softener.
Simple to install and virtually maintenance-free, the FutureSoft comes complete with a sediment prefilter.
It's backed by a limited lifetime warranty and SpringWell's legendary dedication to customer care.
This system comes with bypass valve, spanner wrench, fittings, and mounting bracket – everything you would need for a simple install.
he sediment filter keeps large particles of dirt and rust out of the conditioning tank — it's the key to preserving softening media efficiency.
long lasting pre-filter should be replaced every 6-9 months for optimal performance.
You'll notice an immediate difference in your water quality — no other company backs their products with a full 6-month money-back guarantee.
Competitively priced and worth every penny, the FutureSoft is the ultimate low-maintenance water softener and the only one good enough to be our Editor's Pick.
The softened water doesn't feel slippery at all.
Cons
Our research shows this softener doesn't work well for those on well water without a pre-treament for Iron, manganese, hydrogen, sulfur and tannins. that could damage the filter media.
This system is on the expensive side, but pros outweigh the cons here.
SpringWell FS1 Product Updates:
Easy installation kit
UV add-on
Works with whole house filtration systems
---
#2 Aquasana Salt-Free Water Conditioner – The Runner-Up
📝 Type: Salt-Free | Process: NAC | Regeneration: Not required | Max Hardness: 25gpg | Flow Rate: 7 GPM | Bluetooth: ❌ | Warranty: 6 year | Family Size: 6 | Rating: 4.5/5 | Best for: Municipal water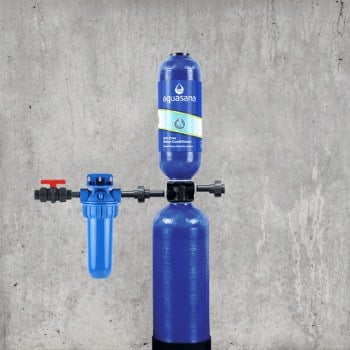 Aquasana's salt-free water conditioner protects your plumbing and appliances by inhibiting limescale. Minerals are transformed into inert crystals that slip through pipes and down the drain.
You get most of the benefits of a traditional water softener with none of the work.
Affordable
Low-maintenance
Easy to install
90-day satisfaction guarantee
---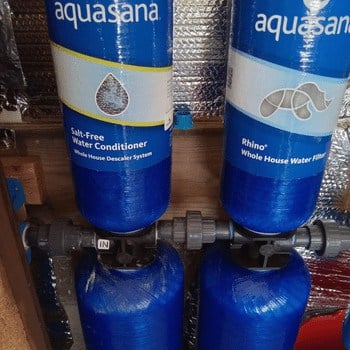 Best for: Aquasana salt-free water conditioners are best for people who want to improve the quality of their water without using salt or live in an area where salt-based softeners are banned.
Not best for: This system will not work for those that get their water from a private well.
Pros
Engineered for easy maintenance, there's nothing to do except to change the sediment filter regularly and swap out the softening tank every six years.
Mix and match it with Aquasana's other budget-friendly filters to create a custom home filtration system.
This system can be installed outdoors as long as temperatures don't drop below freezing.
Cartridges screw on and off. It's easier than changing a light bulb.
Aquasana makes a full line of value-priced filtration products that won't break the bank — their salt-free water softener is no exception.
It won't win a blue ribbon in any category but price, but it's a rock-solid performer that saves you money upfront and in the future by protecting your home from limescale.
This salt-free water conditioner does not require any electricity to operate, which means that you will save on your energy bill each month.
This system comes with a 90-day money back guarantee and a 7 year warranty.
Cons
The flow rate is 7 gpm depending on your water quality. That's slightly higher than the national average, but half of what similar brands offer. You may experience a slight drop in water pressure when multiple taps are open.
The installation can be challenging for a DIY'er.
Product Updates:
Anti-scale technology by transforming hard minerals into inactive microscopic crystal particles.
#3 SoftPro Elite Saltless Water Conditioner
📝 Type: Salt-Free | Process: NAC | Regeneration: Not required | Max Hardness: 17gpg | Flow Rate: 12 GPM | Bluetooth: ❌ | Warranty: Lifetime | Family Size: 4 | Rating: 4.5/5 | Best for: Municipal water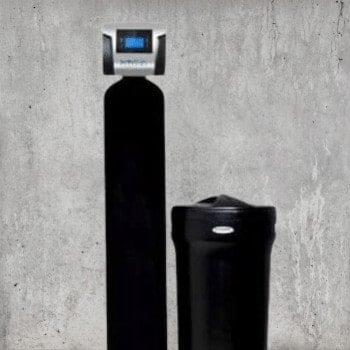 The SoftPro Elite is a best seller for a reason. It's advanced, salt-free design prevents up to 99-percent of scale while retaining healthy minerals.
There's no salt to store, and it doesn't waste water — a plus in drought-prone areas or where water and sewer rates are high.
Painless installation
Low-maintenance
Removes chlorine
Assembled in the US
Lifetime warranty
---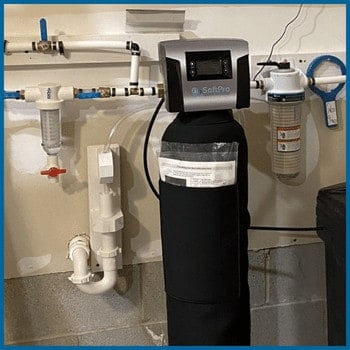 Best For: Those on a budget and don't need all of the bells and whistles to solve your hard water issues.
Not Best for: Those with larger homes of 3+ baths as the system will have a hard time keeping up with the demand.
Pros:
Salt-free water conditioners are welcomed in ecologically sensitive areas, so even if salt-based softeners are off limits, you can still protect your home from the damaging effects of hard water.
Kits come with an upgraded prefilter that removes chlorine, preserving the life of the softening media and refining your water's taste.
Softpro gives you everything you need including a Quick-Connect Hose Kit free just by asking. It makes installation effortless.
The SoftPro Elite not only prevents limescale — it helps remove existing build-up to give your appliances a fresh start.
It includes an upgraded prefilter that reduces both sediment and chlorine, so if you're struggling with hard water and a chemical taste, there's no better option than the SoftPro Elite.
Maintenance-free for six years, it can pay for itself in under three.
Softpro is among the few saltless water softeners that tackle hard minerals and help you give up bottled water.
Cons
Softpro only comes in one size option so if you have a larger home, you might want to opt for Springwell FS1.
Product Updates:
Free Pre-filter upgrade
Improved anti-scale technology
Now offering free quick connectors to help eliminate soldering
#4 Pelican NaturSoft® Water Softener Alternative
📝 Type: Salt-Free | Process: TAC | Regeneration: Not required | Max Hardness: 75gpg | Flow Rate: 10 GPM | Bluetooth: ❌ | Warranty: 1 year | Family Size: 6 | Rating: 4.5/5 | Best for: Municipal water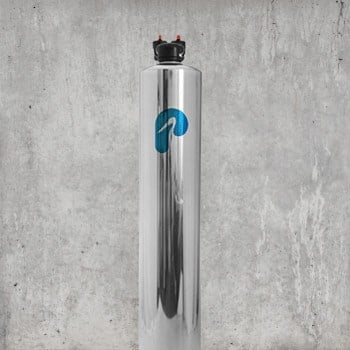 Pelican is a leader in softening technology. Their NaturSoft® salt-free water conditioner is the only alternative softener to be IAMPO certified to NSF/ANSI 61 standards.
Third-party tested, it prevents 99.6-percent of limescale, and Pelican discloses the test results to prove it.
Maintenance-free
Retains healthy minerals
Made in the US
Performance guaranteed
Limited lifetime warranty
---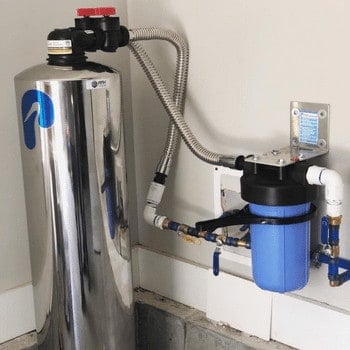 Best For: This system is best for those that need a high-demand softening system capable of not slowing down water pressure.
Not best for: This system won't work well for private well systems unless you have a prefiltering system in place to handle Iron, manganese and sulfur.
Pros:
The unique NaturSoft® media is unlike any other. It's catalytic granules are son-sacrificial, so it works like a champ for a lifetime, maintaining peak conditioning efficacy. When performance matters, you can count on the Pelican.
Salt-free water conditioners have been on the market for almost twenty years, but few rival Pelican's NaturSoft®.
Forget the magnetic gadgets and the bargain brands that make promises they can't keep.
The upfront price is steep, but if your utility and appliance repair bills are climbing because of limescale, the Pelican is certified to stop it in its tracks for a lifetime without further investment. It will be the last water conditioner you ever have to buy.
Pelican's filter media can last an impressive 12 years which is longer than the industry average saving you time and money.
Independent third party testing ensures that your home's appliances will not wear out due to scale buildup.
Pelican's media utilizes calcium carbonate structures to attract dissolved hard water minerals and pulls them into a crystalized surface.
The prefilter will last between 6 to 9 months depending on water demand.
Cons
High upfront price than other comparable systems
The installation instructions can be vague for a DIY'er and a professional installation would be additional costs.
Product updates:
Offers more installation kits to accommodate all plumbing types and sizes.
---
#5 Quest Salt-Free Water Conditioner
📝 Type: Salt-Free | Process: TAC | Regeneration: Not required | Max Hardness: 25gpg | Flow Rate: 12 GPM | Bluetooth: ❌ | Warranty: 1 Year Limited | Family Size: 5 | Rating: 4.5/5 | Best for: Well water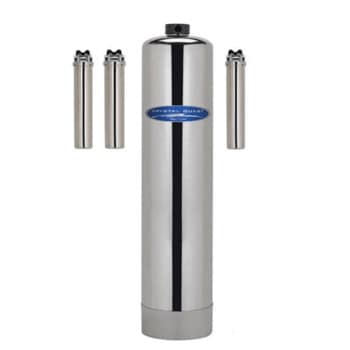 Crystal Quest's salt-free water softener is a multi-stage filtration and conditioning unit. Like most models, it comes with a prefilter to remove sediment, but it also includes a block carbon filter that removes chemicals from pesticides to VOCs plus a 0.2-micron ultra filtration membrane that eliminates most biological contaminants.
Comprehensive filtration and conditioning
Retains healthy minerals
Fiberglass or stainless steel tank options
Anti-scaling and anti-corrosion benefits
Made in America
---
Best For: Those looking for an all-in-one system that filters water and softens.
Not best for: If you're on a budget, this system comes at a high cost.
Pros:
Proprietary Eaglesorb anti-scale media prevents mineral build-up and forms an additional anti-corrosive layer to protect your pipes.
This unit requires more than average plumbing skills to install — we recommend hiring a professional. But for maximum protection, the filtration capability is unsurpassed.
Crystal Quest has been solving water problems for more than 30 years. Rated A+ by the Better Business Bureau, they have a loyal following of a million-plus customers.
All parts, components and media are certified to NSF 42 and 61 standards.
The pre and post filter need to be changed every 12-18 months based on your water quality.
This system can handle up to 25gpg
Their salt-free water conditioner is a top performer by the strictest standards.Not every homeowner needs this level of filtration.
If you're investment-minded and want additional protection for your family, you can't put a price of peace of mind. It's the best salt-free water softener for well water or municpal.
Cons:
If all you want is protection from limescale, it's overkill for the cost.
The installation can be pretty complex and would require a plumber.
This system comes with a high price.
Short one-year warranty
Product updates:
---
#6 GreenWave Salt-Free Water Conditioner
📝 Type: Salt-Free | Process: NAC | Regeneration: Not required | Max Hardness: 81gpg | Flow Rate: 10-25 GPM | Bluetooth: ❌ | Warranty: Lifetime | Family Size: 4 | Rating: 4.5/5 | Best for: City water
GreenWave's salt-free water softener tackles the toughest hard minerals, It's 97-percent effective at reducing limescale, transforming unwanted calcium and magnesium into nanocrystals that won't stick to your plumbing or corrode appliance parts.
Easy DIY installation
User-friendly
Maintenance-free
Transferable warranty
Four size options to 25 gpm
---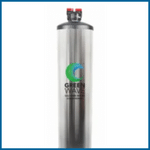 Best for: Those looking for a set and forget type of system with very little maintenance.
Pros
Vortech technology eliminates channeling, increasing the media's contact time with water for better conditioning results — with pretreatment, it can handle a whopping 81 grains per gallon of hardness.
When equipped with the optional carbon filter, The GreenWave also removes chemicals from chlorine to herbicides — a bonus for well water.
A breeze to install, it's made in America and backed by a limited lifetime warranty.
You can choose no filter or a radial carbon cartridge that improves the efficiency of the softening media and removes the sediment and chemical impurities that make your water taste bad.
This system works fine with an existing sediment filter.
The filter media is guaranteed for four years, but it could continue to perform well long after that depending on your water quality.
The system comes with two choices of 3/4- or 1-inch fitting sizes.
The GreenWave offers the benefits of salt-softened water without the heavy maintenance.
Replace the prefilters as recommended, but as for the softening tank — just set it and forget it for four years.
Cheaper than the SpringWell but more than the Aquasana, the GreenWave is a good middle ground for homeowners looking to balance performance, versatility and price.
This system is good for your home, the environment and your wallet.
Cons:
Product updates
Now offers valves sizes for 3/4″ and 1″ plumbing
Pre-treatment carbon filter
---
#7 FilterSmart Salt Free Water Softener PRO Series
📝 Type: Salt-Free | Process: TAC | Regeneration: Not required | Max Hardness: 75gpg | Flow Rate: 12-15 GPM | Bluetooth: ❌ | Warranty: Lifetime | Family Size: 6 | Rating: 5/5 | Best for: Municipal water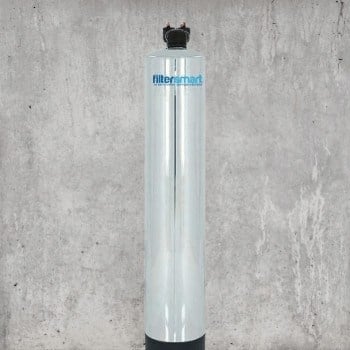 FilterSmart Pro is a close second to Springwell and our runner-up. Like Springwell, this system controls limescale and hard minerals using TAC technology.
A Maintenance free conditioner with NSF certified components that comes we a lifetime warranty.
Efficient
Ecologically sustainable
Safety certified components
Optional stainless steel tank wrap
90-day money-back satisfaction guarantee
---
Best For: for those who are looking for a no-salt water filtration alternative to salt-based systems. This makes it an ideal choice for those who are concerned about the environment.
Not best for: Not everyone needs a salt-free water softener. If you live in an area with extremely hard water, or if your water has a high concentration of dissolved minerals, a salt-free system may not be able to provide the level of softened water that you need.
Pros
The FilterSmart PRO salt-free water conditioner controls limescale and reduces staining on bathroom fixtures without salt or chemicals.
Research-proven Template Assisted Crystallization (TAC) technology turns minerals into microcrystals that can't cling to hard surfaces. Your appliances will breathe a sigh of relief.
Straightforward to install, it's maintenance-free for a decade or more and comes complete with a protective sediment prefilter.
Manufactured with NSF certified parts, it's backed by a limited lifetime warranty.
The FilterSmart PRO is available in two sizes — a 1-3 bathroom model with a 12 gpm flow rate and a 4-6 bath version offering 15 gpm. That's twice the industry average, so any impact on water pressure should be negligible.
The filter media has a lifespan of 1 million gallons.
No channeling thanks to the systems Vortech tank design that produces extended contact time.
This system is environmentally friendly because it doesn't use salt or chemicals.
Comes with a prefilter that only needs changing once per year and removes sand, rust, silt and sediment from premature wear on the filter media.
Cons
Installation instructions need improvement.
Customer support needs improvement as many have suggested.
The media isn't guaranteed to last quite as long as the FutureSoft's, but the system costs less upfront, so it's more affordable if you're on a budget.
Product Updates:
Nothing to share as of yet.
---
Comparison Table
(Mobile users: Swipe to scroll)
| Compare Brands & Models | #1 SpringWell SS1 Salt-based System | #2 SpringWell FutureSoft Salt-free | #3 SoftPro Elite Softener | #4 Pentair Salt-based | #5 Aquasana Rhino Conditioner | #6 AquaOx WS Softener | #7 Fleck 2510 SXT System |
| --- | --- | --- | --- | --- | --- | --- | --- |
| Rating | 5/5 | 5/5 | 4.5/5 | 4.5/5 | 4.5/5 | 4.5/5 | 4.5/5 |
| Price | $$$ | $$$ | $$$ | $$$ | $$ | $$$ | $$ |
| Process | ION Exchange | TAC | ION Exchange | ION Exchange | NAC | ION Exchange | ION Exchange |
| Grain Capacity | 32k, 48k, 80k | 81GPG | 80k | 48k | 25 GPG | 64k | 26k – 88k |
| Max Iron | 7 PPM | *Requires Pre-treatment | 3 PPM | 3 PPM | 1 PPM | *Requires Pre-filter | 3 PPM |
| Flow Rate | 11-20 GPM | 12-20 GPM | 7 GPM | 12-15 GPM | 7GPG | 16 GPM | 6-11 GPM |
| BlueTooth | ✔️ | ✔️ | ❌ | ✔️ | ❌ | ❌ | ✔️ |
| Warranty | Lifetime | Lifetime | 5 year | 5 year | 5 year | 10 Year | 10-year |
Didn't find what you're looking for? See our other water softener reviews:
Buyer's Guide to Salt-Free Softening Systems
More than 80-percent of the country has hard water — excessive minerals that form limescale, a sticky, corrosive residue that clogs pipes, hikes your utility bills and sends big-ticket appliances to an early grave. Ecologically disastrous and challenging to maintain, salt-based water softeners were once the only solution to hard water. But today, there's a better way to send limescale packing.
Saltless softeners, or water conditioners, offer most of the benefits of conventional softening with few disadvantages. This buyer's guide explains how water softeners work and what you need to know to choose the best chemical free water treatment system for your home.
How We Picked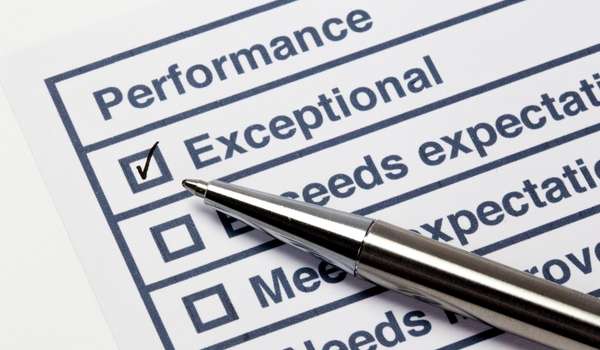 We understand the challenge of researching salt-free water softeners can seem daunting and overwhelming for anyone new to these systems. Which is why we carefully chose these types of conditioners based on these seven key criteria: certifications, installation & maintenance, ease of use, flow-rate, scale reduction, cost, and warranties.
We also take it a step further by scoring the web for reviews and user-feedback to see what we might have missed in regards to system issues, and any other negative feedback before we internally score the system.
It's a lot of work, we know. However, we want to make sure you know exactly what you're getting without any costly regrets. Most of the systems on our list are either 3rd party vetted, or NSF/ANSI certified to the standard 61 & 42, which means they've been tested for structural integrity to the highest standards. You will also want a system that comes with a sediment pre-filter and this will help protect the systems media.
Key Considerations
Certification: Look for a system that is certified by the NSF/ANSI to Standard 61 and 42, which means it has been tested for structural integrity and performance.
Installation & Maintenance: Make sure you understand how easy or difficult the installation process will be, as well as what type of maintenance may be required over time.
Ease of Use: Consider how user-friendly the system is in terms of operation and programming settings if applicable.
Flow Rate: Check to see what kind of flow rate your salt-free water softener can handle so you know it won't become overwhelmed with too much demand from multiple fixtures at once.
Scale Reduction: Determine whether or not the system can effectively reduce scale buildup on plumbing fixtures, appliances, and other surfaces exposed to hard water without using salt or chemicals like chlorine or potassium chloride (KCl).
Cost: Compare prices between different models to find one that fits within your budget while still providing quality results in terms of scale reduction and overall performance levels..
Warranties: See if there are any warranties offered with your purchase so you have peace of mind knowing that any issues down the line will be covered by the manufacturer's guarantee.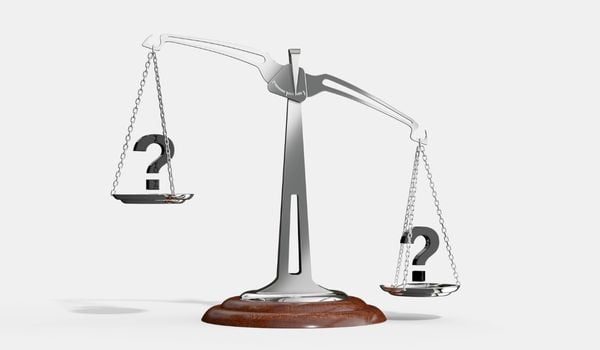 Advantages to Salt-free water softeners:
Salt-free water softeners are an eco-friendly alternative to traditional salt-based systems, as they don't require the use of chemicals or salts for hard water treatment.
These systems can help reduce scale buildup on plumbing fixtures, appliances and other surfaces exposed to hard water without using salt or chlorine.
Installation and maintenance is relatively easy compared to traditional salt-based systems — there's no brine tanks to fill with salt. It's pretty much a hands-off system.
They are generally more affordable than their counterparts, providing cost effective solutions for many households looking for a reliable system at an accessible price point.
The models we listed come with warranties that provide peace of mind knowing any issues down the line will be covered by the manufacturer's guarantee if needed.
Disadvantages:
Salt free systems may not completely remove all traces of calcium and magnesium like a traditional salt based system can – meaning you may still experience some degree of scaling over time depending on how much is present in your local area's tapwater supply initially. Be sure to check the model for the max hardness rating to make sure it aligns with your needs.
They tend to have lower flow rates than their counterparts which means it might slow down your shower or dishwashing cycles when multiple taps are running at once.
Additional post/pre-filters or maintenance may be required to keep them running optimally, adding extra costs over time
What Is Hard Water?
Hard water is water with high levels of calcium and magnesium.
Effects include:
Dingy clothes
Spots on glasses
Soap that won't lather
Limescale stains on bathroom fixtures
Itchy skin
Haystack hair
Low water pressure
Clogged plumbing
High utility bills
Frequent appliance breakdowns and more
Present across the country, not all hard water is hard enough to need treatment. Slightly hard water may be a nuisance, but more than 7 grains per gallon of hardness is likely to have serious consequences for your home.
Do I Have Hard Water?
If you live in the United States, chances are you do. At least half the country is plagued with water hard enough to require treatment. The USGS has created hardness maps to help you determine your risk, but they don't tell the whole story. A water test is the only tried-and-true way to know how hard your water is.
The Benefits of a Water Test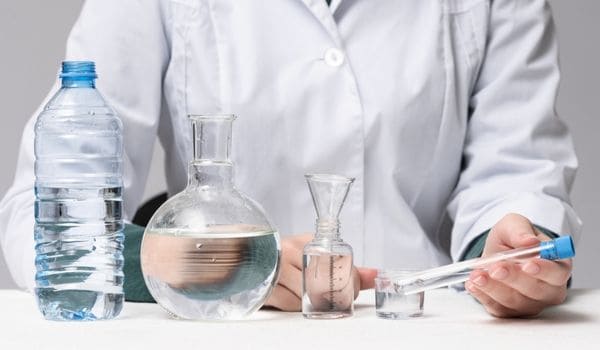 A water test is a trove of valuable information about your water quality — it's affordable and easy – see our top rated water testing kits.
Before buying a softener, it's critical to know two things:
Do you have a hard water problem?
Occasionally, issues that appear related to hard water are caused by other contaminants. Only a test stands between you and a costly purchase that may not solve your problem.
Is your water chemistry compatible with a softener?
Both salt-based and salt-free softeners have limitations based on your water's chemical composition. Iron, sulfur, manganese, copper, chlorine and tannins can irreversibly ruin softening media. The good news for homeowners is that prefilters will solve the problem. But only a water test can tell you which you need.
You can arrange for testing through a local lab — we recommend using a certified drinking water laboratory. They use only scientifically proven testing methods so you can rely on the results. Or purchase a test kit online. Better water conditioner vendors offer testing without obligation.
Performance Features — What to Consider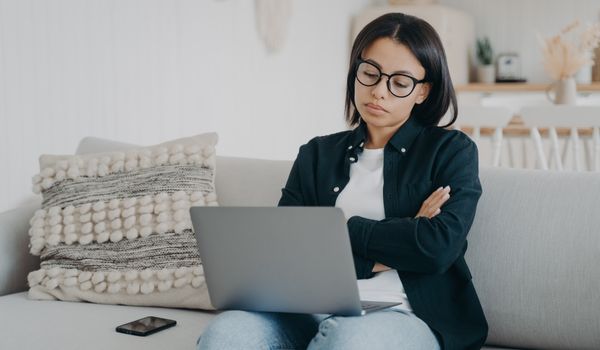 Most salt-free water softeners are similar, but they're not all created equal. Let's take a closer look at the features that make them tick.
Water Parameters
High levels of iron, sulfur, manganese and sediment can damage the media in a salt-free water softener and will reduce its lifespan. To ensure optimal performance, it's important to check that your water is within the required pH range for these systems. City water is usually more suitable than well water for use with a conditioning unit.
For added protection, many salt-free softeners come with a pre-filter to remove sediment before it reaches the media.
Capacity
Capacity is key when it comes to water conditioners. Manufacturers offer estimates based on average conditions, but results can vary significantly depending on your water quality and usage. Self-cleaning systems do the job, but some are more effective than others in the long run.
TAC/NAC media also varies in quality; some get progressively less effective over time and must be replaced, while others are non-sacrificial and last a lifetime. Investing in premium conditioners may cost more upfront, but they have a lower total cost of ownership down the road.
Flow Rate
Flow rate reflects the number of gallons a saltless water conditioner can treat per minute. For large families, it's an important feature.
Household activities like flushing a toilet and taking a shower require at least three gallons per minute. If your water conditioner can't keep up when several taps are open, someone's shower may turn into a trickle.
Industry-wide, the average flow rate among water conditioners is 6 GPM — a rate we think is too low for families of four or more. The best salt-free conditioners offer 10 GPM or more. The higher the rate, the better.
Other industry experts recommend a flow rate of between 8-12 GPM for salt-free water softeners. This is because higher flow rates can reduce the effectiveness of the system, while lower flow rates may not be able to keep up with demand.
Other Contaminants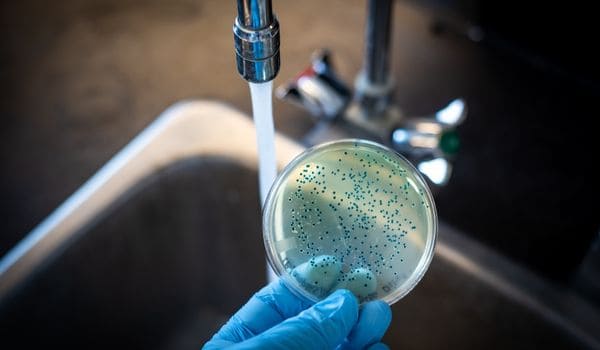 Water conditioners are not filters — they don't remove contaminants. Homeowners worried about lead in their city water supply or sediment in well water can add pre- or post-filters to create salt-free water purification systems.
You may need additional filters if:
You have a well contaminated with sediment, chemicals or heavy metals.
Your city water contains high levels of residual chlorine other elements not compatible with conditioning systems.
Better manufacturers make complementary filters to meet a wide range of needs. If you know you have other contaminants to remove, buying all filters from the same maker eliminates compatibility issues.
System Controls/Features
Unlike conventional softeners with programmable electronic valves to control backwashing, a salt-free water conditioner operate without external controls. Set it and forget it.
Bypass valves that allow you to switch between softened and non-softened water weren't always a given, but few of today's models lack this crucial feature. Not only do they make the occasional maintenance easier, but they also extend the life of the softening media by letting you use unsoftened water for things like washing the car.
Certifications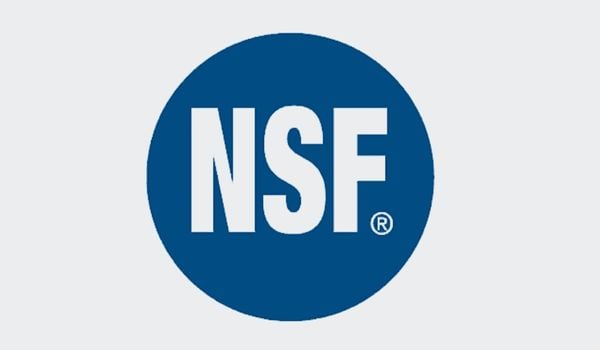 The National Sanitation Foundation (NSF) does not yet certify residential water conditioners, and no US laboratory does. However, many manufacturers use NSF-certified parts as a consolation for consumers searching for reliable products. To guarantee components such as media tanks, gaskets and valves are free of contaminants that could leach into your water, look for NSF/ANSI 61 certification; NSF/ANSI 42 certification ensures structural integrity.
Though expensive for manufacturers to obtain – since it is voluntary and not government-affiliated – some companies claim compliance rather than certification. This means the components they use are similar to certified parts but have not been third-party tested. The only way to tell the difference is if the product carries the official NSF logo. Some companies may post this on their website even if only one of their components is certified – so make sure you ask about certifications before buying!
The NSF makes its list of proven products public so that any consumer can look them up; however, conditioner components come from various sources and may not be listed under the seller's name – making it difficult to know what you're getting without asking directly.
3rd Party Testing
TAC water conditioners are the latest innovation in salt-free water treatment, and their performance is rigorously tested by the world's most stringent organization: DVGW in Germany. The W510 Standard assesses a TAC conditioner's ability to prevent scale, requiring 80% or more for certification.
Meanwhile, the W512 Standard examines products under real-world conditions to ensure long-term effectiveness against challenging well water. While some manufacturers claim their conditioners reduce "up to" 99% of limescale, that could be as little as 50%. Obtaining DVGW certification is costly and reflects on product pricing – but it guarantees quality assurance.
Installation Cost & Maintenance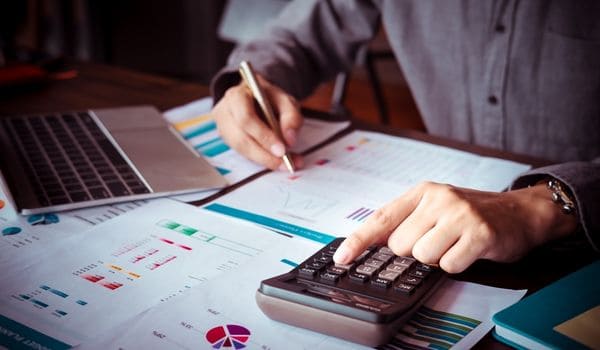 Salt-free water conditioners run from $700-$2000. A DIY installation costs nothing more than your time. For a pro, it's an easy job averaging a few hundred dollars — a fraction of what it can cost to install a salt-based system.
Maintenance
Salt-free water conditioners require no routine maintenance, but they may occasionally need a media change. It's a relatively simple process that takes most homeowners less than an hour to complete every 5-10 years. Systems with lifetime-guaranteed media require no maintenance at all.
You'll pay more upfront for water conditioners with long-lasting media, but it pays off in the long run. Replacement costs range from $200-$800, in some cases, equaling almost as much as the initial price of the softener. Run the figures before you buy.
What is a Salt-Free Water Softener?
Conventional water softeners use salt to eliminate hard minerals. Positively charged calcium and magnesium ions cling to negatively charged softening resin. Once saturated, a burst of saltwater from the brine tank breaks the bonds, flushing excess minerals down the drain while rejuvenating the resin.
Salt-free water softeners don't rely on salt or chemicals to prevent limescale. A single, self-cleaning conditioning tank does all the work.
Are Saltless Systems Better than Salt-Based Systems?
Salt-based softeners are the gold standard for treating hard water. Despite their many drawbacks, they eliminate all symptoms of hard water.
Salt-free water conditioners control limescale, the most damaging and costly impact of hard water, but they're less effective for resolving nuisance issues, such as skin irritation. Let's look at their pros and cons.
How Do Water Softeners Work without Salt?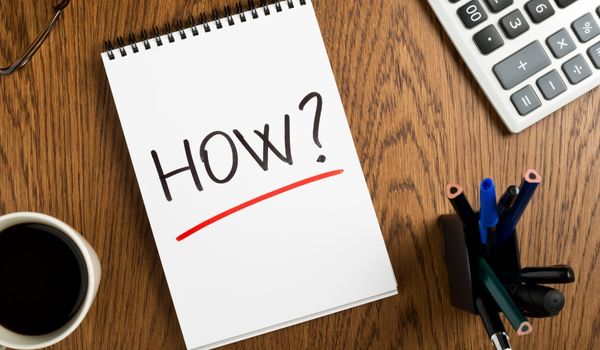 TAC (Template Assisted Crystallization)
TAC is our favorite system and is a process that uses tiny beads to trap hard minerals like calcium and magnesium. The beads act like a magnet, attracting the minerals so they can't stick to surfaces in your pipes or appliances. It's kind of like using a sponge to clean up spilled water – the sponge absorbs the water so it doesn't make a mess!
Chelation
Chelation is another way of removing hard minerals from your water. In this process, special chemicals called chelators are added to the water (citric acid or EDTA). These chelators form bonds with the hard minerals, trapping them so they can be filtered out before reaching your home. It's like putting glue on something sticky – it traps it and makes it easier to remove!
The jury is still out on whether or not this system works, I have my doubts and lean more towards TAC.
Electromagnetic Systems
Electromagnetic systems use magnets and electricity to change how hard minerals behave in your water supply. When these magnets are placed near pipes carrying water, they create an electromagnetic field which changes how calcium and magnesium molecules move around in the pipe. This prevents them from sticking together or attaching themselves onto surfaces inside your plumbing system or appliances!
This is usually the go-to method for renters that can't alter their plumbing systems.
Benefits of Salt-free Water Softeners?
The obvious benefit of salt-free water conditioners is that they prevent limescale. But what makes them a better choice than salt-based systems?
They're Easier to Install
Salt-based systems send contaminants down the drain, limiting where they can be installed. If you don't have a drain handy, you'll need a plumber to create one or improvise alternative drainage. They also require electricity to operate and must be installed near enough to an outlet not to require an extension cord.
With more parts to assemble and limitations to consider, conventional water softeners are considerably more challenging to install than water conditioners requiring no drain or electricity. With only a single tank to set up, even the least tech-savvy homeowner can install a salt-free water softener in a few hours.
They Take Less Space
With two tanks, salt-based water softeners have a considerable footprint. And because they need frequent maintenance, you'll need to allow additional area, so you can squeeze in to reload the brine reservoir. Hefting 40-pound bags of salt is back-breaking enough without having to do it at an awkward angle. Saltless water conditioners take less than a square foot of space and fit in areas salt-based conditioners can't.
They Require No Maintenance
The brine tank on a conventional water softener must be refilled regularly — once a month on average. Some have gaskets and parts that need lubrication or periodic replacement. Remember that salt is corrosive. A salt-free conditioner requires no upkeep — it's the ultimate low-maintenance water softener.
They Cost Less to Operate
The average homeowner spends $300-$600 annually on softening salt, plus the cost of electricity, additional maintenance, and water and sewer fees for discharging wastewater every time a salt-based system regenerates. Over five years, that's a vacation to Disneyland! There are no ongoing expenses associated with water conditioners.
The Water Tastes Better
An oft-overlooked benefit of conditioning water without salt is flavor — salt-softened water without minerals has a bland taste most people don't enjoy. It also adds sodium to a salt-restricted diet and can impact cooking. Recipes may need to be adjusted to avoid salt overload.
You Get the Health Benefits of Minerals
Americans typically get all the calcium and magnesium they need in their diets. But minerals in water can play a role in good health, especially for children and post-menopausal women concerned about bone health. Unlike salt-based softeners, water conditioners don't strip beneficial minerals. So why buy supplements when you can just drink more water?
They're Ideal for Gardens
Salt-softened water is a nightmare for gardens. Not only does it lack most minerals, but it contains more sodium than most fruits and vegetables can handle. Conditioned water is safe for both indoor and outdoor plants.
They Have No Environmental Impact
Salt-based water softeners discharge briny wastewater that's hazardous to the environment. It doesn't harm leach beds, but wherever it goes, it can potentially impact ground or surface water if not properly managed — they've been banned in ecologically sensitive areas.
Conventional softeners waste 40-150 gallons of water per week during regeneration and are not welcomed in drought-prone areas. And salt-softened discharge contains so many minerals that it strains local treatment plants and is almost impossible to repurpose agriculturally.
Water conditioners use no salt, require no electricity and produce no wastewater. They're an environmental bargain.
They Lower Your Utility Bills
Water-using appliances are carefully calibrated to work with a certain amount of water. If they don't get enough because your pipes are clogged with limescale, they work harder than they should have to, causing premature wear and higher electricity usage. Some studies suggest that a water conditioner pays for itself in 3-4 years in savings.
They Add Value to Your Home
A survey of realtors shows that a salt-free water conditioner can add thousands to the value of your home. Buyers want protection from the unexpected. They know they'll benefit from lower utility bills and fewer appliance repairs without the hassle of a salt-based system. Whether you're staying in your home long-term or selling soon, they're a good value. Softeners with a transferable warranty are a bonus.
What Are the Cons of No-Salt Water Conditioners?
Salt-free water softeners have one major drawback. Because they don't remove minerals from water, they're less able to reduce the effects of hard water caused by the mere presence of minerals. Calcium ions, for example, are abrasive. In laundry water, they add to the wear and tear on clothes, causing brights to fade prematurely. In the dishwasher, they can cause etching on delicate glassware.
If the goal is to eliminate every effect of hard water, you may be disappointed with salt-free conditioners. But for protecting your home from limescale, they work almost as well as conventional softeners without the high cost, maintenance hassles and environmental concerns. Unless you have extremely hard water, salt-free conditioners do more for less.
Frequently Asked Questions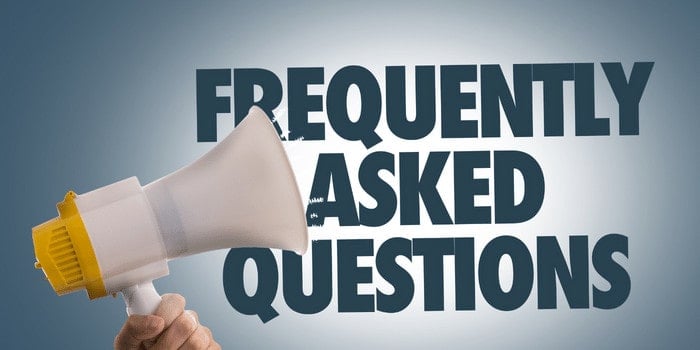 What is the most trusted salt-free softener brands?
We recommend focusing more on features than the brand. But several stand out for their quality and features. SpringWell FutureSoft water conditioners have lifetime media and superb customer service. Pelican systems are DVGW-certified for exceptional performance.
Do salt-free water softeners remove iron?
Salt-free water softeners do not remove iron. If you have even low levels present in your water, you'll need a prefilter to remove it.
Is softened water safe to drink?
Salt-softened water contains extra sodium — about as much as in a tablespoon of ketchup or slice of white bread. The consensus among health experts is that it's not harmful, but it contributes to your recommended daily allowance of salt and could be a problem for people on salt-restricted diets. It may be even riskier for pets. Salt-free softened water contains no added sodium and is safe for everyone.
Do I need a water softener if I have a whole-house filter?
Most whole-house filters have no impact on hard minerals — the exception is the rare reverse osmosis filter. Whole-home RO filters are uncommon, but they remove most substances from water including minerals. Installing a water softener before an RO filter can, in certain circumstances, safeguard the RO membrane.
How do I know that a salt-free water softener actually works?
It's simple to verify the performance of a salt-based water softener. Reduced mineral levels show on a TDS meter or test strip. But with salt-free softeners, nothing about your water's chemistry changes.

Conditioned water makes mineral stains on your fixtures easier to clean. Instead of being crusty and hard, they're soft, sometimes even powdery. But the primary benefit of conditioning is limescale reduction, something you'll see mostly in your closed plumbing system.

Since water heaters are among the appliances most likely to suffer from limescale, checking the buildup on the element is among the simplest ways to gauge your conditioner's efficacy.
When might I want a salt-based water softener instead?
Salt-based softeners are the only filters that remove minerals. For true soft water, they're the only solution. If your primary concerns are itchy skin, spotty dishes and clothes that just don't get clean, a conventional softener is a better choice if you can live with the cost, maintenance and environmental impact. As with most things in life, there are trade-offs.

For the reduction of limescale, early water conditioners were recommended only for slightly and moderately hard water. Today's best versions can handle levels that far exceed the 10 grains per gallon threshold for very hard water.
Will a saltless water softener remove existing limescale?
Most do. Layer by layer, even the thickest build-up may be slowly pared away. It's not uncommon for water to be milky when the tap is opened soon after a water conditioner is installed — it's the presence of dissolved calcium carbonate.
How can a salt-free softening system benefit me and my home?
The best salt-free water softeners prevent more than 99-percent of limescale, protecting homeowners from low water pressure, premature appliance repairs and sky-high utility bills. They enhance home values and pay for themselves in energy savings. It's a winning combination and a risk-free investment.