Last Updated on June 9, 2023 by
Ava
📝 Type: Salt-based | Process: ION Exchange | Regeneration: Metered | Grain Capacity: 32k – 110k | Flow Rate: 15 GPM | Bluetooth: ❌ | Warranty: Lifetime | Family Size: 4 | Rating: 4.5/5 | Best for: Well or tap water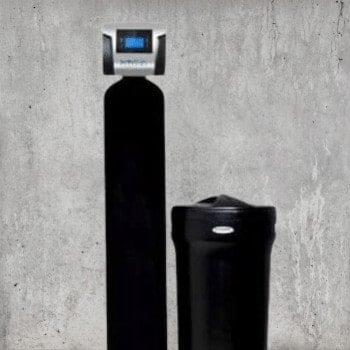 With over 30 years of producing great filtration systems, Quality Water Treatment left no stone unturned with there salt-based water softener – Softpro Elite.
Highlights
Available in sizes up to 80,000-grain
Easy-to-read backlit digital interface
Automatic refresh feature prevents build-up of bacteria
Safety float prevents water damage
Lifetime warranty
---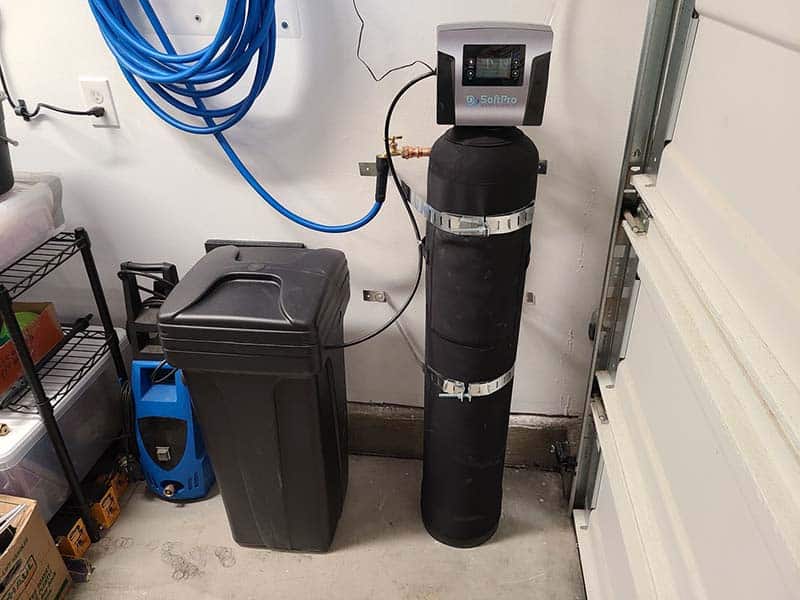 Best for: This is great for anyone looking for a solid water softener that don't want all the added bells and whistles.
Calcium and magnesium are good for your bones, but they're not beneficial for your home. Too many hard minerals in well water — a problem 60-percent of American households live with — can harm clothing, appliances, bathroom fixtures and even your skin.
If you own a well and are experiencing any of these signs —
Faded darks
Filmy residue on dishes
Limescale stains on tubs and showers
Itchy skin
Brittle hair
Higher-than-average utility bills
Unexpected appliance breakdowns
— chances are you have hard water. Fortunately, there's a simple solution.
SoftPro Elite

– Water Softener for Well Water

Quality Water Treatment, a US company with 30 years experience treating hard water, sells the SoftPro Elite — perhaps the industry's best water softener for well water.
Pros
It's salt-stingy, low-maintenance and expandable — if you're water's less than perfect, adding one of several filtration options will give you your best water ever.
The SoftPro Elite is a salt-based water softener with features that make it ideal for well water.
It's fine-mesh resin filters iron up to 3 PPM — double that of similar models — using a fraction of the salt and water.
It's high-efficiency upflow technology outperforms comparable models — and the list of features keeps growing.
A backlit digital head offers push-button control — backwashes are automatic.
Super-capacity, wide-mouth brine tanks are easy to load and need refilling less often.
Each tank is lined with a brine grid to prevent salt from clumping at the bottom.
A safety float keeps the tank from overfilling if the softener malfunctions.
Finally, a black neoprene jacket helps insulate the tank, so there's no condensation to collect on the floor, and the unit is protected from freezing.
SoftPro systems are straightforward to install, and technical support is standing by — resin is preloaded.
While comparable models have flimsy tanks, SoftPro's are durable and user-friendly.
The LCD panel is easy to read — there are no confusing symbols.
Programming offers a full range of options, but with enough automatic features to eliminate user errors.
Safety features and lifetime warranty are icing on the cake.
Few comparable models give you more for your money.
SoftPro deserves a round of applause.
Quality Water Treatment backs the SoftPro Elite with a lifetime warranty and premium customer service. You won't be disappointed.
Cons
Large brine tank utilizes more floor space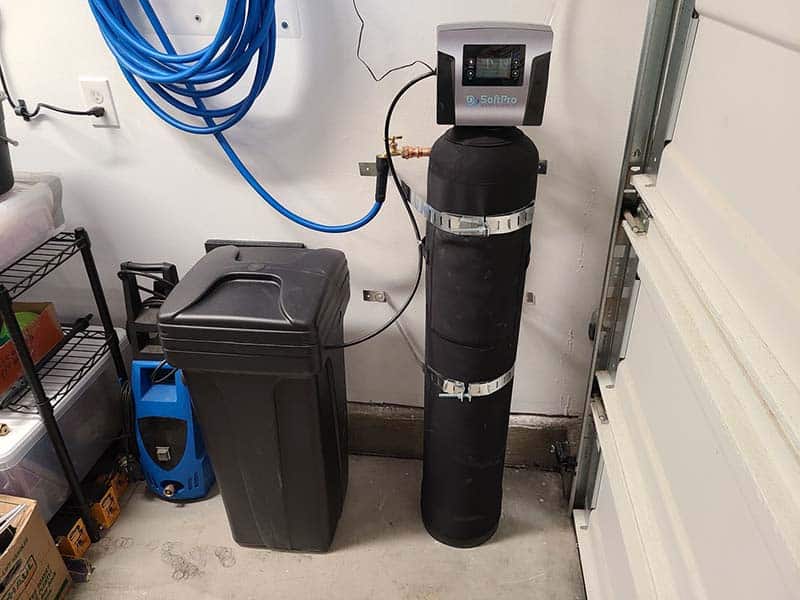 My Take
Water softeners have an unwarranted reputation for complexity — they're not. If they go wrong, it's because of design flaws. SoftPro softeners are top sellers for one reason — they're engineered for ultimate performance and their features make them simple and safe to use.
Other Brands To Consider over SoftPro
The Springwell SS1 offers an impressive 32k grain capacity and WIFI capabilities, allowing users to control their system remotely via a mobile/tablet app. This is the perfect choice for those looking for the features of the SoftPro Elite but with a more budget-friendly price.
For busy families, the Whirlpool WHES40E is an ideal choice. It comes with a 30k grain capacity and 6th Sense technology to reduce salt usage, helping you save both time and money.
Finally, the Fleck 5600 STX softener provides families with busy lives an impressive 48k grain capacity plus advanced electronic valve technology to cut down on salt usage. This ensures that your softening system runs efficiently with minimal waste.
The three systems listed above are our top picks to compare SoftPro Elite to and should cater to any budget and unique needs.
Key Features

of the SoftPro Elite Well Water Softener
Choosing the best water softener for well water requires understanding about its features. Let's clarify the jargon.
Contaminants Filtered
The SoftProElite removes:
Optional KDF 55, reverse osmosis or catalytic carbon filters transform it from a simple softener to a complete water filtration solution — the choice is yours.
Important Consideration To Know Before You Buy
Cost: When making a purchase decision, it is important to compare the cost of the SoftPro Elite Water Softener with similar models on the market to determine if it fits within your budget.
Efficiency: Evaluating efficiency is also essential when deciding whether or not to buy this water softener; consider how quickly it can soften hard water, its energy consumption, and its ability to reduce scale buildup in pipes and appliances over time.
Maintenance Requirements: Before purchasing the SoftPro Elite Water Softener, make sure you understand what kind of maintenance will be required to keep the system running efficiently. This includes replacing filters or salt cartridges as well as other regular maintenance tasks.
Warranty Coverage: Understanding what kind of warranty coverage accompanies the SoftPro Elite Water Softener is also key to ensuring that you are fully protected against any potential defects or malfunctions down the line.
Overall, the SoftPro Elite offers excellent performance across all these areas, making it an excellent choice for any home.
Capacity
Salt-based water softeners use negatively charged resin beads to trap positively charged hard minerals. When they reach their saturation capacity — reported as grain rating — salt water from the brine tank breaks the bonds between the resin and the minerals. Calcium and magnesium ions go down the drain, and the resin beads are "regenerated."
The SoftPro Elite is available in sizes from 24,000- to 80,000-grain. A 48,000-grain capacity is usually plenty for a family of four, but factors from usage to your well's flow rate can impact sizing. Quality Water Treatment has a grain calculator on its website, and their technical support specialists are happy to help guide you.
Resin
Water softeners use different types of resins. Eight-percent cation resin is the industry standard — but iron can damage it permanently. The SoftPro Elite not only removes more iron than average softeners, its fine mesh resin is damage-resistant. A water test can tell you how much iron is in your water. Under average conditions, the resin in the SoftPro Elite never needs changing.
Footprint
The ideal place to install a water softener is near the main water inlet and within reach of a power outlet and drain — allow ten feet between the softener and your water heater. The SoftPro Elite requires roughly 4 square feet of space plus additional area for comfortable maintenance. Picture yourself adding salt to the system.
Regeneration Control
Some water softeners regenerate on a timer, whether they need it or not, wasting both salt and water. The SoftPro Elite tracks usage and regenerates only when necessary or a minimum of every seven days to prevent bacterial growth in the tank.
Safety Features
Water softeners are reliable, but if they malfunction, water in the brine tank can overflow, damaging wood, drywall and concrete. The SoftPro Elite features a safety float similar to the type in your toilet that turns the water off if the level gets too high. Overflow control systems are a valuable feature for homeowners who spend significant time on the road.
Design and Installation
The SoftPro Elite comes complete with a resin tank, brine tank and electronic control head. The oversized brine tank has a larger footprint than most, but it holds more salt so you'll spend less time on maintenance — your back will thank you.
A handy homeowner can install it in a morning — the resin tank is heavy, so round up help. Salt-based softeners are restricted in some ecologically sensitive areas, so check local code before ordering. Or hire a plumber to do it for you — it's a budget-friendly project.
Help & Support
Quality Water Treatment backs SoftPro Elite series softeners with a lifetime warranty and an unwavering commitment to customer care. Installation guides with videos are available on their website, and technical support representatives are ready to assist.
Final Thoughts
Hard water minerals aren't bad for your health, but why suffer with dingy clothes, haystack hair and costly appliance repair bills? The SoftPro Elite water softener is the feature-packed, affordable, low-maintenance solution you've been waiting for.
Frequently Asked Questions
Should I be worried about too much sodium in my water?
No, the amount is negligible and safe for low-sodium diets.
Can I use potassium chloride instead of salt?
Yes, the SoftPro Elite is compatible with both, but use only products labeled for water softeners.
How does limescale affect appliances?
Hard minerals in water cling to pipe walls, narrowing their diameter. Water-using appliances, including dishwashers, refrigerators and water heaters, are carefully calibrated for a specific amount of water — receiving less through a clogged pipe makes them work harder. The result is higher-than-expected utility bills and premature breakdowns.
Compare Leading Salt-Based Water Softeners