Last Updated on November 12, 2023 by
Ava
📝 Model: Whirlpool WHESFC Pro | Type: Salt-based + Carbon | Process: ION Exchange | Regeneration: Metered | Grain Capacity: 31k | Flow Rate: 8 GPM | Bluetooth: ❌ | Warranty: 10 Year | Family Size: 5 | Rating: 4.5/5 | Best for: Those looking for a 2-1 combo system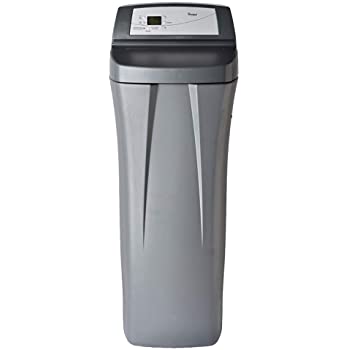 Unit Cost:
~ $738.65
Whirlpool produces great quality products and their Pro series water softener is no exception.
This 2-1 system tackles hard water and lousy tasting water in one system.
Highlights
Two-in-one filter and softener
NSF certified components
Built-in sediment screen
Low-maintenance
Space-saving footprint
---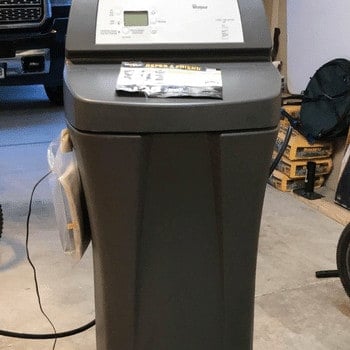 Best for: Those looking for a 2-in-1 system by a trusted name and to save space.
The only fix for hard water is a water softener. But what if you need both softening and filtration? Do you have to buy a separate filter to remove chlorine? Is there a more convenient, cost-effective way to get softer and better-tasting water? There is.
Let us introduce you to the Whirlpool ProSeries — a whole-house hybrid softener that we have featured in our top list with a carbon filter that tackles the toughest taste impurities. It's the all-in-one solution you've been waiting for.
10/10/2023 Update:
For those that want to save A LOT of money with similar features, I would suggest having a look at
SpringWell SS1 System
– backed with a lifetime warranty!
Whirlpool WHESFC ProSeries

Whole-Home Hybrid Softener and Filter Review

Let's take a closer look at what makes Whirlpool shine and why it might be your next system of choice.
Pros
Bad water is no match for the Whirlpool ProSeries 31,000-grain hybrid softener.
This single-tank system contains both ion exchange resin for the ultimate in softening plus activated carbon to trap chlorine taste and odors.
You'll reap the many benefits of soft water while enjoying flavor as good as premium bottled brands.
Ideal for medium homes, the softener removes a higher-than-average 120 grains of hardness plus three ppm of iron, eliminating stains on fixtures while protecting appliances from limescale and corrosion.
A self-cleaning cycle continually renews both resin and carbon, so there are no filters to change — ever.
Add salt every few months, and the rest of the system is virtually maintenance-free.
Energy Star certified and packed with intuitive features, the on-demand regeneration cycle is ultra-efficient, using less salt and electricity than comparable models.
The state-of-the-art digital control panel is user-friendly and a breeze to program.
Packaged in a monochrome cabinet that looks more like a high-end appliance than industrial equipment, the Whirlpool ProSeries hybrid softener is an attractive and functional addition to any home.
Straightforward to install and even easier to operate, it's stingy on salt and uses less electricity than similar models.
Affordably priced, it has among the lowest long-term costs of ownership on the market. We like that, and so will you.
Cons
Full ten-year warranty requires regular use of Whirlpool's softener cleaner
---
My Take on Whirlpool Water Softeners
Why settle for just a softener when you can kiss chlorine taste good-bye with the Whirlpool Pro hybrid? Compact, it's attractive and a top performer. The self-cleaning carbon filter eliminates messy cartridge changes — you'll save money, and maintenance is hassle-free.
Comparable Water Softeners To Consider
Aquasana Rhino Whole House Water Filter & Salt Free Softener Combo System: This system combines both filtration and softening technologies into one unit providing superior performance at removing contaminants from your water while still providing softening benefits without using salt – it does come with a larger price tag.
GE GXSH40V 40,000 Grain Water Softener: This system offers an impressive grain capacity of 40,000 grains — that's 10k more grains more than Whirlpool's WHESFC at a better price. It also features a digital metered control valve and LCD display for easy programming as well as a built-in self-cleaning filter to reduce maintenance requirements.
Just keep in mind, there are a variety of water softener systems available on the market that offer different features and benefits. Depending on your needs, one of these systems may be better suited for you than the Whirlpool WHESFC ProSeries Salt-based water softener.
Whirlpool Pro Series In-depth Features
Buying a filter that doesn't solve your water quality problems is a waste of money. But it if has more features than necessary, you may be spending more than you have to. Look for a happy medium. Let's take a closer look at the Whirlpool hybrid's capabilities.
Key Considerations To Make Before Buying:
Capacity: The Whirlpool WHESFC ProSeries Salt-based water softener has a capacity of up to 31k grains per tank, which is suitable for households with up to 4 people.
Efficiency: This product uses an advanced technology called "Demand Initiated Regeneration" (DIR) that helps reduce salt and water usage by only regenerating when necessary. It also features a built-in timer that allows you to customize the regeneration cycle according to your needs.
Maintenance: Whirlpool's WHESFC water softener requires minimal maintenance as it comes with a self-cleaning system that automatically cleans the resin bed every 14 days or so, ensuring optimal performance over time.
Cost: The cost of this product is relatively affordable compared to other similar products on the market, making it an attractive option for those looking for quality without breaking their budget.
Warranty: This product comes with a 10 year limited warranty from Whirlpool, giving customers peace of mind in case any issues arise during its lifetime use.
Contaminants Filtered
The WHESFC removes:
Calcium
Magnesium
Iron
Chlorine
Large sediment
Flow rate
A softener's flow rate reflects how fast water moves through the system in gallons per minute. Some models slow flow so much that you'll notice a significant difference in water pressure at the tap.
Average softeners provide 6–7 GPM, enough to ensure flushing the toilet won't dry up your shower. The WHESFC offers a brisk 8 GPM, making it suitable for larger families with multiple bathrooms.
Reroute water around the softener using the integrated bypass valve for high-flow applications that don't require soft water, such as watering the lawn or filling a swimming pool.
Micron Rating
Mechanical water filters have microscopic pores measured in microns. Particles bigger than the largest pore are removed. But the WHESFC's carbon filter works by adsorption — it binds chemical contaminants to its surface, so micron rating isn't applicable.
The WHESFC does have a sediment screen to remove large particles, but it falls far short of the typical 5-micron filters used to remove dirt and silt. If your water contains heavy sediment, installing a sediment prefilter will remove small debris and preserve the life of your softener.
Filter Life
Whirlpool's two-in-one media last up to ten years, depending on your water quality. The resin is replaceable, but most homeowners opt to replace the entire unit with updated technology after a decade.
Design
The Whirlpool WHESFC has a 19- by 18-inch footprint and requires approximately 25-percent less space to install than traditional two-tank systems. Measuring just under 48 inches from top to bottom, it's an easy fit in a basement or garage. The top of the salt reservoir sits at 39.5 inches, a comfortable loading height for most people. Allow at least a few feet of space surrounding the unit for maintenance.
Whirlpool ProSeries hybrids are easy to install for do-it-yourselfers with basic plumbing skills — instructions are clear, and you'll find a video installation guide on their website. If you're replacing an existing water softener, it's a simple job. The kit comes with everything you need. But if you'd rather have a tooth pulled than cut pipe, consult a professional.
Help & Support
Whirlpool has an exemplary reputation for customer service and technical support. They offer a two-year parts and labor warranty on the WHESFC but will extend it to ten years if you commit to using their water softener cleaner. Pour a bottle into the reservoir whenever you add salt — every three to four months on average — and it maximizes system efficiency. Users across the board feel it helps the softener perform better than its competitors, so it's a win-win.
Final Thoughts
You could buy a separate softener and filter to fix hard water and reduce chlorine taste, but you'll probably spend more and get lesser results. Instead, let the Whirlpool water softener hybrid be your advanced solution for mixed water quality problems.
Frequently Asked Questions
Do you need a water softener if you have a whole house filter?
If you want soft water, yes. Only reverse osmosis filters can remove minerals, but they're impractical for whole-home use. Filters and softeners can be installed together or choose a hybrid system like the Whirlpool WHESFC that does both.
What is a hybrid water softener?
Hybrid water softeners have dual capability — they can soften and filter select contaminants.
Where should a whole-house water softener be installed?
Water softeners are plumbed into your main water line — usually near the meter if you're on city water or your compression tank if you have a well. A basement is ideal because pipes are handy, and it's out of the way. A garage, utility room or closet are other options, but you may have to run plumbing and add electricity and a drain.
In warm climates, softeners can be installed outside with adequate protection from cold and sun — it can't be allowed to freeze. And a crawlspace will do as long it's deep enough to install the softener upright and allow room for maintenance.
Are Whirlpool water softeners good?
Whirlpool's been in the appliance business since 1911. They build affordable, top-quality products and have an excellent reputation for service after the sale.
Compare more top salt-based water softener brands: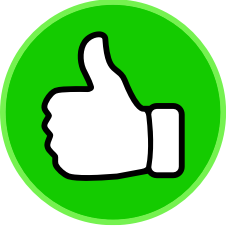 127
people found this helpful. Was this guide helpful to you?