Best Water Filter Pitchers of 2022
Water filter pitchers breezed onto the mass market almost forty years ago. Brita was the first company to produce one, and its mission was simple — to make water taste better.
Today, filter pitchers have come a long way, and they represent one of the best values in water filtration. They're compact, easy to use, and they remove many more harmful contaminants than their predecessors — as many as costly reverse osmosis systems can in some cases — and they keep millions of plastic bottles out of the waste stream, saving you money.
Everyone can have better quality drinking water with a filter pitcher, but there are dozens to choose from with remarkably different features. Which is the best water pitcher for you and your family? We've put together this comprehensive buying guide and researched these top picks to help you get started.
8 of The
Best Water Filter Pitchers

For Tap & Well Water

Filter systems come and go and some are certainly not worth the hype – we've spent countless hours researching and testing a few out that are NSF certified to bring you peace of mind. With that said, here's our top 8 water filter pitcher reviews:
#1.
Epic

Water Pitcher – Best overall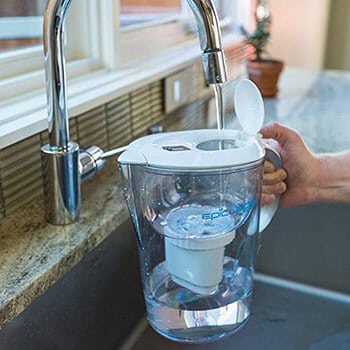 Epic Water's pitcher is great for a family of five and its Carbon filtration capability is unmatched.
If you're looking for safe, clean drinking water that has been rigorously tested against NSF/ANSI standards – epic pitcher should be your top choice as well.
Epic water pitcher's left no stone unturned when they designed this pitcher.
Do you have city tap water? Want to remove both lead and fluoride? Then, this is the pitcher for you…
Designed to remove up to 99.99% of all tap water contaminants and best of all, the filter lasts up to 4 months with an LED filter change indicator so you don't have to worry about when the last time you changed your filter.
.
Pros
Cons

5-stage Carbon filtration system
200+ known water contaminants filtered
Industry leading filter life – 3 to 4 months
Lifetime warranty

The pour spout is smaller than other pitchers and could cause more spillage until you get used to it.
My Take
This is among the best models for reducing taste impurities, and it's hands down the best water pitcher for removing the most potentially dangerous contaminants — especially PFOA, PFOS, chromium-6 and lead.
This pitcher takes only 10 mins to fully refill and comes with a lifetime warranty, so there's nothing to lose a here and much to gain — give Epic water a try.
#2.
Clearly Filtered

Water Pitcher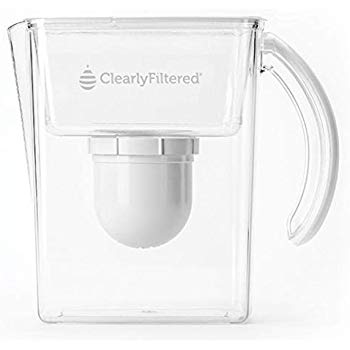 Clearly Water's pitcher doesn't look fancy, but its filtration capability is unmatched. It reduces or eliminates over 220 worrisome contaminants including pharmaceutical residue, mercury, chromium-6 and cancer-causing chemicals like glyphosate — an active ingredient in weed killers. Other pitchers claim to remove lead and fluoride, but this is the only model that eliminates more than 99.5-percent of them according to independent laboratory testing.
The pitcher is made of durable BPA/BPS and phthalate-free plastic. Its 64-ounce or roughly 8-cup capacity is big enough for a small family, and it comes with a lifetime replacement guarantee.
.
Pros
Cons

Maximum contaminant removal
Slim, space-saving design
Lifetime warranty and excellent customer support
Made in the United States
NSF-certified

Higher-than-average initial cost
Doesn't poor smoothly
FAQs
Q: Does this pitcher makes water biologically safe to drink?
      A: Not completely. It can't remove all potentially harmful microorganisms, but it does eliminate select viruses and common water-borne bacteria down to two microns in size including E. Coli and Cryptosporidium.
Q: How long do filters last?
      A: The life of the filter is 100 gallons — that's about three months of average use for a family of four.
Q: Does this filter remove healthy minerals?
      A: No. Beneficial minerals like calcium, magnesium and potassium are not filtered out.
My Take
The aesthetics on this pitcher are bland, and it's tough to pour without spilling. If you have kids who like to get their own drinks, they might find it challenging to handle. But if the point of filtering water is to protect the health of those children and to encourage them to drink more water instead of sugary beverages, this is among the best models for reducing taste impurities, and it's hands down the best water pitcher for removing the most potentially dangerous contaminants — especially arsenic, chromium-6 and lead.
#3.
Aquagear

Water Filter Pitcher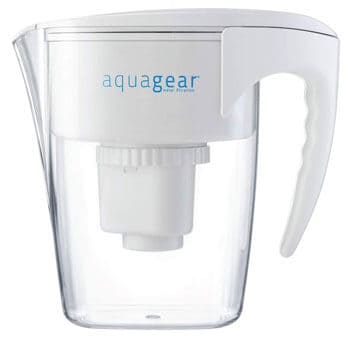 Aquagear uses a unique five-stage filtration system that is highly effective at removing arsenic, mercury and chromium-6. Testing done on contaminated water from Flint, Michigan water showed it reduced lead to undetectable levels.
It removes thousands of times more contamination than Brita's standard filter and removes pathogens down to two microns. The pitcher carafe is constructed with recyclable, FDA-approved food grade materials, and it gets good reviews for being sturdy and ergonomic. Like Clearly Water's pitcher, it has a 64-ounce capacity, but filters last 50-percent longer. Aquagear backs this model with a lifetime warranty.
.
Pros
Cons

Reduces the contaminants most harmful to children
Ergonomic handle
Doesn't remove beneficial minerals
Pitcher and filters are recyclable
Lifetime warranty

Removes less fluoride than the Clearly Water pitcher
FAQs
Q: Does this pitcher remove both chlorine and chloramines?
      A: Yes, 99.9-percent of each.
Q: How are filters recycled?
      A: E-mail Aquagear for prepaid label and ship them the spent filters. They'll take care of the rest!
Q: How long does it take for the pitcher to filter water?
      A: Approximately 10 minutes from the times it's filled.
My Take
This filter is ergonomically designed and pours like a dream. The purchase price is a little less than the Clearly Water pitcher, and filters last 50-percent longer — lowering the cost of ownership significantly. But while its filtering capability easily surpasses competitors like Brita, it doesn't perform quite as well as Clearly Water's model. The water it treats tastes just as fresh and crisp, but it removes far less fluoride and slightly less of most other contaminants. For a budget-friendly filter, it does a superb job, but if health concerns top your list, the Clearly Water pitcher is a marginally better choice.
#4. Seychelle pH2O Alkaline Water Filter Pitcher
Alkaline water is the latest health trend, and if you're on the bandwagon, Seychelle's Alkaline Water Pitcher could save you hundreds in bottled water costs. Like models from Clearly Water and Aquagear, it's made in the U.S. and removes lead, mercury, asbestos, chromium—6 and more, but it also enhances pH — something research suggests may have both health and beauty benefits.
Water from this pitcher gets rave reviews for taste, and the dual-filter system treats 200 gallons between changes. Design elements like a flip top for easy filling make it a user favorite.
.
Pros
Cons

Competitively priced
Makes alkaline water for a fraction of the price of bottled
Water tastes smooth

Removes fewer contaminants than select models
Lacks NSF certifications
FAQs
Q: Which minerals does this filter add to water?
      A: Calcium and magnesium
Q: Can I use Seychelle's non-alkaline replacement filters in this pitcher?
      A: Yes, both the standard and alkaline filters are a perfect fit.
Q: How long does the filtered water stay alkaline in the pitcher?
      A: Up to 30 days as long as it's kept below filter level. Contact with the filter can affect the pH.
My Take
In a field of both alkaline and non-alkaline water filters, the Seychelle falls squarely in the middle of the pack. It removes most major contaminants, but with less gusto than the Clear Water or the Aquagear, yet it reduces far more than similar alkaline pitchers. It wouldn't choose it as a peace of mind filter if you're on well water — especially in agricultural areas where soil can be contaminated with nitrates — but it makes heavily chlorinated city water taste like it came from a mineral spring, and you get alkaline water for a quarter of the price of bottled.
#5.
EHM ULTRA

Premium Alkaline Water Pitcher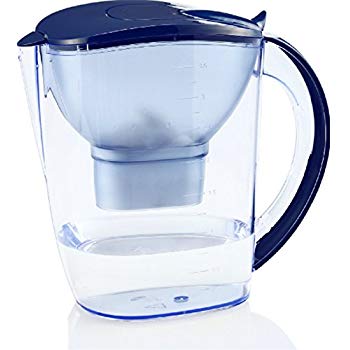 The EHM Ultra Premium filter pitcher is less about what should be removed from water than what should be added to it to make it healthier. Its six-stage filtration system does reduce common contaminants including heavy metals, but what EMH emphasizes about this model is its ability to increase pH up to 10.0 by removing acidic contaminants and adding additional major minerals via the filter.
This level of alkalinity maximizes water's negative oxidation-reduction potential and helps to combat disease-causing free radicals in the body. For great-tasting alkaline water on a budget, this model from EHM is perhaps the best water filter pitcher.
.
Pros
Cons

Made of premium BPA-free plastic
Replacement filters are inexpensive
Low initial price

Bulky 3.5-liter pitcher actually makes only 2 liters of alkaline water
Contaminant removal claims are untested
Pitcher comes with no warranty
FAQs
Q: Which minerals does this filter add to water?
      A: Calcium, magnesium, sodium and potassium
Q: Is the pitcher dishwasher safe?
      A: With the filters removed, yes.
Q: How long does each filter last?
      A: It depends on your water quality, but six to eight weeks is average.
My Take
Users have pH-tested the water this pitcher makes, and it's consistently in the 8.5 to 10.0 range as claimed. Where it fails is in proving its contaminant reduction claims. Unlike pitchers made by Clearly Water, Aquagear and Seychelle, it has no certifications, and there's no evidence of independent testing. Vague claims and the lack of a warranty don't inspire confidence, yet users seem happy with it overall. For the price, it's hard to beat but I'd depend on it only to produce good alkaline water, not the safest water.
#6.
ZeroWater

, 23 Cup Pitcher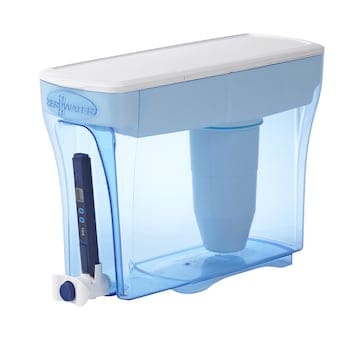 For large families, standard size filtration pitchers are too small, so ZeroWater came to the rescue with this 23-cup pitcher that fits in the refrigerator like a portable water dispenser. A five-stage filtration system removes more contaminants than carbon filters alone including lead, chromium, mercury and chemicals, and among similar models, it reduces the most total dissolved solids for the freshest-tasting water possible. The dispensing mechanism was thoughtfully engineered to allow one-handed pouring, and the flip top lid lets you refill the pitcher without removing it from the refrigerator. It comes with a free TDS meter and a 90-day warranty.
.
Pros
Cons

Family-sized capacity
One-handed dispensing and no-drip spigot
NSF-certified lead and chromium reduction
Free TDS meter

Short 90-day warranty
Quality-control issues with replacement filters
FAQs
Q: Does this filter remove pathogens?
A: No. It's for use with municipal water that has been disinfected.
Q: Is the pH of water affected by the minerals this pitcher removes?
A: No, the pH should remain the same.
Q: Does this filter remove fluoride?
A: It's not rated specifically for fluoride reduction, but because it's an inorganic compound, it should reduce the amount.
My Take
This dispenser is a great concept, but it has a few flaws. The lid and spigot are designed for convenience, but they're not particularly sturdy and prone to break. Customers also report quality control issues with replacement filters — multi-pack boxes come with duds. The dispenser is NSF-certified for lead and chromium reduction, and the water it produces tastes crisp, but claims regarding the removal of other contaminants are vague.
ZeroWater markets this unit more for TDS reduction than contaminant removal, so that's not surprising. For a reasonable cost, it's ideal for city water that tastes off because of mineral content, and it's a logical choice for large families that can handle it with care.
#7.
Aozora Large 18 Cup

Everyday Premium Alkaline Water Filter Pitcher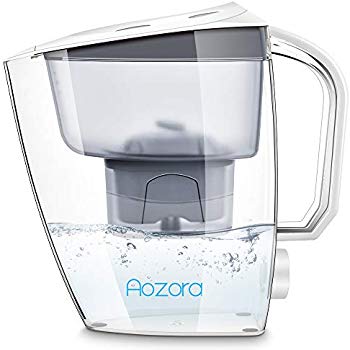 For a family of four, this 18-cup alkaline filtration pitcher by Aozora is a top value. It meets NSF 42 and 53 standards for contaminant removal, and both its initial price, and the cost of replacement filters are reasonable — each cup of filtered water it produces costs only a dime.
Multi-stage filtration removes sediment, lead, chloramines, chromium-6 and more, but leaves beneficial calcium and magnesium behind. High flow rate filters process water faster for quicker refreshment, and if the pitcher ever breaks, Aozora promises to replace it for free.
.
Pros
Cons

Large capacity
Low cost of ownership
Made of sustainable materials
Lifetime warranty with same-day customer support

Heavier than comparable models
Lids tends to pop off
FAQs
Q: Where is this pitcher manufactured?
      A: China
Q: Does the pitcher come with a filter?
      A: Yes, the first filter is included.
Q: The pitcher is a unique shape. Is it hard to clean?
      A: No. Each part is detachable to make it easier to sanitize.
My Take
If price stands between you and cleaner water, this is the lowest cost pitcher on the list. It doesn't have the filtration capability of the Seychelle, Clearly Water or Aquagear, but it does reduce lead significantly and makes water alkaline. Major brands of alkaline water sell for about two dollars a bottle, so at ten cents per cup, if you make it in this pitcher, you'll save a ton of money and be kinder to the environment. It's made in China, but NSF-certified for lead reduction, so I suspect it's worry-free.
#8.
Brita Large 10 Cup

Water Filter Pitcher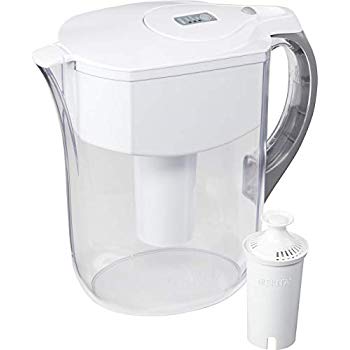 Brita is the original filter pitcher, and its mission is still the same as it was 40 years ago — to make your water taste better by removing taste impurities. The pitcher is BPA-free and feels durable. It has a rugged, comfortable handle with a shape specifically designed to fit in most refrigerator doors.
A flip top lid makes it a cinch to refill, and it's the only filter pitcher on the list that comes equipped with an electronic filter change indicator. It's available in your choice of stylish colors, and its filter replacement cost is among the lowest in the industry.
.
Pros
Cons

Comes in five fresh colors
Superior taste enhancement
Low cost of ownership
Reliable design
One-year warranty

Little contaminant filtration capability
FAQs
Q: When should filters be replaced?
      A: After two months or 40 gallons processed.
Q: Is the battery for the filter change indicator light replaceable?
      A: Not on this model, but it's expected to last five years.
Q: Does this pitcher reduce fluoride or lead?
      A: No. All Brita filters preserve fluoride for dental health, but pitchers equipped with the Longlast filter do reduce lead. That filter is not compatible with this model.
My Take
Brita's been around for a while, and their experience shows in the construction and convenience features this pitcher offers. The construction is solid, and the handle feels good in your hand. I wouldn't hesitate to let the kids use it. For contaminant removal, this isn't the best water pitcher, but what it does, it does well, and that's to make water taste good again. If you're generally satisfied with your water quality and just want to make it taste better than bottled for a lot less cash, you won't go wrong with this classic.
Water Filter Pitcher

Buyer's Guide Ava