With dozens upon dozens of water filter pitchers on the market, it can become a headache to choose the right one for your family.
With over 3 months of painstaking testing and researching popular brands, we've decided on five that we feel will get the job done right the first time with the least amount of headaches imaginable.
Which is the best water pitcher for you and your family? We've put together this comprehensive buying guide and researched these top picks to help you get started.
5 of The
Best Water Filter Pitchers

For Tap & Well Water

Filter systems come and go and some are certainly not worth the hype – we've spent countless hours researching and testing a few out that are NSF certified to bring you peace of mind. With that said, here's our top 5 water filter pitcher reviews:
#1.
Clearly Filtered

Water Pitcher – Best Overall

📝 Type: Granulated Activated Carbon | Capacity: 10 Cups |Contaminants Removed: 365+ | Filter Life: 100 gallons | Testing: NSF/ANSI Standards 42, 53, 244, 401 & 473 | Cost: $$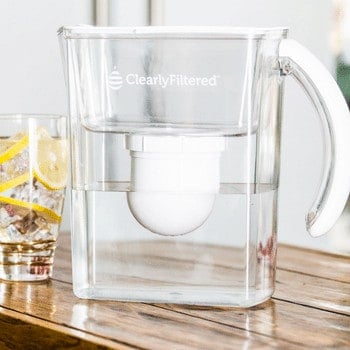 Clearly Water's pitcher doesn't look fancy, but its filtration capability is unmatched.
It eliminates over 365 worrisome contaminants including pharmaceutical residue, mercury, chromium-6 and cancer-causing chemicals like glyphosate — an active ingredient in weed killers.
Features
Maximum contaminant removal
Large 10-cup design
Lifetime warranty and excellent customer support
Made in the United States
NSF-certified
Use Coupon Code: QWL15 to Save
---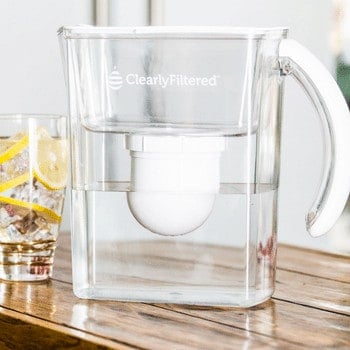 Best For: If you're looking for a filter pitcher with a large holding capacity with the assurance of third party testing – look no further than clearly filtered.
Pros:
Other pitchers claim to remove lead and fluoride, but this is the only model that eliminates more than 99.5-percent of them according to independent laboratory testing.
The pitcher is made of durable BPA/BPS and phthalate-free plastic.
Its 64-ounce or roughly 10-cup capacity is big enough for a small family.
Clearly filtered comes with a lifetime replacement guarantee.
We really love that no beneficial minerals like calcium, magnesium and potassium are not filtered out.
The life of the filter is 100 gallons — that's about three months of average use for a family of four.
We also love that this pitcher filter is tested against NSF/ANSI Standards 42, 53, 244, 401 & 473
Cons:
We don't like the higher-than-average initial costs when compared to other brands.
For the price, we were surprised it doesn't have a filter change indicator.
Clearly Filtered Product Updates:
1. Now is 100% BPA/BPS-Free
Read our full review: Clearly Filtered Water Pitcher Review
---
#2.
Epic

Water Pitcher – Runner up

📝 Type: Solid Carbon Block | Capacity: 16 Cups |Contaminants Removed: 200+ | Filter Life: 150 gallons | Testing: NSF/ANSI Standards 42, 53, 401, & P473 | Cost: $$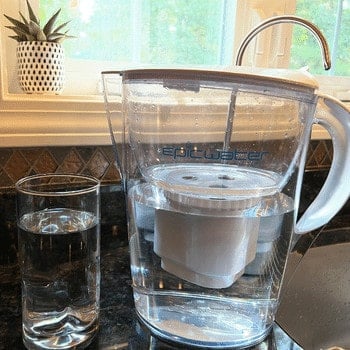 Do you have city tap water? Want to remove both lead and fluoride? Then, this is the pitcher for you…
If you're looking for safe, clean drinking water that has been rigorously tested against NSF/ANSI standards – epic pitcher should be your top choice as well.
Features
200+ known water contaminants filtered
Industry leading filter life – 3 to 4 months
5-stage carbon filtration system
Lifetime warranty
---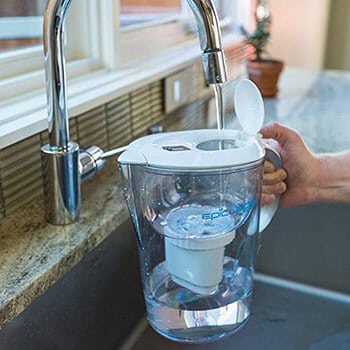 Best For: Epic filter pitcher is best for those looking for an all-in-one solution to 99.99% of tap water contaminants and doesn't mind the added cost for peace of mind.
Not Best For: Those on a budget or who only needs to filter out chlorine, etc.
Pros
In our testing, we've found Epic filter pitcher to be great for a family of 5 and the carbon filtration capability is unmatched.
We also noticed the sleek design gives us more space in our refrigerator – which is a bonus in our book.
Filling this pitcher takes a tad over a minute to filter and ready to use.
Changing out filters is pretty simple and easier than other top brand filters.
The filter lasts up to 4 months with an LED filter change indicator so you don't have to worry about when the last time you changed your filter.
Designed to remove up to 99.99% of all tap water contaminants.
Built using 100% BPA free plastic and is completely recyclable.
We noticed an immediate reduction in taste impurities such as chlorine.
We feel Epic is the best water pitcher for removing the most potentially dangerous contaminants — especially PFOA, PFOS, chromium-6 and lead.
We love that Epic comes with a lifetime warranty.
Cons
We really don't like how the pour spout is smaller than other pitchers and could cause more spillage until you get used to it.
Until everyone gets used to pouring the last bit of water from the pitcher, be aware that the cover sometimes pops off.
The annual filter replacement costs can be on the high side depending on how much your family drinks.
This pitcher isn't dishwasher safe and must be hand-washed.
1. Replacement filter subscription – by becoming a club member, you'll save 20% on each filter replacement.
2. New product Nano filter pitcher to handle viruses and bacteria
Read our Full Review: Epic Filter Pitcher Review
---
#3.
Aquagear

Water Filter Pitcher

📝 Type: Solid Carbon Block | Capacity: 16 Cups |Contaminants Removed: 200+ | Filter Life: 150 gallons | Testing: NSF/ANSI Standards 42, 53, 401, & P473 | Cost: $$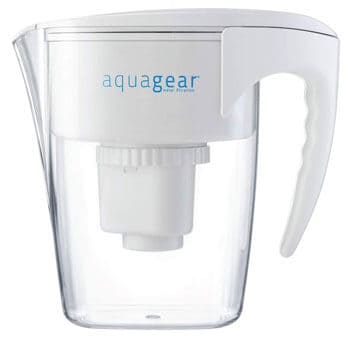 Aquagear uses a unique five-stage filtration system that is highly effective at removing arsenic, mercury and chromium-6.
Testing done on contaminated water from Flint, Michigan water showed it reduced lead to undetectable levels.
Features
Reduces the contaminants most harmful to children
Ergonomic handle
Doesn't remove beneficial minerals
Pitcher and filters are recyclable
Lifetime warranty
---
Best For: Aquagear is great for those looking to save money and is more than capable of handling the harshest of contaminants.
Not best for: If fluoride is your primary concern, this filter isn't the best and we would lean towards any of the two above.
Pros:
We like that Aquagear uses a unique five-stage filtration system that is highly effective at removing arsenic, mercury and chromium-6.
Testing done on contaminated water from Flint, Michigan water showed it reduced lead to undetectable levels.
It removes thousands of times more contamination than Brita's standard filter and removes pathogens down to two microns.
The pitcher carafe is constructed with recyclable, FDA-approved food grade materials, and it gets good reviews for being sturdy and ergonomic.
Like Clearly Water's pitcher, it has a 64-ounce capacity, but filters last 50-percent longer. Aquagear backs this model with a lifetime warranty.
We love that our water no longer tastes or smells of chlorine.
The purchase price is a little less than the Clearly Water pitcher, and filters last 50-percent longer — lowering the cost of ownership significantly.
For a budget-friendly filter, it does a superb job, but if health concerns top your list, the Clearly Water pitcher is a marginally better choice.
Cons
Removes less fluoride than the Clearly Water pitcher.
Takes about 10 minutes to fill up with filtered water.
while its filtering capability easily surpasses competitors like Brita, it doesn't perform quite as well as Clearly Water's model. The water it treats tastes just as fresh and crisp, but it removes far less fluoride and slightly less of most other contaminants.
---
Aquagear Product Updates:
---
#4.
ZeroWater

, 23 Cup Pitcher

📝 Type: 5-stage Ion Exchange filtration | Capacity: 23 Cups |Contaminants Removed: 20+ | Filter Life: 40 gallons | Testing: NSF/ANSI Standards 42, 53 | Cost: $$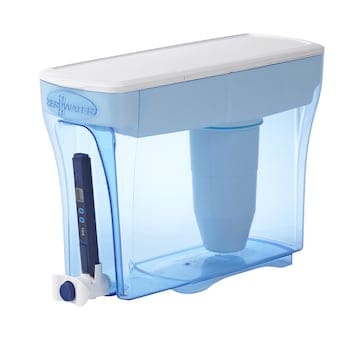 For large families, standard size filtration pitchers are too small, so ZeroWater came to the rescue with this 23-cup pitcher that fits in the refrigerator like a portable water dispenser.
Features:
Family-sized capacity
One-handed dispensing and no-drip spigot
NSF-certified lead and chromium reduction
Free TDS meter
---
Best for: Those looking for a large filter pitcher that requires less frequent refilling and easy one-hand pouring.
Not best for: Those on well water as this system is designed for municipal water.
Pros
This is great for large families as standard filter pitchers are just to small, so ZeroWater came to the rescue with this 23-cup pitcher that fits in the refrigerator like a portable water dispenser.
A five-stage filtration system removes more contaminants than carbon filters alone including lead, chromium, mercury and other harmful chemicals.
ZeroWater reduces the most total dissolved solids for the freshest-tasting water possible.
The dispensing mechanism was thoughtfully engineered to allow one-handed pouring, and the flip top lid lets you refill the pitcher without removing it from the refrigerator.
It comes with a free TDS meter and a 90-day warranty.
Cons
Short 90-day warranty
Quality-control issues with replacement filters
This dispenser is a great concept, but it has a few flaws. The lid and spigot are designed for convenience, but they're not particularly sturdy and prone to break.
Customers also report quality control issues with replacement filters — multi-pack boxes come with duds.
The dispenser is NSF-certified for lead and chromium reduction, and the water it produces tastes crisp, but claims regarding the removal of other contaminants are vague.
ZeroWater markets this unit more for TDS reduction than contaminant removal, so that's not surprising.
For a reasonable cost, it's ideal for city water that tastes off because of mineral content, and it's a logical choice for large families that can handle it with care.
---
ZeroWater Product Updates:
1. Now offers multiple sizes and configurations.
---
#5.
Brita Large 10 Cup

Water Filter Pitcher

📝 Type: Granular Activated carbon | Capacity: 10 Cups |Contaminants Removed: 10+ | Filter Life: 40 gallons | Testing: N/A | Cost: $$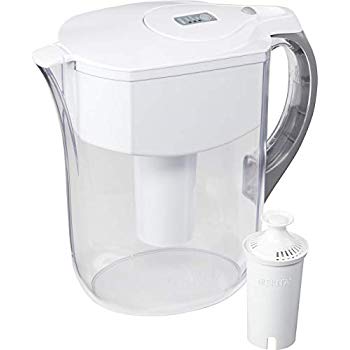 Brita is the original filter pitcher, and its mission is still the same as it was 40 years ago — to make your water taste better by removing taste impurities.
The pitcher is BPA-free and feels durable. It has a rugged, comfortable handle with a shape specifically designed to fit in most refrigerator doors.
Features:
Comes in five fresh colors
Superior taste enhancement
Low cost of ownership
Reliable design
One-year warranty
---
Best For: Those looking for a budget friendly filter pitcher that can handle most common tap water issues.
Not Best For: Those looking for the ultimate contaminant removal as this won't cut it for you – lean towards Epic or Clearly filtered as better options.
Pros
A flip top lid makes it a cinch to refill, and it's the only filter pitcher on the list that comes equipped with an electronic filter change indicator.
It's available in your choice of stylish colors, and its filter replacement cost is among the lowest in the industry.
Brita's been around for a while, and their experience shows in the construction and convenience features this pitcher offers.
The construction is solid, and the handle feels good in your hand. I wouldn't hesitate to let the kids use it.
If you're generally satisfied with your water quality and just want to make it taste better than bottled for a lot less cash, you won't go wrong with this classic.
Cons
For contaminant removal, this isn't the best water pitcher, but what it does, it does well, and that's to make water taste good again.
The battery for the filter change indicator isn't replaceable – it should last five years.
This filter doesn't reduce fluoride which is a bummer.
1. Nothing to share, yet.
---
Compare All 5 Filter Pitchers
(Mobile users: Swipe to scroll)
| Compare Brands & Models | #1 Epic Water Filter | #2 Clearly Filtered | #3 Aquagear Filter | #4 ZeroWater Filter | #5 Brita Filter |
| --- | --- | --- | --- | --- | --- |
| Rating | 5/5 | 5/5 | 4.5/5 | 4.5/5 | 4.5/5 |
| Price | $$ | $$ | $ | $ | $ |
| Contaminants Removed | 200+ | 365+ | 200+ | 20+ | 10+ |
| Filtration Capacity | 150 gal. | 100 gal. | 150 gal. | 40 gal. | 120 gal. |
| Certifications | NSF/ANSI Standards 42, 53, 401, & P473 | NSF/ANSI Standards 42, 53, 244, 401 & 473 | NSF/ANSI Standards 42, 53, 401, & P473 | NSF/ANSI Standards 42, 53 | n/a |
| Annual Cost | ~$85 | ~$130 | ~$100 | ~$130 | ~$45 |
| Warranty | Lifetime | Lifetime | Lifetime | 90-day | 30-day |
Water Filter Pitcher

Buyer's Guide

You can spend your vacation fund on a filtration system that treats water for everything from radiation and pathogens to heavy metals and chemicals I can't even pronounce, but in most cases, it's overkill. You'll get more for your money if you understand the types of contaminants that are most likely to affect your water supply and choose a filter accordingly. Let's look at how to determine that and which filters have the right features for you.
Contamination Risk
Municipal water is treated at the source, so it's free from harmful microorganisms that cause disease. But it can suffer from hardness — an overabundance of minerals — and it could contain traces of drug residue, certain types of industrial chemicals like chromium-6 and lead from aging underground pipes. Fluoride, added to promote dental health, is also a concern for some homeowners, and the disinfectants used to make water safe to drink — chlorine and in some cities, chloramines — can make water unpalatable.
If you have a well, disinfectants and added fluoride are rarely an issue, but pathogens, hard minerals and contaminants like heavy metals like arsenic occur naturally in the soil, and if you live near an industrial or agricultural site, chemicals like herbicides, pesticides, solvents, and fertilizer can follow the flow of rain or flood water into your well.
The safest way to choose a water filter is to start with a water test. For wells, DIY test kits are available at the hardware store, or you can send a sample to a lab. For a report of what's in city water, contact your municipality — they are required by law to share this information.
Chromium versus Chromium-6
Chromium is a metallic element found in nature. The two most common forms are chromium-3 and chromium-6.
Chromium-3 is a dietary element humans need. Chromium-6 also occurs naturally but is used in large amounts in industry, and leaks can cause contamination at levels that are a risk to human health.
Municipalities are required to inform the public if levels of chromium-6 exceed the maximum parts allowed by federal law, but because the World Health Organization designates it a cancer risk in even the smallest amounts, lower maximum levels in tap water may soon be required. In the meantime, if you purchase a water filter in an at-risk area, clarify that any chromium reduction claims refer specifically to chromium-6.
Total Dissolved Solids (TDS)
Some people believe that the higher the level of TDS in water, the unhealthier water is. That can be true if the water is dense with hard minerals that affect your water's taste or harbors other potentially more harmful contaminants like arsenic. But it's not the whole story.
The TDS reading only tells you how many dissolved solids are in your water, not if they're unhealthy or beneficial. It's a good test to do, and it can be a clue that further testing is necessary, but it alone is not a reliable indicator of water quality. For water with the lowest TDS, the ZeroWater pitcher is the best bet on this list.
Important Water Filter Pitcher Features to Consider
#1 Capacity
It takes most of the filters on this list about ten minutes to process each full pitcher, so to ensure a steady supply, buy one with a large enough cup capacity to meet your daily needs. Pitcher-style filters rarely exceed 10-cups in size. The ZeroWater dispenser can make 23, but its contaminant filtering capability is only low to moderate. For families who need both exceptional filtering and large volumes of water, an under-sink or faucet-mount filter may be a better choice.
#2 Materials
BPA is short for bisphenol A, an unhealthy chemical added to many plastics that disrupts the activity of human cells. The pitchers on the list are all BPA-free.
#3 Construction
Thin plastic pitchers are prone to break if mistreated. I recommend sturdier models for kids. The Aquagear pitcher and the Brita are tops on this list. And because lids and handles are the most likely components to break, better construction means improved longevity.
#4 Filter Life
The cost of replacement filters adds to the long-term cost of ownership of the pitcher. Consider your needs, and in addition to the initial price of the pitcher, compare how much filter replacements cost compared to how many gallons they produce.
On this list, the Aquagear is the most cost-effective among the higher-efficiency filters. The EHM ULTRA and the Brita are the least expensive among model that treat water mostly for taste issues.
#5 Filter Replacement Indicators
Electronic filter replacement indicators are a popular feature that let you know when the filter should be replaced. The Brita is the only model on the list that has one, and it's convenient, but the battery isn't replaceable.
Filter indicator lights can also suggest filters be replaced too early. Most work on a simple timer that goes off at the recommended intervals regardless of how many gallons of water the filter has processed. In most cases, it's as easy and cost-effective to write the date a change is due on the calendar. A decrease in performance or reduction flow is also a good clue a filter change is needed.
#6 Alkalinity Enhancement
If your goal is solely alkaline water, the Aozora Premium Pitcher is the best value. For alkalinity with contaminant filtering capability, the best water filter pitcher is the Seychelle pH20, followed by the EHM Ultra.
#7 Certifications
Certifications from the NSF and the Water Quality Association let you know a product meets strict public health standards; however, these certifications can be costly to obtain. Some companies instead choose to have their products independently tested to NSF standards to avoid that cost. It's not an exact equivalency, but it's a point in their favor. Be suspicious of products that make claims without at least some measure of testing to back them up.
#8 Warranties
Warranties are value-added features and do a lot to inspire confidence, especially among more expensive pitchers, but check the fine print. Some models on our list carry a no-quibble satisfaction guarantee, but the terms of other warranties aren't quite as clear.
#9 Recycling
Few cities and towns recycle used water filters, but the number of companies that do, like Aquagear, is growing by the day. See what the maker of your pitcher can do for you.
Final Thoughts
Everyone deserves clean water, but complicated filtration systems can be a significant investment. Don't let cost stand between you and healthier water in your cup. Today's water filtration pitchers are a simple, effective and affordable option.