Last Updated on January 20, 2023 by
Ava
📝 Model: Epic Pure Filter Pitcher | Type: Solid Carbon Block | Capacity: 16 Cups | Contaminants Removed: 200+ | Filter Life: 150 gallons | Testing: NSF/ANSI Standards 42, 53, 401, & P473 | Cost: $$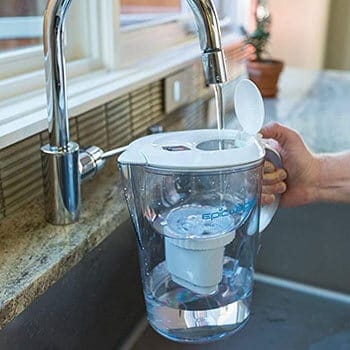 With dozens of filter pitchers on the market that we've tested, only one gives us the best bang for our buck and that's Epic filter pitcher.
Read on to learn why we like this over household names like Brita.
Highlights
Comprehensive contaminant reduction
Space-saving design
Easy-fill top
Safety-certified
Lifetime warranty
---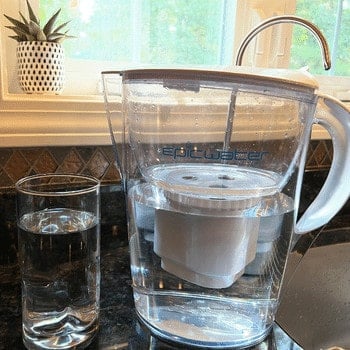 Best for: Anyone looking for a filter pitcher that's BPA-free and eliminates over 200 common tap water contaminants efficiently.
Overview
Filtration pitchers are simple, affordable solutions for improving the quality of your drinking water. But while some models are designed solely to address taste impurities, others like the Epic Pure Water Filter Pitcher are like having a personal water treatment plant in your kitchen.
Pros
Few filter pitchers match the filtration capability and impeccable engineering of the Epic Pure.
It's BPA-free and eliminates up to 99.99% percent of more than 200 tap water contaminants, including the most harmful to children, such as lead, fluoride, glyphosate and PFOAS.
If you have kids in the house and worry about toxic contaminants that could be lurking in their cups, you need the filtration capability only an Epic can offer.
Top-quality solid carbon filters are laboratory tested and exceed most NSF/ANSI Standards.
Epic publishes the full test reports for transparency.
The sturdy Tritan pitcher holds a generous two liters and is crafted for convenience.
Features from a water dam that prevents spills to and an easy-fill flip top lid make it a breeze to use, even for kids.
Your family gets the best-tasting, purest water money can buy, and its hassle-free — only Epic makes it this easy.
Cons
Pitchers are not dishwasher-safe
My Take
Water pitchers aren't rocket science, but the Epic Pure comes close. If the point of filtering water is to make it as safe as possible and enhance its taste, nothing does it better. The refined design eliminates the most common complaints about lesser pitchers — it's simple to fill, well-balanced and pours perfectly.
I wish it were dishwasher-safe, but it's a small sacrifice for what might be the best water filter pitcher on the market. The initial price is higher than its competitors, but you get what you pay for — sign up for It's a spend you won't regret.
Epic Pure Update:
We've had this filter pitcher for 9 months and here's some things we've noticed. We noticed that when pouring out the last bit of water, the lid flap that you open to fill your pitcher opens up way to easily.
That isn't that big of a deal, I just thought I would let you all know and to warn you that you should keep your thumb placed on the curved tab so that water doesn't pour out elsewhere as your filling your glass when pouring out the last bit of water.
Other than that, we actually really love this pitcher and the water quality tastes great.
Compare The Competition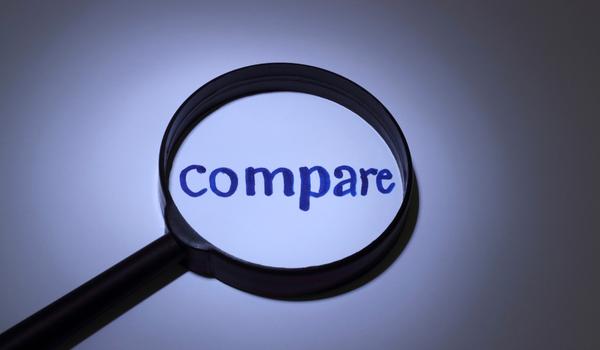 Brita Water Filter Pitcher: This is a great alternative to the Epic Pure Water Filter Pitcher, as it has a larger holding capacity and can filter up to 40 gallons of water before needing a filter replacement.
Aquagear Water Filter Pitcher: This is another great option if you're looking for solid filtration performance. Aquagear removes 99.9% of all contaminants from your drinking water, including lead, fluoride, chlorine, and more. Plus, it comes with a lifetime guarantee so you can be sure it will last for years to come!
Clearly Filtered Water Pitcher: This pitcher is designed to remove over 200+ contaminants from your drinking water, including heavy metals and PFAS. It also has a larger holding capacity than the Epic Pure, so you can filter more water at once.
At the end of the day, it's going to come down to your budget and needs. In my opinion, Clearly filtered is the best overall, but if you don't need that kind of filtration, Epic Pure is an easy win in my book. Brita is a household name and perfect for any budget.
Epic Pure Water Filter Performance Features
More than one family has given up on water pitchers because some are a nuisance to use. Consider how these features can make the Epic Pure the best water filter pitcher for your home:
Key Considerations Before You Buy
Cost: This system does cost more than a Brita pitcher, but when you take a look under the hood, you'll be glad you bought one.
Ease of Use: Epic Filter is pretty simple to setup and operate. The one thing We noticed is that the lid flap where you fill the carafe does flop open when pouring out the last bit of water. However, with quick adjustment, we haven't had any issues since.
Filtration Capacity: The Epic Pure Water Filter Pitcher can filter up to 150 gallons of water before needing replacement, providing plenty of clean drinking water for households or offices with multiple users.
Replacement Filters: replacement filters are pretty easy to find on Amazon or you can also subscribe to Epic for replacement filters that will ship out automatically so you never have to remind yourself. There's also a filter life LED display to help remind you when your filter needs changing.
Taste & Odor Removal: This filter pitcher does exactly what they say — eliminate the awful chlorine smell and taste, and when we tested our water with a TDS meter the water quality was in the safe zone.
Durability: We've had this pitcher for about 9 months now, and so far we haven't had any issues aside from the lid flap issue that we quickly fixed. So far all is pretty good and we will update this review if anything else arises.
Warranty: This product comes with a one-year warranty so you can be sure that any issues will be taken care of quickly and efficiently if they arise.
Contaminants Filtered:
The Epic Pure reduces these common contaminants:
Lead
Mercury
Arsenic
Fluoride
PFAS
Chromium 6
Pesticides
Herbicide including glyphosate
Chlorine
Chloramine
Hormones
Microplastics
Sediment
Trace pharmaceuticals and more
Micron Rating
A mechanical water filter reduces contaminants by excluding particles larger than its pores. Measured in microns – millionth of a meter – the smaller the pores, the fewer toxins that pass through.
The Epic Pure's coconut carbon filter eliminates contaminants down to two microns. It's not small enough to protect you against all bacteria or parasites, but it's among the best filtration capability for residential pitchers.
Capacity
Nothing's worse than a dry water pitcher when everyone at the table wants a drink — avoid undersized models. The Epic Pure has a generous 2-liter capacity — that's roughly 8.5 cups or six average-size tumblers. It's plenty for a family of four.
Construction
Water pitchers have a reputation for cracking — we recommend only sturdy models for children. The Epic Pure is made of BPA-free, shatter-resistant Tritan plastic for durability and features a full D-handle. The cheaper half handles on some models are challenging for kids to hold, and they lend no structural stability to the pitcher.
Filter Life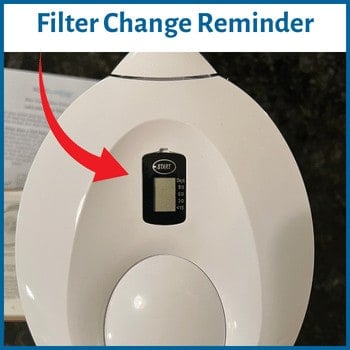 Knowing when to replace filters isn't an exact science because water quality impacts performance.
Changing filters too soon isn't cost-effective, but waiting too long means contamination could seep through.
Epic Pure Filters last an average of 90 days and retails for $36, but you save 20-percent by signing up for Epic's Clean Water Club.
An LED indicator built into the lid tells you when it's time for a swap. It's a foolproof system that guarantees the safest water possible.
Certifications
The National Sanitation Foundation (NSF) runs a voluntary certification program for water filtration products. They've developed hundreds of standards that address important performance criteria. Numbers correspond to specific standards, so consumers can verify they're getting what bargained for.
The Epic Pure is NSF/ANSI Standards 42, 53, 401 and P473 certified, meaning it reduces:
Aesthetic, taste and odor impurities
Known harmful contaminants
Emerging contaminants — toxins not yet regulated by the EPA
PFOA and PFOS
Not all companies submit their products for certification because of the cost, but it's the only performance guarantee a buyer has. The federal government doesn't test or regulate water filters. Avoid models that don't meet these standards.
Warranty
If a good warranty adds value to your purchase, the Epic pitcher's can't be beaten. For your peace of mind, it's backed by an unconditional lifetime warranty.
Final Thoughts
Your family deserves clean, fresh-tasting water, but whole-home filtration systems can be cost-prohibitive. Don't let price stand between you and better health — the Epic Pure Water Filter Pitcher is safe and affordable value.
Frequently Asked Questions
How long do the carbon filters last?
Epic Pure Pitcher filters have a lifespan of three to four months, depending on average daily use and water quality. Heavily contaminated water decreases the life of the filter. A handy LED timer reminds you to change it every 90 days.
Does this filter remove beneficial minerals?
No, the healthy minerals your body needs, including calcium, magnesium and potassium, are not removed.
Can I use this pitcher to filter well water?
Yes, but the Epic Pure can't make untreated well water biologically safe to drink, so it's safest to use with disinfected municipal water unless your well has been tested and harbors no bacteria.