Compare the 7 Best water softener systems
Hard water — water with high levels of minerals like calcium and magnesium — is a fact of life for most homeowners, and while it's not a health risk, having too many minerals in your water supply can wreak havoc on your skin, ruin your clothing and take years off the lives of expensive appliances like dishwashers and water heaters.
In most cases, the solution to hard water is a water softener. They're easy to install, simple to use, and are more cost-effective to own than ever, but choosing the best water softener takes research. Water softeners reviews can be helpful, but they don't always give you the whole scoop.
We want you to be satisfied with your choice, so we've put together this buying guide to help you learn more about how water softeners work their magic and which features are the most important to look for. Let's get started with seven top models for comparison.

Best Water Softener Systems

EDITOR'S CHOICE

EDITOR'S CHOICE

SpringWell Water Softener System

No impact on water pressure
Virtually maintenance-free
Lifetime warranty

Check Prices

Coupon Code: QWL5

ALSO GREAT

ALSO GREAT

Pelican NaturSoft Salt Free Water Softener

Produces zero wastewater
Retains healthy minerals
Low-maintenance

Check Prices

GREAT FOR WELLS

GREAT FOR WELLS

Quality Water Treatment SoftPro Elite

Easy-to-read backlit digital interface
Lifetime warranty
Up to 80,000-grain

Check Prices

GREAT FOR HARD WATER

GREAT FOR HARD WATER

Fleck 5600SXT Water Softener

Metered system reduces wastewater and salt use
User-friendly digital interface
Programmable flow meter

Check Prices
Top 7

Best Water Softener Systems Reviewed:
#1.
Iron Pro 2

Combination Water Softener and Iron Filter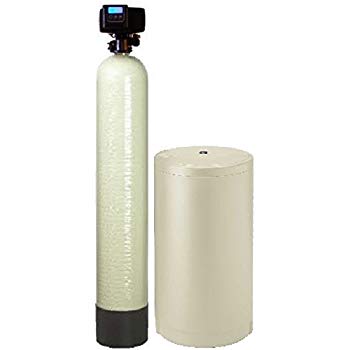 The Iron Pro 2 is a salt-based whole house water softener made to remove iron. Its 64,000-grain capacity is perfect for a family of three to four with moderately hard water, and its top-quality components provide years of worry-free use.
Unlike some water softeners, the Iron Pro 2 uses higher-quality fine mesh resin to remove iron — up to 8 parts per million — that can permanently stain clothing, tubs and toilets. Each system comes with a mineral tank, brine tank and a digital metered control head that measures the amount of water used and regenerates the system only when necessary for optimal efficiency.
.
Pros
Cons

10-percent crosslink resin reduces iron
Digital metered valve improves control and efficiency
30-day satisfaction guarantee plus five-year warranty
Competitively priced

Basic plumbing skills required for installation
FAQs
Q: Is this system septic-safe?
      A: Absolutely!
Q: Can this system use sodium or potassium chloride?
      A: It can use both.
Q: Can this system be programmed to regenerate overnight?
      A: Yes. When the water softener regenerates is the homeowner's choice.
My Take
The Iron Pro 2 doesn't have the bells and whistles other models have, but it has all the necessary features including an excellent warranty. The real difference between it and the competition is its ability to reduce iron. If you have stubborn rust stains in your toilet or shower, you can install a conventional home water softener plus a separate iron filter or a better softener that does both. For my money, if the Iron Pro 2 leaves my fixtures clean without the added expense — it's a winner.
#2.
Fleck 5600sxt

On-Demand Water Softener — Best Salt-based System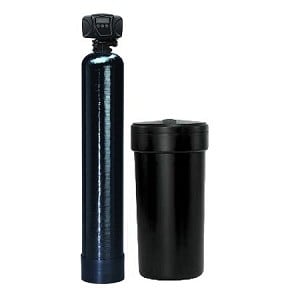 The 5600sxt by Fleck is a salt-based set-it-and-forget-it system. It has a generous 64,000-grain capacity and every feature that makes a water softener a pleasure to own including advanced programming capability and custom settings that can reduce salt use by up to 40-percent over some models.
The upgraded resin won't deteriorate in the presence of chlorine like lesser resin can — a plus for use with heavily chlorinated city water. Mechanically and electronically, it's streamlined and among the easiest to install.
.
Pros
Cons

User-friendly back-lit LCD display
High-durability resin resists chlorine degradation
Protects settings against power loss
Five-year warranty
Internal power backup
FAQs
Q: Does this system regenerate on a timer or based on water usage?
      A: It's a metered system that monitor water use and regenerates only when needed to reduce salt use unless set differently.
Q: How much waste water is produced during regeneration?
      A: About 63 gallons
Q: Is this softener equipped with a bypass valve?
      A: Yes! Use it anytime for applications that don't require softened water.
My Take
I like the Fleck 5600sxt because it's user-friendly. Water-softeners aren't complicated, but if you've never used one, there's a learning curve with some models that can be uncomfortable. This unit uses a state-of-the-art SXT controller with a back-lit LCD display that shows you the system's status at a glance. Step-by-step programming is a cinch to use, and the advanced options help maximize system efficiency and save money. It won't remove iron like the Iron Pro 2, but if that's not an issue, it's a terrific value for first-time users and my pick for best salt-based home water softener.
#3.
Pentair WS48-56sxt10 Fleck 48K

Grain Water Softener — Best for Well Water with Iron
Like the Iron Pro 2, the Pentair WS48-56sxt10 is designed to both softener water and remove iron. Its 10-percent crosslink resin is chlorine-resistant, so it's ideal for both municipal and well water, and like the Iron Pro 2 and the Fleck 5600sxt, it features the Fleck SXT controller for optimal performance.
The kit includes the mineral and brine tanks and the control head, but as a bonus, it also comes with an installation kit that includes a sanitizer packet, O-ring lubricant and hardness test strips that make initial set up easier.
.
Pros
Cons

Removes iron
User-friendly interface
Metered regeneration saves salt and water
Comes with a value-added installation kit
USB video installation instructions included

Plastic used in the brine tank is prone to cracking
Removes only 4 ppm of iron
FAQs
Q: How often does salt need to be added to the brine tank?
      A: The rate of salt consumption varies based on water quality. Look in the brine tank weekly and add more salt when 3 inches or less of it remains.
Q: Can this be installed outdoors?
      A: Yes, but only in non-freezing climates, and weatherproofing the electronic controls is a must.
Q: Can this be installed below the level of the drain line?
      A: Yes, but no more than 20 feet.
My Take
This softener removes less iron than the Iron 2 Pro — four versus eight ppm — but it softens water as well as any softener our the list and it shares the same quality features. Where the Pentair differs is the price. Compared to the Iron Pro 2 in the same size, it costs 15-percent less, and while the iron reduction is less, the performance is near equal practically speaking — an oddity we'll cover in the buying guide. This is my pick for best water softener system if you have a problem with iron.
#4.
Aquasure Harmony Series

48,000 Grain Whole House Water Softener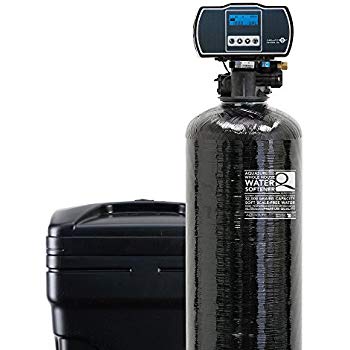 Aquasure promises spa-pure water with this 48,000-grain whole house water softener. It's equipped with high- capacity resin for long life, and offers a few exciting convenience features other models don't including a detachable bypass valve that allows maintenance without turning off the water supply and a high-capacity brine tank with a wide mouth that makes adding salt easier.
A low-profile hydraulic meter allows for closer installation to the wall — a plus in tight spaces — and all units come preloaded with resin for faster installation.
.
Pros
Cons

Durable, wide-mouth polyethylene brine tank
Fully customizable programming
Tanks come preloaded with resin
Five-year warranty

Fewer programming options than it's competitors
FAQs
Q: How often should the resin be replaced?
      A: Every five years on average depending on water quality.
Q: Will this softener affect the flow of water at the tap?
      A: It can, however, with an 11.5 gallon per minute flow rate, most users don't notice a big difference.
Q: Where is this system manufactured?
      A: It's assembled in the U.S. from globally-sourced parts.
My Take
Aquasure doesn't have Fleck's reputation yet, but if it keeps making water softeners this good, it will. Everything about this system was thoughtfully designed. Water softeners aren't complicated, and there isn't much difference between most models, but Aquasure tweaked those few annoyances consumers complain about like brine tanks with narrow openings and LCD displays that are cluttered and hard to read. If you appreciate sound engineering, this model may not soften any better than the others, but it almost feels that way.
#5.
Tier1 48,000 Grain

High-Efficiency Digital Water Softener for Hard Water
Tier 1's water softener isn't the slickest on the market, but it's an exceptional value for the price. The kit comes complete with the mineral and brine tanks and a digital head, plus it features quick connectors that earn it great reviews for ease of installation.
Programming options are available for every need, and it can be set to regenerate overnight when water use is at a low. Like it's competitors, it comes with a five-year warranty, but at a bargain price.
.
Pros
Cons

Comes with water hardness test strips
Excellent customer support
Brine tank has a small footprint
Easy-to-read instructions

LCD user interface is not as user-friendly as other models
FAQs
Q: Can this softener use both salt pellets and crystals?
      A: Yes, both work equally well.
Q: Is installation support available by phone?
      A: Yes, during regular business hours.
Q: Where is the softener made?
      A: China
My Take
This system performs admirably when it comes to water softening, and in most respects, it's comparable to the Fleck 5600sxt and the Aquasure Harmony. The basic construction and warranty are similar, and it gets raves for performance. What I'm not crazy about is the digital control meter — it's the least user-friendly on the list. The brine is also taller, and while it takes less floor space, it's tougher to pour in salt without making a mess. Neither of those two things is a deal breaker, and if floor space is tight, it's worth a second look.
#6.
Eddy Electronic Water Descaler

and Water Softener Alternative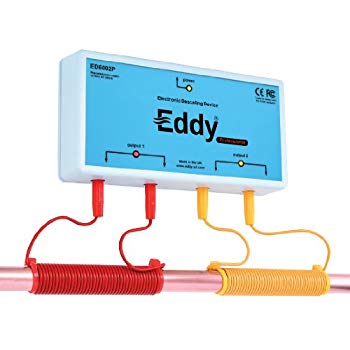 Eddy's electronic water descaler is an ideal alternative to salt-based softeners. Unlike conventional models that remove minerals, this system uses electromagnetic waves to change the crystalline structure of minerals so they can't adhere to pipes and damage water-using appliances.
The hardness of water isn't affected, and healthy minerals aren't removed, but it helps prevent the limescale buildup on fixture and appliances without costly changes to plumbing or the use of salt.
.
Pros
Cons

Takes no floor space — attaches directly to water pipes
Less expensive than conventional water softeners
Environmentally-friendly — no salt required
Maintenance-free

Not ideal for very hard water
FAQs
Q: Can this system be used to treat hot and cold water?
      A: Absolutely! Instructions are included.
Q: How much electricity does this unit use?
      A: Five watts — about the same as a nightlight.
Q: Does this work on both plastic and metal pipes?
      A: It works all on metal and PVC pipes unless they're older pipes made of iron or lead.
My Take
Water descalers are not technically softeners because they don't remove minerals, but if the end result is nearly the same, does it matter? If you want a water softener for preventing spots on dishes, this unit won't help, but for preventing hard water stains and damage to plumbing and appliances, it does a capable job in less space and for less than half the cost. It's not a 100-percent solution if you have very hard water, but if you can't maintain a conventional softener or live in an area where they're prohibited, it makes a significant difference. And with a 12-month no quibble money-back guarantee, what do you have to lose?
#7.
iSpring ED2000

Whole House Electronic Descaler
With this iSpring descaler, you're just fifteen minutes away from better water. Installation requires no plumbing or electrical know-how — simple coils charged with electricity do the work. They alter the composition of minerals, so they don't adhere to pipes, and while it won't reduce the actual hardness in water, it goes a long way toward enhancing the life of water-using appliances without complicated installation or the added cost of salt. In ecologically sensitive areas where salt-based softeners are prohibited, it's an effective alternative.
.
Pros
Cons

Low long-term cost of ownership
Perfect for those on sodium-restricted diets
Leaves healthy minerals in water

Two units may be necessary for water pipes over an inch in diameter
Doesn't protect clothes from color loss
FAQs
Q: Where is this descaler made?
      A: In the United States.
Q: How long is the power cord?
      A: The unit needs to be installed within six feet of an electrical source.
Q: Can this be installed vertically?
      A: Absolutely!
My Take
This iSpring works the same way as the Eddy descaler. Other the color scheme, there's no appreciable difference between the two — even the warranties and customer service reviews are similar, and they're both spectacular. The Eddy is made in the U.K., and the iSpring is made in the U.S. — both companies promise parts support. The most significant difference is the price. The iSpring system comes in at about 25-percent less than the Eddy, so since we're comparing apples to apples, this is the best water softener system if you need one that's salt-free.
Best Water Softener System

Buyer's Guide

If you have hard water, there's no question there are significant benefits to installing a water softener. The only question is — which one is best for you?

Let's take a closer look at why you need a water softener and which features will give you the long-term results you're looking for.
Why You Need a Water Softener
Hard water isn't a health risk, but it does create problems including:
Clothing fades faster
Laundry soap and dish detergent soap is less effective
Skin gets itchy and dry
Hair become dull
Hard water stains show up on fixtures and shower doors and take scrubbing to remove
Lime scale build up in plumbing, affecting the flow of water and appliance efficiency
Appliances work harder to overcome the affect of limescale buildup, resulting in repairs and lower service life
Types of Water Softeners
Water softeners come in two types — salt-based, or ion exchange, and salt-free. In salt-based systems, water flows over negatively charged polystyrene resin beads. Positively charged hard minerals stick to the beads and are then flushed away by the action of the salt solution. This process does add a bit of sodium to your drinking water, but the amount is negligible and the system can address hard water problems of any severity.
Salt-free softeners, better-called descalers or water conditioners because they do not remove hard minerals from water, are available in several types, but only the electronic type is in widespread use. This type of unit uses electricity from coils wrapped around your water pies to change the molecular structure of hard mineral molecules, making it hard for them to stick to surfaces like plumbing fixtures and appliances. This method of water conditioning use no salt, but is best used for low to moderate levels of hardness, and the results won't be as comprehensive.
Choosing the Best Water Softener
• Capacity
A water softener's capacity is measured in grains per gallon. The higher the number of grains, the more gallons it can soften before it needs to regenerate. Since water can't be used during the regeneration process, it's important to minimize disruptions to your home's water supply by ensuring the softener is large enough to meet your needs. This is, in part, dependent on the hardness level of your water.
Water softener reviews differ on the size people should purchase to get enough softened water without using excessive salt. The research I've done suggests that for moderately hard water, a 48,000-gallon system like the Pentair WS48-56sxt10, the Harmony Aquapure or the Tier 1 will serve three to four people. For a larger family or a small family with high usage, a 64,000-grain system like the Iron Pro2 or the Fleck 5600sxt is better.
Salt-free systems have no capacity, so there are no limitations.
• Type
For low to moderate levels of water hardness, a descaler should give you good results. Some models suggest they also work for very hard water, but customer reviews are mixed. If you live in an area where salt-based systems are prohibited because of their ecological effect, a descaler will likely result in at least some improvement for any hardness level.
For moderate to very hard water, a salt-based system will give you better results, but it will cost more to own long-term.
No water softening system removes much iron over 5 ppm. That's why systems that remove 4ppm and 8 ppm are relatively comparable for performance. The systems in this review, the Iron Pro 2 and the Pentair WS48-56sxt10 both remove enough iron to be suitable for many buyers with iron issues. For very high levels over 5 ppm, an additional iron filter is usually required.
If you have iron in your water, softeners not labeled for iron removal should be avoided. Not only will they not help with iron staining, but the excess iron can decrease the efficacy of the resin and shorten its life.
• Resin
The resin is the meat and potatoes of a water softener, but there's much ado about nothing when it comes to the difference between 8-percent cation resins — the most common type used — and 10-percent crosslink resins. The 10-percent resin can help remove iron, but otherwise, it has little impact on a softener's performance. Lesser softeners on the market use a low-quality resin that performs poorly despite its percentage rating. The five salt-based systems on this list all use trusted, top-quality brands.
• Single or Dual Tank
Single tank softeners have only one tank loaded with resin. Dual tank models have two. In most cases, a single tank system will serve most families, but for small businesses, a dual tank model is a good choice.
• Footprint
Conventional water softeners need to be installed near an electrical supply — no extension cord, please — and a drain. Some models also have specific manufacturer's recommendations for distance away from water heaters to prevent the hot water from migrating backward into the softener during its regeneration cycle. If that happens, it could damage parts of it permanently. Expect most mid-sized salt-based models to take at least sixteen square feet of floor space.
Electronic declarers can be mounted in any direction and fit in less than a foot of space on the wall near your pipes.
Magnetic Water Descalers
Both electrical descalers like the Eddy and the iSpring ED2000 and purely magnetic water conditioners have limited to evidence to back up claims that they work. Some water softener reviews suggest they shouldn't be trusted, however, at least concerning the electronic type, there is science that suggests they should work — even if they haven't been extensively tested — and customers report favorable experiences. Most water softener system reviews don't recommend them, and neither do I.
What some water softener system reviews won't tell you is this — softening technology is old school and most systems perform comparably — even those from the high-priced water store that cost thousands more than these. These were all chosen as best picks because they're easy to install with basic plumbing skills, but even with optional professional installation, they'll still cost less.
Choosing a water softener really comes down more to price and the individual features that may be better for some buyers than others. Ultimately, the best water softener for you is the one you buy today because it fits your lifestyle.