📝 Type: Salt-Free |Process: TAC |Regeneration: Not required |Max Hardness: 81gpg | Flow Rate: 12-20 GPM | Bluetooth: ✔️ | Warranty: Lifetime | Family Size: 6 | Rating: 5/5 |Best for: Municipal water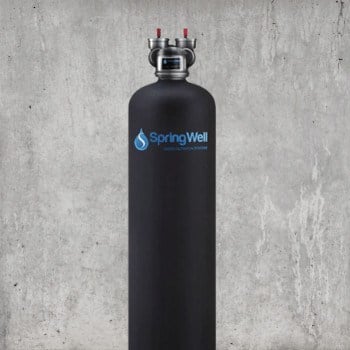 Last Updated on July 14, 2022 by Ava
Hard water — water with high levels of calcium and magnesium — affects millions of American homes. Telltale signs include itchy skin, hard water spots on dishes, dingy clothing and stubborn limescale stains on bathroom fixtures.
But what's worse is what hard water does to appliances — it forces dishwashers and water heaters to work harder than necessary, resulting in high utility bills, premature breakdowns and costly repairs.
Why worry about the unexpected when there's a simple solution? In this SpringWell water review, we'll take a closer look at a US-based company with decades of experience treating hard water and their top-rated FutureSoft — we also have this ranked #1 in our best water softeners list.
SpringWell FutureSoft

FS1 Review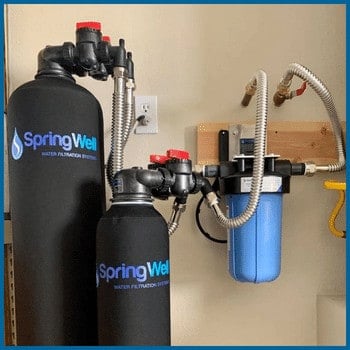 SpringWell's salt-free water softener is an environmentally friendly, hassle-free response to hard water. The science is simple — Template Assisted Crystallization (TAC) changes the chemical structure of hardness-causing minerals, suspending them in water so they can't form the sticky limescale that clings to the inside of pipes.
The FutureSoft uses no salt and produces no wastewater.
The cutting-edge design is a breeze to use and requires virtually no maintenance. Systems are engineered to provide ample pressure at the tap based on the number of bathrooms in your home. Unlike brands using grain-based sizing, choosing the right size SpringWell is foolproof.
SpringWell water filtration systems are made with safe, independently tested components for the healthiest water possible, and everything you need for a quick do-it-yourself installation is included in the kit. The FutureSoft is covered by an industry-leading lifetime warranty and money-back satisfaction guarantee for complete peace of mind.
.
Use Coupon Code: QWL5 to save!
Pros
Retains healthy minerals
Vigorous water pressure
Risk-free purchase
Wastes no water
Salt-free
Cons
No change indicator on the sediment filter
Top Q & A
Q: Does the softening media ever need to be replaced?
A: No, FutureSoft media lasts a lifetime. The sediment filter should be replaced annually or if you notice a decrease in softening efficiency.
Q: Will my water feel slippery?
A: No. Unlike salt-based water softeners, salt-free systems like the FutureSoft eliminate oily-feeling water.
Q: Can the FutureSoft be used with well water?
A: Yes, but you may need to filter out iron and other contaminants that could damage the softening media.
My Take
SpringWell water filtration systems are created with homeowners in mind. They're competitively priced, low-maintenance and straightforward to install. Components are robust — you can feel it in every part from the tank to the fittings — but what stands out about the FutureSoft is its performance.
Other softeners look similar, but only the SpringWell effectively fluidizes the media bed, so every drop of water is treated. Unlike "bargain" salt-free systems — the results are spectacular. Beneficial minerals remain in your water but they won't clog your pipes. You'll notice a significant taste improvement and showers will feel great on your skin again.
The FutureSoft is an excellent value, and with performance as good as salt-based systems, it's possibly the best salt-free water softener for homes with stubborn hard minerals.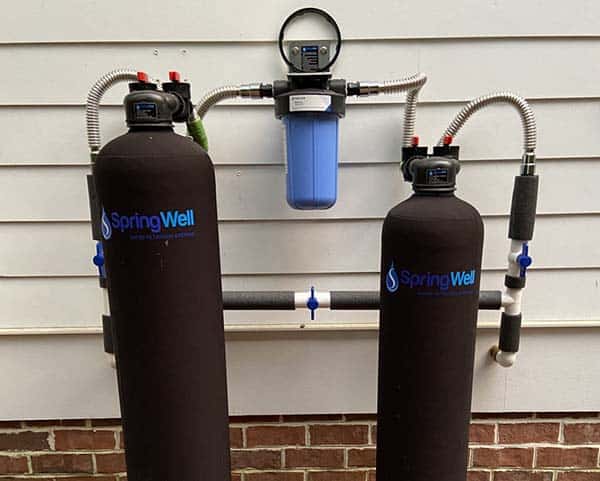 .
Use Coupon Code: QWL5 to save!
SpringWell's FS1

Performance Features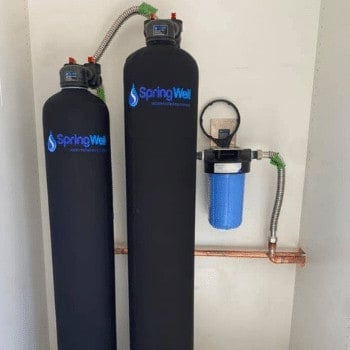 Copycat water softeners may look like SpringWell's, but performance features like these make a difference:
Contaminants Filtered
Salt-free water softeners are not filters. They don't remove hard minerals — they prevent them from forming limescale. You get the health benefits of extra calcium and magnesium while your plumbing stays clean. To protect softening media, FutureSoft systems come with sediment pre-filters that remove large particles of dirt and rust. Your water will look and taste better. It's a win-win.
For use with well water or if you're concerned about chemical contaminants, the FutureSoft can be installed with a filtration system. The experts at SpringWell can show you how.
Capacity
Capacity reflects how many gallons a water softener can treat before media must be replaced. The great news for homeowners is that FutureSoft media never needs to be changed, saving hundreds. Sediment pre-filters should be changed annually.
Sizing
Conventional salt-based water softeners are sized by the grain — a grain is the amount of calcium and magnesium media removes before it must be regenerated. But grain calculations are challenging and assume no changes in the constitution of your water.
SpringWell water softeners have such a generous capacity they can be sized by the bathroom, simplifying the process for homeowners. Choose from models for 1–3, 4–6 or 7 or more baths.
Flow Rate
Flow rate — measured in gallons per minute — reflects how fast water moves through a softener.
Any barrier installed between a water inlet and a tap will typically reduce pressure, but SpringWell water softeners guarantee brisk flow.
Unlike the average 6–7 gallons per minute offered by other systems, FutureSoft softeners provide 12–20 GMP to support simultaneous water-using activities. Go ahead and shower while the dishwasher is filling — you won't notice.
Design
SpringWell water softeners are designed for vertical, indoor installation. You'll need approximately 4 square feet of floor space for the softening tank plus a square-foot of wall space for the sediment filter. Systems measure 39– 53 inches tall, depending on the size. Leave enough space around the filter for an adult to comfortably change the pre-filter. Unlike salt-based softeners, The FutureSoft requires no electricity and produces no wastewater, so installing it near a power source and drain is not required.
Installation
SpringWell water softeners are DIY-friendly. Comfort with plumbing is a plus, but most homeowners can do it in an hour or less. A step-by-step pictorial instruction guide is included, and technical support is available by phone. SpringWell also sells a quick installation kit that lets you connect the system without elbows and glue – it's worth the spend. If your space or plumbing is irregular, consult a professional.
Help & Support
SpringWell backs the FutureSoft with a limited lifetime warranty, a six-month satisfaction guarantee and dedicated customer service. If you don't like it, send it back for a full refund of the purchase price. You have nothing to lose.
Final Thoughts
No SpringWell water review would be complete without mentioning the many accolades their customer care team receives — they inspire confidence. If you've had a bad experience with water softeners in the past or worked with a company that let you down, you can count on SpringWell for service after the sale. You don't have to suffer with hard water — SpringWell and the FutureSoft have you covered.
.
Compare Leading Salt-Free Water Softeners