Last Updated on November 12, 2023 by
Ava
📝 Model: SpringWell CSF1 Combo |Type: Catalytic Carbon + KDF + TAC | Filter Life: 1M gal. | Regeneration: Not required | Max Hardness: 81gpg | Contaminants Removed: 10+| Flow Rate: 12-20 GPM | Bluetooth: ✔️ | Warranty: Lifetime | Family Size: 6 | Rating: 5/5 | Best for: Municipal water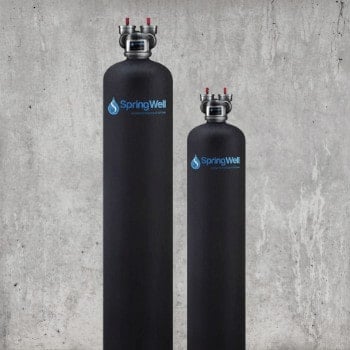 $2699.00
Now only $1530.93
Those looking for the best of both worlds should seriously consider Springwell CSF1 combo filtration system.
You're getting superior filtration technology and the best warranty in the business – lifetime!
Highlights
Removes both harmful contaminants and hard minerals
No impact on water pressure
Environmentally friendly salt-free system
Virtually maintenance-free
Lifetime warranty
Use Coupon Code: QWL5 to save!
---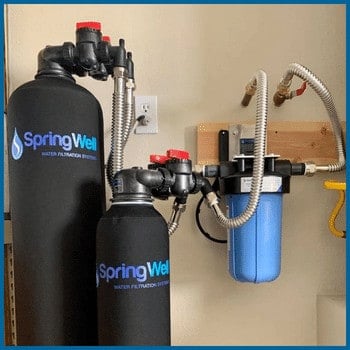 Best for: Anyone looking for a premium high-quality filtration system that just works as described without headaches.
SpringWell

CSF1 Water Filter and Salt-free Water Softener Review

Water quality issues aren't always cut and dry. Homeowners concerned about drinking chemical contaminants may also be struggling with hard water — two-thirds of Americans do.

Is there a single water filtration system that removes heavy metals, chlorine and pesticides and treats hard water?

There is — this SpringWell water review takes a closer look at a US company committed to making the best in filtration products.
Pros
They put two decades of experience into their combination whole-home Water Filter and Salt-free Softener, and it shows.
Not only can it make your water safer to drink, but it also reduces the hard minerals that can stain your clothes and ruin your appliances.
It's the all-in-one solution you've been waiting for.
SpringWell's whole-house filtration system treats and softens up to a million gallons of water with minimal maintenance.
Available in three sizes, it's engineered for brisk water flow, ensuring no reduction of water pressure anywhere in your home.
Take a shower while running the dishwasher – it's ok!
Multi-stage filtration removes chlorine, chloramine, heavy metals, PFOA and more, while neutralizing hard minerals, including calcium and magnesium.
Filtered water tastes like nature intended, and your appliances can breathe a sigh of relief.
Salt-free softening systems prevent the build-up of scale in water lines, preventing corrosion and costly repairs.
SpringWell water filtration systems come complete, and they're DIY-friendly.
Made of durable, independently certified components throughout.
They're backed by a limited lifetime warranty and SpringWell's legendary commitment to service.
Cons
Challenging installation in tight spaces
Higher initial costs
---
My Take
SpringWell whole-home water filtration systems represent the best in advanced technology. The initial price is slightly higher than similar models, but its performance makes it an excellent investment. Maintenance is nearly nil, and the cost of replacement prefilters is negligible.
This filter won't waste your time or your money.No SpringWell water softener review would be complete without emphasizing this model is salt-free. Salt-based systems are restricted in most ecologically sensitive communities — this model protects the environment and is welcomed in most areas.
If you need both a water filter and a softener, you could buy them separately and save a few dollars, but a system like this that's built to work together eliminates compatibility issues. Install it in a day and look forward to a lifetime of better water. It's an extraordinary value.
Performance Features
You can't judge a book by its cover — most water filters look alike, but it's what's inside that counts. SpringWell water filtration systems have a prefilter that removes dirt, rust and other large particles that can shed from the inside of underground pipes — plus KDF media and the highest-quality coconut shell carbon to treat these contaminants and more:
Chlorine
Chloramine
Heavy metals
Sulfur
PFAS
PFOA
Pesticides
Herbicides
Industrial solvents
The patented FutureSoft media in the softening tank converts hard minerals into calcite crystals that won't stick to pipes — this system does not eliminate minerals or affect water's pH. You get the health benefits of calcium and magnesium without suffering the damage they can do to your home. It's a win-win.
Capacity
A filter's capacity is the number of gallons it can treat before its filtration media is exhausted. SpringWell's whole-house systems can process up to a million gallons.
Change the sediment filter every six to nine months — keeping large particles of dirt and rust out of the system prevents clogs. Replacement cartridges are among the most affordable in the industry, keeping the long-term cost of ownership down.
FutureSoft media should be changed every six years or after filtering a million gallons. Your regular water bill can help you keep track of how many you've used.
Micron Rating
Mechanical water filters work by sifting out large particles through pores. Measured in microns, the size determines which particles pass through. The sediment filter on this model excludes anything over 5 microns — that's small enough to keep dirt, dust, rust and other aesthetic impurities out. Water is crystal clear and fresh-tasting.
Neither KDF, carbon, nor FutureSoft are mechanical filters, so they don't have micron ratings. KDF eliminates contaminants with a chemical reaction while carbon absorbs them. FutureSoft transforms hard minerals into harmless crystals with the help of fluidization — a liquefaction process that turns granular substances into a fluid-like state.
This system does not remove bacteria and other microorganisms. It will not make water biologically safe to drink, so it's ideal for use with sanitized city water. Well owners should pair it with an optional UV filter for optimal protection.
Flow Rate & GPM
The flow rate reflects the volume of water passing through a filter at any given time. Reported in gallons per minute, it's an important measure of performance. Underpowered systems can result in loss of pressure at the tap. SpringWell's filters are uniquely designed to ensure vigorous flow.
Flow rates among similar models average 6-7 GPM. This system comes in three sizes based on the number of bathrooms in your home. Flow rates average:
9 GMP for 1–3 bathroom homes
12 GMP for 4–6 bathroom homes
20 GMP for homes with 7 or more baths
Design and Installation
SpringWell water filtration systems are built to last. File away the warranty — you won't need it. Parts are designed and made in the US, and each is independently certified for quality and safety.
Kits come complete with:
Filtration and softening tanks
Sediment filter
Bypass valves
Bib assembly
O-rings, brackets and fittings
Spanner wrench, plus easy-to-follow instructions
Systems are easy to install, but basic plumbing skills are helpful. There's a video for reference on SpringWell's website, and technical support representatives are standing by to help. If you're tentative about installing it yourself, purchase the optional Easy Installation Kit — it eliminates most of the hassle associated with pipework. Another SpringWell water softener review complained about the extra cost, but we like companies that give consumers choices.
Help and Support
SpringWell is accredited by the Better Business Bureau. Their water softeners and filtration systems come with a limited lifetime warranty and 6-month satisfaction guarantee. They support a full line of replacement parts, including filters — call their friendly customer care team with all your technical or water quality questions.
Final Thoughts
We hope our SpringWell water review makes shopping for a filtration system less stressful — it's an investment, and we know you want to make the right decision. For the best in both softening and filtration, we recommend the SpringWell Water Filter and Salt-free Softener. It will give you your best water ever.
Frequently Asked Questions
How often should the prefilter and softening media be changed?
Prefilters should be changed every six to nine months. Replace softening media every six years or 1 million gallons.
Can this system be installed outdoors?
SpringWell water filters can be installed anywhere as long as they're protected from freezing.
Does the softener make water feel slippery?
No! The slippery feel associated with softened water is caused by salt. The SpringWell system is entirely salt-free.
Use Coupon Code: QWL5 to save!
Compare Leading Salt-Free Water Softeners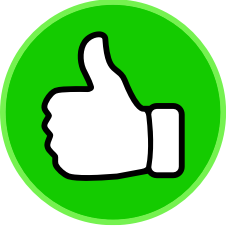 132
people found this helpful. Was this guide helpful to you?