Salt-free water softeners, or water conditioners, are an effective, affordable and sustainable way to control limescale buildup in your plumbing system, appliances and water heater.
But the technology is fairly new, and it's confusing enough without shopping blind. Which companies can you trust, and which models are the most reliable?
We've done extensive research into both the science of salt-free softeners and the leading manufacturers to bring you the two best options that money can buy — the Pelican NaturSoft and the SpringWell Futuresoft.
Both are good bets but only one wins the trifecta for quality, performance and price. It's the SpringWell by a nose.

Best Whole House Filters

WINNER!

WINNER!

SpringWell Water Softener System

No impact on water pressure
Virtually maintenance-free
Lifetime warranty

Click For Best Price

Coupon Code: QWL5

RUNNER-UP

RUNNER-UP

Pelican NaturSoft Salt Free Water Softener

Produces zero wastewater
Retains healthy minerals
Low-maintenance

Click For Best Price
🥇 The Winner — The SpringWell Futuresoft Salt-Free Water Softener
The SpringWell salt-free softening system prevents 99.6% of damaging scale buildup. Chemical-free, it's as effective as salt-based water softeners without the high cost and endless hassle of continual maintenance. It works without electricity, produces no waste water and requires no drain line.
Pelican's NaturSoft is a similar salt-free softener with fans worldwide — it's a top-quality unit. But a few minor issues make it our second-place pick. For our money, we think the Futuresoft is a better investment, and here's why.
Filter Media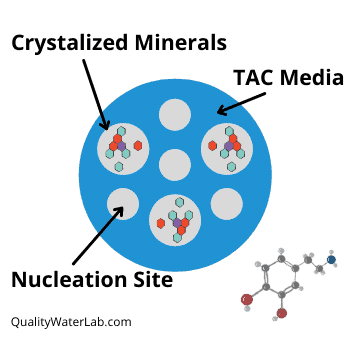 The scale control media in salt-free water conditioners is made of polymer beads with so-called nucleation sites that attract calcium and magnesium ions. Once bound, they grow into crystals.
When they reach maximum size, they break away, floating harmlessly through your pipes instead of forming limescale deposits. Called Template Assisted Crystallization (TAC), it's an ecologically sound alternative to the ion exchange process.
Both the NaturSoft and Futuresoft rely on similar TAC media. Proven by university studies to reduce scale formation by more than 99%, both systems exceed our expectations.
Contaminants Removed
Unlike salt-based systems, salt-free softeners aren't water filters. Neither the NaturSoft nor Futuresoft removes hard minerals or any other contaminants; they change the molecular structure of calcium and magnesium molecules so that they can't adhere to pipes. You reap the health benefits of minerals in your drinking water without the harmful scale.
Both systems are compatible with well and city water, but well owners may need to pretreat water for iron, copper, manganese and hydrogen sulfide first because it can foul the scale control media. Expandable, systems can be paired with a water filter to create a complete water treatment system.
Flow Rate
A water conditioner's flow rate is the number of gallons it can process per minute. A critical technical detail, it determines how many water-using activities you can do at one time without a reduction in water pressure. A high flow rate prevents showers from turning into trickles whenever someone flushes the toilet.
How Does The Pelican and SpringWell Compare?
NaturSoft
The NaturSoft comes in two sizes for 1-3 and 4-6 bathrooms with generous flow rates of 10 and 15 gpm respectively. Well above the industry average of 6-7 gallons, you won't notice a reduction in water pressure as long as the system is properly sized.
Futuresoft
The Futuresoft is available in three sizes for 1-3, 4-6 and 7+ bathrooms with flow rates from 9-17 gpm. Our research shows no difference in performance between the NaturSoft and Futuresoft until you hit seven bathrooms. In that case, the advantage goes to SpringWell.
For large homes, consider Pelican's high-flow salt-free softener.
Softened Water Quality
Unlike traditional water softeners, salt-free water conditioners don't change your water hardness. Scale control is superb, but you may still feel the effects of hard water on your skin and hair.
Some customers say they notice a difference. In our experience, hard water stains are easier to clean, and our skin doesn't feel quite as dry. What can you expect from the NaturSoft and Futuresoft? You'll be pleasantly surprised.
NaturSoft
In hundreds of reviews, most customers notice a tangible difference in water quality with the NaturSoft. The harder the water, the higher the impact.
Ultimately, opinions are subjective because hard water affects people differently. The biggest complaint is persistent water spots on dishes. Taste is unaffected.
FutureSoft
Buyers give the Futuresoft extraordinary reviews for water quality. After replacing too many scale-damaged water heaters, some customers inspected the heating elements months after installation and were shocked to see no limescale in the tank.
It also has an unexpected yet noticeable effect on dishes, reducing white spots on glassware. And stains on bathroom fixtures wipe off with less scrubbing.
Annual Operating Cost
The NaturSoft and Futuresoft are virtually maintenance-free. The water softening media is non-sacrificial and lasts a lifetime in most circumstances. In stark contrast to salt-based water softeners, the only maintenance required is to replace the sediment pre-filter as directed. What will it cost?
NaturSoft
The low-maintenance NaturSoft is equipped with a heavy-duty, 10-inch pre-filter that lasts 6-9 months based on the quality of your water supply. City water tends to be low in sediment, so you'll get your money's worth.
Cheapest in the 4-pack, they average $22 each. Fresh O-rings are included to ensure a watertight seal.
FutureSoft
The Futuresoft comes with similar 5-micron filters with a 6–9-month life span. The 1-3 and 4-6 bath models include a 10-inch prefilter — the 7+ bath size requires a 20-inch filter.
In the 4-pack, SpringWell filters cost $17 each, including the O-rings. The 20-inch versions average $35.
The difference in price between the Pelican and SpringWell filters is minor — neither is a budget-buster. But if the pricing remains consistent, you'll save $150 over 20 years with the Futuresoft.
Ease of Use
Salt-based softeners require programming, but salt-free water conditioners don't. They couldn't be easier to install, use and maintain.
NaturSoft
Homeowners with plumbing skills can install the NaturSoft in a day or less using their Install Kit. If you're replacing an existing system, you may not need it. But the flexible, push-on connectors work with any type of pipe and make new installations a breeze. It's an extra $200 and worth every dime.
Once installed, the system runs itself, and maintenance takes seconds. To change the sediment pre-filter, unscrew the housing, change the cartridge and screw the housing back on.
Futuresoft
Springwell salt-free water softeners are equally straightforward to install with the Easy Installation Kit for an extra $150. The Clack Connectors shave hours off the set-up time.
The installation instructions are a cut above the NaturSoft's. We prefer the real photographs of the parts and installation process. SpringWell also offers an installation video online — a plus for the less experienced do-it-yourselfer.
The filter replacement process is identical to the NaturSoft's.
Technology
Salt-free water conditioners are short on bells and whistles but tall on performance. The real technology lies in the tanks.
NaturSoft
NaturSoft water conditioners owe their success to Template Induced Crystallization. It's TAC technology with a twist. Less saturation is required for minerals to attach to nucleation sites, improving scale reduction levels.
Futuresoft
The Springwell Futuresoft Water softener relies on traditional TAC media and an enhanced fluidization process. Independent testing shows it's effective as the NaturSoft.
Warranty
A good warranty demonstrates the manufacturer's confidence in their products. Pelican and SpringWell offer two of the industry's best.
NaturSoft
NaturSoft salt-free water softeners last a lifetime, and so does the warranty under normal operating conditions. Warranty claims are rare but handled to most customers' satisfaction.
FutureSoft
The Futuresoft is just as impressive with a comprehehnsive lifetime warranty. It's the last water softening system you'll ever need.
Customer Service
You won't find better companies to work with than Pelican and SpringWell.
Pelican
Pelican prides itself on transparency and customer care. They offer water testing and a free virtual consultation with one of their knowledgeable experts — in our experience, there was no hard sell.
Their crack customer service team will work with you before, during and after the sale to ensure your satisfaction.
SpringWell
We searched for unhappy SpringWell customers, but they're few and far between. Their customer care and technical support teams earn high grades for going above and beyond to make buyers happy.
If this is the first time you've purchased a water filter or salt-free water softener, our research is clear — you'll get the support you need from either of these well-established companies.
Online Reviews and Complaints
Salt-free water softeners as good as the NaturSoft and Futuresoft generate a lot of buzz. What are customers talking about?
NaturSoft
In general, reviewers gush about the Pelican's performance. From ease of installation to scale reduction, people who were skeptical that template assisted crystallization would work are amazed by the results.
And in a surprise to us, customers were quick to point out the aesthetic appeal of the stainless steel tank. Set up in a garage, it looks more like a high-end appliance than an oversized scuba tank.
A few buyers quibbled that their salt-free system didn't perform as well as their old salt-based water softener for eliminating water spots on dishes. But Pelican's literature is transparent, explaining that water conditioners don't soften water.
Still, some customers noticed an immediate difference in water quality, saying that "softer hair" alone was worth the investment.
FutureSoft
Despite being a plain Jane with a standard fiberglass tank, the five-star reviews keep pouring in for the SpringWell. More buyers notice a difference in water quality than with the Pelican water softener.
The scale reduction is comparable, but soft water benefits like "smoother skin" and "fewer hard water stains" are nice perks. We wish we knew their secret.
Compared to salt-water softeners, customers are impressed that SpringWell's salt-free systems are so easy and affordable to maintain. The average homeowner saves $550 annually in maintenance with a salt-free versus a salt-water softener.
But what impressed us most about the reviews were the comments about customer care. One customer cheered, "I had purchased the wrong type system…and it was extremely easy to exchange. Thank you. We will definitely recommend your store to our friends." That's high praise.
Pros & Cons
NaturSoft
The NaturSoft is a premium, whole-house water softener alternative that looks as good as it performs.

Pros
Low maintenance
Superior scale reduction
Attractive stainless steel tank
Cons
A stretch to afford if you're on a budget
Fewer soft water effects than similar models
---
FutureSoft
SpringWell's Futuresoft is a salt-free water softener with more going for it than scale reduction.

Pros
Low long-term cost of ownership
Easy-to-follow installation instructions
Softer hair, smoother skin and fewer hard water stains
Cons
Lower flow rate
Average aesthetics
---
Which Is the Best Salt-Free Water Softener?
The NaturSoft and Futuresoft are top-quality salt-free softeners brought to you by reputable companies we trust. Feature for feature from maintenance to warranties, it's hard to tell them apart.
But when the customer experience is better for one product than another despite what it should be on paper, the customer is always right. SpringWell underpromises yet consistently overdelivers.
Best Whole House Filters

WINNER!

WINNER!

SpringWell Water Softener System

No impact on water pressure
Virtually maintenance-free
Lifetime warranty

Click For Best Price

Coupon Code: QWL5

RUNNER-UP

RUNNER-UP

Pelican NaturSoft Salt Free Water Softener

Produces zero wastewater
Retains healthy minerals
Low-maintenance

Click For Best Price