Last Updated on July 26, 2022 by
Ava
The Water you drink from your faucet or well (or any source) may contain more than you think. How do you know! If you are not a chemist or looking under a microscope with every glass of water filled, you may be polluting your body.
Some pollutants cause illness, disease, and even death. The results may surprise you when you discover more than just H2O in that glass of water.
To help you in your search, we've researched once, researched twice and with three being the winning number, a third time.
7 Best Countertop

Water filter Systems

 
#1.
Travel Berkey Water Filter

1.5 Gallon System Bundle

📝 Type: Carbon + Ion Exchange | Process: Gravity Filtration |Contaminants Removed: 200+ | Filter Life: 1,000 gallons | Testing: Third party tested against NSF 53 Standards | Cost: $$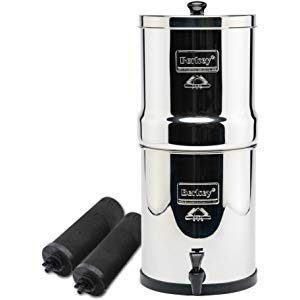 Constructed using stainless steel with a capacity to hold 2.5 gallons of water filtered over each hour, the Travel Berkey Water Filter Bundle is ideal for home or the outdoorsman. Designed using technology which completely removes all harmful contaminants from fresh or tap water.
Included in the bundle are 2 Black Berkey Filters and 2 PF2 Fluoride Filters which cleanse untreated water removing all harmful bacteria and contaminants. The final product allows clean, safe water for consumption to flow.
Water from your local water supplier, lakes, ponds, streams, and other sources is purified removing harmful bacteria, cyst, parasites and more. Not only convenient for the camper, but the Berkey is ideal for a small home, RV, apartment or any location with limited space.
.
Pros
Does not require electricity or water pressure to clean and sanitize your water source.
Made in the USA, approved by the EPA and accredited by their laboratories exceeding NSF/ANSI requirements.
Supplies enough water for up to 3 people.
Cons
Water may become cloudy if filters are not thoroughly cleaned after each use.
---
FAQ's
Q: Does this filter remove fluoride?
A: If the filters are aligned properly and screwed in tightly: Yes, Fluoride is
removed in addition to arsenic.
Q: How long will a filter last?
A: When stored properly, according to directions, filters will last
indefinitely.
Q: Will the Berkey Water Filter work to make Flint Water safe to drink?
A: Yes. The Berkey filters are standard issue for missionaries worldwide.
My Take:
Is there a perfect (100%) system guaranteeing all water for consumption will be eliminated so no contaminant remains? No! But these water purification systems are some of the best on the market. The best way to assure you are removing harmful live pathogens is to boil vigorously when possible. When boiling is not possible, use chlorine tablets. However, the Travel Berkey is one of the best available and is used worldwide by missionaries going into foreign soil with a need to purify water.
Product Updates:
Now offers a stainless steel spigot.
Wire stand to mount your filter on top of.
#2.
Megahome

Countertop Water Distiller

📝 Filter: *Activated Charcoal | Production Rate: 1 Gallon/ 5.5 hours |Material Type: Stainless steel, Glass | Wattage: 580 | Price: $$
Approved by Underwriters Laboratories, the Megahome Distiller purifies by reaching 212 degrees Fahrenheit for every one gallon of water every 5.5 hours. At that temperature, toxins are removed, and pathogens are killed.
Included in the package along with this countertop water filter system are six high-quality charcoal filters. The filters are optional; Meaning they can be used when chlorine or other toxins are present.
.
Pros
Research shows this filtration system does remove fluoride from water.
The filter is 'optional' meaning there is no need to use it unless desired.
The unit is dishwasher safe.
Cons
The fan is a bit on the loud side.
Plastic tab is not easy to remove. You have to squeeze the tab, then push the spout to one side, while pulling the other side.
---
FAQ's
Q: Does this water filtration system create bitter water?
A: If not cleaned properly, water may sour but otherwise, no it does not create bitter water.
Q: Does the outside of this water filtration system get hot?
A: No. But it does get warm when operating.
Q: Can the unit distill alcohol?
A: No. Only water.
My Take:
The unit looks like a coffee pot which would go well with those concerned about uniformity and the appeal in the kitchen. Taking 5.5 hours per gallon may be considered a long time to distill water. However, the water is going into your body. Would you rather be safe or sorry?
Product Updates:
#3.
Propur Countertop System

w/ProMax Technology

📝 Type: KDF-55 | Process: Single Stage In-line |Contaminants Removed: 200+ | Filter Life: 750 gallons | Testing: NSF 61 & 42 Standards | Cost: $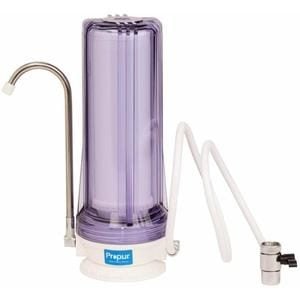 The Propur Countertop System w/ProMax Technology fits seamlessly on most faucets and has an aerated removable nozzle. Requires no tool for installation and installs in minutes.
Removes over 200 contaminants including lead, fluoride, heavy metals, disinfectants, inorganic non-metallics, pharmaceuticals, micro-organisms, pesticides, etc.
.
Pros
Life expectancy of the filter is one year. Based on the contaminants in your water, life expectancy can increase or decrease.
Easy installation. Just remove the attachment at the end of your faucet and screw this system on.
Removes Fluoride and Chlorine from the water.
Cons
Does not have a way to indicate when your filter must be changed.
---
FAQ's
Q: Even though it states the life expectancy of the filter is 1 year, the
filter must be changed or recommended to be changed after 6 months. Why?
A: Water can be highly contaminated in one area while not so in others.
Therefore, the recommendation is standard to change after 6 months.
Q: Can the filter, included in the package, be changed out using other manufacture filters?
A: The recommendation is to use the filter designed for this unit only.
Q: The description states the unit will filter over 200 contaminants. Does
the list include bacteria, viruses, and other micro-organisms?
A: No, the list does not include bacteria, viruses nor micro-organisms.
My Take:
While this unit is very attractive and can be attached to the kitchen faucet with ease, it does not claim to remove all contaminants. The list provided does name 200 contaminants known to be removed when using the Propur Countertop Water Purifier. Review the list to make sure you have a unit meeting your needs.
Product Updates:
Now offers 4 valve connectors
Multiple shell styles
#4.
Apex Countertop

Drinking Water Filter

📝 Type: KDF-55 | Process: 5-Stage In-line |Contaminants Removed: 10+ | Filter Life: 750 gallons | Testing: NSF Certified components | Cost: $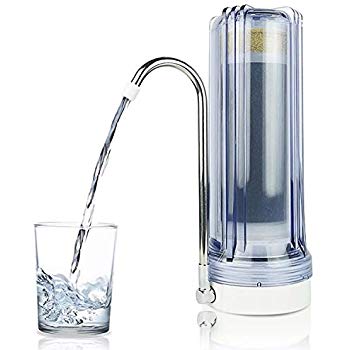 Without all the bells and whistles, the Apex Countertop Drinking Water Filter (Alkaline- Chrome) is a pretty simple, yet powerful water purification system.
It is said to remove up to 99% of all chemicals and contaminants known to be in household tap water.
Asbestos, chlorine, arsenic, lead, and sodium are just a few of the contaminants in tap water.
These contaminants are removed when using the Countertop system. Connect this countertop water filter to your faucet or sit it right on the kitchen sink.
.
Pros
Easy installation. The package includes all the hardware necessary to connect easily to your household kitchen faucet.
Eliminates the need to purchase disposable bottled water.
Helps decrease the impact on the environment by eliminating the need and use of bottled water.
30-day manufacture Warranty.
Cons
Filtering capacity is said to be 750 gallons. Depending on the severity of contaminants, this number may decrease substantially.
---
FAQ's
Q: Does this filter remove/kill cyst.
A: States removal of substances found in sink tap water. Does not
claim to remove cyst from water. Maybe safer looking for some other water
purifying system.
Q: Is drilling required when installing?
A: No. There is no drilling required.
Q: Does the Apex filter out Fluoride?
A: No.
My Take:
Reading the Apex Countertop water filter reviews, most consumers appear to love the unit when using it for household water purification. Consumers using this are basically connected to water suppliers and not to well water nor are they using natural water sources. So, when in need of a system to remove hard, dangerous contaminants this system is not recommended.
Product Updates:
Now offers 8 colors to choose from
Easy hook up adapters
2 faucet adapters are included
📝 Type: Activated Alumina | Process: 3-Stage In-line |Contaminants Removed: 10+ | Filter Life: 500 gallons | Testing: N/A | Cost: $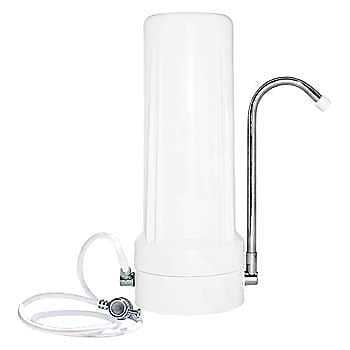 An unbelievably cute, miniature water purification system which claims to only remove up to 93% of all water contaminants in your drinking water. A three-stage process is used to filter water of fluoride, chlorine, and the more basic chemicals found in tap water.
Efficient for household use when cooking. Very easy to install and can be used in the kitchen, bathroom or when traveling.
Uses a multi-stage granular filter system. Has been backed by 'Perfect Water Technologies' with a 100 percent satisfaction guarantee.
.
Pros
Can be installed without the use of tools. A video is provided to direct the
installation process.
Can be used underneath the sink to complete the water purification process.
Does filter out fluoride.
Cons
Has not been certified by the NSF (National Science Foundation.)
---
FAQ's
Q: Is this filter appropriate for 'Well Water filtering?'
A: No. Suggest upgrading to the F2 Elite or the PLUS models.
Q: What type wrench is required to install.
A: Requires no tools (wrench) to install.
Q: Where is this filter made?
A: Produced, manufactured and made in the USA.
My Take:
Today, in order to be confident you are drinking and cooking with pure, clean water a filter is highly recommended. The Home Master Jr. F2 is designed for easy installation and takes up minimal space on your countertop. While recommended for countertop usage, it can be used under the counter as well.
When considering the appeal of a water filter over the benefits, this one is an absolute. However, remember it is guaranteed to remove only up to 93% of contaminants.
Product Updates:
#6.
New Wave Enviro

10 Stage Water Filter System

📝 Type: Anion Exchange Resin & Inorganic Component | Process: 10-Stage In-line |Contaminants Removed: 10+ | Filter Life: 1,500 gallons | Testing: N/A | Cost: $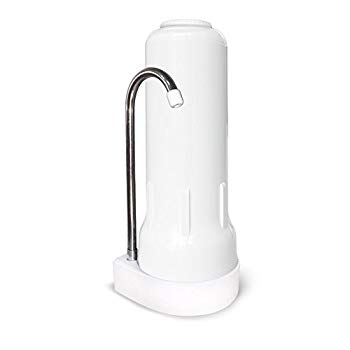 Highlighting a 10 Stage water filtration system, the New Wave Enviro 10 Stage Water filter System is designed to remove a large number of contaminants found in home tap water and in water sources such as lakes and streams.
It works to also remove contaminants found in well water. The list of contaminants removed includes but is not limited to, herbicides, arsenic, mercury, pesticides, and chlorine.
Installs easily on your sink faucet by attaching to the nozzle. Delivers great tasting odorless water. Family owned and operated, New Wave Enviro is focused on supporting and inspiring healthy lifestyles.
.
Pros
Great tasting, odorless water delivered to your home faucet or anywhere needed.
Lightweight at 4.06 pounds
Works as a countertop or under the sink system.
Filters up to 1500 gallons before filter needs replacing.
---
FAQ'S
Q: How does a customer know when to replace filters?
A: System provides no way to alert consumer. When flow slows or water begins
to taste different, replace your filter.
Q: Is this like or comparable to a Reverse Osmosis System?
A: Just considered an excellent filter and not a reverse osmosis system.
My Take:
For the price, this system offers a lot. The 10-Stage water filtration method is not provided by most water filter systems at this level. The stages highlight an important feature regarding removal of cyst and protozoa. Scientifically, the stages are instrumental in the filtration process.
While some or most systems today deliver similar, this system accelerates the process and increases the method by patenting their process. The 10-Stage filtration does work to filter lactose fermentation recipes.
Product Updates:
Updated the visual look for the outer shell casing to be translucent.
#7.
CleanWater4Less®

Countertop Water Filtration System

📝 Type: Granulated Activated Carbon | Process: 5-Stage In-line |Contaminants Removed: 10+ | Filter Life: 10,000 gallons | Testing: N/A | Cost: $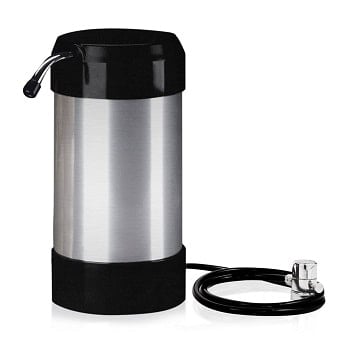 The CleanWater4Less Countertop Water Filtration System is the most economical of the list. It requires no filters, is easy to install requiring no tools and is stylish. Discrete in design as the system looks like a thermal mug.
However, do not let the small system, ease of use and installation fool you. It can provide contamination free water. The design requires no cartridges, sets up in minutes with no need to modify existing plumbing and produces 10,000 gallons of clean, delicious water.
Very lightweight at 3.36 pounds.
.
Pros
Adapts to filter hot water from the faucet.
It's a one-time use and when it has purified 10,000 plus gallons, simply remove and
replace with a new CleanWater4Less.
No need to consistently run to the local retail store to purchase bottled water.
Fill your cup from the faucet.
Cons
Not manufactured in the US. Made in China.
---
FAQ's
Q: What material is this purifier made of?
A: Made of plastic but feels like steel. Silver portion is metal. Black portion
is a hard plastic.
Q: Does the filter work to remove heavy metals?
A: On the inside, the unit has granulated active carbon. The carbon removes
bad taste, bad odors, Heavy metals, chlorine plus a number of other contaminants.
Q: How long will a family of six using this filter be able to get filtered
water.
A: The filter should last the entire 10,000 gallons and you will definitely
save money.
My take:
Purchasing bottled water on a regular basis can get costly. A family of six requires a lot of water. In addition, the waste from plastics having to be disposed of is creating environmental problems. By using this filter, and it is a little dynamo, you save money and reduce the need to dispose of plastic bottles.
At the maximum, 10,000 gallons of water is an extremely large amount. No other system states this type of ability. The technology to design the system is admirable. Even though manufactured in China, the US could take note to begin manufacturing similar in our country.
Product Updates:
Compare All 6 Countertop Filters
(Mobile users: Swipe to scroll)
| Compare Brands & Models | #1 Travel Berkey Water Filter | #2 Megahome Distiller | #3 Propur W/ProMax Filter | #4 Apex Water Filter | #5 Home Master Jr F2 Filter | #6 New Wave Enviro 10-stage | #7 CleanWater4Less |
| --- | --- | --- | --- | --- | --- | --- | --- |
| Rating | 5/5 | 4.5/5 | 4.5/5 | 4.5/5 | 4.5/5 | 4.5/5 | 4.5/5 |
| Price | $$ | $$ | $$ | $$ | $ | $ | $ |
| Contaminants Removed | 200+ | 10+ | 200+ | 10+ | 10+ | 10+ | 10+ |
| Filtration Capacity | 1,000 gal. | 30 gal. | 750 gal. | 750 gal. | 500 gal. | 1,500gal. | 10,000 |
| Certifications | Third party tested against NSF 53 Standards | NSF certified components | NSF 61 & 42 Standards | NSF Certified components | NSF Certified components | NSF Certified 42, 53 | n/a |
| Annual Cost | ~$45 | ~$30 | ~$75 | ~$40 | ~$40 | ~$100 | $0 |
| Warranty | Lifetime | 1-year | 1 year limited | 30-day | 3 year limited | 30-day | 30-day |
Buyers Guide

to The Best Counter-top Water Filtration System

When preparing to purchase a water filtration system, do your research first. Make a comprehensive list of chemicals or contaminants in your water. List your requirements/needs in a purifier, i.e. what you need removed from your water. Have you tested the water or had it tested to determine the contaminants and level? If not, have your water tested at a local lab. Your local water company may also have a list which is required annually with known contaminants and levels. The EPA requires water companies servicing over 100,000 customers create a Consumer Confidence Report and have it mailed to all customers annually.

Contact your local health department to see if they can provide materials to assist you in making a selection. They may have testing kits or resources to assist you in your needs. You can also call the Environmental Protection Agency Hotline at 800.426.4891.

Determine your budget, family size, total water consumption, maintenance requirements and placement of a purifier. A good idea is to also check online for consumer water filter reviews. Consumer water filter reviews are an excellent resource to help in the decision making process.
How Does a Countertop Water System Work?
Water Filtering systems are not that complicated. The majority if not all require little installation. A baby could do it. And we all know, baby's today can use technology on a whim. But back to the way a Water Purification System works. Most are designed to remove up to 99% of contaminants such as chlorine, fluoride, arsenic, cyst, bacteria, parasites and carcinogens. In basic terms, water enters a "Diverter Valve" rather than the faucet aerator. Simply remove the aerator and replace with the filter diverter valve. This is done by unscrewing one and screwing on the other. The end of the faucet has a mechanism (aerator) which screws easily off. Replace it with the (diverter) which screws on.
The Water Filter System has a tube like mechanism which houses the 'filter.' When installed properly, water flows through this tube, through the filter out into a glass or container. Most systems can be turned off or on. Some however simply allow water to flow until the filter has to be replaced. Your job is to determine which works best for you. Purchase it, install it and then allow it to do its job.
When working 100%, water filters remove odors, bacteria, chemicals, cyst, parasites, and many other contaminants from your water. For a comprehensive list, review the product guide before making your selection. Make sure all contaminants of concern are listed.
I recommend that even after installation, if you are aware of dangerous contaminants in your water, collect enough to test or have tested before consumption. It's better to be safe than sorry.
No one really wants to see microscopic ingredients in water. "What you don't know may hurt you" is really an excellent way to put it. I would rather not know the little critters, contaminants or microscopic ingredients in my water. What I want to know is before consumption all contaminants or live pathogens have been safely and completely removed. I want to drink pure, clean water. How do I do this and what is the best way to prevent consuming anything you had no idea was there? You purify your water before consumption. How is that done, you ask? With a countertop water filtration system.
There are hundreds of countertop water filter systems available. To find the one which fits your needs, drive to your local home store (Home Depot, Lowes or Best Buy are just a few) and peruse the aisles for a large selection. Countertop water purifier products in all sizes, styles, and models are available. A consumer only has to decide from the many options available, the best system for them. In addition, hundreds of sites online offer varied countertop water filter reviews. Type "Countertop Water Filter System" in the search engine and the list begins. When you have narrowed the selection down to a few, click on a few of the hundreds if not thousands of consumer reviews to assist in making the final decision. Understanding other consumers experiences and why is valuable in the selection process.
If online is not something you enjoy, it's fine to be a hands-on shopper. You're sure to find the best countertop water filter for your money either way: Online or in the store.
Last Updated on July 26, 2022 by
Ava