📝 Model: Big Berkey | Filter Type: Carbon + Ion Exchange | Process: Gravity Filtration | Contaminants Removed: 200+ | Filter Life: 1,000 gallons | Testing: Third party tested against NSF 53 Standards | Cost: $$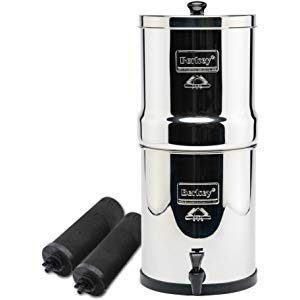 Searching for the best water filter system can make you feel like Goldilocks — most models are too big, some are too small, and many don't have the right mix of features.
Let us introduce you to one that's just right — the Big Berkey Countertop Water Filter System.
Highlights
Eliminates common bacteria, parasites and cysts
Dual-filter, 6000-gallon capacity is suitable for small families
Attractive, 304 stainless steel housing
Lightweight and portable
Space-saving footprint
---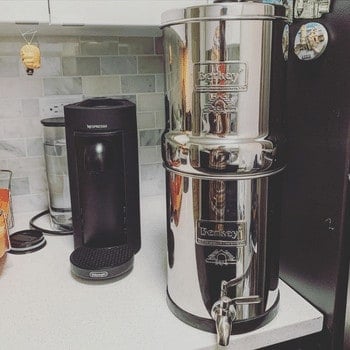 It's the perfect size for home use, but small enough to follow you anywhere, and for peace of mind, it can make water from any source safe to drink without electricity.
Here's a closer look at why the Big Berkey wins our blue ribbon for best countertop water filter.
Overview
The Big Berkey is the top pick in many counter top water filter reviews because it's well-balanced. It's rugged, but attractive, portable but high-capacity, and it has filtering capability that's ideal for both home and on the road.
Pros
From top to bottom, quality is designed into every feature, and the system is expandable — add or subtract purification elements up to four and use or don't the fluoride filters — the system works either way.
The Big Berkey is our choice for best countertop water filter because it's exceptionally versatile — it replaces a closet's worth of filters for different circumstances — and it offers unparalleled protection for the whole family in emergencies.
Big Berkey produces some of the few countertop filtration systems that make water both better-tasting and potable.
In testing, it eliminated 99.9999-percent of water-borne pathogens — a level of safety most filters can't approach — plus greater than 99.9-percent of heavy metals that are particularly dangerous to children like arsenic, aluminum, lead and chromium.
It's stainless steel design looks handsome on the counter, and it takes just 8.5-inches of space.
For travel, it breaks down quickly and the parts nest together.
It's ideal for home, camps, RVs and hotels, and if you already have a filter that doesn't make water pathogen-free, it's perfect for emergency backup.
Cons
Standard spigot doesn't show the water level in the tank.
Tru-View upgrade spigot sold separately.
Compare Leading Brands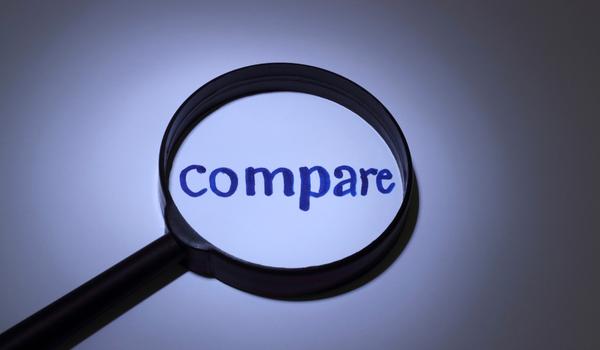 Waterdrop Gravity-fed System: This is a great alternative to the Big Berkey as it's more affordable and portable. It also has a larger capacity than the Big Berkey, making it ideal for large families.
ProOne Gravity Fed System: if you're looking to save money, this system will cost you about $150 less than Berkey and it has many of the same filtration qualities.
Purewell 3-Stage Ultra-Filtration Gravity Fed System: If you're looking for the ultimate in portable filtration, give Purewell a shot. It has the most comprehensive filtration system out of the group mentioned and also removes bacteria and viruses from water.
In our opinion, dollar for dollar, we still like Big Berkey the best. This is because after researching all of the reviews online and testing this system for ourselves, it nailed our criteria in all categories and we feel it will you agree as well.
How To Set Up Big Berkey (Instructions)
Assembling and maintaining the Big Berkey requires no special skills. Easy-to-follow instructions are included, and support videos are available online.
Choose the right location for your filter. You'll want to place it near a sink so that you can easily access the faucet.
Assemble the filter according to the instructions.
Fill the upper chamber of the filter with water.
Place the lid on the filter and allow the water to gravity-feed into the lower chamber.
Once the water has filtered into the lower chamber, it's ready to use! You can dispense it into a glass or pitcher and enjoy fresh, clean water.
Repeat these steps as needed to continue using your Big Berkey countertop water filter. With proper care, your filter can last for many years.
Features
No water filtration system addresses every threat, but for daily use, it's vital to have a filter that reduces the contaminants you worry about most. Let's review the features that can make some systems better than others for your needs.
Key Considerations Before You Buy
Filtration capacity: The Berkey water filter is a top-notch gravity fed system that's capable of removing well over 200+ contaminants and has been third party tested.
Durability: You can't get anymore durable than stainless steel, no need to worry about leaving it outside, it won't rust and will last for years to come.
Cost-effectiveness: In all reality, this will probably be your last countertop/traveling water filter — for the value you're getting, the price is worth every penny.
Ease of use: This is a pretty simple filter to setup and use and the filters will last you up to 1k gallons of purification.
Portability: Berkey is compact and lightweight, so taking it with you on camping trips or BBQ's shouldn't be an issue.
Contaminant Filtration
Water from different sources is at risk for distinct types of contamination. From the fluoride, chlorine and drug residue common in city water to the heavy metals found in wells and the bacteria, parasites and chemicals that contaminate rivers, lakes and streams — few filters mitigate as many dangers in as many situations as the Big Berkey.
In a natural disaster when water treatment plants may be offline due to damage or a power outage, pathogens are the most considerable risk to human health. When the bottled water runs out at the store, the Big Berkey has your family covered.
Micron Rating
The size of pores in water filters is measured in microns — millionths of a meter. Some companies use their filter's micron rating to wow consumers — but don't be fooled. There are two types of micron ratings — nominal and absolute. Nominal pore size is an average — some may be bigger or smaller. Absolute pore size is the maximum any pore in a filtration element can be. It's like comparing apples to oranges. To avoid confusion, Big Berkey doesn't publish its micron rating. Instead, it lets independent test results do the talking.
Capacity
Capacity reflects how much water a filter element can purify before it needs to be replaced. Filters with higher capacity need less maintenance, they're more convenient, and over the long haul, they cost less to operate. The Big Berkey comes with two filter elements — each with a 3000-gallon capacity — so that's 6,000 gallons in total. It could be years before a small family has to replace them.
Flow Rate
Flow rate tells you how fast a filter makes water. Better filters tend to have lower flow rates because they remove more contaminants. The Big Berkey filters only two gallons per hour, but because purified water is held in a separate reservoir, there is always some available while it's making more.
Size
Countertop systems take less space than whole-house or under sink filters, but when every inch counts, the 8.5-inch diameter Berkey fits almost anywhere. If you're planning to put it under a cabinet, measure the vertical space as well. You'll need to remove the top to add water, so give it a place where doing that is easier.
Help and Support
The Big Berkey has a one-year warranty on the canister and a two-year pro-rated warranty on the filters when purchased from an authorized representative. Customer care and technical support are available by phone or online.
Counter top water filter reviews make shopping for a filtration system more manageable, but before you buy, it's worth the time to consider the impact water has in your life and what not having a safe supply could mean. If you want a filter that just makes water taste better or eliminates the cost of bottles, you have dozens of good choices, but to make it potable, the Big Berkey is your best option.
Frequently Asked Questions
How fast does the Big Berkey filter water?
It can purify up to seven gallons per hour.
Do the fluoride filters contain aluminum?
Filters use safe aluminum oxide, not the pure aluminum that can be hazardous to health.
Does the Big Berkey remove chlorine?
Absolutely! It removes 99.6-percent of chlorine and 99.9-percent of free chlorine.
Compare other countertop water filter brands