Research and Compare The 7 Best Undersink Water Filters
Shopping for a water filter can feel like a trip through the twilight zone. Trying to make sense of the technical jargon and sorting through manufacturers' claims is frustrating, and if you're like some folks, you're ready to throw in the towel.
But improving the quality of your drinking water is one of the most impactful things you can do for your health, so we're going to ease the confusion for you with our comprehensive buying guide plus a review of seven top-rated water filtration systems that are designed to mount under a kitchen or bathroom sink.
Stop wasting time and money when we have spent countless hours researching and speaking with experts to put together proven NSF Certified home water filtration systems.
The under-sink filters are some of the best you're going to find in today's market – some can even be installed in less than 3 minutes!
Best Undersink Water Filters

Editor's Choice

Editor's Choice

WaterDrop Reverse Osmosis

High-Flow 400 GPD
NSF 58 & 372 certified
Installs in 30 minutes or less

Check Prices

Coupon Code: QWL-10OFF

Great Value

Great Value

Aquasana Claryum Direct Connect

Replaces more than 6,250 plastic water bottles
Works with existing faucet
99% of contaminates removed

Check Prices

Woder 10K-Gen3

1000 Gallons Filtered
99% of contaminates removed
WQA GOLD SEAL CERTIFIED

Check Prices

WaterDrop Ultra Filtration

3-Stage filtration process
Ultra filtration membrane
DIY Quick installation setup

Check Prices

Great Overall

Great Overall

WaterDrop Direct connect

Quick Installation process
30 day money back guarantee
Long Lasting Filters

Check Prices

Frizzlife Under Sink Water Filter System

1400 Gallons filtered
2-stage High-flow filtration system
99% of contaminates removed

Check Prices

CuZn UC-200

50000 Gallons Filtered
5 year filter life
Quick installation

Check Prices
7 Top Rated

& Reviewed: Under Sink Filters
#1.
WaterDrop WD-G3-W

Under Counter Water Filter RO System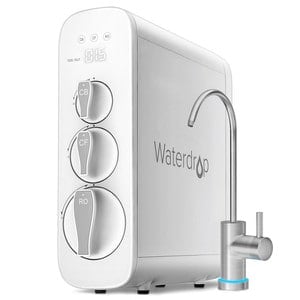 This is hands down our favorite choice in a WaterDrop RO water filtration system.
Waterdrop took the problems of old and designed a sleek compact design that can be installed in 30 mins or less without the need of a plumber.
Filter changes take 3 seconds.
Waterdrop RO system reduces water waste by 300% over tradional and current units sold online. It also has a safe shutdown feature for when you have been running water for longer than 30 mins.
To help extend the life of their filters, waterdrop automatically innitiates flushing of the system so you don't have to worry.
This system is capable of filtering water at 400 GPD and effectively filters out the following contaminants with it's 7-stage filtration process: Removes chlorine, taste and odor, sand, rust, solids, and other impurities. Reduces TDS, limescale, heavy metals, bacteria, viruses, and more than 1,000 other harmful contaminants.
Qualitywaterlab readers get 10% off using coupon code: QWL-10OFF
.
.
Pros
Cons

High-Flow 400 GPD
Works with any kitchen faucet
Installs in 30 minutes or less
Exceptional customer service
4.8 stars with over 300 reviews
Tankless design for added storage room

Slightly costlier than competitors
Three filters to change when needed
FAQs
Q: How often do I need to change the membrane?
A:  It's recommended that you change the membrane every 24 months/2,200 gallons
Q: Can this be hooked up to my refridgerator?
A: Yes, you can buy the adaptor through waterdrop
My Take
This is my favorite compact under sink RO system on the market today. The fact that it's easy to setup and get running in minutes, or the fact that there's built in safety features that I don't need to manual do makes this my go to system. Go read some of the reviews for yourself and see why others recommend waterdrop WD-G3-w.
#2.
NU Aqua Tankless

Reverse osmosis 600GPD System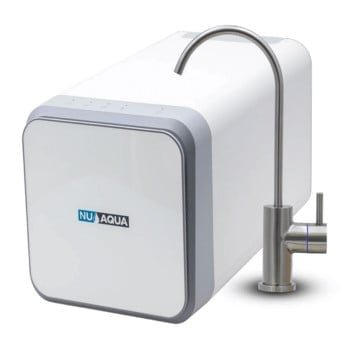 This is another favorite of ours and not because of the price, but the reliability and convenience of space in under the sink.
With dozens of positive verified reviews, NU aqua gives you 4-stages of water filtration that will remove up 99% of the contaminants we don't need in our drinking water.
What I love about this system is the fact that I don't NEED any hand tools to make a filter change – the only thing you have to do is lift the front cover and twist out the old filter to replace –Pretty simple in my book!
Another positive feature I love is the fact it comes with a water pressure booster – nothing worse than waiting to pour a glass of water especially if you have young kiddos.
This system comes with a 180 day satisfaction guarantee if you don't like this system and also comes with a 5-year warranty if you decide to keep it – so you really have nothing to lose and more to gain in giving Nu Aqua a shot!
.
Pros
Cons

High-Flow 600 GPD
Low water pressure booster
Tool-less quick filter changes
Filter light change indicator
99% of contaminants removed
180 satisfaction guarantee
Compact Tankless design

Installation can be a pain for some setups
FAQs
Q: How often do I need to change the membrane?
A: It's recommended that you change the PP/CB Filter in 6 months. The GAC Filter in 12 months, followed by the Active carbon filter in roughly 36 months.
Q: Can you add an alkaline filter after the RO system?
A: Yes, you can buy the adaptor through Nu-Aqua
My Take
I really do like this system and I'm torn between the Waterdrop system and the NU-aqua RO system. However, the Nu-Aqua system is over a 100.00 cheaper and does have a better flow rate but isn't a space saver like Waterdrop is.

#3.
CuZn UC-200

Under Counter Water Filter
CuZn's UC-200 is the ultimate install-it-and-forget-it under sink water filtration system. It's a no-nonsense unit with a minimalist design — set it up under the sink in minutes and enjoy clean water for five years or 50,000 gallons with no costly cartridge changes.
Activated charcoal filter media removes sediment, chlorine, pesticides, herbicides and more, while a unique bacteriostatic layer reduces heavy metals and inhibits the growth of bacteria in the filter — all without a significant drop in water pressure. With no cartridges to replace, the UC-200 is maintenance-free and has one of the lowest total costs of ownership on the market.
.
Pros
Cons

High-capacity
Works with any kitchen faucet
Installs in minutes
Comes with a 90-day satisfaction guarantee and 5-year warranty
 Exceptional customer service

Designed only for use with biologically safe city water
FAQs
Q: Does this filter remove minerals that cause scale build-up?
A: No, unlike a water softener, the UC-200 does not remove beneficial minerals.Q: Does it remove fluoride?
A: No.Q: Can this be used to purify well water?
A: The UC-200 is recommended only for water that has already been disinfected and is free of harmful microorganisms.
My Take
CuZn isn't a household name, but it should be — this is an excellent water filter. The UC-200 removes increasingly common city water contaminants, like lead and pesticides, as well as chlorine. Its total capacity is enormous — 50,000 gallons — and it's one of the few filters you can install and not think about for five full years. But if you're worried about lead, it removes slightly less than other models — 98-percent versus 99.9-percent. The difference is small, but because lead is highly toxic, especially to children, it's large enough to matter.If your water isn't at risk for lead contamination and you want a long-lasting, hassle-free filter that makes water taste great for the lowest possible price, this is one of our top picks for best undersink water filter.
#4.
APEC WFS-1000

3 Stage Under Sink Water Filter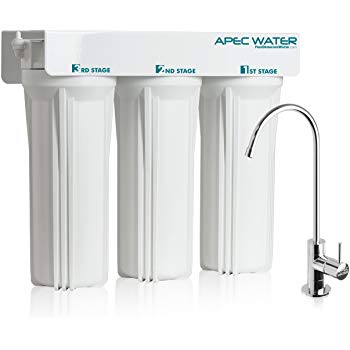 Apec has been making filters for more than 20 years. This triple-stage system is made in the U.S.A. and is designed to remove sediment and chemical tastes from bacteriologically-safe city water.
Three separate filters in heavy-duty housings remove particles like dirt and rust that make water cloudy and eliminate the heavy chlorine residue found in heavily-treated municipal water. Super-capacity cartridges last more than a year between changes, reducing maintenance costs, and the system comes with a compatible, 100-percent lead-free faucet.
.
Pros
Cons

Affordable annual filter changes
Easy to install
Doesn't remove healthy minerals
Superior chlorine filtration
Certified by the Water Quality Association

Does not remove lead or other heavy metals
FAQs
Q: Is the faucet that comes with the kit available in other colors?
A: No, only chrome.Q: Can this be used with hot water?
A: No, it's recommended for use only with cold water.Q: Will this system reduce my water pressure?
A: In water with an above average sediment level, a drop in pressure is expected with all filters, but under normal conditions, most users report a minimal change.
My Take
If your water tastes like it came from a swimming pool, APEC's WFS-1000 has a triple-filtration system with two separate carbon block filters for maximum chlorine extraction. The initial cost is reasonable, it's well-made, easy to install and filters need changing only annually. It requires a dedicated faucet — not my favorite feature — but it's included, and like the CuZn, it doesn't remove the healthy minerals I want in my water.
It does not, however, remove lead. If a heavy chlorine taste is your primary problem, the water from this filter tastes fantastic, but if you have kids and are worried about lead, other models may be a better investment.
#5.
Doulton W9330958 SuperCarb

Under Sink Water Filter
Doulton's SuperCarb isn't the usual home water filter. It's a four-stage system that uses activated carbon to remove bad tastes, ion-exchange media to reduce lead and other heavy metals and a ceramic filter that's similar to those used by campers.
Unlike other models on our list, the small-micron ceramic cartridge is cleanable and removes 99.99-percent of common water contaminants including dangerous bacteria, so it's a good choice for filtering both municipal and well water. Installation is straightforward and with a few simple connectors, it will work with most existing fixtures.
.
Pros
Cons

Safe for use with well water
Removes more contaminants than similar models — including bacteria
Ceramic cartridges can be cleaned and reused.

Reduces water pressure more than other filters
FAQs
Q: How often should the filter cartridge be replaced?
A: Every six months or after filtering 600 gallons, but regular cleaning extends its life.
Q: How should the filter be cleaned?
A: Rinse it under running water and scrub it lightly with a soft brush.
Q: Does this unit remove fluoride?
A: No.
My Take
This model by Doulton is the only one our list that can be used as the sole filtration for well water because the small-micron ceramic cartridge reliably removes biological contaminants. A drawback to ceramic as a filtration media, however, is that it tends to clog, has a lower flow rate than most home filters and tends to reduce water pressure. The filter can be cleaned and reused, and that extends it's life and lowers the cost of ownership, but for more than two people, the flow rate is likely to disappoint.
What this filter is ideal for is a camp or an RV. It makes water safe to drink, improves its taste, and the low flow is less of a concern. It's not the best kitchen sink water filter for a home, but it's perfect on the road.
#6.
Aquasana AQ-5300.55 3-Stage

Under Sink Water Filter
This Aquasana 3-Stage kitchen sink water filter is NSF-certified to remove more than 61 common contaminants including chlorine, chloramine, pharmaceuticals, lead, heavy metals and chemicals like pesticides and herbicides. It doesn't remove most microorganisms, but its catalytic carbon filter captures chlorine-resistant cysts like cryptosporidium and giardia — a noteworthy plus.
Filtering capacity is 320 gallons between cartridge changes — roughly every six months — and as a bonus, a battery operated filter change alarm tells you when time to replace cartridges. Installation is easy, and the kit comes with a compatible faucet.
.
Pros
Cons

Removes chloramine without compromising filter efficiency
The faucet is attractive and available in three colors
Features a filter change alarm
Features a filter change alarm
Cartridges are easy to replace

Weak exterior housing
Limited customer service
FAQs
Q: How long does the battery last on the filter change indicator?
A: It's a lithium battery and should last approximately 1600 hours.
Q: Does this system remove beneficial minerals?
A: No, it does not remove healthy minerals like calcium, potassium and magnesium.
Q: Does this filter remove fluoride?
A: No.
My Take
I wanted to like this filter, but it has some serious issues. First, the good — it removes a broad range of contaminants including chloramine, a secondary disinfectant that select cities used in addition to chlorine. Other filters, including the CuZn, don't. It has a high flow rate, a filter change alarm and an excellent sediment filter that reduces clogs and improves its overall efficiency.
The problem lies in its construction and lackluster customer care. The exterior housing that holds the cartridges is weak and prone to cracking, and what's worse, Aquasana isn't backing this product as vigorously as it could, and replacement parts aren't readily available. The filter has its merits, including a faucet that's available in three colors, but with companies like CuZn wowing their customers with superior support, it's a disappointment overall.
#7.
Woder 10K-Gen3

Ultra High Capacity Water Filter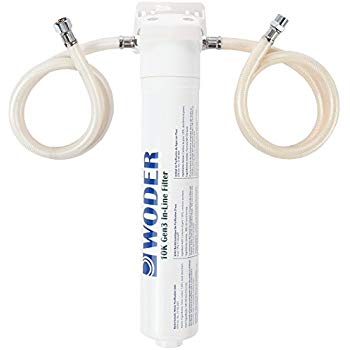 The Woder Gen3 is designed to work with cold, biologically safe municipal water. It removes lead, asbestos, chromium, mercury, sediment and volatile organic compounds and reduces the unpleasant taste and odor of chlorine while leaving in healthy minerals.
The kit contains everything necessary for installation. It sets up in minutes without special tools and works with any faucet. The total filtration capacity is 10,000 gallons between cartridge changes and replacements are affordably priced.
.
Pros
Cons

Effortless installation
High capacity
Low total cost of ownership
Selective filtration technology retains healthy minerals

Lacks a filter change indicator
FAQs
Q: Can this filter be used with a water softener?
A: It's not recommended for use with softeners that use salt because it can shorten the life of the filter. Check with the manufacturer for recommendations related to salt-free softening systems.
Q: Can this be used with pull-out faucets?
A: Absolutely!
Q: Will this filter reduce the water pressure from my faucet?
A: All filters may depending on the level of contaminants in your water, but most users report less reduction than with similar models.
My Take
Woder makes a fine filter. Like the CuZn, it's cartridge has an extended life span — 10,000 gallons or up to three years — and it capably removes most worrisome contaminants without affecting water's mineral content. The flow rate is high at 2 gallons per minutes — almost double that of the Doulton — and it works with any kitchen faucet, even pull-outs.
Installation is a breeze, cartridge replacements are inexpensive, and while it doesn't last as long as the super high-capacity CuZn, it does remove more lead. Gallon for gallon, CuZn's UC-200 is a little less expensive to operate, but both are about the same size, essentially hassle-free and perform like champs. If lead is your worry, the Woder is good choice. If cost and low-maintenance matter more, I'd opt for the UC-200.
#8.
Filtrete Advanced

Under Sink Water Filtration System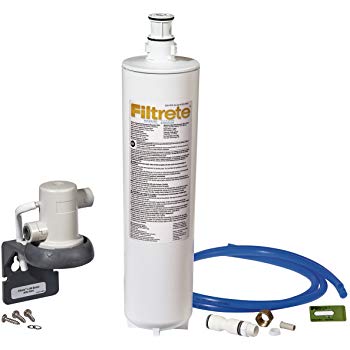 Filtrete filters are manufactured by 3M — a longtime leader in filtration technology. The system is little more than a basic cartridge, so it's low-profile enough for installation under kitchen and bathroom sinks with less-than-average space.
It works with your existing faucet, and set-up takes less than 30 minutes. It has a 1500-gallon total capacity — an average family can expect about six months between filter changes. This system is recommended only for water that's been treated for microorganisms. It removes sediment, rust, chlorine, lead and microbial cysts, but leaves in healthy minerals.
.
Pros
Cons

Low-initial cost
Fits in small bathroom cabinets
Easy installation
Can be used with any faucet

Expect a decrease in water pressure
FAQs
Q: Does this filter remove Fluoride?
A: It does not.
Q: Can it be mounted horizontally instead of vertically?
A: Absolutely!
Q: Can this be used to purify well water?
A: It's recommended only for biologically safe water, but like similar filters, it can be used as a secondary system.
My Take
If you're on a budget, this Filtrete filter has the lowest initial cost to buy and is a pleasure to recommend with a few cautions. Among similar models, it has one of the highest micron ratings. That means it filters out more contaminants overall, but because of that, it also tends to accumulate more sediment and may reduce water pressure a little more than expected. It has a fairly low 1500-gallon capacity, and cartridges need to be replaced every six months but are reasonably priced.
Cost shouldn't be a barrier to clean drinking water — this model fixes that. It's almost as cheap as a pitcher and costs less in the long run. Sign up for text reminders and Filtrete will let you know when it's time to change to the cartridge!
#8.
Frizzlife

Under Sink Water Filter System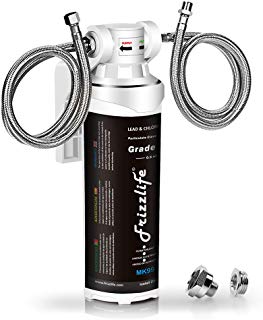 You can kiss bottled water goodbye with this inexpensive system from Frizzlife. Each cartridge removes sediment, heavy metals, chlorine, VOC's and other chemical contaminants from 1600 gallons of water.
Kits come complete with a brushed nickel faucet and adapters for both 1/4-inch and 3/8-inch water lines, and the cap has a unique auto shut-off feature that means your home's water supply doesn't need to be turned off for installation or cartridge changes. Replacement filters are among the least expensive in the industry despite their high quality, and Frizzlife backs this unit with a 100-percent satisfaction guarantee.
.
Pros
Cons

Doesn't remove beneficial minerals
Lower-than-average long-term cost of ownership
Installation kit contains everything including plumber's tape
Comes with a two-year warranty

Won't work with every faucet
FAQs
Q: How long do filter cartridges last?
A: Depending on usage, they can last one to three years, but in most practical circumstances, they should be replaced every six to eight months.
Q: Can this system filter hot water?
A: No, it's designed for cold water only. Use with hot water would significantly decrease its filtering efficiency.
Q: Are cartridges easy to replace?
A: Yes! The process requires no tools, and with the auto shut-off feature, it can be done without turning off the water supply.
My Take
With performance that's similar to the Filtrete, the Frizzlife system is a single cartridge with a moderate capacity that comes in an all-inclusive kit that has both 3/8-inch 1/4-inch connectors and plumber's tape! The cap that connects the filter to the cold water line features an automatic shut-off so cartridges can be changed without turning off the water supply — that's convenient and less messy.
Replacement cartridges are inexpensive and a breeze to replace. The system does, however, require the use of the faucet that comes with the kit, and although it's very modern and attractive compared to similar models, it adds to the cost of the system and may not offer the look you want. If need a budget-friendly filter, but like your existing fixture, consider the Filtrete first.
Undersink Water Filter

Buyer's Guide

Undersink filters are less complex than costly whole-home systems, and unless you want to soften your water or need biological filtration, they offer a significant improvement in water quality and peace of mind without breaking the bank. Compared to using filtration pitchers or bottled water, an under counter water filter will save you lots of money. Here's our buying guide to help you choose the best undersink water filter for your home.
1. What are the benefits of having an undersink water filter?
Municipal water is treated for harmful microorganisms and is biologically safe, but does that mean it's as pure as it should be? Lead and other metals from aging pipes may be present, and new contaminants — like industrial chemicals and residue from discarded pharmaceuticals — have been discovered, but are not routinely tested for. A better under sink water filtration system removes these contaminants and more, and also makes water smell and taste better by reducing the chemicals that are used to make it safe to drink — like chlorine.
2. How does an undersink water filter work?
Undersink water filters connect to the cold water line under a kitchen or bathroom sink. These are known as point-of-use systems, and they treat only the water coming from one tap — unlike point-of-entry filtration systems that filter water to all faucets.
Water from the line enters the filter cartridge and flows through filtration media that traps contaminants — the type depends on the filter you buy — and then exits through the tap. It's an easy, cost-effective way to filter the water you drink and cook with versus using a more complicated and costly whole home system.
3. What type of undersink water filter do I need?
The type of system you need depends on the contaminants you want to remove. If you're on a city water supply, the top issues are chlorine, sediment, lead from aging pipes and industrial chemicals like pesticides. A water test for lead can tell you how much of a problem it is.
4. What to look for in an undersink filter system:
Several key criteria reflect how well a water filter will meet your needs: capacity, flow rate, micron rating and longevity. Here are their definitions and what they mean to you when you're looking for the best under counter water filter.
Capacity: This reflects the maximum number of gallons a filter can process before cartridges require replacement, but water with unusually high levels of contaminants make them less efficient over time, and it's possible they'll need to be changed sooner.
Flow Rate: measured in gallons per minute — is the speed at which water moves through the filter media and out the tap. The filters on our list have flow rates from one to two gallons per minute maximum, but that doesn't tell the whole story. Other factors such as the level of particles in your water, your home's water pressure, cold water temperature and how easily a filter's media clogs may reduce the flow rate to well below maximum. Always consider the big picture.
Micron Rating: Think of water filters as strainers with holes measured microns — millionths of a meter. The size of the holes determine what size particles can pass through, and the smaller the micron rating, the more the filter removes. Micron rating is critical for filters that claim to remove bacteria, but is less significant with undersink filters. Filters with smaller micron ratings can remove parasitic cysts and finer sediment, but the trade-off is that they tend to clog faster.
Longevity: A filter's longevity is determined mostly by its capacity. The length of time between cartridge changes is determined by several factors including how contaminated your water is, but in general, the larger the system's capacity is, the longer they last.
How To Install & Maintain

Undersink Water Filters

Because replacements contribute greatly to a system's maintenance requirements and the total cost of ownership, consider how many are in the system, how often they need replaced and what they cost before buying. To maintain efficiency, changing them as recommended is a must.
If the filter sits in a bracket, attach it to the wall of the cabinet using a hand drill or screwdriver.
Turn off water to the sink, disconnect the cold water supply line and attach it to the filter head.
Using the included connectors, attach the filter head to the line that leads to the faucet.
Turn the water back on and run it to check for leaks.
Installation is a little different for each model, but this is the typical process.
How do you change an under sink water filter?
Changing filter cartridges may require a filter wrench — most kits include them. Others can be replaced without tools. Processes vary, but to change most filters:
Turn off the water and put a towel or tray under the area to catch drips.
Using your fingers or filter wrench, twist the cartridge off and away from its housing.
Install a new filter and tighten it.
Turn the water supply back on and test the filter for leaks.
Undersink vs. Countertop

Water Filters

Countertop water filters do the job, but they have significant limitations. Most attach to your faucet with a hose, use valuable space on the counter, and they're not particularly attractive. They have less capacity overall and usually won't supply water fast enough for most families, and while they are marginally less expensive, as the cost of undersink systems comes down, the gap is narrowing, and that makes them even less of a bargain.

Undersink water filtration systems are an excellent value. They don't remove every contaminant, and they don't have the capability of comprehensive whole-home systems, but they're convenient, affordable, simple to use and give you clean, great-tasting water that's as good as bottled at a fraction of the cost and with far less environmental impact.

Last Updated on March 23, 2022 by

Ava