Last Updated on September 5, 2023 by
Ava
📝 Model: Springwell STR |Type: Salt-based |Process: ION Exchange |Regeneration: Metered |Grain Capacity: 30k -45k | Flow Rate: 12-15 GPM | Bluetooth: ✔️ | Warranty: Lifetime | Family Size: 6 | Rating: 5/5 |Best for: Well water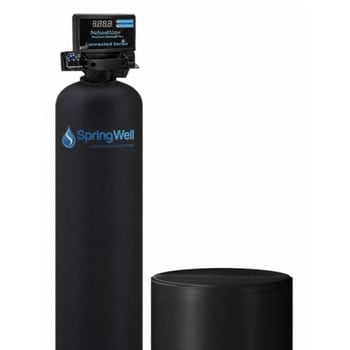 Use Coupon Code:
QWL5
to save!
Tannins wreak havoc on your clothing and bathroom fixtures and turn your water brown.
The SpringWell STR eliminates this problem with their top of the line system – read on to learn why this is the best Tannin removal system for wells.
Features:
Simple to program
Won't reduce water pressure
Safety certified components
Risk-free, money-back guarantee
Designed, assembled and packaged in the US
---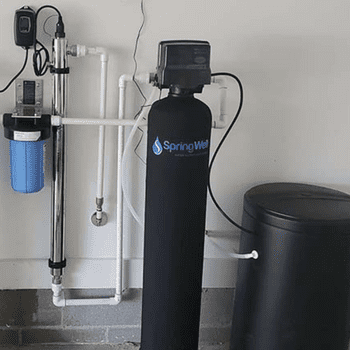 Best for: Anyone looking for a premium tannin removal system that just works and can be controlled from any location you carry your smartphone to.
Overview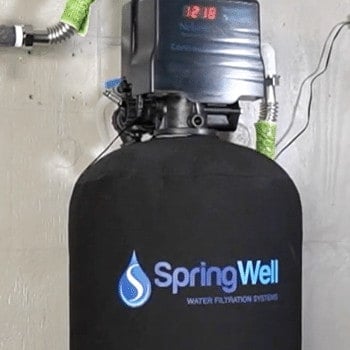 Tannins in tea are delicious, but in water, they spell trouble. Organic plant material, they give both tea and pond water its characteristic brown color.
Alone, tannins taste terrible, and they stain your clothing and bathroom fixtures, but they're not hazardous to your health.
They can, however, indicate the presence of bacterial contamination in a well, and when combined with chlorine, they create trihalomethane, a likely carcinogen.
The most cost-effective way to remove tannins is with a water softener, but they're not all created equal.
We'd like to introduce you to the latest technology — SpringWell's STR Softener and Tannin Removal System. It treats hard water and removes stubborn tannins without breaking a sweat, and also
works extremely well with well water filter systems
. Here's how.
Pros
SpringWell's tannin removal system is a conventional salt-based water softener with a twist — its unique resin traps hard minerals and tannins better than the competition. Water is soft, clean and fresh.
The system consists of two tanks, a media tank and a brine reservoir, controlled by a Bluetooth-enabled digital head.
State-of-the-art, it conserves salt and produces less wastewater than similar models, so you save cash.
Let's face it, nobody wants to see brown water flowing out of their water faucet and not have a bit of concern.
Although it's not harmful, it does raise concerns and SpringWell tackles this problem perfectly where all others have failed to meet expectations.
You have nothing to lose and all to gain with their limited lifetime warranty and superior customer service.
With SpringWell, you get top-notch components and the attention of water-quality professionals with over twenty years of experience and dedication to customer care.
You can't put a price on trust and expertise.
Cons
Challenging DIY installation
Ecologically sensitive areas may not permit salt-based softeners

The one stand-out feature I love the most, is the ability to monitor and control water usage from my cell phone — you have full control, anywhere and anytime, from the palm of your hand.
Use Coupon Code: QWL5 to save!
My Take
Tannin removal technology isn't rocket science, but the STR softening system is as well-engineered as anything coming from NASA. SpringWell's thought of everything.
Programming routines are straightforward and can be managed remotely. The system is efficient, effective and reliable — it's a top performer and built to last. Change the sediment prefilter every six months and add salt — it couldn't be easier to operate or maintain.
The price is the only drawback. It's an eye-opener, but you get what you pay for. The internet is teeming with fly-by-night water softener salesmen selling knock-off equipment with useless warranties.
Competitors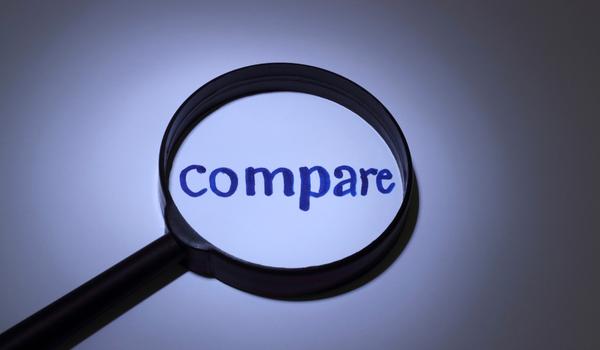 Matrixx Tannin Removal System: This system is similar to the SpringWell, but it also has the added benefit of being able to be completely controlled by a smartphone app. This makes it easier for users to keep track of their water quality and make adjustments as needed, from anywhere you have Wifi. This system can remove nearly 70% of tannins from well water and costs a tad more than Springwell.
SoftPro Tannin System: This system is designed to remove both tannins and nitrates from water, making it a great choice for those who need to address multiple issues. You can also use this system on either city or well water sources – this is pretty good system overall and priced competitively.
Fleck 5600SXT Tannin Removal System: This system is designed to remove 3PPM of tannins from water, and it also has the added benefit of being able to be used with well or city water sources. It also features a digital control head that makes it easy for users to adjust settings as needed.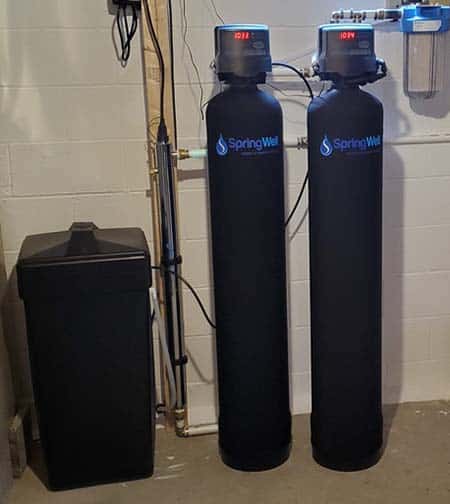 Performance Features
Let's review how the SpringWell STR Tannin Removal System works and why it's a great choice for homes with hard water and tough tannin problems.
Key Considerations:
Cost: SpringWell is affordable compared to other systems on the market and the ones we mentioned above, making this system an attractive option for those looking for a cost-effective solution.
Installation: This system is designed to be easy to install and requires minimal maintenance once installed, which makes it ideal for DIYers or those who don't want to hire a professional installer.
Efficiency: The system has been tested and proven to be highly efficient in removing tannins from well water and also judging by many positive online user reviews.
Durability: Springwell designs all of their systems with high-quality materials and this is why they can easily offer a 6-month guarantee and why they're leaders in the industry. This system is built to last, so rest assured knowing your buying a reliable system.
Warranty: SpringWell offers a limited lifetime warranty on its Tannin removal system, providing customers with peace of mind should any issues arise with the product during its lifetime.
Contaminants Filtered
This system removes hard minerals, including calcium and magnesium, plus tannin. The primary purpose of the sediment filter is to prevent dirt and rust from clogging up the media tank, but it also makes water more palatable. You can also add additional filters to manage chemical and biological contamination. The experts at SpringWell will show you how.
Design and Installation
Water softeners work by trapping hard minerals and flushing them down the drain. They prevent limescale buildup in your pipes and protect your appliances from premature breakdowns. This system is no different except that it also removes tannins. Integrated into your main water line, usually in the basement or garage, it treats every drop of water in your home. Check with your local planning office before purchasing to make sure salt-based softeners are allowed in your area.
Systems require a drain and a power outlet. You'll need roughly 10-square feet of floor space for the tanks and plumbing plus enough room to move around them for maintenance. Install it in an area where you can load the salt tank without breaking your back.
All SpringWell's water filters are DIY-friendly to install, but this system is more complex and challenging to set up. Homeowners with plumbing experience can do it in a day. SpringWell provides step-by-step instructions with color photos. There's an installation video on YouTube, and their technical support representatives are standing by. A professional plumber can do the job in a morning.
Capacity
Water softeners are usually sized by the grain — the number of minerals they remove between regeneration cycles. The system is accurate but prone to misinterpretation. SpringWell makes it easy to select the proper size based on the number of bathrooms in your home. This model come in two sizes — the STR-1 for 1-3 bathrooms and the STR- 4 for 4-6 baths. There's no practical benefit to upsizing.
Flow Rate
Flow rate tells you how much water a softener can process per minute. That's important because it determines how many taps can be open simultaneously before there's a noticeable drop in water pressure. The industry average is 6-7 gallons per minute (GPM). The SpringWell offers 12-15 GPM, so no one has to wait for water.
Regeneration
Old-school water softeners regenerated at the same interval whether they needed it or not, wasting salt and water. SpringWell systems are smart — they monitor water usage and regenerate only when needed, lowering salt and utility bills. The nine-volt battery backup preserves your settings in a power outage.
Help & Support
SpringWell's STR Water Softener and Tannin Removal System is performance guaranteed — if you're not happy with it, send it back within six months for a refund. Tanks and valves are warrantied for life.
US-based customer service specialists are available by phone, e-mail or chat. Knowledgeable, they can help you troubleshoot water quality issues or select parts. They do whatever it takes to ensure your long-term satisfaction with your purchase.
Final Thoughts
It's easy to take clean water for granted until you have a problem. The folks at SpringWell know that, and that's why they've engineered cost-effective filtration solutions for every home. Between buying bottled water and paying appliance repair bills, hard water and tannins can empty your wallet in a hurry. Why wait for the worst? Enjoy the benefits of soft water while protecting your most valuable investments — your health and your home.
FAQ's
Do resin tanks come preloaded?
SpringWell water softeners are resin-filled and ready to install. Purchase 4-5 bags of the salt of your choice locally.
How often should I change the sediment filter?
It depends on your water quality. Every six months is average.
Can the tannin removal tank be installed horizontally?
No, the tank sits in a boot and must be installed vertically. With the head attached, it measures 63 inches.
Compare leading brands: