Last Updated on January 2, 2023 by
Ava
Lead is a devastating toxin — no amount is safe to drink, especially for children. Yet more than 20 million Americans have more than the recommended limit in their water because of aging infrastructure and lead plumbing in older homes.
It could take decades for communities to find a solution, so the only way to safeguard your family today is with a water filter. But don't settle for models that remove "up to" 99-percent of lead. These top performers are the best protection money can buy.
So Let's get to it
#1 is my favorite, but #2 and #8 are best overall for the money…
Best Water Filters For Lead

EDITOR'S CHOICE

EDITOR'S CHOICE

SpringWell LS1 Whole House System

Eliminates 99.6% of germs
6-month money back guarantee
9 Gallons per Minute Rating

Click For Best Price

Coupon Code: QWL5

Best Undersink

Best Undersink

WaterDrop Reverse Osmosis

High-Flow 400 GPD
NSF 58 & 372 certified
Installs in 30 minutes or less

Click For Best Price

Countertop SYSTEM

Countertop SYSTEM

AquaTru Countertop

1200 Gallons filtered per filter
4-Stage filtration process
Quick setup

See Latest Price

Best Inline

Best Inline

Aquasana Claryum Direct Connect

Replaces more than 6,250 plastic water bottles
Quick and Easy Filter Changes
99% of lead removed

Click For Best Price
Compare Our Best Water Filters For Lead Removal
---
#1. SpringWell Whole House Lead and Cyst Removal System
📝 Type: Ultra-dense carbon block |Process: 2-stage |Capactity: 100,000 gal. |Contaminants Removed: 10+ | Pb Reduction: 99.95% |Flow Rate: 8 GPM | Tech: ✔️ | Warranty: Lifetime | Annual Cost: ~$400 | Rating: 5/5 |Best for: Particulate and soluble lead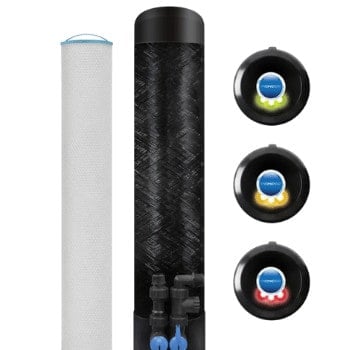 SpringWell's whole-home lead filtration system removes more than 99.95-percent of lead and chlorine.
NSF/ANSI P473 and 53 certified, the 0.5-micron filter eliminates parasitic cysts and reduces dangerous forever-chemicals, including PFOA and PFOS.
Your water will be safer and taste better than bottled.
Virtually eliminates lead from source water and service lines
Whole-home filtration provides clean water at every tap
Low-maintenance
Won't impact water pressure
Limited lifetime warranty
Use Coupon Code: QWL5 to save!
---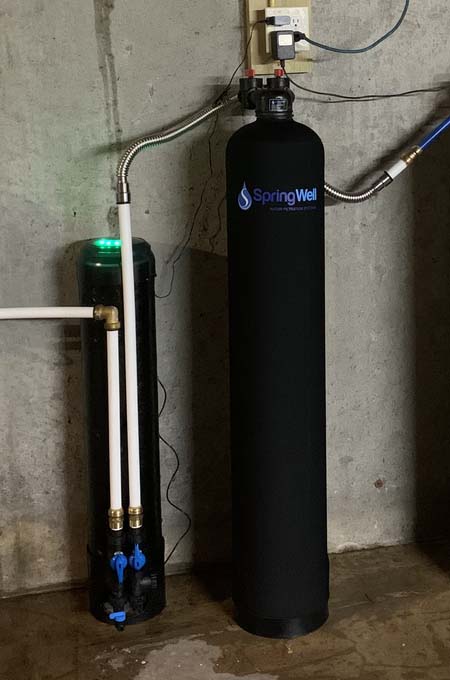 Best For: This is great for anyone looking to get lead-free water from every source in your home.
Pros
The system treats 100,000 gallons of water between filter changes — enough for a family of four for a year. Just set it and forget it.
The PIONEER digital head monitors water usage and warns you when filter life is low.
Timely maintenance is critical for optimal lead removal, but unlike some systems that leave you guessing when filters are spent, you won't miss a beat with the SpringWell. It's satisfaction-guaranteed.
Lead is scary stuff. It's tasteless, colorless and odorless.
If you have aging underground pipes in your area, lead is a threat, and no filter removes more of it than the SpringWell.
The upfront price is high, but it's a bargain for this level of quality, performance and convenience.
Ultra-low-maintenance and third-party certified, it's backed by a company committed to clean water.
For my money, it's the best for lead removal and is our number #1 top rated whole house water filter.
Filters are simple to change with only one cartridge to change. It takes about 10 minutes and requires no tools.
SpringWell filters are DIY-friendly to install. With basic plumbing know-how and a few tools, most homeowners can do it in a day.
This system can be used with well water, however, we recommend installing a sediment prefilter to protect the cartridge from the dirt commonly found in well water.
It's an easy and inexpensive addition that also improves your water's clarity and taste.
Cons
The filter replacement are on the high side and should be considered before buying.
Aside from that, there's nothing really worth complaining about.

---
#2. Waterdrop G3P800 Reverse Osmosis Filtration System
📝 Type: RO + Carbon + UV |Process: 7-stage |Filter Life: 6, 12 and 24 months |Contaminants Removed: 1000+ | Pb Reduction: 99.99% |Flow Rate: 800 GPD | Tech: ✔️ | Warranty: 1 Year | Annual Cost: ~$170 | Rating: 5/5 |Best for: Ease of maintenance and smart features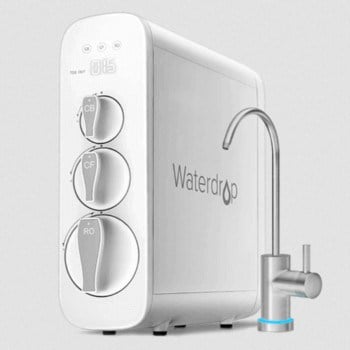 Waterdop's premium seven-stage filtration system removes more than 90-percent of more than a thousand contaminants from lead and chlorine to bacteria and PFOA.
Fifty percent smaller than conventional RO filters, it fits conveniently under any kitchen sink.
We've had ours for 3 months and love it!
Space-saving design
Lifetime warranty
Low wastewater ratio
Brisk flow rate
NSF/ANSI standards 58 and 372 certified
Straightforward DIY-installation
Qualitywaterlab readers get 10% off using coupon code: QWL-10OFF
---
Best for: This system is the best point-of-use (POU) undersink filtration system that will eliminate lead among other harmful chemicals from your water – great for apartment renters.
Pros
Simple to install with an environmentally friendly 1:1 wastewater ratio, maintenance is a breeze and replacement cartridges are surprisingly affordable.
Performance certified, it includes your choice of a chrome or brushed nickel dispensing faucet.
The filters a pretty easy to change and comes with three twist-and-pull filters.
Change the CF cartridge every six months, the CB filter annually and the RO membrane every two years — It's mess-free and takes only seconds.
This system will not impact water pressure and you can fill a cup in less than 10 seconds.
Waterdrop features an internal pump that boosts the flow rate to 0.28 gallons per minute — among the fastest in the industry.
Reverse osmosis filters are among the most effective for removing lead.
Traditional RO systems are bulky and the tankless design on the Waterdrop G3 solves that problem and more.
Providing up to 800 gallons per day of fresh, crystal-clear drinking water while using less counter or undersink storage space.
Thoughtfully engineered and user-friendly, there's no excuse to drink lead again.
The system can also be connected to your refrigerator by adding Waterdrops's 1/4-inch water line connection kit.
Cons
---
#3. Big Berkey Water Filter 2.25 Gallon Countertop Water Filter
📝 Type: Carbon adsorption | Process: Gravity Filtration |Contaminants Removed: 200+ |Pb Reduction: 97.5% | Filter Life: 3,000 gallons | Testing: Third party tested against NSF 53 Standards | Annual Cost: ~$40 | Best for: Family of 4 with that wants convenience.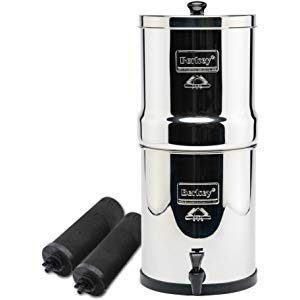 Berkey is a trusted name in water filtration, producing some of the industry's best countertop filters.
Gravity-fed, its flagship Big Berkey removes 200-plus dangerous contaminants from pesticides to heavy metals without electricity or waste.
Independent testing shows it eliminates 95-100 percent of lead depending on which filter set is used.
Fast, on-demand filtration
Comprehensive lead removal
Attractive stainless steel finish
Portable
UV Filtration (optional add on)
Works without electricity in a power outage
---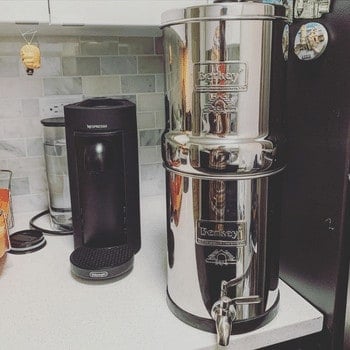 Best For: This is perfect for renters, emergencies, and traveling — the water tastes great!
Pros
Small space-friendly and portable, it boasts a lean 8.5-inches footprint and durable stainless steel exterior.
The reservoir holds 2.25 gallons — pour water in the top to produce more on-demand.
Berkey water filters are a low-tech but comprehensive approach to lead filtration.
The manual loading and limited capacity are a turn-off for some buyers but consider the benefits.
If you live in an outage-prone area, it works without electricity. Ideal for a crisis preparedness kit, it takes less than a square foot to store but can meet water demand for a family.
What it lacks in panache it makes up for in versatility — have one on hand for emergencies.
Berkey products are tested by multiple independent laboratories, but the company believes the certification process is too costly and would unnecessarily increase the price of its filters.
Test results are available to consumers and appear to exceed NSF standards.
Filters need to be changed every every 6000 gallons.
The housing is warrantied for a year — the purification elements for two.
Cons
---
#4. Aquasana Claryum Direct Connect Water Filter
📝 Type: Activated & catalytic carbon + Ion Exchange |Process: 3-stage |Filter Life: 784 gal. |Contaminants Removed: 10+ | Pb Reduction: 99% | Warranty: 1 year | Annual Cost: ~$80 | Rating: 5/5 |Best for: Anyone looking for a simple to use undersink filter.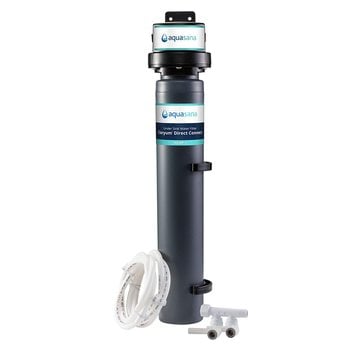 Aquasana's Claryum line is the latest in convenience-driven performance. A powerful point-of-entry filter, it mounts under the sink and connects directly to your existing faucet.
It reduces 15 times more contaminants than the average filter pitcher, including up to 99 percent of lead.
Impressive contaminant removal
Works with your existing faucet
Effortless installation
Easy maintenance
One-year warranty
---
Best For: This is perfect for those that aren't very handy and want a quick reliable solution to lead.
Pros
NSF 42, 53, 401 and P473 certified, each filter lasts six months and produces enough water to fill more than 6000 water bottles.
Unlike RO filters, it doesn't remove beneficial minerals, so water always tastes crisp and clean.
No need of a power drill to connect this system and can be installed in less than 15 mins.
If you want a quality water filter certified to remove lead that doesn't require a special dispensing faucet, look no further.
I challenge you to find a model that removes as many contaminants for the price.
The filtration kit includes a filter housing, one cartridge and everything required for installation, including an adapter for 3/8-inch hoses.
Cons
There have been a few complaints that it reduces water pressure more than expected, and it may.
---
#5. PUR Faucet Water Filtration System
📝 Type: Activated carbon + Ion Exchange|Capactity: 100 gal. |Contaminants Removed: 70 | Pb Reduction: 99% | Warranty: 2 year | Annual Cost: ~$75 | Rating: 4.5/5 |Best for: Quick affordable solution to water filtration.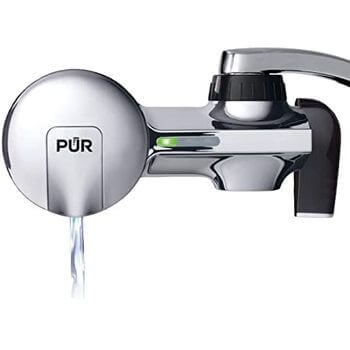 PUR lives up to its name with this NSF-certified filter that virtually eliminates more than 70 contaminants including 99-percent of lead.
With features that rival systems twice the cost, it fits any standard faucet.
Quality lead filtration
Installs in minutes
Filter change indicator
Backed by a 6-month money back guarantee
Sleek, low-profile design
Competitive price
---
Best for: This a perfect budget friendly solution for renters to remove lead with a quick installation.
Pros
Switch effortlessly between filtered and unfiltered water for washing dishes to preserve the life of your filter.
PUR's patented Mineral Core reduces toxins without removing the healthy minerals that make water so refreshing.
No faucet filter removes as much lead as a reverse osmosis system. But the PUR is among the few I trust with kids in the house — it has the NSF seal of approval.
The filter life is short, and it costs a little more than the competition, but it's still affordable and has a sophisticated look that blends better into modern kitchens.
Quality-built, you can trust your water to PUR — it's the best faucet filter to remove lead.
The faucet mount and housing can be used indefinitely. Replaceable filters last for 3 months or 100 gallons.
Filters come with three adapters that fit 95-percent of all standard faucets.
One of three additional adapters may be ordered free of charge for less common models.
Cons
---
#6. Epic Pure Water Filter Pitcher
📝 Type: Solid Carbon Block |Capacity: 16 Cups |Contaminants Removed: 200+ |Pb Reduction: 99.99% |Filter Life: 150 gallons | Testing: NSF/ANSI Standards 42, 53, 401, & P473 |Annual Cost: ~$130 |Best for: Those on a budget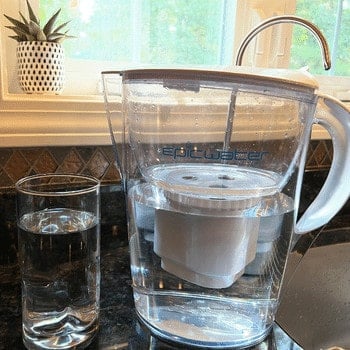 The Epic Pure filter eliminates up to 99.99% percent of more than 200 hazardous substances, including lead — 3000% more contaminants than the leading pitcher.
Each is rigorously tested to meet or exceed NSF 42, 53, 401 and P478 standards.
Removes more than 97 percent of lead
Space-saving design
Filter life indicator
Made of BPA-free, 100-percent recyclable plastic
Limited lifetime warranty
---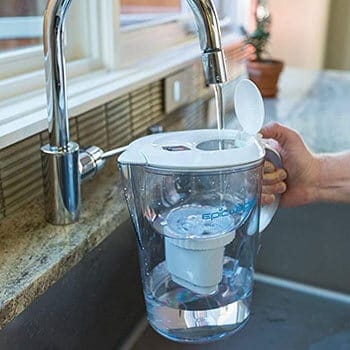 Best for: Anyone looking for a simple cost effective solution to lead should choose a Epic water filter pitcher.
Pros
Selective filtration technology removes toxins while preserving the healthy minerals that make water refreshing.
BPA-free, the sturdy Tritan pitcher holds a generous two liters.
Engineered for durability and convenience, it's a cinch to fill and virtually spill-proof.
This pitcher will filter a full pitcher in just over a minute.
Epic Pure pitchers eliminate the most worrisome contaminants in water while refining its taste.
They're well-balanced, pour perfectly and hold enough to serve a family at mealtime.
Despite their limited capacity, they're among the best water filters for lead.
Twice the price of garden-variety pitchers but half the cost of entry-level undersink or countertop filters, they're an excellent value when every penny counts.
Filters last 3-4 months depending on your water quality.
Epic filter pitchers don't remove healthy minerals which are most of the dissolved solids in water (TDS).
This pitcher can be used with well water, but it doesn't remove bacteria or parasites. The Epic Pure Nano pitcher is a better choice.
Cons
Not dishwasher-safe, so you need to hand-wash this pitcher.
---
#7. AquaTru Reverse Osmosis Countertop Water Filtration System
📝 Type: RO + carbon|Process: 4-stage |Capactity: 1,200 gal. |Contaminants Removed: 82+ | Pb Reduction: 99.1% |Flow Rate: 8 GPM | Tech: ✔️ | Warranty: 1 year | Annual Cost: ~$100 | Rating: 5/5 |Best for: Those wanting a countertop system.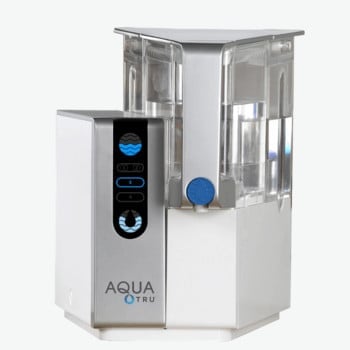 AquaTru filters feature a patented four-stage filtration system that removes 82 hazardous contaminants, including chlorine, arsenic, nitrates and lead.
Certified by the IAPMO to NSF 42,53,58, and 401 standards, water tastes better than bottled.
Removes stubborn contaminants
Easy filter changes
Affordable replacement filters
30-day satisfaction guarantee
Best for: This is a perfect choice for those wanting a reverse osmosis system without dealing with a permanent installation – sits right on your countertop and is simple to use.
Pros
Compact, it requires just 14 square inches of counter space, yet it holds three full quarts of purified water. T
he reservoir is removable and can be stored in the refrigerator.
Dispense a fresh cup with the push of a button — it's safe and easy for the kids to use.
Aquatru's filtration system isn't cheap, but it's portable, and eliminates as many dangerous toxins as systems twice the price.
Each set of affordably-priced filters replaces 4500 plastic water bottles for savings that easily offset their cost.
With 50-percent more capacity than the average filter pitcher, it's an excellent choice for small families with big lead problems.
The Aquatru has three filters. The prefilter lasts 6 months. The VOC cartridge lasts a year, and the RO filter is effective for 2 years or more.
Both the tap water tank and the purified water reservoirs are made of BPA- and BPS-free, shatter-resistant Tritan plastic.
Cons
Requires electricity
Prone to leaking if the pitcher isn't properly seated in the base.
Like most RO filters, it eliminates most dissolved solids, including minerals
---
#8. Aquasana OptimH2O Reverse Osmosis + Claryum Water Filter
📝 Type: RO + Carbon |Process: 3-stage |Filter Life: 6, 12 months|Contaminants Removed: 88+ | Pb Reduction: 99% |Flow Rate: 8 GPM | Tech: ✔️ | Warranty: Lifetime | Annual Cost: ~$200 | Rating: 5/5 |Best for: Those looking for a solid RO system to handle lead.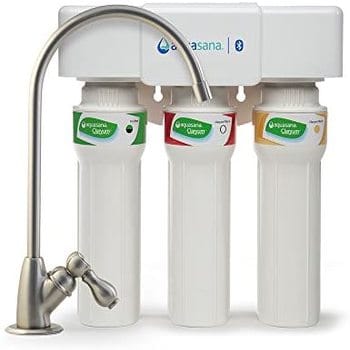 Aquasansa's latest undersink filtration system removes five times more contaminants than other lead water filters but without removing beneficial minerals — a rare find in a reverse osmosis system.
Claryum technology purifies water faster, improving the flow rate at your tap.
Removes stubborn contaminants
Simple DIY installation
Low-maintenance
Brisk flow rate
Two-year warranty
---
Best For: This is a great undersink filter that handles Lead with ease and is budget friendly.
Pros
NSF certified to standards 42, 53 and 401, it eliminates up to 99-percent of lead and more.
The kit includes the filters, undersink storage tank and a chrome, bronze or brushed nickel dispensing faucet.
Risk-free, it's backed by a 90-day satisfaction guarantee.
If you need comprehensive filtration for tough-to-remove contaminants but don't like the flavor of water from conventional RO systems, you'll be delighted with this filter.
Water tastes like it came from a fancy French bottle for a fraction of cost.
Wallet-friendly, the long-term cost of ownership is rock bottom, so you don't have to choose between your health and your budget.
This is the only RO system that doesn't remove healthy minerals and remineralization filter adds them back.
The Claryum carbon filter lasts six months. The RO and remineralization cartridges are replaced annually.
Cons
Noisy when the tank refills
---
Compare All 8 Water Filters For Lead
(Mobile users: Swipe to scroll)
| Compare Brands & Models | #1 SpringWell Lead & Cyst | #2 WaterDrop G3P800 System | #3 Big Berkey Countertop Filter | #4 Aquasana Claryum Filter | #5 PUR Faucet Filter System | #6 Epic Pure Filter Pitcher | #7 AquaTru RO System | #8 Aquasana OptimH20 Filter |
| --- | --- | --- | --- | --- | --- | --- | --- | --- |
| Rating | 5/5 | 5/5 | 4.5/5 | 4.5/5 | 4.5/5 | 4.5/5 | 5/5 | 5/5 |
| Price | $$$ | $$$ | $$ | $$ | $ | $ | $$ | $$$ |
| Pb Reduction | 99.95% | 99.99% | 97.5% | 99% | 99% | 99.99% | 99.1% | 99% |
| Contaminants Removed | 10+ | 1000+ | 200+ | 10+ | 70 | 200+ | 82+ | 88+ |
| Certifications | NSF/ANSI P473 & 53 | NSF/ANSI standards 58 & 372 | ❌ | NSF 42, 53, 401 and P473 certified | NSF 42, 53 and 401 certified | NSF 42, 53, 401 and P478 standards | NSF42, 53, 58, and 401 standards | NSF 42, 53 and 401 Standards |
| Filter Life | 100,000 gal. | 6, 12 and 24 months | 3,000 gal. | 784 gal. | 100 gal. | 150 gallons | 1,200 gal. | 6, 12 months |
| Technology | Digital | Digital | ❌ | ❌ | LED | Digital | Digital | ❌ |
| Annual Cost | ~$400 | ~$170 | ~$40 | ~$80 | ~$75 | ~$130 | ~$100 | ~$200 |
| Warranty | Lifetime | 1 Year | Lifetime | 1 Year | 2 year | Lifetime | 1 year | Lifetime |
Buyer's Guide to Lead Water Filtration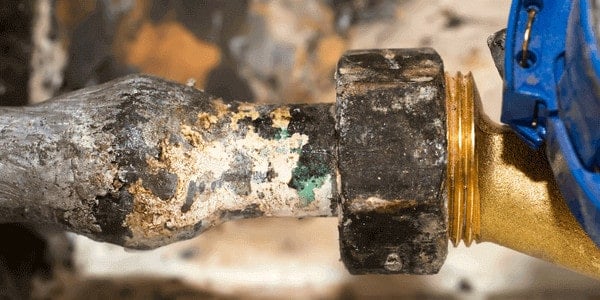 Lead can be a miracle or a monster. It powers our batteries, protects us from x-rays and waterproofs our roofs. But in our drinking water — it can be deadly. More than 9 million homes in the US are at risk for contamination, and there's no easy fix at the public level. The only way to protect your family is with home water filtration. Let's take a closer look at the dangers of lead and the best water filters for lead removal.
What Is Lead?
Lead is a heavy metal. Valued by manufacturers for its density, it's a soft, silvery-blue element found naturally in the Earth's crust.
How Does Lead Get Into Water?
Lead is rare in source water — the rivers, lakes and aquifers you drink from. But it's ubiquitous in the environment, having been added to thousands of products from paint to plumbing before scientists recognized its toxicity.
The most common source of lead in water is aging service lines — the underground pipes that bring water from the treatment plant to your home. Well owners are also at risk. Pre-90s well seals and some submersible pumps contain lead parts.
Lead can also leach into your water from old plumbing, faucets and solder. Nearly all homes built before the late 1970s have lead pipes. And even "lead-free" fixtures could legally contain up to 8-percent lead until it was banned in 2014.
More than 20 million Americans are served by lead service lines. Controlling water chemistry prevents leaching, but errors occur. In 2014, the authorities' failure to add corrosion inhibitors exposed thousands of Flint, Michigan customers to dangerous levels of lead. Since then, dozens of cities have been found to have even higher levels.
How Can I Tell If I Have a Lead Service Line, Plumbing or Fixtures?
Service Lines
If your home was built after 1988 with a new water connection, you don't have a lead service line. Before 1988, there's a chance you do, even if your home has since been remodeled.
Your city or town is the best source of information about underground pipes. Not all municipalities keep good records, but it's possible they know what your lines are made of and if upgrades were made after lead lines were banned. Give them a call.
Service lines have up to four parts — the only one you can see without digging up the pipe is the short section that connects to the main shut-off valve inside your home. In some houses, it's buried under concrete and isn't visible at all.
Lead service lines are a dull gray color, but the patina on old metal can be tricky. If a magnet sticks to it, the line is galvanized steel. If it doesn't, scratch the surface gently with a screwdriver. If the color doesn't change, the line is probably lead. If it's a shiny brown metal, it's likely copper.
Plumbing
Homes built before the late 1970s may have lead pipes. Houses built before 1986 may have copper pipes but lead solder. You can test plumbing the same way as a service line, but there's no accurate way to know what the solder may contain.
Fixtures
From the late 70s through 2013, most faucets were made of a brass alloy with up to 8-percent lead.
If you don't know when your fixtures were last replaced, upgrading the faucets you drink from is one way to limit your lead exposure.
How Does Lead Affect Our Health?
Lead is a devastating neurotoxin. It affects both adults and children, but it's particularly hazardous to kids because their bodies absorb it more. Once consumed, some of it is stored in the bones, teeth and soft tissue. Over time the effects are cumulative, and some are irreversible.
High levels of lead in children are associated with:
Anemia
Kidney damage
Nerve disorders
Impaired motor skills
Hearing loss
Behavioral problems
Low IQ
Speech and language deficits
Learning disabilities and more
A child exposed to even low levels of lead while their brains are developing may never achieve their full academic potential. Research shows it can drop their IQ by 7 points and behavioral problems may last a lifetime. Studies suggest a link between ADHD and lead toxicity.
In adults, lead poisoning causes:
Fatigue
Muscle aches
High blood pressure
Nerve damage
Headaches
Memory loss
Infertility
Brain fog and more
The lead stored in a woman's body may expose her fetus, causing low birth weight, developmental disabilities or miscarriage. High levels can be fatal to both adults and children.
How Much Lead in Drinking Water Is Safe to Drink?
No amount of lead is safe to drink. Levels once considered safe are now known to be hazardous, and we still don't know the whole story. The American Academy of Pediatrics recommends a standard of one part per billion or less. The Environmental Protection Agency (EPA) recommends action for levels above 15 parts per billion, saying it's a more achievable goal.
Communities do the best they can with the resources they have to provide clean water, but upgrading our infrastructure will take decades to complete, and it still can't address contamination from lead pipes within your home.
The only way to ensure your water is safe is to take charge of the testing and treatment process. Is there a water filter that removes lead? There is, and installing one is easier and more affordable than you think.
Testing Your Water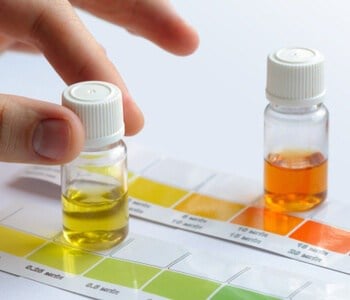 The only way to know what's in your water is to test it. If you drink city water, ask your supplier for a copy of the annual Consumer Confidence Report. It's free and tells you where your water comes from and what's in it.
But it doesn't account for contamination that occurs after the water leaves the treatment plant. If you drink well water, there's no monitoring at all — it's the homeowner's responsibility.
There are several ways to test your water, including with test strips you can buy online. But when you're dealing with toxic substances measured in parts per billion, it's critical to get the science right. We recommend using a certified drinking water laboratory. They use only approved testing methods and pass rigorous quality control checks.
Nationally, the average cost of testing is $60, but New York and several other states offer free analysis for residents. Results take a few weeks.
Filtration is the only long-term solution to lead contamination, but while you wait, the EPA recommends the following measures to reduce your expose:
• Run faucets for two minutes before using water — it flushes out the lead accumulated in pipes
• Use only cold water for drinking and cooking — lead dissolves better in hot water
• Clean your faucet aerators weekly to remove loose particles of lead
What Types of Filters Remove Lead?
There are two classifications of water filters — whole-house, or point-of-entry systems that treat all the water coming into your home, and point-of-use filters, such as under-sink and countertop filtration systems, that purify water from a single tap.
Both are effective, but it pays to read the fine print because some remove a much higher percentage of lead than others depending on which filtration method they use and the quality of the components.
Which type of filter is right for you? Consider the pros and cons of each.
Whole-House Filters
Whole-home water filters are installed in a basement or garage where the service line enters your home. They treat every drop you drink, cook and bathe with using one or more types of filtration from carbon to reverse osmosis.
Reverse Osmosis
Reverse osmosis is the gold standard for lead removal — it's the same method water treatment plants use. It works by forcing water through a semi-permeable membrane with microscopic pores measured in microns — millionths of a meter. It removes 99-percent or more of heavy metals, including lead.
Drawbacks include inefficiency. For every gallon of fresh water produced, up to three gallons are wasted. Filters equipped with permeate pumps produce less waste. Reverse osmosis also removes healthy minerals like calcium and magnesium that give water its characteristic flavor, so it can taste flat.
Carbon Filters
Conventional filtration systems use carbon and Kinetic Degradation Fluxion (KDF) filters to eliminate lead to a lesser degree. Carbon works by adsorption — the process by which contaminants are bound to a porous surface. KDF, a granular filtration media made of zinc and copper, causes a chemical reaction that neutralizes heavy metals. Multi-stage filtration systems that include both reverse osmosis and carbon or KDF filters are the best water filters for lead, achieving the highest total reduction rates.
Whole-home filters have distinct advantages over point-of-use filters. While the scientific consensus is that most exposure to lead occurs through food and drink, some studies suggest it can be inhaled or absorbed through the skin while bathing. There's peace of mind in knowing that water from every tap in your home is as clean as it can be.
But they're integrated into your main water line, requiring alterations to the plumbing. And while they remove lead coming from underground service lines, they don't address contamination from old indoor plumbing or fixtures. If you have lead pipes in your home, a point-of use water filter may be a better solution. If you don't, a whole-home system is ideal.
Under-Sink Filters
Under-sink filtration systems remove lead from drinking and cooking water using carbon, KDF, or reverse osmosis filtration. Apartment-friendly, they're a breeze to install and require no changes to your plumbing.
Reverse osmosis filters are the most effective but also the most complex. Purified water is held in a 3-5 gallon storage tank and dispensed through a special air-gap faucet that prevents contaminated backflow. More water is filtered as the level in the tank drops.
But depending on your plumbing, some tanks may not fit in your cabinet. And unless the sink is already equipped with a third hole for the faucet, you'll have to drill one — a tricky proposition with high-end, solid surface countertops. You'll also experience a drop in water pressure — a small price to pay for safety, but it takes getting used to. And although most RO systems store enough water for a family, you may occasionally run low.
Carbon and KDF filters remove less lead, but they produce water on demand with little impact on pressure. There's no storage tank, so they fit anywhere, and you'll never run dry. Some are plumbed to your existing faucet for convenience, while others have a dispensing faucet that preserves the life of your filter.
The biggest drawback of under-sink filtration systems is that they only purify water from one faucet. But they remove lead from all possible sources, including from old plumbing within your home.
Countertop Filters
Countertop filters are inexpensive, DIY-friendly to install and require no alterations to your plumbing. Gravity-fed, they use no electricity, and maintenance is as simple as swapping out filter cartridges.
They come in two styles. The first connects to your kitchen faucet through a hose. Water flows through the filter and dispenses through a faucet or spigot mounted on the housing. A diverter valve allows you to switch between filtered and unfiltered water on demand. It's a hands-off process with one drawback — the hose isn't attractive, and it tends to be in the way when you want to use the sink or counter for other purposes.
The second type is a manual filter. Pour water in the top and it filters down into a collection chamber, dispensing through a spigot. It's less complicated but requires an extra step to use, and some reservoirs aren't large enough to hold water for a whole family.
Countertop filters once relied solely on carbon or KDF to remove lead, but newer versions offer reverse osmosis. Select models can reduce lead as much as under-sink and whole-home systems, but they may not produce enough water to both drink and cook with.
Still, they're a good choice for nomads — take it with you wherever you go — and people who need a comprehensive but budget-friendly approach to lead removal.
Distillers
Distillation is the oldest method of water purification. Steam from boiling water is captured and condensed, dripping into a reservoir as it returns to liquid form. Water is 99.9% pure, but there's a catch — it can take hours to produce a single gallon.
Among the least expensive filtration options upfront, distillation requires electricity, so it costs more to produce clean water in the long run — about $0.30 per gallon. And like reverse osmosis, the process removes beneficial minerals, leaving water with an acidic, bitter edge.
If you have other uses for distilled water, such as a CPAP, a distiller is an option worth considering. But for a family, it will struggle to make enough water with which to drink and cook. It's effective filtration, but it's no bargain.
Faucet Filters
Faucet filters use carbon or KDF media to remove a wide range of contaminants, including lead. Most reduce modest amounts — less than 75-percent — while others are certified to remove 99-percent or more.
Cheap to buy and effortless to install, they're a popular go-to option for quick lead removal. Yet they're not an ideal long-term solution because the filter life is short — 100-200 gallons. Realistically, how long will that last a family of four plus pets?
If you have an under-sink filter in the kitchen, adding faucet filters in the bathrooms means you never have to worry about which the kids are using.
Choose low-profile models that don't extended so far into the sink that they interfere with washing your hands. If there are children in your home, a showerhead filter can further reduce lead exposure by removing it from bath water.
Filtration Pitchers
Filtration pitchers were designed to reduce taste impurities, but newer models with advanced carbon filters remove a remarkable range of contaminants, including up to 99-percent of lead. But the amount of clean water they make is limited — a family could polish off a full pitcher in a single sitting. And even the largest model won't fill a pasta pot, so they don't have enough capacity to produce both cooking and drinking water.
Why Is NSF 53 Certification Important?
The government doesn't regulate water filters, but the National Sanitation Foundation (NSF) offers a voluntary certification program manufacturers can use to validate their products.
They've created dozens of industry standards, the most important of which is NSF 53 — it establishes the minimum criteria for filtration systems that remove health-related contaminants, like lead. The NSF tests filters, performs onsite audits of production facilities and updates certifications annually.
Why aren't all lead removal filters NSF 53 certified? The testing process is costly — an estimated $100,000 or more per product. For a start-up company, it's cost-prohibitive. Yet for consumers, it's one of only a few ways they can judge a product's quality.
The bottom line is — if an uncertified filter promises to reduce chlorine odor but doesn't, you're out a few bucks, but there's no harm done. If it guarantees to remove lead but doesn't, there could be serious health consequences. We recommend buying only NSF 53 certified filters.
Does the Cost of Replacement Filters Matter?
More important than the initial price of a filtration system is what it costs to maintain. A $50 faucet filter that requires a monthly cartridge change at $20 each costs nearly $300 per year to own — a price for which you can purchase some whole-home or under-sink filters. Since lead contamination problems are rarely temporary, we suggest being investment-minded.
When comparing similar filters, evaluate the maintenance schedule and consider the cost of component replacements. The best water filters for lead removal have several inline cartridges, each with a different purpose:
A sediment filter that improves the efficiency of downstream filters by removing large particles of dirt and rust
A carbon or KDF prefilter that removes chlorine and other impurities
A reverse osmosis membrane that removes lead and other contaminants
A carbon or KDF post filter that eliminates any traces of lead or chemicals left behind
To determine the 5-year cost of ownership, calculate the annual cost of replacement cartridges based on the manufacturer's estimates, add the initial price of the filter and divide the sum by five.
When it comes to removing lead, performance is more important than cost. But when all else is equal, the cost of ownership should be a deciding factor. Timely maintenance is critical to a system's performance, so it should be affordable.
FAQ's
1. Does boiling remove lead from water?
Boiling water doesn't remove it lead — it concentrates it. As water evaporates, the ratio of lead to the water remaining rises. Boiling is different than distillation which captures the steam.
2. Does reverse osmosis remove lead from water?
Reverse osmosis removes 99-percent of lead or more. When combined with a carbon filter, it's the best protection money can buy.
3. Do carbon filters remove lead?
Carbon filters remove some lead, but how much depends on the type and quality. Block carbon has the greatest surface area and is the most effective.
4. Do refrigerator filters remove lead?
Refrigerator filters are granular activated carbon (GAC), or charcoal filters. Useful in refrigerators because they don't affect water pressure, they do not remove lead.
5. Do charcoal filters remove lead?
GAC filters do not remove lead, but catalytic carbon filters use an advanced form of activated charcoal with more surface area that removes some but not all lead.
6. Do KDF filters remove lead?
KDF filters remove up to 98-percent of lead — it's less effective than reverse osmosis, but it's a good alternative if you can't have an RO system.
7. Can lead be found in well water?
Lead in groundwater is rare, but wells and well pumps built before the 1990s could have lead components.
8. What does lead in water taste like?
Dissolved lead is colorless, odorless and tasteless. Without a test, you'll never know it's lurking in your water.