An iron filter won't rock your world, but it will drastically change how you feel about your water. If your tap is off limits, and you're spending more on appliance repairs than vacations, iron could be to blame.
It clogs up plumbing, ruins water heaters and makes coffee taste like metal. Resistant to the usual filtration methods, you need more than carbon to remove it. You need one of our best whole house iron filters for well water.
7 Best Iron Filtration Systems For Well Water Reviewed
#1
SpringWell WS

Whole House Well Water Filter System

📝 Targets: Iron, Manganese and Hydrogen sulfide (Ferrous + Ferric)| Process: Air Injection Oxidation |Capacity: 1M gal. | Flow Rate: 12-20 GPM | Bluetooth: ✔️ | Warranty: Lifetime | Annual Cost: ~$150 | Rating: 5/5 | Best For: High iron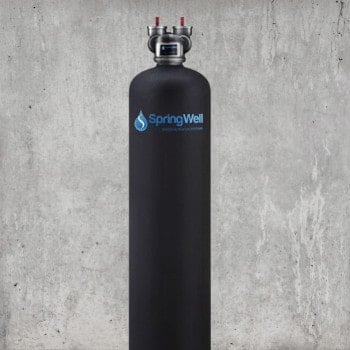 SpringWell's whole house filtration system tackles tough iron problems. Say goodbye to orange stains and rotten egg odor. Contaminants including iron, manganese and hydrogen sulfide are oxidized and filtered in a single tank.
Your water will look, smell and taste like nature intended.
Comprehensive iron filtration
Maintenance-free
Environmentally friendly
Straightforward DIY installation
Easy bathroom-based sizing
Use Coupon Code: QWL5 to save
---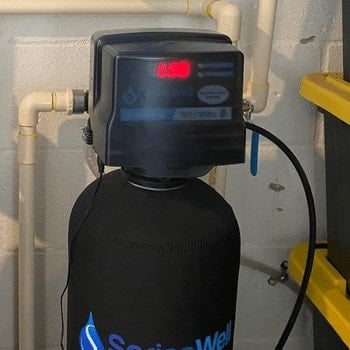 Best For: Those looking for the best of the best whole house water filtration system for iron that just works at knocking out high levels of iron efficiently need this system.
Not Best For: If budget is an issue, I would lean towards Softpro AIO system.
Pros
The system is whisper-quiet. Bluetooth-enabled, the user-friendly settings can be managed from the digital head or a handheld device.
Backwashes are based on your water usage and produce less wastewater — saving you money.
With twice the average flow rate of similar iron water filters, there's no loss of pressure at the tap.
Warrantied for life, it's a risk-free purchase.
SpringWell filters are simple to install for a DIY'er if you have basic plumbing skills and the right tools. If you don't, it's an easy job for a pro.
The SpringWell filter is self-cleaning and lasts a lifetime so don't worry about the iron filter it will last as long as the filtration media works.
This system will remove up to 7 PPM, 20 percent more than the average iron removal filter — plus up to 1 PPM of manganese and 8 PPM of hydrogen sulfide, the gas responsible for rotten egg odor.
SpringWell engineered this filter to be the last you'll ever own. It's not cheap up front, but it's competitively priced and maintenance-free, so the long-term cost of ownership is rock bottom.
Made of durable, certified components, you can feel the quality right out of the box. Backed by a company with decades of experience in filtration, it's the best whole house iron filter for the investment-minded.
Cons
Fittings sold separately.
Components on the head are plastic, which many systems are. It would be nice if they were metal.

.
Use Coupon Code: QWL5 to save!
---
SpringWell Product Updates:
SpringWell now offer filtration for 4+ bathrooms
Optional UV add-on
Optional Reverse osmosis upgrade.
---
#2 SoftPro Iron Master AIO Well Water Iron Filter
📝 Targets: Iron 30 PPM Ferrous + Ferric| Process: AIO + Katalox | Capacity: 1M gal. | Flow Rate: 12 GPM | Bluetooth: ❌ | Warranty: 7 years | Annual Cost: ~$150 | Rating: 5/5 | Best For: High iron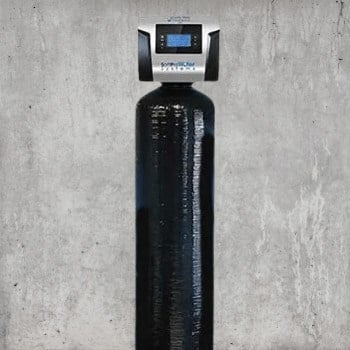 The IronMaster filtration system crushes iron without chemicals — up to 30 PPM, the highest in the industry. Available in three sizes to match your well's flow rate, choose the model that best fits your home without overpaying for a too-large filter.
Low upfront cost
Flexible sizing
Handles the worst iron problems
Removes hydrogen sulfide and manganese
Limited lifetime warranty
---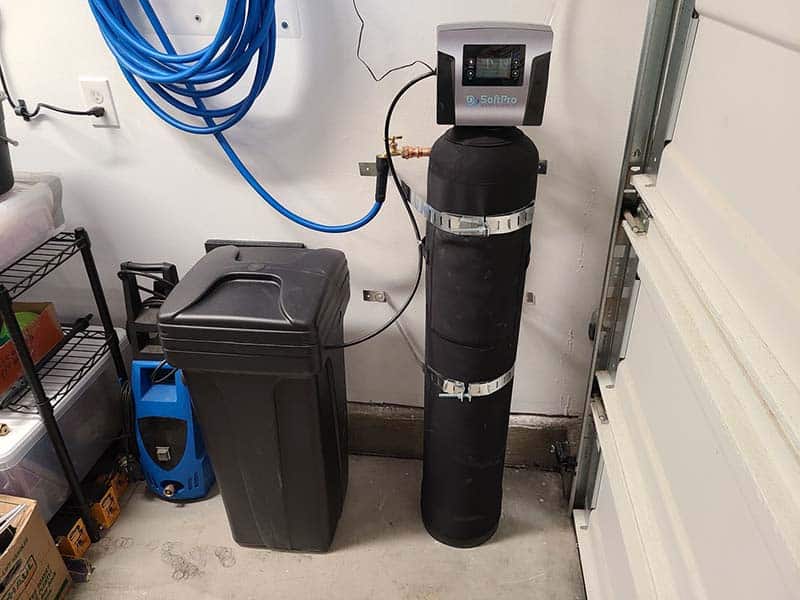 Best For: This system is perfect for those looking to knock high levels of iron without the bells and whistles.
Not Best For: Those looking for remote app capability.
Pros
The state-of-the-art digital head displays the system's status at a glance. User-friendly, it's intuitive to program.
A self-charging capacitor preserves your settings in a power outage for up to 48 hours without a battery.
Affordable, the IronMaster is assembled in the US from durable components offering years of reliable service.
The IronMaster solves the most challenging iron problems.
The build quality is excellent, and it gets rave reviews from consumers for its performance and durability.
It requires more upkeep than a medium-duty system like the SpringWell, but its low initial price makes it among the most budget-friendly whole house filters for iron levels greater than 10 PPM.
Installing a sediment prefilter may prevent premature wear and lengthen maintenance intervals.
The SoftPro IronMaster is a reliable and affordable water filtration system that removes iron, manganese, and hydrogen sulfide from your water.
This system is easy to install and comes with everything you need for installation, including a bypass valve and quick-connect hose kit.
The redox filter media has a long lifespan and is effective at removing contaminants from your water.
IronMaster filters are engineered to the minimize impact on water pressure. Flow rates average 6-12 GPM, significantly higher than the industry average.
Cons
Requires more maintenance than similar systems.
The system is not effective at removing all contaminants from your water.
If your water is highly contaminated with iron, you may need to replace the redox filter media more frequently.

Product Updates:
Upgraded valve to 1″ to provide more water-flow
#3 Pentair Iron and Manganese Water Filter
📝 Targets: Iron & Manganese (Ferrous & Ferric)| Process: Chemical Oxidation | Capacity: 600,000 gal. | Flow Rate: 7 GPM | Bluetooth: ❌ | Warranty: 1 year | Annual Cost: ~$300 | Rating: 4.5/5 | Best For: Bacteria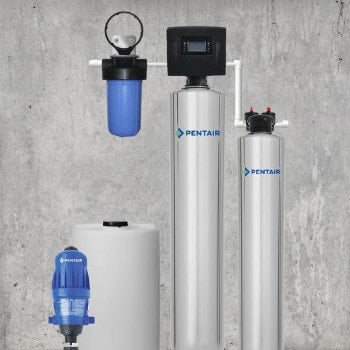 Pentair's well water iron filter is a four-stage, chlorine injection system that not only removes iron but also makes water potable.
It comes complete with a sediment filter that enhances its efficiency, plus a premium block carbon filter that removes chlorine and more. Water is as fresh-tasting as bottled.
High-capacity
Safety-certified
Won't reduce water pressure
Durable components
60-day satisfaction guarantee
---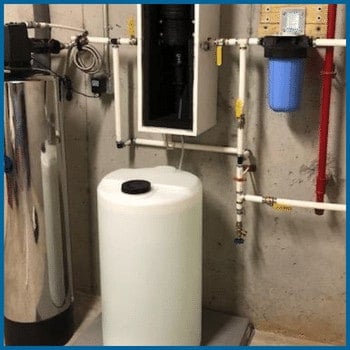 Best for: For some wells, an iron filter isn't enough. If you also have bacteria or chemicals in your water that make it unsafe to drink, the Pentair is the solution you've been looking for.
Not best for: Those that are on a budget as this system is very expensive.
Pros
Septic-safe, the system processes up to a million gallons of water with minimal maintenance. Programming is highly intuitive.
NSF 42 certified, the Pentair received the Water Quality Association's (WQA) seal of approval and is priced well below similar iron water filters sold by other leading manufacturers.
The multi-stage filtration eliminates a wide range of contaminants.
Few iron filters for well water offer this level of protection for such a modest investment.
Pentair filters are guaranteed to reduce chlorine to undetectable levels for five years, or they'll replace the carbon filter for free.
Cons:
Installation is complex if you're not handy, and the warranty gives us a headache — each part from tanks to tubing is covered for a different length of time.
Product Updates:
Pentair now offers the WF10-P for larger homes with up to 6 bathrooms
#4 AquaOx FE Edition Well Water Iron Filter
📝 Targets: Iron 7 PPM (Ferrous + Ferric), Hydrogen Sulfide| Process: Air Injection Oxidation | Capacity: 1M gal. | Flow Rate: 6-12 GPM | Bluetooth: ❌ | Warranty: 10 years | Annual Cost: ~$150 | Rating: 4.5/5 | Best For: High iron
AquaOx's iron reduction system is a new take on its highly regarded whole home filtration system. A Birm filter, its aluminum-enhanced media oxidizes and reliably removes up to 7 PPM of iron.
It has a two-million gallon capacity — enough for a family of four for a decade or more with no costly filters to replace.
Huge capacity
Maintenance-free
12 GPM flow rate
American-made
Elite 10-year warranty
---
Best for: Those looking for a system that just performs with the least amount of maintenance.
Not best for: If you're tight on budget, I would lean towards Softpro or SpringWell that have similar capabilities at a better price.
Pros
A breeze to install and maintenance-free, the AquaOx FE edition is brought to you by a veteran-owned, South Carolina-based company.
If it doesn't perform as expected, you're protected by a 12-month money-back guarantee and their dedication to customer service.
AquaOx consistently earns five-star reviews for its thoughtful engineering, and this filter is no exception.
Built to last, its beauty lies in its simplicity — just set it and forget it.
Gallon for gallon, no filter removes more iron for the money.
If you want to spend more time enjoying clean water than thinking about it, consider the AquaOx.
A prefilter is not required, but it will likely improve your overall water quality and protect your investment.
Cons
AquaOx Product Updates:
Now includes a pre-sediment filter.
---
#5 Tier 1 Whole House Iron Filter
📝 Targets: Iron 30 PPM (Ferrous + Ferric)| Process: Air Injection Oxidation | Capacity: 600,000 gal. | Flow Rate: 6 GPM | Bluetooth: ❌ | Warranty: Lifetime limited | Annual Cost: ~$80 | Rating: 4.5/5 | Best For: High iron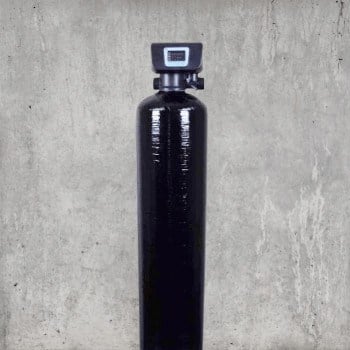 Tier 1's Precision Series air induction filters reduce up to 30 PPM of iron plus hydrogen sulfide and manganese, ridding your home of unsightly stains and rotten egg smells without chemicals.
From your shower to your kitchen faucet, every gallon is crystal clear.
Handles the most stubborn iron problems
Low upfront price
Space-saving footprint
Operates quietly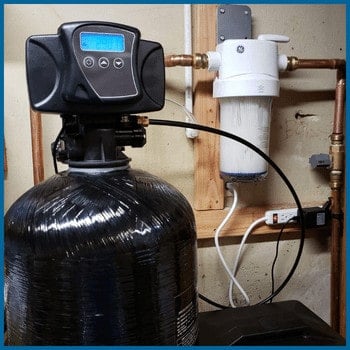 ---
Best for: This is a great system for those looking to save money and eliminate iron.
Not best for: Those with low water pressure and tannin issues will want to stay away from this system.
Pros
The electronic control meter is a cinch to program — there are no confusing codes or symbols.
It monitors your water usage and displays the gallons remaining until regeneration.
Cycles are fully adjustable, and the battery backup saves your settings if the power goes out.
This budget-friendly system lasts up to 60 months with minimal maintenance and includes a protective sediment filter.
Non-electronic parts are warrantied for ten years.
Iron reduction filters are more efficient with high-pH water, so Teir1 incorporated calcium and magnesium into their filtration media to condition acidic water as it flows through the system, raising its pH.
The system is designed for 1-6 people, yet the flow rate is lower than average at 5.8 GPM.
You'll have to replace it sooner than other models, but it's among the lowest priced iron filters for water with levels exceeding 10 PPM.
Ideal for the iron-weary homeowner with an equally exhausted checkbook, it's a good value.
Cons
Not recommended for water with tannins
Under heavy use, you may notice a minor drop in water pressure.
Product Updates:
Now includes an NSF certified electronic head valve
---
#6 Crystal Quest Whole House Iron Filter
📝 Targets: Iron 12 PPM (Ferrous + Ferric)| Process: Air Injection Oxidation | Capacity: 1M gal. | Flow Rate: 9-13 GPM | Bluetooth: ❌ | Warranty: 7 years | Annual Cost: ~$150 | Rating: 4.5/5 | Best For: High iron & Contaminants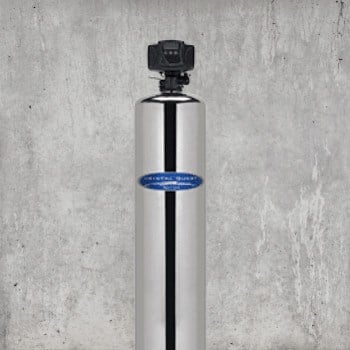 Crystal Quest's well water iron filters boast impressive three-stage filtration that removes sediment, agricultural chemicals, industrial solvents, iron, manganese, hydrogen sulfide and more.
Expandable, you can add a softener, UV sterilizer and SMART filter that removes even more toxins, including heavy metals. Choose fiberglass tanks or upgrade to stainless steel.
Quality filtration
Won't reduce water pressure
Minimal maintenance
Premium components
Expandable
---
Best for: Those looking to eliminate 12PPM of iron from their well water efficiently.
Not best for: Those that want a system that's more hands-free and less technical to operate.
Pros
Available in two sizes depending on your water usage, the 9-13 GMP flow rate provides ample water pressure.
Systems treat up to a million gallons depending on your water quality, but Crystal Quest recommends changing the media every 5-7 years for optimal performance.
If you have a water problem, Crystal Quest can fix it. Their expandable iron filter removes more contaminants than similar models. But more isn't better for everyone.
For homeowners who want a broader level of protection, the specs are impressive. It's the best iron filter for well water with other dangerous contaminants.
Cons
A complex system, professional installation is warranted but costly. And it's not particularly user-friendly — an entire page of the instruction manual is devoted to explaining the acronyms used to program the control valve. If you just want a water filter for iron, it's overkill.
Short one-year warranty
Confusing user interface
Product Updates:
---
#7 Durawater Air Injection Iron Eater Filter
📝 Targets: Iron 30 PPM Ferrous + Ferric| Process: Air Injection Oxidation | Capacity: 1M gal. | Flow Rate: 12 GPM | Bluetooth: ❌ | Warranty: 7 years | Annual Cost: ~$150 | Rating: 5/5 | Best For: High iron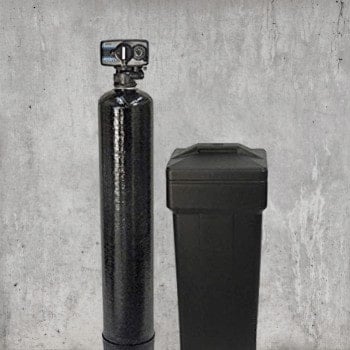 Durawater's Iron Eater is a simple, low-budget approach to iron filtration. It removes up to 12 PPM of iron plus sulfur and manganese. An air injection system, it works without chemicals, oxidizing and filtering contaminants in a single fiberglass tank.
Low initial cost
Chemical-free
Low-maintenance
Minimal maintenance
Outstanding customer service
---
Best for: Anyone looking to save money on a system that just works.
Not best for: Those looking for a quiet running system and one with app based control and monitoring won't like this system.
Pros
Equipped with a Fleck 5600SXT control head, the most advanced on the market, it's remarkably simple to program.
Change the media every 5-7 years for the best performance — $200 at current prices.
It removes more hydrogen sulfide than many filters — up to 10 PPM.
The system schedule is fully programmable. Air injection filters can be loud, so we recommend backwashing when the sound is least likely to be disturbing.
It comes with a battery backup, so no need to worry if you lose power.
It won't win awards for style, but it's a solid, easy-to-install system that does a capable job cleaning up iron, manganese and sulfur for less.
Cons
Product Updates:
Compare All 7 Iron Filters For Well Water
(Mobile users: Swipe to scroll)
| Compare Brands & Models | #1 SpringWell WS Filter | #2 SoftPro Iron Master | #3 Pentair Iron & Manganese | #4 AquaOx FE Edition | #5 Tier 1 Iron Filter System | #6 Crystal Quest Filter | #7 DuraWater Iron Filter |
| --- | --- | --- | --- | --- | --- | --- | --- |
| Rating | 5/5 | 5/5 | 4.5/5 | 4.5/5 | 4.5/5 | 4.5/5 | 4.5/5 |
| Price | $$$ | $$$ | $$$$ | $$$$ | $$ | $$$ | $$ |
| Iron Type | Ferrous + Ferric | Ferrous + Ferric | Ferrous + Ferric + Bacteria | Ferric | Ferrous + Ferric | Ferrous + Ferric | Ferrous + Ferric |
| Max Fe | 7 PPM | 30 PPM | 10 PPM | 7 PPM | 30 PPM | 12 PPM | 12 PPM |
| Process | AIO + Greensand | AIO + Katalox | Bleach Oxidation + Greensand + Carbon Filter | AIO | AIO | AIO | AIO |
| Flow Rate | 12-20 GPM | 12 GPM | 7 GPM | 6-12 GPM | 6 GPM | 6-12 GPM | 6-12 GPM |
| BlueTooth | ✔️ | ❌ | ❌ | ❌ | ❌ | ❌ | 4.5/5 |
| Warranty | Lifetime | 7 years | 1 year | 10 year | Lifetime limited | 7 years | 10 years |
Buyer's guide – Best Iron Filters For Well Water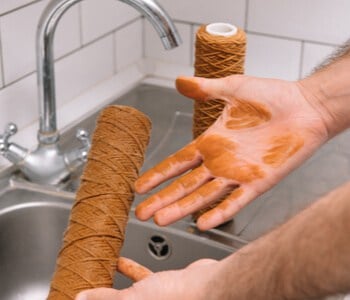 Iron isn't a health hazard, but it's a homewrecker. It makes water taste bad and wreaks havoc on plumbing, appliances and bathroom fixtures, taking a bite out of your budget with needless repairs.
The straightforward solution is filtration, yet iron filters for well water aren't well understood.
Join us as we discuss the technology, decipher the jargon, and consider their features. Together, we'll choose the best iron water filter for your home.
In this guide, you'll learn:
How we picked these systems
Key considerations to know before you buy
Why water testing is important
How to choose the right system
What is iron
FAQ's
How We Picked These Top Rated Iron Filters For Wells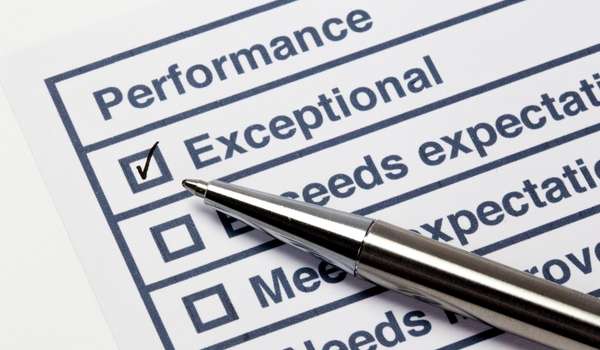 We understand that it can be a painful process researching and comparing various types of systems and wondering if you made the right choice. This is where we can help you with having over 10 years of experience in water filtration systems, we know the ins and out and technical jargon.
In our expert opinion, there's seven key considerations to look out for: Iron reduction, flow-rate, capacity, filter media, ease of installation, maintenance, and long-term costs.
We know this might seem overkill for experienced users. However, we want to make sure that you don't regret your purchase one bit.
In fact, we take things a step further by reading online reviews to uncover underlying issues that any of these systems listed above might have in certain installations.
Key Considerations:
Iron reduction: The primary focus of an iron filter is to reduce the amount of iron in your water supply. You want to look for a system that can effectively remove both ferrous (dissolved) and ferric (insoluble) forms of iron from your water.
Flow-rate: It's very important that you choose a system that meets or exceeds your average water consumption without sacrificing performance and slowing your shower faucet down to a trickle when someone starts the washer machine.
Capacity: This refers to how much total volume of water can be filtered before needing replacement filters or parts. Be sure to choose a system that matches your daily water consumption and take the average so that you get the right system size.
Filter media: Different types of filtration media are used in specific situations that depends on what iron contaminants need removal. Commonly used materials include activated carbon, KDF-85/GAC blend, greensand plus and birm media among others – make sure you select one that will work best for removing iron from your specific well water source.
Ease of installation: Most just hire a plumber to install their system. However, for the eager DIY'er, the systems I've listed above are DIY friendly and many have helpful video tutorials showing the process step by step on their site or Youtube.
Maintenance requirements: Nobody wants a system they have to babysit, so it's important to understand your systems maintenance schedule and if it's something that can be easily done without hiring a service tech.
Long-term costs: While upfront cost might seem like an attractive option , long term costs such as energy consumption , replacement filters etc should also be taken into consideration when choosing an iron filter system.
Advantages & Disadvantages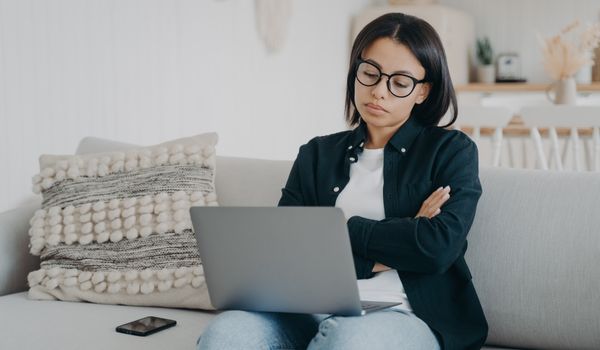 Advantages:
Whole house iron filters are incredibly useful for reducing Iron, Manganese and Sulfur in your water supply, eliminating odors, staining and corrosion from plumbing systems.
We only recommend systems that are easy to install, operate and maintain over the long-term.
These cost-effective solutions require minimal maintenance and can last up to 10 years with proper care.
The filter media used is highly efficient at removing contaminants without clogging quickly or needing frequent replacement like other types of filters do.
Disadvantages:
It's important to understand what type of iron you need removed and how much the type/brand you choose can do this as an iron filter may not remove all traces of iron in a perfect world scenario .
Some models may require additional components such as an air injector system which adds extra costs upfront when purchasing the unit itself as well as ongoing expenses for electricity usage during operation (depending on how often you use it).
Over time, the filter media used in these systems can become clogged reducing its effectiveness and requiring more frequent replacement .
Lastly, these systems may not be able to remove other contaminants such as bacteria or viruses from your well water, so additional filtration methods may need to be employed if this is a concern.
Testing Your Water
The only way to know what's in well water is to test it — it's the homeowner's responsibility. We recommend sending a sample to a certified water treatment laboratory. They use only scientifically approved testing methods and pass annual quality control checks.
Results will reveal what type of iron is in your well, how much, and if iron bacteria are present. You'll also learn more about your water's chemistry, an essential step in choosing the best iron water filter. Why? Because pH, hardness, dissolved oxygen content, and tannin levels significantly impact their efficiency.
Selecting the Best Iron Filter for Your Needs
The best iron filter for your needs is one that removes the type of iron you have and is compatible with your water's chemistry.
Let's narrow them down.
If your water contains only ferric iron — particles that float in your water but don't turn it brown — a sediment filter may be all you need. Choose from sediment-only filters to multi-stage systems that remove other unwanted contaminants.
If you have iron bacteria in your water, your filtration choices are limited to:
A chlorine injector
A catalytic carbon and hydrogen peroxide filter
An ozone filtration system
For all but the most stubborn iron problems, chlorine injectors are the least expensive to purchase and maintain. Add a carbon post-filter to resolve the chlorine taste.
If the total iron content in your water is less than two ppm, consider:
A sediment prefilter and water softener
Any oxidizing iron filter that works with your water's chemistry
For total iron content greater than two ppm, choose:
Any iron filter rated for two ppm or more
Now, consider how these additional factors impact your purchase.
Contaminant Filtration Capability
The primary purpose of an iron filter is to remove iron. But this humble element has friends — manganese and hydrogen sulfide. Commonly found in iron-heavy wells, they can make your life equally as miserable. Manganese causes black stains on bathroom fixtures and can be toxic to kids in large amounts. Hydrogen sulfide makes water smell like rotten eggs.
Oxidation is the most effective process for removing hydrogen sulfide and manganese, so most iron filtration systems reduce both — Birm filters are the exception. Chlorine filters are very effective and are an excellent choice for homes with iron bacteria.
It's also possible your water test revealed other troubling contaminants. So without making the decision overly complicated, you want a filter, or combination of filters, that meets as many of your needs as affordably and efficiently as possible. It pays to think ahead and consider models that kill more than one bird with the same stone.
Footprint
Single-tank iron filters have similar footprints. Most are tall like a water softener — with the head mounted, they're about five-feet high. Like all whole-home filtration systems, they're located in a basement or garage where water enters your home. Installed vertically, they rarely fit in a crawlspace.
Multi-tank systems are considerably larger, requiring up to 16 square feet. Leave enough room to move around the unit comfortably to perform maintenance — refilling a chlorine injector is back-breaking enough without struggling for space. It's better to measure twice and order once, so check the specifications before you buy.
Flow Rate
Filtration takes time. Every layer of media water flows through slows its pace. The net effect is usually an annoying reduction in water pressure at the tap, but you can offset that by ensuring your system has a brisk flow rate.
What is flow rate? Flow rate is the number of gallons that move through a filter per minute. The higher the number, the better. American homes use a lot of water. Using a faucet, shower and dishwasher simultaneously takes up to 10 gallons per minute. If your filter's flow rate is too low, the results are predictable — something will have to wait. The best iron water filters have flow rates vigorous enough to keep up.
System Size
Water softeners and iron filters were once sized by the grain or by flow rate — it was confusing at best. But smart manufacturers converted this to an easier-to-understand system based on the number of bathrooms in your home. Just follow the instructions, and your filter should be the perfect size.
Capacity — Filter Life
Capacity refers to how many gallons a filter can process before the media needs to be replaced. It's an important factor to consider when assessing a system's cost of ownership. An inexpensive filter that costs twice as much to maintain as a higher-end model isn't a bargain, it's a hassle.
Installation & Maintenance
Installing a whole-house iron filter isn't rocket science. But it takes basic plumbing know-how and a few tools not every homeowner has. If you have a day or two, you can save money by doing it yourself. Better sellers offer technical advice by phone, and many have installation videos on their websites. Being a DIYer has never been easier.
Still, if the process is intimidating, or you have a challenging situation, such as irregular plumbing or limited installation space, calling a pro is never a bad idea. An iron filter is an investment, so the added cost of expert installation is worth the peace of mind.
Warranties
Iron water filters aren't cheap, so warranties are a significant selling point. They range from a year to a lifetime, covering repair bills when you can least afford them.
Some companies require professional installation of the iron removal system and recommended prefilters, or the warranty is void. And shipping the filter back to the manufacturer for repairs may be on your dime. Know the terms before you buy.
No warranty covers:
Normal wear and tear
Improper handling or installation
Illegal use
Damage to your home as a result of a malfunction
What Is Iron?
Iron is an element found in the Earth's crust. Useful in products from frying pans to furnaces, it's everywhere around you in the rock and soil. Virtually all groundwater has some iron in it. The amount and type determine what kind of iron water filter you need.
How Does Iron Get into Your Water?
Iron seeps into well water from the soil. Every time it rains, water flowing over rock carries iron deep into underground aquifers. The deeper your well, the more iron it's likely to contain.
Is Iron in Well Water Dangerous for Your Health?
Low levels of iron aren't considered harmful, but the EPA classifies it as a secondary contaminant because it can harbor iron bacteria — microorganisms that feed on dissolved iron. Alone, they rarely cause illness, but they create conditions under which dangerous bacteria can grow.
How much iron is too much? Levels above three parts per million (PPM) can cause skin irritation. It prevents soap from lathering effectively, creating a sticky residue that clings to hair and clogs pores. The effects range from dryness to oily rashes.
And although it's not a direct danger, excessive iron affects how water looks, smells and tastes. Drinking less water because you don't trust what's coming from your tap is no bargain for your health.
There is one medical condition that iron in water can exacerbate. Called hemochromatosis, it's an iron build-up in the body caused by a faulty gene. Serious, it affects about a million people in the US, causing heart and liver disease. Talk to your doctor about iron filtration if it runs in your family.
Types of Iron
There are two types of iron commonly found in well water. Each has unique effects and requires different treatment.
Ferric Iron
Ferric, or red iron, is insoluble. It accumulates in your pipes and gives water an obvious orange or brown tinge when you first turn on the tap. Let it sit in a glass, and it will settle to the bottom. It gives water a bitter, metallic tang and clogs shower heads and faucet aerators.
Ferrous Iron
Ferrous, or clear iron, is dissolved in water. You can't see it, but it's the primary food source for iron bacteria. In the presence of oxygen, these microorganisms convert ferrous iron into ferric iron, leaving an oily, musty-smelling orange slime in pipes, appliances, and on bathroom fixtures.
Both are more than just nuisances — they can have a costly impact on your home.
The Long-Term Costs of Too Much Iron in Your Home
The effects of excessive iron are insidious — they're gradual and cumulative. Unless the water is rusty, the damage is often done by the time homeowners notice. Early treatment is critical.
The consequences of too much iron include:
1. Low Water Pressure
Iron accumulated in pipes eventually narrows their diameter, so water can't flow freely. The first symptom is low water pressure. Over time, it prevents the passage of solid waste, causing clogs.
2. Damaged Appliances
Water-using appliances, from dishwashers to water heaters, rely on adequate water flow. Low pressure forces them to work harder, leading to higher utility bills. Iron slime on delicate parts is corrosive, causing premature breakdowns. Replacing an electric water heater can cost more than $1000!
3. Stained Clothing, Dishes and Bathroom Fixtures
The same red slime that iron bacteria leaves in your pipes also ends up in your washing machine and dishwasher where it leaves hard-to-remove stains on clothing and dinnerware. It coats toilets, tubs and shower walls. Miss a day's cleaning, and it can permanently discolor grout and tile.
Can Iron Be Removed from Water Naturally?
Filtration is the only reliable way to remove iron, but some filters are chemical-free and use more natural means than others.
How Do Iron Filters Work?
Filters rely on one or more of these three methods to remove iron:
1. Sediment Filtration
Sediment filters effectively remove ferric iron, trapping large particles of rust. But they reduce neither ferrous iron nor iron bacteria.
2. Ion Exchange
Ion exchange is the same method water softeners use to remove calcium and magnesium. As water flows through the softening tank, minerals, including iron, cling to resin beads. During the regeneration process, brine solution from the salt tank breaks the bonds, sending iron down the drain. It works well on paper, but practically speaking, there are limitations.
Ion exchange reduces only ferrous iron — ferric iron ruins the resin. Hardness and pH must be perfectly balanced, and still, most ion exchange filters remove two ppm of iron or less. Tannins affect both iron removal and softening, requiring a tannin prefilter. All in all, there are better choices.
Oxidation plus Filtration
Oxidizing filters use oxygen to convert ferrous iron into ferric iron, filtering precipitated particles using a wide range of media. They're a more comprehensive solution to challenging iron problems, but some types of filters have more limitations than others.
3. Birm
Birm filters use the oxygen dissolved in water to oxidize ferrous iron. Granular media made of enhanced aluminum silicate then traps the particles and sends them down the drain.
Birm filters are effective, but water must contain enough dissolved oxygen to initiate the oxidation reaction, and the pH should be at least 6.8. Birm filters are not recommended for well water with tannins or hydrogen sulfide.
Manganese Greensand
Manganese Greensand is chemically-treated filtration media that oxidizes ferrous iron on contact, removing levels up to 10 ppm. No oxygen is required, but in much the same way as water softeners use salt to regenerate resin, Greensand is rejuvenated with potassium permanganate solution — a potentially hazardous chemical some homeowners don't want in their homes.
Highly effective, Greensand filters are a popular choice for tough iron problems, removing both manganese and hydrogen sulfide. A pH below 7 affects its efficiency, but that can be corrected with a calcite prefilter.
Chlorine
Chlorine is the oldest method of oxidizing ferrous iron. Used by treatment plants nationwide, it also disinfects water, making it safe to drink.
Chlorine injection systems are among the only ways to eliminate iron bacteria, but they require more maintenance than other iron filters and may leave water with a strong chemical aftertaste. Installing a carbon or KDF post-filter will remove unpleasant flavors.
Aeration
Aeration filters inject air into water, converting ferrous into ferric iron. Some systems have two tanks, using a separate filter to remove solid particles — in others, aeration and filtration take place in the same tank. Designed for moderate iron levels, aeration systems have few limitations and use no chemicals. But they create more wastewater than other systems, a problem in drought-prone areas.
Catalytic Carbon and Hydrogen Peroxide
Catalytic carbon combined with hydrogen peroxide is an extraordinary oxidizer. Engineered to tackle the toughest iron problems, these systems are highly effective but expensive to maintain. An average home will use $250-$300 annually in peroxide solution — more than double the cost of chlorine. The performance is impressive, but more affordable systems can handle iron levels below 10 ppm.
Ozone
Ozone is a powerful oxidizer. Stronger than chlorine, it controls iron bacteria yet requires no chemicals. Costly, however, few ozone filters remove more than six ppm of iron. And the FDA isn't keen on residential ozone generators, reporting health issues among people exposed to the gas. For most homes, chlorine is a better bet.
KDF (Kinetic Fluxion Degradation)
KDF media oxidizes ferrous iron via a chemical reaction, but it takes time and works best under low flow. As a rule, it's limited in use to showerhead filters or in conventional multi-stage water filters to remove traces of iron and other contaminants.
Katalox
Katalox is an advanced, lightweight filtration media that oxidizes ferrous iron faster than Greensand and Birm. Made of manganese-coated zeolite, it's more efficient and lasts longer. Neither dissolved oxygen nor pH play a role, and tannins don't affect the system. It removes high levels of iron, manganese and hydrogen sulfide, but it can't kill iron bacteria.
Whole-Home Vs Point-of-Use Filters for Iron Removal
There are two types of water filtration systems – whole-house filters that treat water as it enters your home and point-of-use filters that treat water from a single tap.
Point-of-use systems, such as countertop filters or filtration pitchers, can reduce particles of ferric iron in your drinking water, but they can't remove ferrous iron or iron bacteria, leaving your health, plumbing and appliances at risk. The only practical solution is a whole-house filter.
Frequently Asked Questions:
Does a water softener remove iron from well water?
Most water softeners can remove 1-2 ppm of ferrous iron, but ferric iron, tannins, hydrogen sulfide, and a pH above 6.5 impair their efficiency. Unless you need to both soften water and remove low levels of iron, a dedicated iron filter is usually a better option
Do reverse osmosis filters remove iron?
RO filters can remove iron, but they're not recommended. Any more than 0.3 ppm will permanently ruin the membrane.
Do iron filters work?
Iron filters are very effective within their specifications. Be sure to test your iron levels to choose the best system for your needs.
What is the best filtration system for well water?
The best filtration system for well water is an affordable, whole-home filter that removes your target contaminants.
Do air injection filters work?
Air injection filters are not only effective, but they're also chemical-free. Drawbacks include a clicking noise when the injector is working, and they're not recommended for wells with iron bacteria. The extra oxygen helps it bloom.
Does boiling water remove iron?
Boiling water does not remove iron.
What is an iron curtain for water?
Iron Curtain water filters are chemical-free oxidizing filters that remove iron both iron and hydrogen sulfide. Made by Hellenbrand, they're sold by better water treatment companies and come in one-, two- and three-tank configurations based on the severity of your iron problem.
Will a whole-house filter remove iron?
Conventional whole-house filters only remove traces of iron. But a whole-house iron filter manages the worst iron problems, protecting your plumbing and extending the life of your appliances.
Will a sediment filter remove iron?
Sediment filters remove ferric iron – small but solid particles of rust. They don't remove dissolved iron or kill iron bacteria.
What is the best water filter for rust?
Rust is ferric iron, so a sediment filter may be all you need. High levels, however, may clog them prematurely. An iron filter may be a better long-term solution.