Last Updated on June 9, 2023 by
Ava
📝 Model: SpringWell WS1 | Type: Air Injection Oxidizing + Greensand | Process: 4-stage | Capacity: 1M gal. | Contaminants Removed: 3 | Flow Rate: 12-20 GPM | Bluetooth: ✔️ | Warranty: Lifetime | Annual Cost: ~$40 | Rating: 5/5 | Best for: Well water with Iron, Manganese, Sulfur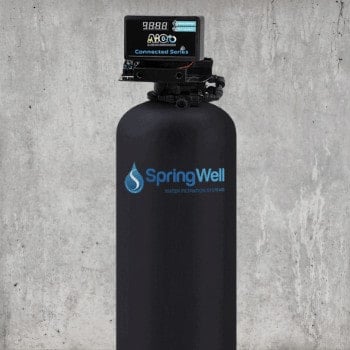 Use Coupon Code:
QWL5
to save!
With over 20 years in the filtration industry, the SpringWell WS Series is the best well water filtration system in our book that money can buy.
Highlights
User-friendly digital interface
Blue-tooth enabled
Won't affect water pressure
Environmentally friendly and cost-effective
Works quietly
Lifetime warranty
Use Coupon Code: QWL5 to save!
---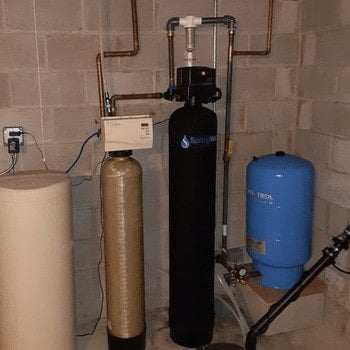 Best for: The SpringWell WS1 is best for anyone look for a "set and forget" system that can operated from anywhere with a mobile phone and that just works excellent all around.
Overview
Filtering well water has unique challenges. Rare in municipal supplies — the iron, manganese, and sulfur present in wells can cause significant water quality issues.
While these contaminants are not considered harmful to your health, they can make water taste bad, cause premature wear and tear on expensive appliances and leave permanent stains on delicate porcelain.
We'll sort through the confusing technical jargon and point you to a top-quality filter by SpringWell — a US company with twenty years of experience solving residential water quality problems. Let's dive in.
Pros
SpringWell's oxidizing filter is a single tank system that removes iron, sulfur and manganese.
Similar in design to a water softener, it comes in two sizes based on the number of bathrooms in your home, and it's guaranteed not to affect water pressure.
The vigorous gallon-per-minute flow rate leaves the competition behind.
The system functions automatically — just set it and forget it — or manage settings using your smart phone.
The durable digital head comes complete with Bluetooth. Unlike older systems, compressed air is released slowly, so operation is whisper quiet.
If you live in drought-prone areas, backwashing can be optimized to save thousands of gallons per year.
SpringWell water filtration systems are backed by a limited lifetime warranty and a risk-free satisfaction guarantee.
If it doesn't give you the clean, crisp, fresh-tasting water you deserve, send it back within six months — no questions asked.

Cons
DIY installation can be challenging
Higher initial price than similar models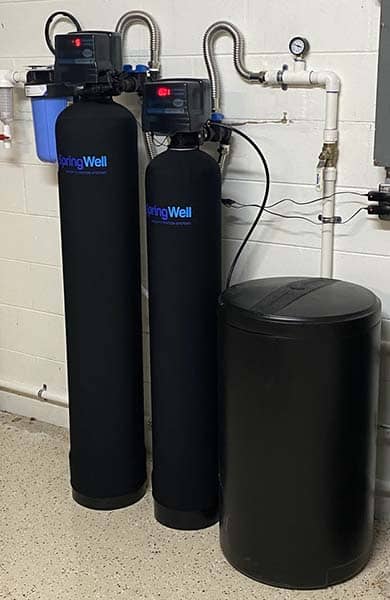 My Take
Iron, manganese and hydrogen sulfide aren't health risks — but they're costing you money. Excess minerals can clog water lines feeding dishwashers, refrigerators and water heaters, causing premature breakdowns. And when faced with showering, drinking and cooking with water that smells like rotten eggs, chances are you'll buy bottled or go thirsty — that's no bargain.
This SpringWell well water filtration system can fill thousands of bottles with water that rivals premium brands at a fraction of the cost and without the hassle. Components are certified for safety and built to last by a company you can trust. You'll pay a few dollars more up front, but it's worth it for the advanced design. It's an affordable, environmentally- friendly home upgrade you won't regret.
Compare The Competition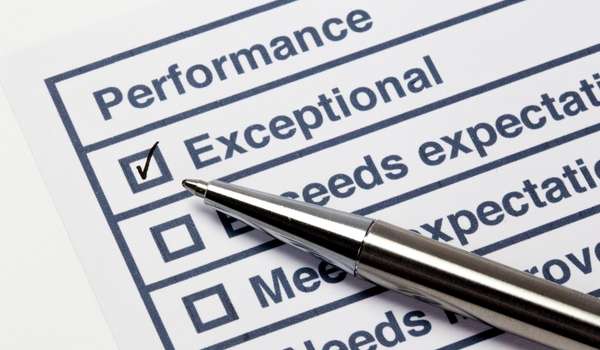 Softpro Iron Master: This is a great alternative to the Springwell WS Well Water System if you are looking for an iron filtration system. The Softpro Iron Master can remove an impressive 30PPM or iron and that's more than the Springwell, making it better suited for households with high levels of iron in their water.
Home Master 3-Stage Water Filter System: This is a great option if you are looking for a more affordable water filtration system. It comes with 3-stages of filtration, including sediment pre-filtration, and carbon block filtration. It can also remove up to 99% of contaminants from your water and is much more affordable than the Springwell. This system is cartridge-based, meaning it's not a tank-style unit.
US Water Systems Matrixx InFusion: This is a great option if you are looking for a premium water filtration system. This sytem has four stages of filtration, including sediment pre-filtration, carbon block filtration, chemical injection, and one additional stage of post-filtration. This system is much more effective than Springwell at removing sulfur (rotten-egg smell) and is backed with a 5-year warranty.
Performance Features:
| Model | WS1 | WS4 |
| --- | --- | --- |
| #Bathrooms | 1-4 | 4+ |
| Filter Lifespan | 20+ years | 20+ years |
| Flow Rate | 12 GPM | 20 GPM |
| Warranty | Lifetime | Lifetime |
How This System Works
The best whole house water filter system for well water is the one that removes the most target contaminants and fits your lifestyle. The Springwell WS1 & WS4 use a four-step process to filter well water:
Water entering the tank's air cavity causes the oxidation of iron, manganese, and hydrogen sulfide.
Contaminated water is filtered by the greensand bed, which traps the oxidized contaminants and prevents them from returning to the water.
When the system backwashes, the greensand bed is cleaned of manganese, hydrogen sulfides, and iron. A new pocket of air is introduced into the tank.
Water that has been filtered and treated is delivered to the internal plumbing system via faucets and appliances
This filter removes:
Up to 7 PPM of iron
Up to 8 PPM of hydrogen sulfide
Up to 1 PPM of manganese
A water test will show the level of contaminants in your water. Among comparable iron filters, the SpringWell is a top performer. If you need a filtration system designed to remove heavy metals and organic chemicals, such as pesticides, consider the SpringWell CF1 Whole House Filter. The optional UV light kit adds protection against microorganisms.
Key Considerations
Quality of the filtration system: The Springwell WS is designed to remove a wide range of contaminants from your water, including chlorine, lead, and other heavy metals. It also has an advanced carbon filter that helps reduce unpleasant odors and tastes in your water.
Installation process: Installation is relatively straightforward and can be done by most homeowners with basic plumbing skills. However, if you are not comfortable doing it yourself, hiring a pro will be your best bet.
Maintenance requirements: Regular maintenance is to ensure optimal performance over time — this includes replacing filters every 6-12 months depending on your water usage and water quality. Periodic inspection of the systems head, valves are important to keep an eye on and cleaning of the unit itself to prevent buildup of sediment or debris inside the system components.
Cost: The cost of purchasing and installing a this system will vary depending on where you purchase it from (Amazon or Springwell) and any additional installation costs associated with it. Installation costs about $600 on average to have a pro do the work.
Warranty: The system comes with a limited lifetime warranty that covers any defects in materials or workmanship, as well as any issues related to the performance of the system itself. Springwell also includes a 6-month money back guarantee with no questions asked — this is largest in the industry and it shows Springwell's commitment to quality.
Flow Rate & GPM
Flow rate — measured in gallons per minute — reflects how fast water moves through a filter. Some models slow the flow so much that there's a noticeable loss of water pressure when multiple taps are open.
Activities like taking showers and flushing the toilet require an average of 2-3 gallons per minute each. Multiplied by the number of bathrooms in your home, your usage requirements at any given time could easily exceed what most filters can provide.
SpringWell water filtration systems are guaranteed to ensure brisk flow. While flow rates among similar models average 6-8 GPM, SpringWell's two systems offer:
WS1 — 12 GMP for 1–3 bathroom homes
WS4 — 20 GMP for homes with more than four baths.
As you can see, the only difference between the WS1 & WS4 is the tank size and flow rate — choose the size that's right for you.
Installation Video
Design and Installation
The SpringWell filtration system requires about two square feet of floor space and must be located near a drain. This filter is similar to a water softener — contaminants are oxidized in an air pocket at the top of a single tank, and then forced to the bottom where they're trapped by sand until a backwash cycle flushes them out of your home. A power source is required for the electronic head — a handy battery back-up protects you during power outages.
Filters are integrated into your home's main water inlet, usually located in the basement. Cutting pipe is required, so comfort with plumbing and household tools are essential for DIY installations.
SpringWell creates its system to be easy to install, and they support the process with an online instructional video and technical support — written instructions are clear and easy to follow. If you'd rather take the day off — it's a quick and inexpensive project for a plumbing contractor.
All of SpringWell's filters are designed and assembled in the US. Components from the tank to the electronic control valve are independently certified and made of the highest-quality materials for durability — they want this to be the last system you'll ever need.
What's Included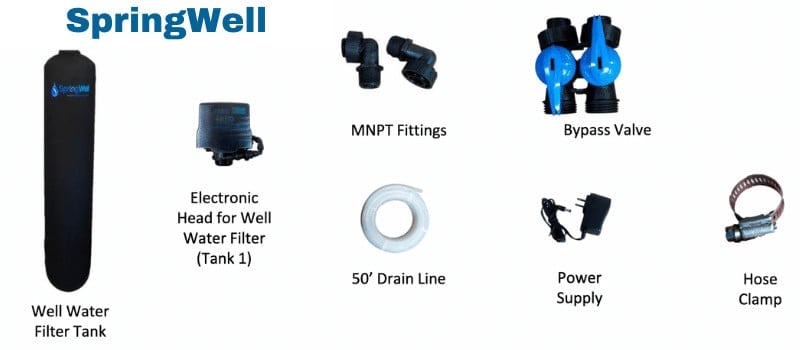 The SpringWell WS1 comes with everything you'll need to get a basic installation up in running,.
WS well water tank & filter media
Electronic head
MNPT Fittings
50′ Drain line
Bypass valve
Power supply
Hose clamp
Spin-down sediment filter
Installation Manual
SpringWell leaves no stone unturned when it comes to being helpful with the level of detail in their printable .pdf installation and user manual ( Installation manual) download these instructions and follow along with the video above.
Maintenance
There's really no maintenance involved with this system due to the use of greensand filter media that's designed to last 18 – 25 years, or 1M gallons of water filtered.
In my experience, there's always some unforeseen issue due to installation, or part failure, and I would advise you to inspect your valves and fittings annually to make sure nothing is failing.
Help and Support
SpringWell is invested in helping customers solve their water quality issues. Service and technical support representatives are ready to answer questions and guide you to the best filter for your home's unique needs.
Most parts are covered by a limited lifetime warranty — the solid state electronic head is guaranteed for five years.
Frequently Asked Questions
What does the system include?
The kit comes complete with a filtration tank, electronic head, bypass valve, drain line and hose clamp. You may need to purchase pipe and complementary fittings.
Can I install the filter myself?
Yes, but installation can be tricky in tight spaces, and basic plumbing skills are essential. It's an easy half-day job for a professional.
Can this system be installed outdoors?
Yes, but sub-freezing temperatures will damage the filter. Install it outdoors only in the warmest climates.
Final Thoughts
Iron, manganese and sulfur are naturally occurring elements, but too much of them in your water spell trouble. Before resorting to high-priced bottled water, or worse, thinking there's nothing you can do, consider a SpringWell well water filtration system — it's an investment in your quality of your life.
Use Coupon Code: QWL5 to save!
Compare Other Leading Well Filtration Systems