📝 Type: Carbon + Sediment|Process: 2-stage |Capactity: 100k gal. |Contaminants Removed: 10+ | Flow Rate: 15 GPM | Bluetooth: ❌ | Warranty: 1 year | Annual Cost: ~$120 | Rating: 4.5/5 | Best for: Well or city water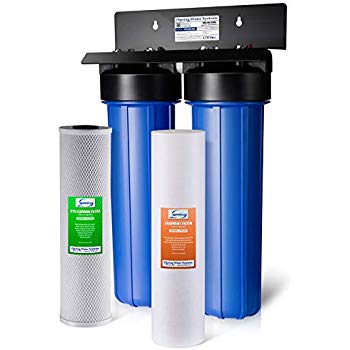 Last Updated on July 6, 2022 by Ava
America's water supply is among the cleanest in the world, but it's not perfect. Well water can harbor a wide range of both naturally-occurring and human-made contaminants.
City water is safe to drink but can contain unwanted sediment and chemicals that make it smell and taste bad. What can you do?
The most cost-effective solution may be to install a top rated home water filtration system. But older models have a reputation for being difficult to use and expensive to maintain — and that's a worry for most homeowners.
The good news is that today's filters have come a long way, and you don't have to break the bank or your back to enjoy clean water.
Let's take a closer look at one of the simplest systems on the market — the iSpring WGB22B 2-Stage 20-Inch Big Blue Whole House Water Filter. Prepare to be impressed.
.
iSpring WGB22B 2-Stage

Filtration System

iSpring's WGB22B is a virtually effortless filter to use. It's small, lightweight and fits in almost space near your main water inlet, yet it has an enormous 100,000-gallon total capacity. Installed horizontally at the point of entry, it treats your home's entire water supply. The result is consistently clear, fresh-tasting water for up to four people for a full year.

The system consists of just two filters — a high-capacity polypropylene cartridge that removes sediment down to 5 microns, and a premium coconut carbon filter that reduces chemical impurities. Large inlets and outlets encourage brisk water flow, so you'll never be left with a trickle in the shower because someone flushed a toilet. Replacement filters are third-party tested for quality and competitively priced.

Pros
Vigorous 15 GPM flow rate
Generous 100,000-gallon capacity
Fits in limited spaces
Simple to use and maintain
Low total cost of ownership
Cons
Do-it-yourself installation can be challenging
Top Q & A
Q: Can the WGB22B be used for well water?
      A: Yes, but it can't make water biologically safe to drink. It's designed to use with city water that has been chemically treated to kill harmful pathogens.
Q: How much residual chlorine does it remove?
      A: Up to 95-percent
Q: Does the WGB22B remove lead?
      A: Only when equipped with the optional lead removal filter. A water test can tell you if lead is present in your water.
My Take

on This 2-Stage Water Filter System:

It's hard to believe that a filter this simple can do so much to improve water quality. The dual-stage system reliably reduces sediment — an important feature that decreases cloudiness and maximizes the efficiency of the coconut carbon filter. Water is clear and tastes amazing.The WGB22B is also an ideal choice for homeowners who want a filter with minimal upkeep. Under average conditions, you'll only need to replace filters once annually. Other systems require cartridge changes every few months, and that can be costly over time.

I wish it were easier for homeowners to install, but all whole-house systems are integrated into the main water line. There's no way to avoid cutting pipes. The long-term cost of owning this system is a bargain, however, and it's practically effortless to maintain. So call your plumber for quick and easy installation. It's still a superb value.

.
Ispring 2-stage
Performance Features
Contaminants Filtered:
There's a water filter on the market for every need, but why pay for unnecessary features? The iSpring WGB22B removes up to 95-percent of these common municipal water contaminants and more:
Chlorine
Dirt
Rust
Agricultural chemicals
Industrial solvents
VOCs
Healthy minerals such as calcium and magnesium are left behind. To remove lead and iron, swap the coconut cartridge for the optional lead filter and iron filter, or use it in conjunction with a water softener. The WGB22B does not affect Total Dissolved Solids (TDS).
Is this filter the best water filter choice for you? Ask your local water treatment authorities for a quality report or send a well water sample to a testing laboratory to find out.
Flow Rate
A filter's flow rate reflects how much time it takes for water to move through the system. It's reported as a maximum, so if your water quality is poor, it could be less. The WGB22B has a maximum flow rate of 15 gallons per minute (GPM) — more than enough to supply a shower and wash the dishes at the same time without affecting water pressure at the tap. Even with a modest reduction, however, it shouldn't be noticeable.
Micron Size
The micron rating indicates the largest size particle a filter will allow to pass through into your water. The lower the number, the more particles it excludes. For home use, a micron rating of five is low enough to remove the sediment while not being so restrictive that it clogs filters unnecessarily.
The five-micron rating on the WGB22B means it removes particles bigger than a red blood cell. It's doesn't remove pathogens such as bacteria or viruses, but city water is treated at the source to eliminate these microorganisms.
Service Life
The WBG22B filters up to 100,000 gallons before cartridges need to be changed. That's up to a twelve month's supply of clean water for four people. Whole-house filtration systems that use permanent filters must be replaced after reaching capacity, but that's not so with the WGB22B. Filters are replaceable, and with care, the heavy-duty outer housing can last for decades.
Design and Installation
iSpring's WGB22B is a 2-stage whole house filter that's joined to your primary water line. It's installed indoors — close to the point of entry in a basement or crawlspace — and consists of a wall-mounted steel frame and two durable plastic cartridge housings. Assembled, it weights about 33 pounds, but it has a low-profile at 16 x 9 x 26 inches and fits in most limited spaces.
If you're handy with a wrench, you can install it yourself. But because the filter becomes part of your water line, you need to feel comfortable cutting pipe. Properly installed, this system is a gem, so it's worth paying a plumber to make sure it's done correctly.
Help & Support
iSpring has been making top-quality water conditioning products for more than two decades. Their knowledgeable customer service team is waiting to answer your questions. The WGB22B comes with a one-year warranty, and you can buy without worry because the 30-day satisfaction guarantee makes it essentially risk-free. If you're installing the filter yourself, iSpring has a full line of educational and how-to videos on their website. Technical support is available by phone Monday through Friday.
Final Thoughts
Water quality is an important topic, but you shouldn't have to think about it every day. With iSpring's WGB22B, you can feel better about what you drink and save a bundle of cash in bottled water costs without complicated maintenance and expensive filter changes. It's a small step with a significant impact.
.
Compare Other Leading Well Filtration Systems