Last Updated on November 12, 2023 by
Ava
📝 Model: SpringWell SCN1 | Type: Calcite | Process: Auto Backwash | pH Range: 6 – 6.5 | Flow Rate: 12 GPM | Bluetooth: ✔️ | Warranty: Lifetime | Annual Cost: ~$120 | Rating: 5/5 | Best for: Neutralizing acidic well water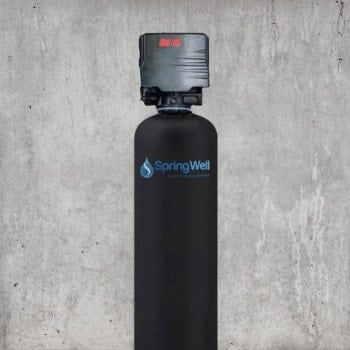 Unit Cost:
$1,534.52
SpringWell SCN1 System is simply the best acid neutralizer for well water around.
With its cutting edge filtering capabilites, you'll read why they have such a high praise.
Features
Bluetooth digital interface
Whisper-quiet operation
Won't reduce water pressure
Conserves water
Competitively priced
Use Coupon Code: QWL5 to save!
---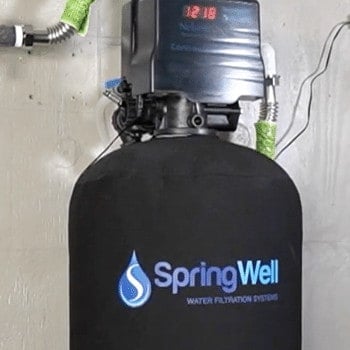 Best for: For anyone looking for the best acid neutralizer system for wells with the least amount of headaches and remote connectivity at all times will want this system.
Overview
Well water can be safe to drink yet be a disaster for your home. If a test shows you have acidic water with a pH of less than seven, a filtration system may be all that stands between your plumbing and an empty wallet.
See our: top rated well filtration systems
While you may have heard of hard water, acidic water is just as common, and it's a top cause of corroded pipes and fixtures. Installing a whole house water filter is the simplest solution, but they're not all created equal.
This review takes a closer look at the premium Calcite pH Neutralizer by SpringWell — A leader in residential water quality. We'll explore how it works, sorting through the technical jargon, so you can be confident that it's just what you need.
4.6+ rating with thousands of positive reviews.
Pros
SpringWell's pH neutralizer makes water less acidic.
Packed with calcite, it slowly releases calcium carbonate, balancing pH.
Systems come complete with a tank and Bluetooth-enabled electronic head – once it's set, it functions automatically.
You can view water usage data and manage regeneration and backwash cycles from your phone or tablet.
The innovative technology conserves thousands of gallons annually.
Calibrated based on the number of bathrooms in your home, SpringWell water filters have a vigorous flow rate, guaranteeing no drop in pressure at the tap.
Let the kids can flush the toilet while you're in the shower – you won't notice a difference.
The SpringWell Calcite pH Neutralizer comes with a limited lifetime warranty and unwavering dedication to customer care — your satisfaction is guaranteed or your money back with no questions asked.
Compatible with water softeners, SpringWell filtration systems are expandable and can be installed with other filters if you need heavy metal, chemical or biological filtration.
The control head is a breeze to program — no technical degree required. Just set the regeneration time and backwash frequency, and you're in business.
The battery back-up saves your settings in a power outage. We love the attention to detail.
Competitively priced, the SpringWell isn't the cheapest acid neutralizer on the market, but the quality, performance and support after the sale make it among the best values.
We've tried them all — you won't be disappointed.
Cons
Challenging DIY installation – that can be said of all systems.
Calcite isn't preloaded

Use Coupon Code: QWL5 to save!
My Take
SpringWell has been in the water business for more than 20 years, and it shows. From the quality of the materials to the step-by-step color installation guide, they've made it as easy as possible to solve your acidic water problem without breaking the bank. Nearly everything you need comes with the kit, including three bags of calcite that you'll have to load yourself. It's tedious, but it protects the tank during transport.
Compare Alternative Systems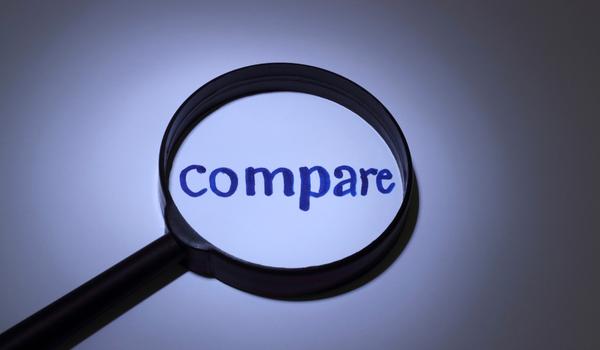 SoftPro pH Neutralizer Calcite Filter – this system cost about $900 more than Springwell and uses Calcite/Corosex media and is best suited for a pH range between 5.5-6.5 — this is better than what Springwell can do as their systems are best for pH levels between 6-6.5.
Fleck 2510 SXT pH Neutralizer Filter: This system is about $400 more than Springwell and uses a combination of Calcite/Corosex media. It can also handle pH levels between 5.5-6.5 like Softpro can making it better for wider range of pH levels than the Springwell system.
US Water Upflow Calcite pH Neutralizer Filter: This system is about double the cost of Springwell and uses Calcite/Corosex media. However, this system can handle the toughest of pH levels as low as 5 and up to 6.5 range. However, unless your pH is really low, I can't justify the hugh price tag when any other system mentioned plenty enough for most.
In summary, If you are looking for a pH Neutralizer Filter, the Springwell Calcite pH Neutralizer is a great option. However, if your water has an unusually low or high pH level, then you may want to consider other options such as SoftPro's system which can handle lower levels of 5.5-6.5 or US Water's Upflow Calcite filter which can handle even tougher levels of 5-6.5.
Springwell Acid Neutralizer

Performance Features

The best water filters eliminate target contaminants without costly bells and whistles. Simple problems call for simple systems — why pay for more than you need?
Key Considerations Before You Buy
Cost: The cost of a calcite pH neutralizer shouldn't be your main criteria, but it certainly is part of it. We feel your time is better well spent comparing performance, features, against your top 3 picks. You would be surprised find that mid-range priced systems perform just as well as the premium names.
Installation: Springwell is known for making there systems as easy as possible with their intuitive instructions and helpful DIY videos. You also don't need to worry about voiding their warranty for either DIY or hiring a pro.
Maintenance: minimal maintenance is required with this system as with many big-named brands and this system is controlled via a downloadable app that allows you to control every aspect of the system from anywhere you have WiFi.
Performance: Evaluate how well the Springwell Calcite pH Neutralizer performs in terms of neutralizing water acidity levels and improving water quality overall.
Warranty/Guarantee: Understand what type of warranty or guarantee is offered with the product, and what kind of customer service support you can expect if something goes wrong.
Contaminants Removed
SpringWell's Calcite pH Neutralizer neutralizes acid with calcium carbonate media. The system doesn't remove contaminants — it won't make dirty water safe to drink. But raising the pH can, in some cases, improve its taste — acidic water has a bitter, metallic tang. It also decreases the amount of lead that leaches from old pipes.
Flow Rate
Flow rate tells you how many gallons of water a filter can process per minute. Why is that important? Filters have a reputation for reducing water pressure. It's the nature of the process — any barrier slows water down.
Household activities, like showering and flushing the toilet, each use an average of 2.5-3 gallons per minute. Multiply that by the number of bathrooms in your house, and at any given moment, your needs could exceed what most filtration systems can offer.

Non-mechanical filters that use calcium carbonate to raise the pH have minimal effect on water pressure, but SpringWell filters have almost double the flow rate of similar models at 12 GPM, so you can shower worry-free.
Design and Installation
The SpringWell Calcite pH Neutralizer is integrated into your home's main water line. Acid is neutralized as water flows through the calcium carbonate media, so every drop is less corrosive.
Designed and assembled in the United States from globally sourced parts, components are ultra-durable and performance-certified. SpringWell wants this to be the last filtration system you'll ever have to buy.
The tank measures 13 inches wide and 63 inches tall fully assembled and must be installed vertically. You'll need an outlet nearby to plug in the power adapter.
Installation is straightforward for homeowners with plumbing skills and a few basic tools. The written instructions are easy to follow and include color photos of each step in the process. Technical support is available by phone or online — check out their installation video on YouTube. If you're not comfortable measuring and cutting pipes, consult a professional.
What's Included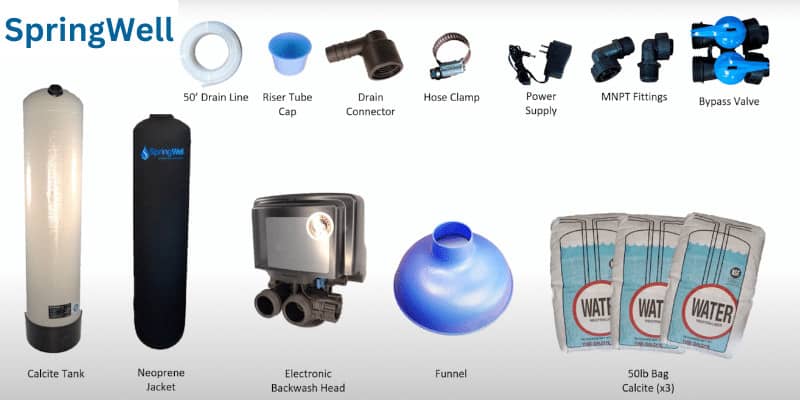 The SpringWell SCN comes with the following parts:
Calcite tank
Neoprene jacket
Electronic backwash head
50′ drain line
Riser tube cap
Drain connector
Hose clamp
Power supply
MNPT fittings
Bypass valve
Funnel for pouring in your Calcite
3 50lb bags of Calcite
Help and Support
The pros at SpringWell can solve your water filtration needs. Their knowledgeable technicians will help you troubleshoot issues and guide you to the best filters for your home.
Most parts, including the tank and fittings, are covered by a limited lifetime warranty. SpringWell maintains a full line of replacement parts, so your system never becomes obsolete.
Final Thoughts
Acidic water occurs naturally, a result of factors from air pollution to rock formations. It's not a health hazard, but it takes a toll on expensive appliances. Did you know it can cost more than a $1000 to replace a water heater? Spending money on a filtration system is less glamorous than other spends, but it's an investment that pays off in the long run. Let the friendly experts at SpringWell help you make it wisely.
Frequently Asked Questions
Is this system compatible with PVC pipes?
It's compatible with PVC, copper, PEX and corrugated plumbing fixtures.

How often do I have to replenish the calcite?
Under average conditions, the calcite is depleted in 12-18 months. Each tank takes 2.5 bags to fill at a total cost of roughly $200. The first three bags are free with your system.
Can this system be installed outdoors?
Yes, but it must be protected from direct sunlight and freezing temperatures.
Use Coupon Code: QWL5 to save!
Compare Other Leading Well Filtration Systems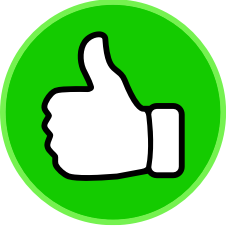 143
people found this helpful. Was this guide helpful to you?