Last Updated on June 9, 2023 by
Ava
📝 Model: SpringWell LCR | Type: Ultra-dense carbon block | Process: 2-stage | Capacity: 100,000 gal. | Contaminants Removed: 10+ | Pb Reduction: 99.95% | Flow Rate: 8 GPM | Tech: ✔️ | Warranty: Lifetime | Annual Cost: ~$400 | Rating: 5/5 | Best for: Particulate and soluble lead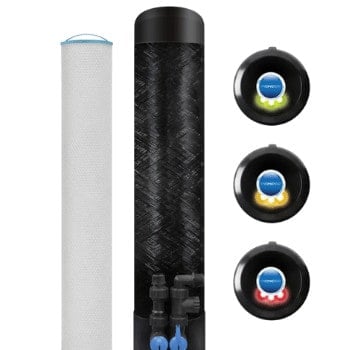 Use Coupon Code:
QWL5
to save
If you're looking for the best lead removal filtration system, look no further than the SpringWell LCR system that's unmatched in all categories.
This system is second to none and I think you'll agree – read on.
Highlights
Generous 100,000-gallon capacity
Removes high levels of lead
Handy filter performance monitor
Won't affect water pressure
Industry-leading lifetime warranty
Use Coupon Code: QWL5 to save!
---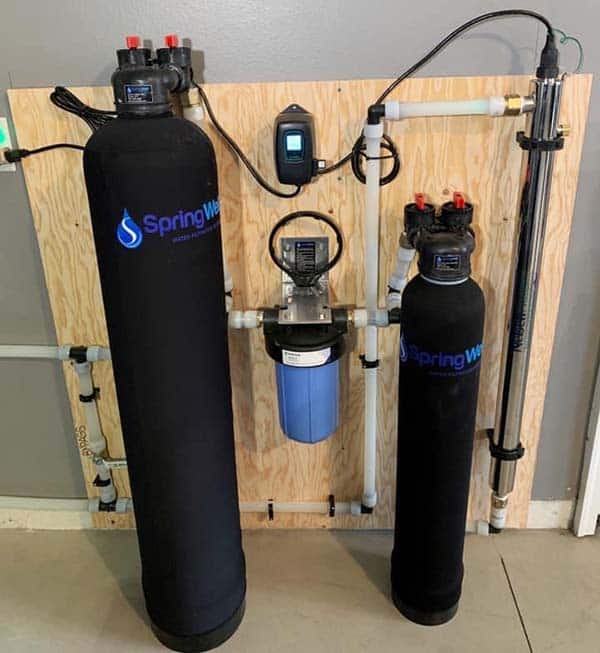 Best for: Anyone looking for the best-in-class lead & cyst filtration system.
Springwell LCR-1

Review

Millions of US communities have high levels of lead in their water from aging underground pipes. There are two types of lead contamination — soluble and insoluble.

Both can be harmful to your health and devastating to a growing child's brain development. It's critical to get it out.

But while some water filters claim to remove lead, few reduce levels like the SpringWell Lead and Cyst filtration system.

Our review will tell you everything you need to know about this exceptional company and their top-quality products.
Pros
Its unique design removes 99.95% of lead plus other harmful chemicals and parasitic cysts.
SpringWell's single tank system removes both soluble and particulate lead, plus chlorine and chloramine — disinfectants that can make water smell and taste bad.
It filters parasitic cysts and large microorganisms that can cause diarrhea and reduces dangerous forever-chemicals, including PFOA and PFOS.
Systems treat 100,000 gallons of water and are NSF/ANSI standards P473 and 53 certified for safety.
Unlike under-sink filters — they treat every drop in your home so you know both drinking and bath water are safe. Why take chances?
The filter works automatically — set it and forget it. The innovative digital head tells you when it's time to replace the filter. It's foolproof.
Like all Springwell water filtration systems, the Lead and Cyst removal system comes with a lifetime warranty on non-replaceable parts, and it's satisfaction guaranteed. Sleep easy; drink healthy.
Not only will it make your water safer, but by removing common disinfectants, it also improves its taste.
It's like drinking premium bottled brands for pennies on the dollar.
If lead is your problem, this is the solution and more. Buy this system with confidence.
Cons
The cost of purchasing the Springwell LCR-1 filter may be to expensive for some households with annual filter replacement running around $400 per every 100,000 gallons of treated water.
It can be challenging to install yourself in comparison to similar models.
Alternative Filtration Options To Consider
Aquasana Optimh20 Filtration System: This system is designed to reduce up to 99.9% of lead, chlorine, and other contaminants from your water supply and is pretty similar to Springwell. However, they are on the pricier side when comparing apples to apples.
iSpring WGB32B 3-Stage is a budget-friendly system that uses three stages of filtration for maximum protection against lead and cyst contamination up to 96%. It also includes an additional sediment filter that can help remove dirt and debris from your water supply as well.
In our opinion, you're getting the best bang for your buck with Springwell in comparison to other brands/models on the market today. However, if you're on a budget, you can't go wrong with Ispring as it has a lower entry-cost.
It's also important to consider that if you purchase a low-cost filtration system that there's often a compromise being made.. You need to take into account how many gallons of water the system will filter and how much replacement filters will cost you in the long-run when comparing to more expensive models.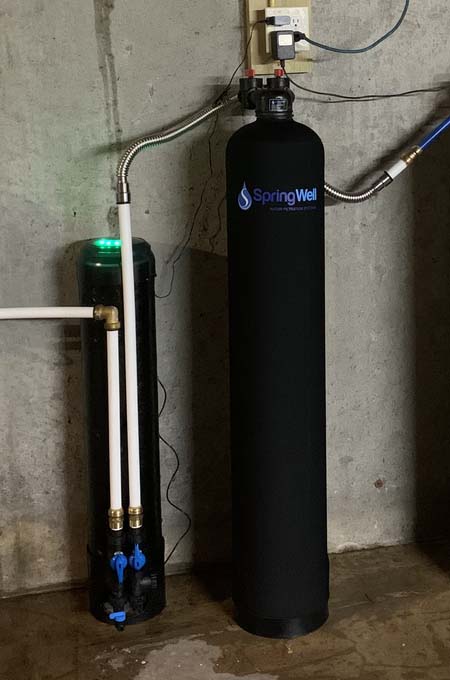 My Take
There can be many scary things in water, but none are more harmful than lead. It's an invisible, insidious poison that causes irreparable neurological damage. There is no safe level. While dozens of filters on the market reduce lead, most don't remove it with such certainty — it's a top performer.
Review of Performance Features
The quality of a water filter comes down to its components, capabilities and convenience features. Let's decipher the technical jargon.
Contaminants Filtered
The SpringWell Whole House Lead and Cysts Removal System is the best whole house water filter for lead removal, but it does so much more.
It removes 99.95-percent or more of:
Lead
Chlorine
Chloramine
Parasitic cysts
PFOA and PFOS
Be wary of filters that remove "up to" 99-percent of lead. The actual reduction rate is often far lower. An optional UV light kit offers additional protection against pathogens in a power outage affecting water treatment plants.
Capacity
A filter's capacity is the total number of gallons it can treat between filter changes. The SpringWell can process up to 100,000 gallons — enough for four people for a year in most circumstances.
Flow Rate
Quality filtration takes time, but it shouldn't decrease water pressure. No one wants to shower in a trickle. Flow rate, measured in gallons per minute, reflects how fast a filtration system treats water.
The flow rate among filters in this class averages 6-7 gallons per minute, but there's a pronounced drop in pressure with lesser models. The SpringWell promises a brisk 8 GPM flow — that's plenty to take a shower and fill the coffee pot at the same time without running dry.
Micron Rating
Mechanical water filters work like strainers — large particles don't pass through small holes. The SpringWell Lead and Cyst Removal System uses a single dual-stage filter cartridge offering both mechanical filtration down to 0.5 microns — millionths of a meter — to catch the smallest particulate lead. KDF filtration media then reacts chemically with soluble lead, trapping it permanently. The result is the most comprehensive lead removal money can buy.
Design and Installation
All SpringWell filters are designed and assembled in the United States from independently certified components. Made of high-quality, durable materials, it could be the last system you'll ever need.
Tanks measures 8 by 40 inches and require just a square-foot of floor space to install — an outlet is necessary for the electronic head. It's an ideal choice for limited spaces.
Systems are integrated into the main water outlet, usually found in the basement. DIY installation is straightforward with basic plumbing know-how and a few household tools. Instructions are clear and easy to follow.
The kit comes complete with everything you need and is compatible with a 1-inch connection. If your space is irregular or the plumbing is unusual, consult a plumber.
Help and Support
SpringWell water filtration systems are backed by a lifetime warranty and a satisfaction promise — purchases are risk-free. Their dedicated customer care team is ready to help you troubleshoot water quality and installation issues — they have two decades of experience in the industry. You're in good hands.
Final Thoughts
If your community has old underground pipes or your home has lead plumbing or fixtures, the only way to protect your family is with a filtration system. You could invest less in a cheaper filter and wonder if your water is safe, but you don't have to with the SpringWell Whole House Lead and Cyst Removal System. It's an excellent value, and the peace of mind is free.
Frequently Asked Questions
How often must the filter be replaced?
Filters treat 100,00 gallons of water — enough for an average family for twelve months. Changes are tool-free.
Can I install the unit myself?
Filters treat 100,00 gallons of water — enough for an average family for twelve months. Changes are tool-free.
Will this filtration system reduce water pressure?
No. Springwell systems are engineered for vigorous water flow up to 8 gallon per minute. Take a shower and let the kids flush the toilet — it's no problem.
Use Coupon Code: QWL5 to save!
Compare More Whole House Filtration Brands: