Water softeners come in a wide range of sizes for every need and budget. But deciphering the technical specifications can be a nightmare. What are hardness grains? Why do they matter? And what's the difference between capacity and efficiency?
Choosing the right size water softener is the key to its performance, so we'll help you decipher the jargon in this guide. Forget the water softener calculator.
Give us ten minutes, and we'll show you how to size your own water softener.
[lwptoc skipHeadingLevel="h3,h4″]
How to Properly Size a Water Softener
The easiest way to size a water softener is to answer a series of questions and make a few simple calculations. Grab a pad and pencil, and let's begin.
How Hard Is Your Water?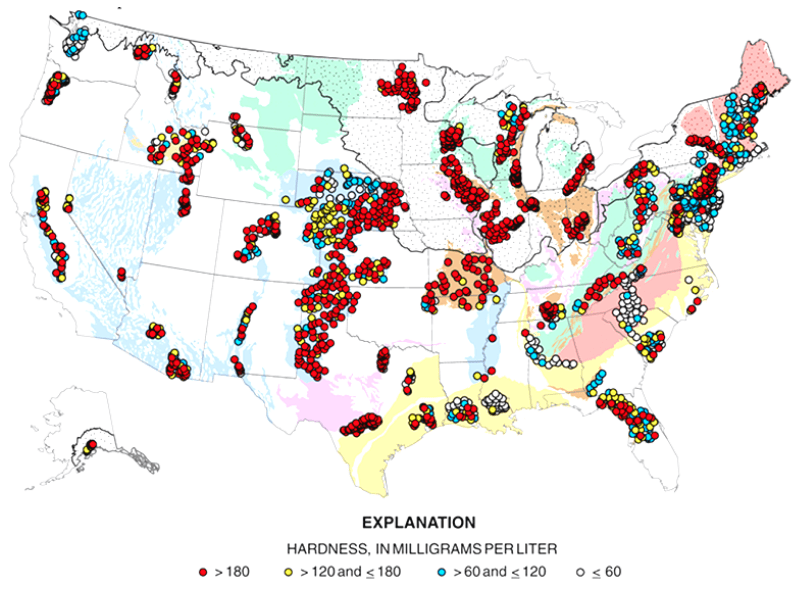 Water hardness is how much calcium and magnesium are in your water supply. If you have city water, your utility company can tell you how hard your water is. If you own a well, you should have your water tested. Don't guess.
USGS water hardness maps can give you a general idea of how hard the water in your area is — soft, moderately hard, very hard or extremely hard. But because water softener efficiency hinges on the hardness level, getting an exact figure in mg/L or grains per gallon (GPG) is ideal. Hardness levels can vary significantly within a small geographical area.
We recommend Simple Lab's Tap Score test kits because they're affordable, accurate and straightforward to use. You can choose hardness-only testing, but we suggest a comprehensive water test kit that checks for other substances, such as iron, that can affect water softener performance. Results are reported in GPG, the industry standard, for your convenience.
If you use an independent laboratory or get water hardness figures from a utility company, multiply results in mg/L by 1.7 to get the equivalent in GPG.
| Classification | Hardness in GPG | Hardness in PPM |
| --- | --- | --- |
| Soft | 0–3.50 | 0–60 |
| Moderatly hard | 3.56–7.01 | 61–120 |
| Hard | 7.06–10.51 | 121–180 |
| Very hard | ≥ 10.57 | ≥ 181 |
How Much Water Does Your Family Use?
The most accurate way to determine water usage is to check your water bill. If you have a well, multiply the number of people in your household by 80 gallons per day — the average per-person use in American homes.
Next, multiply your water's hardness level by your family's total daily water consumption. This is your daily softening requirement in grains per gallon.
Here's an example for a family of 4:
Total water hardness (5 GPG) x total daily water consumption (4 people x 80 gallons = 320 gallons) = 1600 grains per day.
Water Softener Grain Chart
| Hardness in Grains Per Gallon | 3 to 4 People | 5 to 6 People |
| --- | --- | --- |
| 5-10 GPG | 32,000 Grain | 32,000 Grain |
| 11-20 GPG | 32,000 Grain | 40,000 Grain |
| 21-30 GPG | 40,000 Grain | 64,000 Grain |
| 31-40 GPG | 64,000 Grain | 64,000 Grain |
| 41-50 GPG | 80,000 Grain | 96,000 Grain |
| 51-75 GPG | 80,000 Grain | 96,000 Grain |
| 76-100 GPG | 96,000 Grain | 96,000 Grain |
Does Your Water Contain Iron?
Iron is common in water in small amounts, but more than a little is hard on a water softener. To compensate, add 5 GPG to the total hardness value for every 1 mg/L of iron.
If you have 2.0 mg/L of iron in your water, that raises the total hardness value to 15 GPG. Multiplied by your total daily water consumption, that makes your new daily softening requirement 3600 grains per day.
How Often Do You Want Your Water Softener to Regenerate?
Finally, we'll determine the total softening capacity you need by multiplying your daily softening requirement by the number of days between regeneration cycles.
On average, water softeners should regenerate every 3-7 days. Less than that and bacteria could grow in the softening bed. More, and you'll be wasting salt and water.
If we use seven days as an example — 3600 x 7 — you need a softening capacity of roughly 25,200 grains. With one more step, you'll know which size water softener to buy.
Choosing the Right Size Water Softener
Ideally, water softeners should regenerate when the resin bed is at 75-percent capacity. Why? Because water usage is an estimate. If you use more in a given week, you could exceed your model's grain capacity, and performance will suffer.
Regenerating at 100-percent also uses proportionally more salt, and it wears out the resin beads prematurely. So, giving yourself 25-percent leeway makes sense.
So, to determine the total grain capacity you need, multiply the 25,200-grain softening capacity by 1.25, and — drum roll, please — you need a 32,000-grain water softener.
There are, however, a few other factors to consider when choosing between models, such as:
Salt Rating
Several factors determine a water softener's efficiency, but one of the most crucial is the brine efficiency rating. The last thing you want in your basement is a salt-hungry monster chewing through your budget.
Each model has a minimum salt dose needed to treat hard water under average conditions. Expressed in grains per pound of salt used, lower salt efficiency ratings are better for your wallet. They also add less salt to your drinking water, a plus if you're on a low sodium diet.
Flow Rates
Salt efficiency and capacity are important, but neither matters if your water softener can't keep pace with the demand for softened water.
During peak consumption hours when multiple taps are open, you'll run out of soft water, or you'll notice a steep drop in water pressure if your system's flow rate is too low.
Measured in gallons per minute, flow rates range from 6 gpm to 20 or more. For homes with two or more bathrooms, we recommend a minimum flow rate of 10-12 gallons per minute. Smaller families can make do with less. A large family should opt for water softeners offering 15 gpm or more.
| Fixtures & Appliances | Flow-rate (GPM) |
| --- | --- |
| Dishwasher | 1-3 GPM |
| Washing Machine | 3-5 GPM |
| Shower | 2-5 GPM |
| Toilet | 2-3 GPM |
| Faucet | 2-4 GPM |
Footprint
The term "sizing a water softener" refers to its capacity, but it's also important to measure your physical space to ensure the model of your choice fits. Conventional water softeners have two tanks that can require up to 12 square feet of floor space plus an additional few feet around it to facilitate maintenance.
Salt tanks rarely exceed 40 inches in height, but the resin tank can measure up to 60 inches with the control head installed. Measure your space carefully before buying to avoid an unpleasant surprise. If space is tight, cabinet-style water softeners are up to 40-percent smaller.
Should I Upsize My Water Softener?
The consensus among experts is that partial regeneration is more efficient than full regeneration. So, theoretically, a larger water softener that doesn't need to regenerate as often should be more cost-effective.
The savings, however, are offset by the higher initial cost of a larger unit. And you run the risk of fouling the resin bed without running a regeneration cycle at least every seven days.
In general, a 25-percent reserve capacity is ideal. But if your ideal water softener size falls between two common sizes, sizing up is better than sizing down. And if your family is growing, a little extra capacity never hurt.
The only real problem is a too-small system. An undersized softener won't produce enough soft water, and the resin will deteriorate faster because it doesn't fully regenerate.
Why Are Some Water Softeners Sized by Cubic Feet?
Some manufacturers offer the same water softener in different sizes based on the cubic feet (cf) of softening resin they contain versus how many hardness grains they treat.
It's confusing but easy to translate. In general:
| Softener Resin Size | Maximum Grain Capacity |
| --- | --- |
| 0.75 Cubic Feet | 15,000 |
| 1.0 Cubic Feet | 20,000 |
| 1.5 Cubic Feet | 30,000 |
| 2.5 Cubic Feet | 40,000 |
| 3.0 Cubic Feet | 50,000 |
| 3.5 Cubic Feet | 60,000 |
| 4.0 Cubic Feet | 80,000 |
But these figures can vary significantly based on the quality of the resin and its salt efficiency.
Water Softeners Versus Water Conditioners
If you've been shopping for a water softener, you may be wondering why so-called salt-free softeners aren't sized by the grain. That's because saltless systems, more accurately called water conditioners, don't remove hard minerals.
Instead, they minimize the effects of hard water, such as limescale buildup, by neutralizing calcium and magnesium ions without sodium. The sizing system is completely different.
Maximizing Water Softener Performance
Properly sizing your water softener is among the best ways to guarantee top performance, but there's more to efficiency than how many grains it can handle.
Consider these factors:
Salt Quality
Higher-quality softening salt dissolves better in water and may improve salt efficiency. It pays to stick to top brands. For the best results, use only the type of softening salt recommended by the manufacturer.
Prefiltration
The average water softener can remove small quantities of iron, but more than 3 ppm can damage the resin beads. Other contaminants, such as chlorine and sediment, can also impact performance.
If you have a specific water quality issue such as high iron, check the limitations on your water softener of choice. Installing prefilters will improve its efficiency, preserve its capacity and extend its service life.
NSF-Certification
Water softeners certified by the National Sanitation Foundation (NSF) have salt efficiency ratings of at least 3,350 grains of hardness removed per pound of salt, 4000 in California. They're also more water-efficient, using five gallons or less per 1000 hardness grains.
Known as NSF/ANSI Standard 44, these criteria were developed by industry experts and represent the most efficient systems on the market. Third-party tested, NSF-certified water softeners meet stringent structural and material quality guidelines.
Final Thoughts
You don't have to be an industry insider or rely on salespeople to choose a proper water softener. Empowered by the know-how in this guide, you can now size a water softener to meet your every need.