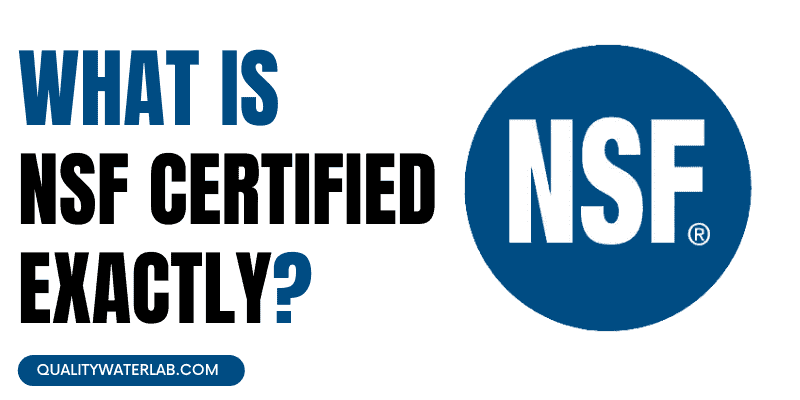 The average consumer is wary about the products they purchase. Are they safe? Do they perform as advertised? Are they worth the money?
In a dog-eat-dog market, buyers are especially vulnerable when it's the first time they've purchased products they're not familiar with. Is there anyone looking out for you?
The good news is that when it comes to water filtration systems, there's an organization that takes public health and safety seriously. It's called the NSF International, and they're in your corner.
In this guide, we will cover what it means to be "NSF Certified" and why it should be important to you.
Key Takeaways:
NSF Certified means that the water filter has been tested and certified to meet strict standards for safety, quality, performance, and structural integrity.
Certified filters must also pass periodic follow-up inspections and tests to maintain their certification status.
All filters that are NSF Certified will have a label indicating their certification status.
The filter must also perform as claimed by the manufacturer to remove particular contaminants from water sources.
These certification standards are recognized by the US Environmental Protection Agency and other regulatory agencies.
Who Is NSF International?
The National Sanitation Foundation, or NSF International, is an independent, globally recognized non-profit organization that tests and certifies a wide range of products that impact consumer welfare. If it touches your life, chances are the NSF had a role in creating certification standards.
A leader in public health and safety, the NSF International is a non-governmental organization, yet federal, state, and local regulatory agencies rely on their recommendations for creating health codes and food safety requirements.
Consumers have depended on them since 1944 to validate the quality of thousands of products from restaurant equipment to water filters. If you've been served food or drink from a commercial kitchen, you can rest assured that it was prepared with NSF-certified food service equipment.
A partial list of foodservice products the NSF certifies include:
Beverage dispensing equipment
Commercial refrigerators
Food transport equipment
Commercial dishwashers
Storage freezers
Water filtration systems
Sanitizing solutions and most common food service equipment
What Is ANSI?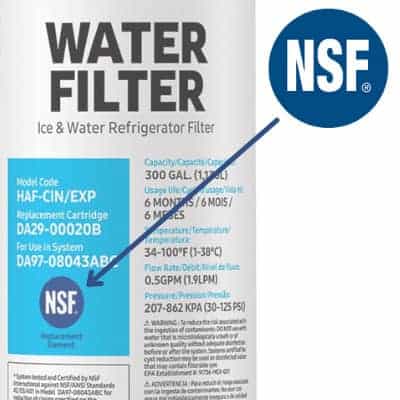 If you've ever shopped for a water filter, you may have noticed products labeled NSF/ANSI certified. ANSI is the American National Standards Institute, the organization that accredits certification programs like those offered by the NSF International. It's just one more layer of protection for the consumer.
The NSF VS The FDA and EPA
It surprises most people to learn that the government doesn't test or certify products. Lacking expertise, they rely on third-party organizations, like the NSF International, to offer voluntary testing and certification programs.
In the interest of food safety and public health, the Environmental Protection Agency (EPA) and the Food and Drug Administration (FDA) regulate some aspects of manufacturing, and they require companies to test or certify a handful of regulated consumer products. But in most cases, manufacturers police themselves.
While the EPA's role is to regulate the manufacturing, processing, distribution, and use of chemicals and other potential pollutants, the FDA's job is to promote public health by assuring that food, drugs, tobacco, and electronic products that emit radiation are safe and properly labeled. When it comes to water treatment systems, the NSF and other groups, such as the Water Quality Association, set most safety guidelines.
The EPA, FDA, and NSF International all participate in creating public health standards, so their roles occasionally overlap, especially when it comes to promoting food safety. The FDA, for example, regulates the materials that water filters used in the food service industry contain.
That's a positive for food safety but confusing for consumers who see terms like "FDA-approved" on some water filters and assume they've been performance-tested.
What Does NSF Certification Mean?
NSF-certified water filters meet the industry's minimum performance guidelines. If that sounds underwhelming, it is to an extent.
What is NSF certified exactly? NSF certification isn't a guarantee that you'll be happy with a product. It doesn't mean that filters are user-friendly or a good value. Figuring those things out is up to you. NSF certification only evaluates material safety, structural integrity and contaminant reduction claims. Still, it's a big deal.
Products undergo rigorous testing. Manufacturing facilities are inspected, and manufacturing processes are examined for supply chain transparency.
The NSF tests 60-plus parameters covering material safety, structural integrity and contaminant removal claims. Filters undergo a full physical evaluation and must meet stringent standards.
NSF certified products are guaranteed to:
• Contain no hazardous materials that could leach into your water.
• Be structurally sound under the worst expected conditions.
• Remove the contaminants they claim to.
Failure to meet any of the certification criteria sends manufacturers back to the drawing board.
Do Companies Have to Maintain Certification?
They sure do. An NSF-certified product undergoes regular re-testing, and if the product fails, sales are halted, and certification is revoked. Companies agree to unannounced plant inspections and have annual follow-up audits.
Why Do Manufacturers Choose NSF Certification?
The NSF certification process is expensive. Fees can exceed $100,000 to certify a new product. So why do manufacturers voluntarily choose to earn an NSF certificate despite the high cost? The reason is — it's good for business.
NSF certification:
Is a Sound Risk Management Strategy
NSF certification means products meet strict standards. It demonstrates goodwill, transparency and safety-mindedness on the part of the manufacturer.
Inspires Consumer Confidence
Few consumers are well-versed on water filtration products. As an organization that promotes food safety, the NSF's reputation and rigorous certification process give customers peace of mind.
Gives Companies a Competitive Edge
Knowing what it costs to obtain and maintain certification, consumers tend to look more favorably upon NSF-certified water filters. Offering products certified by the NSF is one way that start-ups can demonstrate a commitment to quality and differentiate themselves from the pack.
NSF Water Filter Standards
Which NSF standards apply specifically to water filters? These are the most common:
NSF/ANSI 42
Standard 42-certified filters are guaranteed to remove taste and odor impurities. It's a must for carbon filters.
NSF/ANSI 53
Standard 53 was developed with help from the EPA and Health Canada. It evaluates contaminant reduction claims for substances with known health effects, like lead.
NSF/ANSI 55
NSF standard 55 sets standards for ultraviolet light filters. Class A filters remove harmful bacteria. Class B Filters reduce the number of benign bacteria.
NSF/ANSI 58
This standard applies only to reverse osmosis filters and evaluates reduction claims for EPA-regulated contaminants.
See more on the NSF website.
Beware of Imitators
Manufacturers play quick and loose with advertising claims, sometimes inferring that their products are NSF certified when they're not. Some claim their filters are certified "to NSF standards," meaning that they were tested by a different organization and meet similar criteria.
Are non-NSF-certified filters safe? They can be. The cost to earn NSF certification is so high that some companies pursue third-party testing through alternative organizations. But do they require manufacturing facility inspections? Is their product testing as thorough? Do they evaluate contamination reduction claims as vigorously or insist on annual recertification?
We recommend evaluating their safety standards — insist on transparency. Companies that won't release contaminant reduction reports or tell you where they source their products may be hiding something.
You can identify NSF-certified products by the blue NSF logo. NSF-approved water filters are searchable on their website.
Is Purchasing NSF Certified Products Worth the Money?
Non-certified water filters can be a bargain — and who doesn't want to save money? But like most things in life, you get what you pay for. Only NSF-approved water filters are guaranteed to meet the highest safety standards. Don't compromise — choose products with the trademark NSF logo.
Final Thoughts
The NSF is an internationally recognized health and safety watchdog dedicated to your wellness. In an ever-changing world, few things have as much tangible value as the NSF label. You couldn't be in better hands.