📝 Type: Salt-based |Process: ION Exchange |Regeneration: Metered |Grain Capacity: 32k, 48k and 80k | Flow Rate: 11-20 GPM | Bluetooth: ✔️ | Warranty: Lifetime | Family Size: 6 | Rating: 5/5 |Best for: Well or Tap water
Last Updated on July 7, 2022 by Ava
Millions of American homes have hard water — water with high levels of minerals like calcium and magnesium. Hard water isn't a health risk, but it's not kind to your skin, clothing and appliances.
Limescale buildup in pipes forces dishwashers and water heaters to work overtime — you could spend thousands on unexpected repairs. The good news is you don't have to.
This SpringWell Salt Based Water Softener review covers everything you need to know about softening technology and introduces you to a top-quality softener you can count on to help get rid of the minerals. It's the best protection money can buy.
SpringWell

SS1 Review

SpringWell's conventional salt-based softening system removes hard minerals from water via ion exchange. The science is simple, and so is the technology. It couldn't be any simpler to use.

State of the art five-cycle meter control makes the system ultra-efficient. It uses less salt and creates fewer gallons of wastewater than similar models, saving you money. Enjoy complete control over system settings with Bluetooth — adjust regeneration and backwash cycles from your cell phone wherever and whenever.

Kits come complete with everything needed for a DIY-friendly installation. Made of durable, independently certified materials, SpringWell water softeners are backed by a limited lifetime warranty and a reputation for hassle-free performance.

.
Use Coupon Code: QWL5 to save!
Pros
Budget-friendly multi-cycle meter system
Intuitive digital interface with Bluetooth
Won't reduce water pressure
Easy bathroom-based sizing
6-month money-back satisfaction guarantee
Cons
Above-average initial cost
---
Top Q & A
Q: Does the softener tank come preloaded with resin?
A: For your convenience, all SpringWell water softeners arrive resin-filled and ready to install. Purchase the salt of your choice separately for the brine tank.
Q: Can this system soften well water?
A: Yes, but high levels of iron can damage the softening resin. If a water test shows high levels, you'll need to install an iron pre-filter first. The technicians at SpringWell can guide you.
Q: Can the softening tank be installed horizontally in a crawlspace?
A: No, both tanks must be installed vertically. The softening tank with the head attached measures 57 inches tall.
My Take
The difference between SpringWell water softeners and cheaper knock-offs is obvious the first time you see the system. Tanks are constructed of rugged polypropylene, and their sturdy feel is impressive. Brine tanks are generously sized and can hold more than 200 pounds of salt. The wide-mouth design makes loading a breeze.
Cutting-edge digital heads are back-lit for easy viewing. There are no confusing symbols — programming routines are straightforward and can be managed from your cell phone. You never have to wonder what your system is doing.
Five-cycle meter control guarantees you'll use the least amount of salt and water necessary to remove hard minerals, and that's money in the bank. Quality and performance are what make the SpringWell the best salt based water softener system for homes with stubborn mineral problems and homeowners who want a fix-it-and-forget-it system. It's an exceptional value.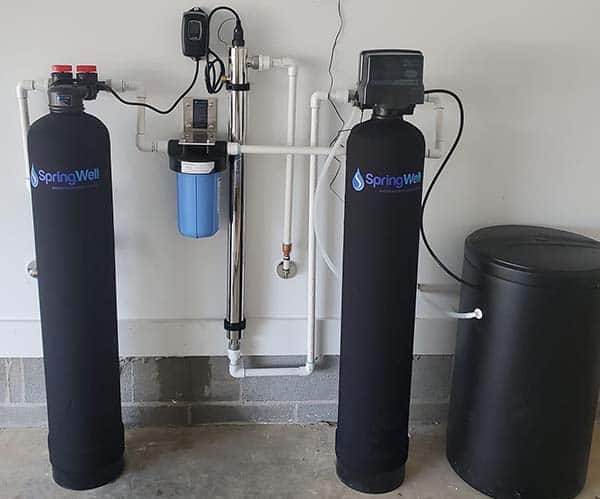 .
Use Coupon Code: QWL5 to save!
SpringWell

SS1 Performance Features

Negatively charged resin in salt-based water softeners bind with positively charged hard minerals, removing them from water. Once resin is saturated to capacity, salt water from the brine reservoir flows over it, disrupting the electrical bond. Excess calcium and magnesium are flushed down the drain instead of forming limescale in your pipes. Other benefits include softer skin and brighter clothing. Hard water impairs detergent — you'll use up to 40-percent less with softer water, and your clothes will come out cleaner.

Choosing the right water softener among the hundreds on the market is a challenge, so let's decipher the technical jargon and see if the SpringWell is the best salt based water softener system for your home.
Capacity
A water softener's capacity reflects the number of hard minerals the resin in the softening tank can hold between regeneration cycles — this is important because it determines how much salt and water a system uses. Oversized systems may not soften properly, while a too-small unit will regenerate too often, costing you money.
Traditionally, water softeners are sized by the grain — an accurate but confusing system. SpringWell takes the doubt of choosing the proper model by sizing them based on the number of bathrooms in your home. Models come in three sizes for 1-3, 4-6, and 7 or more baths.
Flow Rate
Mechanical filtration takes time — any barrier between the flow of water coming into your home and the tap can reduce pressure. But no one wants to shower in a trickle, so all SpringWell water filtration systems are engineered to guarantee brisk flow.
Flow rate, measured in gallons per minute, tells you how many water-using activities you can do at a time without loss of pressure. If flushing a toilet and filling a pasta pot use a combined six gallons per minute, the average 7 GMP flow rate offered by most softening systems could leave you short. SpringWell's 11–13 GMP flow rate means the entire family can enjoy water without waiting.
System Control
Old water softeners waste both salt and water because they regenerate on a set schedule. The SpringWell system monitors water usage and regenerates only when necessary, lowering both your utility and salt bills.
Control regeneration and backwash cycles from your cell phone. Programs are intuitive and rated by customers as among the easiest to set in the industry. If you live in an area where storms are frequent, a time-saving battery backup preserves your settings in a power outage.
Design
Water softeners are integrated into the main water inlet coming into your home, near an electrical outlet and a drain. Spaces must be tall enough for vertical installation — 6 feet or more. You'll need roughly 12-square feet of space for both tanks plus enough space to move around them for maintenance.
Installation
All of Springwell's water filtration systems are designed for DIY-friendly installation, but you'll have to cut pipe, so comfort with plumbing is a must. Homeowners with basic do-it-yourself skills can do it in a half-day — step-by-step instructions include pictorials, and SpringWell's technical support representatives are happy to help by phone. Consult a plumber if your space or pipes are irregular.
Help & Support
SpringWell water filtration systems are backed by a limited lifetime warranty and knowledgeable customer care. With two decades of experience in the water softening business, they won't let you down.
Final Thoughts
No SpringWell Salt Based Water Softener review would be complete without mentioning its cost-effectiveness. Replacing a water heater or dishwasher because of limescale buildup can easily exceed the cost of a softening system. Why wait for the worst to happen when you can get all the benefits of soft water today and protect your most valuable investment — your home.
.
Use Coupon Code: QWL5 to save!
Compare more top salt-based water softener brands: