No one wants sediment in their well water, but sometimes — Mother Nature has other plans. As unavoidable as rain, dirt, sand and gravel are part of the ground we dig wells in. It doesn't mean you have poor quality water.
But it's important to address the problem because sediment is more than an aesthetic issue. It spells trouble for your pipes, appliances and water heater.
Well pumps are engineered to remove large particles of debris, but it's not always enough. If you have sediment in your well water, you may need a sediment filter.
Key Takeaways:
Install a sediment pre-filter or Spindown filter
Sediment backwash filter
Multi-staged filters with both: pleated paper or wound string
Employ centrifugal separators to concentrate, capture and separate particles based on their size.
Utilize membrane filtration technology such as Ultrafiltration (UF)
What Exactly is Sediment?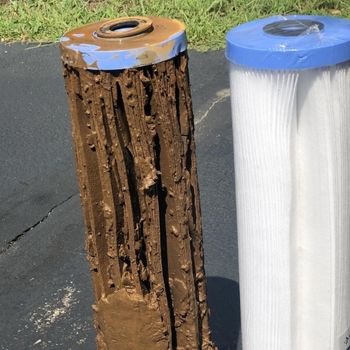 Sediment is an umbrella term for solid material in water such as:
Dirt
Sand
Gravel
Rocks
Dust
Clay
Iron
Manganese
Hardness minerals
Organic materials, such as silt and tannins
Some of these contaminants, like iron, also fall into other categories because they come in both solid and dissolved forms.
How Does Sediment Get into Well Water?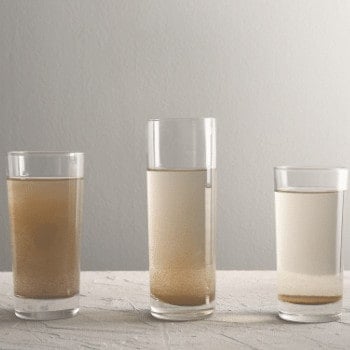 As rain seeps through the water table, it carries bits of dirt and rock into the aquifers that feed most wells. How much of it ends up in your water supply varies based on the amount of precipitation, the quality of your soil and the integrity of your well.
Most well water systems produce at least some sediment, but a well-engineered and properly maintained well prevents serious sediment issues.
If you have a sediment problem, chances are you've hit one of these snags:
1. A Broken Well Screen
Like a faucet aerator, a well screen is a filtering device that keeps sediment out of your well's intake pipe. It's your first line of defense against dirty water.
But they can deteriorate over time and let particles slip by. You may need a professional's help to replace a broken well screen, but it's a quick and inexpensive job.
2. A Cracked Well Casing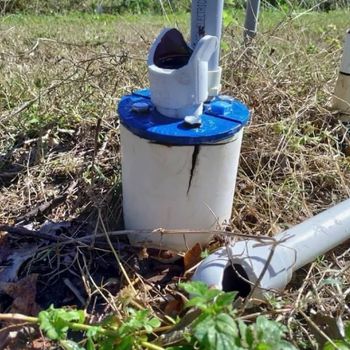 The well casing is the solid tube through which well water is pumped. Made of metal or PVC, it provides support for the well walls and creates a permanent barrier between the soil and your water.
Casings are treated with a sealant to keep out contaminants. But one crack is all it takes to let sediment in. Replacing a well casing isn't cheap, but most can be repaired with a liner.
3. An Oversized Well Pump
Using an oversized well pump is like sipping water through a garden hose instead of a straw. But instead of crushed ice, it pulls up unwanted sediment.
If your well pump is too large for your plumbing system, a smaller pump size could solve your sediment issue.
4. Faulty Well Design
Well pumps are placed 10-20 feet from the bottom of the well to avoid drawing in sediment. If it was installed too low, it's likely to pull in sand and gravel.
5. Corroded Pipes
As metal pipes rust, pieces flake off. Particles also accumulate in water heaters where they contaminate the water flowing through your hot water taps.
Rare in soil, most rust in water comes from corroded pipes or water heater parts. Some plumbers recommend flushing your water heater tank annually to avoid buildup.
6. Not Enough Water in Your Well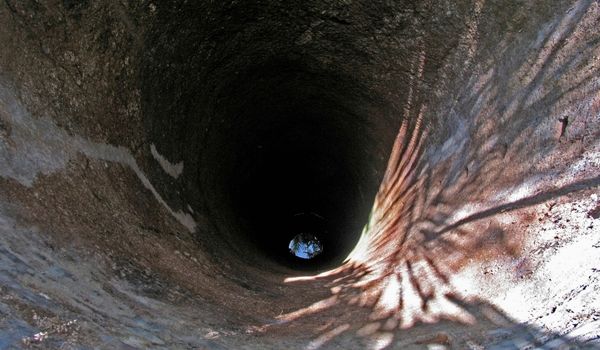 A low water level makes your pump churn up sediment at the bottom of your well. Muddy water is among the first signs that you're running dry.
If you have a brand new well, however, don't worry. Sediment is loosened during the drilling process and may contaminate your water for the first few weeks.
Can I See Sediment in Well Water?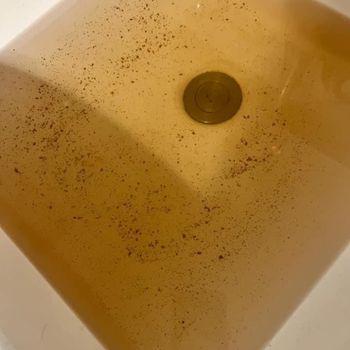 A simple test for sediment is to let water sit on the counter in a cup. If solid material falls to the bottom, your water contains sediment.
But fine particles can float almost indefinitely, giving water a cloudy or hazy appearance. Called "suspended sediment," it's no less of a problem than large particles.
Does Sediment Have Health Risks?
Some forms of sediment, like sand and gravel, are relatively harmless in small amounts. But others can cause illness or attract contaminants that do.
Manganese
Manganese is a beneficial mineral. Part of the rock in some sediment, over consumption can lead to gastrointestinal illness.
Tannins
Tannins are natural organic compounds formed from decaying vegetation. Safe to drink, they don't cause disease.
But they deplete water of oxygen, lowering its pH. If you have lead or copper in your pipes, acidic water is more likely to cause leaching.
Silt
Silt is fine sediment with a consistency between sand and clay. It's not inherently hazardous, but because of its texture, it can carry organic material that harbors dangerous bacteria.
One study showed that E. coli can evade UV light filters because the ultraviolet rays can't penetrate turbid water. Silt is a common component in suspended sediment.
How Does Sediment in Well Water Affect My Home?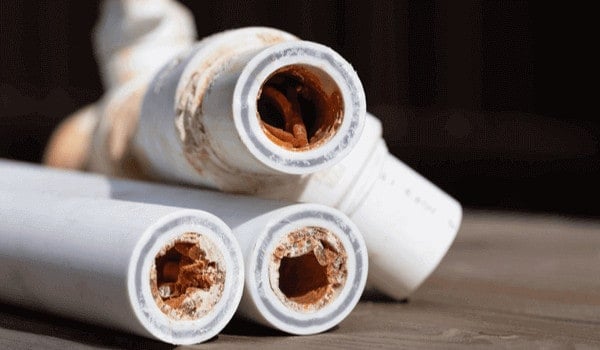 Sediment is no better for your home than your body.
It can:
Damage Pipes
Sediment particles are abrasive to plumbing, causing premature wear, pipe corrosion and pinhole leaks.
Ruin Water Heaters and Appliances
Particles of dirt and rust are hard enough on appliances. But if sediment includes hard minerals, it can create limescale — a chalky buildup in your plumbing system that can reduce the efficiency and service life of your appliances and water heater.
Stain Bathroom Fixtures
Iron and manganese leave slimy deposits in your toilet tanks. Over time, the sludge causes ugly, tough-to-clean brown stains in toilet bowls.
Reduce Water Pressure
The same sediment that collects in your cup also clogs pipes, faucet aerators and showerheads, reducing water flow from the tap. And limescale buildup narrows the diameter of water pipes, reducing water pressure throughout your home.
What Should I Do If There's Sediment in My Water?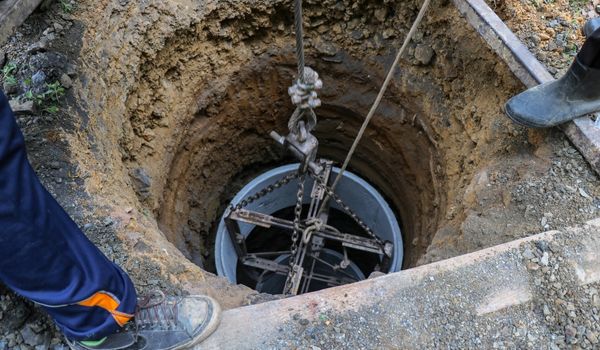 We recommend starting with a well inspection. It doesn't make sense to test your water or install a filtration system without knowing if your well is in good condition.
A professional should check your well pump and inspect your casing and well screen. If everything checks out, the next step is to do a water test.
Testing Well Water with Sediment
The CDC recommends testing well water annually for:
pH
Total Dissolved Solids (TDS)
Nitrates
Coliform bacteria
But dirty or cloudy well water can contain a wide range of other substances, so we recommend Tap Score's Essential Well Water Test. Affordable and easy to use, it checks for 52 of the most common well water contaminants, including those listed above and many more that affect your water chemistry.
If you need a water filter, substances in your water can affect its performance. So, the more informed you are, the better buying decision you can make. Tap Score test reports include objective guidance on filtration systems based on the results.
See our: best whole house water filters for well water 2022
How To Remove Sediment In Well Water
Removing sediment from well water is relatively simple. There are two types of sediment filters, both of which are highly effective depending on your circumstances.
Spin-Down Filters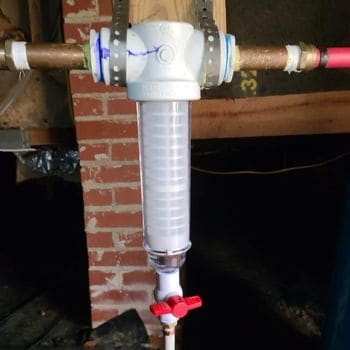 Spin-down filters rely on physics to remove sediment. When water enters your home, it's diverted into an empty chamber at the top of the filter that starts it spinning. As it moves down through the filter, the centrifugal force expels large particles that fall to the bottom of the filter housing where they're removed by a mesh screen.
Unlike a filter cartridge, one of the advantages of a spin-down filter is that it stays clean. Instead of replacing it periodically, an occasional rinsing is all it needs.
Ideal for large sediment particles from 15 to 100 microns, spin-down filters are integrated into your main water line and can be used alone or as first-stage filters that manage sediment removal within multistage filtration systems.
Cartridge Filters
Cartridge filters are made of materials like pleated paper or wound string.
The best pleated filters are rated for sediment particles down to 20 microns, but most only remove only larger particles over 100 microns. String filters can handle fine sediment from 5-10 microns.
Used as first-stage filters in multi-stage cartridge filter systems, the catch is that a string or pleated filter only lasts a few months, and replacements are costly.
In addition to sediment filters, there are other filtration options based on the type of sediment in your well, such as:
Water Softeners
Water softeners don't remove all types of sediment. But if you have hard water, it's the only way to get rid of hardness minerals.
If dirt is an issue, you'll need to install a spin-down or cartridge prefilter first or risk damaging the filter media. But if hard minerals are the only type of sediment in your well, a water softener alone will resolve the issue. Softening systems can also remove low levels of iron and manganese.
Ultra-filtration Systems
Ultra-filtration systems filter water through a hollow fiber membrane that removes particles larger than the pore size in the membrane material.
Used to remove biological contaminants, like bacteria and parasites, they also eliminate the smallest sediment particles down to 0.1 microns in size.
Self-cleaning to a degree, they last longer than paper filters. The downside is that very dirty water is hard on UF membranes and may reduce their flow rate. You'll get fewer gallons of water per minute and have to replace the membrane faster.
For serious sediment problems, we suggest installing a sediment pre-filter first to remove large particles while the UF membrane handles the rest.
Do Carbon Filters Remove Sediment?
Carbon filters are remarkably effective at removing the fine sediment that makes water cloudy. But most well water contains large particles that will clog the filter and wear it out prematurely.
A well water sediment filter is better equipped to handle debris from deep within the earth. Carbon filters are better for reducing sediment in pretreated city water.
Choosing the Best Sediment Filter
Not all sediment filters are created equal. Consider these factors as you shop.
Micron Rating
A filter's micron rating reflects how small a particle it will remove. A 50-micron sediment filter will remove sand and gravel. But you'll need a 5-micron filter to remove fine silt.
It's tempting to choose filters that remove smaller particles, but the lower the micron rating, the more it restricts water flow. To minimize the impact on water pressure, select a filter that removes most of the sediment in your well water without going overboard.
Select filtration systems have more than one sediment filter — a high-micron cartridge that removes large debris and a polishing filter that treats turbidity.
Quality
A sediment filter is only as good as the materials it's made of. Cheap versions tend to clog faster, so they're no bargain.
A better strategy to save money is to buy higher-quality filter cartridges in bulk so that they're less expensive per unit. We recommend NSF-certified filters because they've been independently tested and are guaranteed to perform as expected.
Final Thoughts
There are scarier things than sediment in well water, but that's no reason to settle for less than the pristine water quality you deserve. If sediment is your problem, a water filter is a simple solution.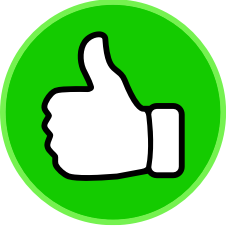 140
people found this helpful. Was this guide helpful to you?