Last Updated on December 3, 2022 by
Ava
City water sources are regularly tested for common contaminants. But if you drink well water, you're on your own. No government agency tests your water quality, so your safety is in your hands.
But the good news is that testing your tap water is a breeze. Test kits require no technical expertise, and you'll have accurate, actionable results in as early as two days. If it's been a while since you've done a water quality test, join us as we take a closer look at how — and how not — to test your well water.
Why Test Your Well Water?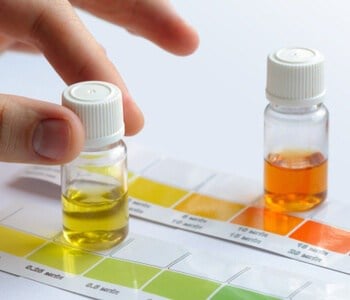 Clean water is essential for your health. Even if doesn't look cloudy or taste bad, it could be a cauldron of harmful toxins. Some of the most hazardous well water contaminants have no color, smell or taste.
Poor quality well water also wreaks havoc on your home. Water hardness — high levels of calcium and magnesium — isn't a health issue, but it causes limescale deposits that can clog plumbing, ruin appliances and raise your utility bills.
Knowing what's in your well is the first step to fixing to improving your water quality. If you're lucky, it's clean. But the peace of mind alone is worth the price of a water testing kit. And if testing shows an issue, installing a water filter is an easy fix.
But not all well filtration systems remove all contaminants, and most filters have limitations. Iron and pH levels, for example, can affect a filter's efficiency. A water test is a must for choosing the right equipment.
If you're ready to take charge of your water quality, knowledge is power. The best first step is to have your water tested.
City Water Versus Well Water Contaminants
City and well water contain different contaminants. Water testing is affordable but not cheap, so why overspend on testing for very low-risk contaminants or substances you won't find in your water source?
Chemically treated for bacteria, municipal water is biologically safe to drink but may contain:
Chlorine
Fluoride
Lead
Rust
Chlorine byproducts
Pharmaceutical residue
Microplastics and more
The Environmental Protection Agency sets limits for nearly 100 contaminants in city water from nitrates to chlorine. Yet safety testing in dozens of water systems nationwide showed high-than-legal levels of trihalomethanes in 2021 — a carcinogenic byproduct of the disinfection process. If you drink from a public water supply system, you'll find the details in your annual water quality report.
Well water poses unique challenges. It's all-natural, but that doesn't mean it's safe. Chlorine-free, it's unlikely to contain fluoride. But it can harbor an even broader range of problematic contaminants that you need to test for.
Contaminants Common in Well Water
Testing your well water could reveal these common contaminants and many more:
Bacteria
In rural areas, runoff can carry animal waste containing dangerous bacteria like e. Coli into your well. Testing for bacteria takes a few days, so if you're concerned that your well isn't safe, switch to bottled temporarily.
Parasites
Parasites, such as giardia, are ubiquitous in the soil. And the same waste that can carry e. coli may also contain protozoa that cause gastrointestinal disease in humans.
Sediment
Sediment in city water comes from deteriorating service lines. In wells, it can be sucked through the well pump if the water table is low.
Lead
Lead is remarkably rare in the environment. Most contamination is associated with lead plumbing and faucets. Lead has no taste or smell. So, if your home was built before 1986, it's worth checking your tap water. Read more about Lead.
Arsenic
Arsenic is a heavy metal found in nature. Whether your well is at risk depends on your geology. Like lead, arsenic has no taste or smell and is toxic even in small amounts.
Chromium
Chromium is a natural element used in a wide range of industries from mining to papermaking. At high levels, it can cause kidney and liver failure.
Nitrates
Nitrate contamination comes primarily from fertilizer. If you live near an agricultural area or golf course, beware.
Hard Water Minerals
Millions of Americans drink hard water. It's not bad for you, but it can have can devasting effects on your home. Hard water minerals create limescale, a thick residue that clogs plumbing and damages appliances. If a testing kit reveals hardness, a water softener is the only solution.
Iron
Iron is another beneficial mineral that can have unhealthy consequences. Often present in well water with hardness minerals, it leaves orange stains in your toilet bowl and can ruin your water softener. Like hydrogen sulfide, it makes water smell like rotten eggs.
PFAS
Per- and polyfluoroalkyl substances (PFAS) are synthetic compounds used to make household products from non-stick frying pans to stain-resistant carpets. New on the EPA's radar, they remain in the soil forever unless removed.
Pesticides
Like nitrates, pesticides are widely used by farms and resorts. Known carcinogens, they're associated with childhood leukemia.
Herbicides
Herbicides are used both in agriculture and by public works crews to tame roadside brush. When rain falls, the residue is easily carried into wells.
Industrial chemicals
Industrial waste contains a wide range of toxic substances from acids and solvents to gasoline and volatile organic compounds. If you live near a factory or landfill, your well could be contaminated.
Which Drinking Water Test Kit Do You Need?
Your well water supply could contain thousands of unique contaminants, but chances are it doesn't. So how do you determine which to test for?
The Centers for Disease Control and Prevention recommends that you test your water annually for:
Coliform bacteria
Nitrates
Total dissolved solids
pH level
And states have additional recommendations based on your geology.
But most chemical contaminants come from within a few miles of your home, originating from:
Farms
Factories
Junkyards
Landfills
Mines
Golf courses
Waste disposal sites
Underground oil tanks and more
Your local watershed map can help you determine which water test kit to buy. If it's been longer than a few years since you've done a water quality test, it pays to invest in a comprehensive analysis.
Can I Test My Own Drinking Water?
Yes, you can! And we'll show you how.
How To Test Water Quality
Testing your water quality is a simple as taking a sample to a lab. Certified drinking water laboratories do the most thorough water analysis money can buy using only advanced techniques that guarantee accurate results based on EPA standards. If you don't have a lab nearby, purchase a home testing kit online.
Products like SimpleLab's TapScore are a great value. You can choose a test kit that screens for the most common well contaminants or a panel that tests for everything from water hardness and bacteria to 200-plus toxic chemicals.
You'll send a water sample to their lab and receive a detailed water quality report in days to weeks depending on which test kit you order. It couldn't be easier.
Alternatively, select a DIY water testing kit to perform at home.
Type of DIY Well Water Testing Kits
There are two types of do-it-yourself water testing kits:
Mix-and-Pour Test Kits
Mix-and-pour water test kits are popular for their simplicity. Similar to a pool chlorine test, you combine liquid reagents with a water sample and compare the results to the color chart included in the kit.
A mix-and-pour kit tests for single substances, like iron, or related contaminants, such as hardness minerals. You may need to purchase more than one kit to fully evaluate your well.
Water Test Strips
Test strips are the fastest and least expensive water tests. Just put a few drops of cold water on the test strip of your choice and compare the results to the color chart on the package. Choose from test kits that check for a single contaminant or a dozen for less than $20.
Choosing the Right Well Water Test Kit
Are all drinking water test kits created equal or are some easier to use than others? That's a good question. A test kit is only as accurate as your technique, so it should be foolproof. It's crucial to follow the directions.
Test kits are temperature-sensitive, for example, and should be stored as directed. And accuracy will only be as good as your testing technique. Using hot water when the instructions call for a cold water sample will impact the results.
If your eyes aren't shade-sensitive, you may struggle to read test strips. Subtle hues on a color chart can be tough to differentiate. And a kit that relies on liquid reagents requires a steady hand.
No test kit is worth paying for if it's not dependable, so choose a kit you're comfortable with.
Are Water Testing Kits Accurate?
The consensus among experts is that water tests performed by laboratories are more reliable than a home test kit whether you deliver the sample in person or mail it in. The testing quality is better.
But a DIY test kit isn't far behind, and it can be a great deal in certain circumstances. Should you bet your health on test strips? Probably not. For serious contaminants like lead, nitrates and bacteria, we recommend tests be performed only by a certified lab.
But why not use an inexpensive test strip to screen for low-risk contaminants such as hard water minerals or to identify additional testing needs? If a strip shows no calcium in your water, why pay for extensive hardness testing?
How Not to Test Your Water Quality
TDS meters measure the parts per million of total dissolved substances in water. Trendy, they're inexpensive and simple to use. Fill a cup with water and dip the probe in. Test results are instantaneous, but what did you really learn?
Dissolved solids are primarily hardness minerals. Other contaminants can add to the total, but most are measured in parts per billion, not million, and are barely detectable.
TDS meters are good for screening sudden changes in drinking water quality, and they can help you determine if your water softener is dealing with hardness effectively. But the results are so non-specific that it's a poor way to test your water quality. Save your money and buy a proper well water testing kit.
What to Do if Your Drinking Water is Contaminated
If a water test shows a problem with your drinking water, the best solution is a filter. Hard water isn't a health problem, but bacteria, lead, heavy metals and pesticides are an immediate safety issue. Until you can install a filter, switch to bottled water for drinking and cooking.
Final Thoughts
Testing your well water quality is a critical measure for protecting your health and home. It's fast, simple and budget-friendly. If you can fill a cup, you can do it. Buy a test kit today and enjoy the water quality you deserve tomorrow.