More than 14 million American families depend on private wells for their drinking water, but some are cleaner than others.
It's not unusual for a well to have water quality issues that affect your health and home, but the good news is that you can do something about with it the right water treatment system.
Stick around as we discuss nine common well water problems and solutions.
Key Takeaways:
Iron levels that are too high, leading to discoloration and staining of fixtures and laundry.
Hard water is caused by an excessive amount of calcium or magnesium in the water.
Bacterial contamination from surface runoff or flooding due to inadequate wellhead protection measures.
Excessive nitrate levels that can be toxic to humans and animals.
Turbidity or cloudy water caused by suspended sediment particles in the water supply.
Taste and odor issues caused by organic compounds such as sulfur, and hydrogen sulfide.
Low pH levels resulting in corrosion of plumbing fixtures.
Common Well Water Problems & Contaminants
#1 Sediment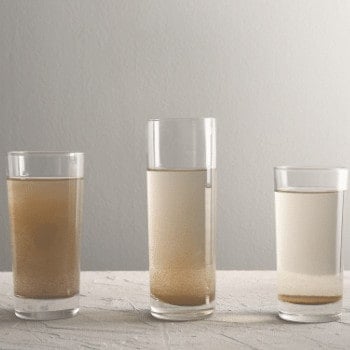 Sediment is an umbrella term referring to particles suspended in water. Total suspended sediment includes rust from corroded pipes, minerals, and the dirt, sand, silt and other organic matter that water pumps bring up from the bottom of your well.
Sediment is the most common cause of dirty, hazy or cloudy water. Known as turbidity, it can reflect a problem with your plumbing system, a broken sediment screen on your well pump or low water flow from a shallow well.
Unlike chemical contaminants, sediment is rarely hazardous to your health. But it makes tap water look and taste bad, and it can damage delicate parts in water-using appliances, such as dishwashers and hot water heaters.
The solution for sediment is simple — install a whole-house sediment filter for well water or other water treatment system that includes a sediment pre-filter. Prices start as low as $40.
#2 Iron and Iron Bacteria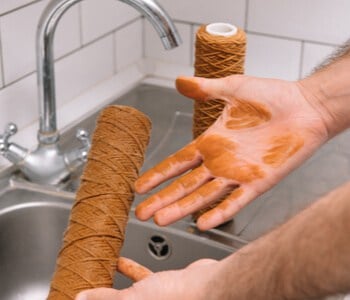 Iron is a naturally occurring mineral in the soil. There are two forms — ferric iron, or rust, and ferrous iron, dissolved iron that you can't see. Alone, it can cause orange stains on your clothing and bathroom fixtures. And particles tend to accumulate in your pressure tank and water heater, so while iron is a beneficial mineral, it's not as healthy for your home as it is for you.
High levels of iron in well water also attract iron bacteria, a microorganism that feeds on iron. Warning signs include metallic tasting water and a slimy orange or brown film in your toilet tank.
Iron bacteria rarely cause health problems beyond minor gastrointestinal upset, but the CDC calls them an indicator species — microbes that suggest poor water quality and the presence of pathogenic bacteria, such as E. coli.
Water softeners can remove some iron, but you'll need an air injection, Birm or Greensand filter for levels above 3 parts per million. If you have iron bacteria, shocking your well may resolve the issue, but for many homeowners, it's a temporary fix. Chlorine injection systems tame both iron and iron bacteria.
#3 Manganese
Manganese is another common mineral to blame for metallic-tasting water. Like iron, it leaves unsightly orange or brown stains on your tub and shower walls.
Iron and manganese are often found together in wells, so it's helpful that the removal methods are similar. Lesser amounts can be addressed with a water softener, but an air injection filter is a better option for levels greater than 1 part per million.
#4 Tannins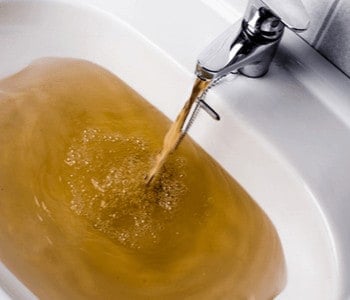 Tannins are a product of plant decomposition. A type of natural organic matter, they're carried into wells as water seeps through decaying vegetation in peaty soil.
Common in shallow wells near surface water sources, they're not harmful. But they can turn well water yellow and leave brown or orange stains on bathroom fixtures.
Solutions include carbon filters, chlorine injection systems and anion exchange filters. An anion exchange filter is a water softener equipped with special anion resin.
#5 Bacteria
Disease-causing bacteria are among the most harmful waterborne contaminants — the health risks cannot be overstated. While the US has some of the safest drinking water supplies in the world, more than 7 million Americans are sickened annually by diseases spread through water.
Shallow wells are easily infiltrated by microbes from agricultural runoff. E. coli, a potentially devastating fecal bacteria, often comes from animal waste and leaky underground septic tanks.
Because bacteria are small, they can't be removed with a carbon filter. We recommend a reverse osmosis system, with or without a UV light backup depending on the species in your well. E. coli bacteria can cause severe illness and death, so it justifies a chlorine injection system. Add a carbon post-filter to remove the chemical taste.
#6 Hard Water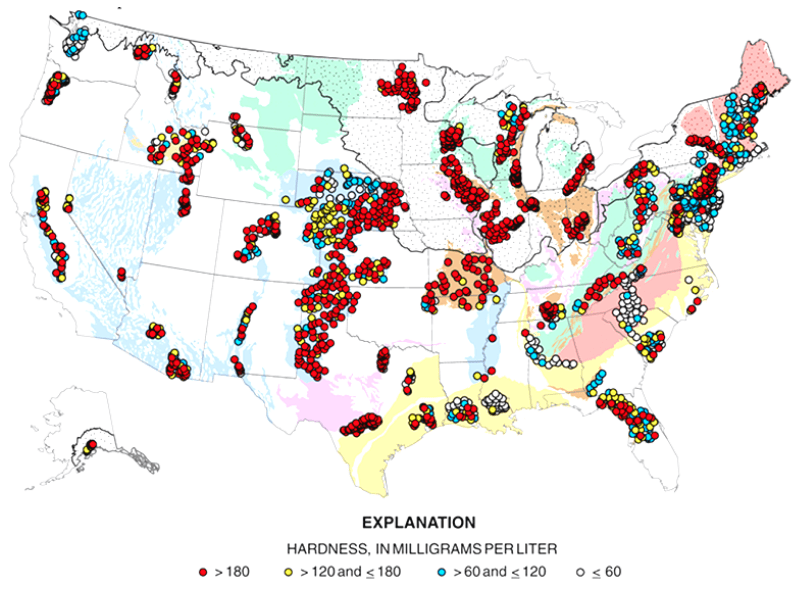 Hard water is water with high levels of naturally occurring minerals, primarily calcium and magnesium. More than 60 million American drink from a hard water supply.
Symptoms include scale buildup in your plumbing system, appliances, tubs and sinks. Over time, it can narrow the diameter of pipes so much that it decreases your water pressure. But among the most costly issues is what it can do to your hot water heater. Research shows that heating elements coated with minerals are up to 30 percent less efficient and have a shorter service life.
The cure for hard water is a well water softener. A point-of-entry water filtration system, it uses sodium to remove unwanted minerals and control limescale throughout your home.
If conventional water softeners are restricted in your area, or you're concerned about a salty taste in your water, consider a TAC or NAC water conditioner. Unlike a water softener, it reduces up to 90 percent of scale buildup without the use of sodium by altering the molecular structure of mineral ions so that they can't coalesce and stick to pipes.
Similarly, point-of-use reverse osmosis filters remove total dissolved solids, including minerals, for softer drinking water in your kitchen.
#7 Acidity
Acidic water not only tastes bitter, but it's also hazardous. When water's pH levels are consistently below 6.5, a chemical reaction can cause metal plumbing to corrode and leach dangerous copper, zinc or lead ions onto your drinking water.
The result of mining operations or acid rainfall, acidic water is more common in the Eastern US because the prevailing winds carry air pollution from west to east. Signs of acidic water are not always obvious, but oxidized metals — blue-green stains on metal pipes and fixtures — are a clue.
Minerals help buffer acidic water, but if you have low total dissolved solids, an acid- neutralizing filter will the pH with small amounts of healthy calcium carbonate.
#8 Hydrogen Sulfide Gas
If your water smells like rotten eggs, hydrogen sulfide may be the culprit. A natural gas, it's not only responsible for rotten egg smell, but it encourages the growth of sulfate-reducing bacteria which is corrosive to metal plumbing. Other signs of hydrogen sulfide in water include black stains on silverware and a white, gray or reddish-brown bacterial slime similar to what iron bacteria produce.
The most effective way to remove hydrogen sulfide is with a KDF, or oxidizing filter, such as an air or chlorine injection system. Concentrations below 1 mg/L can be removed with a water softener or an activated carbon filter.
#9 Air
Bubbles in your drinking water can be concerning, but the problem is usually an air leak in your plumbing system, often originating in the pressure tank. If you have acidic water, check metal pipes closely for pinhole leaks — they're hard to find.
A lesser-known cause of bubbles in water is methane gas. Naturally occurring or the result of mining or drilling activities, it can bubble up through your well, causing a gurgling sound and small bubbles in your water.
While methane gas is non-toxic, it's explosive. In high concentrations, it escapes readily from water and poses a danger in small, enclosed spaces. There are documented cases in the coal-mining regions of Pennsylvania where homes have exploded due to methane accumulation. If you live in a mining area, it's worth pursuing testing.
Preventing Well Water Problems
Not all well water problems can be prevented, but it's worth taking these sensible measures to secure clean drinking water.
Regular Well Maintenance
Wells are simple, but the failure of a single component can spell trouble. Metal well screens, for example, can rust, leaving your water vulnerable to sediment. And a cracked casing is an open invitation to bacteria and chemicals.
We suggest checking above-ground well components, such as pressure tanks, well caps and jet pumps, at least annually. The Groundwater Foundation recommends a full well inspection once per year.
Yearly Well Water Testing
If you have a private well, having your water tested is up to you. No state or federal agency monitors home well water quality.
The CDC recommends testing well water annually for pH level, coliform bacteria, total dissolved solids and nitrates plus the environmental contaminants common in your area from arsenic to volatile organic compounds.
Testing well water before choosing a water filtration system is also important because each targets different contaminants, and some have limitations. Did you know, for example, that high iron levels can ruin the resin in a water softener?
Of the hundreds of potentially harmful contaminants that could be in your well water, chances are that only a few are in yours. But for your health and home, it's critical to know exactly which you're dealing which.
If it's been a while since you've checked your water, we suggest comprehensive testing using SimpleLab's Tap Score. They partner with the best laboratories across the country to deliver affordable and accurate results. And reports come with water filter recommendations — a plus if you're not familiar with well water treatment.
Dig Deeper
If a well with existing bacteria is beyond repair, drilling a new well deeper may prevent future contamination. Most bacteria and chemicals seep into wells from runoff, so water from a deep underground aquifer is likely to be cleaner.
Drilled wells are not without water problems, but the contaminants are easier to manage. As a bonus, water pressure from deep wells tends to be better.
Protect Your Well
Protecting your well against possible sources of contamination is among the best ways to safeguard your water quality.
The University of Georgia Extension Service suggests the following tips:
Never flush household chemicals, personal care, pharmaceuticals or petroleum products down a toilet or drain. Residue ends up in the leach bed where it can contaminate your groundwater. Discard these items in the trash or at collection centers.
Don't bury dead animals or human waste within 150 feet of your well.
Mix fertilizers, pesticides and other agricultural chemicals at least 150 feet away from wells, preferably in down-sloping areas that shunt accidental spills away from your wellhead.
Install backflow prevention devices on outdoor faucets. Known as atmospheric vacuum breakers, they prevent contaminated backflow from swimming pools and irrigation systems from entering your well.
If you live in a flood plain, the University of North Dakota recommends doing the following if waters are rising:
Turn off the power to your well pump and seal the well by replacing the regular vented cap with a watertight cap until the danger of flooding has passed. Alternatively, cover the well cap with heavy-duty plastic sheeting.
Final Thoughts
Why drink contaminated well water when a wide range of affordable water treatment systems from carbon filters to reverse osmosis systems can transform it from awful to awesome? For every well water problem, there is a solution.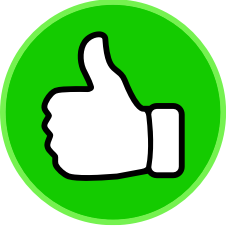 128
people found this helpful. Was this guide helpful to you?