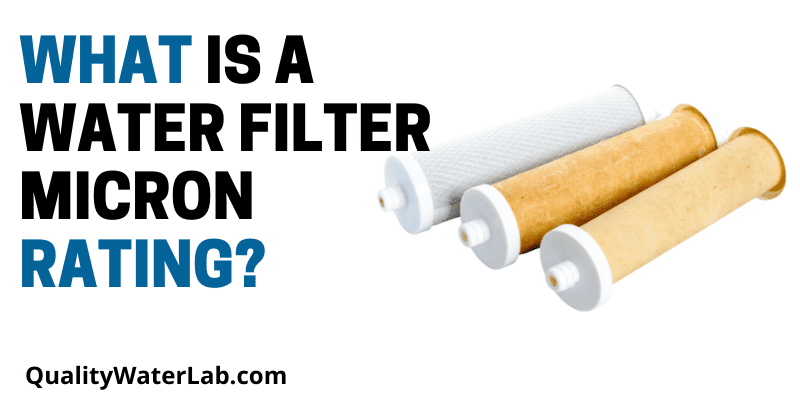 A water filter's micron rating is a key indicator of its performance. Yet micron ratings remain controversial, even among experts. What is a micron, how does it impact water filters, and why do ratings matter? We'll answer these questions and more right here.
Key Takeaways:
A water filter micron rating is a measure of the size of particles that a filter can remove from drinking water.
It measures the maximum size of contaminants that will pass through the filter and be left in your drinking water.
A lower micron rating means smaller particles will be filtered out, while a higher rating indicates larger particles will make it into your water.
Common micron ratings range from 0.5 to 50 microns.
The ideal filter should have a rating of 1-2 microns, as this helps remove the smallest particles (such as sediment, cysts, bacteria, and other contaminants).
What Is a Micron?
A micron is a unit of measurement. One-millionth of a meter, it's ten times smaller than a human hair, six times smaller than a red blood cell and 40 times smaller than what the human eye can see.
| Particle | Particle Size in Microns |
| --- | --- |
| Bacteria | 3 |
| Viruses | 0.005 – 0.3 |
| Lead Dust | 2 |
| 90% of Oil Contaminants | 0.5 – 2 |
| Beach Sand | 100 – 2000 |
| Fine Silt | 4 – 8 |
| Clay, Medium | 1 – 2 |
| Iron Dust | 4 – 20 |
What Is a Micron Rating?
There are two common types of water filters — mechanical filters and filters that work via adsorption or chemical reaction.
Think of mechanical water filters as strainers. The micron rating refers to the size of the holes, or pores. The smaller the micron rating, the smaller the particle size they eliminate. A 20- micron filter, for example, will allow larger particles to pass through it than a 10-micron filter.
Adsorption filters are similarly rated but by efficiency.
Absolute Versus Nominal Micron Rating
There are two types of micron ratings — absolute and nominal. It's critical to know the difference.
Absolute
Most mechanical filters, like reverse osmosis membranes and pleated paper sediment filters, have an absolute micron rating. The pores are of uniform shape and size and are guaranteed to exclude 99.9- percent or more of larger particles.
The quality control on absolute filters is stringent, and testing considers variables from water temperature to contaminant concentration. When safety is paramount, you need an absolute micron filter.
Nominal
The nominal micron rating is different. It refers to the percentage of particles filters remove, regardless of how. The science isn't perfect, but amounts vary from 70 to 99.9% depending on factors from filter type to contaminant level.
Nominal water filters are ideal for removing taste, odor and chemical impurities. Activated alumina, bone char, KDF and carbon filters are good examples.
Micron Ratings Versus Efficiency — The Controversy
Mechanical filters have an absolute micron rating because their pores are measurable. Under normal conditions, they will either remove specific contaminants, or they won't. There's no guesswork.
But with nominal filters, it's not as cut-and-dry. Depending on your water chemistry, their efficiency can change. In fact, many are not micron-rated to avoid confusion. Instead, manufacturers report their efficiency by percentage based on testing or the type of filter media.
Filters claiming to remove "up to" a certain percentage of different contaminants may not be as efficient as those that eliminate "at least" a specific percentage. Read the labels carefully.
Evaluating Micron Filters
A common question about the micron rating is — if filters with a smaller micron rating remove more contaminants, and absolute filters are more efficient than nominal filters, then why aren't they all made to the same standard?
The answer is that there's more to water filtration than micron rating — there are no one-size-fits-all options. Which contaminants a filter removes is always the most important consideration when selecting a water filter, but other noteworthy criteria include water pressure, options and cost.
Water Pressure
Smaller micron filters remove a greater percentage of small particles, but even water molecules struggle to pass through them. The smaller pores will cause a noticeable pressure drop at the tap.
And because models with a lower micron rating tend to clog quicker, the pressure drop increases the longer the filter is in service. Regular maintenance is essential to optimize performance and water flow.
Options
Reverse osmosis systems and ultrafiltration units remove a higher percentage of contaminants alone than many nominal filters combined, but with micron ratings ranging from 0.1 to 0.0001, the process is painstakingly slow and not well-suited to whole-home filtration. If you want a whole-house filter, you may have to settle for a nominal filter.
Cost
The testing that goes into verifying absolute micron ratings is costly. Among similar models, you'll see it reflected in the initial price and the long-term cost of ownership. As a general rule, the filter cartridge will need to be more often — especially if your water quality is poor. If you have a multi-stage filtration system, that's a lot of filter cartridges to change, and the costs add up.
Water Filter Types — Common Micron Ratings
| Filtration Type | Microns filtered |
| --- | --- |
| Reverse Osmosis | 0.0001 |
| Particle Filtration | 0.3 |
| Micro-Filtration | 0.1 |
| Nano-Filtration | .001 |
| Ultra-Filtration | 0.1 |
Water filter micron ratings range from 0.0001 microns on the low end to 1000 microns or more. How many microns should your water filter be? Let's look at the most common micron sizes and the types of contaminants they remove.
100-micron
A 100-micron filter removes visible particles of dirt, sand and rust. Filters with a higher micron rating are available but are less practical for residential use.
50-micron
A 50-micron water filter is efficient enough for home use if you have a high-sediment well, but it may miss smaller particles that can leave your water cloudy.
25-micron
Enjoy peak pressure and clearer water with a 25-micron filter. It removes any sediment larger than a white blood cell but needs less TLC than a 10-micron filter because of its larger pores. Still, turbidity could be an issue.
10-micron
Ten-micron filters are among the most popular and economical. They make water crystal clear but without reducing pressure as long as filter cartridges are changed regularly.
5-micron
Five-micron absolute filters are a good choice for homes with stubborn fine sediment. They remove dust, silt and other particles larger-micron filters leave behind. Nominal 5-micron carbon filters are perfect for eliminating chemicals like chlorine, pesticides, herbicides and more.
1-micron
One-micron filters are recommended by the CDC for parasitic cyst reduction. They reliably remove Giardia and Cryptosporidium, two common parasites in shallow wells and contaminated public water supplies, plus large bacteria and ultrafine sediment.
Less than 1-micron
Reverse osmosis systems are among the only filters that can remove contaminants as small as viruses and salts, like fluoride. But it comes at a price. With the exceptions of a few light-duty commercial units, residential RO filters are limited to undersink models that purify water only for drinking and cooking, and you'll encounter some pressure loss.
Still, if you need quality filtration for disease-causing microbes, the best way to go is RO.
Choosing the Right Micron Rating — The Bottom Line
First and foremost, a filter should be chosen based on the contaminants it eliminates. If you have bacteria in your water supply, a 0.1-micron filter will keep you safe. A 5-micron filter will not. All other criteria are secondary. Stick with absolute micron filters for guaranteed performance.
If your concerns are primarily aesthetic — concerning appearance, odor or taste — why choose a costly, low-micron filter that will reduce pressure to a trickle when it won't necessarily remove more contaminants than a high-micron filter? With sediment, for example, a 1-micron filter will clog constantly without removing appreciably more debris than a 5- or 10-micron model.
Hazardous chemicals and heavy metals are a middle ground. A low-micron, absolute filter like a reverse osmosis membrane removes even dissolved substances at a molecular level, so it's a good choice if a water test shows a dangerous toxin like lead in your water.
If it doesn't, you may still choose to protect yourself against the water contaminants common in your area, even if your water test looks good. But why blow the budget on a do-everything filter when inexpensive high-efficiency carbon or high-micron pleated filters will do? Choosing a water filter is challenging, but there are options for every need and budget.
Finally, focus on quality as well as micron size. We recommend buying only NSF-certified filtration systems. Independently tested against the highest industry standards, they're guaranteed to do exactly what you bargained for.
Final Thoughts
Installing a home filtration system is a positive step toward better water quality, but don't focus on micron rating alone. Step back and look at the big picture to find the effective, affordable, lifestyle-friendly filter you deserve.