Nothing is more disappointing than finding black stuff in filtered water. Wasn't a filtration system supposed to remove problem contaminants?
What exactly are these black particles, are they harmful to your health and do they mean something is wrong with your filter?
Don't worry — we'll get to the bottom of that for you and more.
Key Takeaways:
Carbon dust from the filter media is harmless and safe to consume.
Prevent black specs in your water by following the manufacturers guidelines when changing water filters.
Proper filter maintenance is important to ensure clean water free of debris.
Check your filter regularly and replace as needed to maximize filter life and water quality.
What Are the Black Particles in my Tap Water?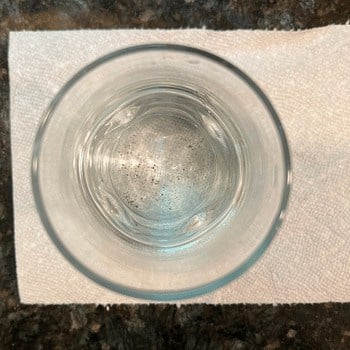 Black particles in your water are one of two things — contaminants or carbon dust.
Contaminants are scary but unlikely. Rarely, iron and manganese show up as black particles.
But more often than not, they present as black or brown slime. If you have a carbon filter, chances are that what you're seeing is carbon dust.
Whether it's a stand-alone carbon filter or the carbon prefilter in a reverse osmosis system, most release carbon dust when they're first activated.
If you have a new filter or just changed the cartridge in an existing filter, seeing black particles is unappetizing but not unusual.
Could the Black Particles Be Mold?
It's remotely possible but highly improbable. Mold can thrive in neglected water filters, but it's unlikely to be visible in your water — you'll see it on the filter. And it's been found in used water filtration systems — we don't recommend buying preowned water filters or reusing wet cartridges.
A dry replacement water filter is inhospitable to mold and mildew. So, unless it was cracked or stored improperly, it should be moisture-free. And some filters are enhanced with KDF, a bacteriostatic filter media that boosts carbon's filtration capabilities while preventing the growth of mold and bacteria.
What Does Carbon Dust Look Like?
What carbon dust looks like depends on the type of carbon filter it comes from. There are two types, granular activated carbon filters and carbon block filters. What's the difference?
Granular Activated Carbon Filters
Granular carbon has a sand-like texture. Found in faucet and refrigerator filters, water flows through them freely, so they don't reduce water pressure.
When first activated with water, however, loose carbon particles left behind during the manufacturing process may escape. A known problem, Brita filters, for example, come with instructions for flushing cartridges to remove unpleasant residue.
The dust from activated carbon filters looks like grains of sand or smaller. Given time, most will settle to the bottom of a glass.
Further reading: How to clean a filter pitcher
Carbon Block Filters
Carbon block filters are single pieces of activated carbon. Hard, they rarely shed large particles. Instead, the residue has a dust-like texture. Fine carbon dust in water looks more like a dark sheen than black particles.
Is Carbon Dust in Drinking Water Harmful?
Activated carbon particles are harmless. In fact, activated charcoal, a less refined form of carbon, is used by doctors to treat poisonings. Many people consume activated charcoal supplements for their health.
There are no regulations on the books pertaining to carbon particles or activated charcoal because they're so benign. And in such low quantities, consuming activated carbon dust will not make you sick. You're at far greater risk from a contaminated water supply than from carbon.
How to Prevent or Eliminate Black Particles in Filtered Water
For most people, carbon particles are only an issue when they install a new filter or replacement cartridge. But the sudden appearance of black particles could indicate a problem with the filter.
So, let's review the most common causes of carbon dust in water and how to fix them.
Not Soaking the Filter
Brita filters and similar carbon cartridges are water-activated. You'll need to rinse or soak them for up to 15 minutes depending on the model. This hydrates the carbon, improves its adsorption properties and loosens rogue particles.
You'll then discard the first batch or two of filtered water, and the particles will disappear. If you flush filters properly, the risk of seepage is low.
Reusing Filters
Where there's a will to save money, there's a way — at least according to internet cheapskates who claim to rejuvenate their Brita filters by soaking them in bleach. Don't do it.
At least 25 percent of the country has chloramine in their water – a chlorine-ammonia blend utilities use to kill harmful bacteria. With a long half-life, the residual in your tap water could react with bleach molecules, creating two uncommon but hazardous gasses.
A health risk, it may also compromise the integrity of the filter media. And if, like some internet penny-pinchers, you drill a hole in the Brita filter, sanitize it and refill it will fresh carbon, you risk cracking the housing — a recipe for loose carbon.
Brita filters also contain ion exchange media. You can't replace it with plain carbon or charcoal and expect the same degree of water purification.
Trapped Air
Air bubbles can trap pockets of loose activated carbon granules in the filter housing. How can you tell? If particles persist, drop the cartridge in a bowl of water. If the filter floats, there are air bubbles trapped inside.
An easy fix – gently tap the filter and resoak it until it sinks. The risk of trapping air bubbles in carbon filters is low if they're flushed as directed.
FAQs About Black Particles in Water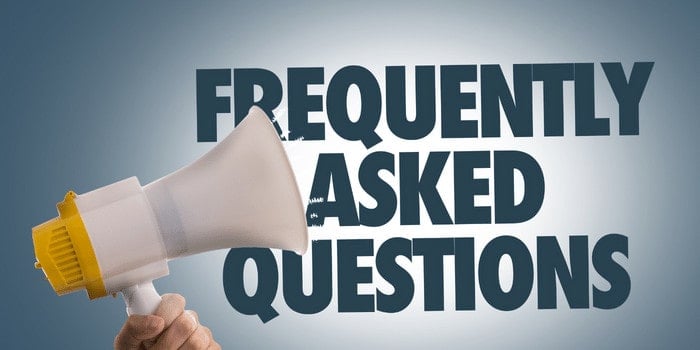 Do activated carbon water filters contain added chemicals?
In general, no. Most activated carbon is made from all-natural sources such as coconut shells.
Some are enriched with KDF, a zinc-copper media that filter neutralizes heavy metals, volatile organic compounds and other organic contaminants better than activated carbon alone. Bacteriostatic, it's added to better carbon filters to improve performance and keep microbiological contaminants like mold, bacteria and algae in check. KDF adds neither zinc nor copper ions to your drinking water.
A few carbon filters used for camping may contain silver to control bacterial growth.
Are activated carbon particles in harmful in my pet's drinking water?
No. They're no more harmful to pets than people.
Large particles, however, could clog the ball-type water dispensers used for pocket pets like hamsters and gerbils. Still, they're safe to drink.
Are charcoal filters and activated carbon filters the same?
The active ingredient is similar, but the term charcoal filter is more often used to describe air filters. An activated carbon filter generally refers to a granular carbon water filter or a carbon block filter.
My Brita filter has black spots on it. Could it be mold?
Yes, and it could be harmful. Carbon filters have an indefinite shelf life if they're stored in cool, dry place. But left in a moist environment, they're as vulnerable to mold as any other product.
If you find black spots that don't brush off on a new filter, discard it and buy more. Store extras in a watertight plastic container with a desiccant packet inside.
It's also essential to keep your water filter pitcher clean. Wash it with soap and water weekly and let it dry. Molds need moisture to survive.
What are the white spots in my water filter pitcher?
White spots are usually mineral deposits. If your water is high in total dissolved solids, minerals like calcium can form limescale on the filter cartridge and pitcher.
Made of healthy minerals, limescale isn't harmful. But it can affect how water tastes. In large quantities, it's also abrasive and can scratch plastic pitchers.
I'm not convinced. Are carbon filters really safe?
Activated carbon has been extensively studied and its safety has been fully established. The materials with which filters are made, however, are another story.
Most are made of generic, food-safe plastic, but transparency matters. Manufacturers should be upfront about where they source their carbon and what their filters are made of.
The best way to protect yourself is to buy NSF-certified filters. They're guaranteed to perform as advertised without releasing any harmful substances into your drinking water — check out our best water filtration systems that are NSF certified.
And as a bonus, you're less apt to struggle with black particles in your drinking water. NSF certification is volunteer program paid for by manufacturers. If they believe in their products enough to have them independently tested and certified, they've likely invested in material safety.