Last Updated on October 6, 2022 by
Ava
📝 Model: Culigan WSH-C125 |Type: Shower Head | Filter Capacity: 10,000 |Flow rate: 2 GPM | Annual Cost: 1,000 gallons | Warranty: ~$120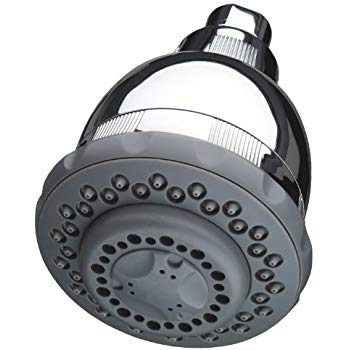 Solutions to simple problems shouldn't be complicated. So if you're satisfied with your drinking water quality, but want chlorine and limescale out of your shower, I have good news.
You don't have to resort to a water softener or costly whole-home filtration systems to get a handle on chlorine and hard minerals. You just need the Culligan WSH-C125 Wall-Mounted Filtered Shower Head with Massage.
Long-life filters require less maintenance
Clog-free shower head won't reduce water pressure
2.0 gallon per minute flow rate saves water and energy
Controls odors from chlorine and sulfur
Tool-free installation
---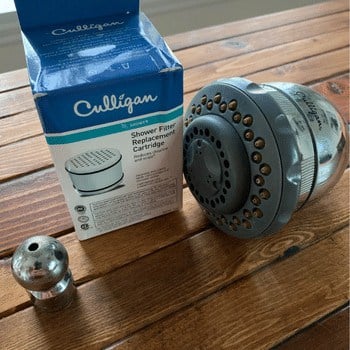 Culligan WSH-C125 Filtered Shower Head with Massage
For less than you'll spend on coffee this month, the WSH-C125 can eliminate up to 99-percent of residual chlorine in your water, plus it controls mineral scale that sticks to your shower walls. You'll enjoy a massaging head with five settings from full-body spray to a relaxing pulse — set it to fit your mood. If you're ready for a better shower, find out more here about why the Culligan WSH-C125 may be the best shower head filter for your money.
Pros
Culligan's WSH-C125 is the straightforward answer to problems with sulfur, scale and chlorine.
Patented KDF and activated carbon filtration media remove most chlorine, and it tames the rotten egg smell sulfur can cause.
Less limescale collects on shower walls and plumbing fixtures, so you can shower more and clean less.
It also helps reduces skin and scalp irritation associated with hard minerals.
If you live in a drought area, the WSH-C125 is one of only a few models that's EPA WaterSense-certified for conserving water.
It's also NSF-certified for meeting chlorine reduction claims.
The massaging shower head is engineered to resist clogging, so you get the brisk shower you crave.
Filters have a robust 10,000-gallon capacity, and Culligan back them with a five-year warranty.
It's lightweight, yet durable, and it's a cinch to install.
Culligan even includes a roll of Teflon tape in the kit, so when the filter arrives, you're minutes away from a better shower.
This model isn't fancy, and it may not do a song and dance like the competition, but what it promises, it delivers. I like that.
If you're looking for a fancy shower filter, check out our Berkey shower filter review.
Cons
Does not remove heavy metals like lead
My Take
Culligan's WSH-C125 is the perfect example of good things coming in small packages. Is it the best shower head filter for everyone? No. It doesn't reduce the contaminants that are most common in wells, but if you use municipal water, it's a dream come true. You won't mistake it for a so-called luxury filter, but if what you want is a clean-feeling shower that's reliably chlorine-free, you've found it. The NSF certification virtually guarantees it, and that counts for something.
The WSH-C125 is also an excellent choice for conserving water. If you're living in an area affected by drought, it's WaterSense-certified by the EPA and meets most local flow rate regulations.
.
Performance Features
Let's take a deep-dive into Culligans features and why this might be the right choice for you and your family.
Contaminants Removed
The Culligan WSH-C125 has been independently tested and proven to remove up to 99-percent of chlorine, plus sulfur odor and limescale. By nature of the type of filtration media it uses, it's also likely to reduce a range of synthetic chemicals.
If you have a well, the best way to know if it's contaminated is to do a water test. If you use municipal water, your area treatment authority can give you a complete quality report.
Capacity
A shower head filter's "capacity" reflects the maximum number of gallons it can purify before its media becomes less effective. The WSH-C125 is rated for six months or up to 10,000 gallons. Results, however, may vary significantly based on your water quality. The larger the workload, the shorter the lifespan. Most users report getting near the six-month mark. Culligan includes a filter change reminder sticker in every box.
Flow Rate
Shower heads in the United States have been limited to flow rates of 2.5 gallons per minute or less since 1994. The WSH-C125 has a flow rate of just 2.0 gallons per minute. Does that translate into a sluggish shower? Absolutely not!
The most likely contributors to slow flow at the tap are clogged filtration media or limescale crusts on heads. Culligan designed the WSH-C125 to avoid both of these issues. The instructions describe a brief backwashing process that keeps media free from sediment. And the head is made of soft material that when wiped, releases mineral buildup.
Most users who've installed in place of a standard 2.5-gallon head notice no difference in performance. But when less hot water is used, utility and water costs should decrease.
Installation
Installing the WSH-C125 shower head filter is speedy and stress-free. Just remove your existing shower head and wrap the end of the shower arm with Teflon tape to discourage leaks. Screw the WSH-C125 in place and take the rest of the afternoon off. It's that easy. Culligan even includes a roll of Teflon tape in the kit!
Help & Support
There's no better-known name in water treatment than Culligan. Founder Emmitt Culligan built a homemade water softener back in 1921 with two tin cans and zeolite sand, and it's been full speed ahead ever since. Let them put their knowledge to work for you.
For questions about water filtration or help with installation, contact their friendly customer care team by phone or email. The WSH-C125 is backed by an incomparable five-year warranty.
Final Thoughts
Having chlorine and minerals in your water shouldn't mean you have to work harder. Shower smarter with the Culligan WSH-C125 Wall-Mounted Filtered Shower Head with Massage.
Is it available in other colors?
At this time, it comes only in chrome.
Does this filter soften hard water?
No, it does not remove minerals from water, but the patented media controls scale.
Can I use this to filter well water?
Yes, however, it's designed to treat issues that are more common in city water like chlorine. It does not reduce heavy metals or bacteria.
.