Last Updated on October 4, 2022 by
Ava
📝 Model: Berkey Shower Filter |Type: In-line | Filter Capacity: 20,000 gal. |Flow rate: 2.5 GPM | Annual Cost: ~$80 | Warranty: Lifetime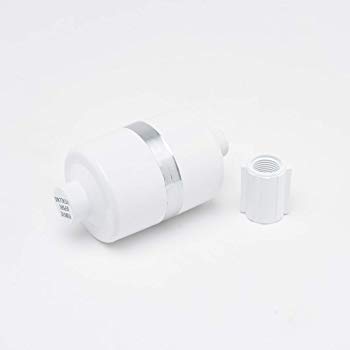 If the smell of chlorine or dry itchy skin bothers you as it did for me, let me introduce you to Berkey showerhead water filter.
A trusted name in the industry, read on to learn why we like this filter.
Highlights
Works with any preexisting shower head
Upgraded 20,000-gallon capacity is twice that of similar brands
Minimal impact on water pressure
Space-saving, low-profile design
Made in the US
---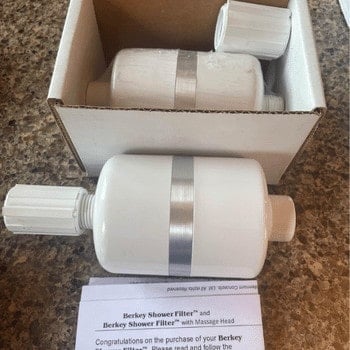 Best for: Anyone looking for a proven winner in shower filtration for a great price.
Berkey Shower Filter

Works with any preexisting shower head

When you think about water quality, chances are you're most concerned about what you drink — and rightly so. But if you shower with dirty water, contaminants like heavy metals can vaporize in the moist heat and enter your body through your lungs.

Hard minerals can form tough-to-clean limescale stains on your fixtures and clog your shower head. And impurities like chemicals can make your skin feel dry and itchy and hopelessly ruin your hair.

Home water filtration systems that purify your drinking water are good. But why not take it a step further with a shower head filter that ensures every drop that touches your body is as clean and safe as possible?

Which is the best shower filter for you? Let me introduce you to a top performer and one my favorite models with this Berkey shower filter review.
Pros
Berkey manufacturers some of the most powerful and trusted water filtration products on Earth, and this shower head filter is no exception.
Its ultra-pure KDF 55 media is designed specifically for removing chlorine and water-soluble heavy metals like mercury and lead.
It tames unpleasant odors caused by hydrogen sulfide while reducing mineral stains on fixture surfaces.
Water smells cleaner, and it feels soft and gentle against your skin.
Install it in seconds on your existing standard or handheld shower head — there's no additional equipment to buy.
The latest version lasts a year or up to 20,000 gallons — whichever comes first.
KDF media naturally discourages the growth of bacteria and algae in the filter, but the kit includes a handy backflush adapter.
Use it once monthly to keep the filter fresh and water pressure brisk.
Cons
• Higher initial cost than similar brands
• Vague warranty
My Take Away
My first impression of this filter is that it's sturdy. The plastic housing is lightweight enough not to create an overhead hazard, but it's thicker than most, and it doesn't feel cheap.
Installation couldn't be easier — it screws on.
The unit is smaller than others in its class by an inch or two. That's not a lot, but it makes it less likely it will ding your head in the shower if you're more than six feet tall.
But what shines most about this filter is its performance. If chlorine is the problem, KDF 55 media is the solution. Its unique zinc formula reacts with chlorine as it passes through the filter and turns it into harmless, water-soluble chloride gas.
It also reduces the hydrogen sulfide responsible for rotten egg smell. Odor reduction is exceptional.
Use the included backflush adapter to clean the filter monthly, and you can expect water pressure to stay brisk.
Quality construction and its enormous capacity make it the best shower filter for longevity. It costs a few dollars more than the competition, but it's worth it.
Berkey Shower Filter
Performance Features
Let's take a in-depth look at why Berkey might be right for you.
Contaminants Removed
Every home has distinct water quality challenges, so there's no one-size-fits-all solution. For most, eliminating unpleasant odors and potentially harmful contaminants like lead are the priorities. If that sounds like your home, the Berkey is the ideal choice.
It reduces up to 95-percent of chlorine, plus:
Hydrogen sulfide
Lead
Mercury
Iron and more
Its KDF 55 filtration media also inhibits the growth of microorganisms that tend to grow in shower heads such as bacteria, fungi and algae. It does not remove hard minerals, but it helps control limescale on your tub or shower walls.
Capacity
Capacity refers to how many gallons of water a shower head filter can clean before it needs to be replaced. There's some confusion with the Berkey. When this model was first released years ago, it was rated for up to 10,000 gallons or 12-months. The latest version with the same model number has been upgraded, and it now has a total capacity of up to 20,000–25,000 gallons or one year, whichever comes first.
When considering the cost of a filter, it's essential to look at how long it will last. The Berkey has a higher up-front cost, but with the new, higher capacity, its life span is up to four times longer than other brands. The backflush tool also allows you to keep the filtration media cleaner, making it better able to keep up with heavily contaminated water.
Flow Rate
Federal regulations limit shower head filters to a maximum flow rate of 2.5 gallons per minutes. But to conserve water, select states have enacted legislation lowering it to 1.8 gallons.
The Berkey can accommodate the full 2.5 gallons per minute, but it's your shower head that ultimately determines the flow rate. Factors that can decrease the flow rate below maximum include water pressure and contaminant levels. The backflushing feature on the Berkey maintains a healthy flow by controlling the build-up of large particles that can clog filters prematurely.
Installation
Installing the Berkey is a cinch. Remove the shower head and screw the filter onto the water source. Use Teflon tape first — not included in the kit — to seal the threads to prevent leaks. Reconnect the head to the front of the filter, and you're done.
With models that include integrated heads, you're stuck with them like it or not. With the Berkey, you pay only for the filter. It works with any type of shower head you have, so you can continue to enjoy the head you prefer.
Help & Support
Berkey's been making top-quality water filtration products for more than twenty years. They've earned their customers' trust with friendly and knowledgeable technical support. If you have a question about installation or the warranty, give them a call.
Another recent Berkey shower filter review noted the warranty is vague, but I'll give the company the benefit of the doubt. They prefer to work with their customers directly to resolve issues and avoid unnecessary returns.
Final Thoughts
Why bathe in water you wouldn't drink? With the Berkey, a cleaner, healthier shower is just minutes away.
Frequently Asked Questions
Does this model contain a replaceable interior filter?
No. The filter is integrated into the housing. Discard the entire unit after one year or after filtering 20,000-25,000 gallons.
Does it reduce water pressure at the tap?
Most water filters do to some extent, and it depends in part on your water quality. But KDF 55 media encourages uniform flow of water throughout the filter for maximum PSI. Most users report little impact on pressure.
Does this filter reduce chloramine?
No. KDF 55 media doesn't reduce chloramine. To find out if your municipal water is treated with chloramine, contact your water treatment authority.