Last Updated on October 4, 2022 by
Ava
📝 Model: Aquasana AQ-4100 |Type: In-line + Shower Head | Filter Capacity: 10,000 gal. |Flow rate: 2 GPM | Annual Cost: ~$65 | Warranty: 1 year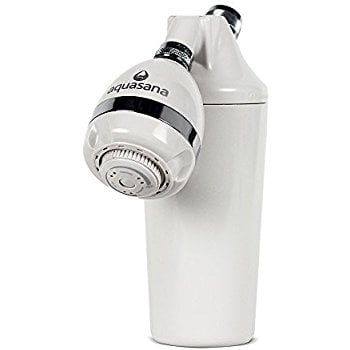 For pennies a day, you can have a great shower filtration system that will improve the feel of your skin and hair by a trusted household name.
Highlights
Filter cartridges are NSF-certified and independently tested for performance
Easy twist-on installation
Minimal impact on water pressure
Balances pH
One-year warranty
---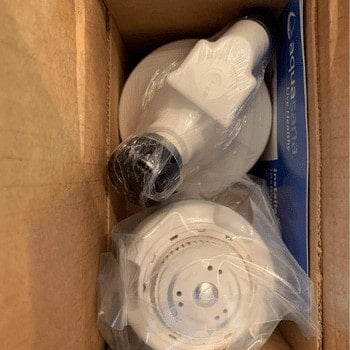 Best for: Those looking for a low-cost shower filter that just works as described.
Aquasana AQ-4100 Deluxe Shower Water Filter System
There are days when a warm, relaxing shower is the only reward you get for a job well done, so shouldn't it be as pure and inviting as it can be? But unless you have a whole-home filtration system, chances are there's more lurking in your water than you bargained for.
From chlorine that can irritate your skin and damage your hair to dangerous toxins like lead that can affect your health, shower water can harbor dozens of invisible contaminants.
The good news is that the solution to bad shower water is remarkably simple. It's the Aquasana AQ-4100 Deluxe Shower Water Filter System. For pennies a day, you can enjoy water that smells better and feels gentler on your body. And you can be confident it's healthier, too.
Pros
The AQ-4100 is budget-friendly, a breeze to install and best of all, it works like a charm. Here's why it may well be the best shower filter for your home.
Lesser filters on the market use a single filtration media that targets only select contaminants.
But Aquasana has combined KDF 55 filtration media and premium activated carbon for the highest level of protection a shower head filter can offer.
It removes chlorine and heavy metals, plus hydrogen sulfide, chemicals and more.
The unique upflow design of the filter maximizes contact between water and the filtration media for maximum contaminant reduction.
It discourages clogging so it won't reduce your water pressure.
The AQ-4100 is durable, budget-friendly, and it takes just minutes to install.
The all-in-one filter comes with a multi-setting massage head for a fully customizable shower experience.
Its 10,000-gallon capacity means less maintenance for you.
Cons
My Take
The AQ-4100 looks like a dream come true on paper and has been rated at one of the best shower filters on the market. However, it combines top-quality activated carbon made of pure coconut shell with KDF 55 filtration media for exceptional contamination reduction. Individual cartridges are NSF-certified for quality and performance. Short of whole-home filtration systems, few filters have this level of prowess.
The disappointment lies in the plastic housing. It feels durable, and by all appearances, Aquasana is doing what it should to ensure strict quality control. But user results have been mixed. Most folks don't report significant issues, but there have been too many reports of cracked housings and leaky fittings to ignore.
For the price, however, it's a steal, and it offers comprehensive contaminant reduction that's too good to pass up if you have serious water quality issues. Without a warranty, I'd recommend it only with reservations. But since it's covered for a year by a reputable company with a strong market presence, I'll give it an enthusiatic thumbs up. You have more to gain than lose.
Aquasana Shower Filter Performance Features
Let's see what the hype is all about and take a deep dive into the AQ-4100 features.
Contaminants Removed
Most water in the United States is safe to drink, contaminants like chlorine can be skin, lung and eye irritants when vaporized in the shower — even in tiny amounts. Lead is proving to be more absorbable through the skin than once thought, and the list of emerging contaminants water treatment authorities don't yet test for is growing.
So while there's no single filter that eliminates all contamination, why not choose one that reduces the broadest range of troublesome substances?
The Aquasana AQ-4100 reduces up to 91-percent of chlorine, plus:
Lead
Mercury
Iron
Pesticides
Herbicides
Industrial solvents
VOCs
Hydrogen sulfide
Is it the best shower filter for you? It's not a water softener, so it doesn't remove hard minerals, but by balancing pH, it helps control limescale on your shower walls. This version also doesn't reduce chloramine — a secondary disinfectant some water districts use in addition to chlorine.
If you have a well, the best way to identify the contaminants you need to remove is with a water test. Do-it-yourself kits are available over the counter. If you use city water, ask your local treatment authority for a quality report.
Capacity
A shower filters "capacity" is the number of gallons it can filter before the media is exhausted. The AQ-4100 is rated for 10,000 gallons; however, results will vary based on water quality. Users report cartridges last six months on average.
Since the price of replacements contributes to the long-term cost of owning a shower filter, their longevity matters. Among similar models, the AQ-4100's cartridges are among the most cost-effective.
Flow Rate
Shower heads in the United States are limited by law to a flow rate of 2.5 gallons per minute. In areas affected by drought, state regulations allow as little as 1.8 gallons.
The Aquasana AQ-4100 is rated for the maximum of 2.5 gallons. It can, however, be paired with a low-flow head of your choice. Either way, the upflow design forces water through the cartridge in a way that keeps the media loosely packed, preventing premature clogging and encouraging brisk water flow.
Installation
Installing the AQ-4100 may be the easiest thing you do all day. Instructions come with the kit, but the steps are simple:
Remove your existing shower head
Dry the end of the threaded pipe that brings water to your shower
Wrap the threads in Teflon tape to prevent leaks
Screw in the filter
It's faster than making dinner.
Help & Support
Aquasana is a reliable name in water filtration, and they back the AQ-4100 with a one-year warranty. Friendly customer support is available by phone Monday through Saturday if you have questions or need help with installation. Replacement cartridges are readily available.
Final Thoughts
Aquasana's motto is "Live Healthy," so why wait? The AQ-4100 Deluxe filter system helps you do that and more with comprehensive filtration and a massaging head that brings a well-deserved touch of luxury to every shower.
Frequently Asked Questions
How often does the filter need to be replaced?
It's rated for up to 10,000 gallons, but performance depends in part on your water quality. Most users can expect cartridges to last for about six months.
Where is this filter made?
The filter is made in China from molds engineered in the US.
Can I replace the head that comes with the filter with a handheld model?
Absolutely! It's compatible with most shower heads.